We'll show you How To Make Marinara Sauce With Fresh Tomatoes for the best tasting sauce! Use up those garden tomatoes with this easy marinara sauce recipe!
Use this fresh tomato sauce in all kinds of pasta dishes like our Classic Lasagna Recipe or these Beefy Stuffed Shells! Or you can add ground beef or sausage to make a hearty Bolognese Sauce!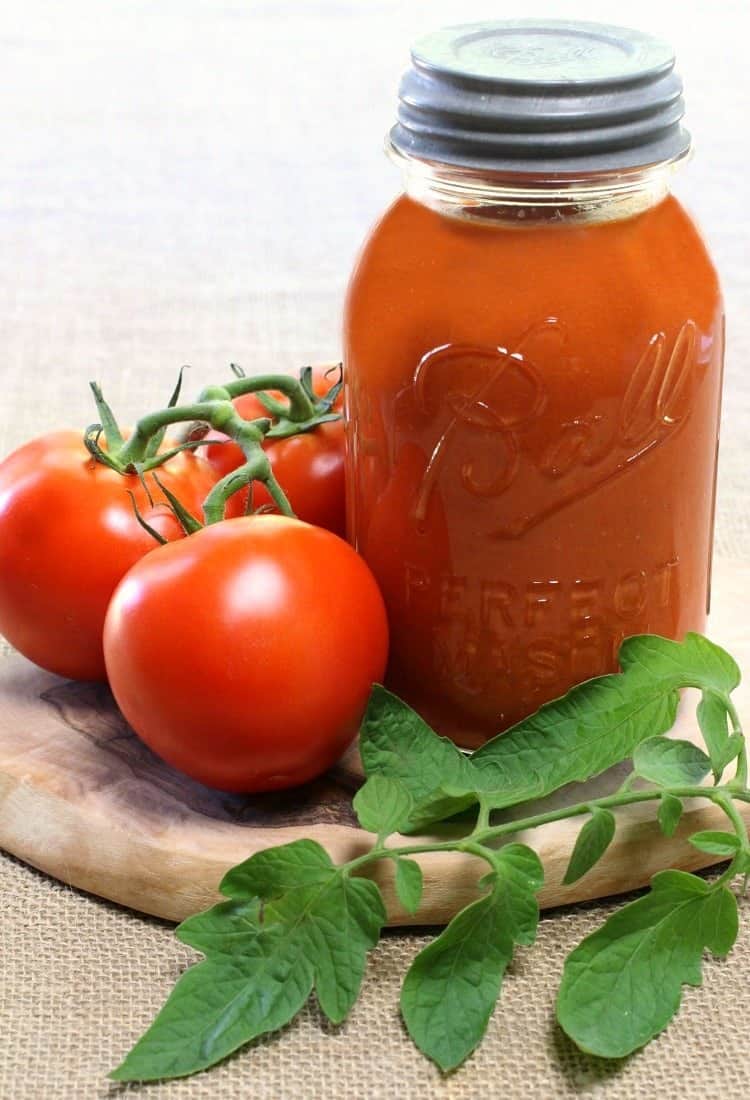 A Fresh, Homemade Tomato Sauce
There's nothing better than fresh tomatoes from the garden, but you do have to eat them up when they are fresh. Tomatoes in the refrigerator take on a whole new flavor and fresh is just better.
This tomato sauce recipe is the perfect way to use up tomatoes from your garden when you just have to many hanging around! So pull up a chair and learn How To Make Marinara Sauce With Fresh Tomatoes so you'll never have to let any go to waste!
This marinara sauce recipe can be used on so many things besides just pasta, too! Use it to make homemade pizza, toss it with spaghetti squash and parmesan cheese, add it to your favorite soup recipe like our famous Beefy Tomato Soup, the list goes on..
And the best part is that you can make this fresh tomato sauce and freeze it for another time. So you don't have to eat all this tasty sauce at once! Freeze it into 2 cup portions and pull it out whenever you need a fresh marinara sauce!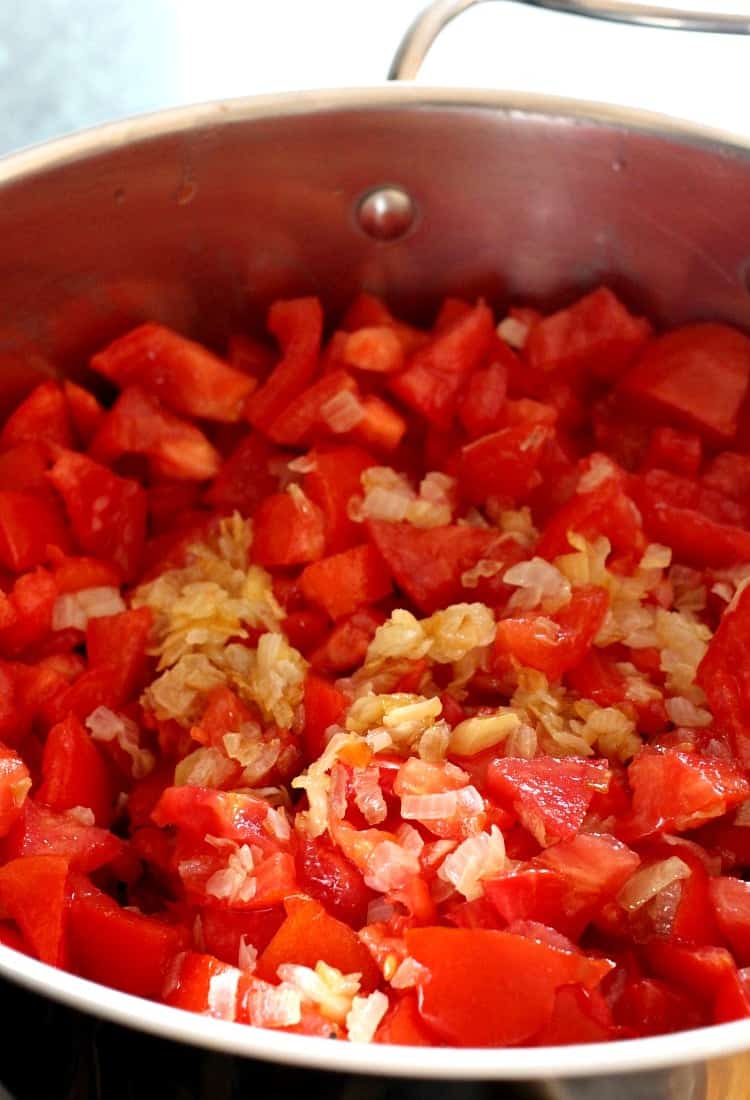 How Do You Make Homemade Marinara Sauce?
Start by grabbing yourself a large stock pot and start cooking down a few chopped onions and garlic in olive oil. This part is one of the keys to this sauces flavor, or really any recipe, you have to really cook down the onions and get them sweet.
No one wants crispy onions in a recipe unless they are meant to be raw. Cook the onions down for a good 10 minutes until they are super soft and super sweet.
For the fresh tomatoes, you'll need to quarter them and seed them. Not as hard as it sounds, I promise. Just squeeze the tomatoes gently over a bowl and most of the seeds and juice will come out. If a few seeds are hanging around it's not a big deal.
Next chop the tomatoes into large chunks like you se above and get them into the pot with the onions and garlic. Add a few seasonings like salt, pepper and oregano and then the secret ingredient…sugar.
The amount of sugar that you'll need to add to your fresh tomato sauce will depend on how sweet the tomatoes are. I found that for a large batch of marinara sauce like this that we used about a tablespoon. You can start with less and add more, it's tough to take away so make sure you start small!
Now let the sauce cook down for 45 minutes, getting in there to stir it up every so often…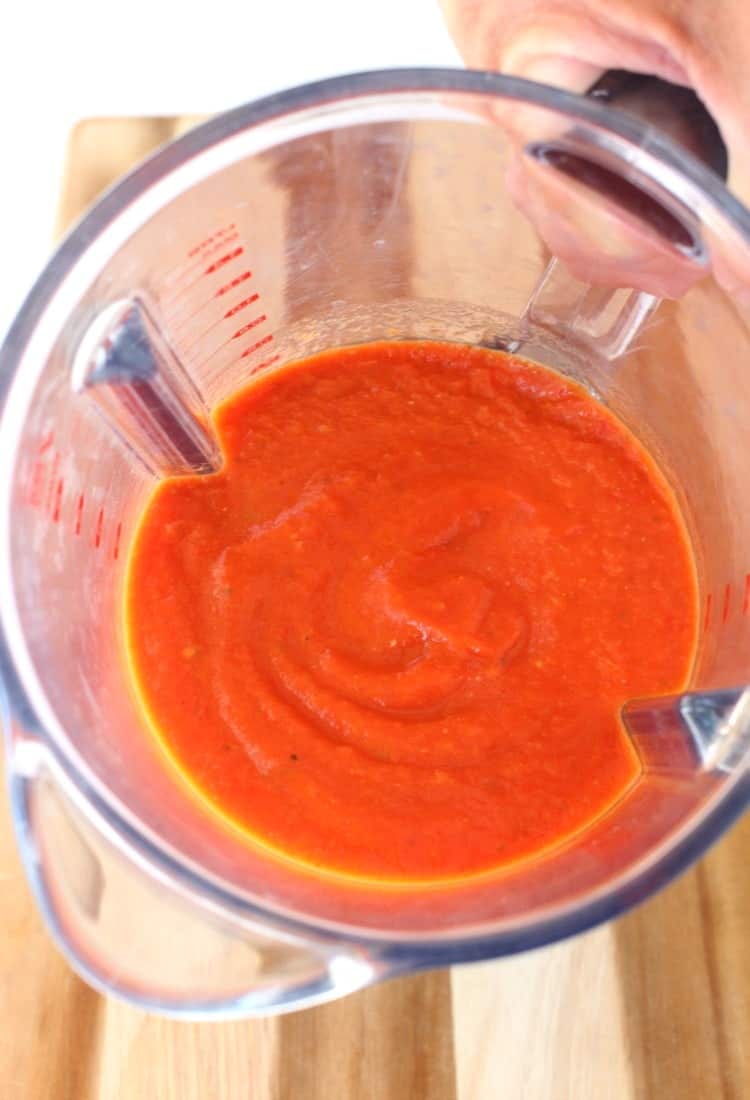 Once the sauce has simmered, it's time to pick your blending options. You can use an immersion blender (stick blender) and blend the sauce right in your pot. Or you can let the marinara sauce cool and transfer it to a blender.
The blender seems to be the best option if you want a really smooth sauce without any tomato skins present. If an occasional skin doesn't bother you then go ahead and use the immersion blender.
What's The Best Way To Freeze This Sauce?
Let the sauce cool completely and then pick your storage options. Containers are obviously a good choice but if you're looking to save room you can also use resealable bags. You can freeze the sauce in bags and have them lay flat in your freezer so it hardly takes up any space at all!
When you do freeze this marinara sauce, make sure to portion it out so that you don't have to defrost all of it and then only use part of it. I found that a 2 cup portion worked best for most recipes that I needed sauce for.
Or if you're making a big recipe like lasagna or stuffed shells you can just grab two bags of sauce to defrost.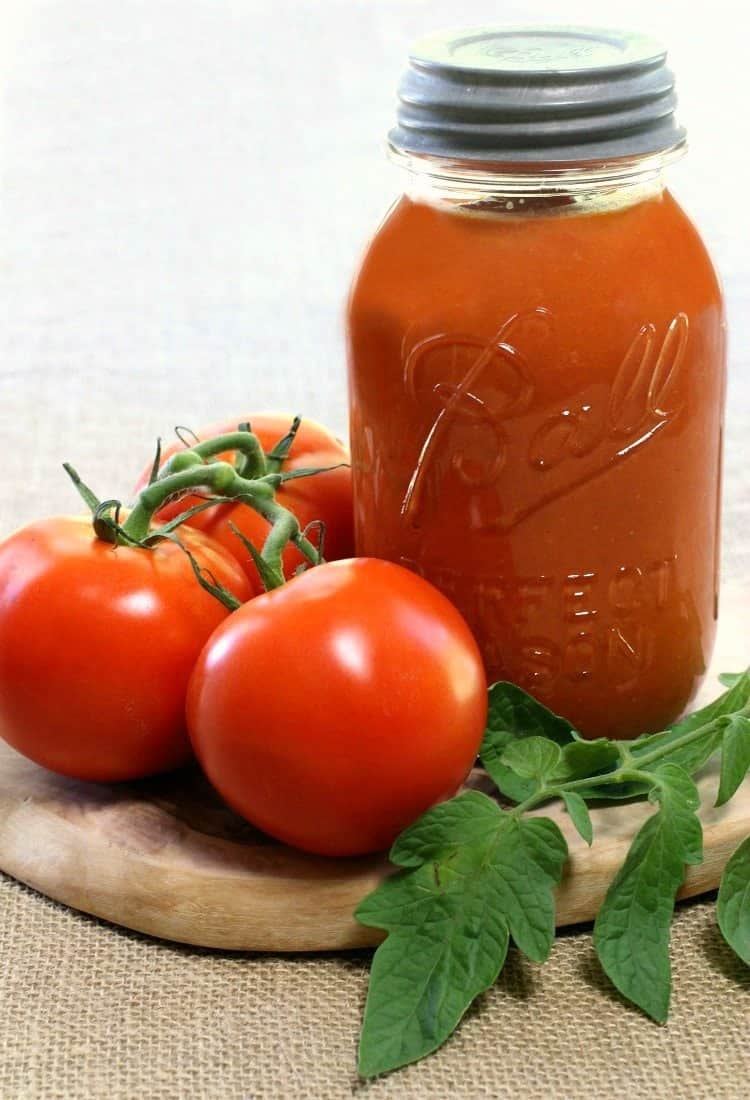 What Are Some Recipes I Can Make With This Homemade Marinara Sauce?
There really are so many ways to use marinara sauce, but I'll tell you a few of our family favorites!
Use As A Dipping Sauce For:
Print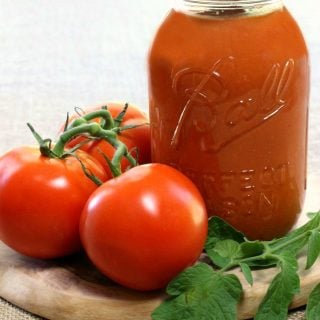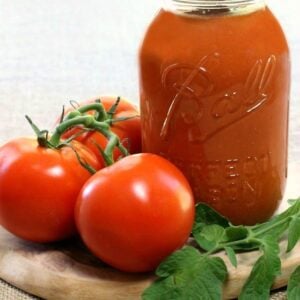 Homemade Marinara Sauce
Author:

Prep Time:

15 minutes

Cook Time:

45 minutes

Total Time:

1 hour

Yield:

8 cups

1

x
This fresh marinara sauce recipe is the best way to use up all those garden tomatoes! There's so many ways to use this sauce, make a big batch and freeze for when you need it!
Scale
Ingredients
1/4 cup

olive oil

2 cups

diced onions

2 tablespoons

chopped garlic

12 cups

chopped tomatoes

2 teaspoons

kosher salt
Fresh black pepper to taste

1 1/2 teaspoons

dried oregano

1 teaspoon

dried basil

1 tablespoon

sugar (or to taste)
Instructions
Chop the tomatoes in large wedges and squeeze gently to get the seeds out over a large bowl. Chop the tomatoes in a large dice set aside.
Add the olive oil to a large, heavy bottomed pot or dutch oven. Heat the olive oil over medium-low heat and then add the onions to the pot. Cook the onions, stirring often, for 10-15 minutes until golden brown and softened.
Add the garlic, stir and let cook for another 2-3 minutes.
Pour in the tomatoes, salt, oregano and sugar, stir and let cook for 30 minutes partially covered with a lid, stirring occasionally.
Remove the sauce from the heat and let cool down for 30 minutes. The tomato sauce will cool down a lot faster if you transfer the sauce to a cool pot and stir a few times to release the steam.
Once cooled, add the sauce in batches to your blender and blend until smooth. Only fill the blender 1/3 of the way full so that the sauce doesn't explode out of the top of the blender.
Taste for seasonings then store in a container in the refrigerator for a week, or freeze for up to 3 months.
Category:

Dinner

Method:

Stove Top

Cuisine:

American
Keywords: homemade marinara sauce, homemade tomato sauce, fresh marinara sauce, fresh tomatoes, sauce recipe, spaghetti sauce, pasta sauce