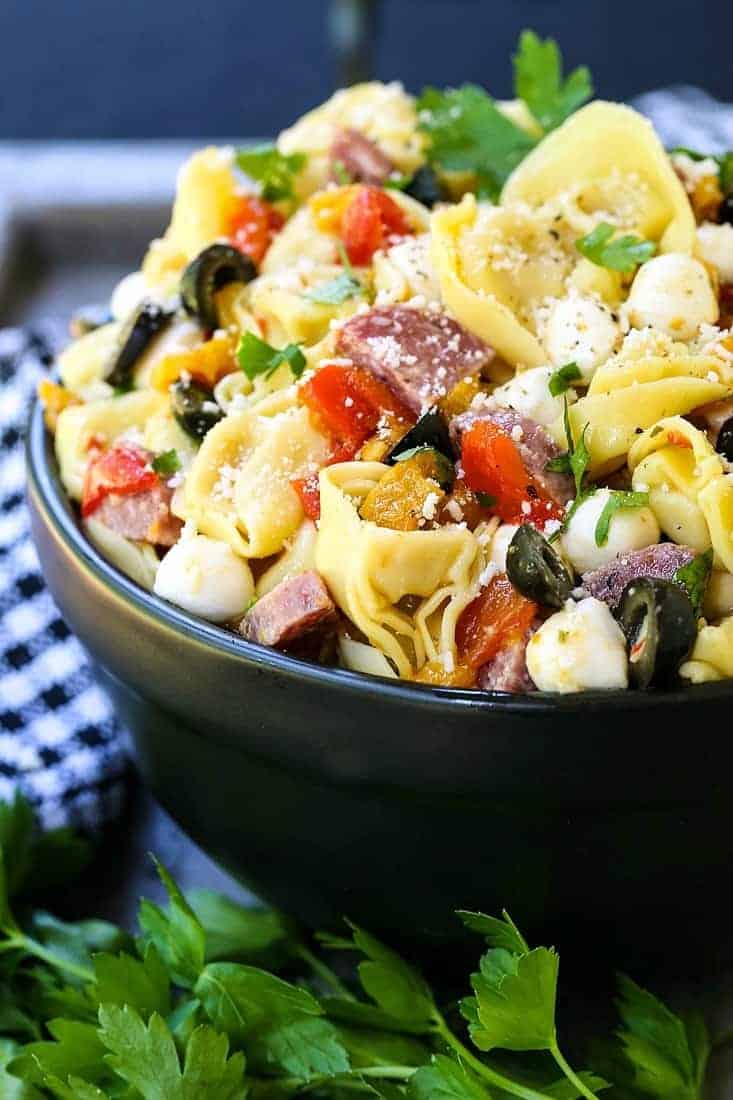 This Italian Pasta Salad is going to be a hit at all your parties and BBQ's! This pasta salad recipe has all the flavors you love in Italian antipasto!
Love pasta salad recipes? Also try our CRAB CAKE PASTA SALAD and this BUFFALO CHICKEN PASTA SALAD recipe! Both are pasta salads that can be both side dishes and the main course!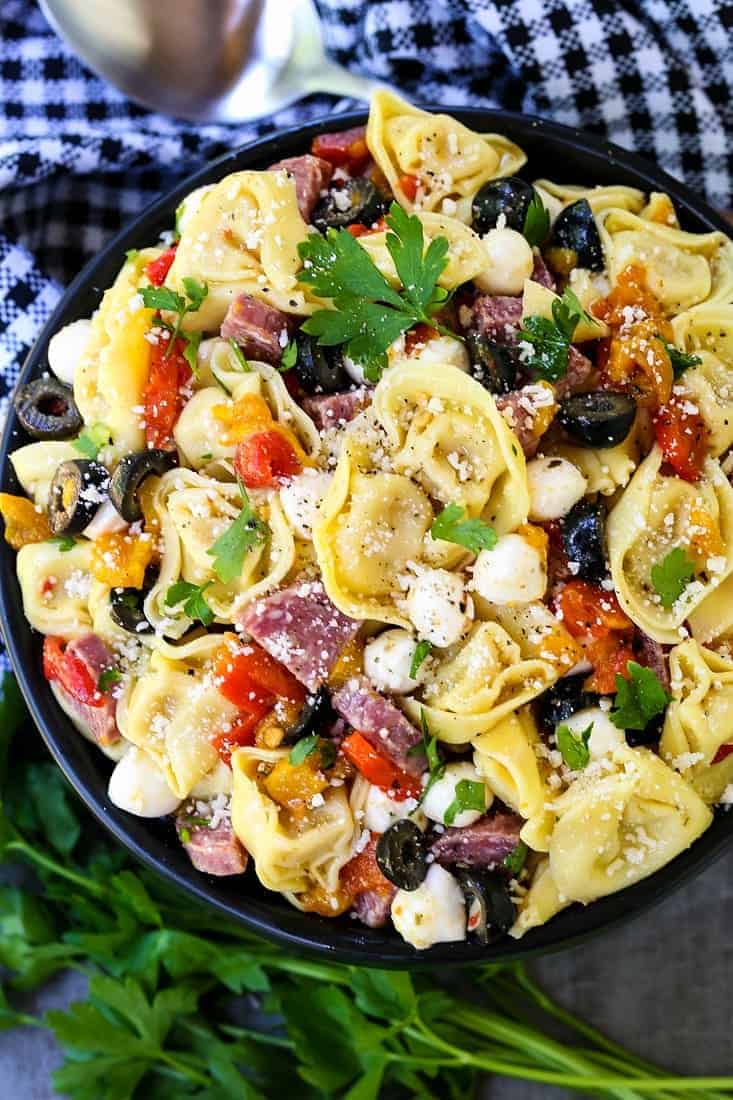 How To Make The Best Pasta Salad
Pasta salad is such a perfect side dish! Especially recipes as hearty as this Italian Pasta Salad that can me a main course or a side dish.
There are a few tips we have for making the best pasta salad you can make, and they couldn't be easier!
First of all, no one likes runny, watery pasta salad and I find a lot of people make them that way. This is usually from not draining your pasta really well and also from the type of dressing you're using.
Lots of pasta salads use store brought Italian dressing…this is not my favorite way to do it. Instead, we're using a tangy, homemade creamy Italian dressing to toss with this pasta salad and let me tell you guys – it's so worth taking the 3 minutes to make it!
Also, I'm not a big fan of the basic olive oil pasta salad recipes. Why do you want to eat pasta covered in oil? I'm guessing that there's a place for that I'm sure but it's not in a pasta salad.
So start by cooking your pasta al dente (just tender, not over cooked) draining it really well and using the right dressing. You'll be on your way to the best pasta salad ever!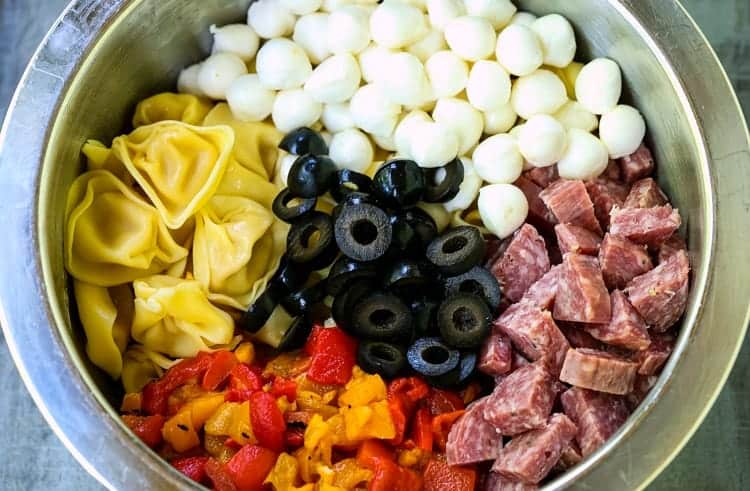 What Goes Into Italian Pasta Salad?
For this recipe we used hard salami, mozzarella cheese, black olives and roasted red peppers. Our pasta of choice was cheese tortellini – because the more cheese the better!
But there are many more ingredients you can add to this pasta salad!
Marinated Artichokes
Provolone or Asiago Cheese
Thinly Sliced Celery
Red Onions
Pepperoncini Peppers
Grape Tomatoes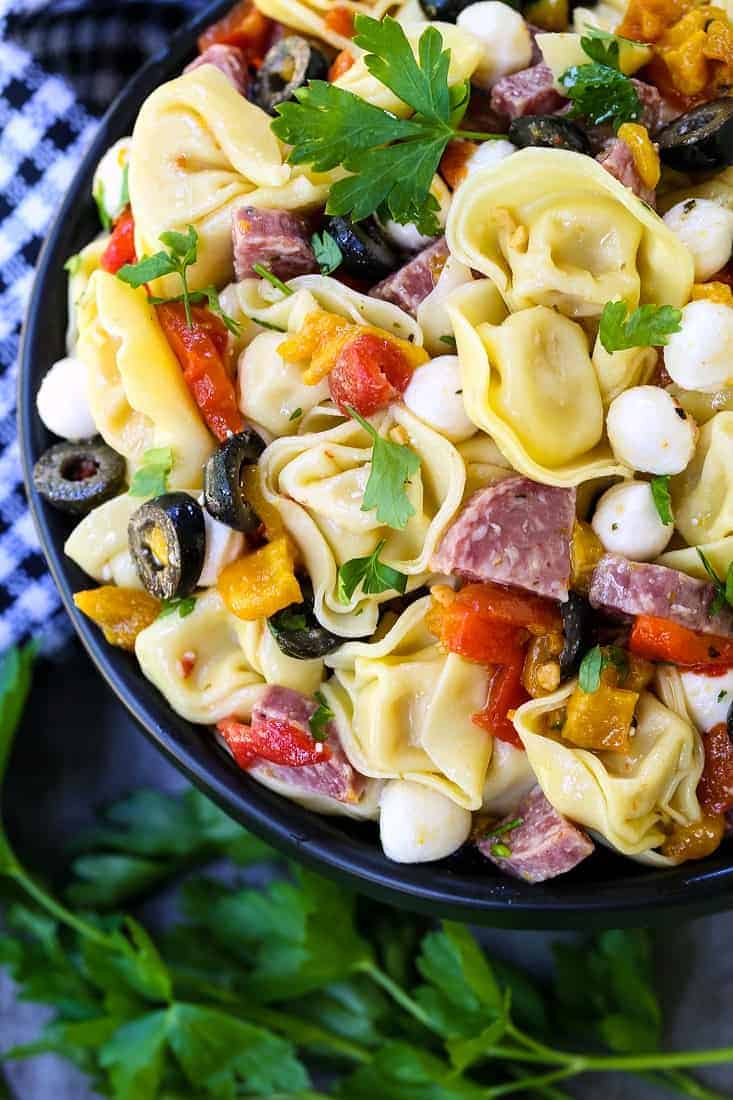 Once you get the ingredients mixed together in a bowl you can pour on the dressing. A really important part to making the best tasting pasta salad is right at this step – because I know you'll be tempted to eat it right now.
But just wait…
Let the pasta salad chill in the refrigerator for at least an hour or two. The flavors will blend together so nicely and the pasta will soak up a little of the dressing making it taste even better.
You might want to add a little more dressing than you think you might need because the tortellini will absorb some of it.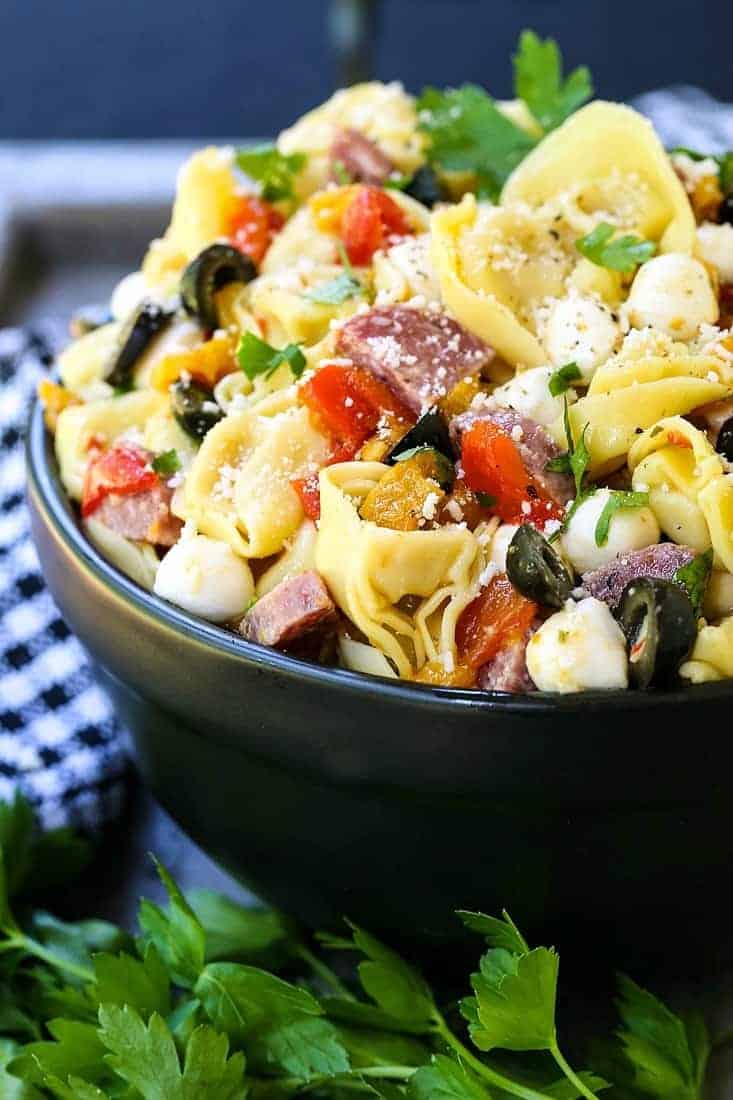 Make sure and add lots of freshly grated parmesan cheese before serving this pasta salad, and a few grinds of fresh black pepper!
Stir it up one last time before serving to make sure all the dressing is mixed in well. I promise you, this Italian Pasta Salad is going to be the recipe everyone will be asking for!
What Meals Can You Serve With Pasta Salad?
Pin It!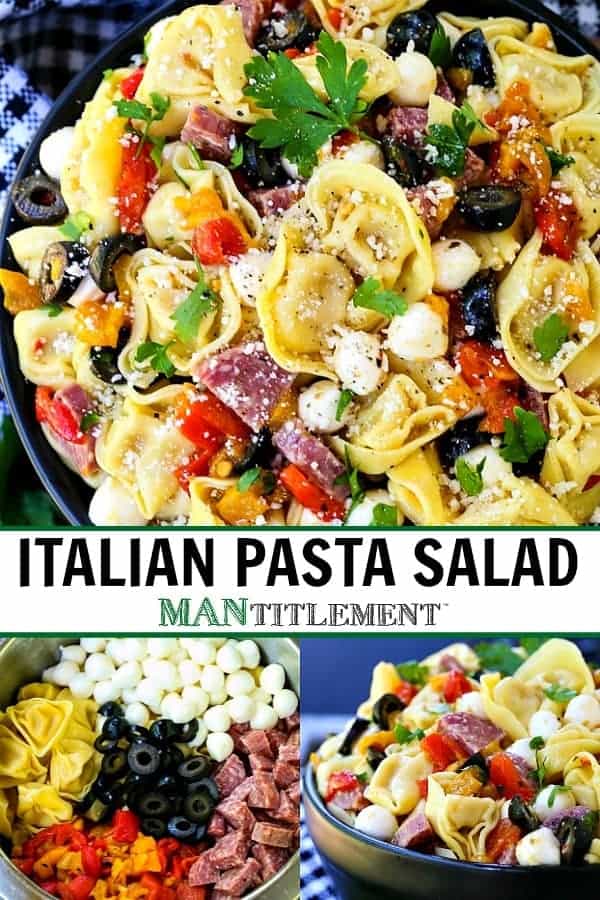 Print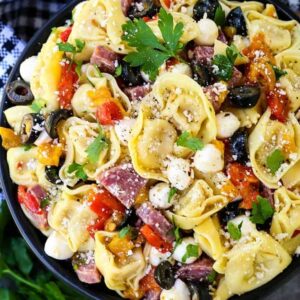 Italian Pasta Salad
Author:

Prep Time:

10 minutes

Cook Time:

15 minutes

Total Time:

25 minutes

Yield:

10 Servings

Category:

Side Dish

Method:

Stove Top

Cuisine:

American
---
Description
This tangy pasta salad recipe can be served as a side dish or the main course!
---
Ingredients
20 ounces fresh cheese tortellini
8 ounce salami, sliced into rounds and cut into fourths
15 ounce jar roasted red peppers, drained and chopped
8 ounces mozzarella pearls (small size fresh mozzarella balls, or you can use the larger balls and cut them in halves or fourths)
1/4 cup chopped parsley
3.8 ounce can sliced black olives, drained
For The Dressing:
1 tablespoon white vinegar
2 tablespoons olive oil
2 tablespoons milk
1/3 cup mayo
1/2 teaspoon sugar
2 tablespoons grated parmesan cheese
1/2 teaspoon garlic powder
1/2 teaspoon dried basil
1/2 dried oregano
1/2 teaspoon – 3/4 teaspoon salt
Fresh black pepper to taste
---
Instructions
Cook the cheese tortellini according to the package directions, rinse with cold water and let drain well.
Mix the ingredients together for the dressing and set aside.
In a large bowl, combine the cheese tortellini, salami, olives, cheese, peppers and parsley and toss to combine.
Add the dressing to the pasta salad starting with about half the dressing, stirring and then adding more if needed.
Wrap the pasta salad with plastic wrap and chill for at least an hour or up to several hours before serving.
Toss once more before serving and garnish with more parmesan cheese and chopped parsley.
---
Notes
This pasta salad will last for 2-3 days in your refrigerator but is best served the day it's made.
Keywords: pasta salad, pasta recipes, side dishes, side dish recipes, tortellini, bbq sides