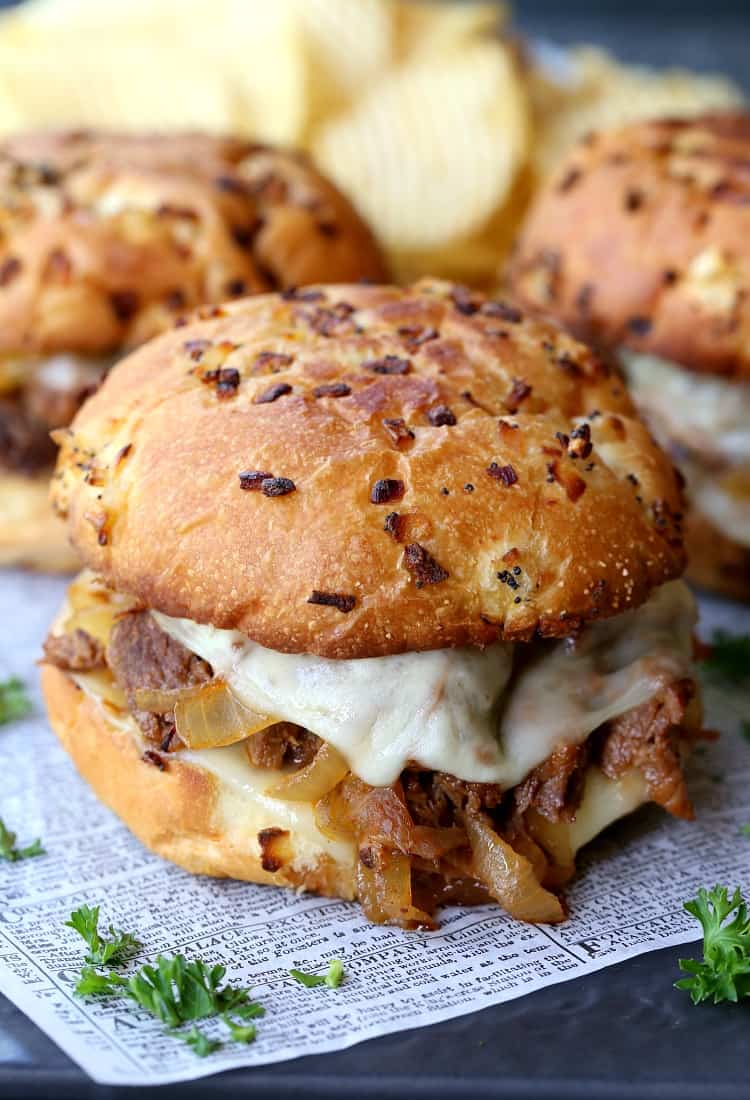 Slow Cooker BBQ French Dip Sandwiches
Try these Slow Cooker BBQ French Dip Sandwiches at your next party or for a delicious dinner on any night! This recipe is so easy you can make it even on your busiest days!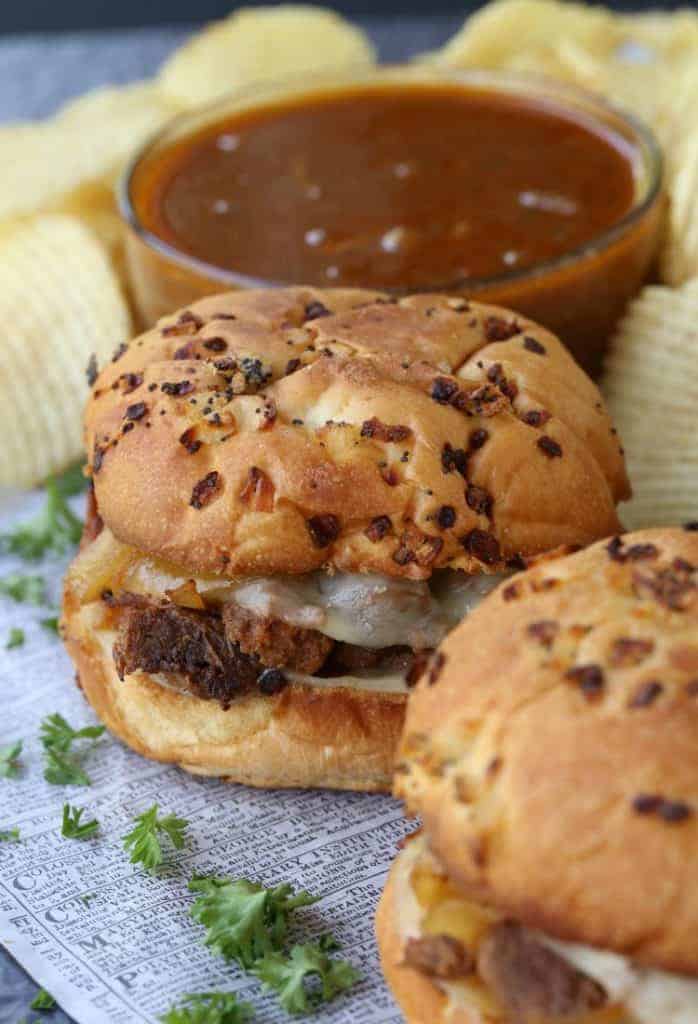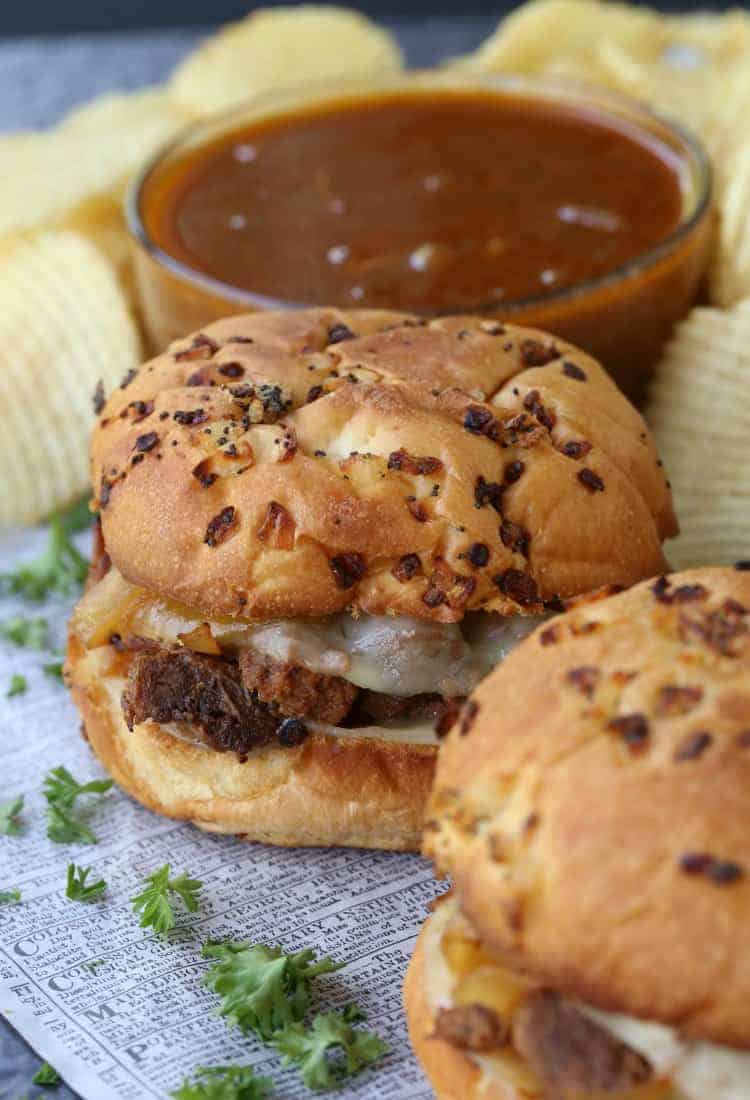 I love recipes like this. Perfect for having a big party or just tasty enough to have for a family dinner at home – with leftovers so you're not cooking every single night of the week.
These Slow Cooker BBQ French Dip Sandwiches are on the TOP of my dinner list right now. I mean the TOP.
Don't think of pulled pork sandwiches because the beef here is in a lighter sauce than that. More like a BBQ au jus for a French Dip sandwich. Because the name…BBQ French Dip Sandwiches.
Oh did I forget the other best part about the sauce in these? A good portion of this sauce is beer.
Because beef and beer, you can't go wrong with that. I'm still using up the meat I brought home from the Beef Retreat I attended with the New York Beef Council. I got a freezer full of beef from that trip that I used to make these Fiesta Steak Tips – and I'm not complaining.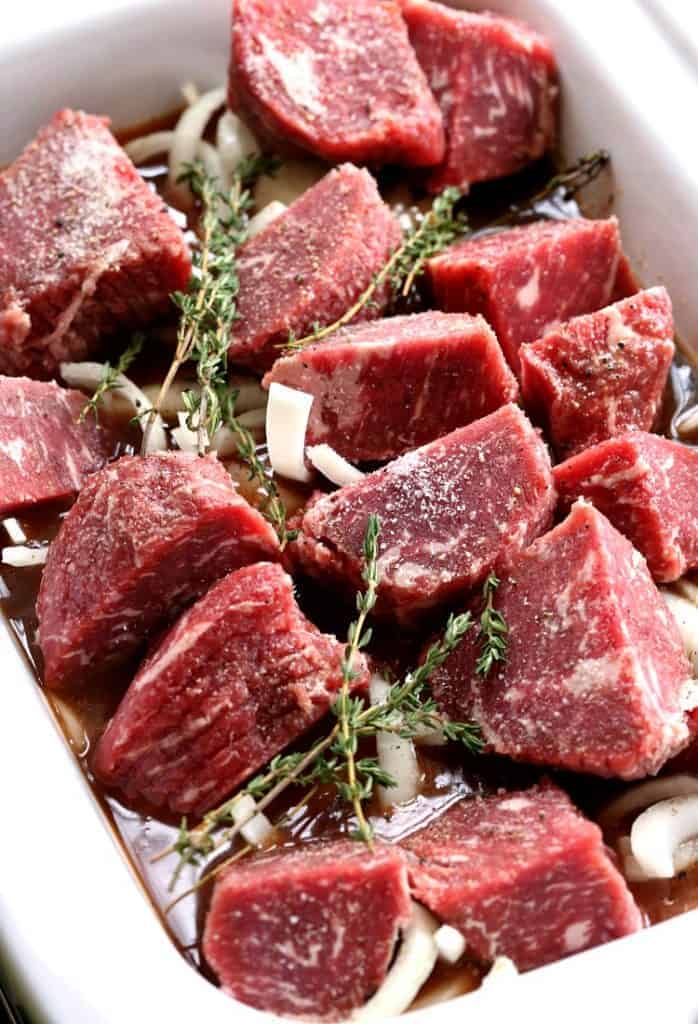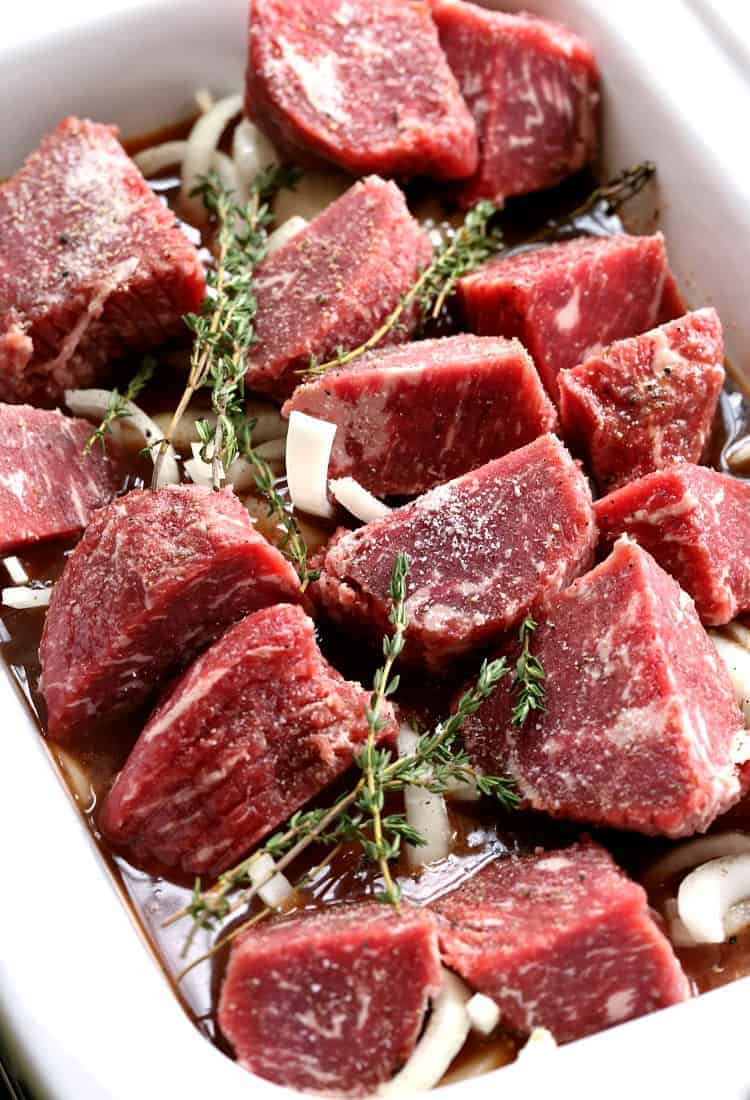 You could use a couple of different cuts of beef for this recipe but I grabbed a chuck roast and cut it into large pieces. I like using pieces about this size for slow cooker recipes because I think it gives the beef more flavor – more contact with all the tasty sauce.
Let your slow cooker go all day then take the beef and onions out and put them into a large bowl so you can shred the beef.
Leave the lid off your slow cooker for the last hour so the sauce can thicken and reduce just a little bit. Your kitchen smells pretty awesome already from this beef cooking all day, but just wait until you take the lid off.
Once the sauce has thickened add the beef and onions back to the slow cooker and toss it all together to combine.
Now for the good part.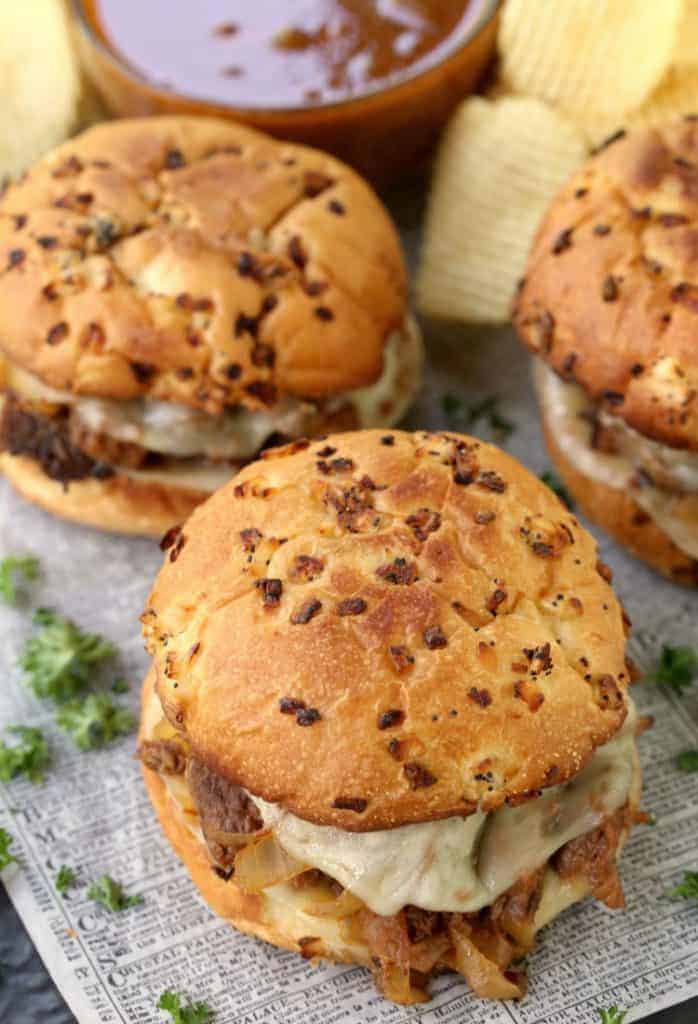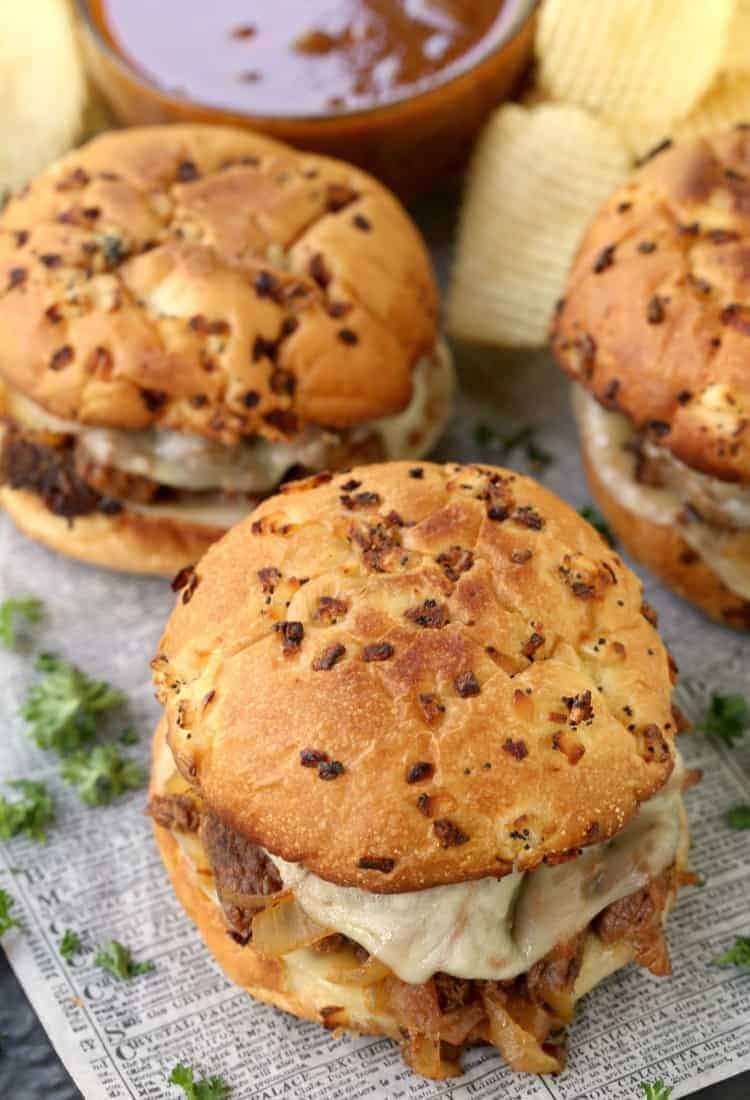 Open your sandwich buns and get them in the oven for 5 minutes to get them toasty.
Remove the buns from the oven, then add 2 slices of provolone to each side – yep, each side. Then back in the oven just long enough to melt the cheese.
Now it's time to serve these Slow Cooker BBQ French Dip Sandwiches up!
Grab a set of tongs and add some beef to each sandwich, draining most of the juice off before you add it to the buns. Don't forget those onions…pile those on high too.
Now you can ladle some of that super flavorful sauce to a bowl or small individual bowls for each person, depending on how fancy you want to get, because your going to want to take that crispy, cheesy, beefy sandwich and dip it into the sauce before you dig in.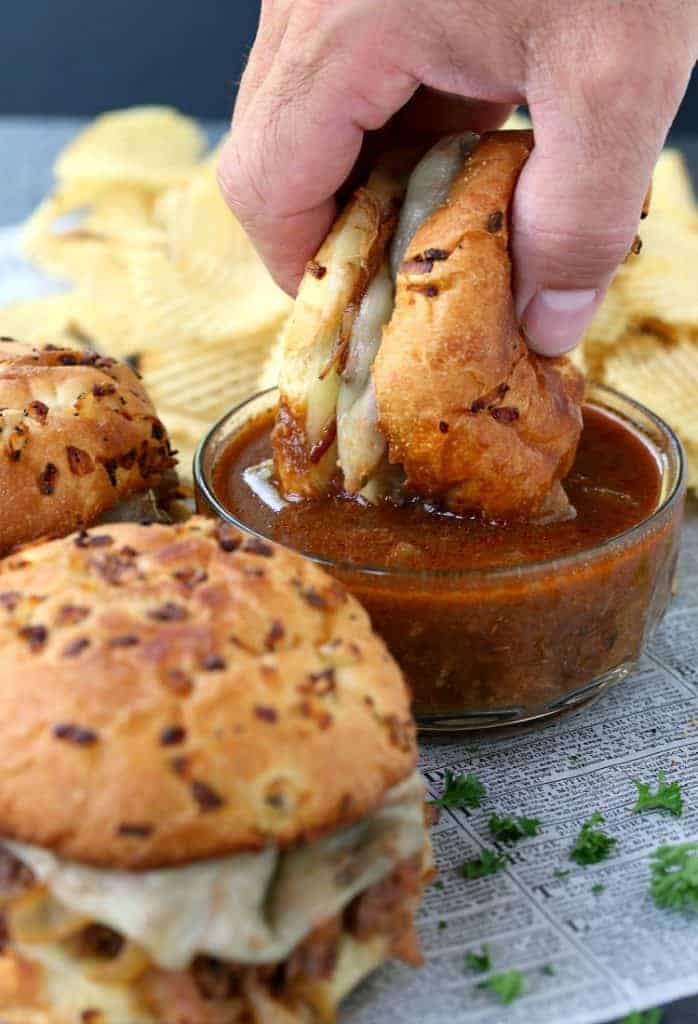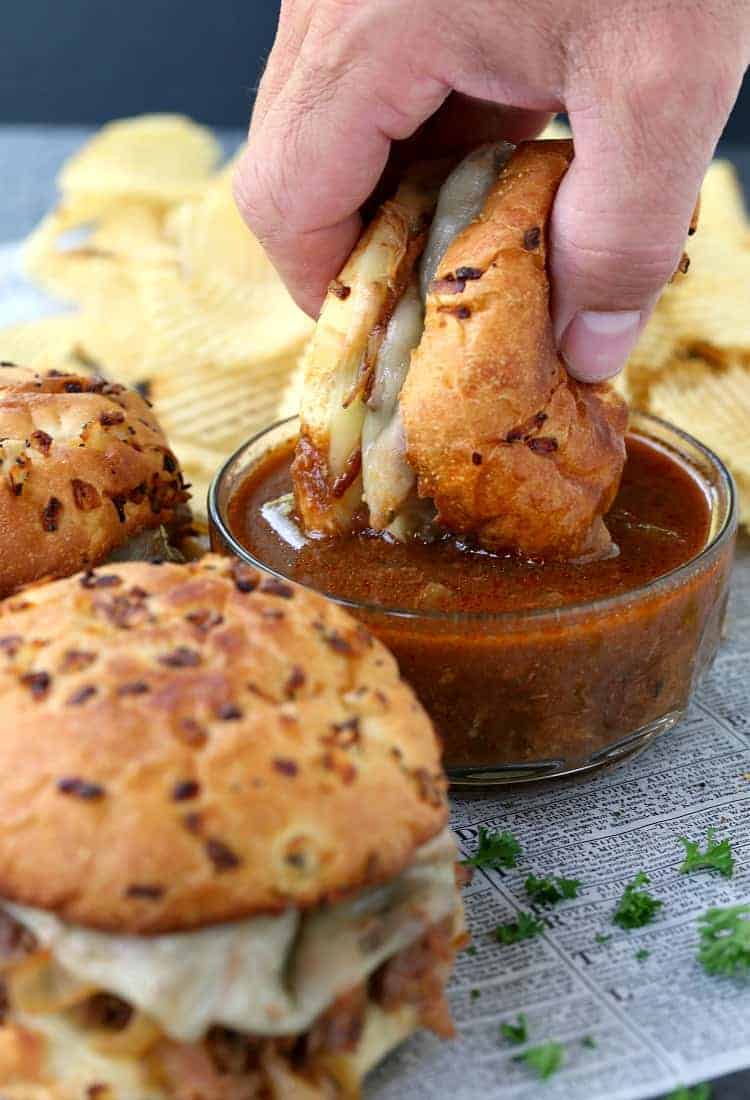 Just like a french dip – but a BBQ french dip this time.
I am telling you…
Hands down one of the most delicious sandwiches I've ever made. Christie had some issues with these…maybe a midnight snack or two which I can promise you is never, ever a thing for her.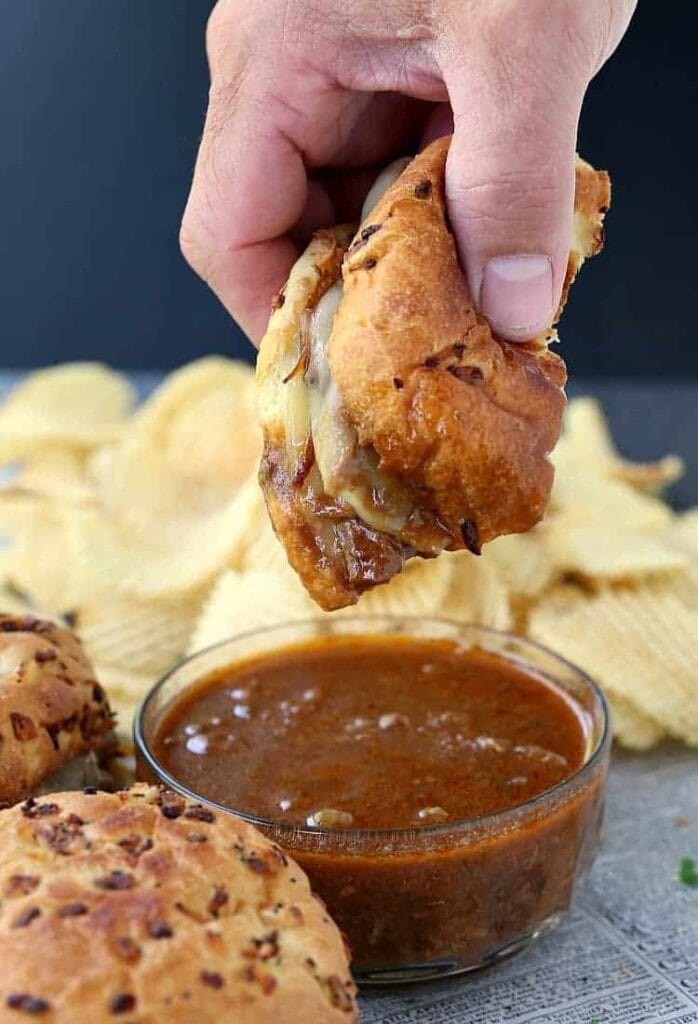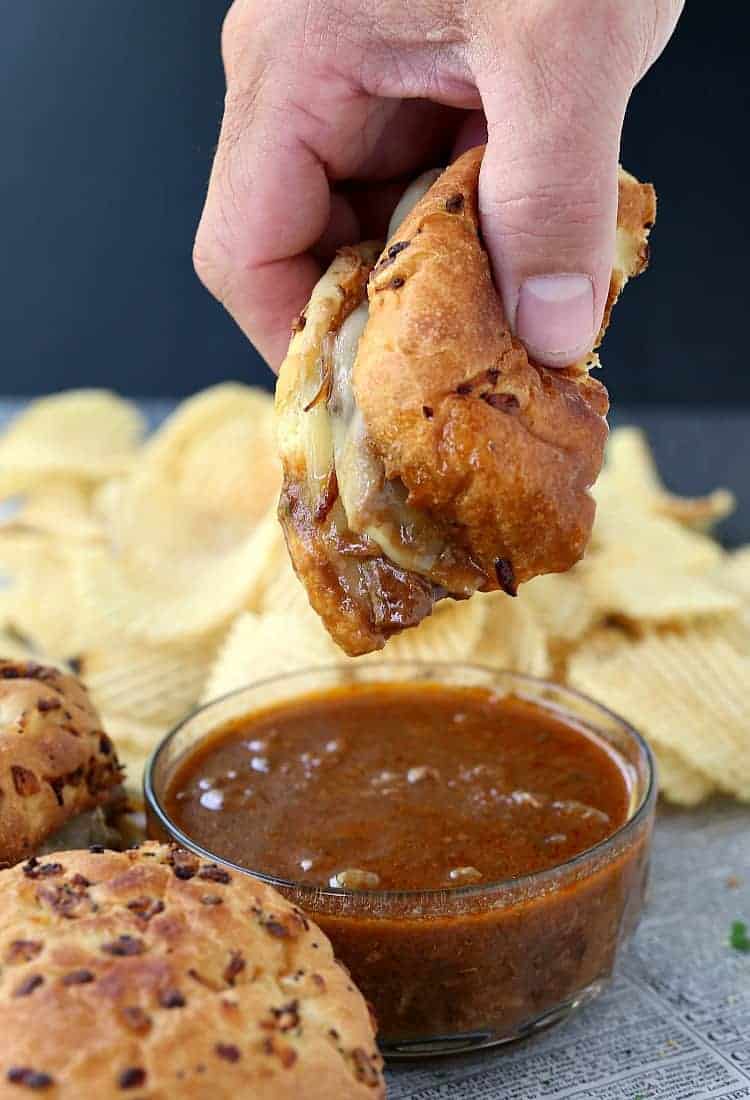 But they are that good. Just calling your name from the fridge at all hours of the night.
Now let me get to the really fun part…making these up for a party?
You can literally do the entire sandwich ahead of time so you're not playing assembly line in the kitchen while everyone is sitting down drinking all your booze.
Here's what you do –
Just toast the buns open like in the first step, just for about 5 minutes.
Now let the buns cool then add the slices of cheese to both sides. The cheese is going to make a barrier for the beef so the buns don't get all soggy on you…and yes this is how my mind works when I'm planning out a recipe.
Cheese barricades.
Now add the beef onto the buns making sure most of the juice is left behind, then pile on the onions.
Wrap the sandwiches in foil and repeat.
So now it's party time – heat your oven to 375 and place the sandwiches on a baking sheet. Warm them up for 30 minutes and serve with the juice you can warm up right in the microwave.
When I say I've got your back – I've got you're back.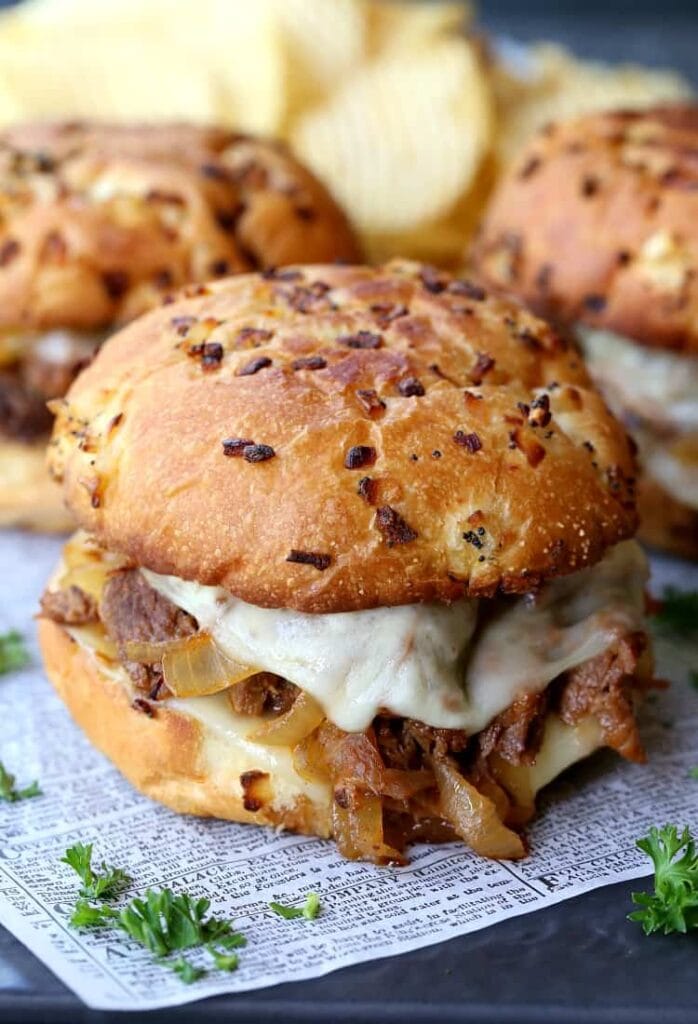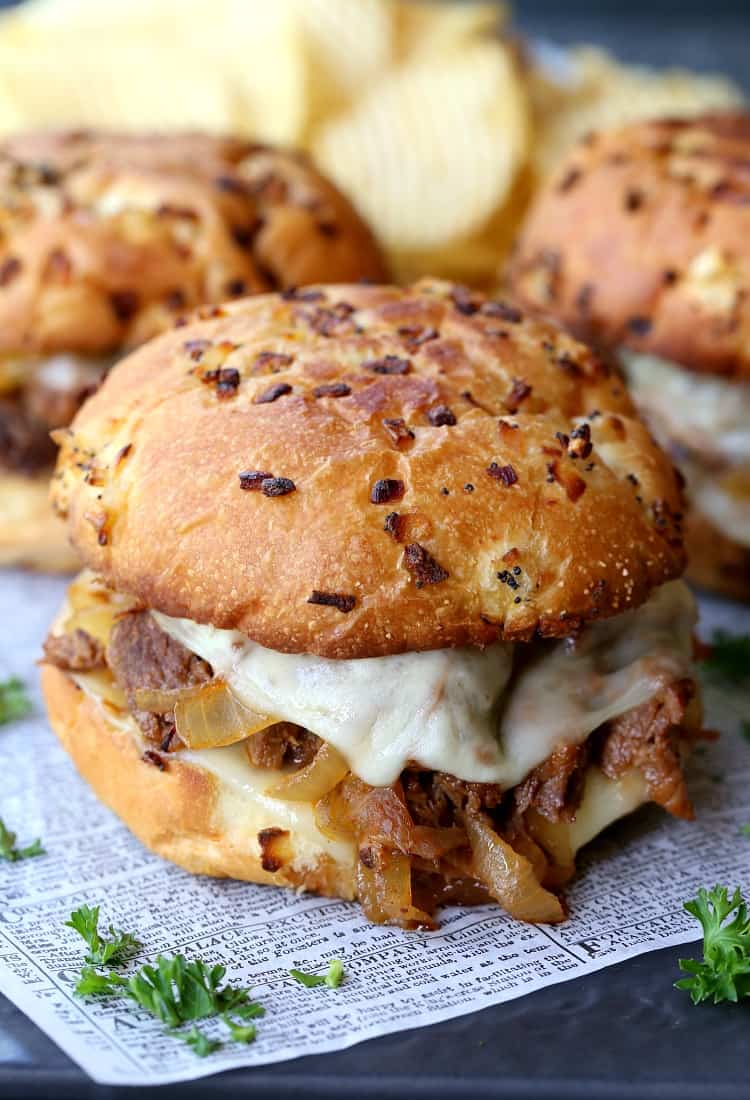 These Slow Cooker BBQ French Dip Sandwiches couldn't get more perfect. Even reheated they are still crispy, super cheesy and you did it all ahead of time!
Print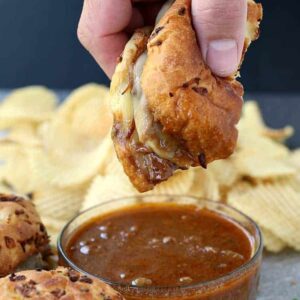 Slow Cooker BBQ French Dip Sandwiches
Author:

Yield:

8

servings

1

x
---
Description
A delicious twist on a French Dip sandwich!
---
Ingredients
3 pounds chuck roast, cut into large pieces
Kosher salt and fresh ground black pepper to season the beef
3 large yellow onions, sliced
6 sprigs fresh thyme
1 (12 oz.) can beer
1 1/2 cups bbq sauce (your favorite kind)
2 tablespoons worcestershire sauce
1 tablespoon beef base (I used Better Than Boullion!)
1 cup beef broth
8 onion rolls or kaiser rolls
16 slices provolone cheese
---
Instructions
Season the beef generously with the salt and pepper.
Add the beef cubes to a slow cooker along with the onions and thyme.
Combine the beer, BBQ sauce, worchestershire sauce, beef base and beef broth in a large bowl whisking to combine.
Pour the sauce over the beef cubes, cover and cook on low for 8-10 hours or on high for 6.
Test a piece of beef to see if it shreds easily before you remove the beef from the slow cooker.
Remove the beef and onions to a large bowl to cool.
Leave the lid off the slow cooker and set to high (if not already) and let cook uncovered for an hour. If you want to speed this step up you can pour the juice into a sauce pot and reduce on the stove, simmering for 20 minutes. This will not produce a thick sauce, more like an au jus.
Return the shredded beef and onions to the juice and toss to combine.
Preheat the oven to 400 degrees.
Open up your sandwich rolls and place on a baking sheet.
Toast for 5 minutes, just until lightly toasted then remove from the oven.
Place 2 slices of provolone cheese on the tops and bottoms of each bun then place back into the oven just long enough to melt the cheese.
Add shredded beef (draining most of the juice off) and onions to each bun bottom then place the top of the bun on the sandwich.
Serve with warmed sauce on the side for dipping!
**Make ahead sandwich instructions in notes
---
Notes
*All slow cookers cook differently, test a piece of beef to see if it shreds easily. If it doesn't just keep on cooking until it does!
**If you want to make the sandwiches ahead of time, follow all directions up to adding the cheese to the buns. Don't melt the cheese in the oven, instead just add the cheese to the buns then add the beef and onions. Wrap the sandwiches in foil and refrigerate until ready to cook. When ready, heat your oven to 375 degrees. Place the wrapped sandwiches on a sheet pan and bake for 30 minutes. Serve with warmed juice on the side.
Shop This Recipe!