Try these Slow Cooker BBQ French Dip Sandwiches for an easy dinner any night of the week! This make ahead, crock pot recipe makes dinner a breeze!
We love make ahead slow cooker dinners like this! Also try our PERFECT PULLED PORK or these CROCK POT SAUSAGE AND PEPPERS for easy meal prepping for the week or parties!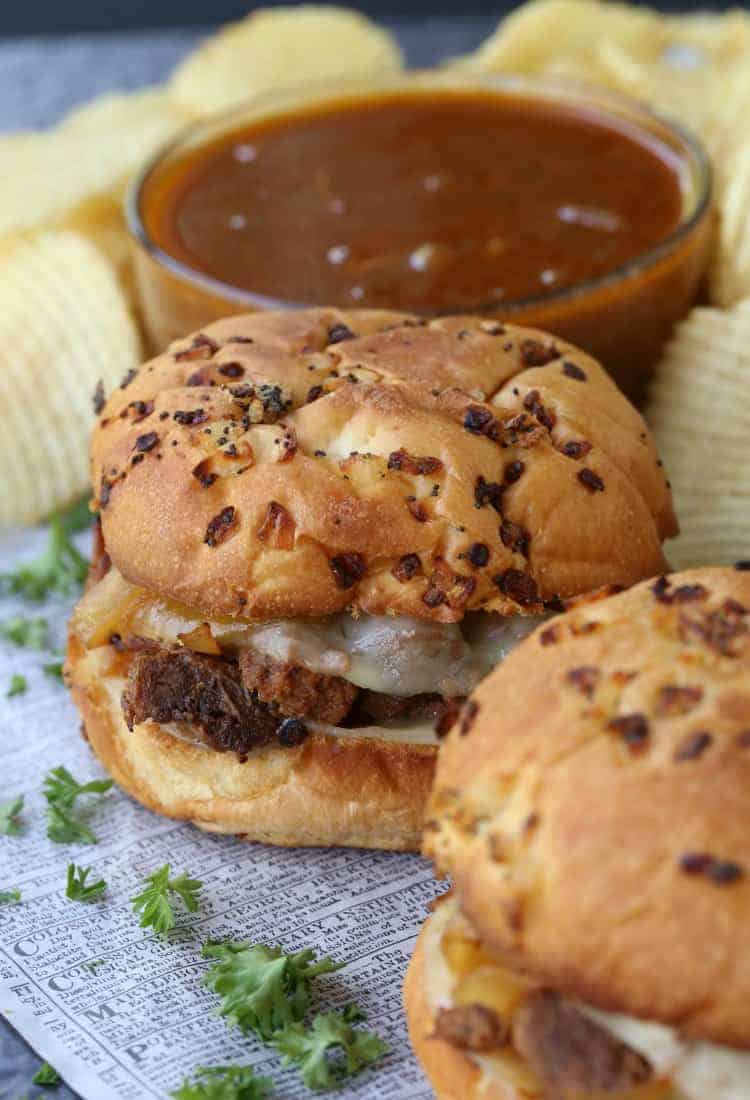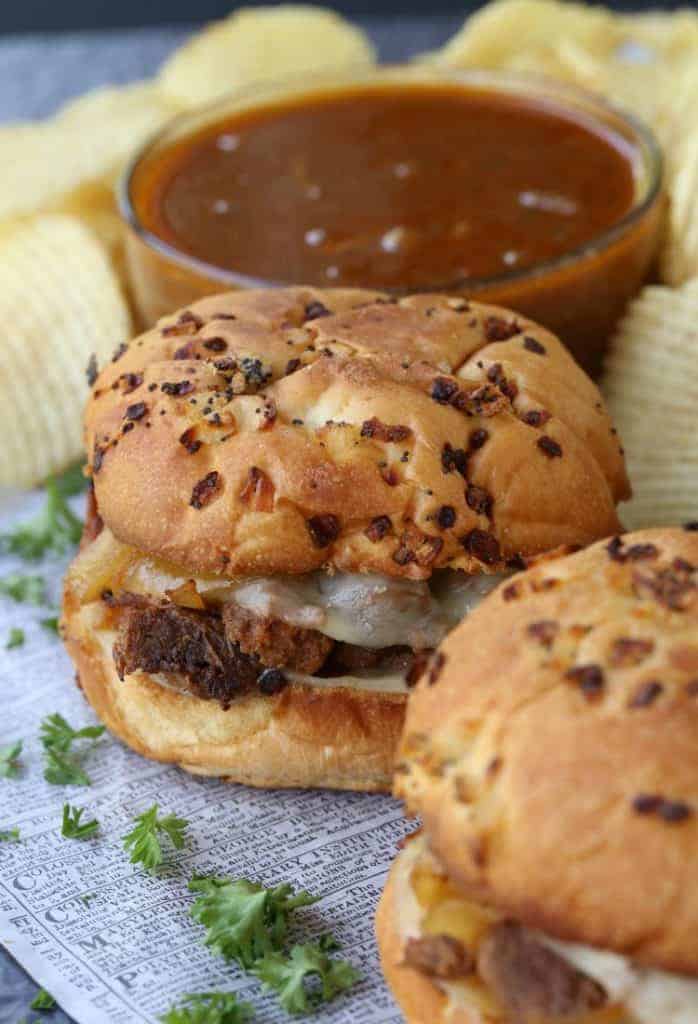 Why We LOVE Crock Pot Recipes!
Crock pot recipes are perfect for busy days, parties or for tailgating. Not only do crock pot recipes, or slow cooker recipes make your recipe super tender and flavorful but they sure do make getting dinner on the table a breeze.
These Slow Cooker BBQ French Dip Sandwiches are perfect for any of the above! You can make these french dip sandwiches ahead of time for busy dinner nights or for an amazing dinner for any BBQ or party.
Once you get the beef filling made the rest is easy. We've got this easy dinner recipe down so well that we even make the sandwiches completely, warm them up at tailgates or dinner time.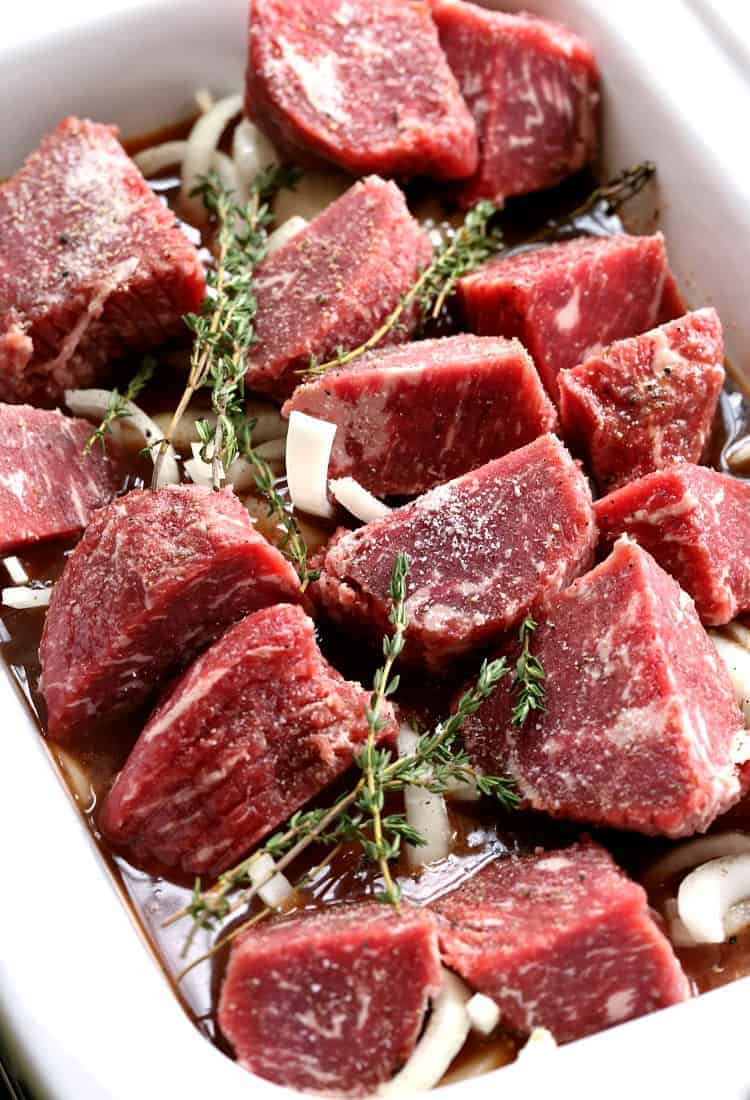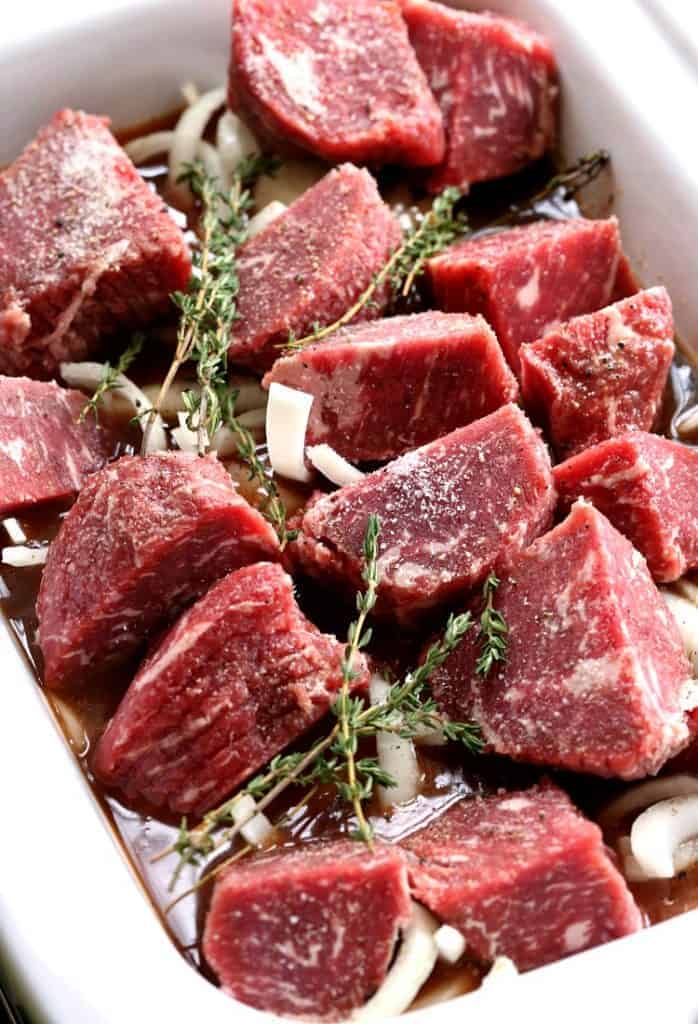 What Cut Of Meat Can I Use For this Slow Cooker Recipe?
There's a few different cuts of meat you can use for this recipe, but I grabbed a chuck roast and cut it into large pieces. I like using pieces about the size shown here because I think it gives the beef more flavor and also it will cook a little quicker for you than a whole roast.
Check out what's on sale at the store that day, so if you see a different cut like a top round or a sirloin you can go ahead and use those too.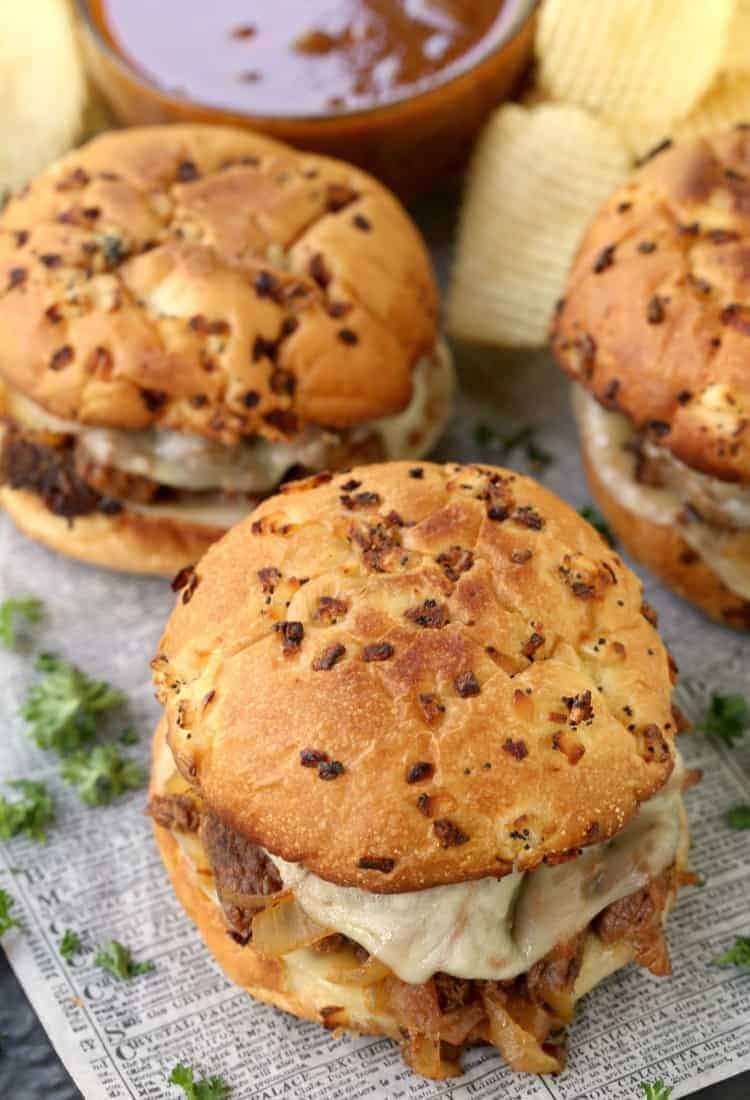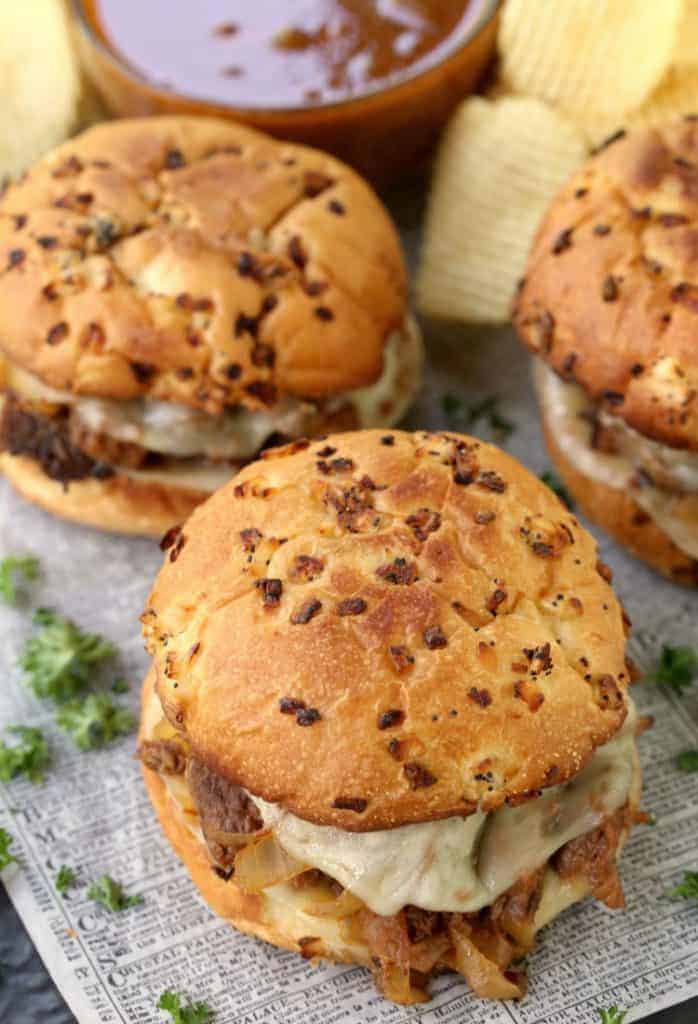 How To Make These French Dip Sandwiches
If you can find onions rolls, I love them for this french dip sandwich recipes. Any roll will do, but make sure it's sturdy enough to hold up to the beef and onions.
Open your sandwich buns and toast them in a toaster or and oven just until they are slightly golden brown.
Remove the buns from the oven and add 2 slices of cheese to each side of the bun. Now get the rolls back in the oven just long enough to melt the cheese.
Adding the cheese to both sides will also create a barrier so the buns don't get soggy when you add the shredded beef.
Grab a set of tongs and add the beef and some of the onions to each sandwich, draining most of the juice off before you add it to the buns. That delicious juice is what you're going to dip these french dip sandwiches into so it won't be left behind…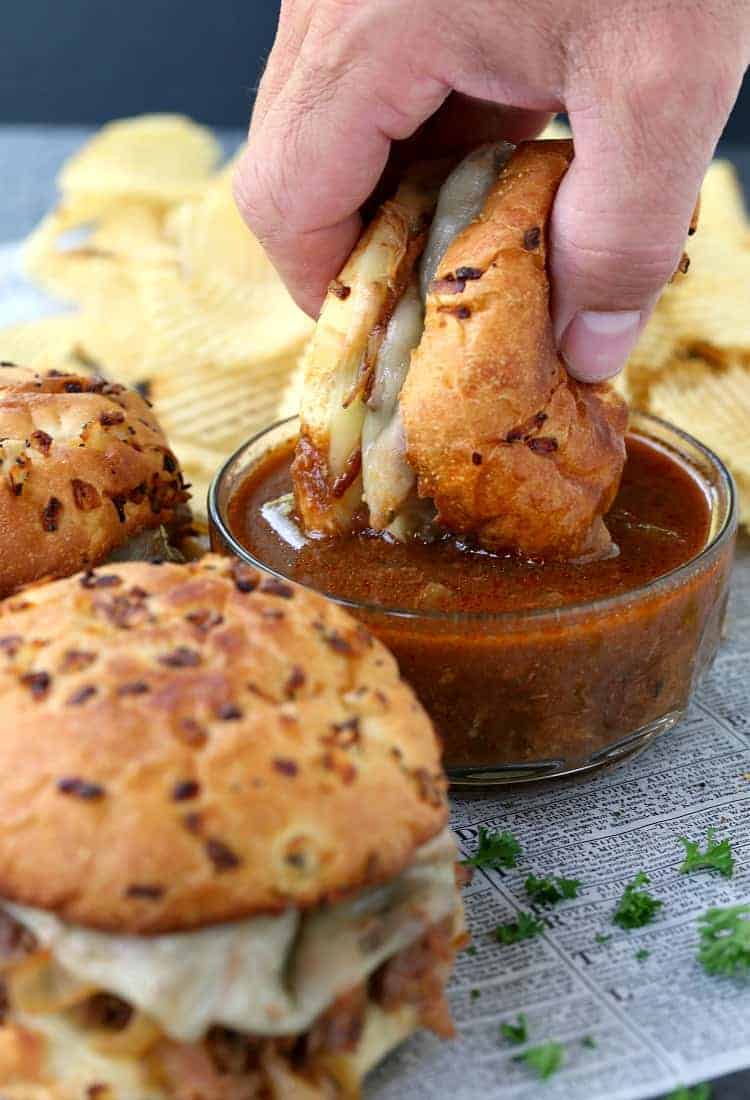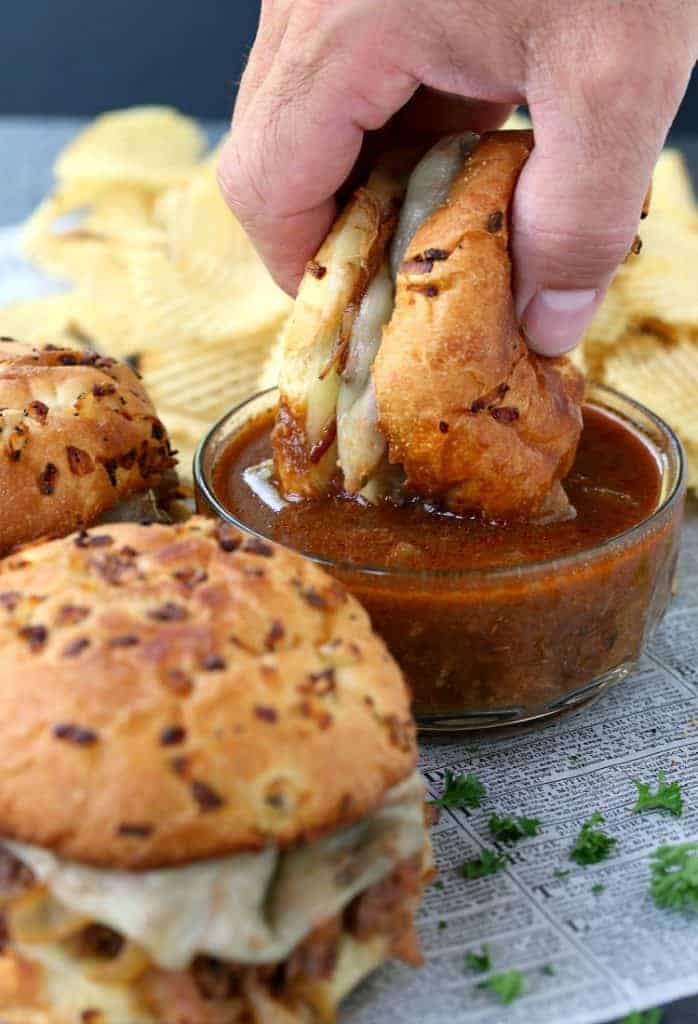 Ladle some of that juice to a bowl or small individual bowls for each person, depending on how fancy you want to get. Because you're definitely going to want to take that crispy, cheesy, beefy sandwich and dip it into the sauce before you take a bite.
Our twist on this french dip sandwich is adding some barbecue sauce to the juice. Why? Well, because we love BBQ sauce for one. Also the bbq sauce makes the au just thicker so it clings to the sandwich that much more…
And we like to get as much sauce on these bbq french dip sandwiches as we possibly can.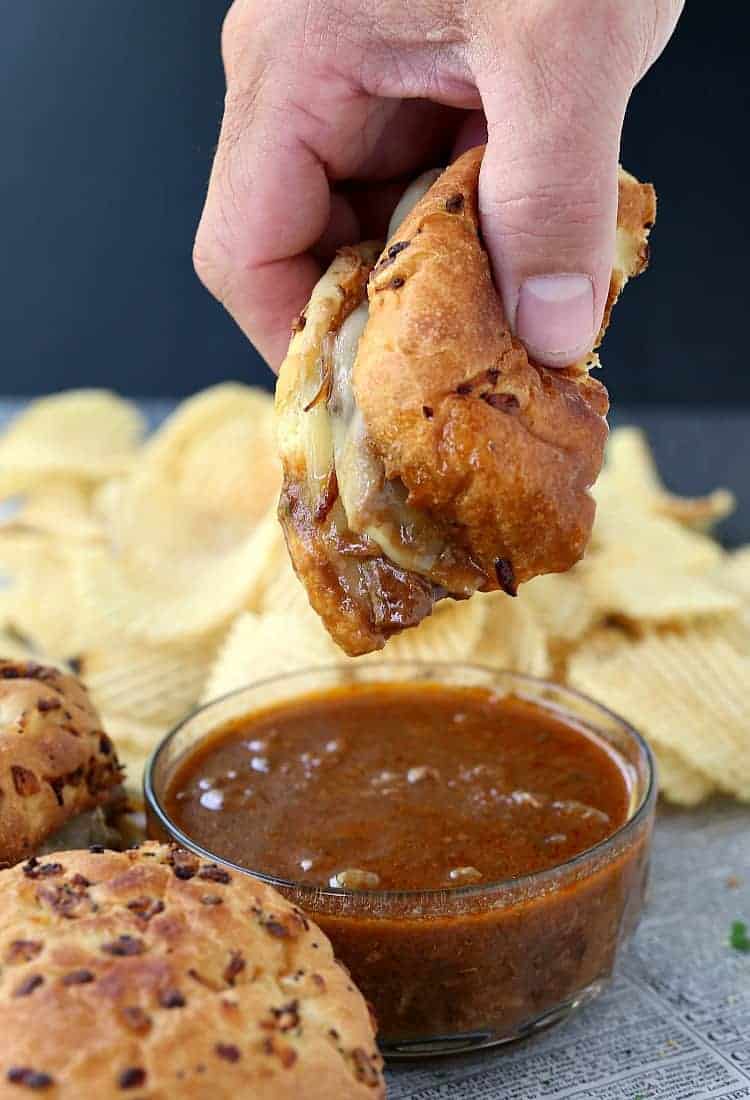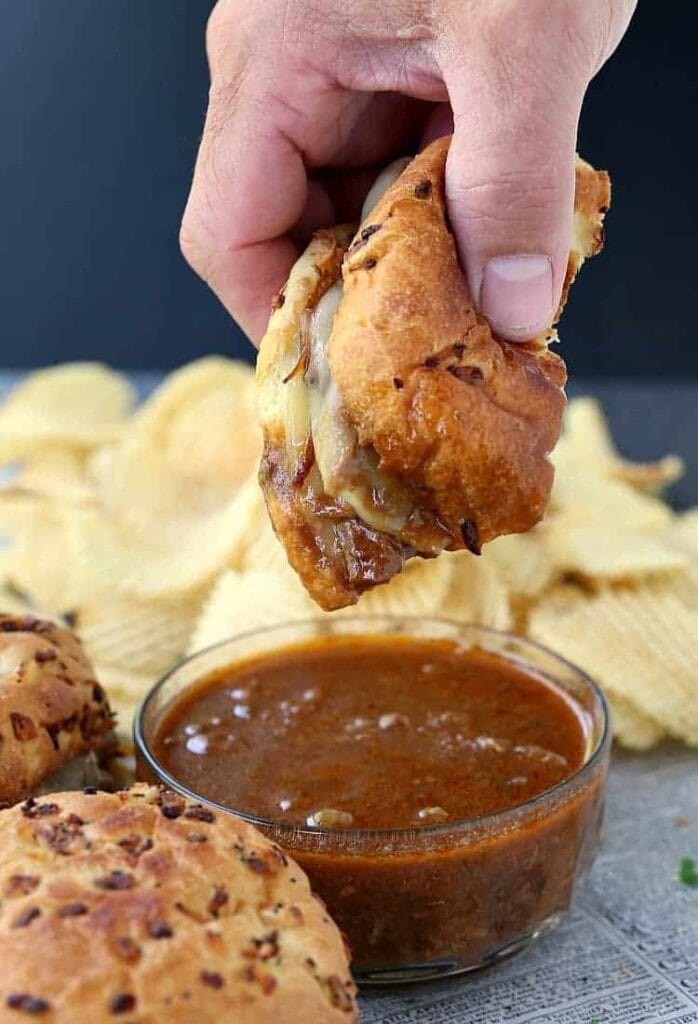 When you look at this sandwich you think, man that doesn't look like it was easy to make – am I right? This french dip sandwich looks like something you get at a restaurant and I can tell you it tastes even better.
So make this crock pot recipe the day before your party, or on the weekend when you're meal prepping for the week and you'll be a ll set.
Kids can assemble their own sandwiches in between sports practices or games, late night snacks of these bbq french dip sandwiches are always a hit. Wrap these cheesy french dips in foil and bring them along to your tailgate, you throw them right on a low grill and warm them up!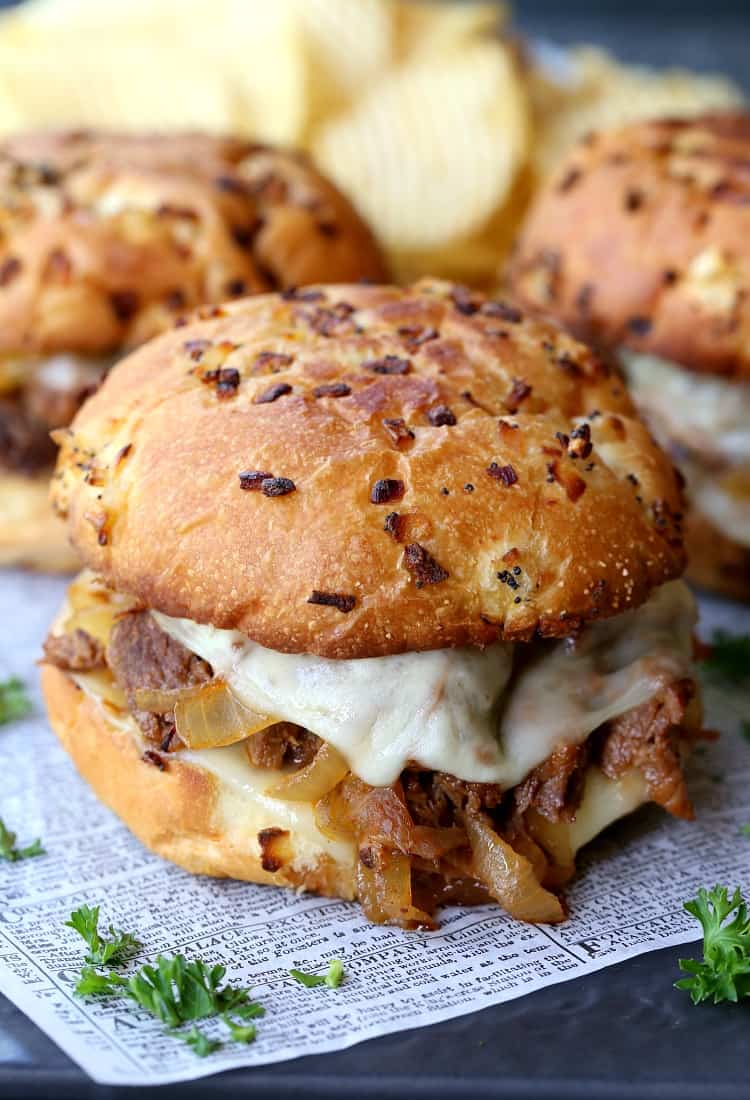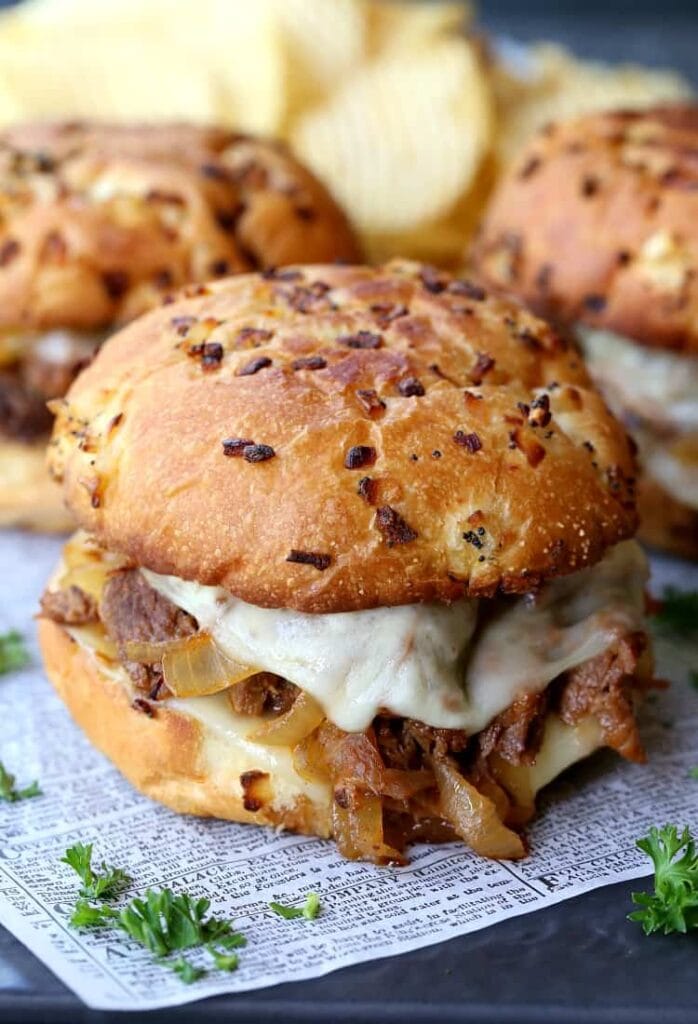 Looking For More Crock Pot Recipes?
SLOW COOKER STICKY CHICKEN LEGS
Pin It!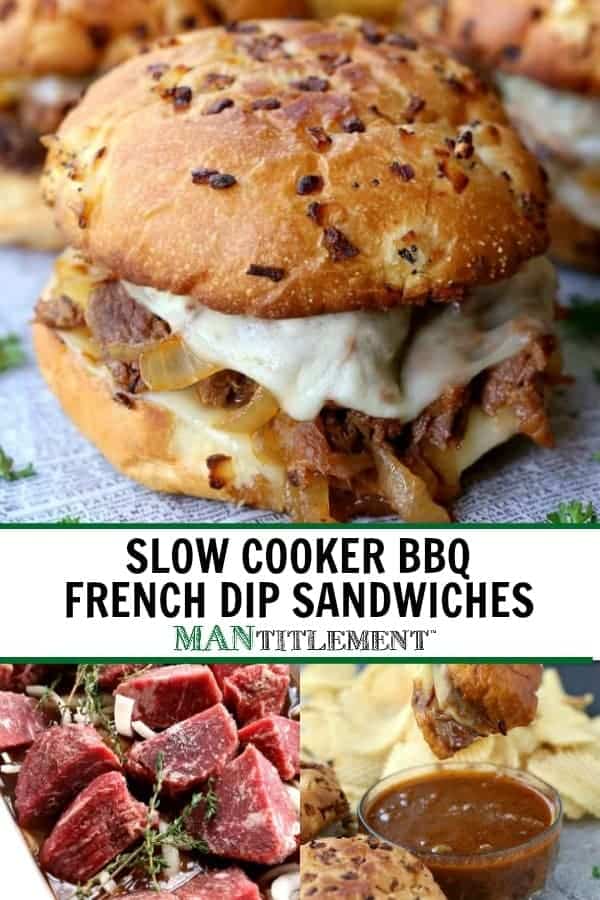 Print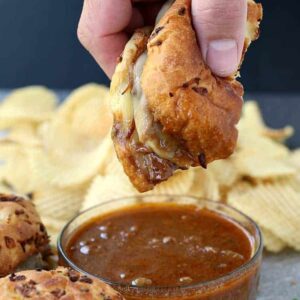 Slow Cooker BBQ French Dip Sandwiches
Author:

Prep Time:

10 minutes

Cook Time:

8 hours

Total Time:

8 hours 10 minutes

Yield:

12

sandwiches

1

x
A delicious twist on a French Dip sandwich! This crock pot recipe makes for an easy dinner night, and perfect party food!
Scale
Ingredients
4 pounds chuck roast, cut into large pieces
Garlic powder, kosher salt and fresh ground black pepper (for seasoning the beef)
3 large yellow onions, sliced
6 sprigs fresh thyme
1 (12 oz.) can beer
1 1/2 cups bbq sauce (your favorite kind)
2 tablespoons Worcestershire sauce
1 tablespoon beef base (I used Better Than Bouillon!)
1/2 cup beef broth
12 onion rolls or kaiser rolls
Provolone or mozzarella cheese slices (2 slices per sandwich)
Instructions
Season the beef cubes generously with garlic powder, salt and pepper.
Add the beef to a slow cooker along with the onions and thyme.
Combine the beer, BBQ sauce, worchestershire sauce, beef base and beef broth in a large bowl whisking to combine.
Pour the sauce over the beef cubes, cover and cook on low for 8 hours.
Test a piece of beef to see if it shreds easily before you remove the beef from the slow cooker, then remove the beef and onions to a large bowl. Shred the beef using two forks or meat claws then cover with foil to keep warm.
Pour the juice into a pot and bring to a boil. Simmer for 20 minutes until the sauce reduces and thickens slightly.
Add some of the juice to the shredded beef and onions, just enough to moisten the beef.
To serve, melt 2 slices of provolone cheese on the buns, one on each side of the bun. Add the beef and onions to the bottom of a roll and serve with extra sauce for dipping on the side.
Recipe Notes
*All slow cookers cook differently, test a piece of beef to see if it shreds easily. If it doesn't just keep cooking until it easily pulls apart.
**If you want to make the sandwiches ahead of time, follow all directions up to adding the cheese to the buns. Don't melt the cheese in the oven, instead just add the cheese to the buns then add the beef and onions. Wrap the sandwiches in foil and refrigerate until ready to cook. When ready, heat your oven to 350 degrees. Place the wrapped sandwiches on a sheet pan and bake for 30 minutes. Serve with warmed juice on the side.
Category:

Dinner

Method:

Slow Cooker

Cuisine:

American
Keywords: slow cooker recipes, crock pot recipes, french dip sandwiches, easy dinner recipes, beef, sandwich recipes
Shop This Recipe!