Fried Tequila Cornbread is just like a fried zeppole, but soaked in tequila! This boozy dessert is going to to be a hit at your Cinco de Maybe party!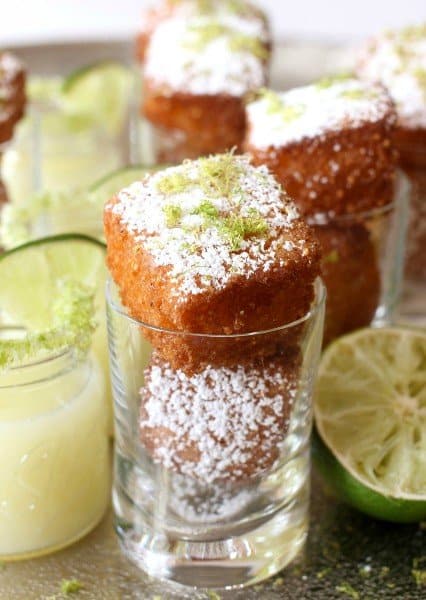 I know everyone will be breaking out their favorite margarita recipes next week for Cinco de Mayo along with all the Mexican classics that everyone loves to eat.
We'll most likely be breaking our favorites out this weekend since Cinco de Mayo is on a Tuesday…but that won't stop us. We'll just celebrate early.
Any excuse to make quesadillas and drink tequila. I'm in.
When margaritas have been drunk and the bucket of Coronas is empty and you're ready to throw out some dessert, try this Tequila Cornbread. Easy – yes, it's only three ingredients. And definitely tasty…sweet corn bread dipped in tequila, quick fried and covered with powdered sugar.
It's like a Mexican zeppole with booze.
The only thing I will tell you about this recipe is that you need to make it, serve it and eat it. It's not great if you let it sit around too long. But don't worry about that too much – because after you put this Tequila Cornbread out on the table, it won't be sitting around long at all.
Here's all you need to do. Get yourself some store-bought cornbread and cut it into large squares.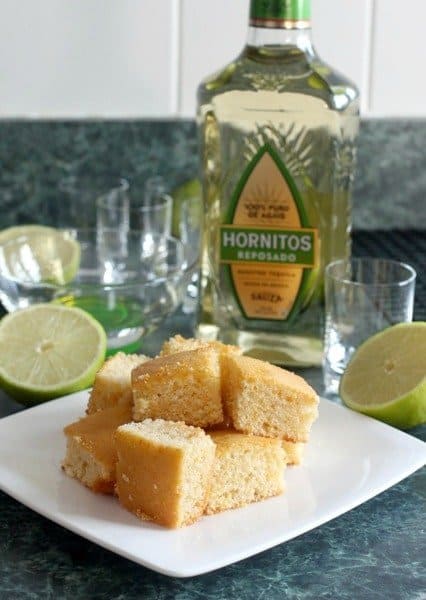 Heat up a pot of oil for frying and start dipping the cornbread squares in tequila. I used a reposado tequila for this recipe, it's not too expensive but has great flavor that works perfectly for this dessert.
These corn bread squares are going to take a quick dip in the tequila. When I say quick I mean quick. Literally in and out otherwise it'll get too soggy.
Fry the cornbread in batches and set aside to cool on paper towels.
COVER with powdered sugar and lime zest and serve.
Dessert done. Or shots done? Either way, it's fried cornbread soaked in tequila. You can't go wrong.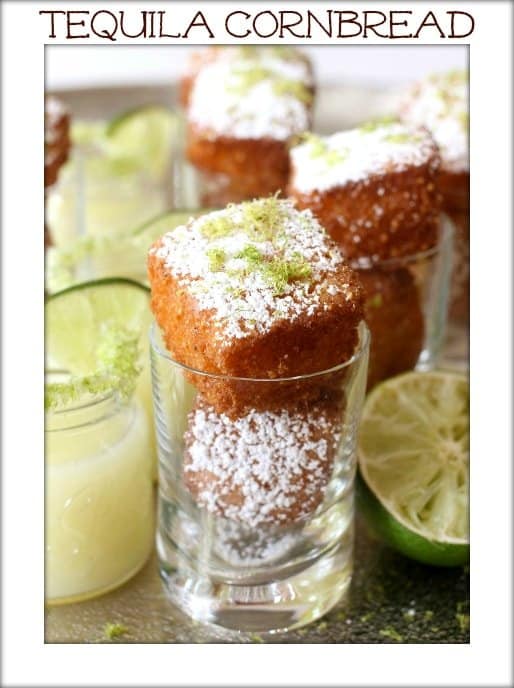 And what, you ask, are those tasty looking shots next to the Tequila Cornbread? Stay tuned…
Print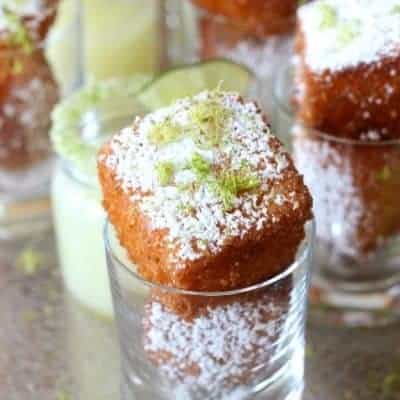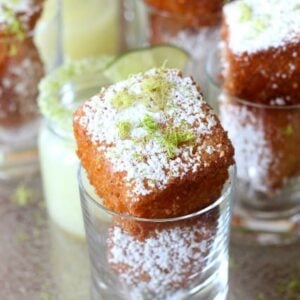 Tequila Cornbread
Scale
Ingredients
Store bought cornbread
tequila for dipping, such as Hornitos® Reposado
vegetable or canola oil for frying

3

–

4

limes for zesting
powdered sugar
Recipe Notes
I didn't include exact amounts in this recipe, just the ingredients that you need. It all depends on how much you want to make – a little or a lot!