Sugared Prosecco Grapes
are a super easy dessert recipe! Just three ingredients is all you need to make these fun champagne soaked grapes!
If you like this boozy dessert recipe, you have to try our Fireball Whiskey Cheesecake Shots or our easy Banana Bourbon Poke Cake!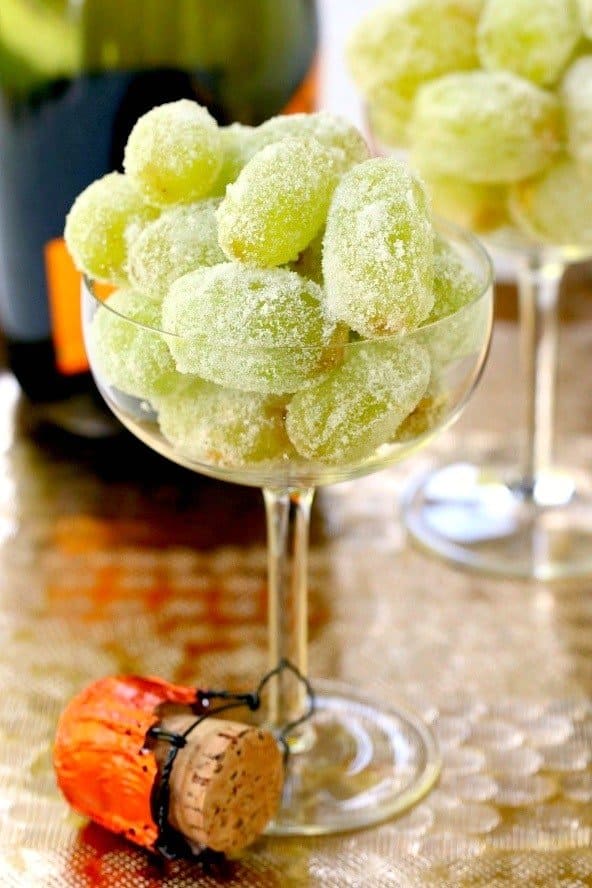 A Three Ingredient, No Bake Dessert Recipe!
Dessert recipes don't have to be complicated to be good. Of course you'll have the complicated ones, that are insanely delicious, but i'll leave those to the bakers. These Sugared Prosecco Grapes are simple, delicious and a total show stopper!
Sometimes after a big meal you want something sweet but you've already consumed your calories for a few days in one meal…but you know the old saying. But there's always room for dessert! Especially when you're talking about wine soaked grapes.
As you know we're big fans of boozy desserts around here for parties and these sugar covered grapes are no exception. We love making booze infused pies or cream cheese dips – also with fruit.
How to Make Prosecco Grapes
To start, get yourself a bunch of grapes. Green grapes, red grapes, any grapes that look and taste good! OK, here it is, the most difficulty part of this dessert recipe.
Taking the grapes off of the stems. It's not hard, just time consuming but you can have a glass of prosecco while you're doing the work. Whistle while you work and all that…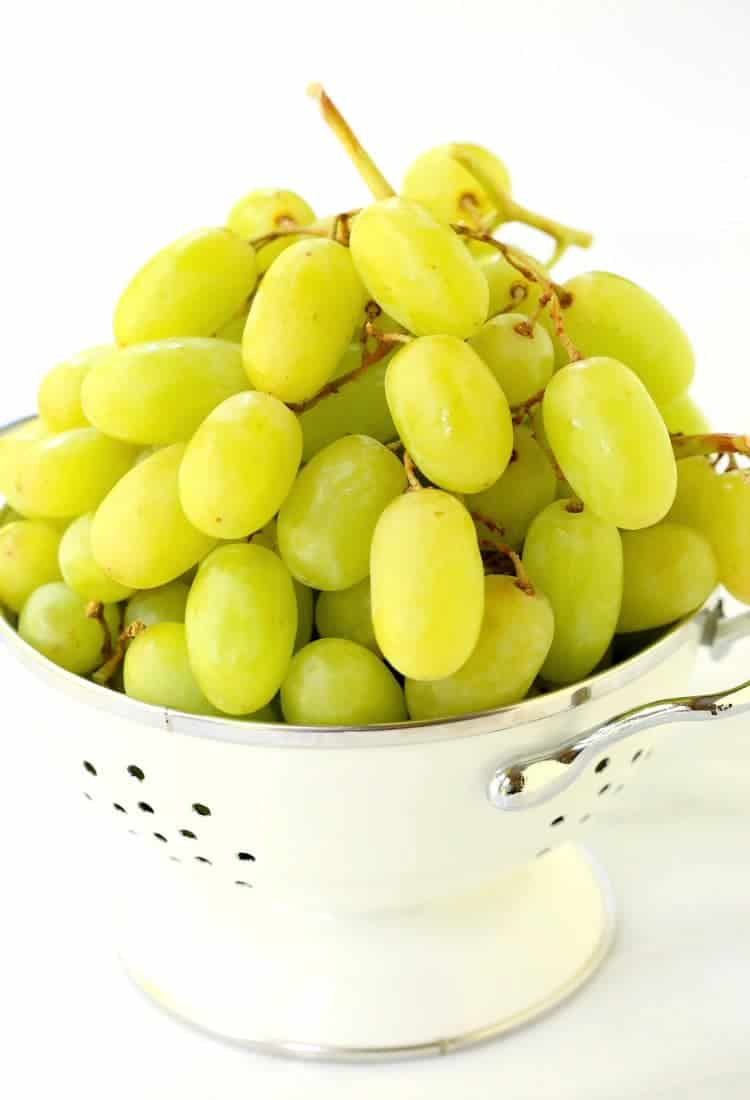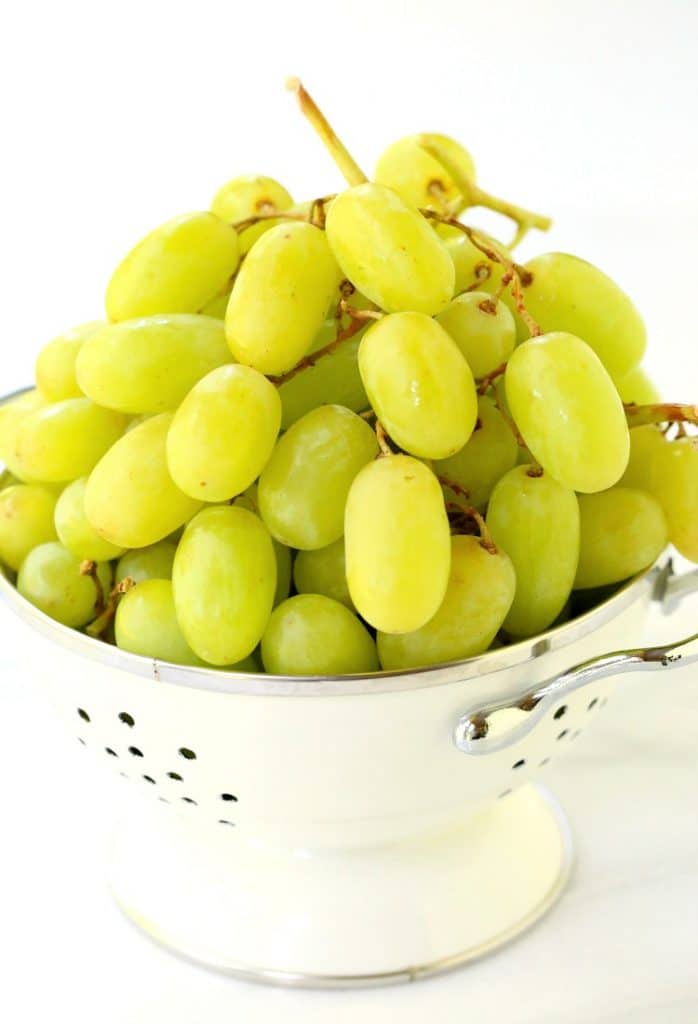 Now once the grapes have been removed from the stems, grab an affordable bottle of prosecco and pour it all over the grapes. This isn't the time to be using an expensive bottle of champagne or prosecco, save that for your glasses.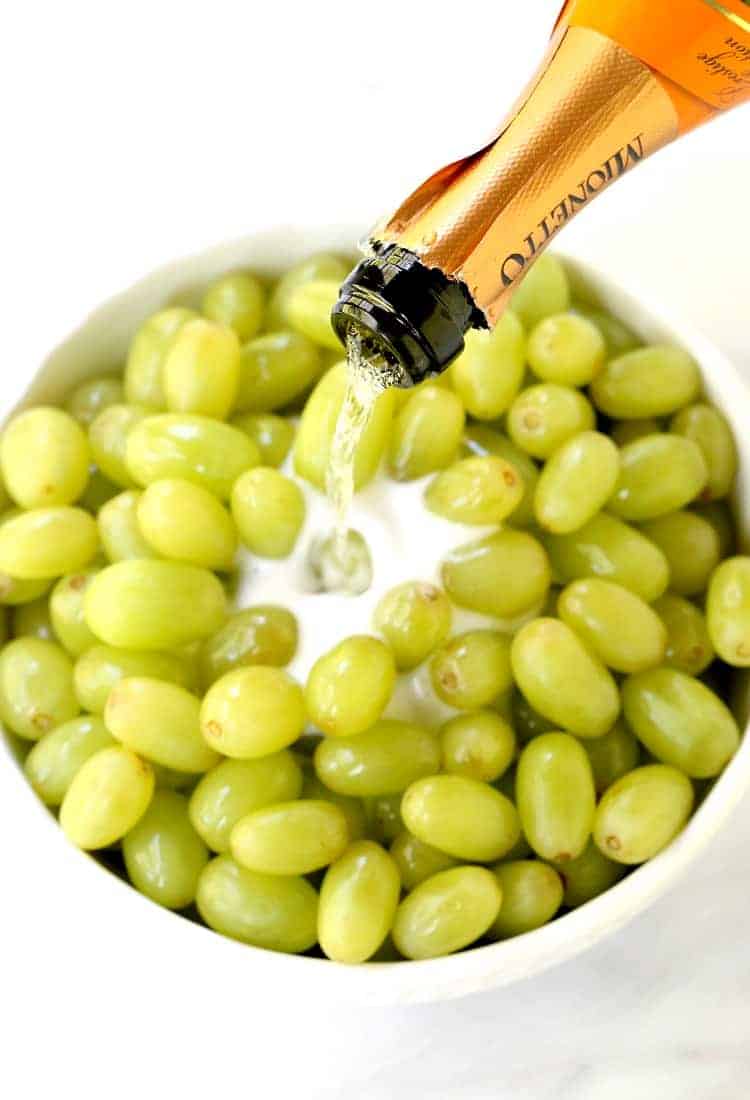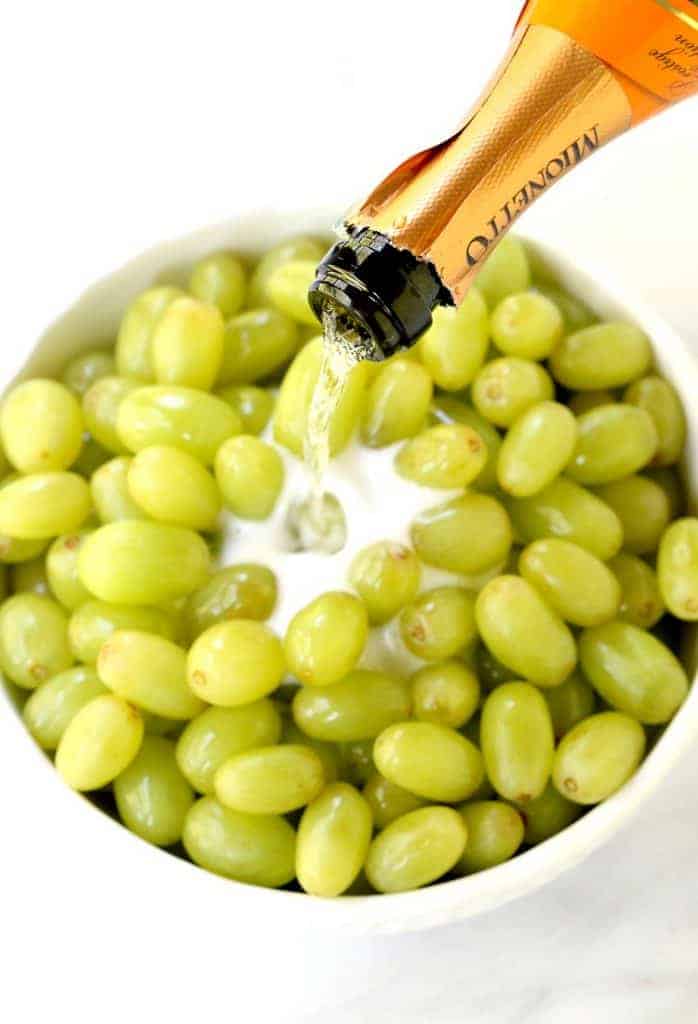 The grapes will soak (or macerate) for a couple of hours, overnight is awesome too if you have the time. the prosecco will absorb into the fruit more the longer you let it sit.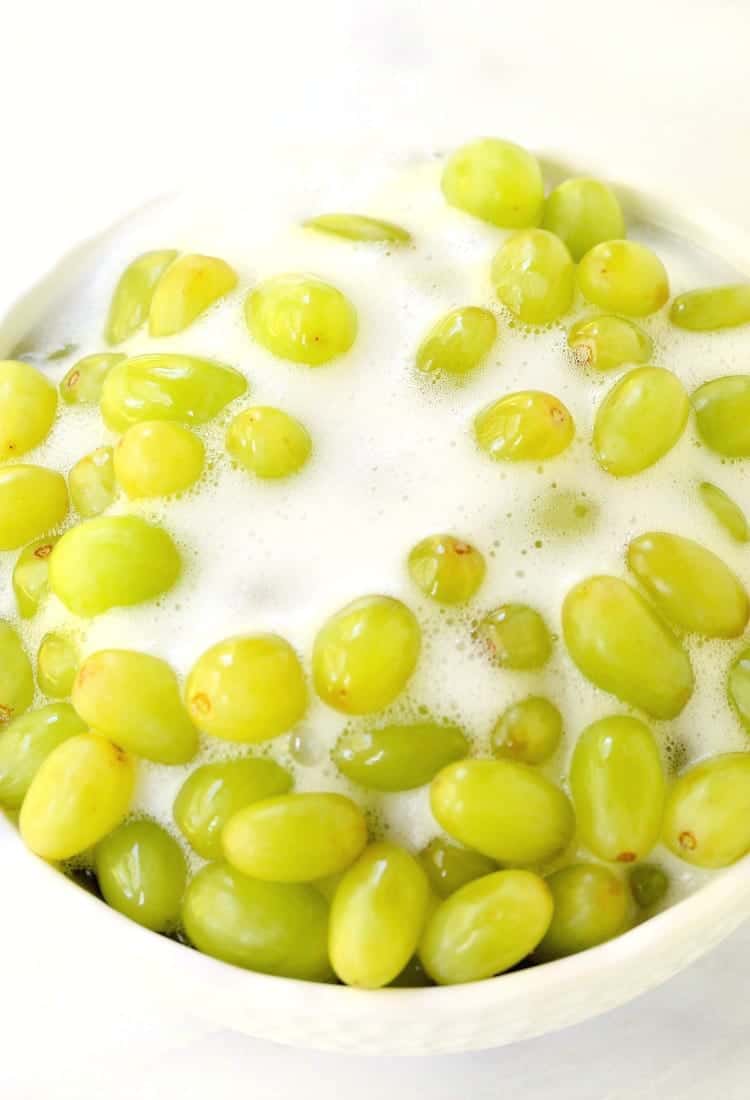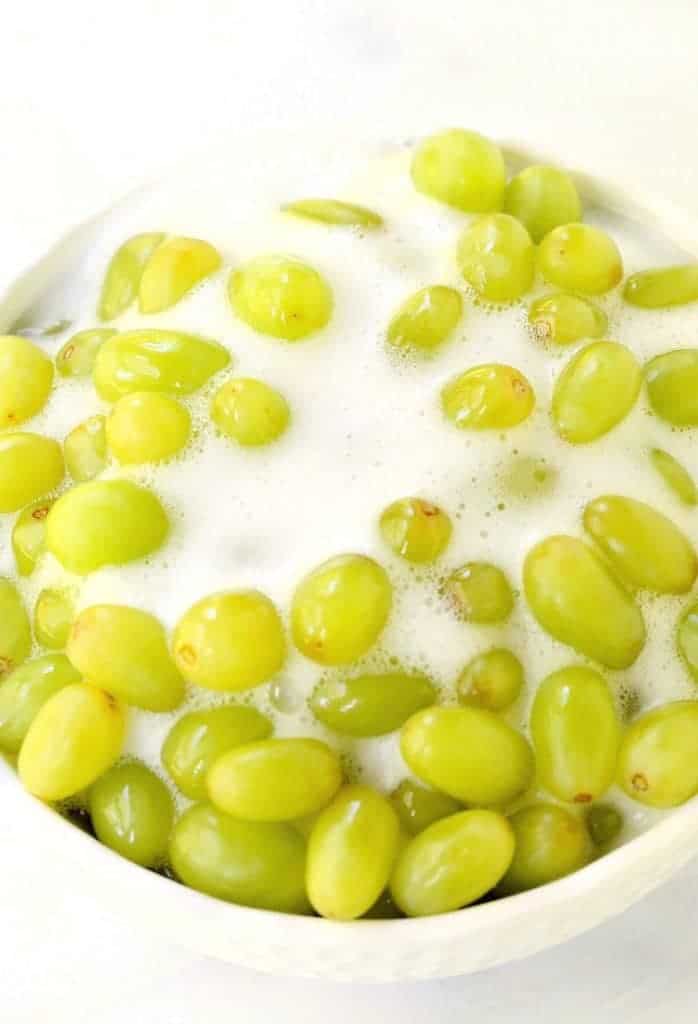 What Other Types Of Alcohol Can You Use In This Dessert Recipe?
So glad you asked…because the possibilities are endless. Besides just using champagne or prosecco you can add flavored liquors, vodka or rum.
Fireball anyone? I know that would be a hit with the younger crowd but the point here is anything you like the flavor of drinking.
I'm going to go as far here to say you could even use a good, strong beer.
Can You Freeze These Prosecco Grapes?
Yes! So there's two ways to serve these champagne grapes, roll them in sugar as the recipe goes and serve as is or…
Freeze them and serve them frozen!
This is a fun way to serve these grapes especially in the warmer months, but don't stop there. You can serve these instead of ice cream or sorbet any time of the year. A low fat, healthy-ish dessert for those who are watching those types of things.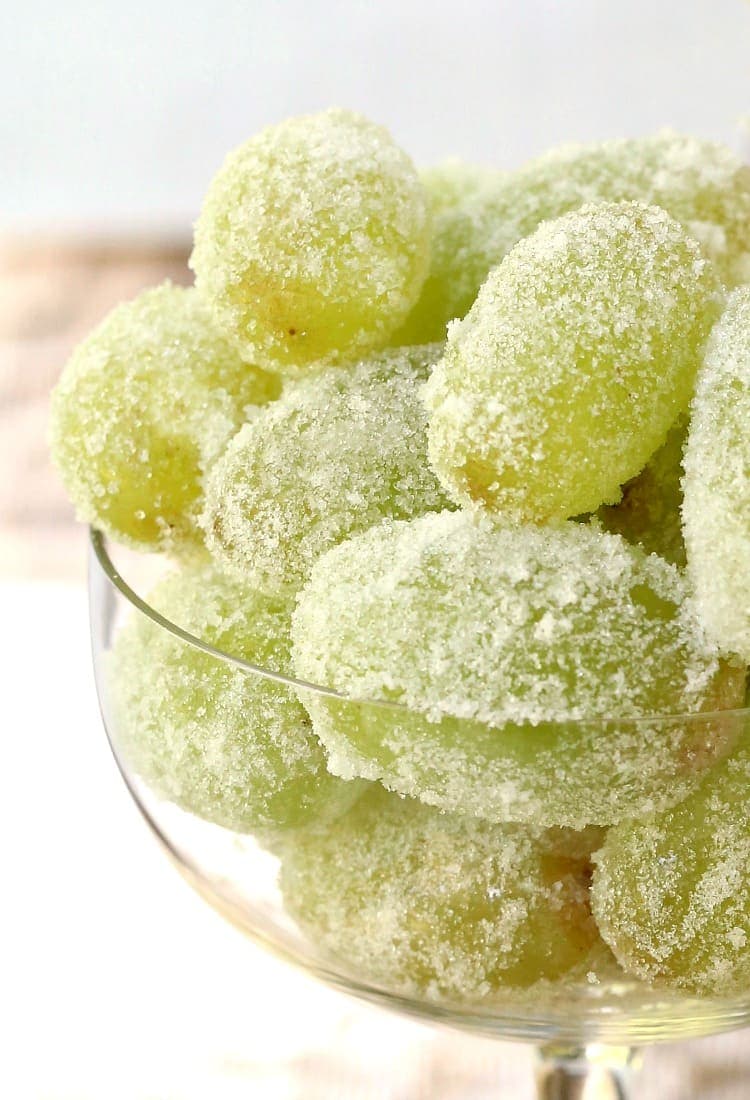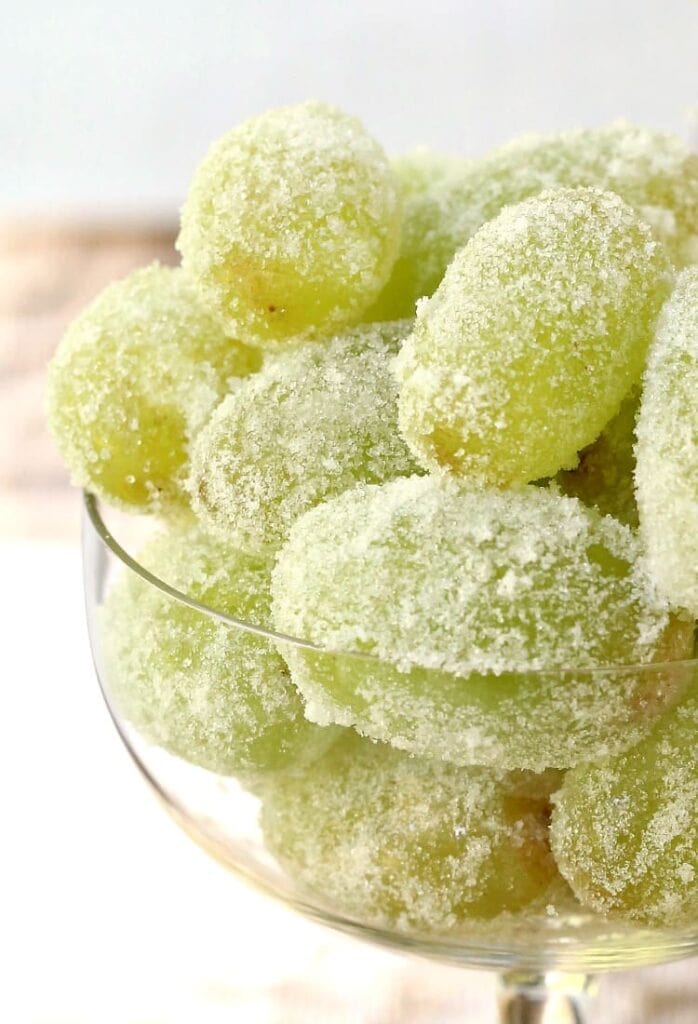 To freeze the grapes, follow the directions here and then place the grapes carefully into a ziploc bag in a single layer. Alternately, you can lay them out on a sheet pan or plate, whatever fits into your freezer.
The trick is to get the grapes frozen individually, not all clumped together so a single layer is key. Once the grapes are frozen you can store them in a container or a freezer bag however you like.
Make a whole bunch of these Sugared Prosecco Grapes for a party, for late night snacking or just an afternoon, boozy treat!
Looking For More Easy Desserts?
Fireball Whiskey Cheesecake Shots
Peppermint Eggnog Pudding (Instant)
Print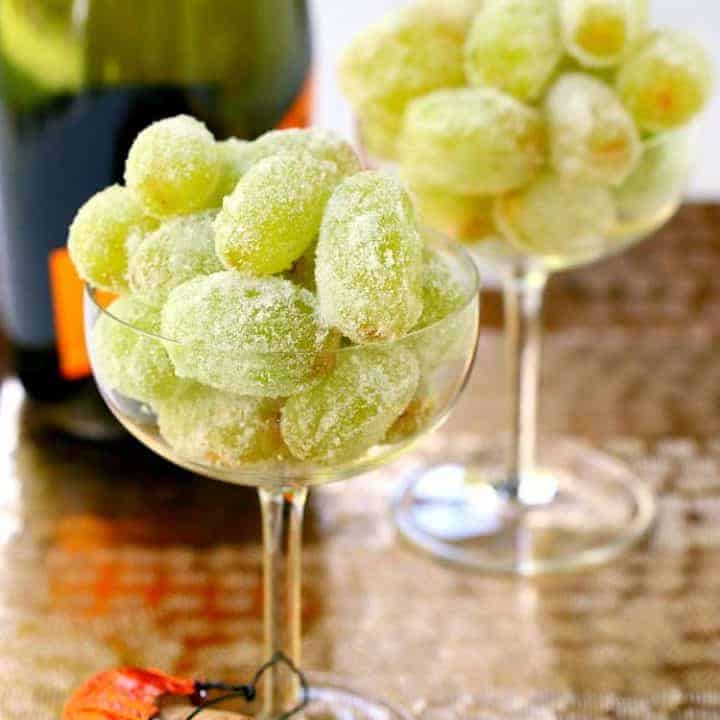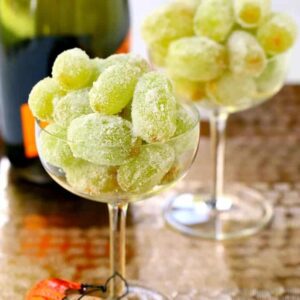 Sugared Prosecco Grapes
Author:

Prep Time:

5 minutes

Cook Time:

0 minutes

Total Time:

5 minutes

Yield:

16

servings

1

x
These boozy, fun champagne soaked grapes are perfect for parties, as is or frozen!
Scale
Ingredients
8 cups

of grapes

1

bottle of prosecco

1 cup

of sugar
Instructions
Soak the grapes in a large bowl with the prosseco overnight or for at least 8 hours.
Drain the grapes and dry off slightly.
Roll into the sugar and serve.
You can also freeze the grapes for a frozen treat!
Category:

Dessert

Method:

Fridge

Cuisine:

American
Keywords: proseccco grapes, champagne grapes, wine soaked grapes, boozy dessert, party ideas, party dessert, new years eve food, new years eve dessert

These