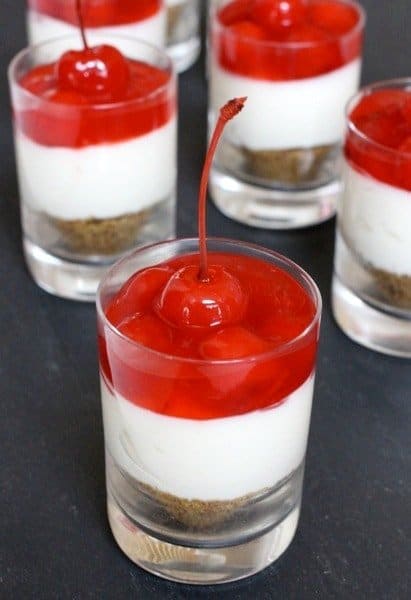 Fireball Whiskey Cheesecake Shots
Need a party shot? Or an easy dessert? How about both! These Fireball Whiskey Cheesecake Shots are the best of both worlds – and they are totally delicious.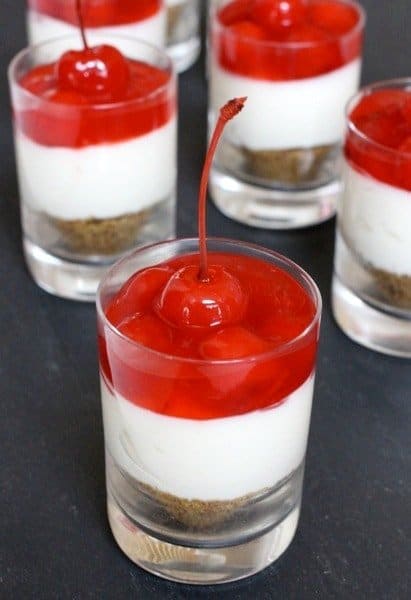 These cheesecake shots ate the perfect Mantitlement dessert recipe. It's a no-bake cheesecake recipe, thank god for that since I don't really bake, with a boozy cherry topping.
I love, LOVE serving boozy desserts. Anything easy like these Sugared Prosecco Grapes or this Boozy Strawberry Shortcake Dip is right up my alley.
I'm talking about opening a can of cherry pie filling and adding in some Fireball Whiskey. Stir it together and your topping is done.
It definitely doesn't look like these Fireball Whiskey Cheesecake Shots came out of a can does it? They're pretty amazing looking, you're guests will be floored.
It seems like everywhere you go people are drinking Fireball. In case you haven't heard of it – it's a cinnamon flavored whisky that burns a "little bit" going down but for some reason it's pretty addictive. The cinnamon is spicy but somehow mellows out the whiskey and keeps you going back for more.
And it also goes perfectly on top of my no-bake cheesecake shots.
The crust starts with graham crackers crumbs mixed together with melted butter.
You scoop some of that into the bottom of your shot glass and press it down with your finger so it forms the crust.
Next it's time for the cheesecake.
In a mixer add in 2 packs of softened cream cheese with some lemon juice. I broke the rules and used the stuff from the bottle.
Then add in heavy cream and whip together until it's smooth and thickened. Add in sugar and 2 shots of Fireball Whiskey. Yes, 2 shots, then mix it together again and set aside.
Now it's time for that cherry topping – open the can of cherry pie filling, add it to a bowl. Stir in 2 more shots of Fireball.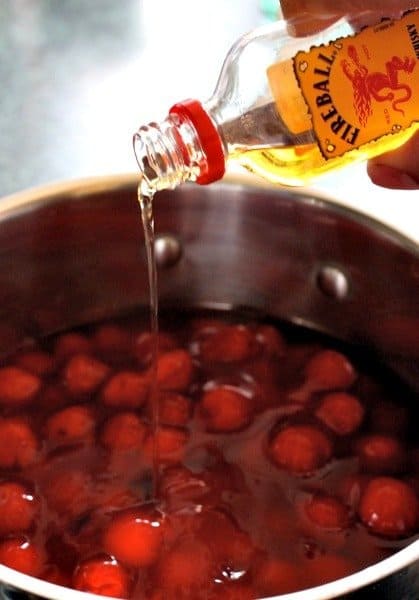 Don't worry about it being too strong, it's perfect. Perfectly strong. I mean, you want to be able to actually taste the whiskey right? Well, I do.
Now to assemble. Take a spoon and fill the shot glasses up until they're about 3/4 full. Spoon on that boozy cherry topping. And repeat.
You can make this in a pie pan if you want and serve it as dessert, it's up to you. But shot glasses make everything more fun!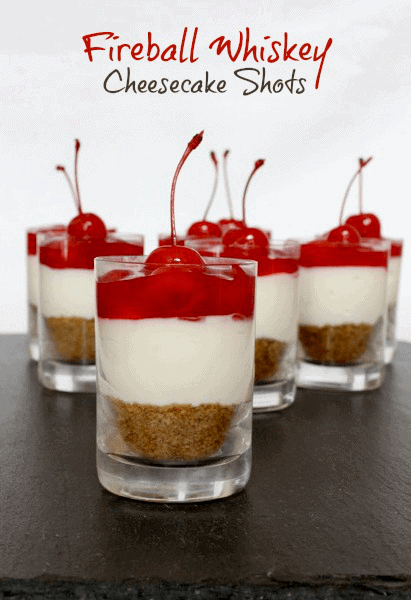 Print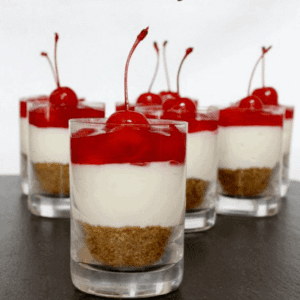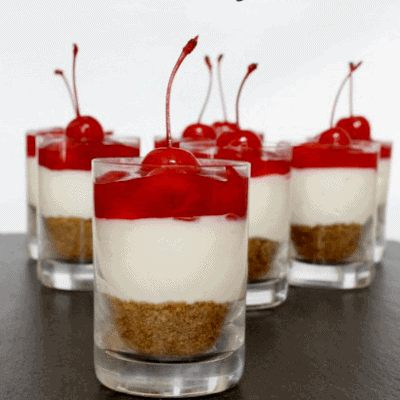 Fireball Whiskey Cheesecake Shots
Author:

Yield:

30
---
Ingredients
1 1/2 c. graham cracker crumbs
1/3 c. packed brown sugar
1 t. ground cinnamon
1/3 c. butter, melted
2 8 oz. packages of cream cheese
2 t. lemon juice
1 pint heavy cream
1/3 c. white sugar
1 21 oz. can cherry pie filling
1/3 cup Fireball Whiskey
---
Instructions
Combine the cherry pie filling and 2 shots of the whiskey into a bowl and stir together well.
Combine the graham crackers crumbs, brown sugar, melted butter and cinnamon together in a bowl.
Stir until all the graham crackers are coated with the butter.
Add 1-2 T. of the graham cracker mixture into the bottom of each shot glass, pressing down to make a crust at the bottom.
In a mixer, add the cream cheese and lemon juice and mix together until the cream cheese is smooth.
Add in the cream and the whiskey and mix together.
Add in the white sugar and blend until smooth.
Using a teaspoon, scoop out enough cream cheese mixture to each shot glass to fill 3/4 of the way up.
Place a tablespoon of cherry pie topping on top of the cheesecake mixture and place in the refrigerator to chill until your ready.
---
Notes
Makes about 30 shots, depending on the size shot glass you use. Also can be made in a regualr pie plate for a whole dessert.