These Easy Juicy Turkey Burgers are so delicious, you might ditch the beef completely! No grill needed, these burgers cook right in a skillet!
Serve these turkey burgers with Crispy Homemade French Fries or this total drool worthy Disco Fries Casserole!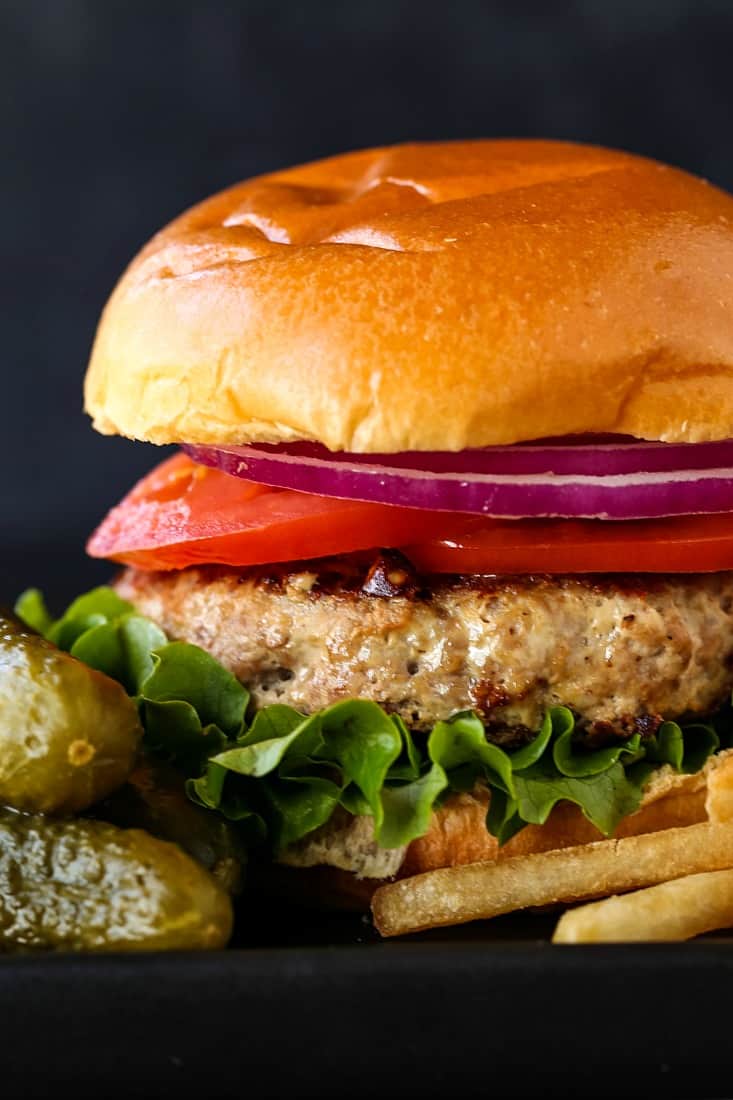 Are Turkey Burgers Healthier Than Beef Burgers?
Surprisingly, ground turkey and ground beef have similar nutritional information as far as protein and carbs go. If you're looking at calories, ground turkey has a little less but nothing to get too worked up over.
Where ground turkey really shines is the saturated fat count. Ground turkey has a lot less saturated fat than ground beef, so it is considered more "heart healthy".
This also depends on what kind of ground turkey and ground beef you are using, since they have a lot of variations. For these comparisons we're talking about lean ground turkey (93%) and lean ground beef (95%). So of course a fattier ground beef like an 80/20 is going to have a lot more variations in nutrition if you're comparing that to a lean ground turkey.
What Are The Ingredients For This Easy, Juicy Turkey Burger?
Again, we like to use lean ground turkey, 93% lean, as the base for our turkey burger recipe. Honestly, I don't really like the taste of ground turkey with more fat content. It's much gamier tasting since they use some of the dark meat from the turkey, but if you like that you can definitely use that to make these turkey burgers.
To keep our turkey burger recipe easy, we've just added these simple ingredients:
Salt & Pepper
Garlic Powder
Eggs
Mayonnaise
Onion
I know you might be wondering…what's with the mayonnaise??? And I'll tell you. The mayonnaise is one of the ingredients that helps to make these turkey burgers stay moist and juicy, even with using lean ground turkey.
The other ingredient that helps make this turkey burger recipe stand out from the rest if grated onion. Not diced onion, grated onion on a grater. Grating the onion makes the pieces smaller, of course, but it also "juices" the onion too!
So make sure you scrape up the onion with the juices before adding it to your turkey burger mixture.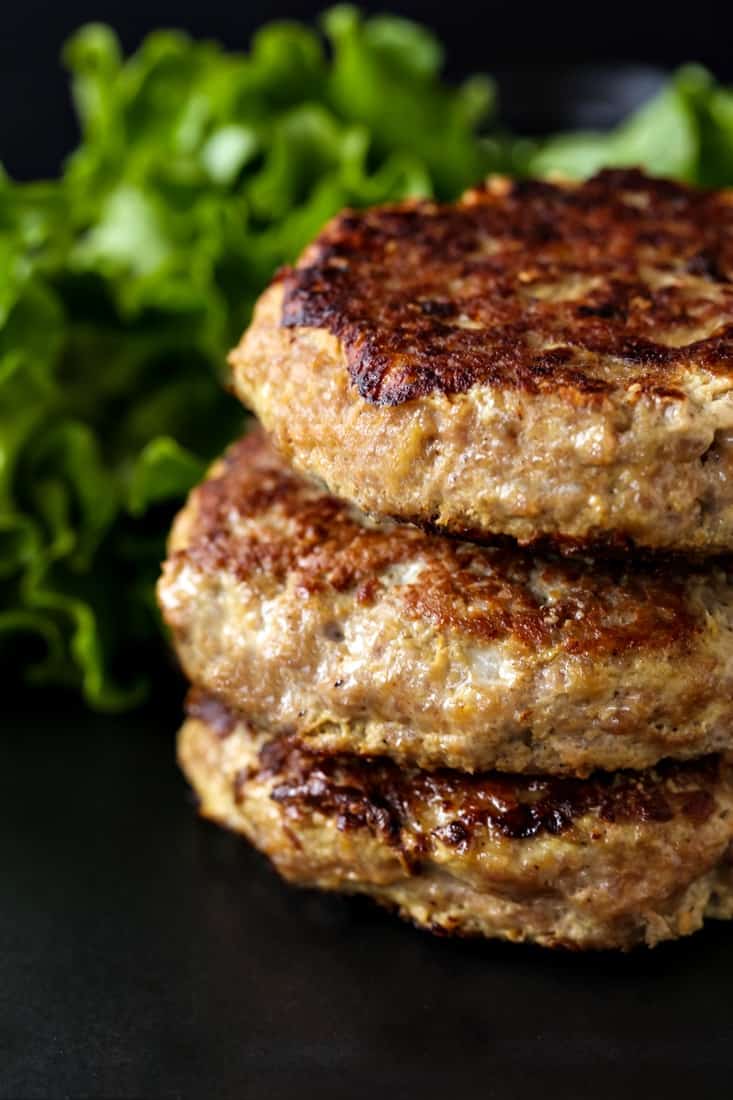 How To Keep Turkey Burgers From Falling Apart
This is a question we know gets asked a lot. Ground turkey is a much wetter meat than ground beef, which is why a lot of turkey burger recipes call for adding bread crumbs to the mixture.
Well I can tell you that there's no breadcrumbs in our turkey burger recipe! I don't know, mixing bread crumbs into a meat mixture just reminds me more of a meatloaf recipe. Which this is not. It's a burger recipe.
So how do you keep these turkey burgers together? The mayonnaise and the eggs will help to bind the ground turkey together. The other tip is just to not handle them too much. Spray your hands with non-stick cooking spray and then get in there and grab some of the turkey mixture.
Form the mixture into patties and then get them right into your hot skillet or griddle. You can almost form them a little more once they are in the skillet if you're concerned about making then look pretty, but once they cook for a few minutes on one side they'll be easy enough to flip without coming apart.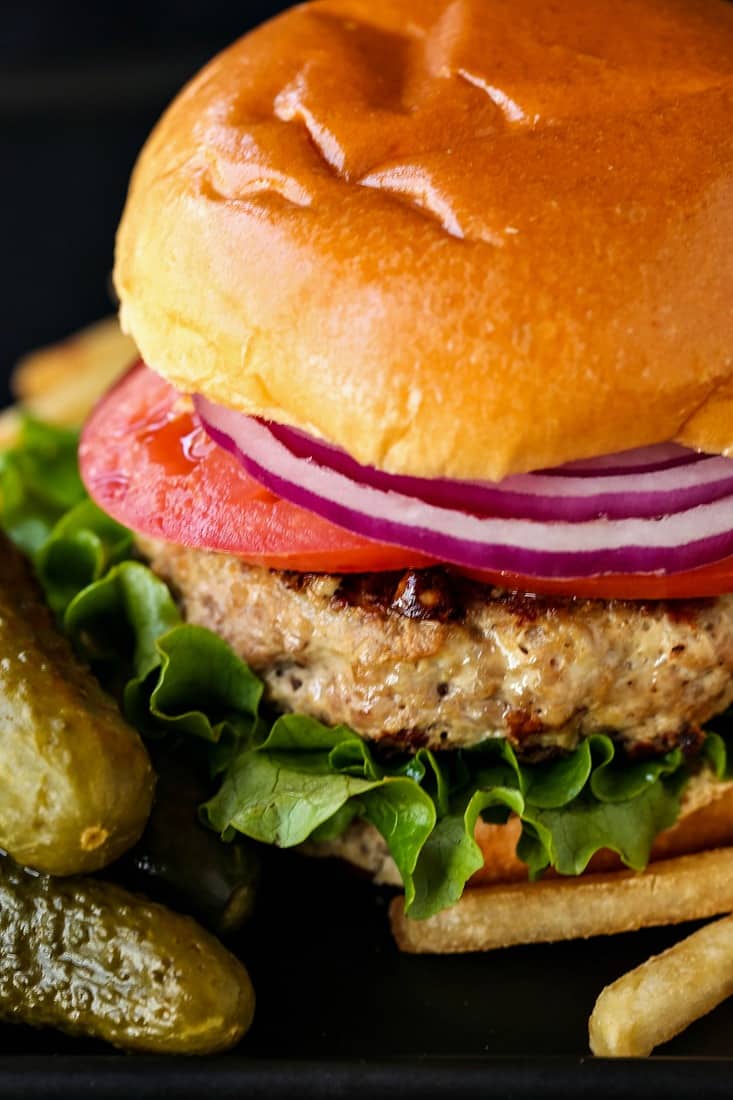 Fixing Ideas For Turkey Burgers
These burgers are SO delicious, I'm telling you slap them on a bun or bare naked on a plate and you'll be happy. Especially if you're trying to follow any type of low carb diet, I'm telling you guys, you need this turkey burger recipe. So full of flavor you'll never miss the bun!
Bun or no bun though, you might want to add a few toppings or condiments too! Here's a few ideas for you:
Condiments:
Mayonnaise
Ketchup
Mustard
Hot Sauce
BBQ Sauce
Pickle Relish
Sriracha
Steak Sauce
Toppings:
Lettuce
Tomato
Onions – Raw, pickled, caramelized or fried
Bacon
Pickles
Fried Egg
Cheese
Avocado
Jalapeños – Raw or pickled
Roasted Red Peppers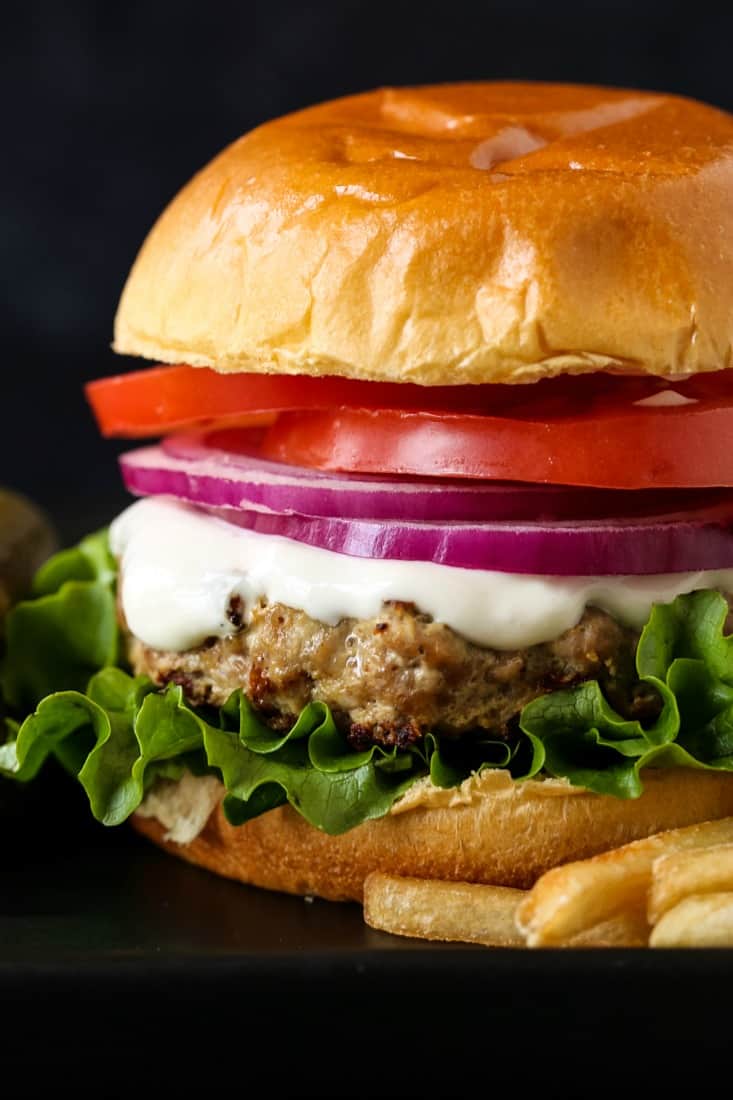 How Do You Reheat Turkey Burgers Without Drying Them Out?
This is a great question because we often make these turkey burgers in large quantities on the weekend so that we have them for dinners and meal prepping during the week.
I know I keep saying it but this turkey burger recipe has been PERFECTED. Like I mean, it's kind of perfect. So they are super juicy and – yep I'm going to say it – moist – that you won't have much trouble reheating them.
We find that just heating them up in the microwave for a minute or so works just fine. If you're turkey burgers are on the thicker side, then you can slice the burger in half horizontally and lay them out on a plate. This way they'll heat up quicker, in just about 30 seconds, then you can put the tow halves back together when you're fixing to eat it!
What Can I Serve With Turkey Burgers?
We covered the fries already, so let's get some other ideas for side dishes!
Print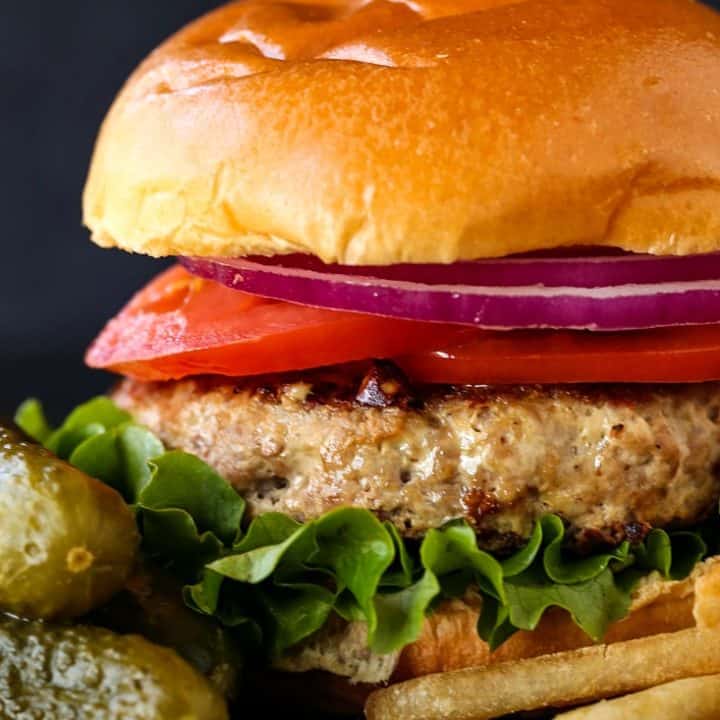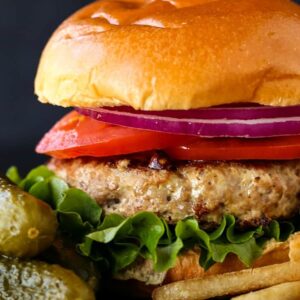 Easy Juicy Turkey Burgers
Author:

Prep Time:

5 minutes

Cook Time:

10 minutes

Total Time:

15 minutes

Yield:

6

Servings

1

x
These super flavorful turkey burgers are on our weekly dinner menu! So moist and juicy you hardly need any toppings!
Scale
Ingredients
2

pounds ground turkey (93% lean)

2 teaspoons

kosher salt

1

–

1 1/2

teaspoons ground black pepper, depending on your taste

1 1/2 teaspoons

garlic powder

2 tablespoons

mayonnaise

2

eggs, beaten

2

heaping tablespoons grated onion with juice
Instructions
Mix all the ingredients together in a large bowl.
Spray a large skillet or griddle with non-stick cooking spray over medium heat. You can also spray your hands with cooking spray or wet them slightly with water so the turkey mixture won't stick to your hands when you're forming the patties.
Form the turkey mixture into 6 patties, about 5 ounces each. You can make smaller patties, about 4 ounces each and get 8 turkey burgers. Place the patties onto the hot skillet and cook for 5 minutes on each side, until no longer pink in the center. Transfer the turkey burgers onto a plate covered with foil and repeat with the remaining patties.
Serve with or without buns and with desired condiments and/or toppings.
Recipe Notes
You can keep the turkey burgers warn in a 300 degree oven on an oven proof plate covered with foil for about 30 minutes or until ready to serve.
If you're not a mayonnaise fan, you can substitute olive oil, but the mayonnaise adds a lot of flavor to the burgers.
Category:

DInner

Method:

Stove Top

Cuisine:

American
Keywords: turkey burger, turkey burger recipe, burger recipe, low carb recipe, low carb dinner recipe, recipes with ground turkey, dinner ideas, healthy recipes