Next Level Turkey Burgers with Caramelized Onions and Aioli are piled high with sweet caramelized onions and a creamy garlic aioli!
Serve these turkey burgers with a side of homemade Shoestring French Fries! This burger recipe is so good, you won't miss the bun if you're trying to follow a low carb diet, you can serve a Caesar Salad on the side or Parmesan Roasted Cauliflower!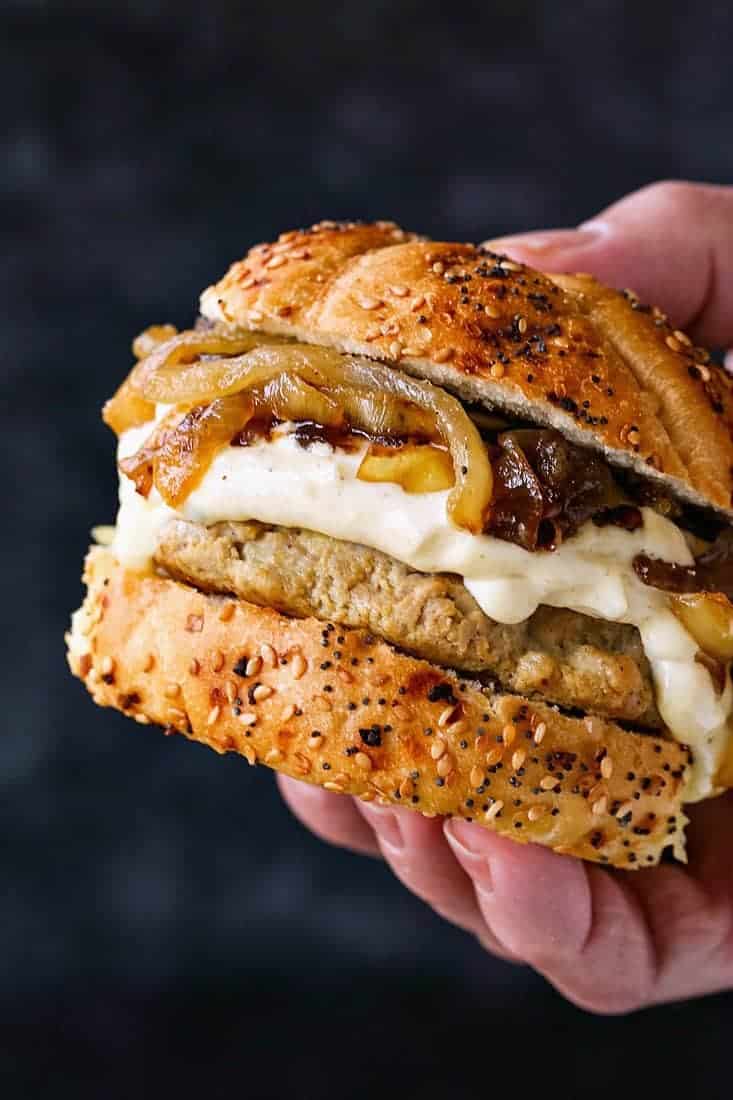 Why Make Burgers With Turkey?
Well because turkey burgers are super delicious, for one. But ground turkey is also a little healthier than ground beef if you're looking to save on saturated fat levels, but TBH, is you're using a real lean ground beef there's not too much difference nutritionally.
So why make turkey burgers? Because we love how they taste! We're all about flavor here, and to us there's regular burgers and there's turkey burgers. Just two different flavors, equally as delicious.
Ingredients For This Next Level Turkey Burgers with Caramelized Onions and Aioli
First we start with our delicious, juicy Turkey Burger patties, then we pile on the toppings! For these burgers we added caramelized onions and a simple to make garlic aioli, which is like a kicked up mayonnaise sauce.
The combination of these toppings for this turkey burger recipe is literally out of this world good. These aren't your diet turkey burgers that are all dry and falling apart on you. These are legit, next level turkey burgers that anyone is going to flip for.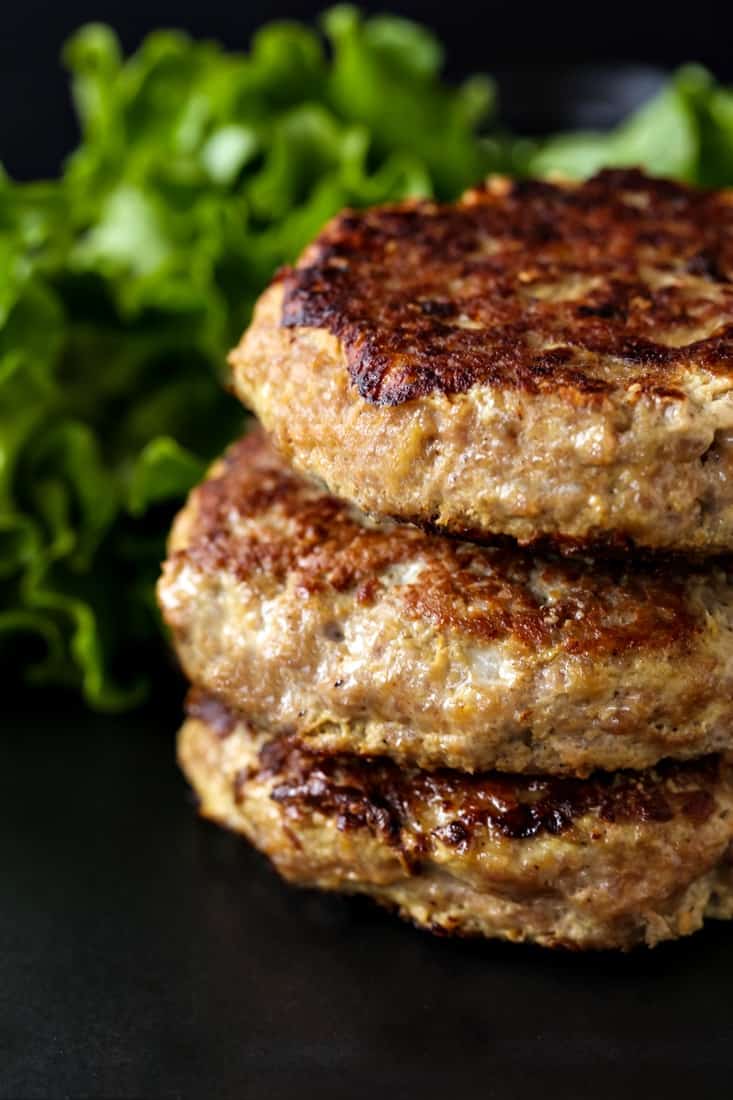 How To Make These Next Level Turkey Burgers with Caramelized Onions and Aioli
Start by making some caramelized onions. You can use our Slow Cooker Caramelized Onions, or follow the directions in the recipe card. Caramelized onions are so sweet and flavorful, even if you think you don't like onions you definitely need to try them this way.
While the onions are cooking you can make the garlic aioli so that the flavors can blend together for a few minutes while you make the burgers. Our easy turkey burger patties, which we make in bulk, are going to be the perfect base for this recipe!
Once you get everything made just assemble the turkey burgers as shown, with the aioli first and lots of it, then a good amount of the caramelized onions on top. We like serving these turkey burgers on a sesame seed bun for extra crunch!

How To Keep Turkey Burgers From Falling Apart
This is a question we know gets asked a lot. Ground turkey is a much wetter meat than ground beef, which is why a lot of turkey burger recipes call for adding bread crumbs to the mixture.
Well I can tell you that there's no breadcrumbs in our turkey burger recipe! I don't know, mixing bread crumbs into a meat mixture just reminds me of more of a meatloaf recipe. Which this is not.
It's a burger recipe.
So how do you keep these turkey burgers together? The mayonnaise and the eggs will help to bind the ground turkey together. The other tip is just to not handle them so much. Spray your hands with non-stick cooking spray and then get in there and grab some of the turkey mixture.
Form the mixture into patties and then get them right into your hot skillet or griddle. You can almost form them a little more once they are in the skillet if you're concerned about making then look pretty, but once they cook for a few minutes on one side they'll be easy enough to flip without coming apart.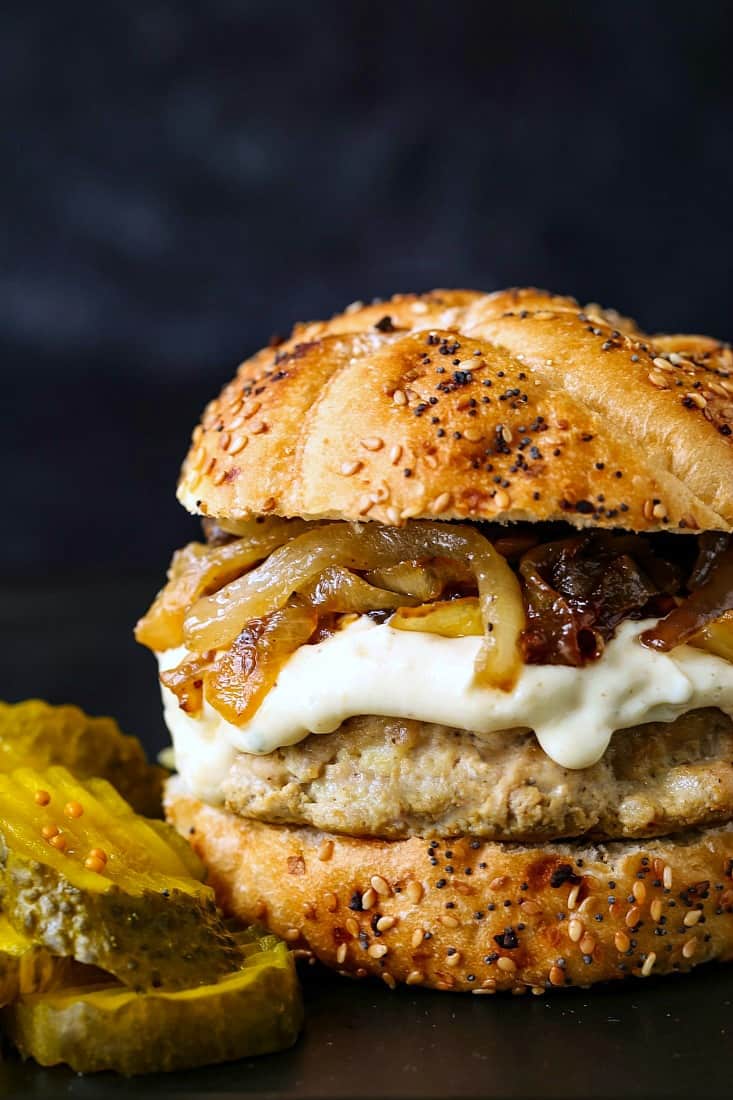 How To Store Leftover Turkey Burgers
Meal prepping is big at our house, which is why we make a lot of these burgers and save them for a quick lunch or dinner during the week! All you need to do is wrap them in aluminum foil or place them in a container and keep them in the refrigerator for up to 4 days. Our usually don't last that long but if you want to big batch these turkey burgers then plan on getting through them in about that time.
Can I Freeze Turkey Burger Patties?
Yes! So do make as many as you please…we love having these tasty patties on hand whenever we need a fix. Simply thaw them out in the refrigerator and then you can reheat them in a skillet or the oven. Even the microwave will work, too!
PIN IT!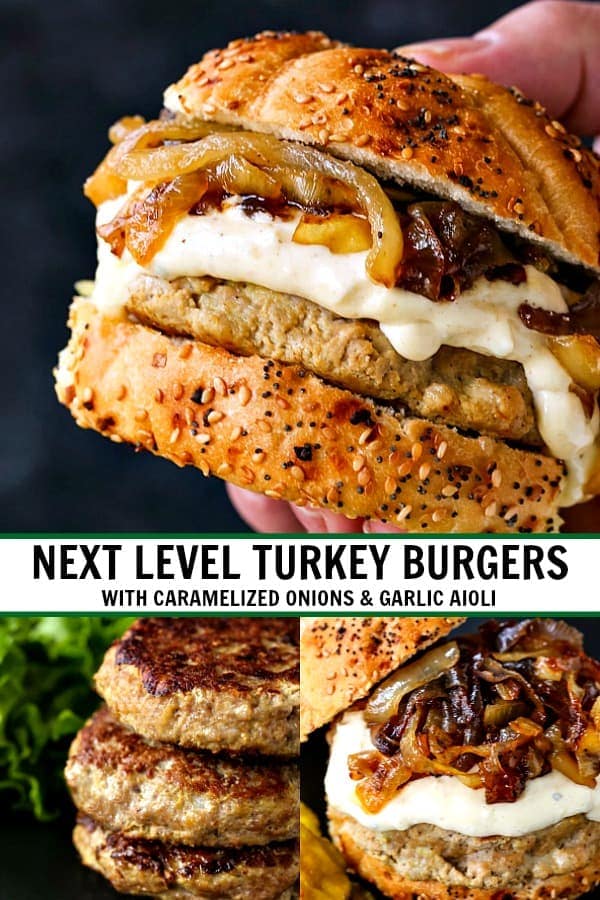 What Can I Serve With Turkey Burgers?
We covered the fries already, so let's get some other ideas for side dishes!
Print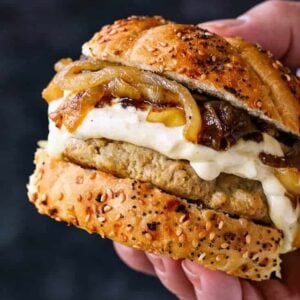 Next Level Turkey Burgers with Caramelized Onions and Aioli
Author:

Prep Time:

30 minutes

Cook Time:

10 minutes

Total Time:

40 minutes

Yield:

6

Servings

1

x
This delicious turkey burger recipe is so over the top delicious, you won't need another burger recipe!
Scale
Ingredients
8 sesame seed or onion hamburger rolls
For The Turkey Burgers:
2 pounds ground turkey (93% lean)
1 1/2– 2 teaspoons kosher salt
1 teaspoon ground black pepper
1 teaspoon garlic powder
2 tablespoons mayonnaise
2 eggs, beaten
2 heaping tablespoons grated onion with juice
Garlic Aioli:
1/2 cup mayonnaise
2 teaspoons minced garlic
1/2 teaspoon kosher salt
Fresh ground black pepper
1 tablespoon dijon mustard
1 teaspoon Worcestershire sauce
Caramelized Onions: (Or use our Slow Cooker Caramelized Onions Recipe for a large batch)
2 tablespoons butter
1 tablespoon olive oil
2 large onions, peeled and sliced thin
1 1/2 teaspoons kosher salt
Fresh ground black pepper
Instructions
Start the caramelized onions by adding the butter and oil to a large skillet over medium low heat. Once the butter is melted add the onions and stir to coat in the butter and oil.
Season the onions with the salt and pepper and cook over low heat for 30 minutes, stirring often so that the onions don't burn. The onions are done when they are golden brown and caramelized. Add the onions to a bowl and cover until ready to use.
While the onions are cooking you can make the aioli by adding all the ingredients to a small bowl and stirring to combine. Let the aioli sit at room temperature until you're ready to add it to the turkey burgers.
Mix the ingredients together for the turkey burgers and divide into 6 large or 8 smaller patties. Spray a large skillet with non stick cooking pray and cook the turkey burgers over medium heat for 5 minutes on each side until the turkey is no longer pink inside.
Serve the burgers by adding a patty to each bun, topping with the garlic aioli and then with some caramelized onions.
Category:

Dinner

Method:

Stove Top

Cuisine:

American
Keywords: turkey burgers, burger recipe, recipes with ground turkey, dinner ideas, dinner recipes, low carb recipes