Whiskey Glazed Chicken Wings are are the ultimate party food! Crispy, fried chicken wings tossed with out super addicting whiskey glaze!
Looking for more addicting and easy chicken wing recipes? Try these amazing Salt and Vinegar Chicken Wings or these fried Parmesan Chicken Wings. I promise you won't be disappointed!
Whiskey Glazed Chicken Wings
There's just something about wings that says party food to me. Or game time food. Watching the game with a whole plate of wings in front of me – it doesn't get much better.
These Whiskey Glazed Chicken Wings are a take on the Chicken Fried Ribs with Whiskey Glaze that we made. They were crazy good. And some people thought I was crazy – who would ever think to deep fry a rib but me?
The whiskey glaze is a recipe all by itself that you might want to have handy. It's a sauce that would be good on all kinds of things like instead of using BBQ sauce on your pulled pork, toss it with this whiskey glaze.
Don't want to fry? Grill up some chicken and pour the glaze all over it. Use it as a dip for chicken fingers…or drizzle it over steak before serving.
How to Make Fried Chicken Wings
First I seasoned these wings then baked them. It's an extra step but then the wings are cooked through and they only have to spend a couple of minutes in the fryer just to crisp up the coating.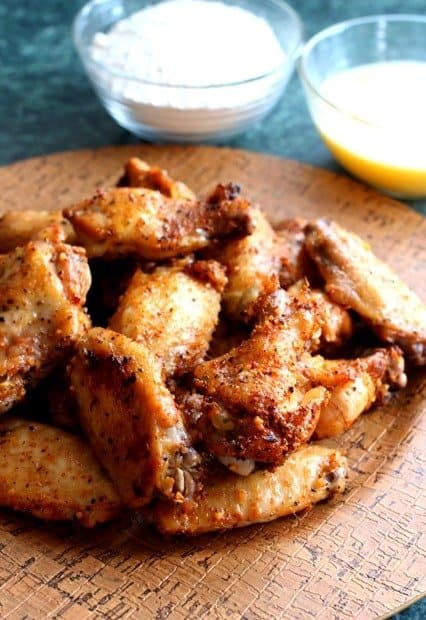 Just a side note, if you stopped at this point and dipped these oven-baked wings in that whiskey glaze you'd have some awesome tasting wings. That's only IF you want to skip the deep fry.
But I have to ask you to try the deep fry this time…you won't be disappointed. So after you bake them, coat them in some seasoned flour and then the can take a dip in the hot oil.
Let them drain off and cool a little and then toss them in that whiskey glaze.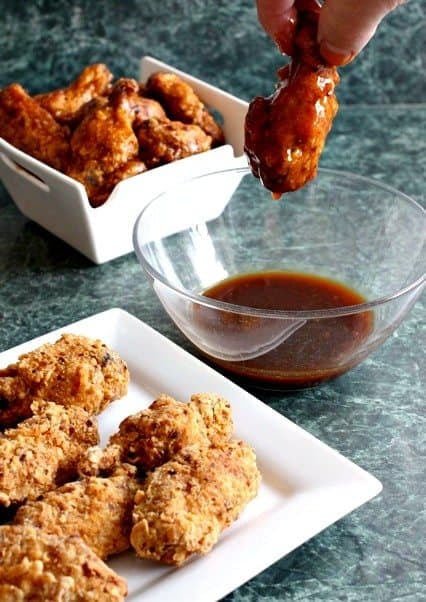 How Long To Deep Fry Chicken Wings
For this recipe, we've pre-cooked the wings in the oven, so the frying part of the recipe is short. All we're doing with a quick deep fry here is browning and setting the coating. So for these whiskey glazed chicken wings, you only need to fry them for about 2 to 3 minutes.
If you were cooking these chicken wings completely in the deep fryer, they would need to fry for about 10-12 minutes for the chicken to cook through.
By pre-cooking the wings in the oven, we're shortening the amount of time that the chicken has to spend in the oil.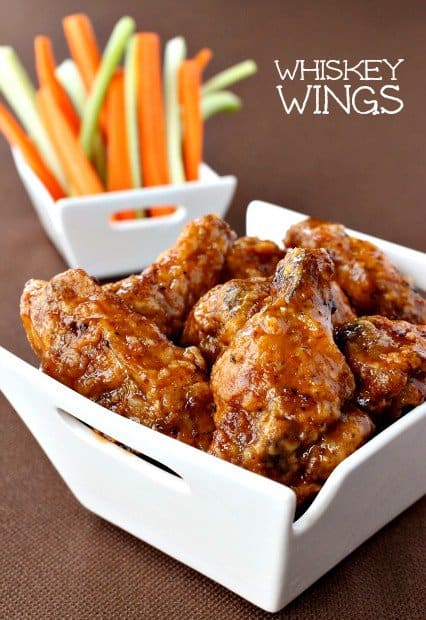 Can You Bake These Chicken Wings Instead?
Yes. While the recipe calls for baking the chicken wings first, you can stop there and skip the crispy, fried coating. We do love the crunchy coating combined with our sweet whiskey glaze, but you'll still have a delicious chicken wing if you stop after baking.
Just bake the wings per the instructions in the recipe card below and then toss with the whiskey glaze. The wings will be super tender and juicy, covered in this sweet and sticky whiskey glaze.
Still Craving More Chicken Wings?
Print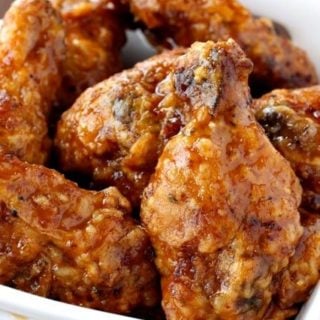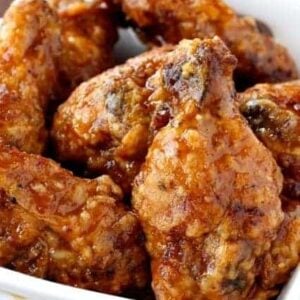 Whiskey Glazed Chicken Wings
Author:

Prep Time:

10 minutes

Cook Time:

45 min

Total Time:

1 hour 15 minutes

Yield:

6

servings

1

x
Whiskey Glazed Chicken Wings are are the ultimate party food! Crispy, fried chicken wings tossed with out super addicting whiskey glaze!
Scale
Ingredients
3

pounds of chicken wings, separated at the joints

1 cup

flour

1/4 cup

plus 2 tablespoons BBQ Dry Rub (Store bought or use OUR RECIPE!)
Kosher salt to taste
Vegetable or canola oil for frying
For the Whiskey Glaze
6

cloves of garlic, grated with a hand grater or chopped very fine

1 tablespoon

canola oil

1/2 cup

water

3/4 cup

pineapple juice

3/4 cup

brown sugar

1/2 cup

teriyaki sauce

1/2 cup

whiskey

1/4 teaspoon

cayenne pepper

1 1/2 tablespoons

cornstarch mixed with 1 1/2 tablespoons of water
Instructions
Preheat the oven to 425 degrees.
Season the wings generously with 1/4 cup of the dry rub seasoning. Our recipe has salt in it but if you're using store bought you might want to add salt as well. Bake for 25-30 minutes until browned.
While the wings are in the oven you can start the glaze. Heat the oil in a small pan and cook the garlic for 30 seconds, careful not to let it burn. Carefully add the whiskey and let it reduce for 2 minutes. Add the rest of the glaze ingredients (except the cornstarch mixture) and cook, simmering for 10 minutes.
Whisk in the cornstarch mixture to thicken the glaze. Bring to a boil and cook for another 10 minutes, then cover to keep warm and set aside.
Heat a large pot filled only halfway with oil over medium heat. Combine the flour and the remaining 2 tablespoons of the dry rub seasoning in a large bowl. Coat the wings in the flour, shaking off the excess and place them on a board until the oil is ready.
Once the oil temperature reaches 350º, fry the wings for 2-3 minutes until the coating is golden brown and crispy. Remove to a plate or board lined with paper towels. Repeat with the remaining chicken wings.
Toss the wings in the warm whiskey glaze and serve immediately.
Recipe Notes
If you don't have a thermometer for the oil, stick the handle of a wooden spoon in the oil. If it bubbles then your oil is ready.
Alternately, if you don't want to fry, you can stop after the wings have been baked, skip the flour coating and just toss them in the whiskey glaze and serve.
Category:

Appetizers

Method:

Oven

Cuisine:

American
Keywords: mantitlement, game day food, party food, chicken wing recipe, fried chicken wings recipe, how to fry chicken wings