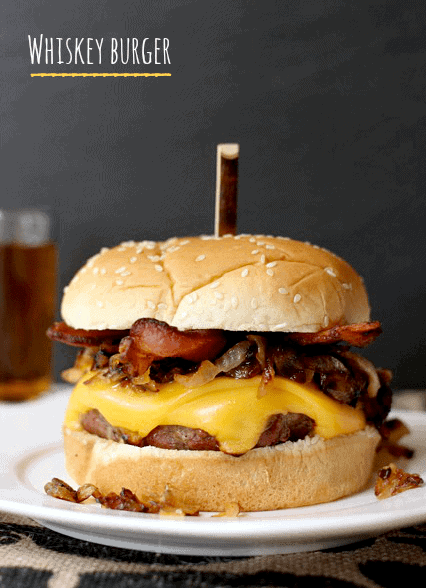 Once you make a Whiskey Burger, you might never make plain hamburgers again! Whiskey gives these hamburger patties the most delicious flavor!
We love grilling recipes like these burgers! Also be sure and try our famous WHISKEY FLANK STEAK that uses the most flavorful steak marinade! Or these FIESTA STEAK TIPS make awesome appetizers, too!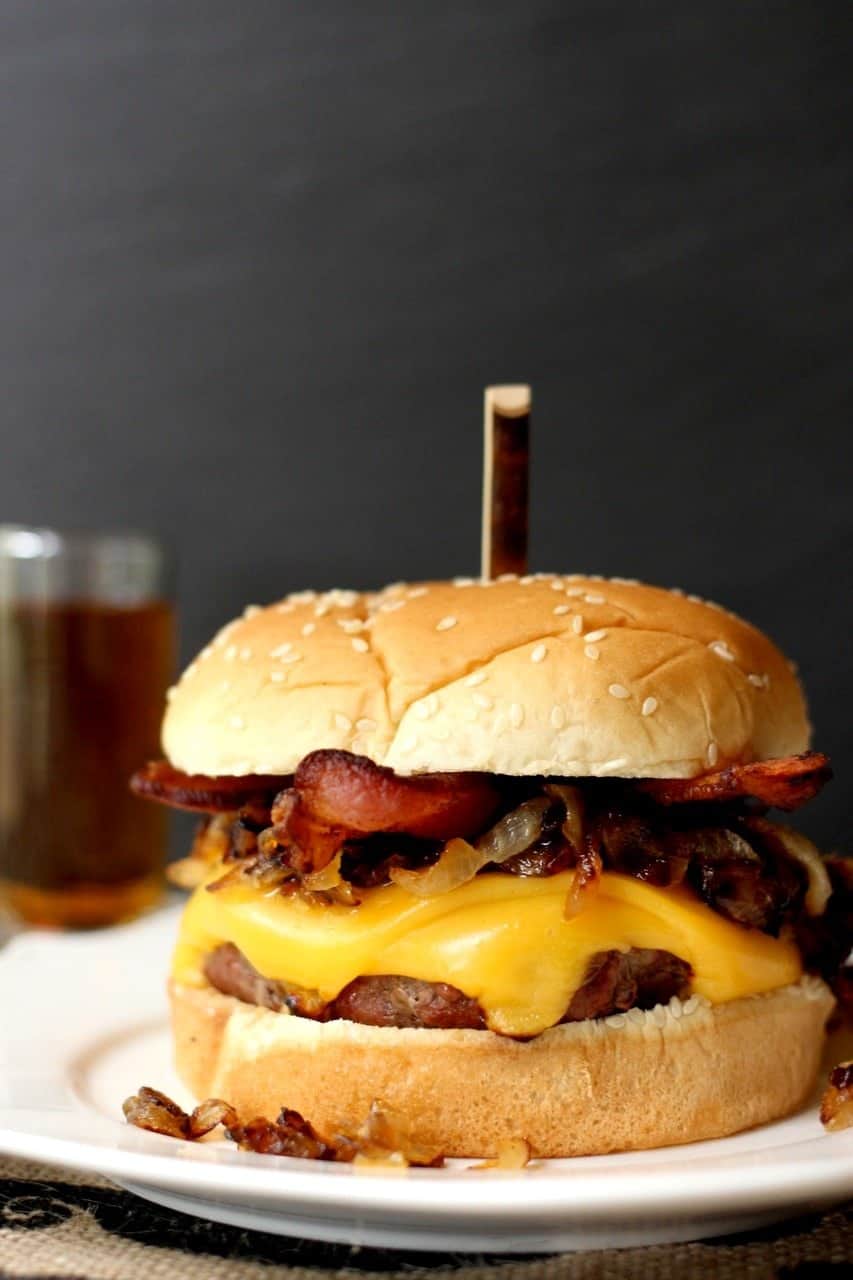 The BEST Hamburger Recipe!
I am talking game-changing hamburger recipe here.
These Whiskey Burgers are hamburger patties that are soaked in whiskey and garlic. Yes, I said soaked in whiskey. I have your attention now, right?
Hamburger recipes can be pretty basic, or they can be pretty outrageous like our BBQ Bang Bang Hamburgers! The key to the best hamburger recipes is getting the most flavor in your hamburger patty and the toppings.
Actually, we've got BOTH bases covered in this recipe. The most flavorful hamburger patties AND the most delicious topping…caramelized onions. Not an onion fan? Try these anyway.
Caramelized onions are so sweet they almost don't taste like an onion, or they are the best versions that onions can be. They top this simple but knock your socks of hamburger in the best way possible. Along with the onions we've got bacon. No need to talk about why there's bacon here, because BACON.
But let's get down to the actual hamburger patty. We're soaking beef hamburger patties in whiskey and garlic BEFORE putting them on the grill. Genius, right?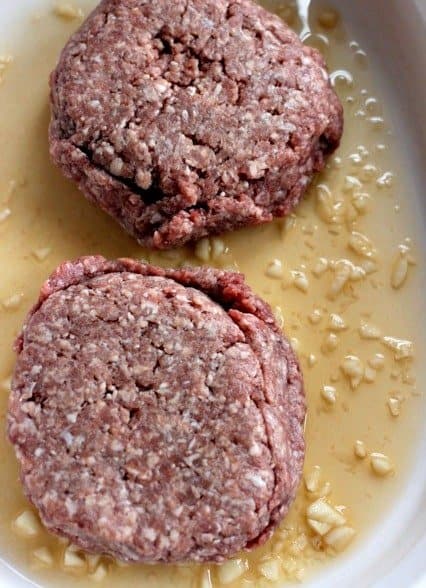 You only need about an hour to get the most flavor soaked in to the meat. One hour of waiting is going to be totally worth it, so grab a beer and hang out while these babies are soaking up that whiskey and garlic.
Once the beef patties are done soaking, dry them off well (you don't want any extra whiskey hitting your open flame) and season them with salt and pepper.
What Temperature Should Hamburgers Be Cooked To?
There are some guidelines to follow, but it depends on how you like to eat your burgers! Follow the cooking temperatures below to make your burgers come out perfect every time!
RARE:
125 degrees with a 3 minute resting time
MEDIUM RARE:
130-135 degrees
MEDIUM:
135-140
MEDIUM WELL:
145 degrees plus a 3 minute resting time
WELL DONE:
155 degrees
I'm a medium rare to medium guy. Although I don't like a rare hamburger, I'd rather it be too rare than overcooked. As a kid I didn't like to see too much pink in my hamburgers but as I get older I realize the flavor is much better than a well done hockey puck.
So if you're a well done person, do try and err more towards the 140 degrees, after resting a few minutes you will get an almost no pink burger but it won't be overcooked and have zero flavor.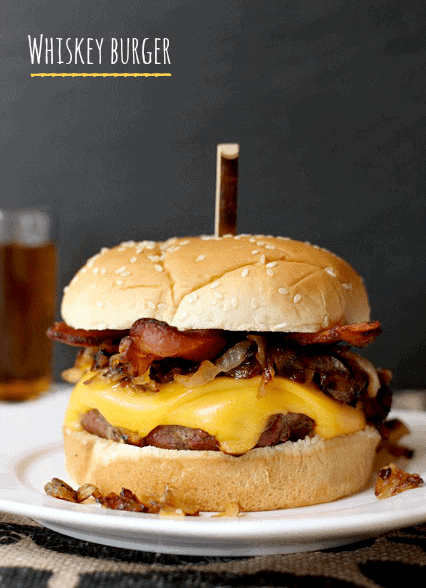 Different Hamburger Toppings
In addition to the caramelized onions, bacon and cheese there are so many different hamburger toppings you can add! This is the classic way that we like to make these Whiskey Burgers but we like to set out different toppings, too, especially for parties!
Tomatoes
Avocado Slices
Lettuce
Fried Eggs (yep!)
Different Types Of Cheese
Print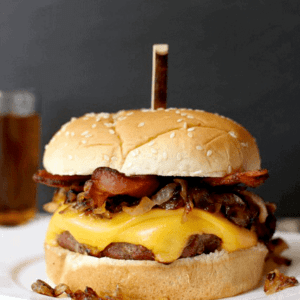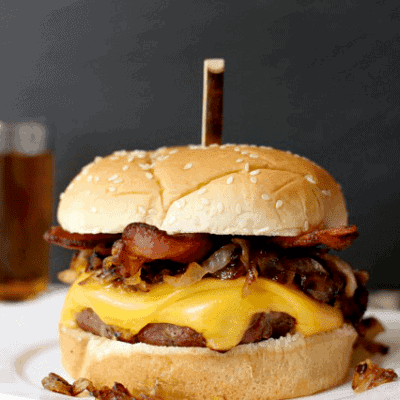 Whiskey Burger
Author:

Prep Time:

1 hour

Cook Time:

10 minutes

Total Time:

1 hour 10 minutes

Yield:

4

1

x
Category:

Dinner

Method:

Grill

Cuisine:

American
---
Description
These whiskey-infused hamburgers are going to be a hit at any BBQ or tailgating party!
---
Ingredients
4 beef hamburger patties
1/4 cup whiskey (your favorite kind)
2 tablespoons chopped garlic
4 strips of bacon, cooked
8 slices of yellow American cheese
2 large yellow onions, peeled, cut in half and thinly sliced
2 tablespoons olive oil
2 tablespoons butter or reserved bacon grease
1 teaspoon kosher salt
4 hamburger buns
---
Instructions
Pour the whiskey into a shallow dish that will hold all the hamburger patties. Place the hamburgers in the whiskey and top with the chopped garlic. Marinate the burgers for 30 minutes on one side, then flip over for another 30 minutes on the other side.
To make the onions, add the olive oil and the butter to a skillet over medium-low heat. Add the onions and salt and cook turning the onions often for 30 minutes until they are brown and caramelized. When the onions are done, set them aside in a bowl covered with foil.
Grill the burgers over medium-high heat for 5 minutes per side for a medium/medium rare burger. Refer to the temperature chart in the post for correct temperatures.
The last minute of cooking, add two slices of cheese to each burger and close the lid to melt the cheese.
Remove the hamburgers to a platter.
Top the hamburgers with some of the caramelized onions and a trip of bacon then serve.
Keywords: hamburger recipes, burger recipes, cheeseburger recipes, beef recipes, grilling recipes, what temperature to cook hamburgers