Try something fun at your next party with these Prosciutto and Melon Breadsticks. These easy appetizers will add a ton of color and flavor to the appetizer table!
Melon is great for appetizer recipes! Be sure to also try these Watermelon-Feta Bites for your next get together.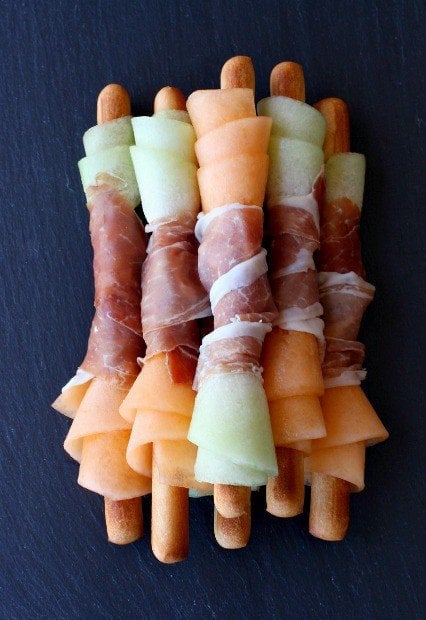 This Easy Appetizer Recipe Is Perfect For The Holidays
These Prosciutto and Melon Breadsticks will be perfect for your next holiday party!
I know everyone's looking for appetizers recipes this time of year. This is the time of year that we all kind of forget about eating healthy. There are definitely appetizers that will always be showing up on our table, but sometimes there should be something around to grab that's kind of good for you…something other than just a vegetable platter with dip.
Prosciutto Is One of My Favorite Foods
I love prosciutto. I love it right on a cheese platter piled on your crackers or using it instead of bacon in recipes. I could definitely sit down with some bread and go through a pound of prosciutto with an ice cold beer. My wife and I were at a party last year and one of the appetizers were the melon balls wrapped with prosciutto. I didn't really think I'd like it at first, but after polishing off most of the platter I decided I did.
Instead of just wrapping the melon up with prosciutto, I thought it would be a lot better wrapping them both around a breadstick. It's like all of your food groups in one appetizer. Besides a vegetable I guess, but you can grab something from that vegetable tray for that.
It's easy to get the prosciutto sliced thin at the deli counter, or you can buy it prepackaged. The melon is the tricky part…if you have a mandoline slicer then it's a piece of cake. Slice your melon super thin and wrap it around your breadsticks. Then just add your layer of prosciutto to seal it all together.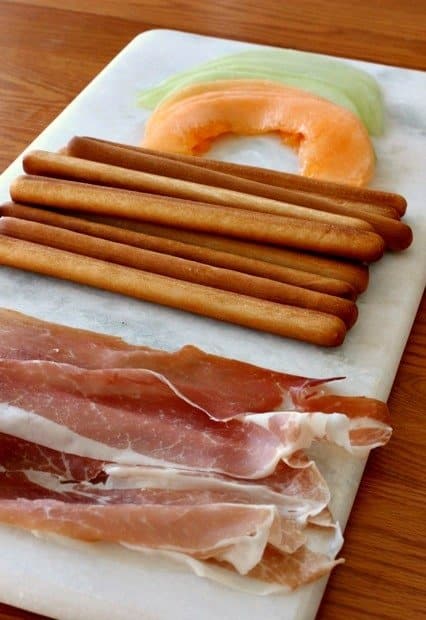 How Do You Cut The Melon Thin For This Recipe?
If you don't have a Mandoline Slicer
, you can grab one at Amazon for pretty cheap. We use a mandoline all the time for making oven fries and cutting vegetables up for stir-fries.
If you don't want to buy one, you can try using a wide vegetable peeler and shaving off strips of your melon.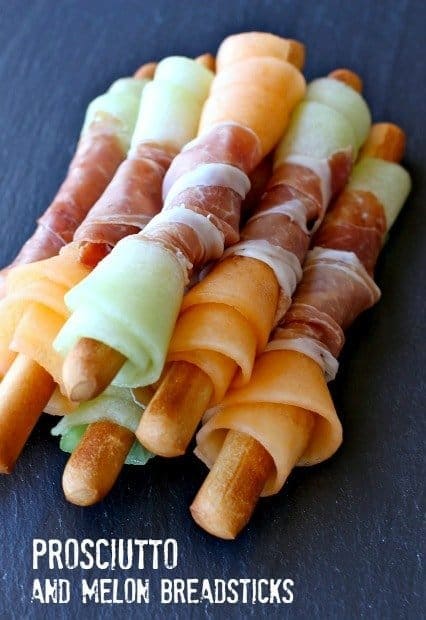 Can This Prosciutto And Melon Appetizer Be Made Ahead Of Time?
These Prosciutto and Melon Breadsticks won't last long, which is a good thing since you don't want soggy breadsticks. These do need to be put together at the last minute – which is OK since they're so easy to do. You can slice all the melon up ahead of time and then just wrap them before your guests come.
And that qualifies as your health food for the night. So bring on the fried cheese and wings!
Looking For More Easy Appetizer Recipes?
Print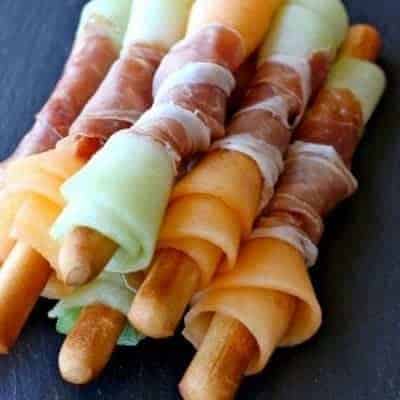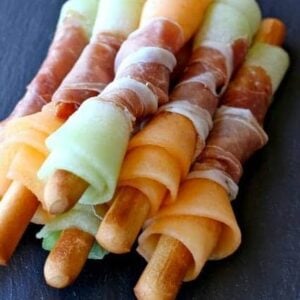 Prosciutto & Melon Breadsticks
Author:

Prep Time:

15

Total Time:

15 minutes

Yield:

8

1

x
Try something fun at your next party with these Prosciutto and Melon Breadsticks. These easy appetizers will add a ton of color and flavor to the appetizer table!
Scale
Ingredients
1

package (6 oz.) breadsticks

1

cantaloupe melon

1

honeydew melon

1

1b. thinly sliced prosciutto
Instructions
Cut the prosciutto slices in half.
Peel and seed your melons, then cut then into large wedges.
Slice in paper thin slices using wither a mandoline slicer or a large vegetable peeler.
Wrap a slice or two of melon around a breadstick and then wrap on piece of prosciutto on top of the melon.
Your slices should be thin enough that the melon and prosciutto should stick to itself.
Repeat with remaining breadsticks and serve immediately.
Category:

Appetizer

Method:

Hand

Cuisine:

American
Keywords: appetizer recipe, prosciutto appetizer, prosciutto with melon, prosciutto recipes, prosciutto and melon, easy appetizer recipe, light appetizer