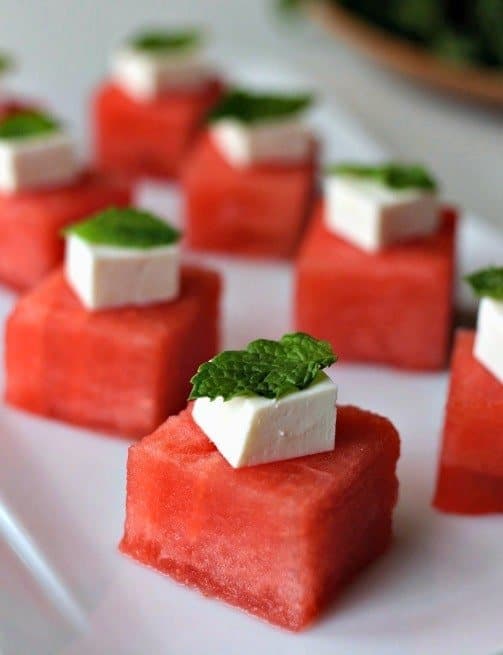 These Watermelon-Feta Bites are the perfect light bite appetizer for any type of party! Easy to make with just a few simple ingredients!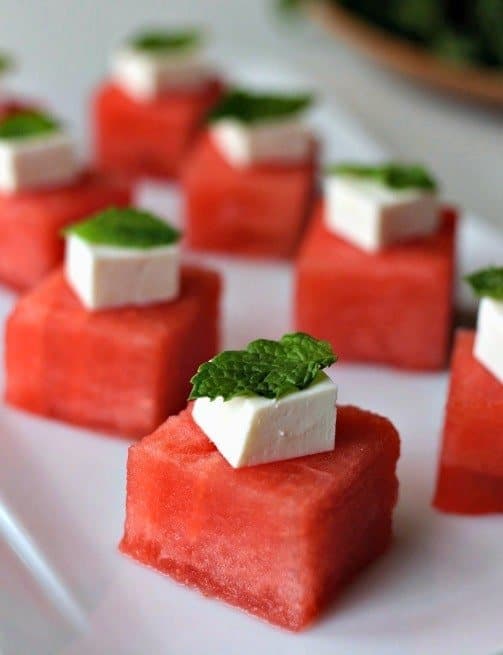 She's been asking me if we could do something a little bit lighter for summer. Kentucky Hot Browns with bacon gravy, Taco Egg Rolls…all totally delicious but once in a while you need something a little lighter. And what could be better than watermelon?
One of her favorite summer salads is a watermelon-feta salad but she's pretty much the only one in the house that will eat it, so making a whole bowl of it doesn't seem to make a lot of sense.
So I turned her salad into bite-sized appetizers. And like I've been saying about putting things on sticks, somehow making this salad bite-sized makes it a little more appealing.
Well, at least to me anyway. I actually liked the combination of the watermelon and feta topped with mint. Very refreshing, I have to admit. If you gave me a whole bowl of it…I don't know. I probably wouldn't eat it. Little steps here…I think I've come a long way!
So this really isn't too much of a recipe, all you have to do is get a seedless watermelon and slice it into a round about 2 inches thick.
Take the rind off and cut the watermelon into strips, then into cubes. Thats' it!
Then top with cubes of feta or any other cheese you like. We also tried a ricotta-salada that worked well, it's a little more mild tasting than feta.
Add a mint leaf and stack them up on a tray. These Watermelon-Feta Bites would make a great appetizer or even a side dish in place of a salad.
Ultra low-fat, pretty low-carb, very low in calories but big on flavor. That's what the wife ordered and I delivered!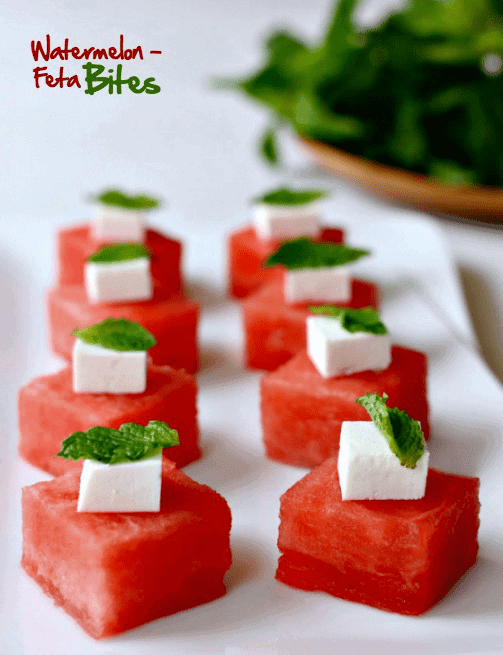 Print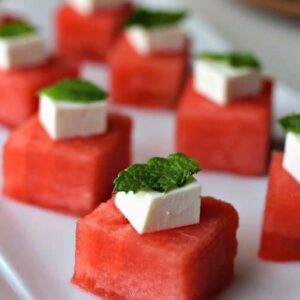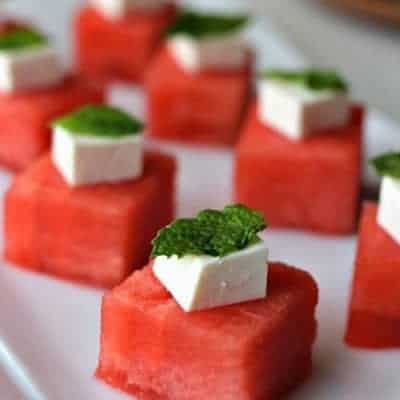 Watermelon-Feta Bites
---
Ingredients
Fresh watermelon, cut into 1″x 1 1/2″ cubes

1

block of feta or ricotta salata, cut into

1/2

" cubes
Fresh mint leaves
---
Instructions
Place the cheese cubes on top of the watermelon cubes and top with a mint leave.
---
Notes
This recipe can be adjusted for as many people as you need to serve. Count on three to four bites per person.