Grilled Chicken Nuggets are a healthy, low carb and super delicious chicken dinner! You can grill this chicken, bake or cook in a skillet!
What makes these chicken nuggets taste so delicious is our Favorite Chicken Marinade! Give this chicken a good amount of time to soak up all the tangy flavors in the marinade and then cut into "nugget" pieces. Serve these healthy chicken nuggets with Oven Fries, vegetable or a Homemade Caesar Salad!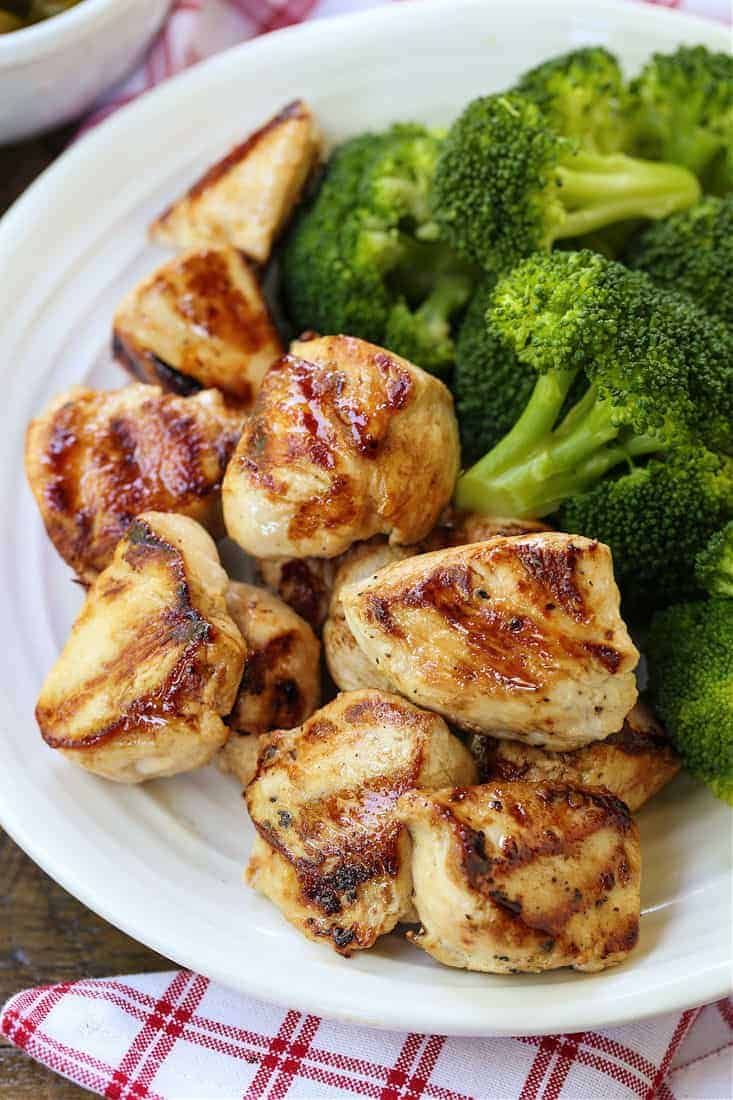 Healthy Chicken Nuggets Recipe
These Grilled Chicken Nuggets are not only good for you, but they taste incredible. Our boys gobble these chicken nuggets up whenever they are in our fridge, which is often. Meal prep with this chicken recipe for nuggets, cutting up into salads, sandwiches and more!
The secret to getting these chicken nuggets so flavorful is our popular chicken marinade recipe that makes this chicken taste just like Chick Fil A grilled chicken nuggets! I mean, of course we all like their crazy crispy nuggets, but have you ever tried their grilled nuggets? They're pretty darn delicious.
So in steps these Grilled Chicken Nuggets, because they're homemade they have to be better for you, and I'm telling you the taste is spot on.
Ingredients For This Chicken Marinade Recipe
You'll only need a few ingredients to make this marinade, and I'm telling you guys, we make this chicken at least once a week. You can also use this marinade recipe on turkey or pork tenderloin. And now you'll see why we have large jars of pickle juice in our refrigerator at all times…
1/4 cup pickle brine (from your favorite jar of pickles!)

1/4 cup olive oil

2 tablespoons soy sauce

1 tablespoon dijon mustard

1 tablespoon chopped garlic

1 teaspoon kosher salt

Fresh ground black pepper to taste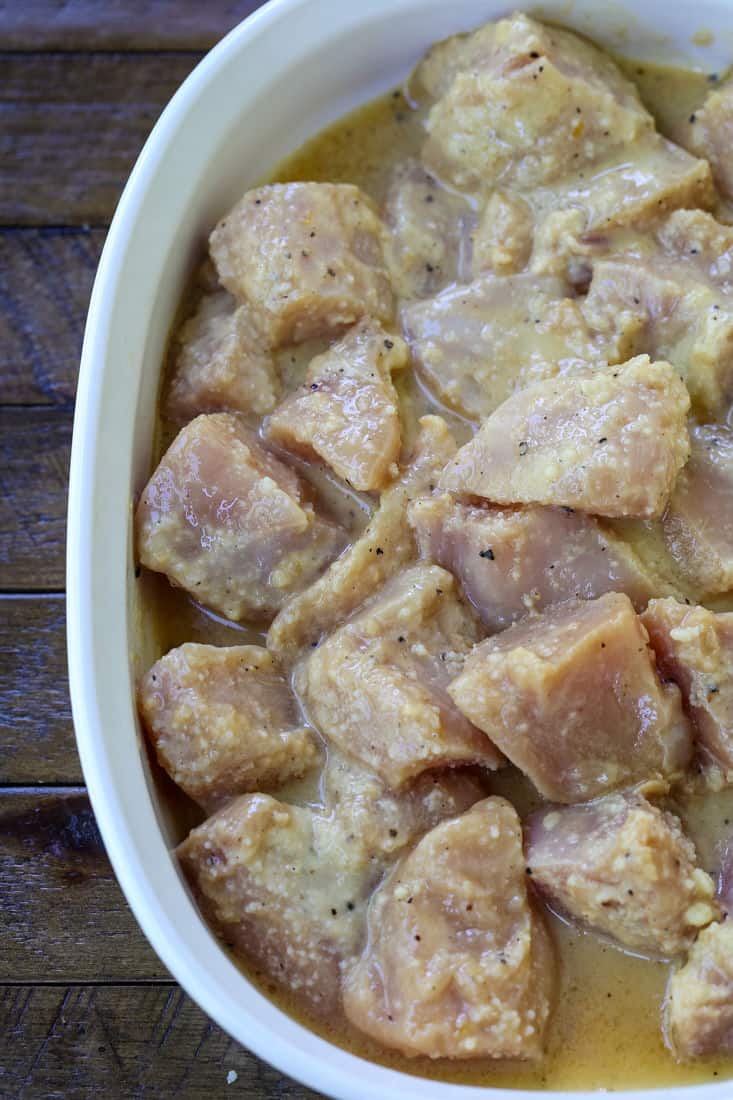 So yes, save those pickles jars full of brine when the pickles are gone. It literally lasts forever and you'll never run out of brine to make our favorite chicken marinade! As much as we love using this marinade on chicken breasts or chicken thighs, we decided to make these Grilled Chicken Nuggets after a trip to Chick Fil A because the taste was so similar.
And we're so glad we did. It's just one of those things that is actually the same recipe, but cut something into a different shape and it's a whole new meal!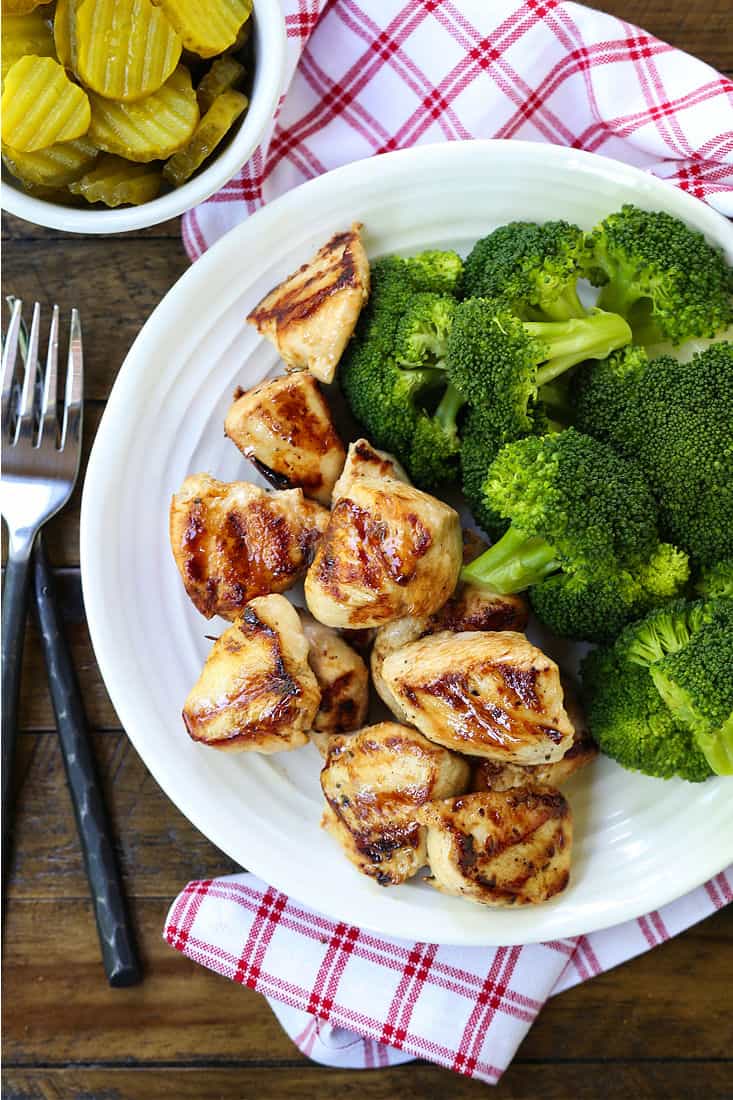 Can I Make These Chicken Nuggets In The Oven?
You can! If you don't have access to a grill, you can make this chicken in the oven, air fryer or on the stove top in a skillet. This recipe is really all about the flavor from the marinade, although I do love the flavor that grilling this chicken brings to the recipe.
But if it's cold out or (like when our boys decide to make these fo themselves) any of the above options will work just fine! When our boys make these chicken nuggets, they opt for cooking them in a skillet or grill pan.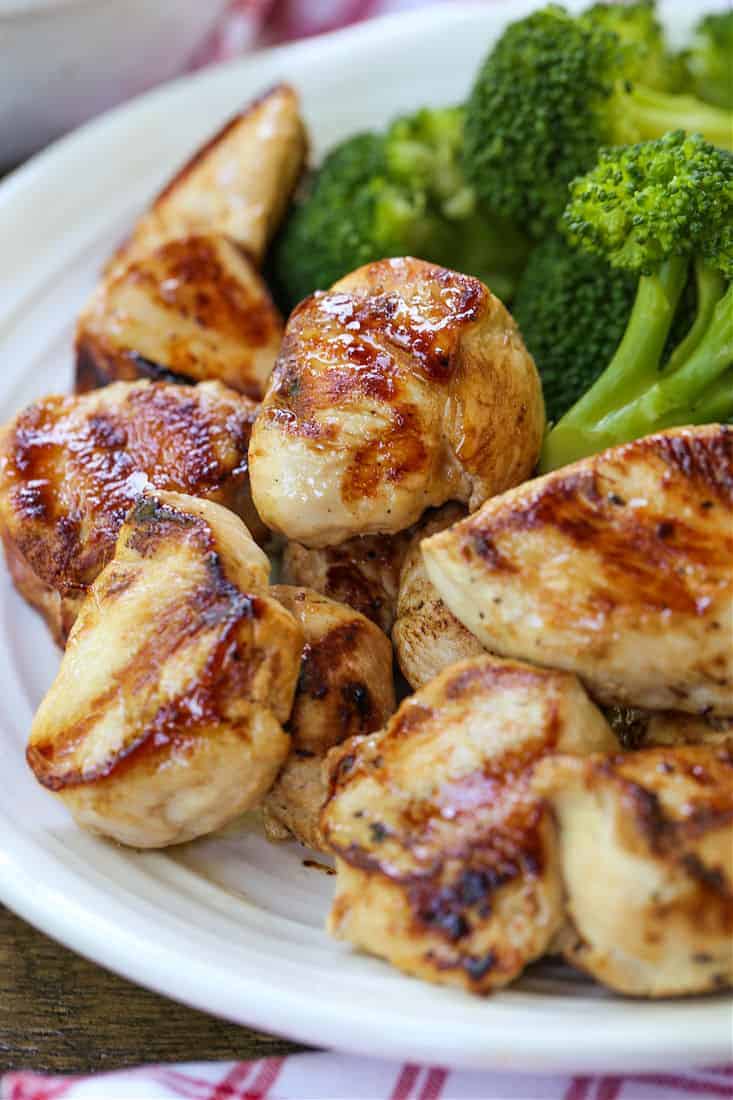 How Long Do You Have To Marinate The Chicken?
You will have to set aside some time for the chicken to marinate. Overnight is best, but at least 6 hours will do. You want the tangy pickle brine, garlic and mustard to really get into these nuggets. Not only does it make them taste delicious but the pickle brine helps keep the chicken super juicy instead of being dry.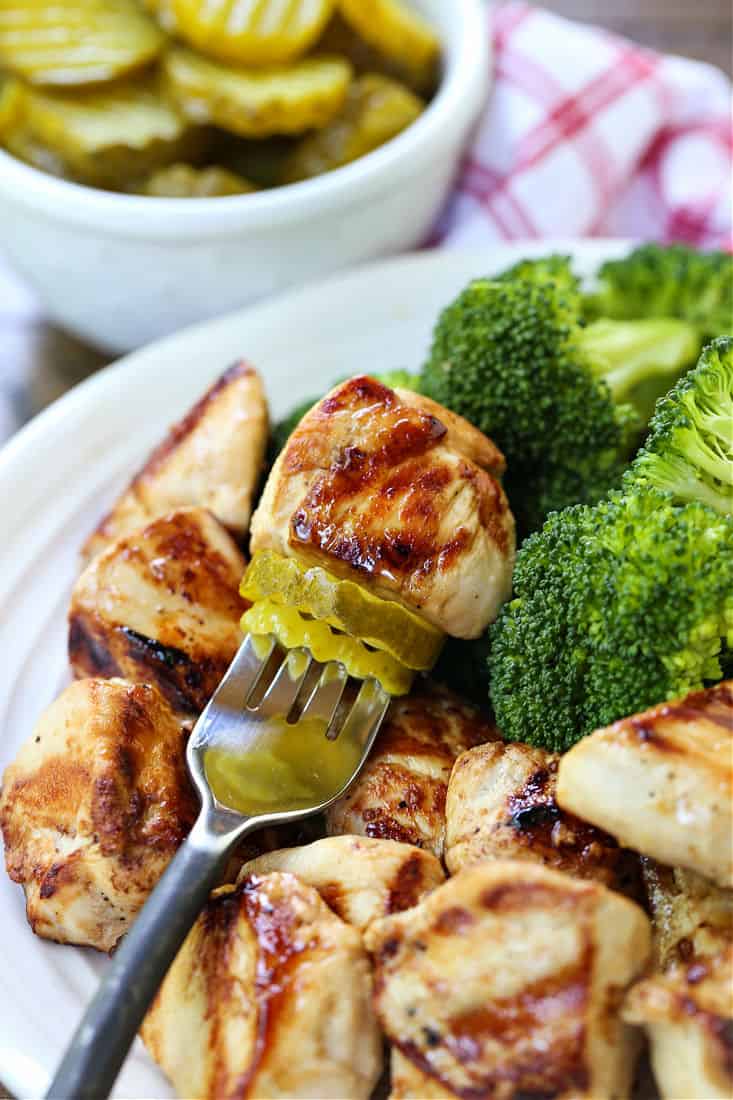 Looking For More Healthy Chicken Recipes?
And we have many, many more! Just head over to our "Dinner Ideas" menu and click on "Chicken Recipes" to give you a whole list of winner chicken dinners!
Print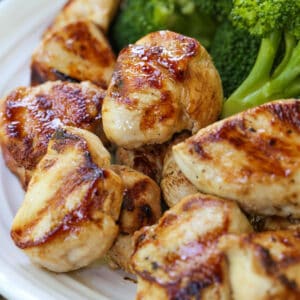 Grilled Chicken Nuggets
Author:

Prep Time:

5 minutes

Marinating:

6 hours

Cook Time:

10 minutes

Total Time:

6 hours 15 minutes

Yield:

6

Servings

1

x
These Grilled Chicken Nuggets taste just like Chick Fil A grilled nuggets! Of course we all love their crispy nuggets, but if you're looking for a low carb, healthy chicken recipe this one is it!
Instructions
Cut the chicken into a large dice like a "nugget" size. Place the chicken pieces into a dish or a large resealable bag and marinate in the refrigerator for at least 6 hours or up to overnight.
Remove the chicken from the marinade (discarding the marinade) and place on paper towels. Lightly pat the chicken to remove the excess marinade.
Heat the grill to 400 degrees. Grill the chicken nuggets on both sides until the chicken is cooked through and the juices run clear. This should take about 3-4 minutes on each side.
Remove the chicken from the grill and serve with vegetables, salad or oven fries!
Category:

Dinner

Method:

Grill

Cuisine:

American
Keywords: mantitlement, easy chicken recipes, grilled chicken, healthy recipes, low carb recipes, chicken nuggets, chick fil a nuggets, chicken marinade