This Chilled Sweet Corn Soup Recipe is the ultimate warm weather dinner that's as easy to make as it is delicious!
Need inspiration for other ways to use up fresh or leftover corn? Our Hot Crab and Corn Dip and 15 Minute Creamed Corn recipes are a few other great recipes that will put that corn to good use!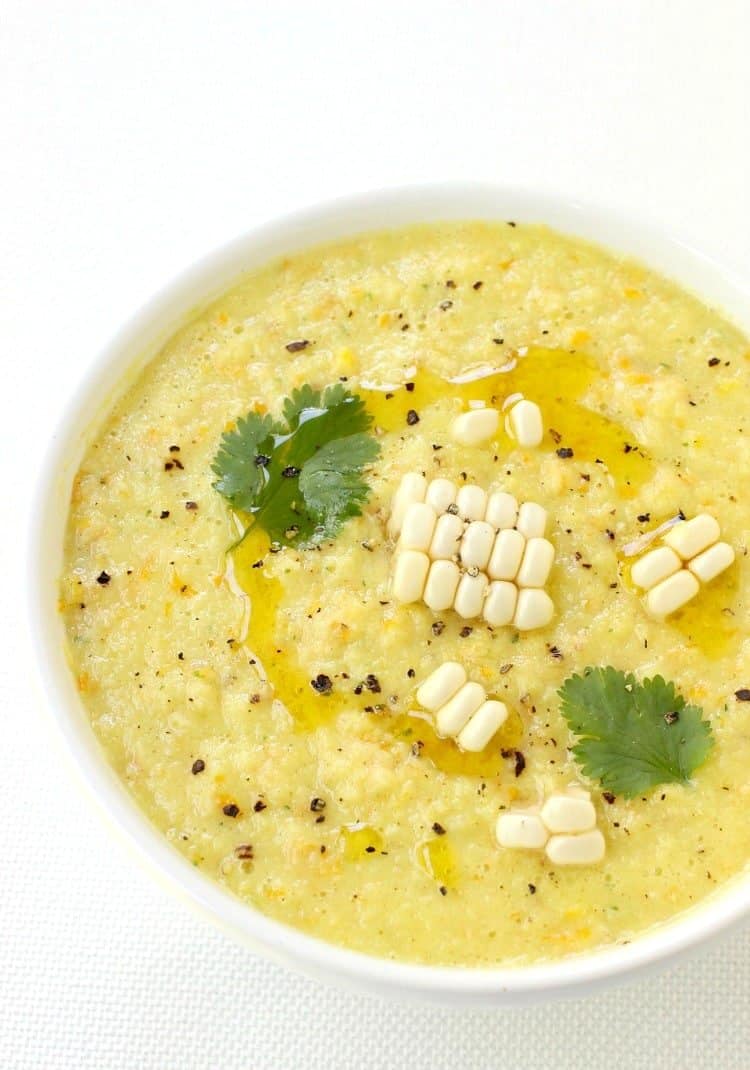 What Is Gazpacho Soup?
Chilled soup or gazpacho is another new item that I can add to the dinner menu. I actually think it should be called blender soup, but I was shot down on that title. But that's exactly what it is – blender soup. All the ingredients go into the blender and then it's done. No cooking, no simmering. Nothing.
Leave a comment below the post if you think it should be called Blender Soup, Christie and I have a bet going on…
Gazpacho is new to me, meaning I've never had any type of gazpacho or cold soup in my life. Honestly it just never really sounded that great to me, so I never tried it. But I do love corn and all things made with corn. Especially if you're talking a chowder recipe of some sort.
But Christie had it at a restaurant last summer and hasn't been able to stop talking about it. How fresh it tasted and how sweet the corn was, her gazpacho was topped with lump crab meat but we're keeping it a little more simple for this recipe.
So I was standing there as she was explaining this recipe to me…I kept grabbing the soup pot for every step.
Nope, no pot. It doesn't get cooked – at all.
Yep, I was skeptical. Couldn't really believe that anything just blended up in a blender was going to taste great but once again, I was wrong.
How To Make The Best Chilled Corn Soup
The trick here is using really fresh and in season ingredients. For this soup we used yellow cherry tomatoes, yellow bell peppers, jalapeño, onion and the fresh corn. Cut the kernels off the cob, chop everything and get it in a big bowl.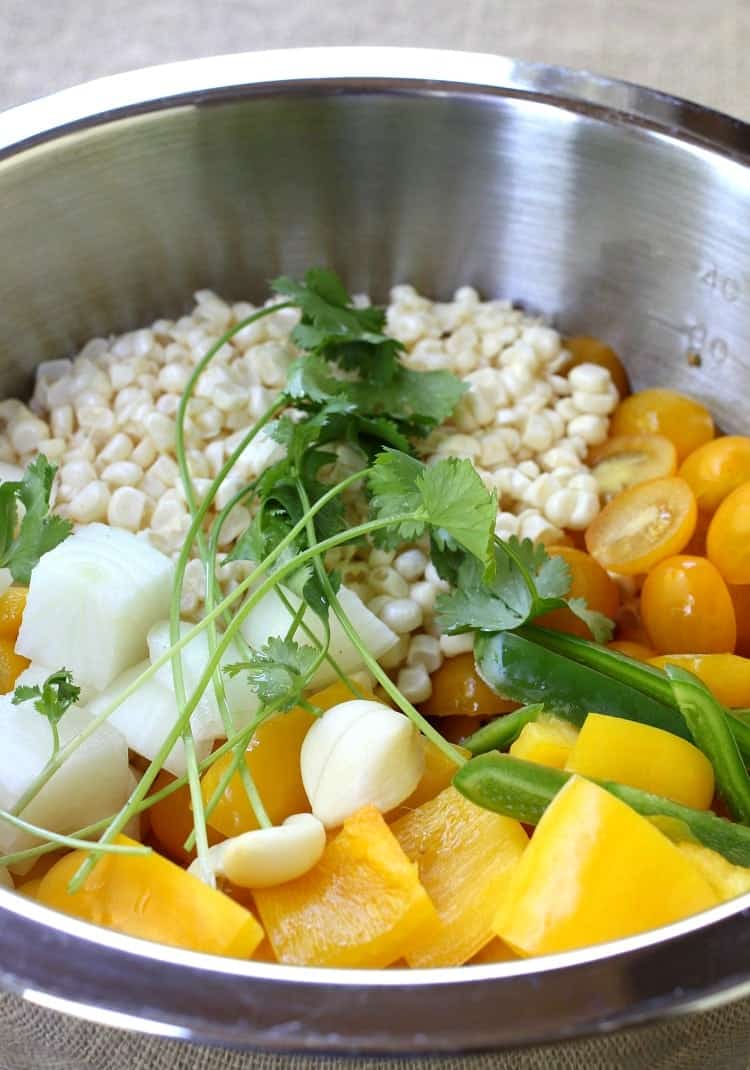 Then you're going to give all those vegetables a good pinch or two (or three) of salt.
The salt is what's going to do the "cooking" part of this soup and make the vegetables release all their juices so they get even sweeter and tastier.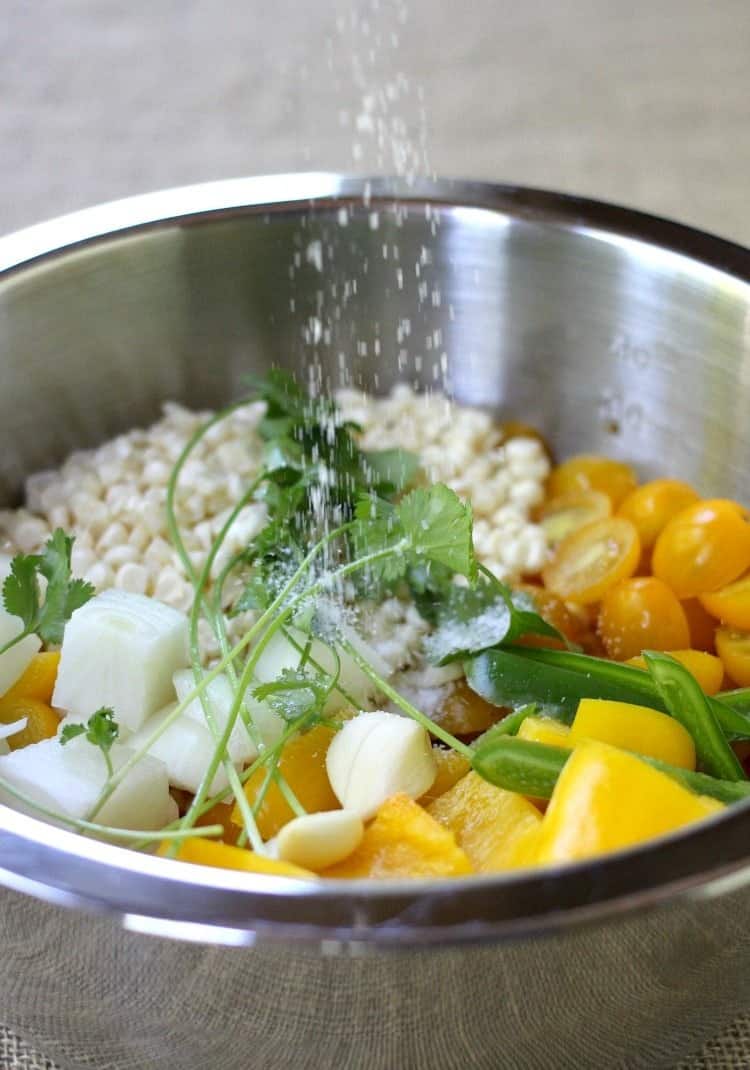 Let that sit on your counter for an hour or two and then it all goes in the blender.
Blend away until it's smooth and dinner is served.
This is definitely a soup that needs garnishes, you have to at least garnish this Chilled Sweet Corn Soup with some salt and fresh cracked pepper and a drizzle of olive oil. Don't leave out the olive oil drizzle here, it adds a great flavor to this soup.
And then it's time for the tasting…
Amazing. It literally tastes like summer in a bowl, the corn is so super sweet even though it's never been cooked. And somehow – and I mean somehow this soup is actually really filling.
What Toppings Go With Chilled Corn Soup?
The toppings for this Chilled Sweet Corn Soup are limitless – avocado, tortilla chips, any type of chopped up vegetable that went into the soup, sriracha, and yes, you could add some lump crab meat if you happen to have that hanging around.
We did not – so we ate it as it was.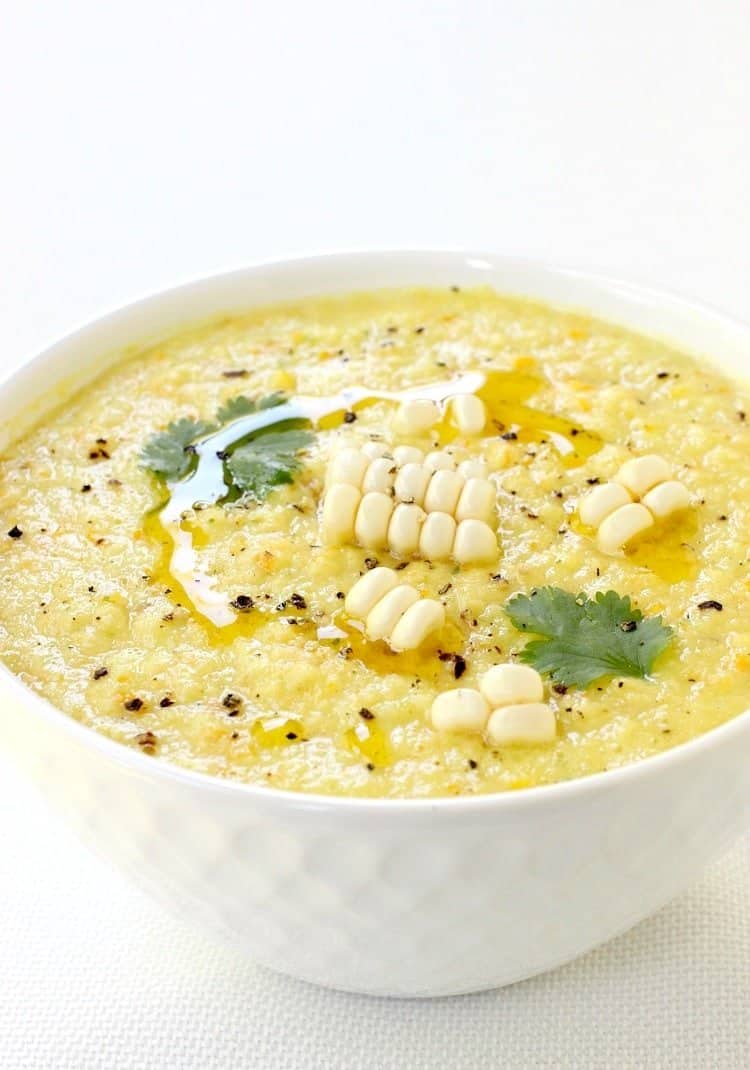 Options for the side? Crusty bread, and a few cold beers. It's all you need to make a perfect, summer dinner!
Print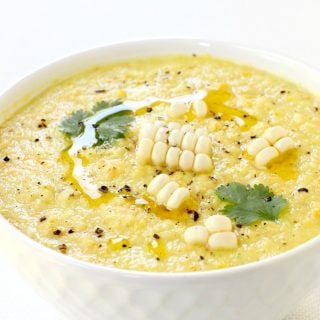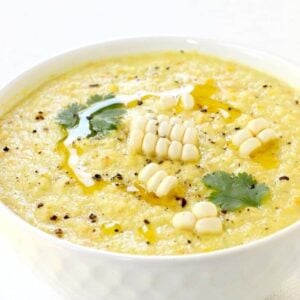 Chilled Sweet Corn Soup
This Chilled Sweet Corn Soup Recipe is the ultimate warm weather dinner that's as easy to make as it is delicious!
Scale
Ingredients
5

ears corn, kernals cut off

2

yellow bell peppers, chopped

3

cloves garlic, chopped

2

10.5 oz yellow cherry tomatoes, cut in half

1 cup

diced onion

1

jalapeno, seeded and sliced

3

to

4

sprigs cilantro

1 tablespoon

salt
olive oil drizzle
salt and pepper for seasoning
Instructions
All ingredients to a bowl with the salt.
Toss and let sit on counter for 1 hour or up to 3 hours.
Add everything to a blender (might have to do this in a couple batches) and blend until smooth.
Taste to adjust seasonings and garnish with drizzle of olive oil, fresh corn and cilantro.
Recipe Notes
Optional garnishes:
Diced avocado, chopped shrimp or lump crab meat, crushed tortilla chips, sriracha.
Keywords: corn soup, sweet corn, dinner ideas, gazpacho, summer soup