Grilled Cheeseburger Pizza has all the flavors you love in a cheeseburger in a tasty, grilled pizza! Serve this pizza recipe for appetizers or for dinner!
We love cheeseburger everything…Check out our popular Cheeseburger Meatballs or this comforting Cheeseburger Casserole Recipe!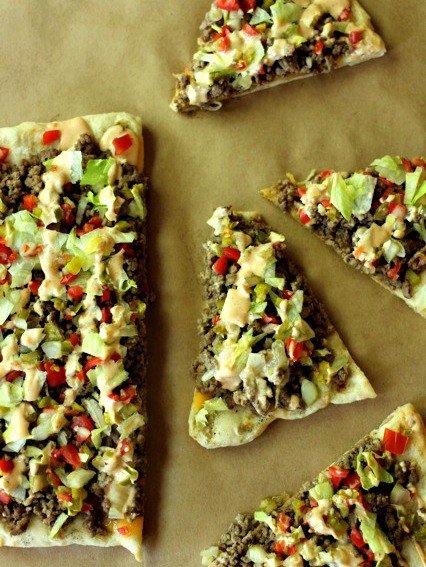 A Grilled Pizza Recipe
It wasn't what I meant to do, but it turns out that this Grilled Cheeseburger Pizza tastes exactly – I mean exactly like a Big Mac. But way better, and I'm sure a lot better for you too.
I wanted to re-create a cheeseburger flatbread that we saw on a menu when we were on vacation last week. We never actually got to order it because the kids kept wanting the BBQ pulled pork flatbread…so it was kind of on my mind when we came home.
And I've been wanting to try making pizza on the grill since I've never done it before so here was my chance.
First make all your toppings, the ground beef, the pickled jalapeño pickle relish and the sauce. What goes on a cheeseburger? ketchup, mustard, mayonnaise, pickles…so that's what I put in this sauce. Except I used a sweet chili sauce instead of ketchup just for a little more flavor.
It totally tastes like the Big Mac "special" sauce. I know there's a whole world out there full of copycat recipes for the Big Mac special sauce, but I'll tell you- this is the one to make.
How Do You Grill Pizza Dough?
Grilling pizza is easier than you might think. Once you get the dough on there it will start to harden pretty quickly. So once you have one side grilled it's easy to flip. The hardest part about grilling pizza dough is not burning it!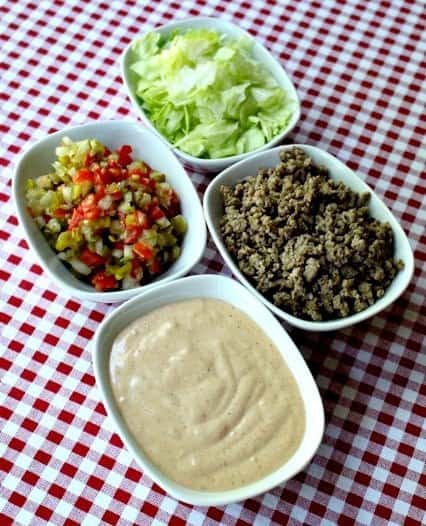 I used store-bought pizza dough, there's no need to make your own…unless you really want to. Then I'm not going to stop you.
Roll it out a little and throw it on the grill for a few minutes, then flip it over and let it cook a few more minutes on the other side.
Next you'll add your American cheese slices and then your seasoned ground beef. Let that warm up until it's hot, then slide the flatbread off the grill onto a cutting board.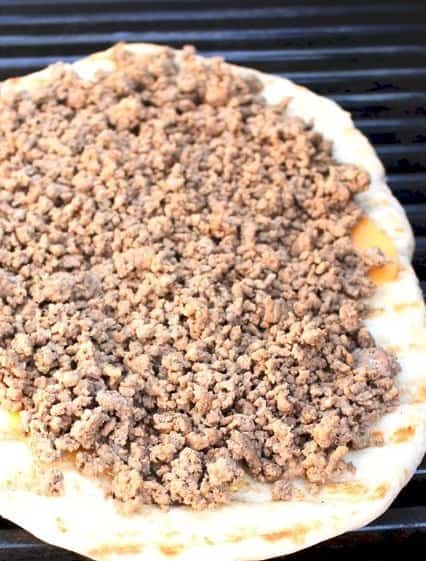 Add your homemade pickle relish and copped lettuce and then top with your special sauce. I used a resealable bag to squeeze it on evenly, but anyway you can drizzle it on there will work just fine.
You can also grill the flatbread, take it off the grill and assemble the pizza on a baking sheet to cook in the oven.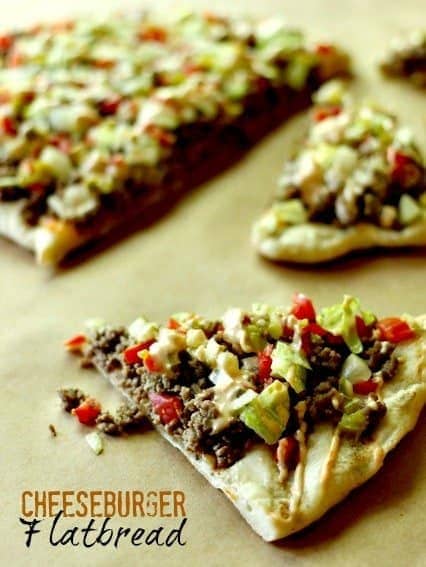 Looking For More Pizza Recipes?
Print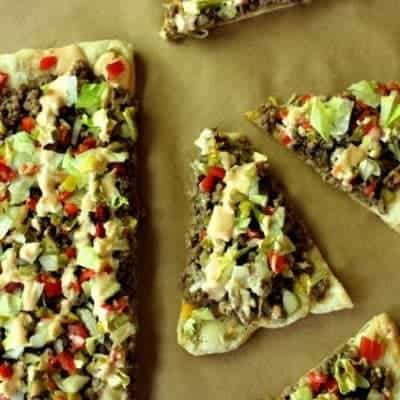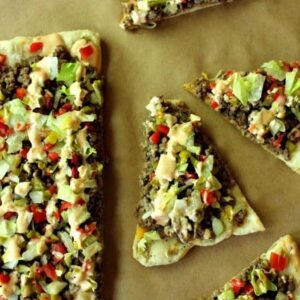 Grilled Cheeseburger Pizza
Author:

Prep Time:

10 minutes

Cook Time:

10 minutes

Total Time:

20 minutes

Yield:

8

Servings

1

x
This super delicious grilled pizza recipe has all the flavors of your favorite take out cheeseburger!
Scale
Ingredients
For The Special Sauce:
1/2 cup mayonnaise
1/4 cup sweet chili sauce
1 tablespoon yellow mustard
1/4 teaspoon salt
1/4 teaspoon pepper
1 teaspoon pickle juice
For The Seasoned Ground Beef:
1 tablespoon olive oil
1 1/2 pounds ground beef
1 1/2 teaspoons garlic powder
1 1/2 teaspoons onion powder
1 teaspoon salt
1/2 teaspoon black pepper
For The Flatbread:
olive oil for brushing the grill
1 ball of fresh, store bought pizza dough
6–8 slices American cheese
1 cup pickles, finely chopped
1 cup tomatoes, finely chopped
1/2 head of iceburg lettuce, shredded
Instructions
Make the sauce for the flatbread by adding the mayonnaise, sweet chili sauce, mustard, salt, pepper and pickle juice to a small bowl and stir. Refrigerate until ready to use.
Next, heat the olive oil in a large skillet over medium-high heat. Add the ground beef and brown, breaking up into small pieces as it cooks. Drain any drippings from the skillet. Add in the garlic powder, onion powder, salt and pepper and cook until there is no pink left in the meat.
Roll the pizza dough out on a cutting board until you get a thin, circular shape.
Place the dough carefully on an oiled grill and let cook for 3-4 minutes on medium-high heat. Check the bottom of the dough after 4 minutes and see if it's ready to flip. There should be brown grill marks and the dough should feel firm.
Flip the dough over and let cook another 3-4 minutes, depending on how hot your grill is. Then add the American cheese to cover the pizza and the ground beef mixture. Turn the heat down to medium-low, close the grill and let cook 2 minutes minutes until the cheese is melted and the beef is hot. BE careful that your grill isn't too hot at this step or the bottom of your pizza will burn.
Slide the flatbread off to a cutting board and top with chopped pickles, tomatoes, lettuce and the special sauce. I added my sauce to a plastic bag, cut the tip and drizzled the sauce on.
Cut the pizza into 8 pieces and serve.
Recipe Notes
Alternately, you can grill the pizza dough on both sides and remove from the grill. Heat your oven to 400 degrees, then place he grilled pizza dough on a baking sheet. Add the cheese and ground beef and cook for 10 minutes. The remove the pizza from the oven and top with the cold toppings.
Category:

Dinner

Method:

Grill

Cuisine:

American
Keywords: grilled pizza, flatbread, ground beef recipes, special sauce, dinner ideas, grilling recipes