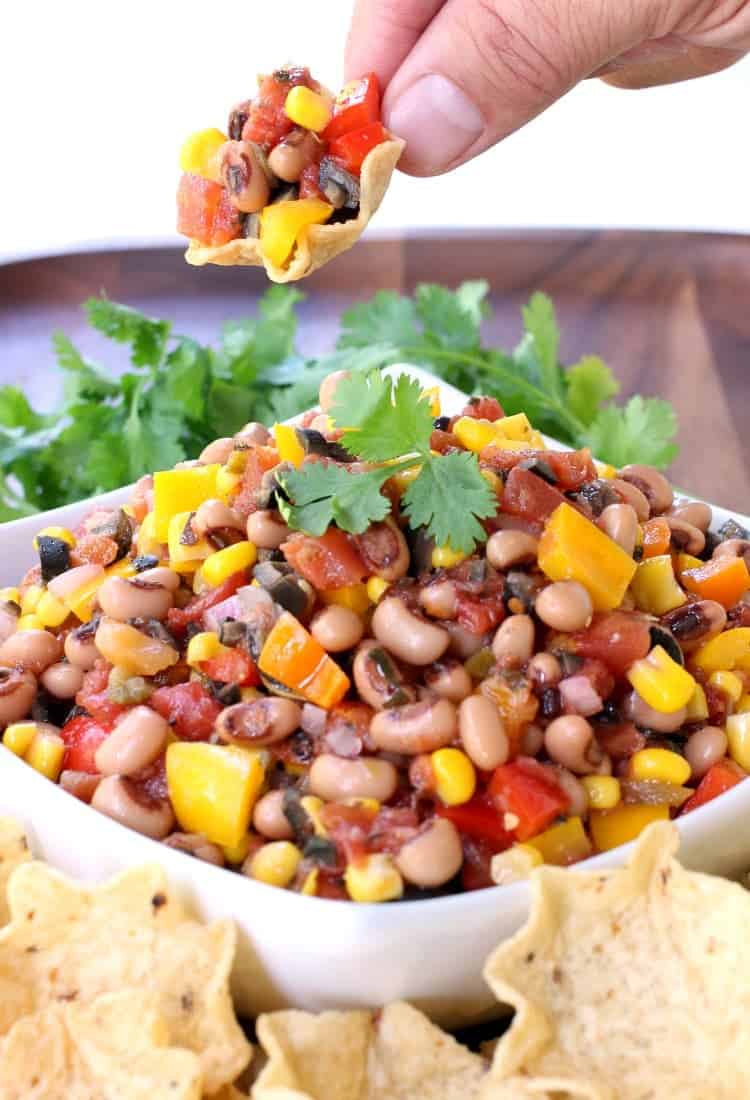 This Boozy Cowboy Caviar will turn any night into a party night! Leave that jarred salsa in the refrigerator for today…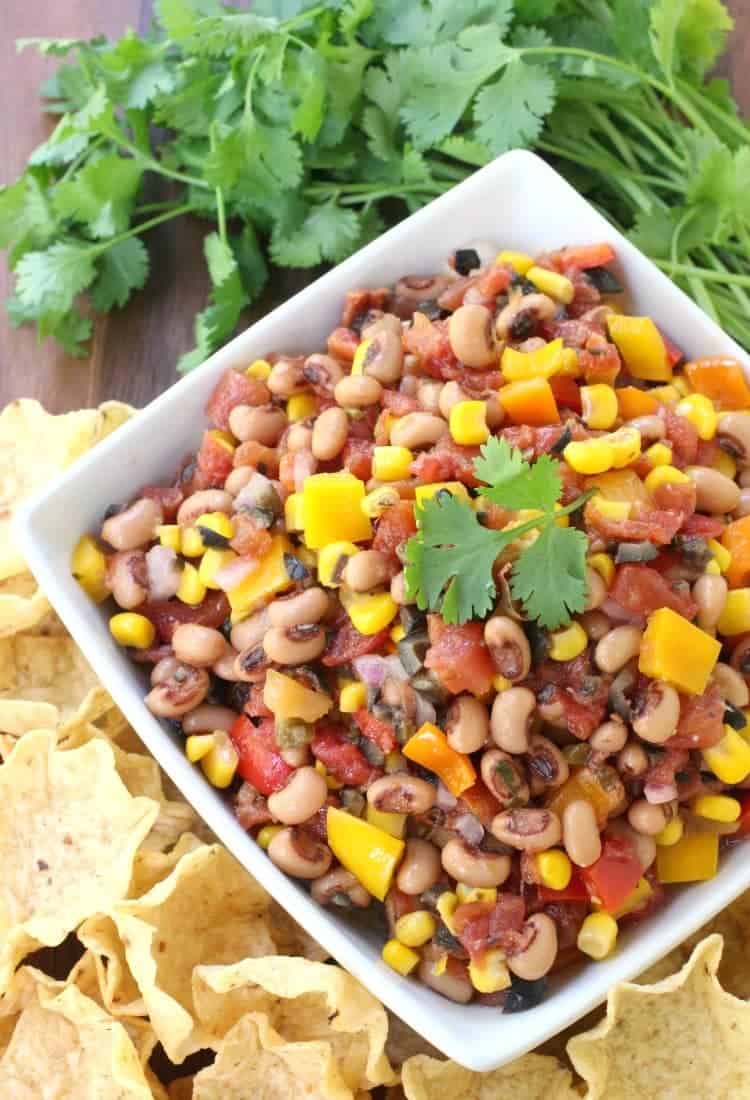 Chips and salsa are without a doubt a standard when anyone come over to our house. We make it homemade or eat it from a jar – it doesn't matter to me too much. I love all of it. I'm definitely not a salsa snob.
And we're definitely going to need some boozy appetizers for football watching…and since it starts tonight let's get to it! Here's a quick video to show you how easy it is…
We've actually had nights where we're having a couple of drinks and eating chips and salsa (hopefully with some guac on a good night) and we end up eating so much of it that we just forget about dinner altogether.
Is that the healthiest dinner? Nope. But I don't care.
Sometimes cocktail hour just turns into dinner around our house and I'm not ashamed to say it.
Cowboy Caviar is pretty popular if you google it – which I do all the time. Google recipes, look them up on Pinterest or Facebook…it's an exciting life, I know. But that's what I do.
You can find lots of recipes for Cowboy Caviar, and things to make using Cowboy Caviar but what about Boozy Cowboy Caviar?
There's something about adding tequila to a salsa recipe that just makes it taste better.
All you need are a few ingredients shown here – diced tomatoes, black eyed peas, corn, peppers, black olives, red onions, lime and tequila.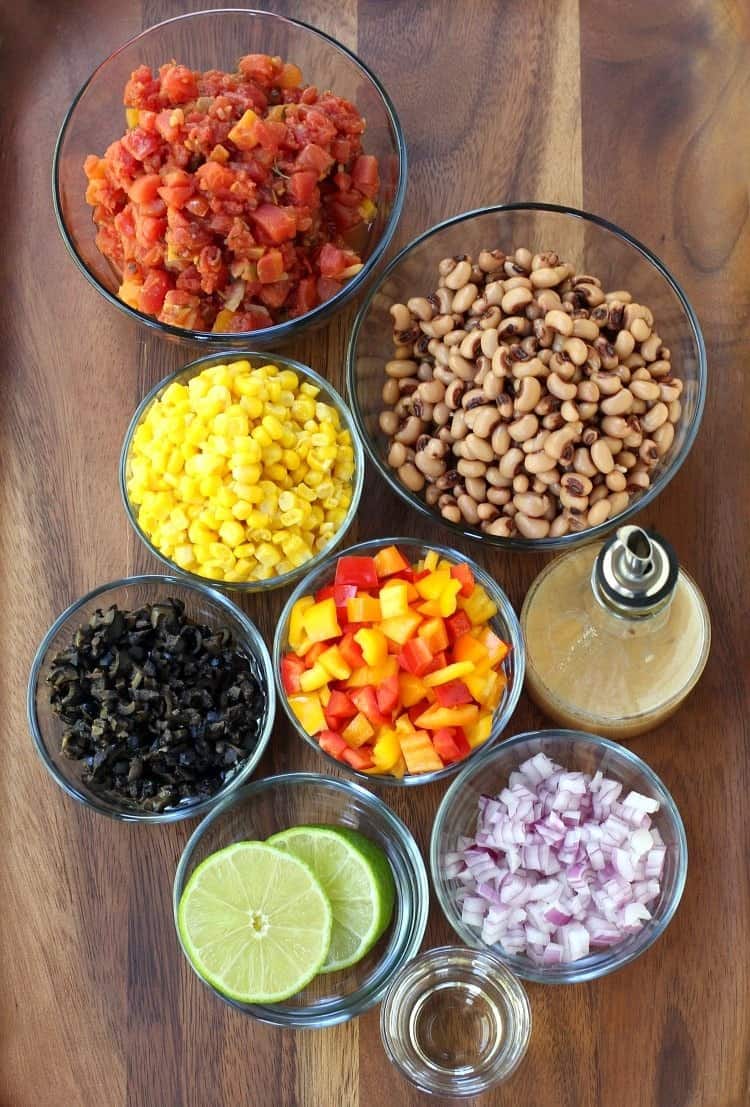 OK, so there's more than a few ingredients to gather but once you're there you're done.
This is definitely a dump into a bowl recipe, not much chopping except for the onions and peppers. You can dice up the sliced olives like I did or just add them in as is…not much of a game changer there.
The game changer here is the tequila.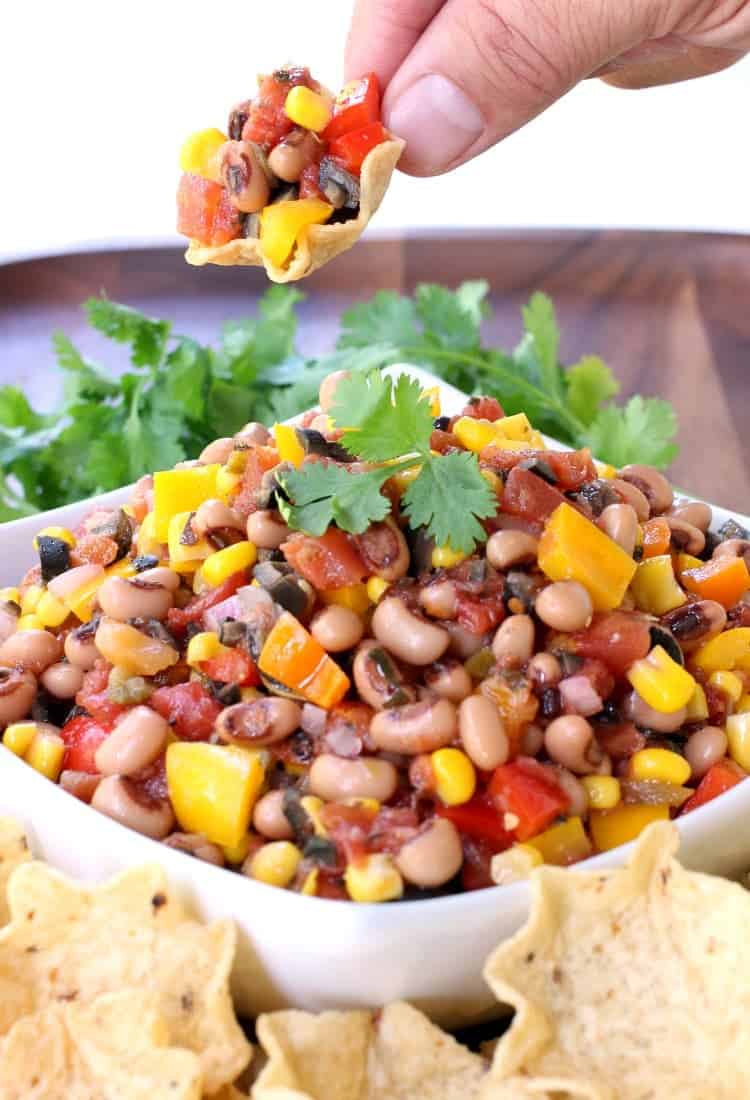 Why does adding tequila into this recipe change the game? Well, I'm not sure – but it does. The tequila brings out the flavors just a little more if you ask me, just like in this Bratwurst with Sweet Tequila Salsa recipe. It also makes it taste more like a party…but YES you can leave it out if you want to. I just highly recommend that you don't.
So get in your favorite chair, grab yourself a few beers and get a big bowl of this Boozy Cowboy Caviar and tortilla chips.
This is totally going to be a night when the snacks turn into dinner.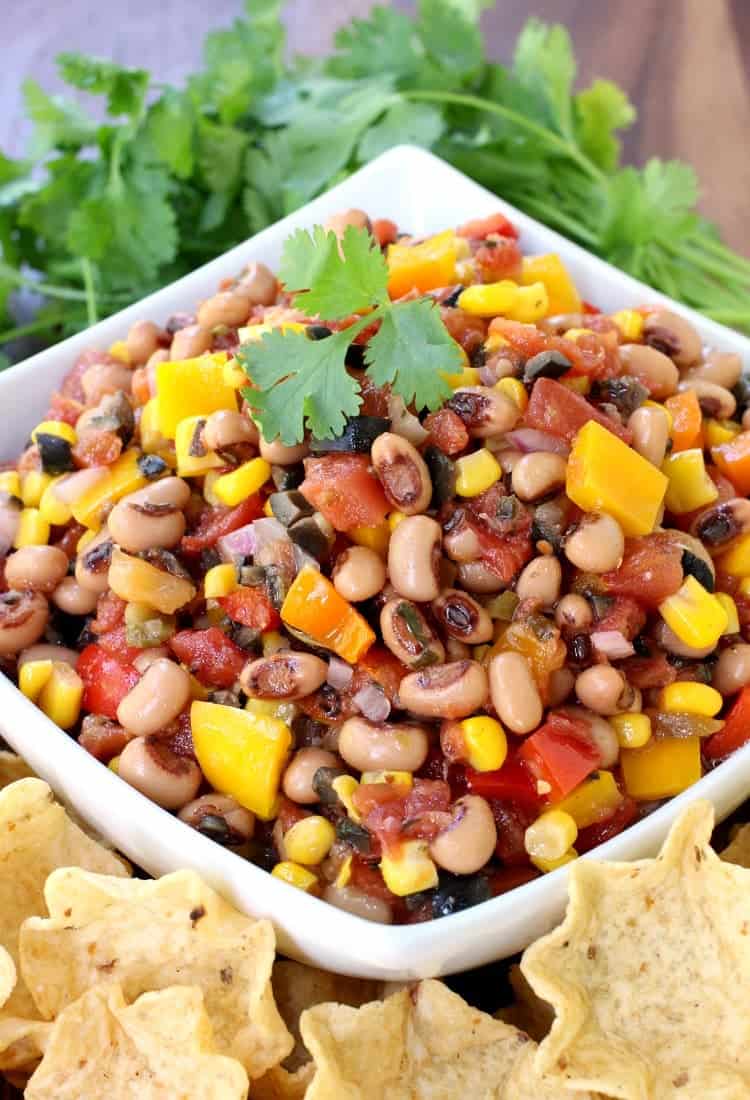 Print
---
Ingredients
1

(15.25 oz) canned corn

2

(10.5) cans black eyed peas

1/2 cup

red onion, diced

1 cup

peppers, diced

1

(3.8 oz) can black olives diced

2

(15 oz)cans RoTel Mexican Style Tomatoes with lime and cilantro, drained

1

–

2

ounces tequila reposado (Go for 2)
Dressing
1 teaspoon

salt

1/2 teaspoon

fresh ground black pepper

1/4 teaspoon

cumin

1/2 teaspoon

garlic powder

2 tablespoon

s honey

1

lime, juiced
---
Instructions
Whisk up the dressing ingredients in a small bowl.
Add the rest of ingredients to a large bowl and pour in the dressing.
Stir to combine.
Let sit for 3-4 hours in the refrigerator or overnight is best!
Garnish with cilantro if desired.