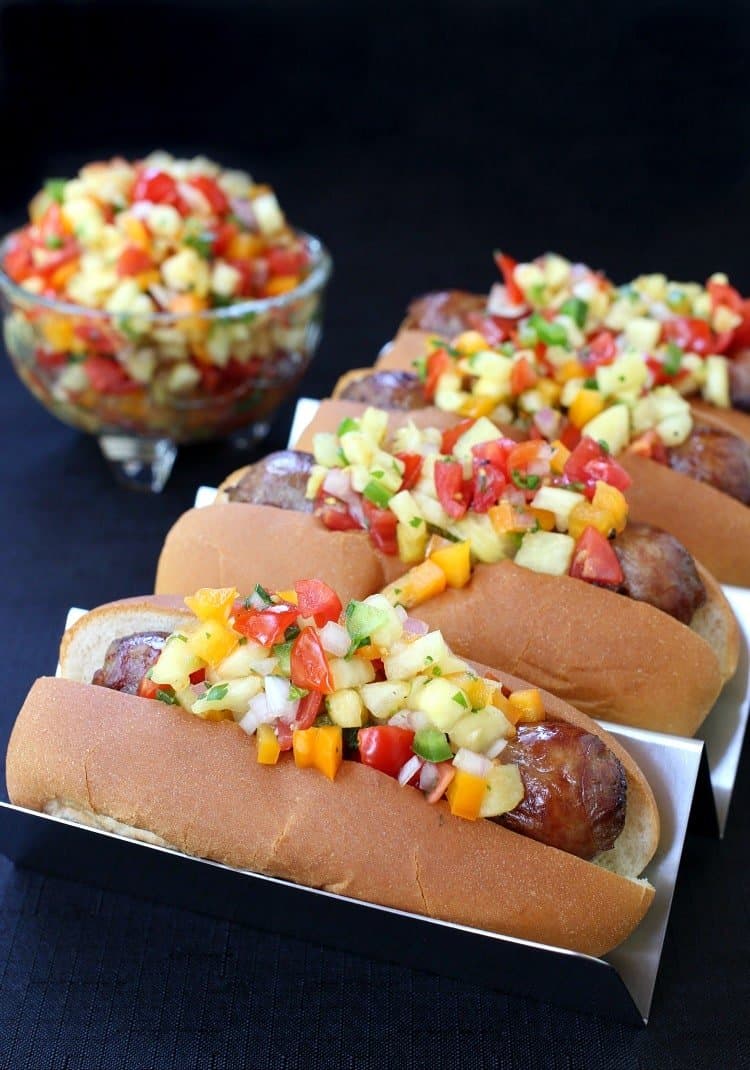 Beer Brats with Sweet Tequila Salsa
This post has been brought to you by Johnsonville, but all opinions here are mine alone. #ad
Beer Brats with Sweet Tequila Salsa are the ultimate summer food for the ultimate summer BBQ – the Fourth of July!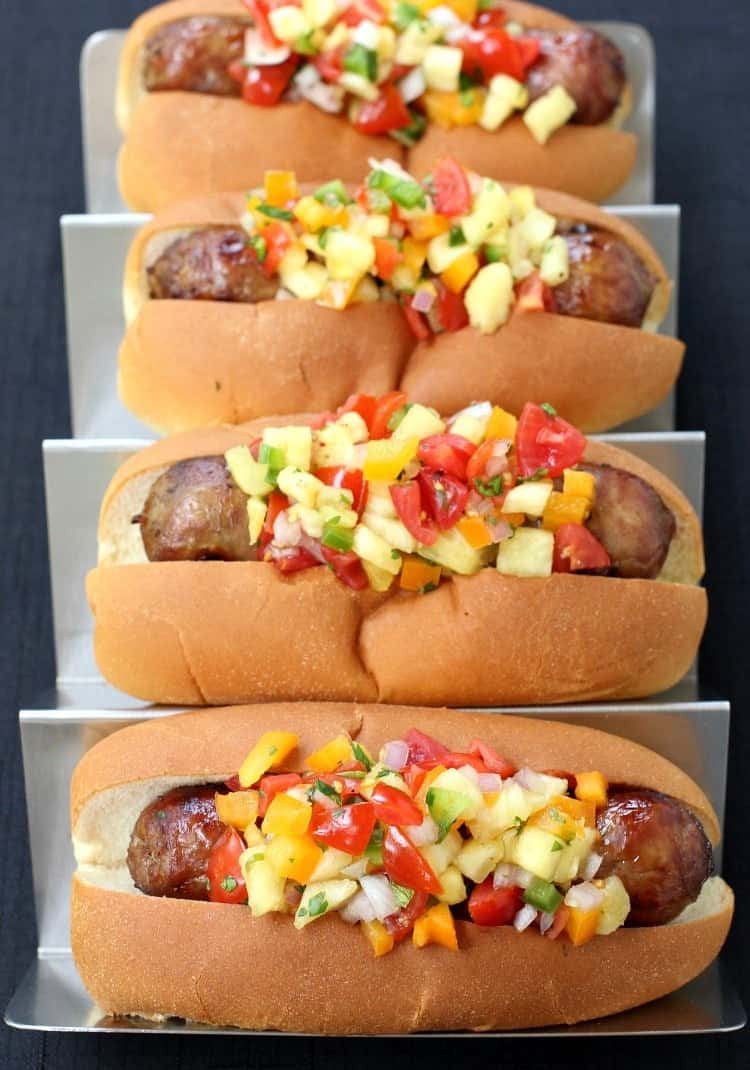 And we're kicking bratwurst up a few notches today with this Sweet Tequila Salsa for a topping.
Boozy brats? Well yes they are.
First we boil them in beer and onions and then we top them with a tequila salsa. I mean, we're having a party here, right? And for Fourth of July parties we need to be grilling.
Nothing says summer time to me like hanging out with my friends on the back deck having a few beers and grilling up some good food. Johnsonville Brats makes this really easy to do – just grab you favorite variety, pre-cook them or not, and load 'em up onto buns. There's so much flavor packed into Johnsonville Brats that you could eat them as is and they're going to be delicious.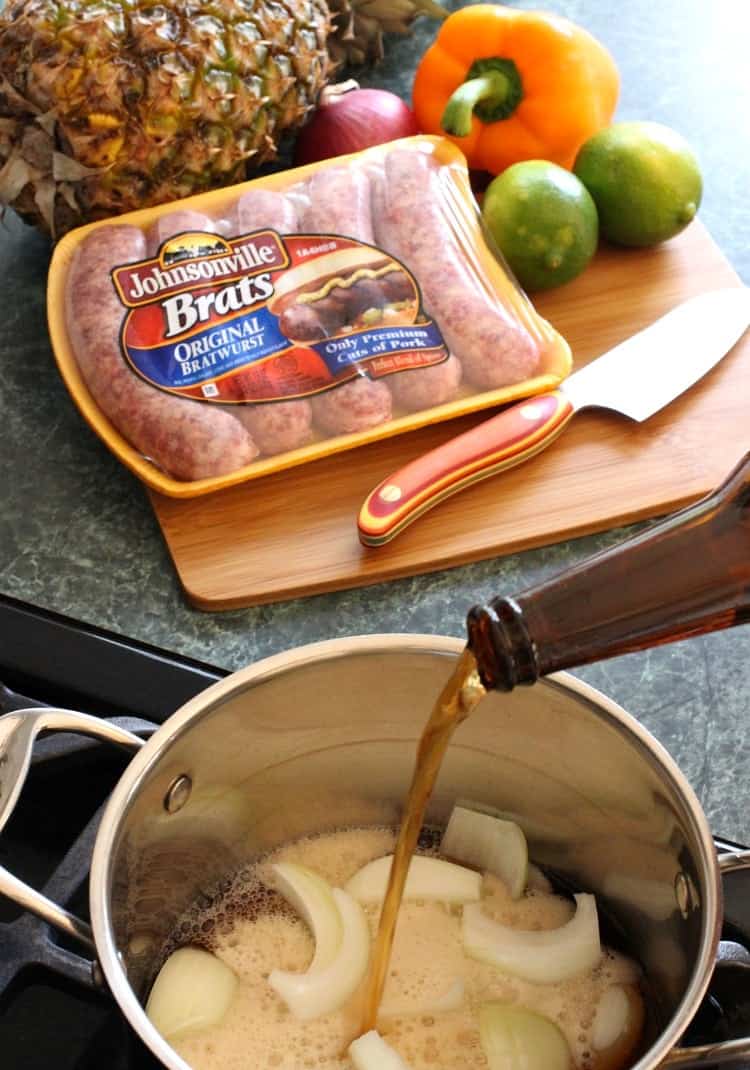 But it's party time today so we're not going to stick with just grilling up those tasty brats – we're going to boil them in beer and then make an epic sweet tequila salsa topping.
There is a little chopping involved here to make this salsa, but you can do it all ahead of time and keep it in the fridge until it's time to grill. And grill you will – you're grilling game is totally getting stepped up today when you set out these brats for topping. These brats are going to steal the show at your BBQ!
The "sweet" in this salsa comes from the pineapple. The sweet but tart pineapple flavor goes perfectly with the peppers, onions and tomatoes to make the freshest salsa you've ever had. And then there's a little bit of heat in there from a jalpeño and the tequila.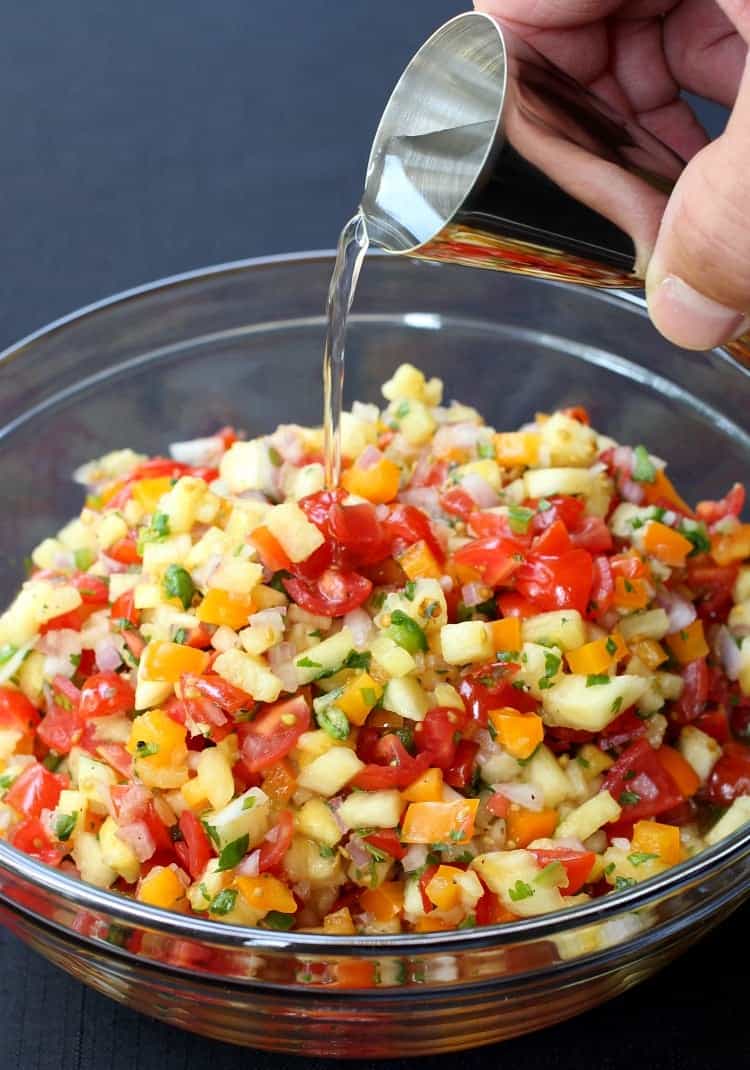 Usually when we cook brats in beer, the only topping we ever have is the onions that soak up the beer while they're boiling.
So I have to admit that when I took my first bite of this bratwurst topped with the sweet tequila salsa I was totally blown away. Not only was it full of flavor but it gave a totally different flavor to the same brats that I know and love. Which is kind of cool, right? Same brat but different topping and you've got a totally different flavor.
And there's really not much to it – the best part about this recipe besides how awesome it tastes is that you can literally do it all ahead of time. Then when it's time for dinner all you have to do is grill your brats for about 5 minutes to warm them up and dinner is served.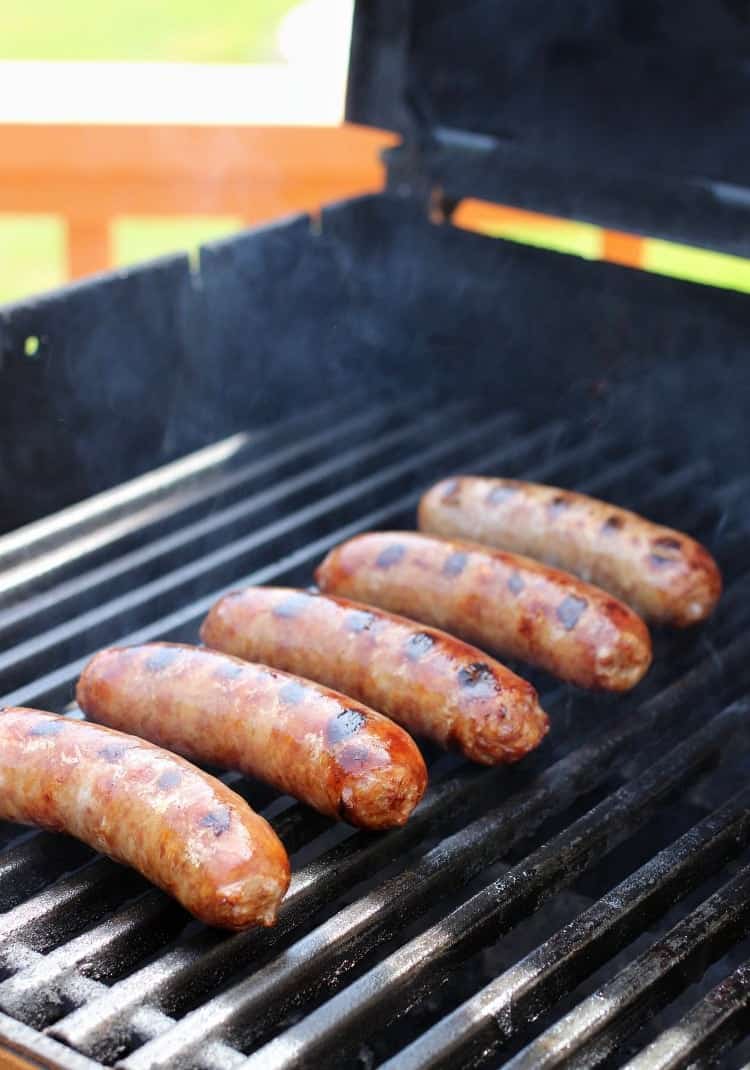 Make sure that you set out the salsa right next to that platter of brats because once your friends start eating these they won't be able to stop. We were taking bites and then adding more salsa to the brat every time we took a bite – the sweet and spicy combination of the salsa together with the bratwurst is so good you just can't stop eating it.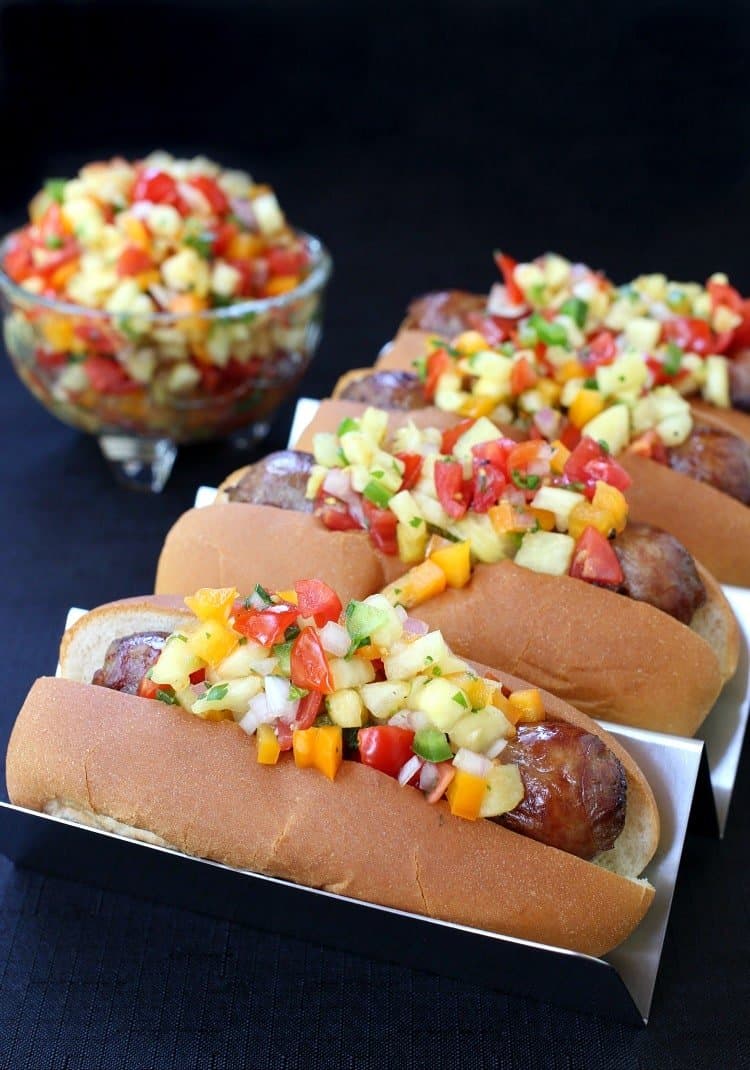 Make sure and try all the other varieties of bratwurst that Johnsonville has, my next one to top with this salsa are going to be the Firecracker and Jalapeño Cheddar!
Print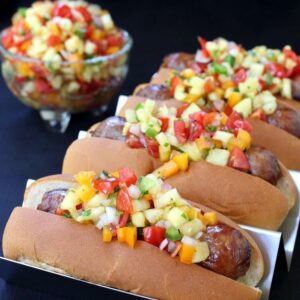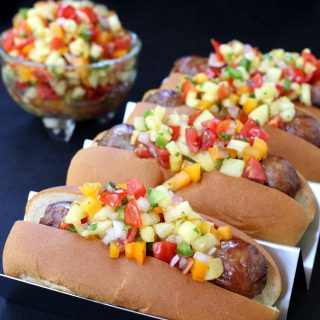 Beer Brats with Sweet Tequila Salsa
---
Ingredients
1 package Johnsonville Bratwurst
2 dark beers
1 large onion, chopped
For the salsa
2 cups diced pineapple
1/2 cup finely diced red onion
1 cup diced orange bell pepper
1 10.5 oz. package cherry tomatoes, chopped 2 cups
1 jalapeno, seeded and diced
1/4 cup cilantro chopped
1 teaspoon salt
1 teaspoon pepper
1/2 teaspoon cumin
1/2 lime, squeezed
1 ounce tequila
---
Instructions
Add the beer, chopped onion and bratwurst to a pot and bring to a boil.
Once boiling, turn down to simmer, partially cover and cook for an hour.
While the brats are cooking you can make up the salsa.
Add all the ingredients for the salsa to a bowl, stir and refrigerate until the brats are ready.
Take the bratwurst out of the beer and grill for 2-3 minutes on each side over medium-high heat.
Place each brat on a bun and top with the salsa.
This is a sponsored conversation written by me on behalf of Johnsonville. The opinions and text are all mine.