Sometimes I come up with a great idea all on my own, and these Pork Sliders with Pineapple Salsa are definitely one of them. I love the flavor the salsa brings to these sliders, they're going to be a hit!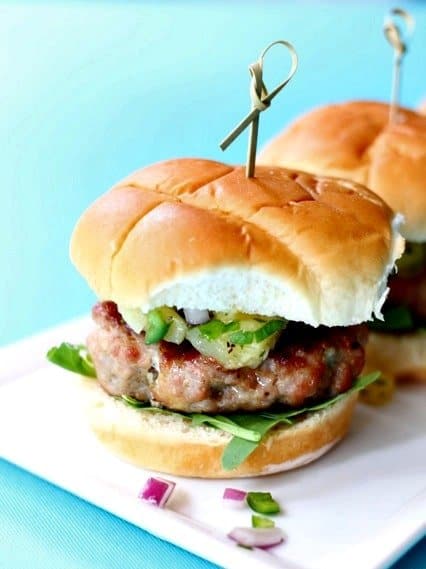 When we got to talking about slider week my wife was suggesting maybe doing something other than beef. So how about pork? With something like a pineapple topping? These are the way my ideas sound at first and then they get a little refined…It's all about the wording…
But they turned out exactly like I had imagined them – maybe even better! Totally simple to make , they only take a few minutes on the grill and the pineapple salsa (not topping) takes about five minutes to throw together.
The pork is seasoned with cumin, garlic powder and salt and pepper, formed into slider patties and grilled for a few minutes on each side. The pineapple salsa isn't complicated at all, just some chopped up pineapple fresh or canned mixed with parsley, red onion, lime juice and a little olive oil.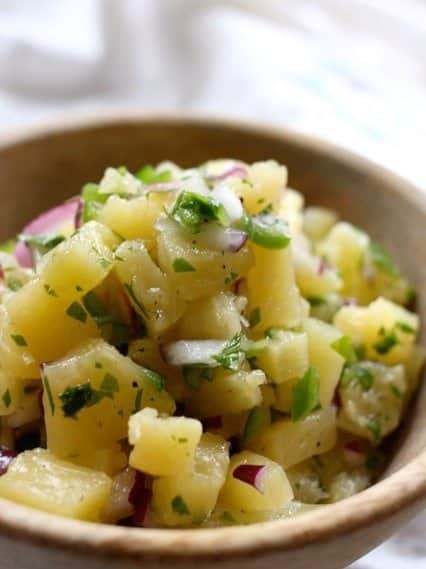 All of this can be done ahead of time and then when it's time for dinner just grill them up and you've got a meal in 10 minutes flat. With school starting in just a few weeks w'ere going to need some more quick and easy meals around here. It seems like between homework, sports and driving two kids around to practices we barley have time to sit down to eat a meal. Everyone's eating at different times, me usually the latest.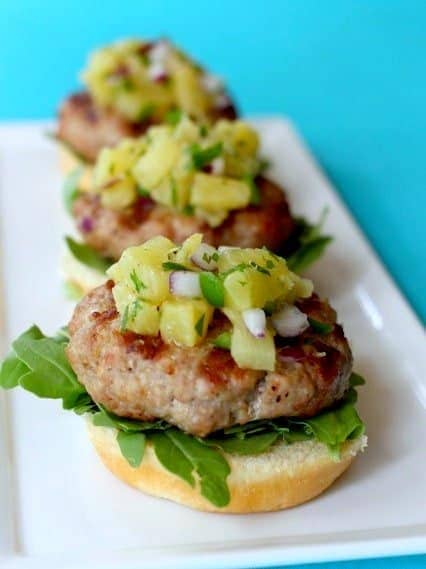 Then just place your grilled sliders on top of some fresh arugula, then top with a spoon of the pineapple salsa! Like being in the tropics without leaving your kitchen. Just add a couple Deep Blue Sea Cocktails and you're all set!
I hope you'll like these Pork Sliders with Pineapple Salsa as much as we did, the kids loved them too, pineapple salsa and all!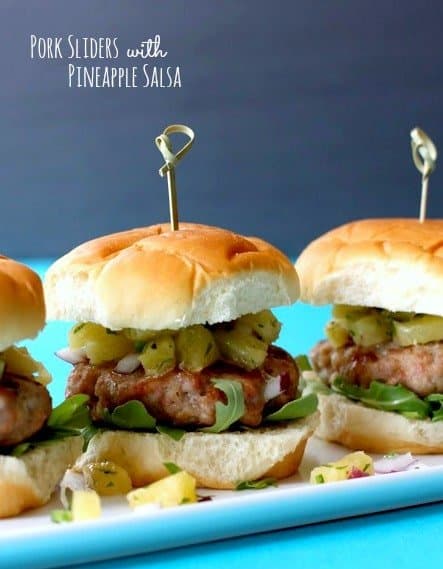 Print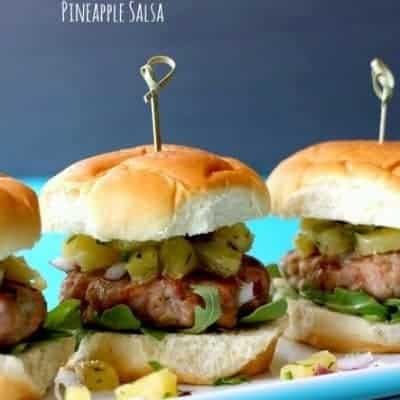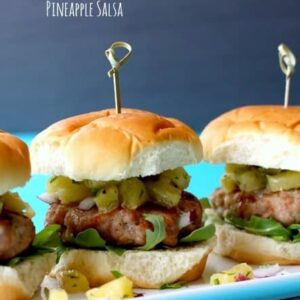 Pork Sliders with Pineapple Salsa
Scale
Ingredients
For the sliders
1 3/4

lb. ground pork

1/2

t. pepper

1 1/2

t. salt

1/2

t. garlic powder

1/4

t. cumin
Pineapple Salsa
20 oz

. can of pineapple chunks, drained and chopped into smaller pieces

3

T. red onion, chopped

1

T. fresh parsley or cilantro, chopped

1

jalapeno, chopped
pinch of salt

1

T. fresh lime juice

7

slider buns
fresh arugula
Instructions
Start by making the pineapple salsa. Add the chopped pineapple chunks, the red onion, parsley or cilantro, jalapeno, the lime juice and a pinch of salt to a medium bowl. Stir and taste for seasonings, then cover and store in the refrigerator until ready to use.
Place the ground pork in a large bowl and add the cumin, salt, pepper and garlic powder. Mix well and form into 7 patties (about 1/4 lb. each)
Heat your grill to a medium high heat, you can also cook these in a large skillet in two batches, place the pork patties on the grill and cook for 4 minutes on each side.
Remove to a platter and cover with foil for 5 minutes.
Assemble the sliders by placing a few arugula leaves on the bottom half of a slider bun. Top with one of the pork patties then a spoonful of the pineapple salsa.