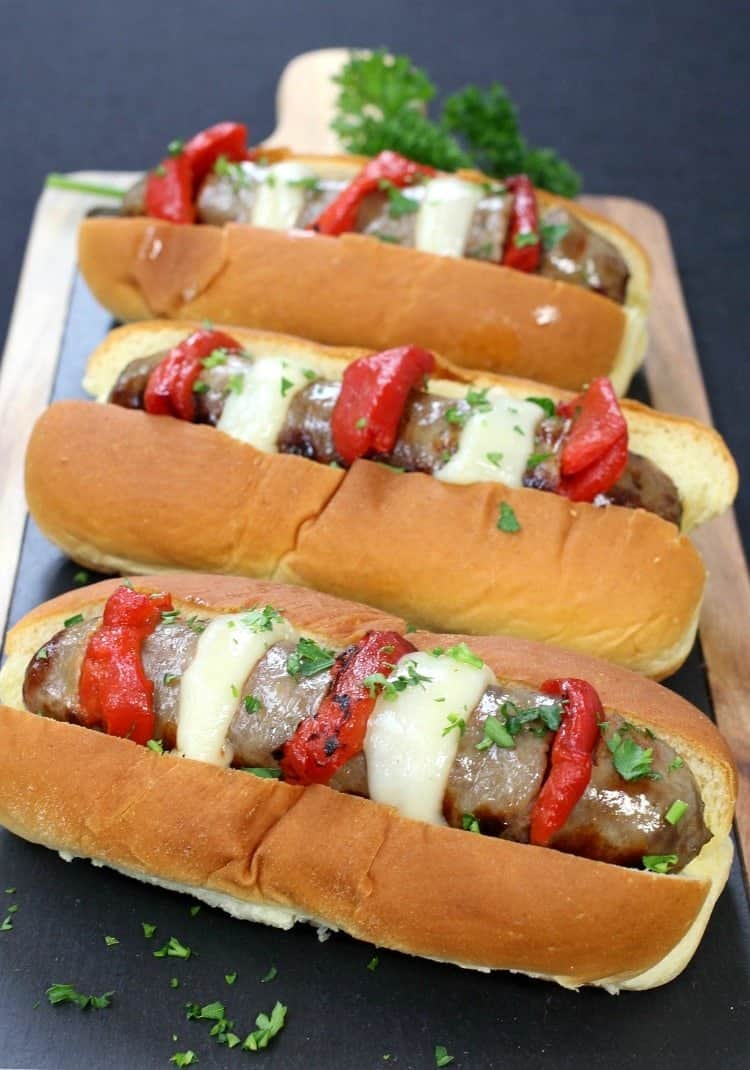 Pepper & Cheese Hasselback Brats
Pepper & Cheese Hasselback Brats are hitting the grill tonight. A fun twist and tasty twist instead of just throwing the bratwurst on the bun!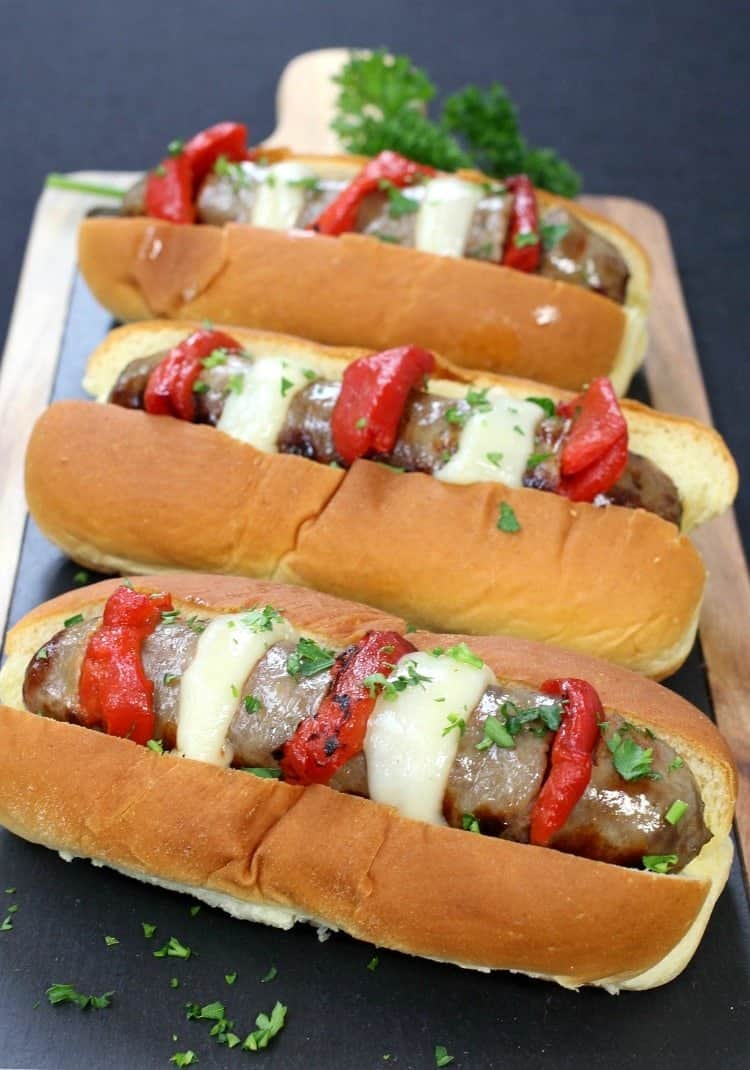 I've been wanting to make hasselback potatoes for a long time now. I see them everywhere, stuffed with bacon and cheese – pretty much any type of filling you can imagine gets stuffed into those potatoes.
So when I found out that August 16th is National Bratwurst Day, I knew I had to kick up the celebration with some top notch brats. This is definitely a day that you want to hang out on the deck with your friends and throw some brats on the grill.
Johnsonville Beer N' Brats are some of my favorite bratwurst to cook. Because beer. And Brats. They just are meant to be.
In the brats and in my glass, they are perfect together.
The traditional way that we usually cook up bratwurst is to simmer them for a few hours in tons of beer and sliced onions. I don't mean like water or broth and a can of beer…I mean a whole pot of beer. That's the liquid, then about 3 or 4 sliced onions. Once they're done cooking in the beer you can throw them on the grill for a few minutes and they're done.
Or I loke to make brats just on the grill and put out different toppings like these Brats with Tequila Pineapple Salsa…those are always a hit.
But since Johnsonville already got the beer flavor in these Beer N' Brats we can skip that part for now and just get them on the grill.
You're going to grill these brats for a few minutes until they're almost done…
Why just almost done? Because then you're going to stuff them with roasted red peppers and jack cheese.
Pretty easy right? And you're not going to believe how amazing they taste.
Start off by grilling the brats, just open the package and get them right on the grill.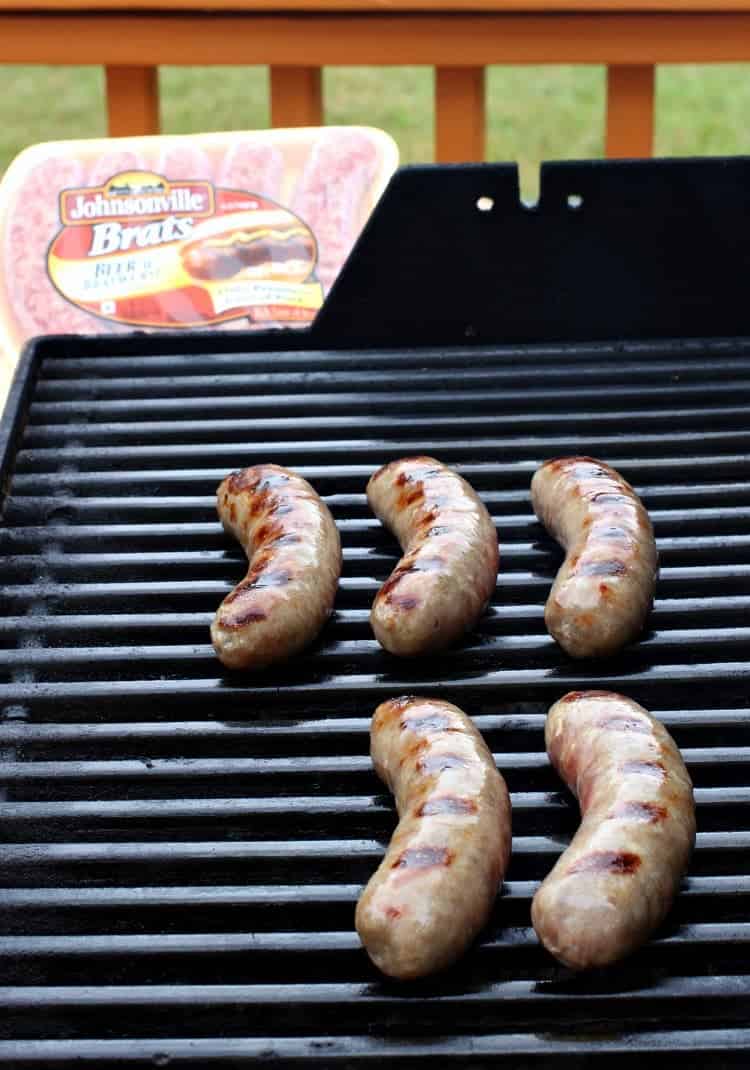 Then just like the video showed you, make 5 cuts about 3/4 way through the brats and get them stuffed with your peppers and cheese. I put mine in a grill pan in case they fell over (also to spare my grill from drippy cheese clean up) but if you don't have a grill pan you can put them right back on your grill no problem.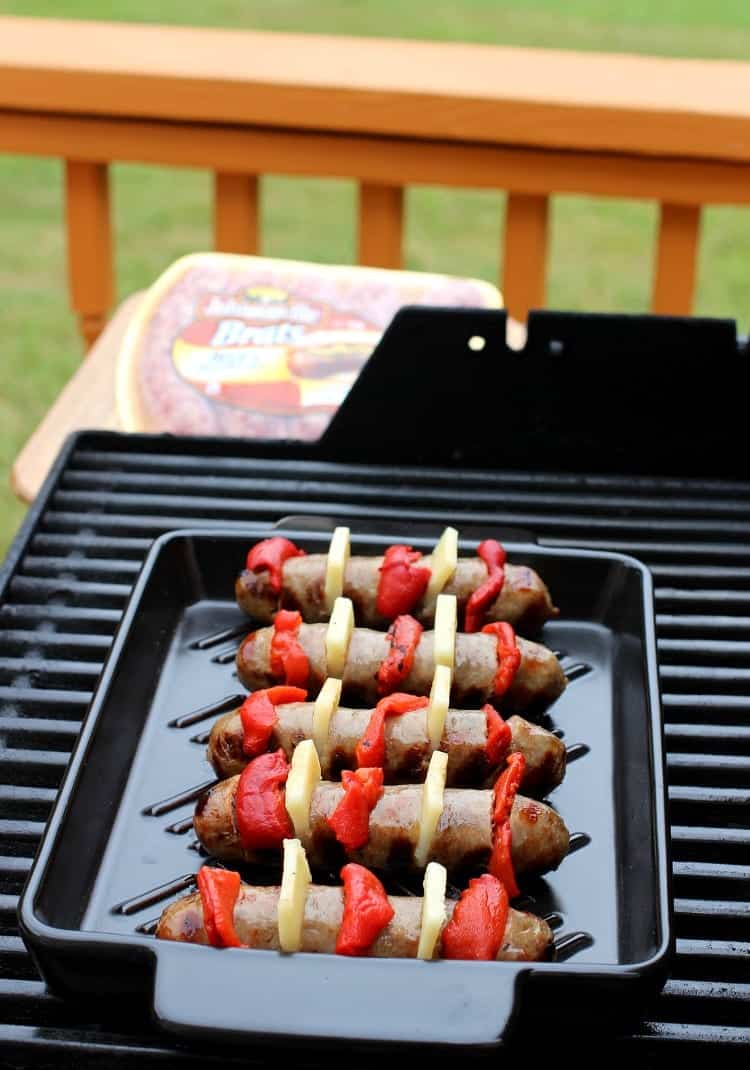 They'll only need another few minutes on the grill to melt the cheese and they're done. Take them off the grill and get these Pepper & Cheese Hasselback Brats on some buns and serve.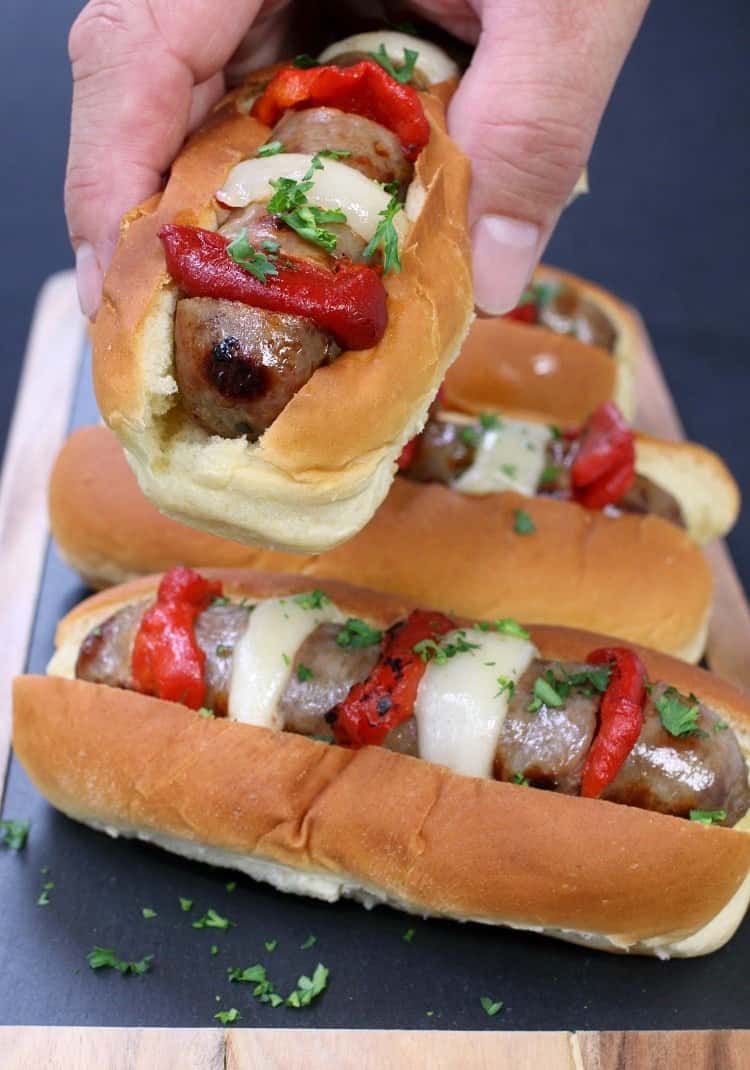 There's a story I heard from Johnsonville about Carl the Great Bratsgiver who goes around sort of like Santa Claus on Bratsgiving Eve and fills your fridge with bratwurst so you have plenty to share with your family and friends on Bratsgiving.
Carl had better bring a lot to my house, because in my family we know how to eat. And brats and BBQ's are on the top of our list.
I thought we'd start our own tradition with these Peppers & Cheese Hasselback Brats. First I can put out my topping idea, the peppers and cheese. Then I can put out different types of cheese, fresh peppers and onions or different toppings altogether like thinly sliced potatoes and fresh herbs like basil and sage. You could really go pretty crazy with the topping ideas for this recipe, even set out different flavors of bratwurst for your guests to pick from!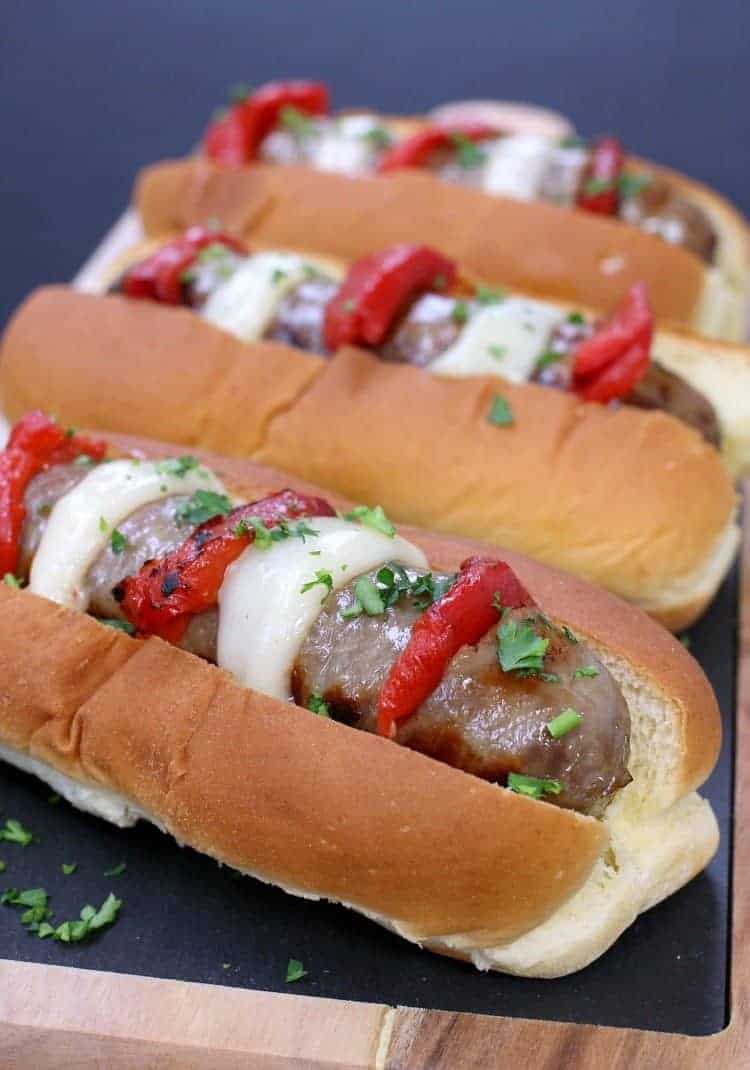 Make sure you head over to the Johnsonville site to check out more recipes and all the different bratwurst flavors they have available!
Print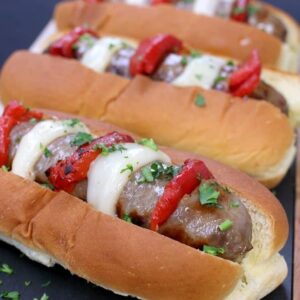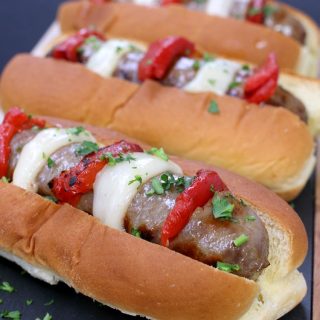 Pepper & Cheese Hasselback Brats
---
Ingredients
1 package Johnsonville Beer N' Brats (5 bratwurst)
1 8 oz. jar roasted red peppers
1 8 oz. block of monterey jack cheese
5 hot dog buns
chopped parsley for garnish (optional)
---
Instructions
Grill the brats over medium high neat for 3-4 minutes, then turn and grill another 3 minutes.
Remove the brats from the grill and let cool slightly.
Make 5 cuts in each bratwurst, slicing 3/4 of the way through.
Add a piece of roasted red pepper to each outside cut, then a piece of cheese into the cuts next to those and then a piece of roasted red pepper in the middle cut.
Repeat with the rest of the brats, then place back on the grill for another 3-4 minutes to melt the cheese and finish cooking through.
Serve on buns and garnish with parsley.
This is a sponsored conversation written by me on behalf of Johnsonville. The opinions and text are all mine.