Our Beef Barley Soup recipe is the best! We say that because we've been making it a really long time, and every time we make it there's nothing but rave reviews. Try this comforting and hearty soup for dinner tonight!
Love soup? We're a huge soup family, so we've got lots to choose from! Starting with our super popular Beefy Tomato Soup that our kids love, to this elegant Beef Burgundy Mushroom Soup that is fancy enough to be served at a dinner party or holiday!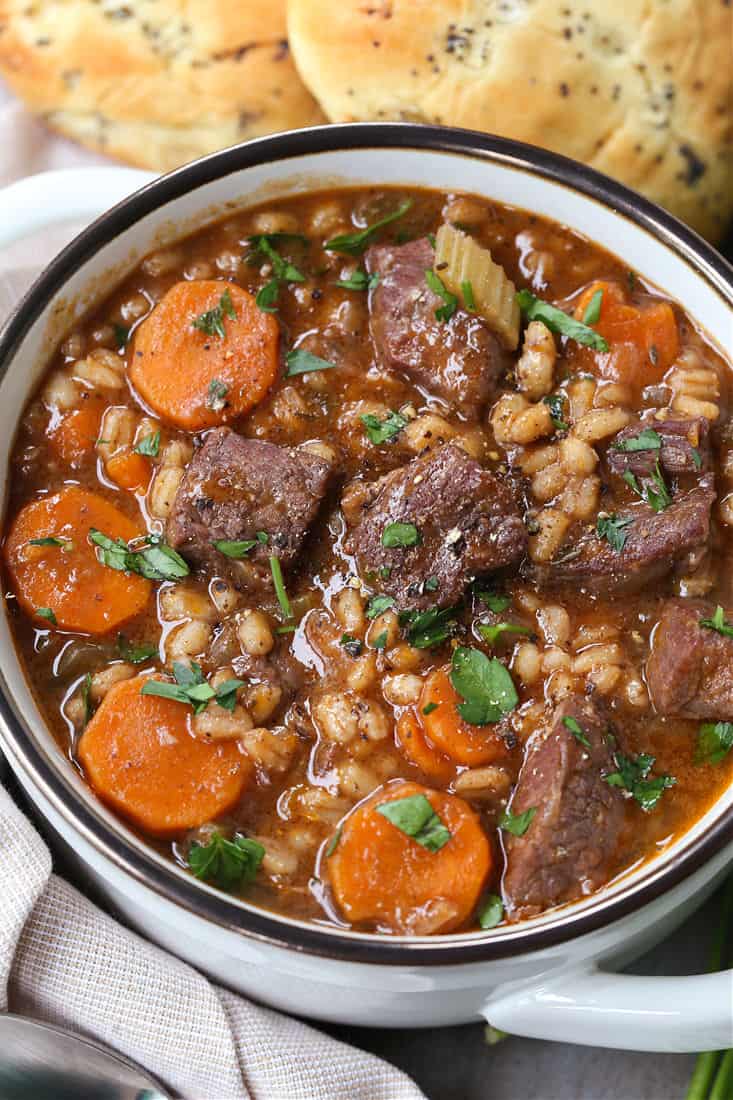 The BEST Beef Barley Soup Recipe
We've been making Beef Barley Soup for a long time, so we've perfected the recipe, in our humble opinion. BUT also, why do people not put red wine in their beef barley soup?
This soup recipe starts off in many ways like a beef stew, and we always put red wine in our beef stew sooooo….it goes in this beef soup recipe too.
Red wine adds flavor to the broth base but it also deglazes the pot wonderfully after cooking up all the vegetables and beef. Once you pour the wine in the pot, start scraping up the brown bits and stirring them into the soup base.
To me, this is the difference between a good soup recipe and an amazing, drool worthy soup recipe, so we do hope you give it a try!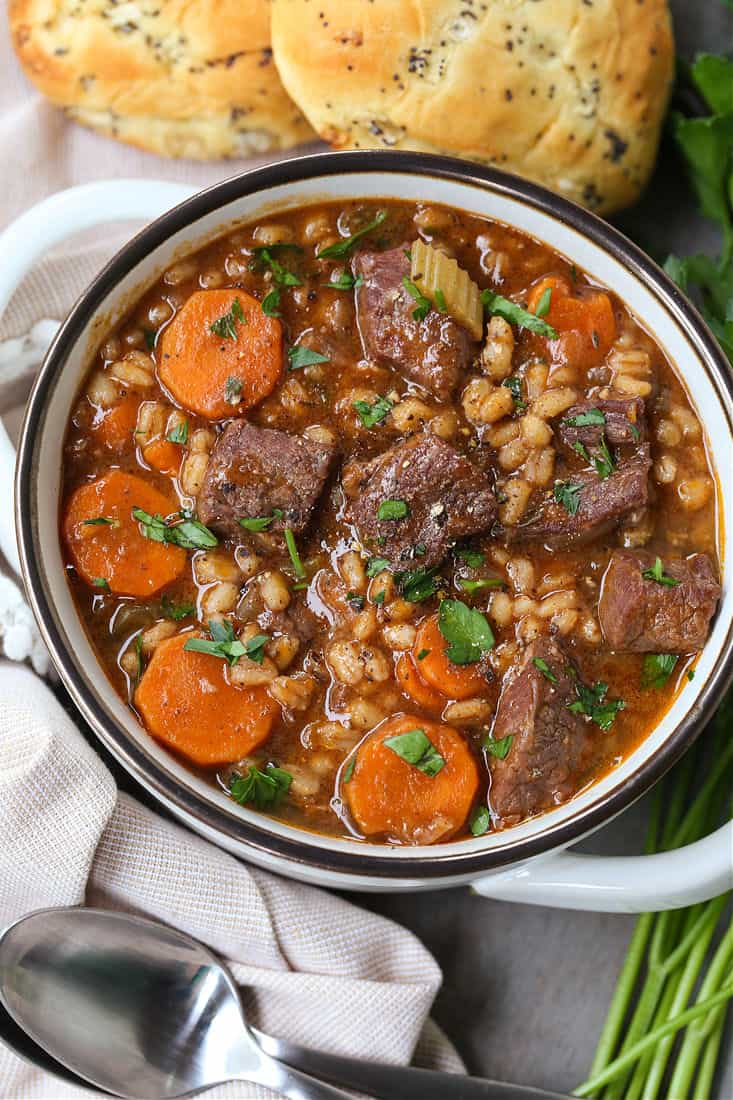 How Do You Make Beef Barley Soup?
As my mom literally always says…there are a few steps to making this beef soup but it's well worth it. Start by trimming a 2 1/2 pound chuck roast, removing all big pieces of fat and visible silver skin from the beef.
Dice the beef into bite sized pieces like you see here: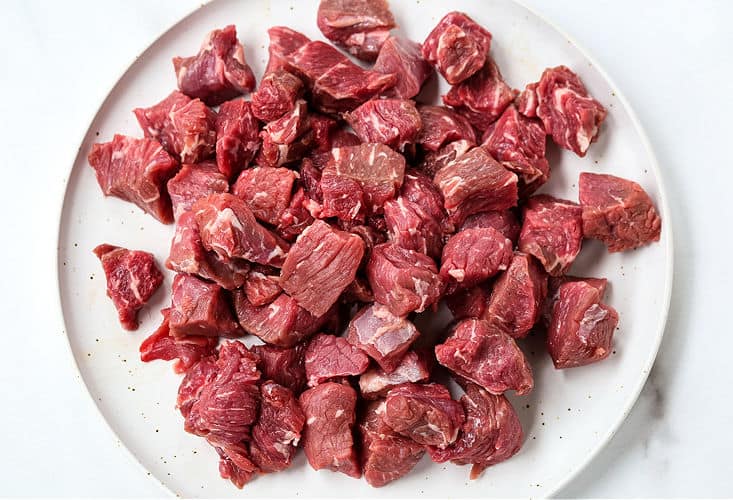 Brown the beef until all sides have a nice, brown crust, just like this: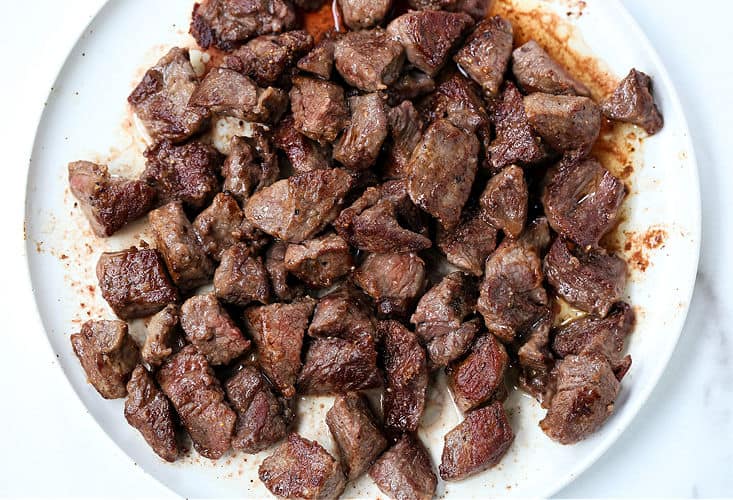 Now gather up your vegetables. For this soup recipe we have carrots, celery and onions, the garlic will come later. Cut the vegetables into slightly larger pieces, rounds instead of a small dice on the carrots, for instance.
The vegetables will be simmering for about an hour and a half so you don't want them to fall apart.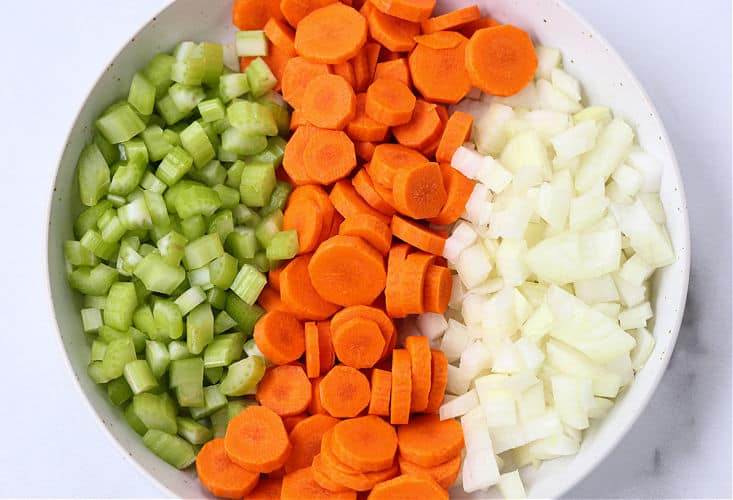 Cook the vegetables for 5 minutes until softened, add the garlic and season with salt and pepper. Stir in tomato paste and then deglaze the pot with your favorite red wine. Doesn't have to be the priciest bottle, but definitely not cooking wine.
Add the browned beef back to the pot along with beef broth, Worcestershire sauce and fresh thyme. Bring to a boil and reduce to a simmer for 45 minutes until the beef is tender. Taste the soup and adjust the seasonings if needed.
Add the pearl barley to the pot, stir and cook another 30 minutes. Stir in fresh, chopped parsley and then serve in bowls with grated parmesan cheese and fresh black pepper on top.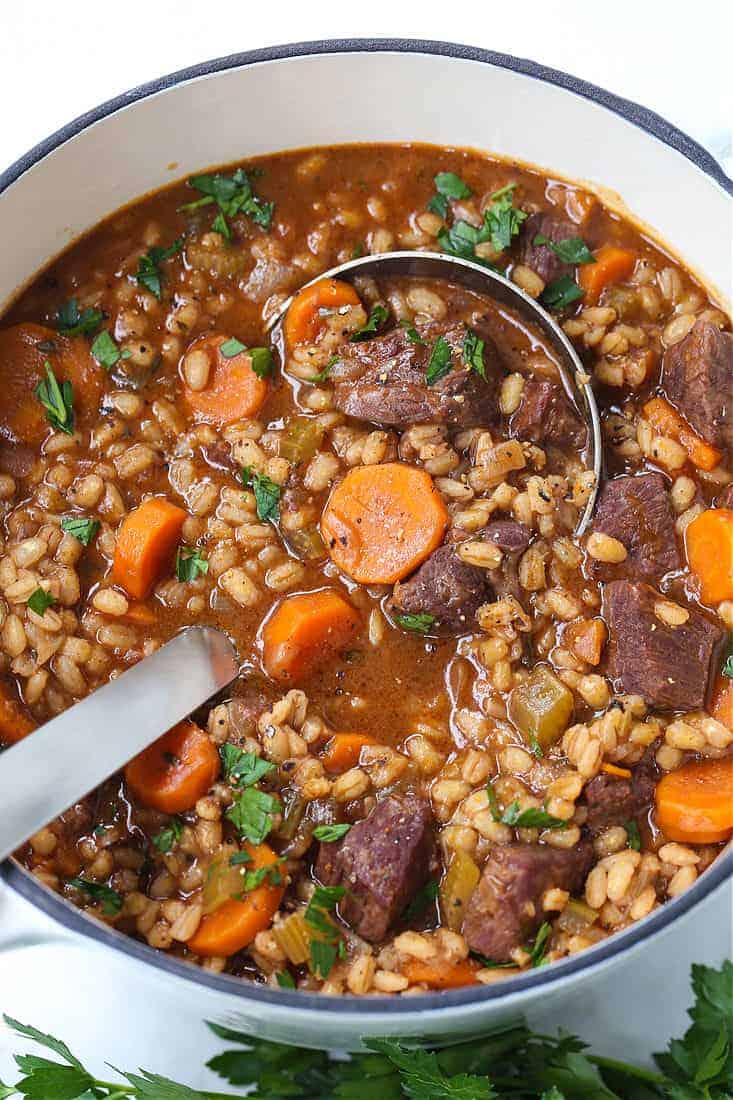 Can I Make This Soup Recipe Ahead Of Time?
Making recipes like this Beef Barley Soup ahead of time can be a real time saver. This soup recipe can be made the morning of or even a day ahead of time. The barley retains it's shape pretty well, unlike a pasta that might soak up the broth and get mushy.
How To Freeze And Reheat This Soup:
Freezing this beef soup is also a great time saver! Freeze leftover soup for another dinner or make a whole pot, let it cool and freeze it either in individual portions or a large container for a family meal.
To reheat the soup, microwave individual portions until warmed through. For the whole recipe, let the soup defrost until you can fit it into a soup pot and the gently warm the soup over low heat.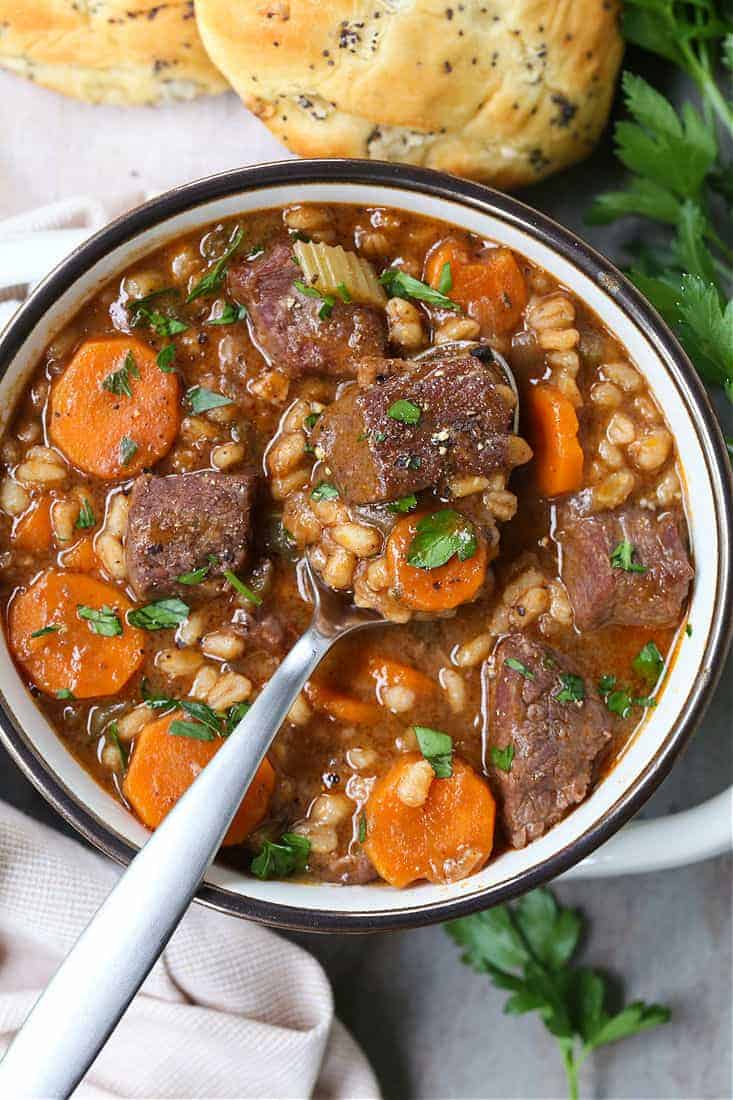 Is It Ok To Use Quick Cooking Barley Instead Of Pearl Barley?
You can, but you'll need to adjust the cooking times. Quick cooking barley cooks up much faster than pearl barley, so let the soup cook for an hour and a half for the initial simmer and then add the barley for the last 15 minutes.
Farro is another delicious, nutty grain that we like to use when making beef barley soup. Farro takes about the same tie to cook as pearl barley so just swap it out and continue with the recipe.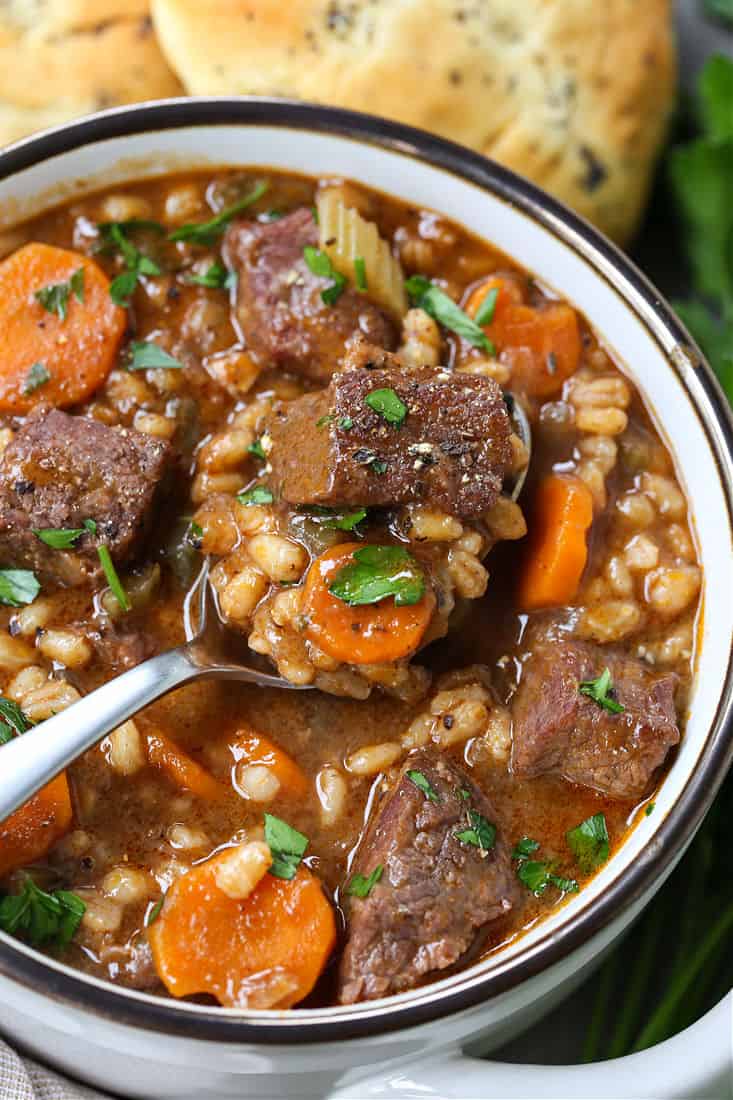 What Can I Serve With This Beef Soup?
Just as is if you ask me. But a nice loaf of crusty bread or a couple of delicious rolls will do! Recipes like this beef soup are so hearty and comforting, you really don't need much else on the side.
Toppings might include grated parmesan cheese, more fresh thyme, parsley and fresh black pepper. Some readers have even told us that they like this soup with a dollop of sour cream!
Looking For More Soup Recipes?
Print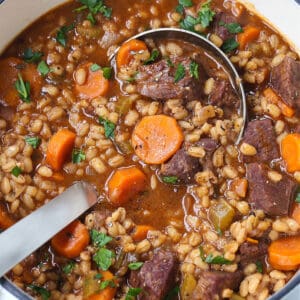 Beef Barley Soup
Author:

Prep Time:

10 minutes

Cook Time:

1 hour 15 minutes

Total Time:

1 hour 25 minutes

Yield:

6

servings

1

x
Beef Barley Soup is such a hearty and comforting soup recipe! Super tender beef with vegetables and chewy, nutty barley!
Scale
Ingredients
2 1/2

pound chuck roast, trimmed of all large pieces of fat
Kosher salt and fresh black pepper for seasoning the beef

1 tablespoon

flour
Olive oil for browning the beef

1 1/2 cups

sliced carrots

1 1/2 cups

diced onion

1 cup

chopped celery

1 teaspoon

kosher salt
Fresh black pepper to taste

1 tablespoon

chopped garlic

2 tablespoons

tomato paste

3/4 cup

red wine

8 cups

beef broth

1 tablespoon

fresh thyme, chopped

1 tablespoon

Worcestershire sauce

2/3 cup

pearl barley

2 tablespoons

fresh chopped parsley
Instructions
Remove all large and visible pieces of fat from the beef and cut into a 3/4 inch dice. Refer to the pictures in the post for size, it doesn't have to be precise, you just want bite size pieces of beef. Season the beef generously with salt and pepper and toss in the tablespoon of flour.
Add a thin layer of olive oil to the bottom of a dutch oven or soup pot. Brown the beef cubes in a single layer (you'll most likely have to do this in 2 batches) making sure to turn the beef to brown on all sides. Once the beef if browned, remove it to a plate and continue with the remaining beef, adding more oil if needed.
Add the carrots, onions and celery to the pot and season with 1 teaspoon of salt and black pepper to taste. Stir and cook the vegetables for 5 minutes. Add the garlic and tomato paste and cook 1 minute longer.
Pour in the wine to deglaze the pot, scraping up the brown bits on the bottom of the pot. Let the wine reduce for 2 minutes, then pour in the beef broth and Worcestershire sauce along with the fresh thyme.
Return the beef to the pot along with any juices that are on the plate, stir, cover, and bring to a boil. Reduce the heat to a low simmer and cook uncovered for 45 minutes. Taste the soup for seasonings at this point and adjust if needed.
Add the barley to the soup, stir, partially cover the pot with the lid and cook another 30 minutes until the barley is tender. Stir in the parsley and serve in bowls with fresh black pepper and more parsley if desired.
Category:

Dinner

Method:

Stove Top

Cuisine:

American
Keywords: mantitlement, beef barley soup, comfort food recipes, recipes with chuck roast, beef recipes, recipes with barley, make ahead meals