Try a Banana Bread Boilermaker this weekend! The beer alone is pretty awesome. Then add Bulleit Rye Whiskey and you've got an amazing drink!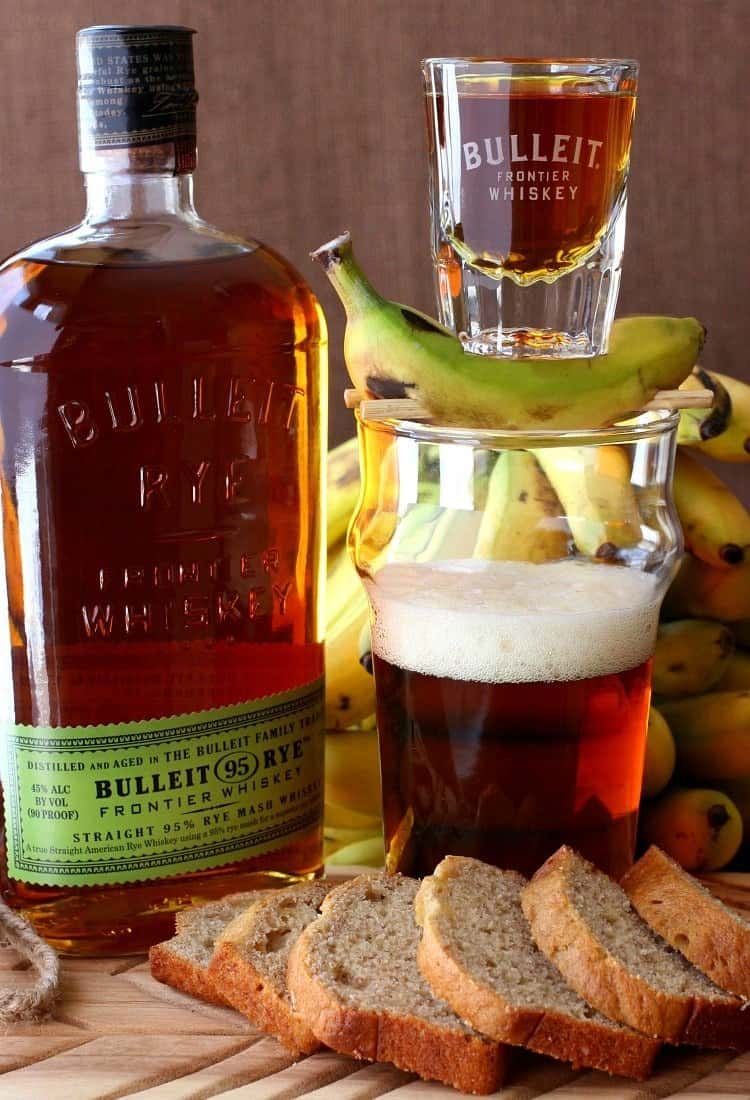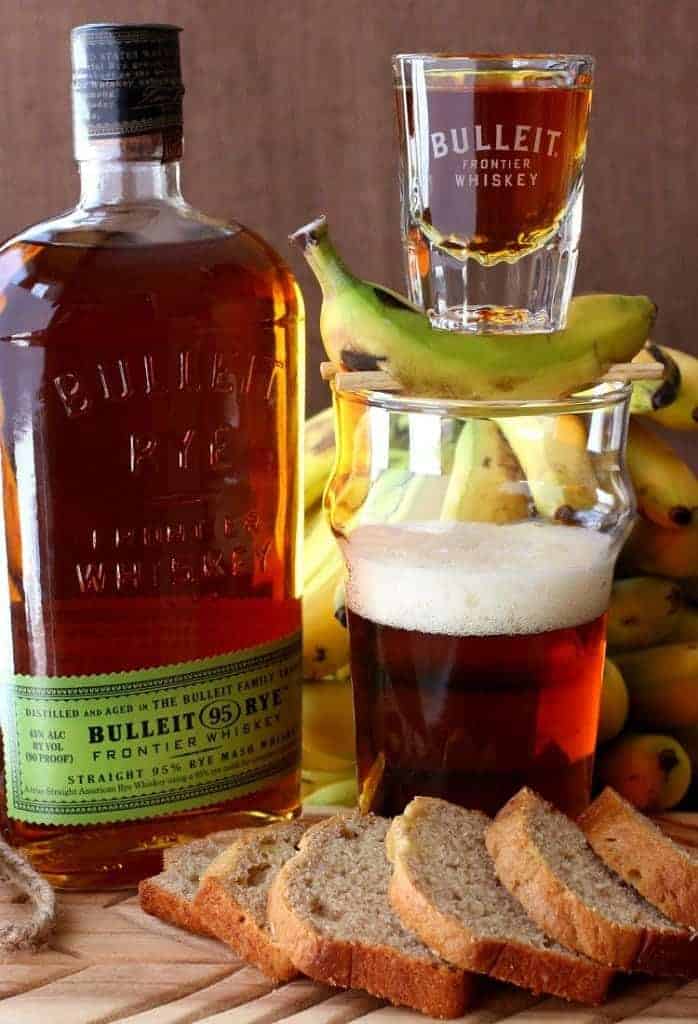 What Is A Boilermaker?
If anyone out there doesn't know what a boilermaker is, I'll give you a brief description. It's a beer plus a shot of whiskey. What beer and what whiskey you use are up to you – but my goal here was to find something different than the norm.
I made a little twist on that simple combination and used a banana bread beer with my whiskey shot to make this drink a little more friendly. Not everyone can do a hard core, straight up shot of whiskey but if you pair it with a flavorful beer like this one, you might be surprised.
When I got a hold of some Bulleit Rye Whiskey to make up a boilermaker, my first thought was adding a beer that was on the sweeter side to go with the rye flavor of this whiskey.
I've found that rye whiskey isn't everyone's favorite, I like it just fine but not everyone I've served it too does. But when you add the flavor of something like this Banana Bread Beer to it…people who think they don't like ry started coming around.
We had just got done making a batch of this Banana Rum Banana Bread – so it got me thinking about banana flavor right off the bat.
First of all, I've got to tell you…this beer isn't sweet at all. But it does have a distinct banana bread flavor to it, I'm not sure how they did it but it's awesome. I had a taste testing with Christie and a friend of hers and it got a thumbs up from both of them.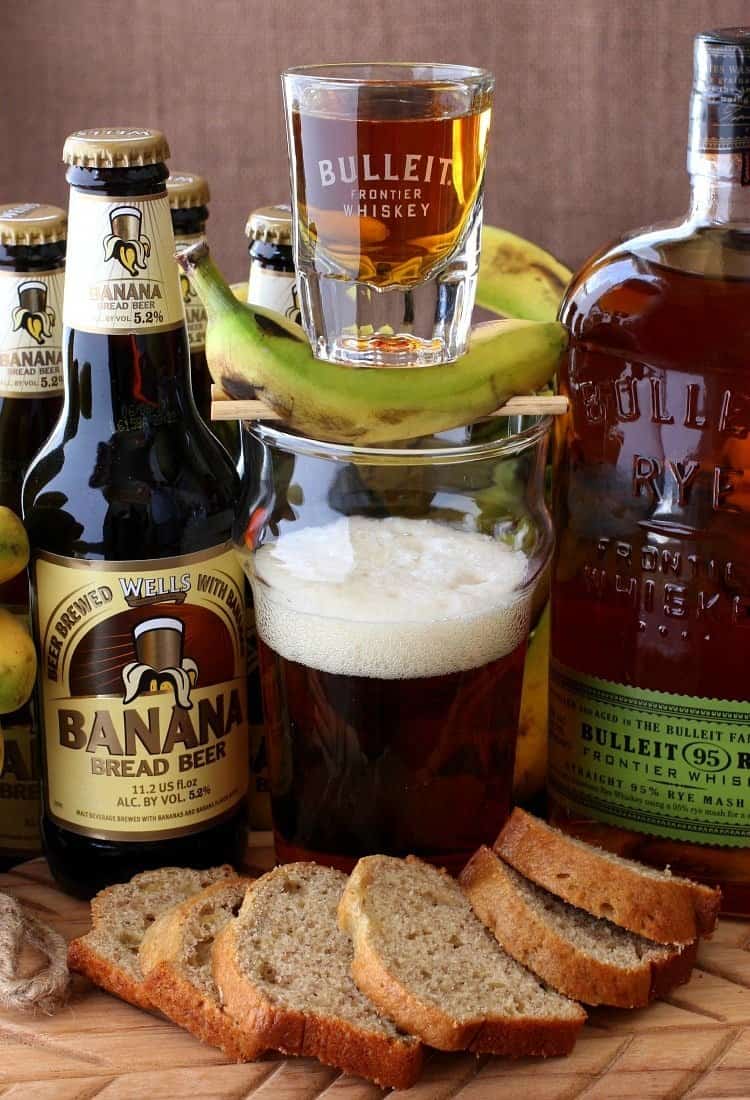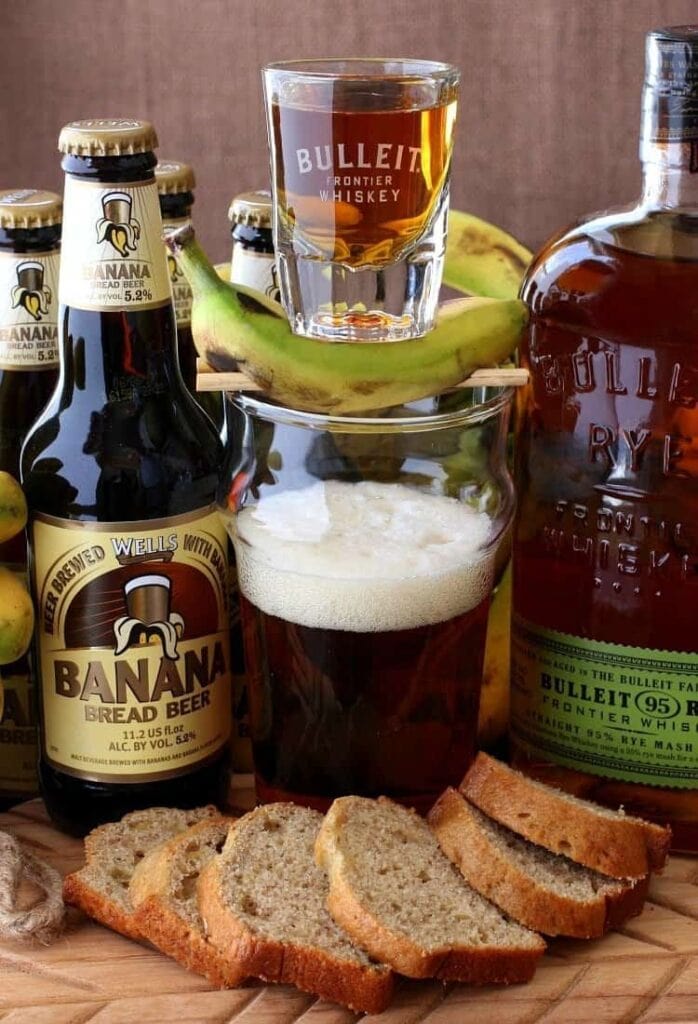 How Do You Drink A Boilermaker?
There are a couple of different ways to make Boilermaker…you can have your shot on the side of your beer and either shoot it, then drink your beer, or you can sip your bourbon and beer at your own pace…or the drop.
You can drop that whole shot into your glass of beer, grab it and start chugging. this way might be the more "party" way to do it but I think I like the first method best.
But just like how you can swap out your favorite beer for this drink, you can swap out the method of drinking it too.
Stay tuned over the next few months, I'll be making a few more of these Boilermakers with different beers that I've tried and think work best with this drink. It's a tough job but someone's gotta do it!
Looking For More Drink Recipes?
Print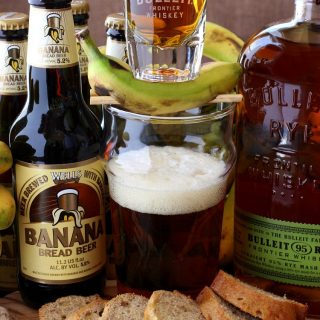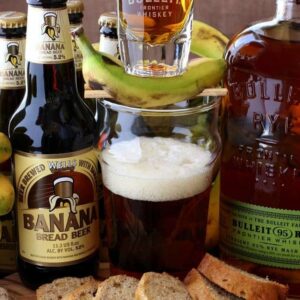 Banana Bread Beer Boilermaker
Author:

Prep Time:

5 minutes

Cook Time:

0 minutes

Total Time:

5 minutes

Yield:

1

1

x
This fun twist on a classic boilermaker is made with a Banana Bread beer to make this beer and shot go down easy!
Scale
Ingredients
1 ounce

Bourbon/Whiskey

6 ounces

Banana Bread Beer
Instructions
Serve the bourbon alongside of the porter and choose a method to drink:
Drink the bourbon then sip your beer after
Sip both the bourbon and beer, one sip after another
Drop the shot of bourbon into a 3/4 full glass of beer
Category:

Cocktails

Method:

Pour

Cuisine:

American
Keywords: boilermaker drink, beer and whiskey drink, whiskey shots, happy hour drinks