These Bacon Ranch Skillet Chicken Rolls are going to blow them away at the dinner table! A rotisserie chicken makes this an easy dinner to get on the table fast!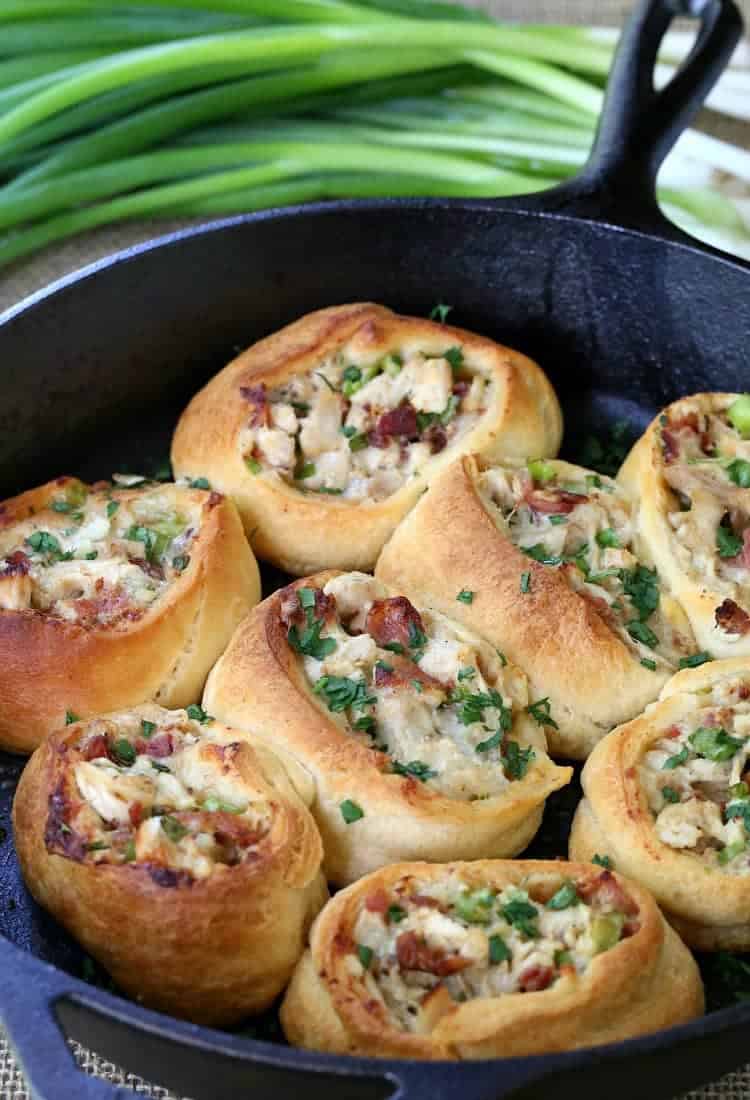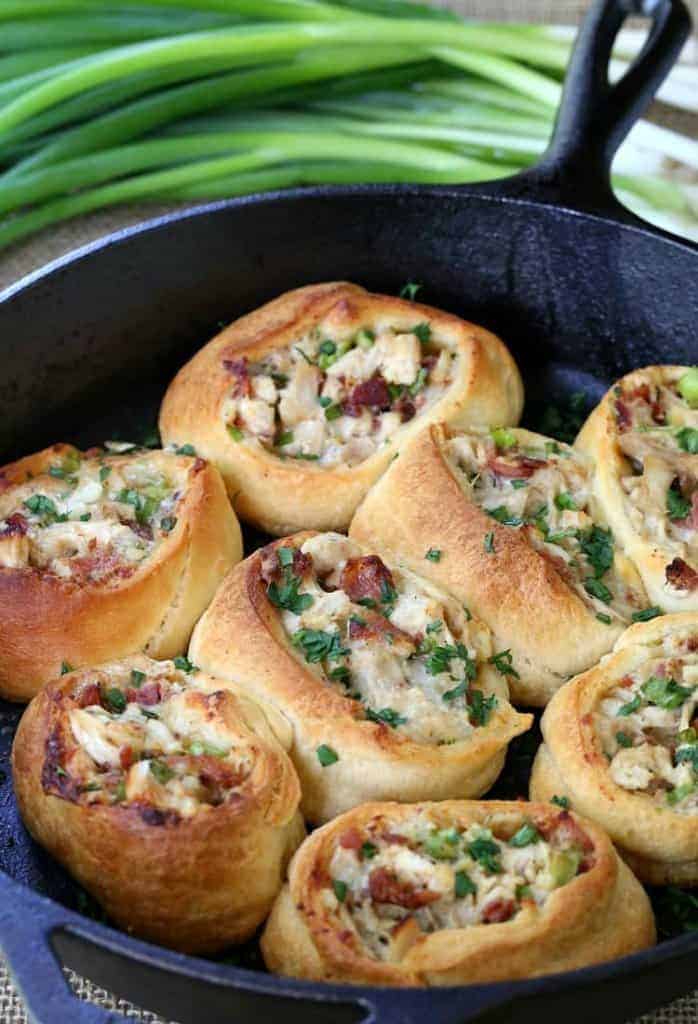 You know how you have your standard orders at your favorite pizza place? It seems like you end up ordering the same thing almost every time you call.. because those are the things that you've been craving all week.
We definitely have ours, and other friends of our have their favorites. One of them that is very popular is a chicken roll. You can get them in a few different varieties, but all of them are loaded with cheese.
Here's where most pizza places loose us. All the gobs of cheese. Pizza to me doesn't have to have so much cheese on it, more toppings the better. Cheese, yes, but a good ratio. Like this Pizza Sandwich recipe has a good ratio of all the ingredients, so you can tell its going to be good.
We just don't like it. I mean, we love cheese…just not tons and tons of it where it outweighs the other ingredients. The boys, too…they're on our side.
But I love the idea of a chicken roll and all the flavors that you can tuck inside, so as usual, we decided to make our own.
These Bacon Ranch Skillet Chicken Rolls are so easy to make and so tasty, you might forget about ordering them from your favorite pizza place ever again. Check out how easy they are to make!
Use a rotisserie chicken from the store to make this an even faster meal, then just toss it in a bowl with scallions, bacon, cheese, ranch dressing and worcestershire sauce. We love grabbing chicken like this from the store to make life easier, we use it in lots of recipes like this Chicken Marsala Alfredo Pasta or these Buffalo Chicken Celery Sticks.
Filling done – now just grab a package of crescent rolls and roll them out just a little on a cutting board and pinch all the seams together.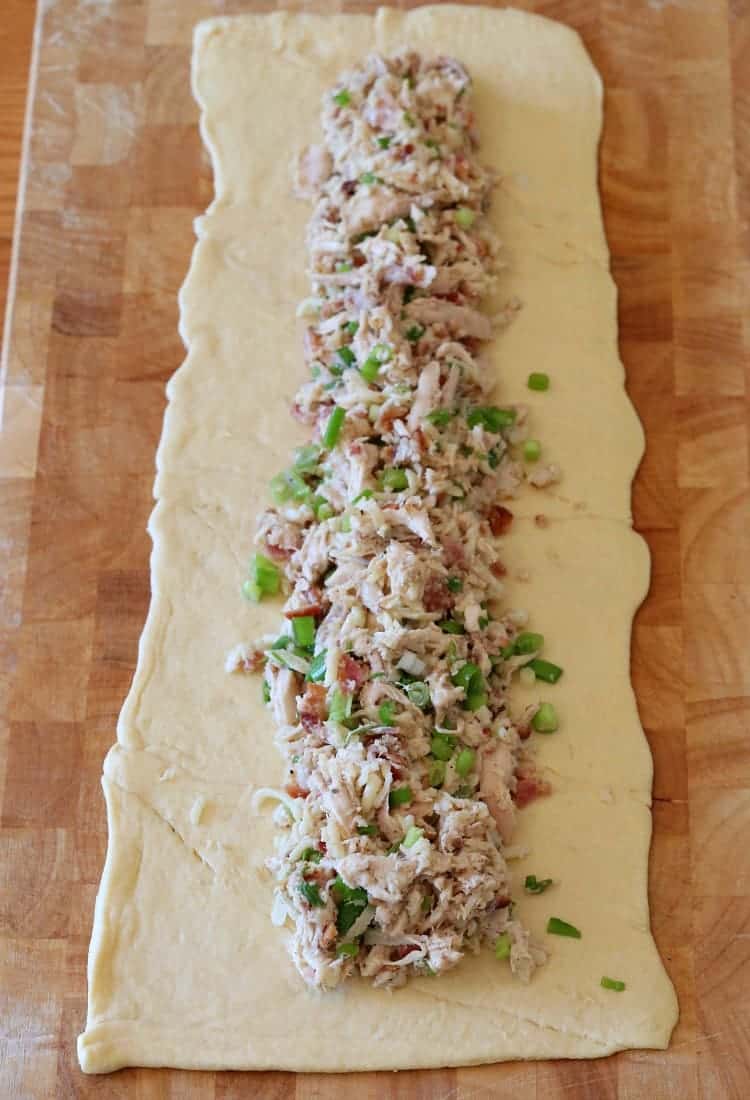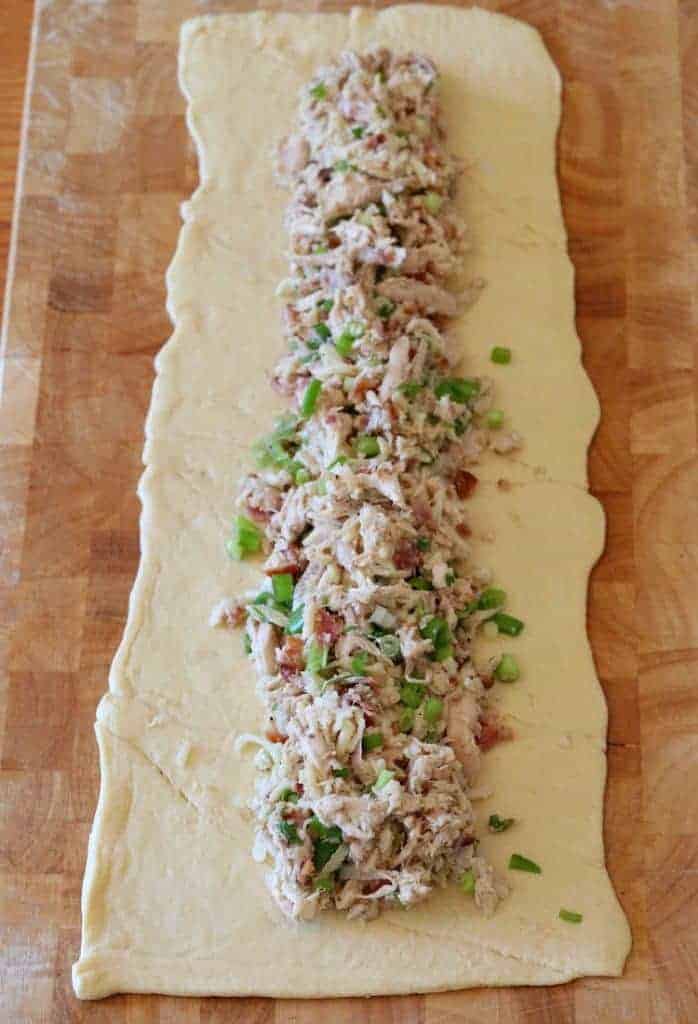 Dump the filling down the middle of the roll and carefully bring up the sides of the dough to pinch it together. Make sure you get all the seams sealed so the filling doesn't leak out when it's cooking.
Cut the rolls into 8 pieces and get a cast iron skillet ready with some melted butter. This is so the bottoms of the rolls get really crispy before baking the rest of the way in the oven…you could skip this step but I don't recommend it.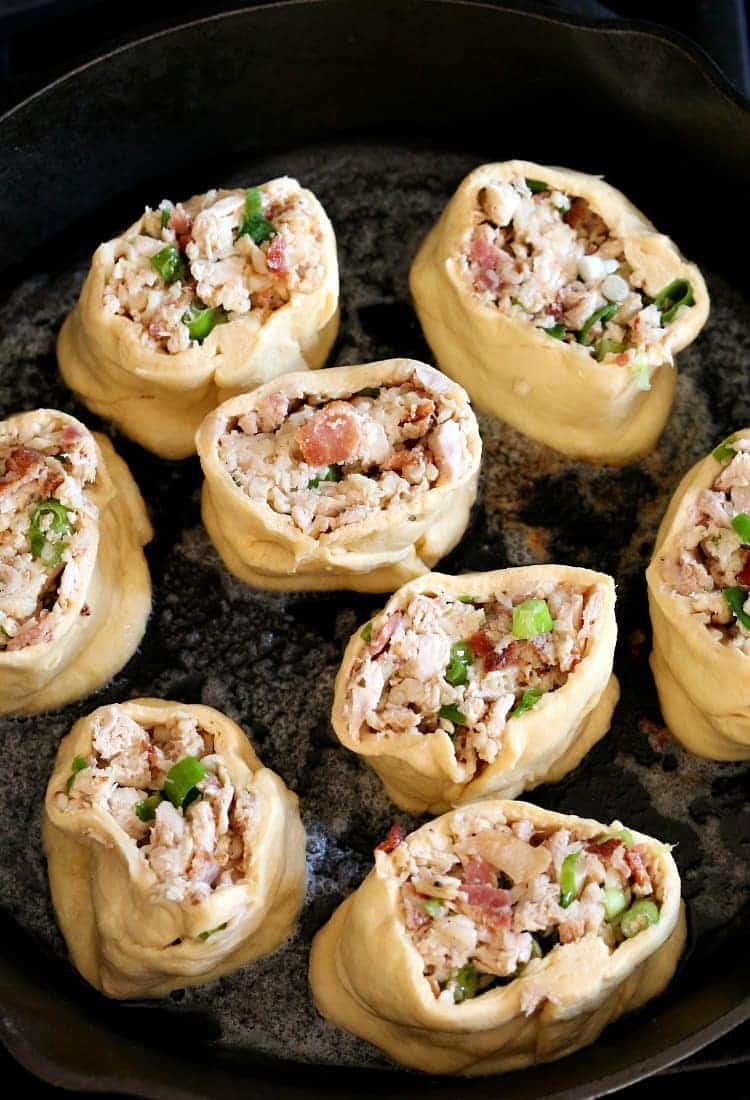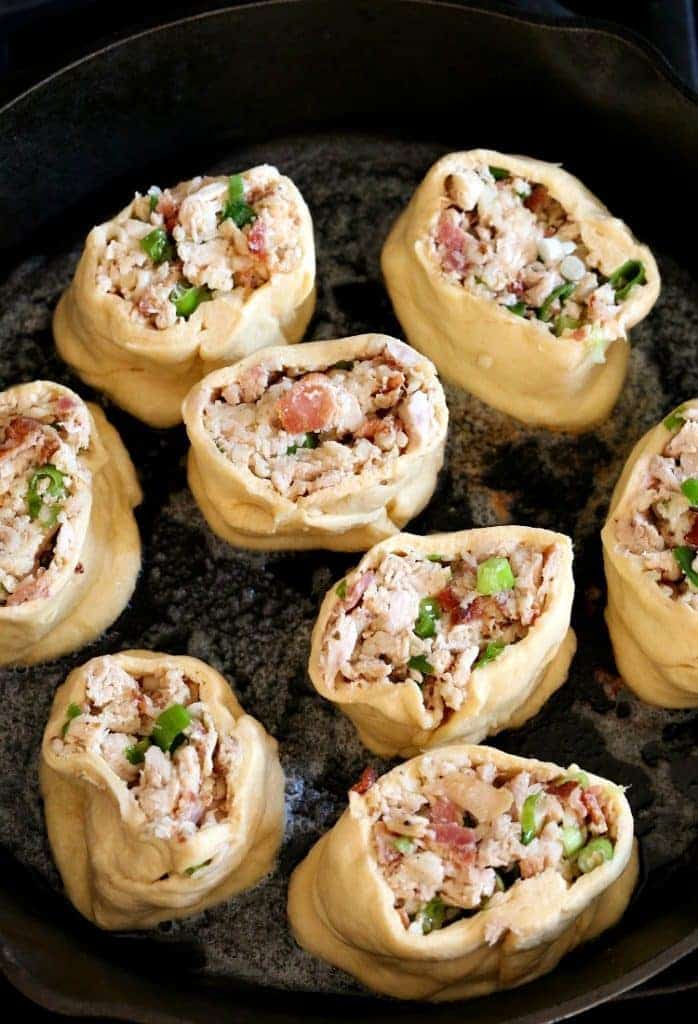 You could also bake this as a whole roll, just transfer it to a sheet pan before cutting and bake. But there's something about the crispy bottoms and tops of these Bacon Ranch Skillet Chicken Rolls that make them so unbelievably good.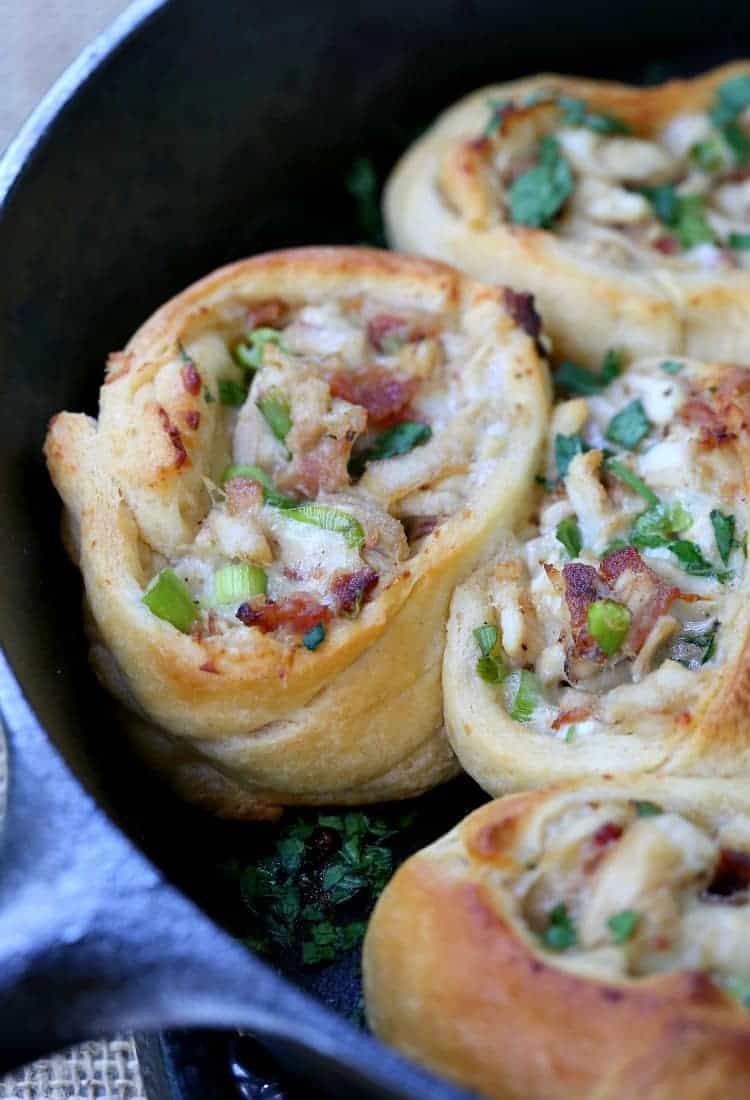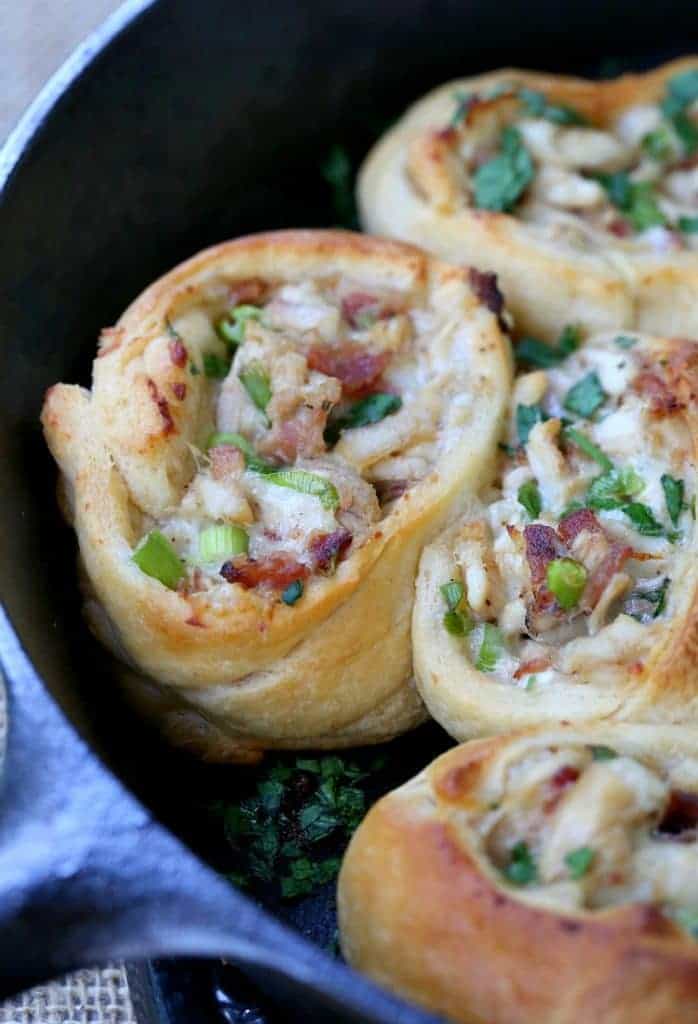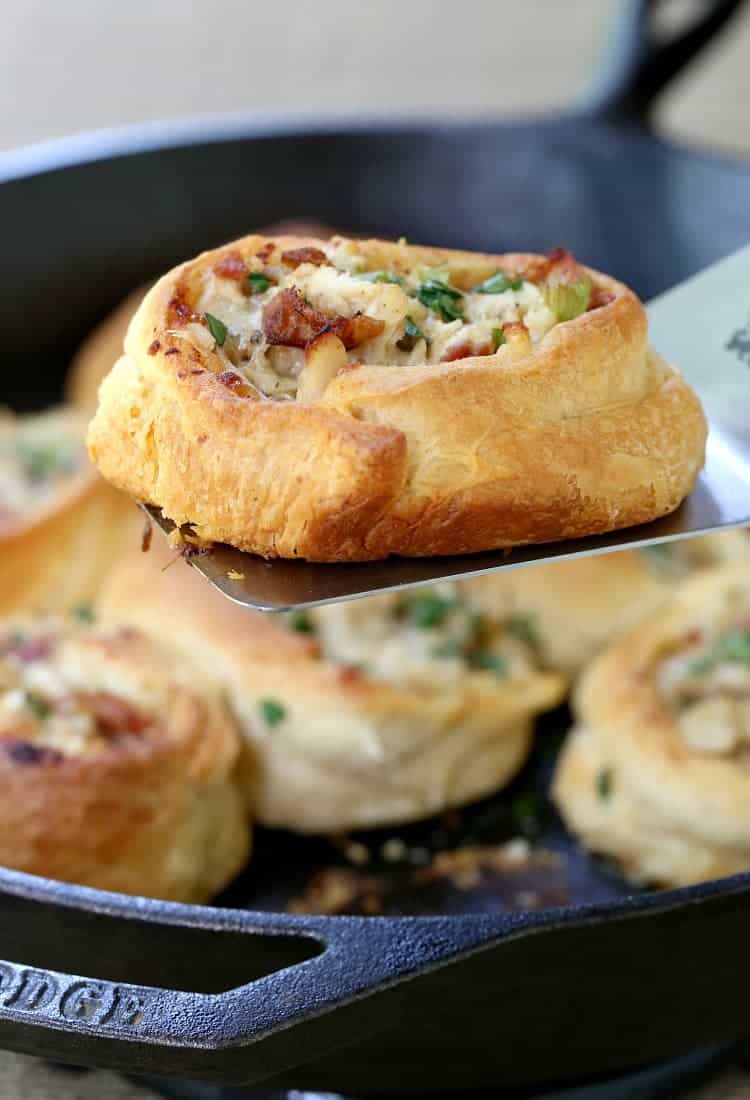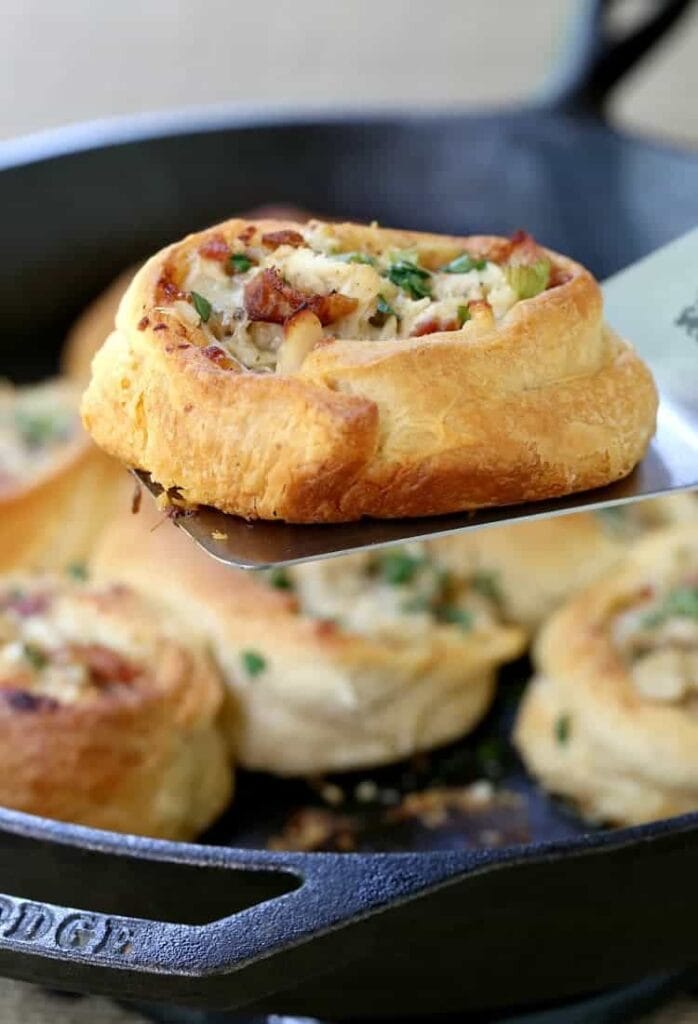 Print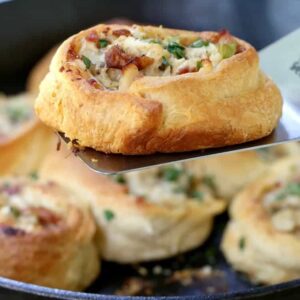 Bacon Ranch Skillet Chicken Rolls
Scale
Ingredients
2 cups

shredded chicken

1/2 cup

chopped scallions, chopped

1/2 cup

chopped bacon (about a

6

strips), cooked and chopped

1 1/2 cups

mozzarella cheese, grated

1/4 cup

ranch dressing

2 teaspoons

worcestershire sauce

1

12 oz. package crescent rolls

1 tablespoon

butter
Instructions
Preheat the oven to 400 degrees.
Mix the chicken, bacon, scallions, cheese, worcestershire and ranch together in a bowl.
Roll out the crescent rolls onto a large board sealing the cut edges together with your fingers.
Lay the chicken mixture out in the middle of the rectangle and roll the edges of the dough together to meet in the center. Pinch the seams closed with your fingers.
Cut the roll into 8 equal pieces.
Melt the butter in a cast iron skillet.
Lay the slices carefully into the pan leaving room around each roll to cook.
Bake for 15 minutes until brown on top and serve.
Recipe Notes
Alternately you can cook these in a 8″ round cake pan, spray the bottom and skip the melted butter.