Stuffed Cheese Doodle Meatballs are the ultimate party food! Chicken meatballs, stuffed with cheese – dipped in cheese -and coated with cheese doodles!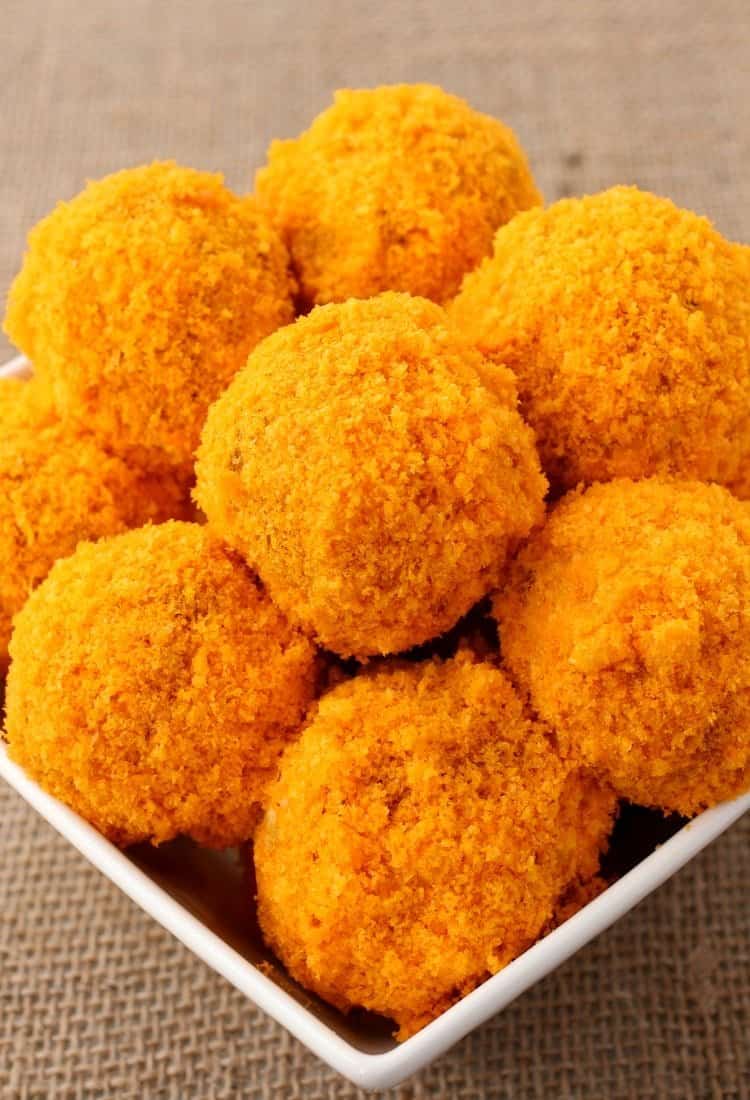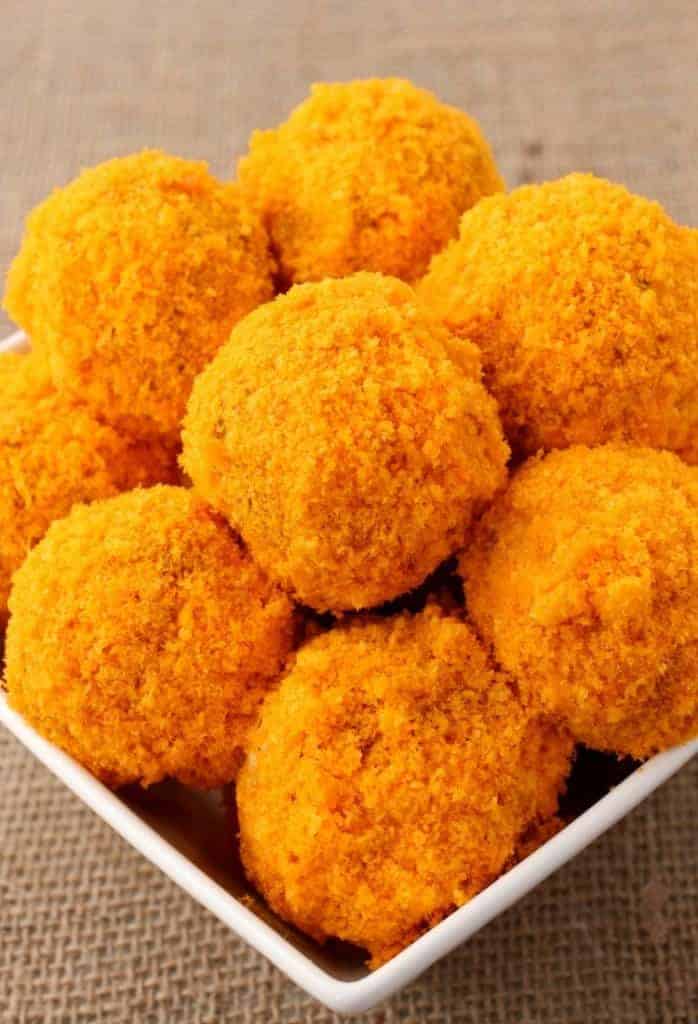 I know you're thinking I've lost it now. Stuffed Cheese Doodle Meatballs???
You're going to want to stay with me here…because this recipe is going to blow you away. Meatballs recipes for apps are some of my favorites – like these Cheeseburger Meatballs or these Turkey Meatballs with Whiskey Glaze. Love 'em.
My little guy is obsessed with cheese doodles, any of you that have kids might get what I mean when I say that – because I mean OBSESSED.
He'd eat the whole bag if we let him – we don't obviously – but he'd have zero problem doing it.
I can't say that I haven't eaten a cheese doodle or two in my life either, I mean, I get it. They're good. And totally addicting.
But what happens when I create a meatball, stuffed with Velveeta cheese and then use crushed cheese doodles as the breadcrumbs???
I throw that plate down in front of him like I'm about to get a medal and I get a turned up nose and a "no thank you".
Does this ever happen to you guys? You know if they just TRY it they're going to love it – but something about their favorite food in a different form doesn't go over well.
So I had to use my other taste testers, the wife, my older son and the rest of the family on Christmas Eve…because, yep – you can totally make these ahead of time, freeze them and heat them up for your party.
I know that you don't want to be rolling meatballs and dipping them in cheese doodles right before your company comes. You've got cocktails to make after all…
Start out by mixing up ground chicken, bacon, scallions, bread crumbs, an egg, and some seasonings in a bowl.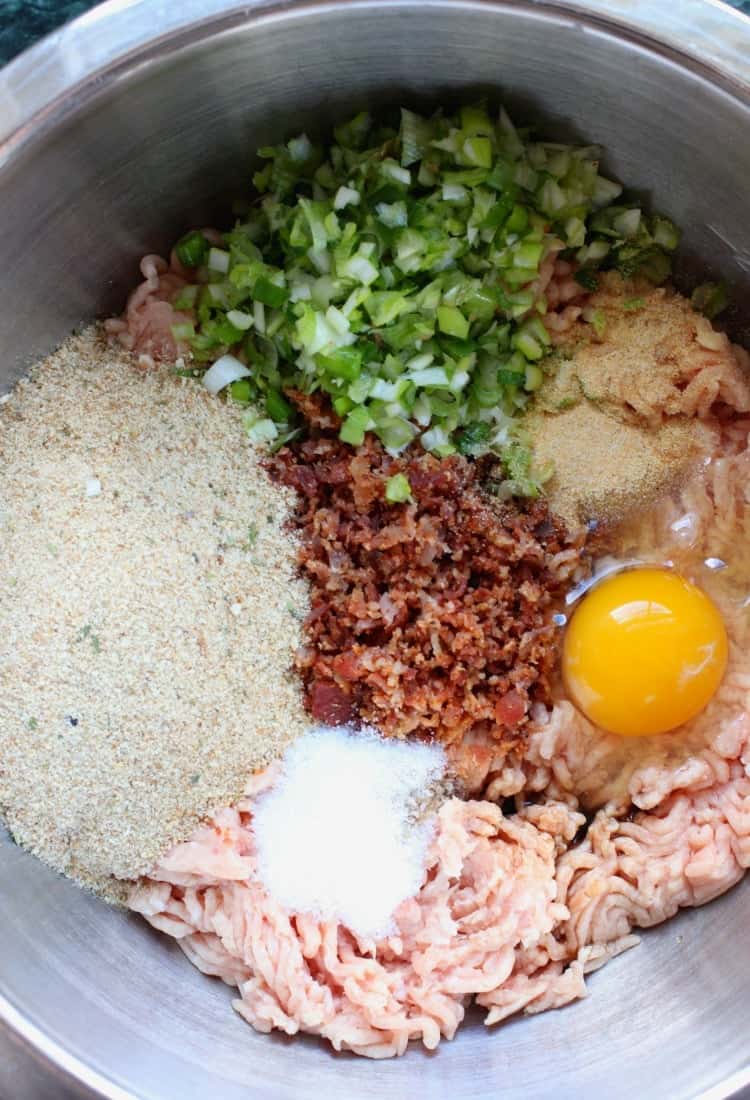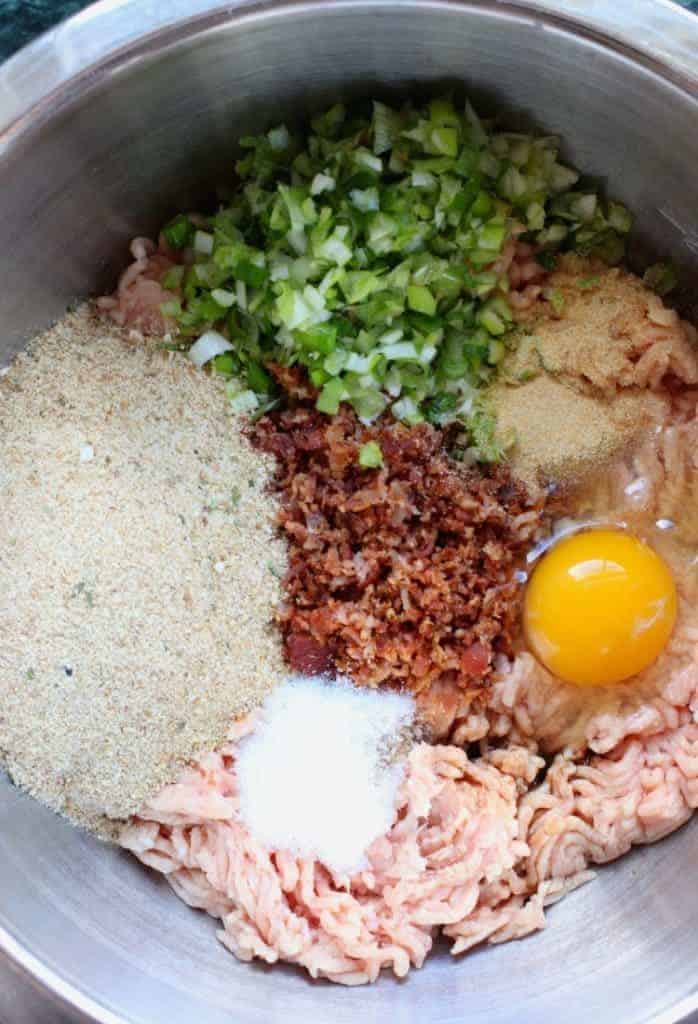 Roll them into pretty large meatballs and place them on a baking sheet.
Grab a meatball in your hand (if this gets sticky spray your hands with cooking spray first) then use your other finger to push a hole into the center of the meatball, not all the way through, just a pocket for a square of cheese to sit inside.
Get a piece of Velveeta cheese and stuff it in.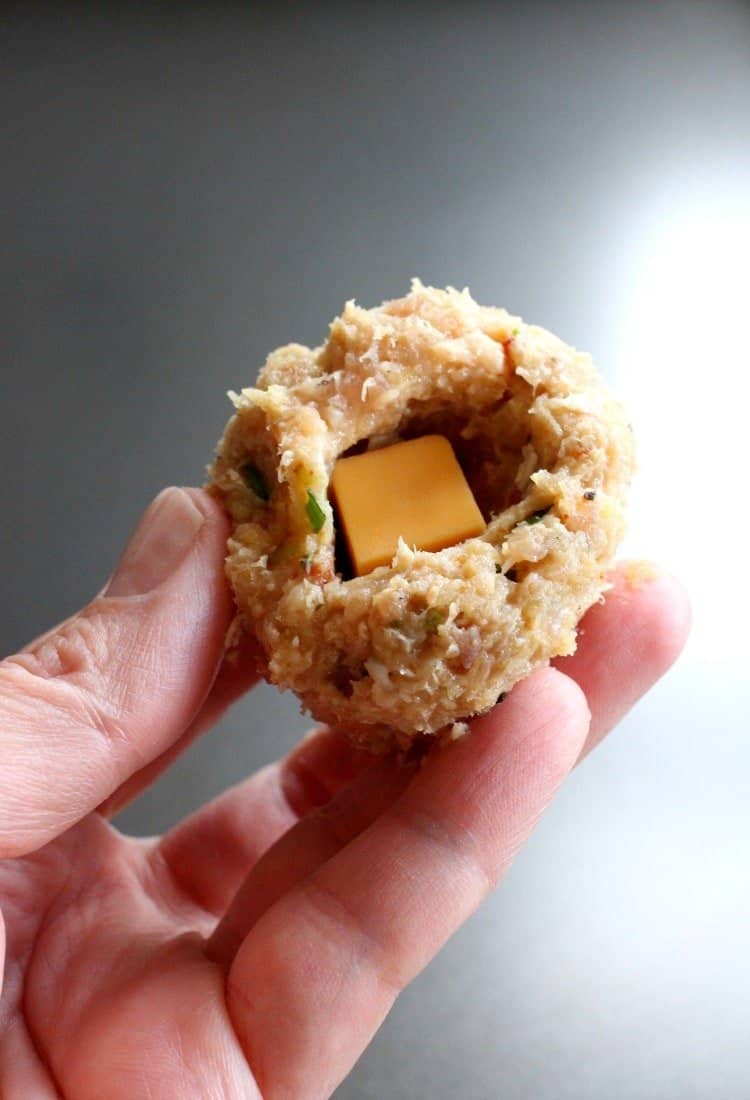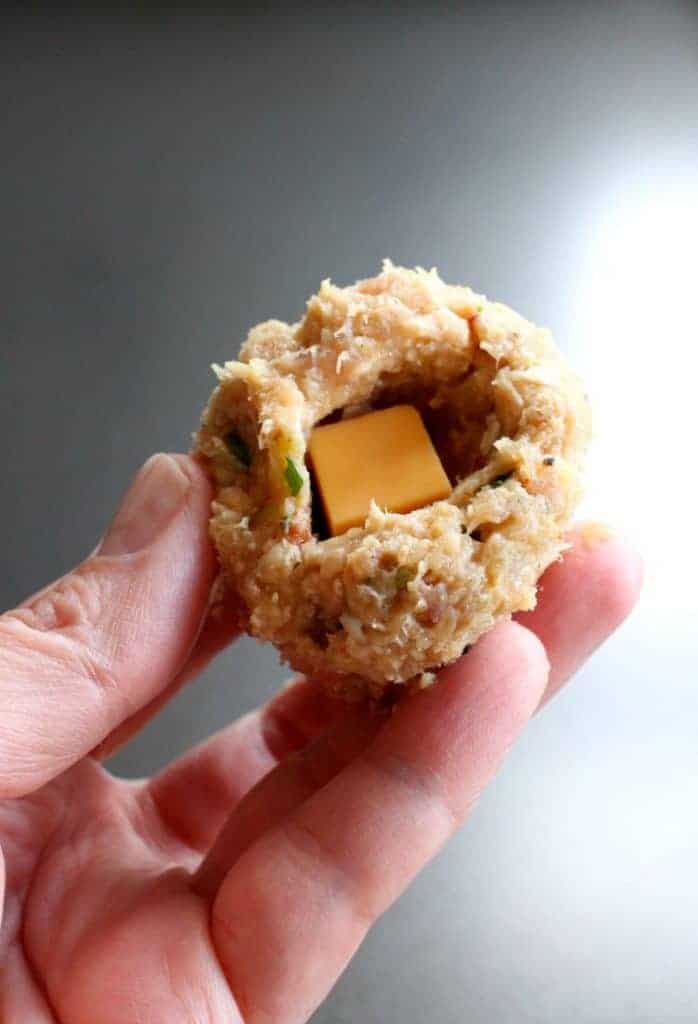 Close the meatball back up around the cheese and place back onto you baking sheet…and repeat.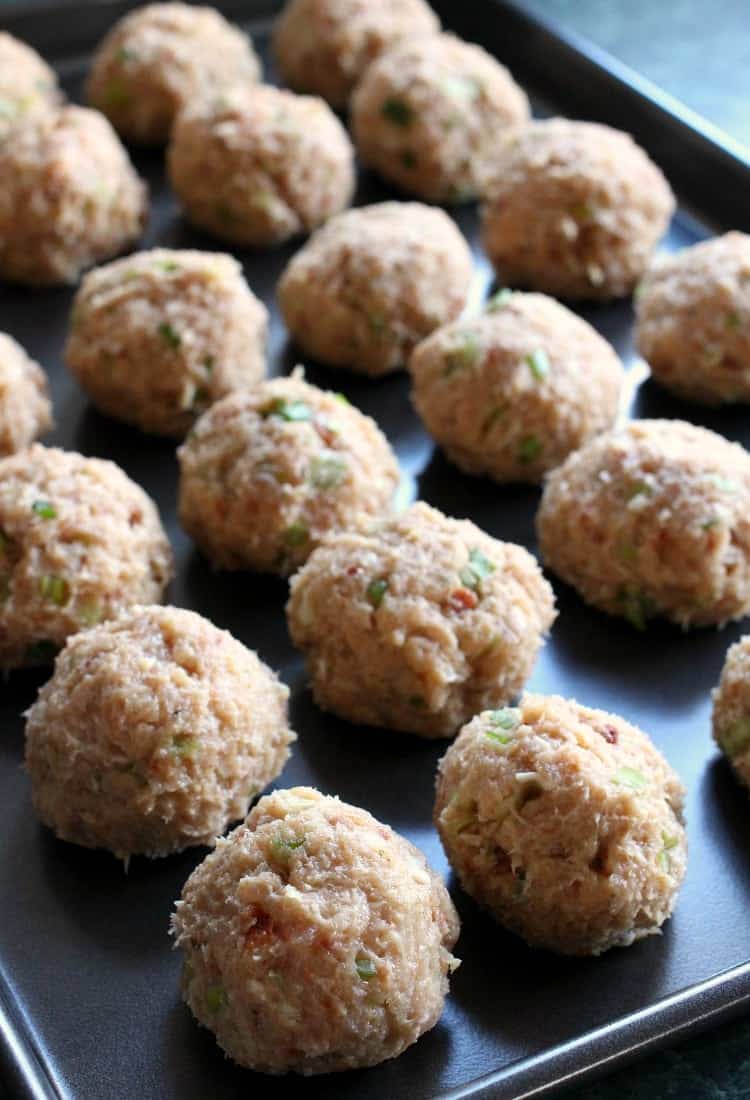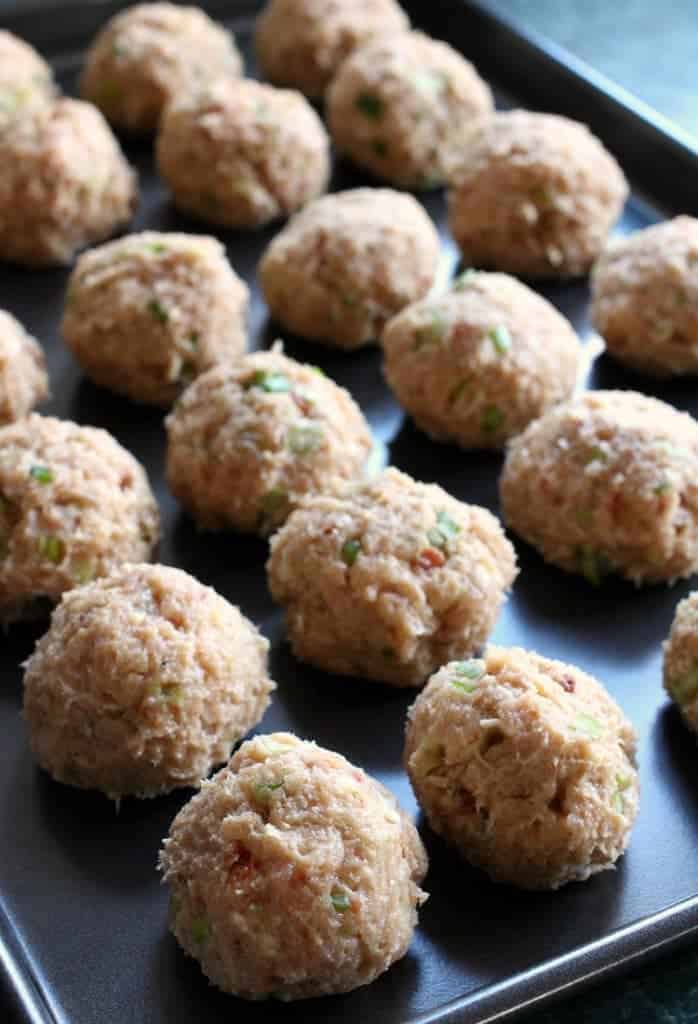 Once you got your meatballs stuffed you can make the cheese sauce. Really easy here, just melted Velveeta cheese thinned out with chicken broth.
Now you can start coating the meatballs by dipping a meatball into the cheese sauce…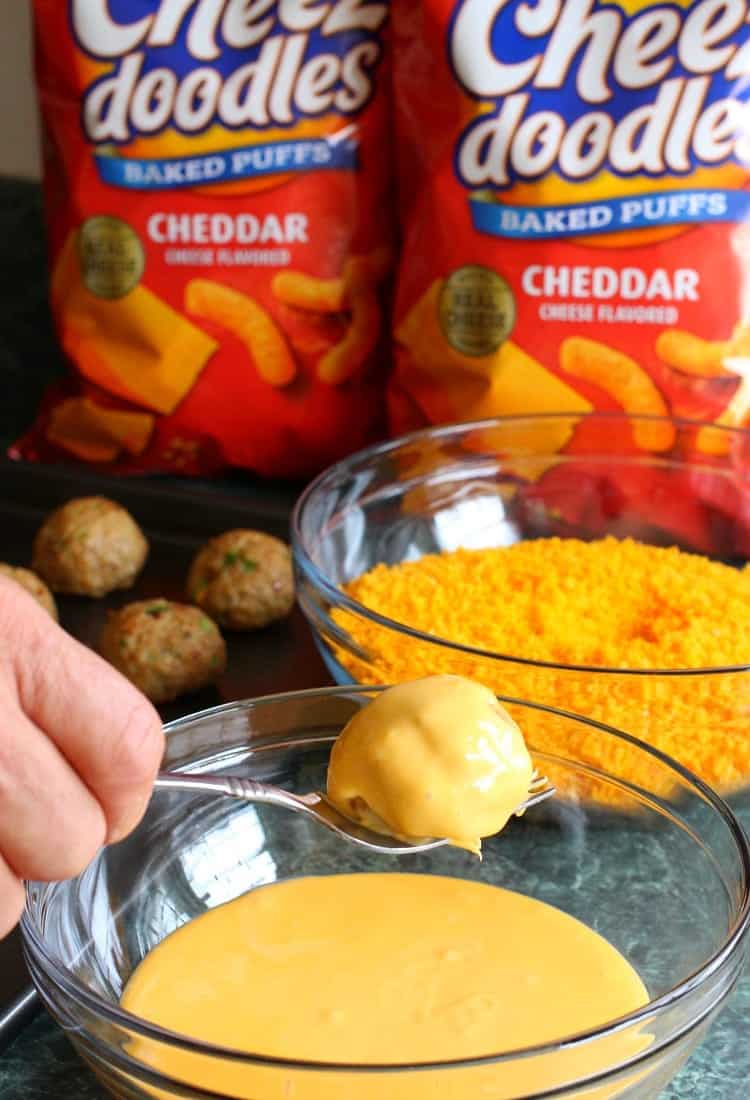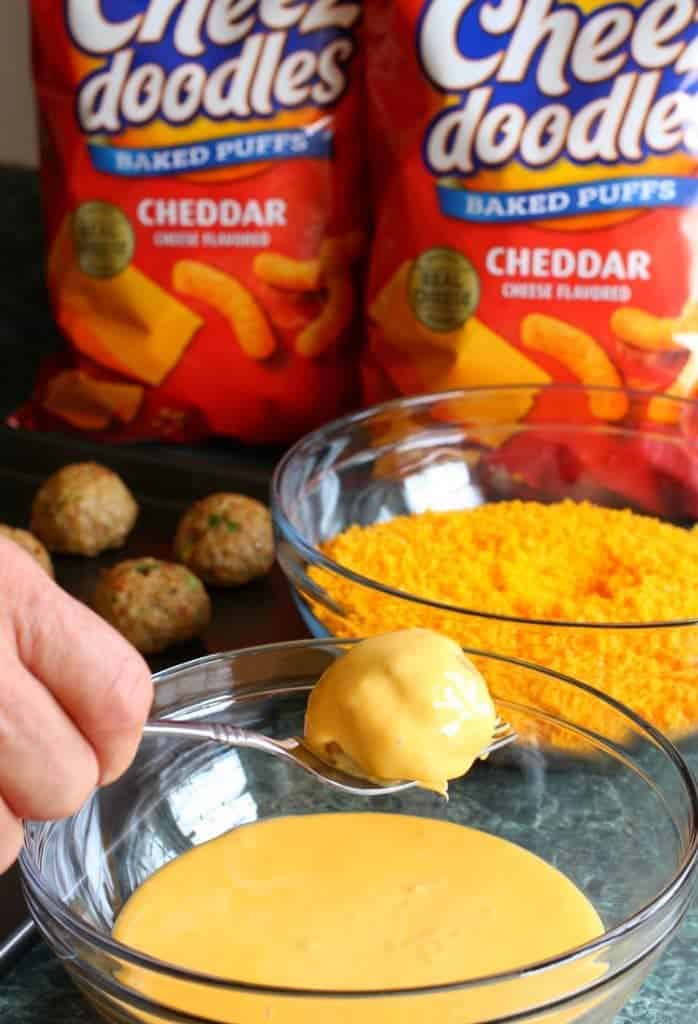 Then into a bowl of crushed cheese doodles. I crushed up the doodles with my hands until they looked like breadcrumbs.
Get them all coated then into the oven they go.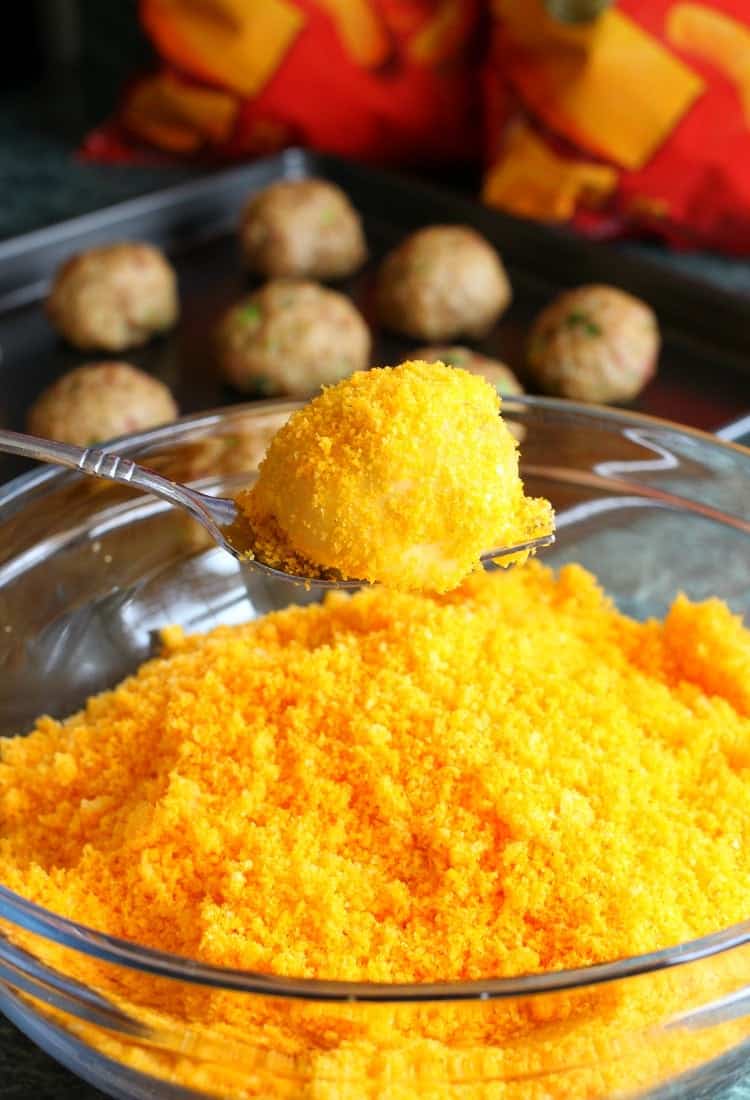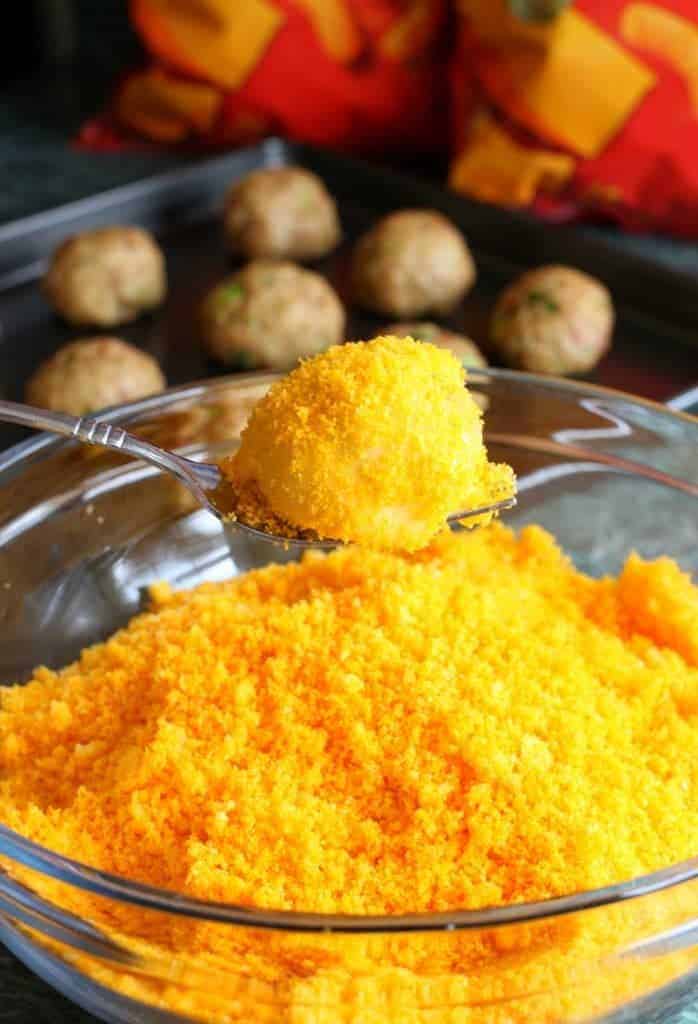 The hard part now is just the waiting…
These Stuffed Cheese Doodle Meatballs are best served warm, right out of the oven.
What was the verdict? Well, you wouldn't be seeing them here if they weren't ridiculously good.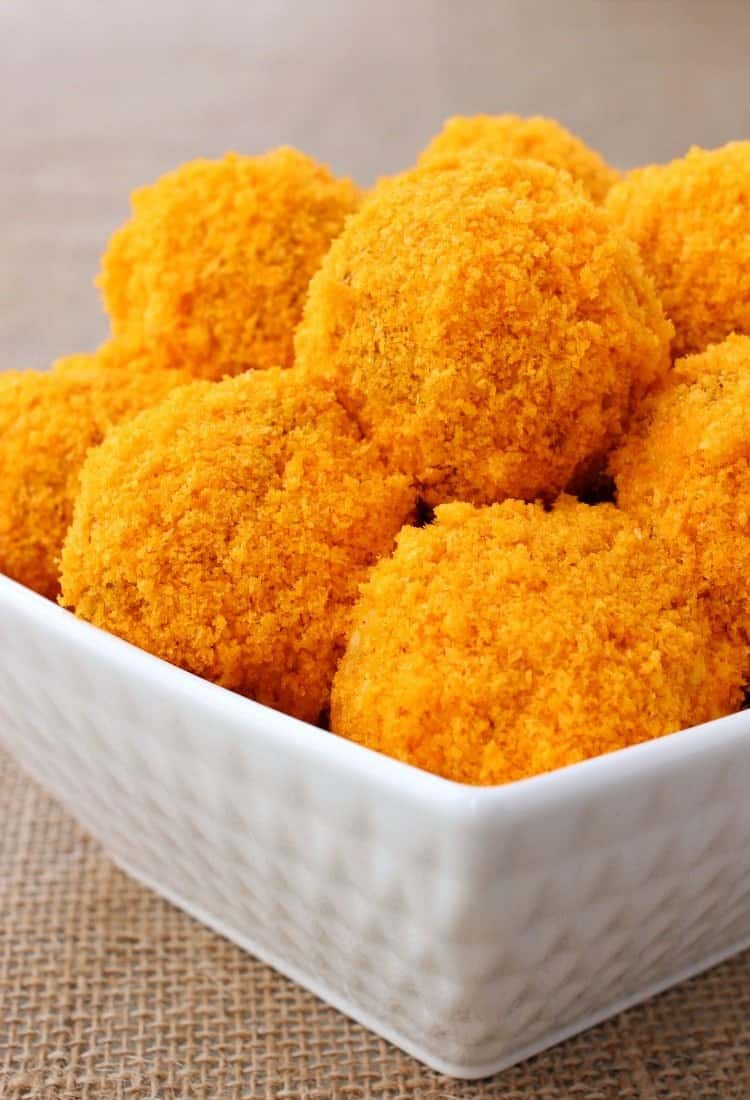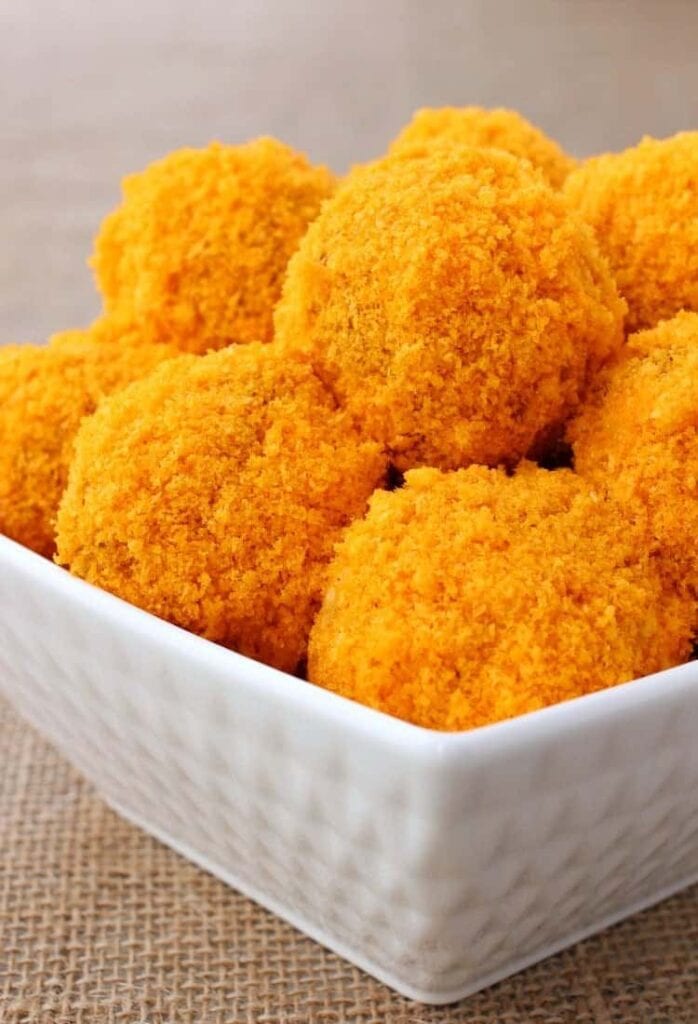 Game day food – check. Apps for a party – check. Pulling them out of the freezer a couple at a time for a late night snack?
Check.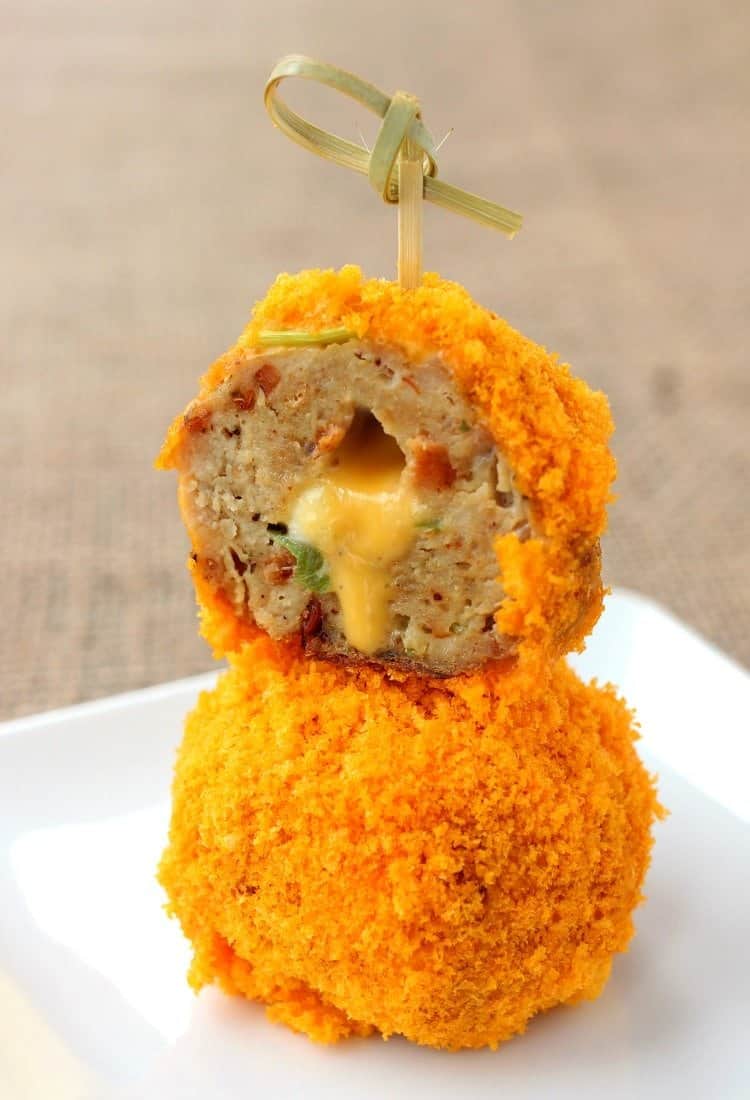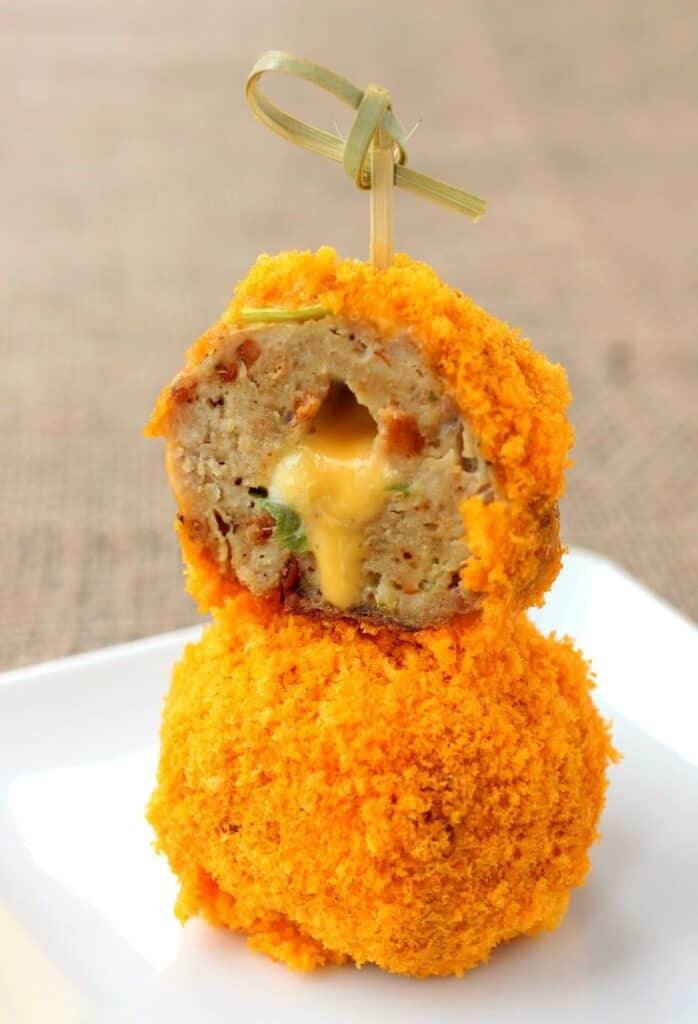 Make sure these Stuffed Cheese Doodle Meatballs are piping hot when you serve them so you get that awesome, melted cheese center!
Print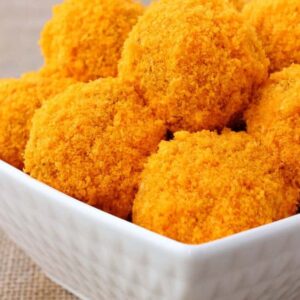 Bacon Cheese Doodle Meatballs
Scale
Ingredients
For the meatballs
2

lbs. ground chicken

1

lb. bacon, cooked and crumbled

1/2 cup

scallions, chopped fine

1/2 cup

bread crumbs

1

egg

2 teaspoons

garlic powder

2 teaspoons

salt

1/2 teaspoon

black pepper
pinch of cayenne

1 tablespoon

worcestershire sauce

6 oz

. Velveeta cheese, cut into a 1/2 inch dice

1

bag cheese doodles, placed in a bowl and crushed with your hands until it looks like bread crumbs
For the Velveeta dip
12 oz

. Velveeta, cubed

3/4 cup

chicken broth
Instructions
Preheat the oven to 400 degrees.
Add all the ingredients for the meatballs (except for the cubed Velveeta cheese and the cheese doodles) into a large mixing bowl and stir or mix mix your hands until it's well combined.
Form the meatballs with a 1 1/2 tablespoon scoop, or you can use your hands and form into 2″ balls, then place onto a baking sheet that's been sprayed with cooking spray.
Holding a meatball in one hand, use your finger and gently press an indentation in the center of the meatball big enough for the piece of cheese to go into. Place a cube of cheese into the hole and form the meatball back around the hole until the cheese is completely hidden.
Repeat with the remaining meatballs.
In a medium pot, heat the Velveeta cheese along with the chicken broth over medium heat. Whisk until smooth.
Take a meatball and dip into the Velveeta cheese sauce, then coat with the cheese doodle bread crumbs.
Repeat until all the meatballs are dipped and coated, return to the baking sheet and bake for 18-20 minutes.
Serve warm.
Recipe Notes
You can make these meatballs ahead of time, cook them and freeze them for later use. When ready, cook the frozen meatballs at 375 for 30 minutes until warm in the center.