This post has been sponsored by Folgers Coffee. All thoughts and opinions are my own.
Try these Tiramisu Cream Cheese Bagels for a fun addition to brunch or just a delicious way to start the morning. But to be honest, these are good any time of the day!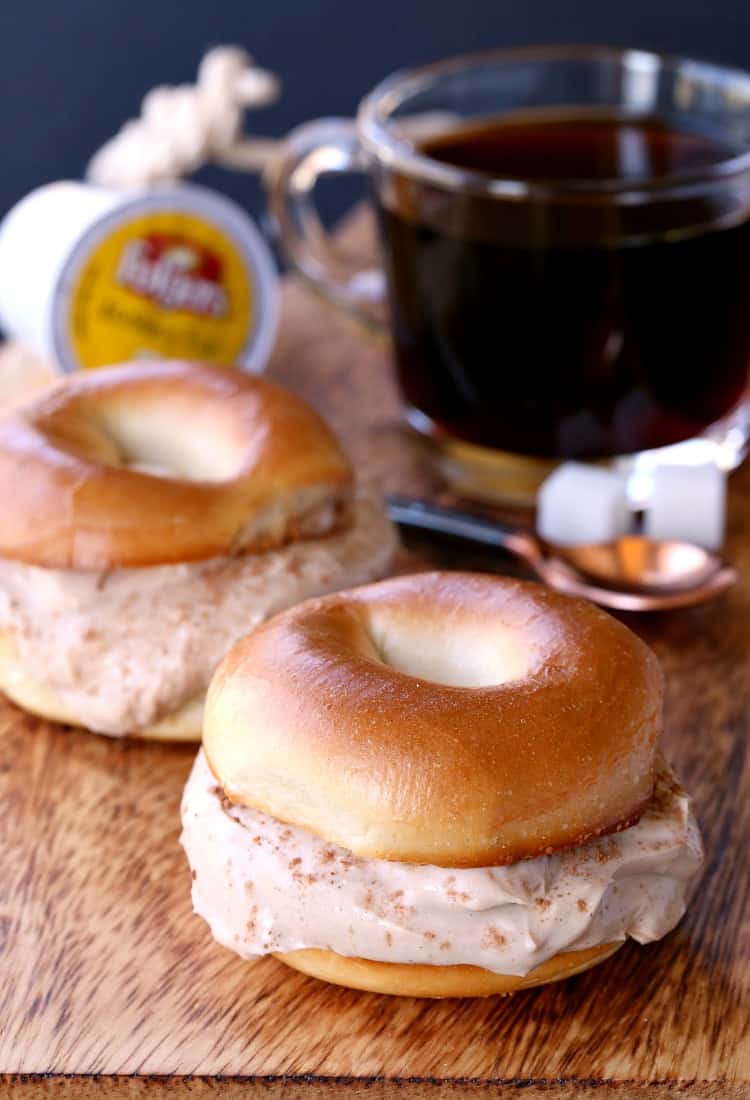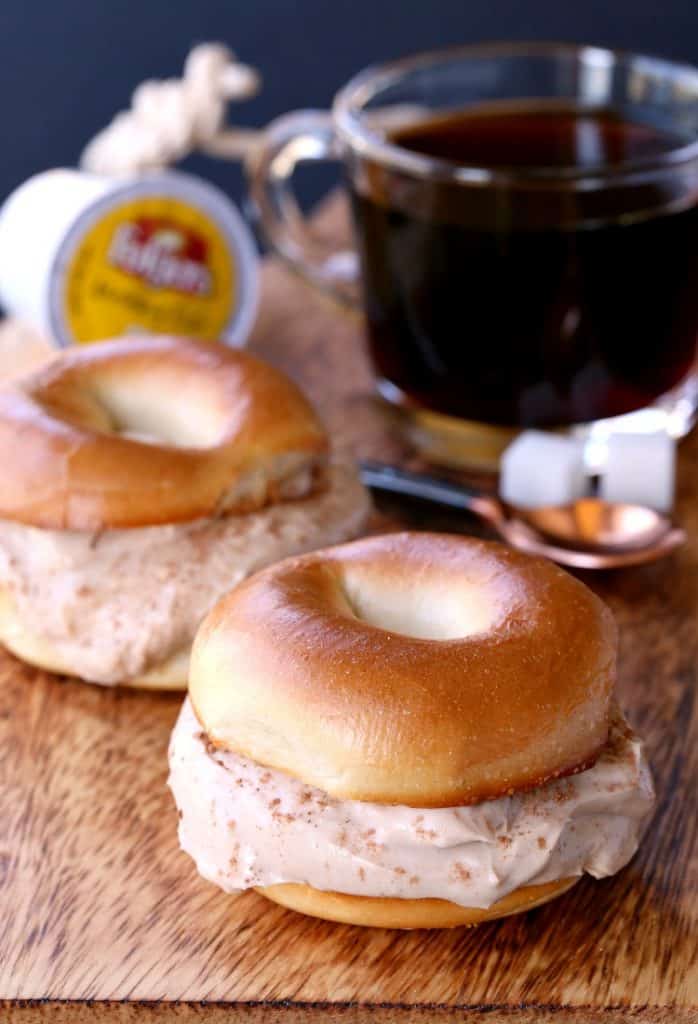 If you ask me, bagels and cream cheese can be eaten at any time of the day. I know they are most often eaten at breakfast or brunch, but why not eat them all the time?
It's just like coffee, yep, mostly people drink coffee in the morning but…really? I know some people that drink it all day long, or even most often at night after dinner.
Especially when we start talking about those tasty after dinner coffee cocktails…but that's another story. Today we're talking about using Folgers® K-Cup® Pods to make super easy recipes without having to brew a whole pot of coffee.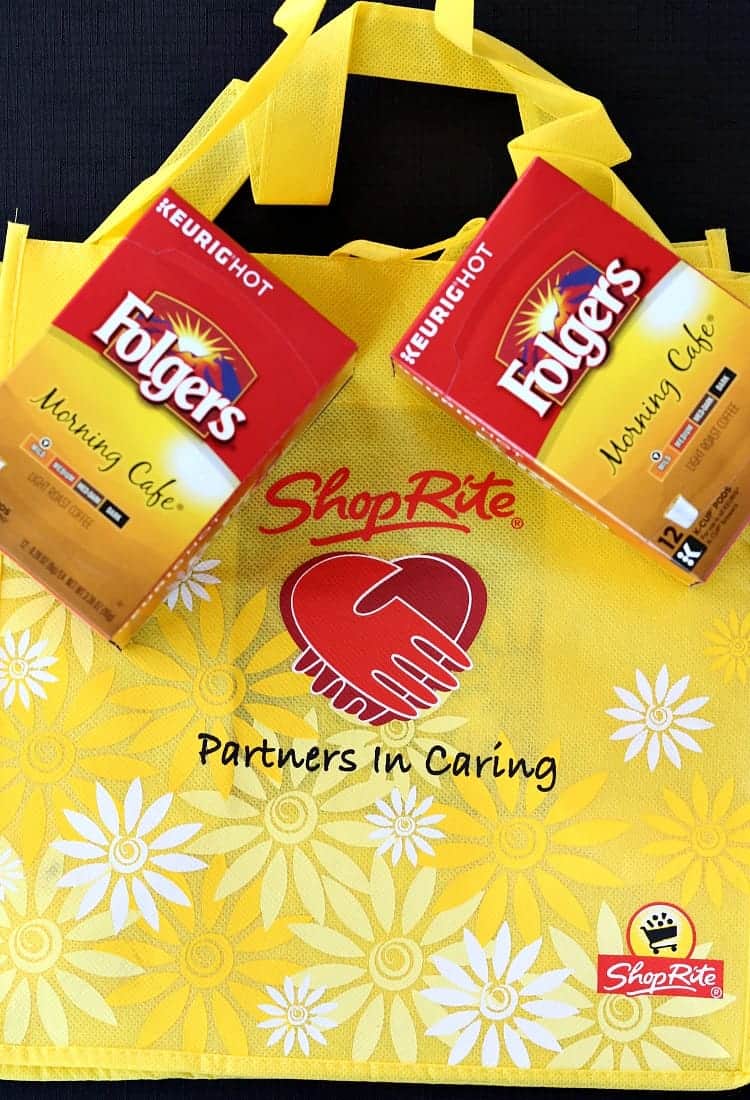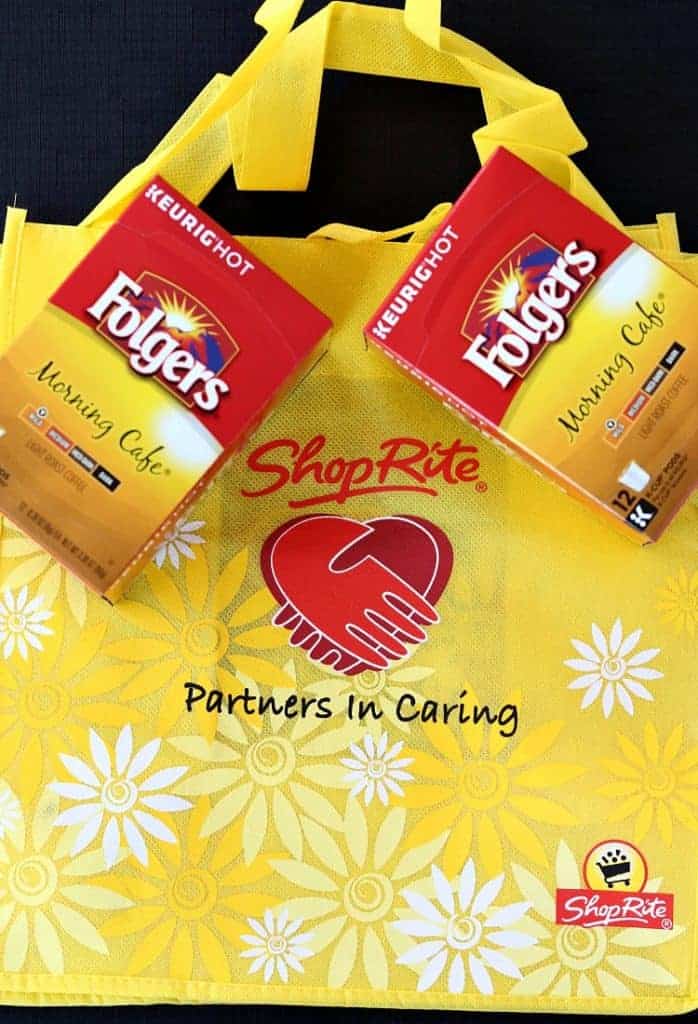 The rich aroma of coffee is definitely a ritual in our household. Christie really can't function without her coffee in the morning at all – like you don't want to go there. I've seen her without it and it's not fun. And sometimes she'll have a cup in the afternoon, but most often in the morning.
Me, I'm not a morning coffee drinker. I like to grab a cup of coffee after dinner if anything, even the fully loaded kind. It's just one of those things that doesn't affect me or keep me up at night.
But I guess I'm a late night person, too, where Christie likes to be in bed by the LATEST nine.
So it's morning coffee for her, afternoon or evening coffee for me. We love grabbing different types of Folgers K-Cups for every occasion. Christie likes the Morning Cafe…I like Black Silk for night time, and then there's the flavored varieties for after dinner drinks.
Morning or evening, Folgers is a trusted, familiar favorite for our family.
So needless to say, when we head out to our local ShopRite, we're grabbing the Folgers K-Cups every single time!
These Tiramisu Cream Cheese Bagels have become a staple for us since the first time we made them. They're so good in the morning but they're also crazy good as an afternoon snack with that afternoon cup of coffee.
And wait for it – get them in there for dessert, too.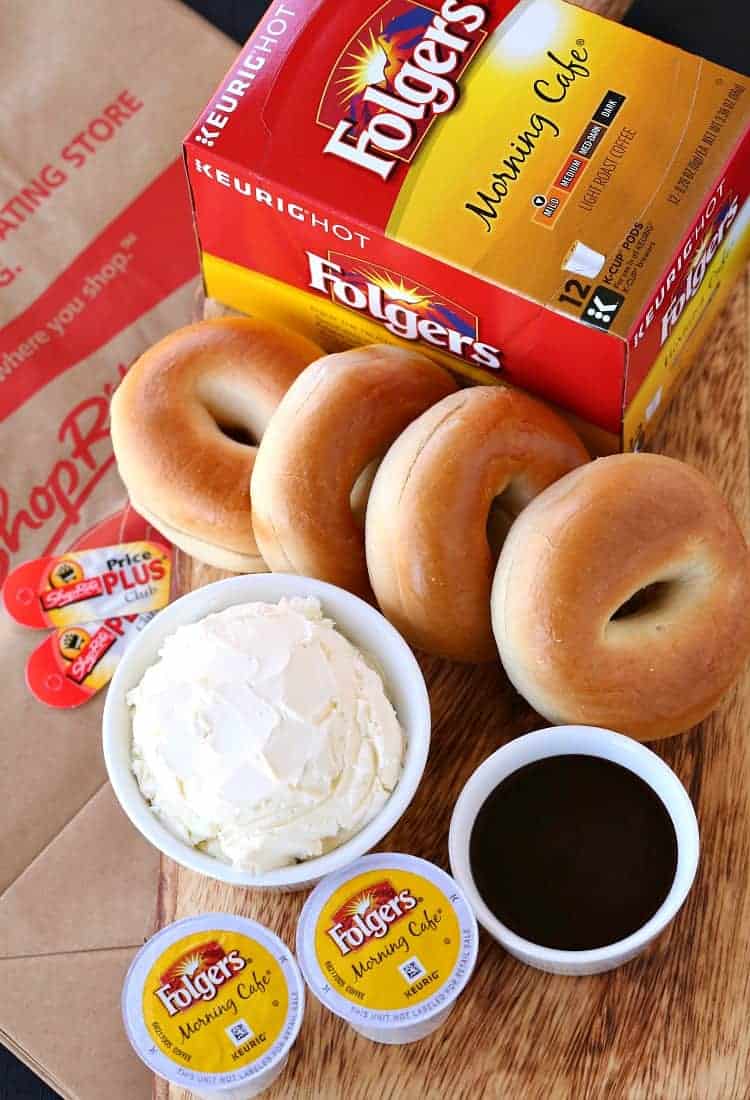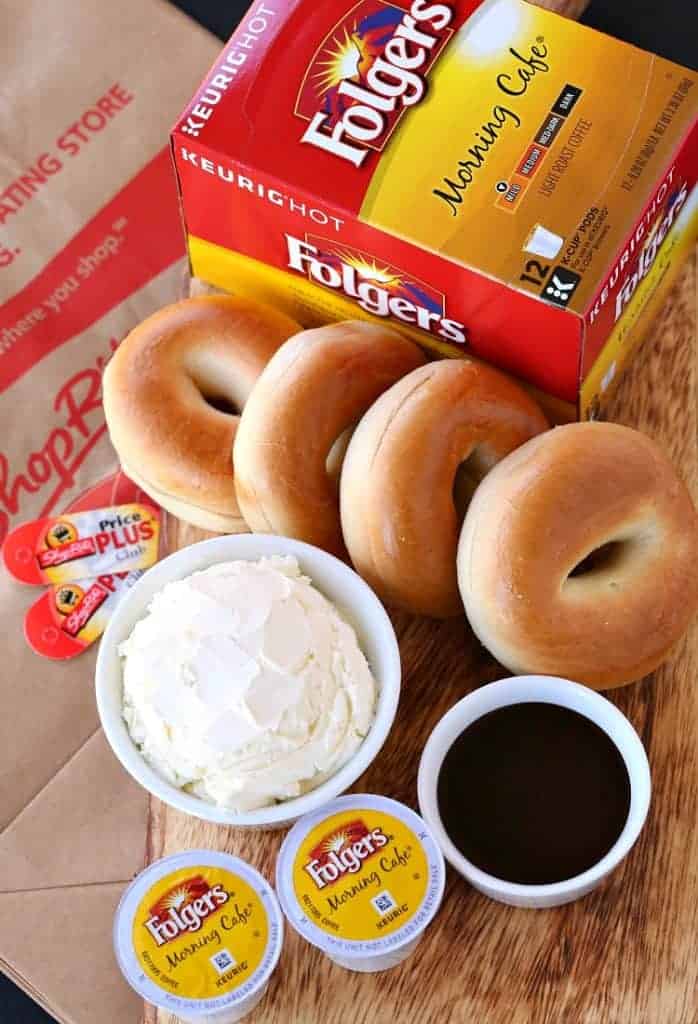 Yeah, I know bagels and cream cheese for dessert? Well just wait until you taste these Tiramisu Cream Cheese Bagels…you won't need anything else. You can grab everything you need right at ShopRite, too and if you're anything like us I know you're there at least once or twice a week!
The cream cheese is flavored simply with brewed Folgers Coffee, chocolate syrup, powdered sugar and cinnamon.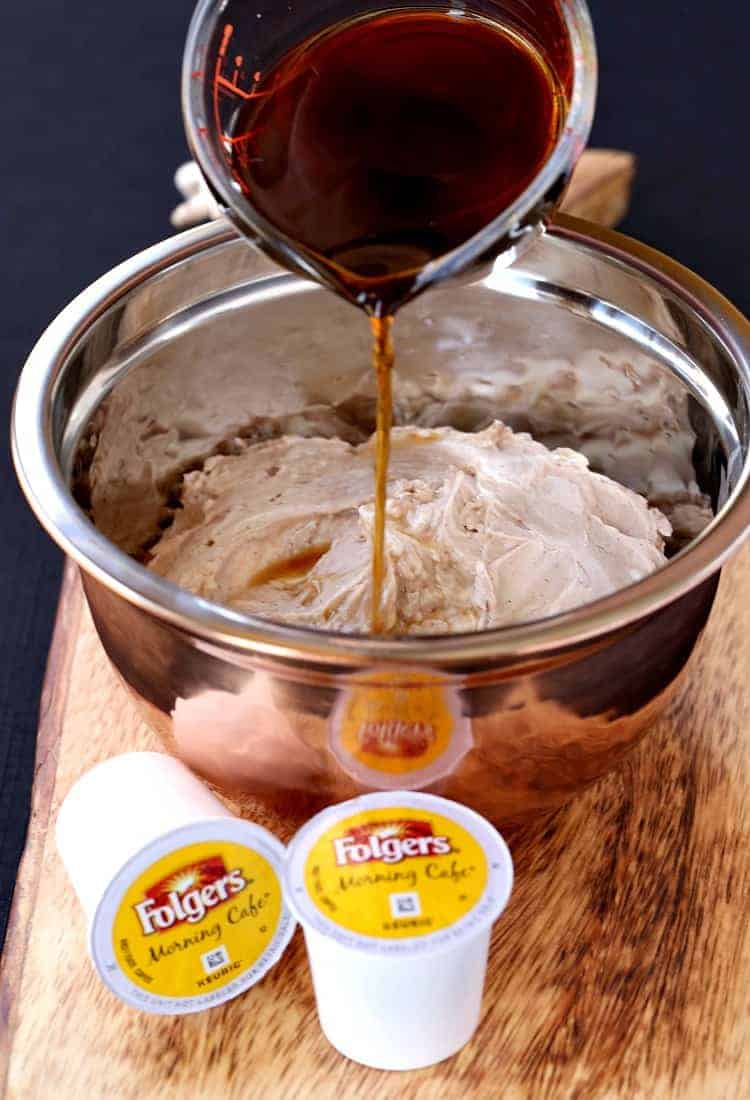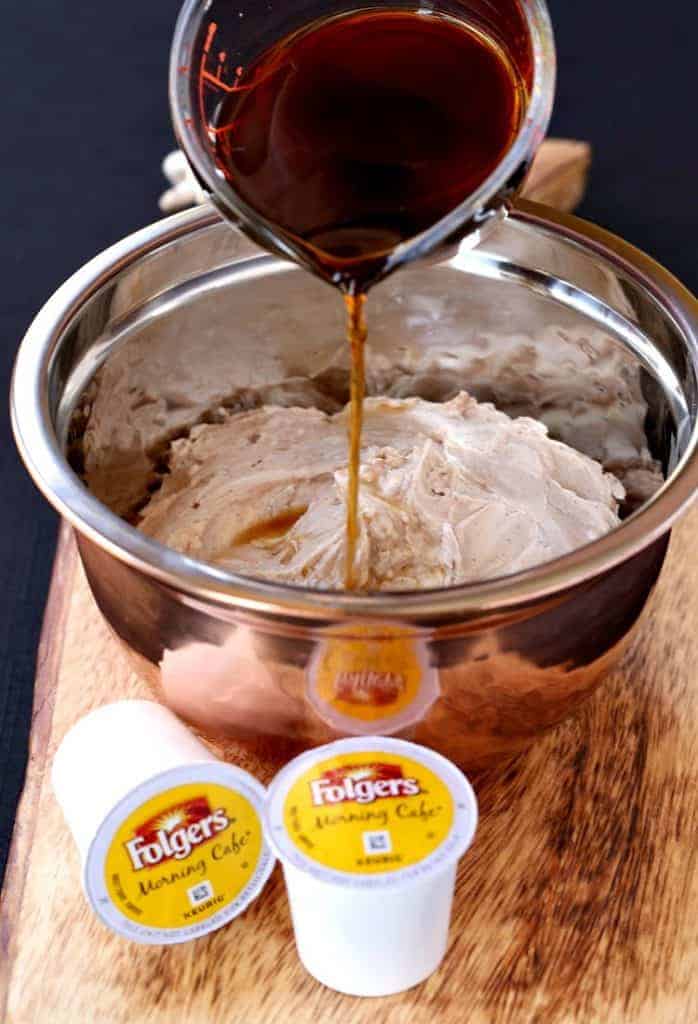 You know how when you make tiramisu – or if you have ever made tiramisu – you dip ladyfingers in coffee? It gives tiramisu that deep coffee flavor that we all love.
Well there's no ladyfingers here. But we do have toasted bagels.
So here's the genius idea. Toast up your bagel, let it cool just a little, then dip it quickly into the rest of that coffee that you didn't use from making the cream cheese.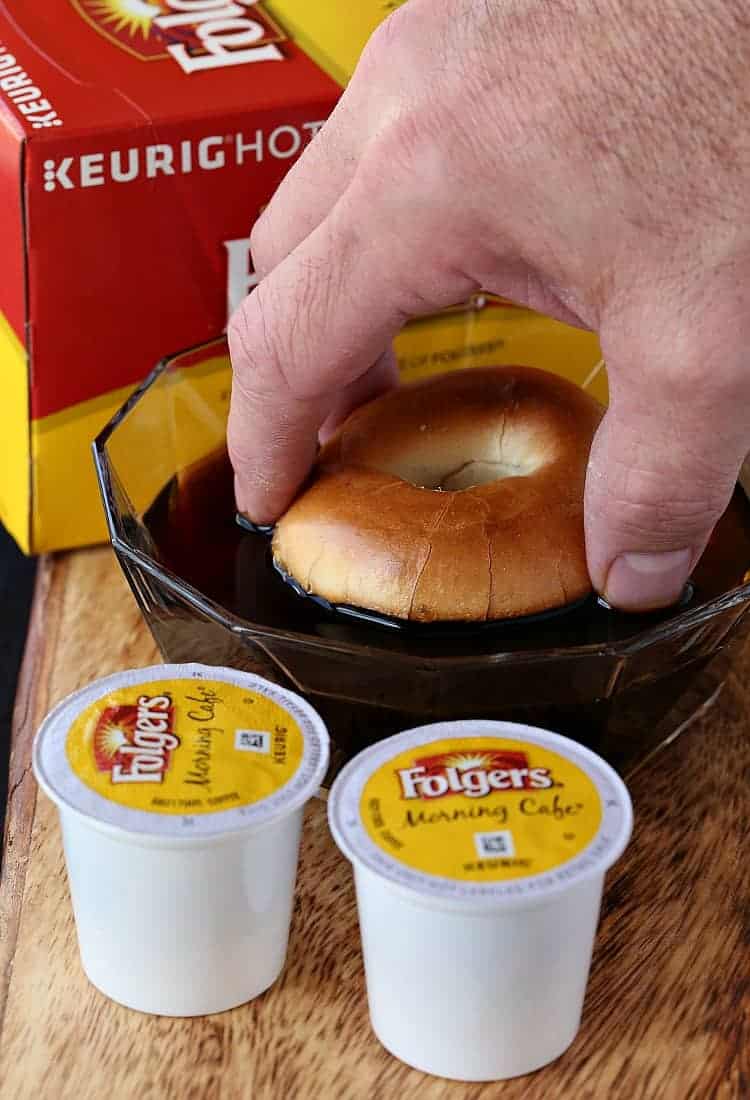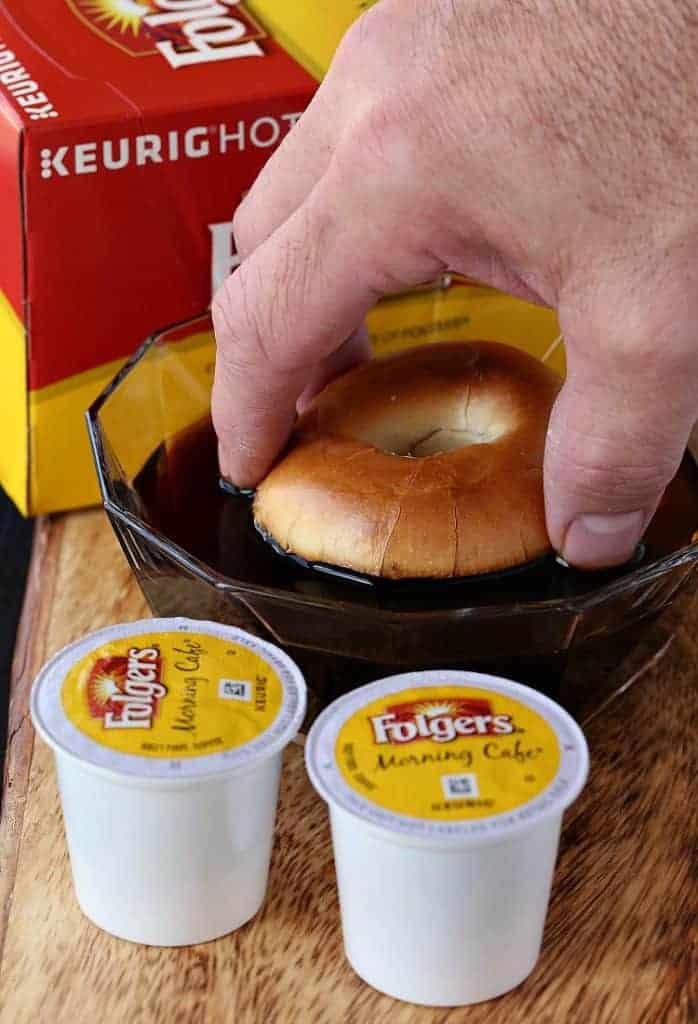 Right? Just like the ladyfingers, you're going to infuse that Folgers coffee flavor right into these bagels.
Then spread the bagel with a lot of the tiramisu cream cheese. Like, a lot.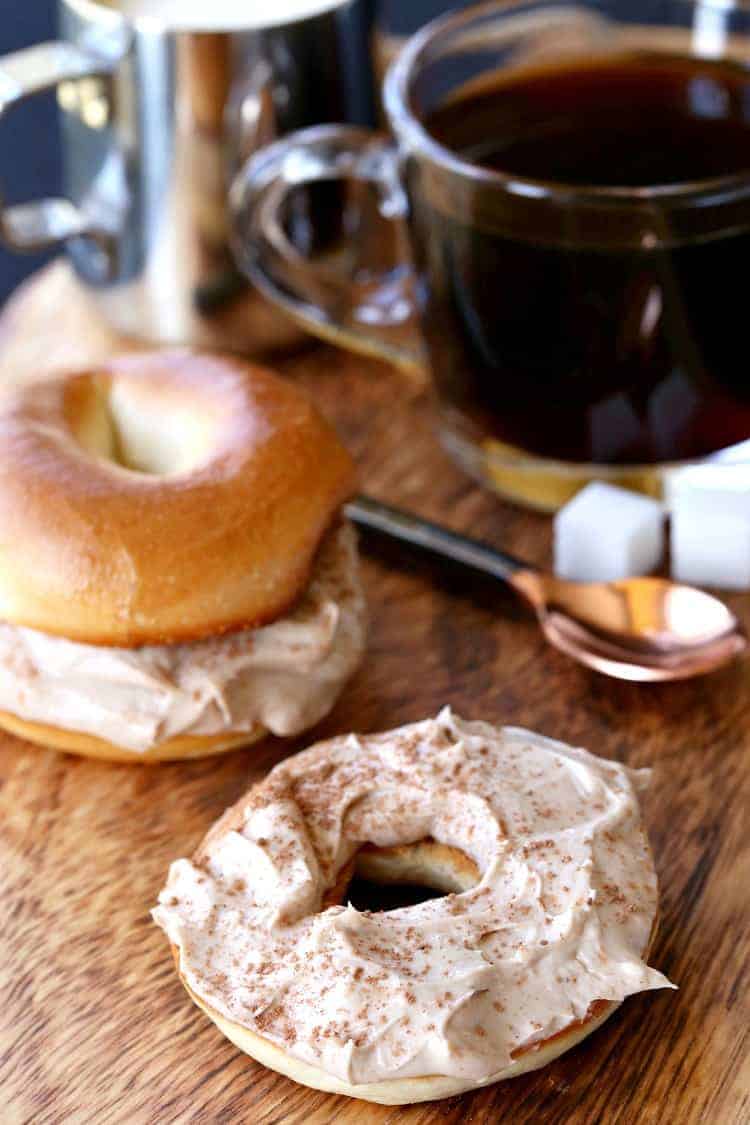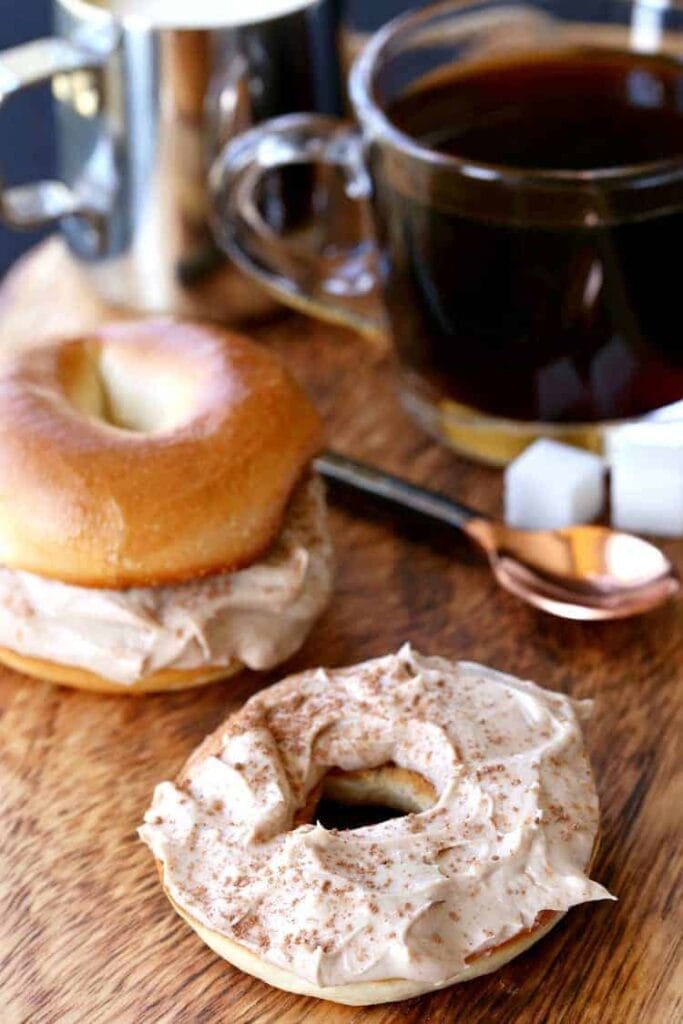 Dust with cocoa powder then top with the other bagel half.
Serve and get ready to be amazed.
These Tiramisu Cream Cheese Bagels are going to become one of your new favorites! I know you're making lots of those Folgers K-Cups anyway, might as well use some to cook with, too.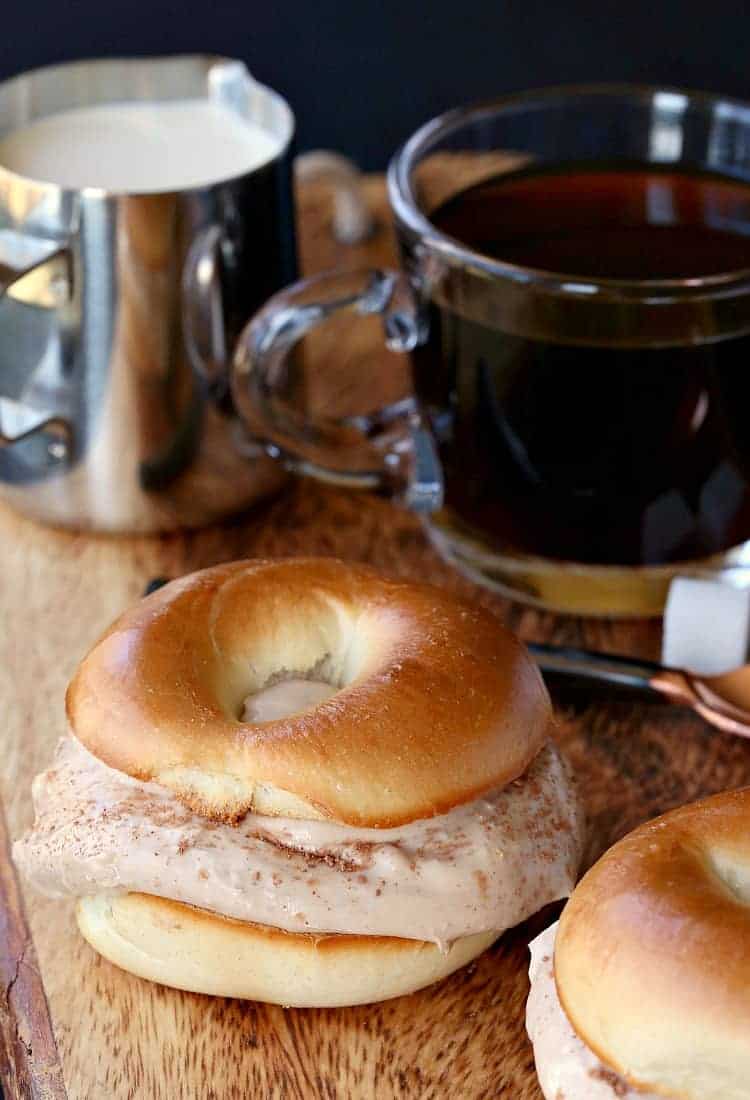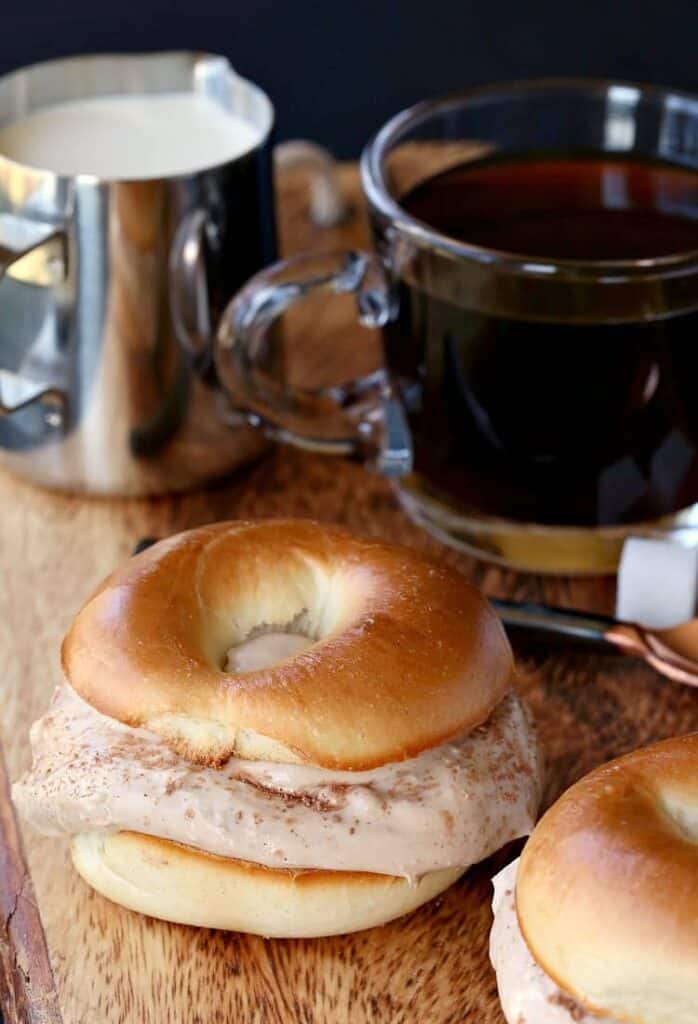 Be sure to look for a Folgers K-Cups $1 off digital coupon available with your ShopRite Price Plus® club card – then grab the rest of the ingredients for these Tiramisu Cream Cheese Bagels…with lots of coffee on the side!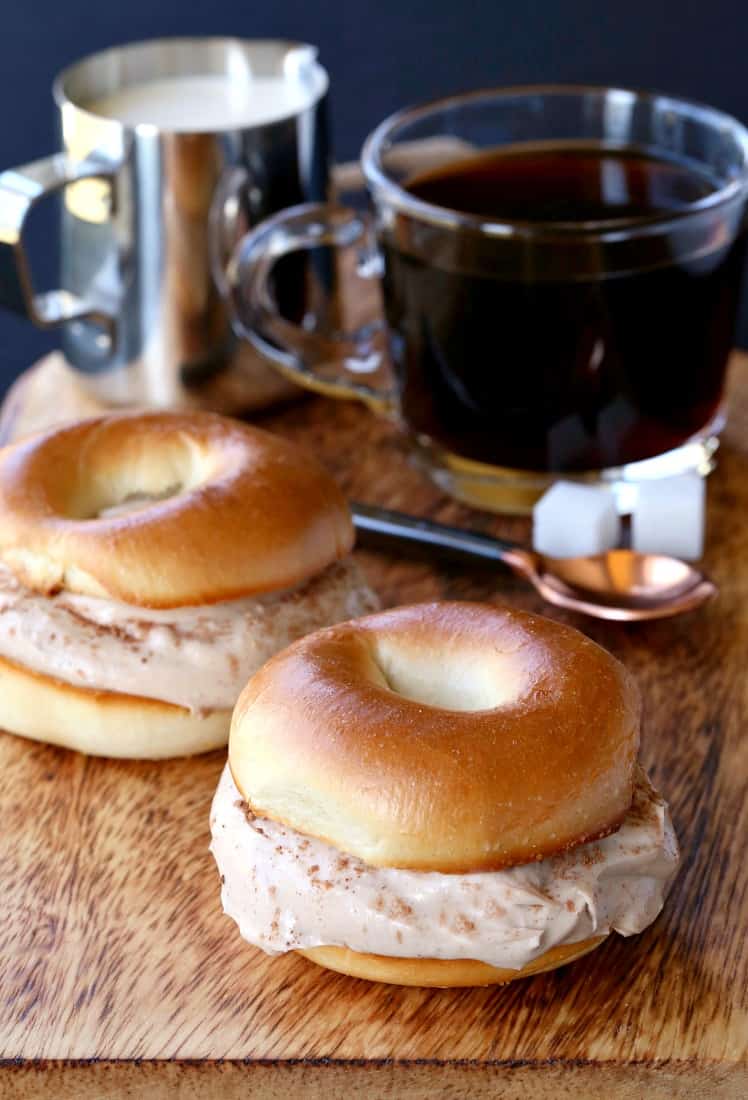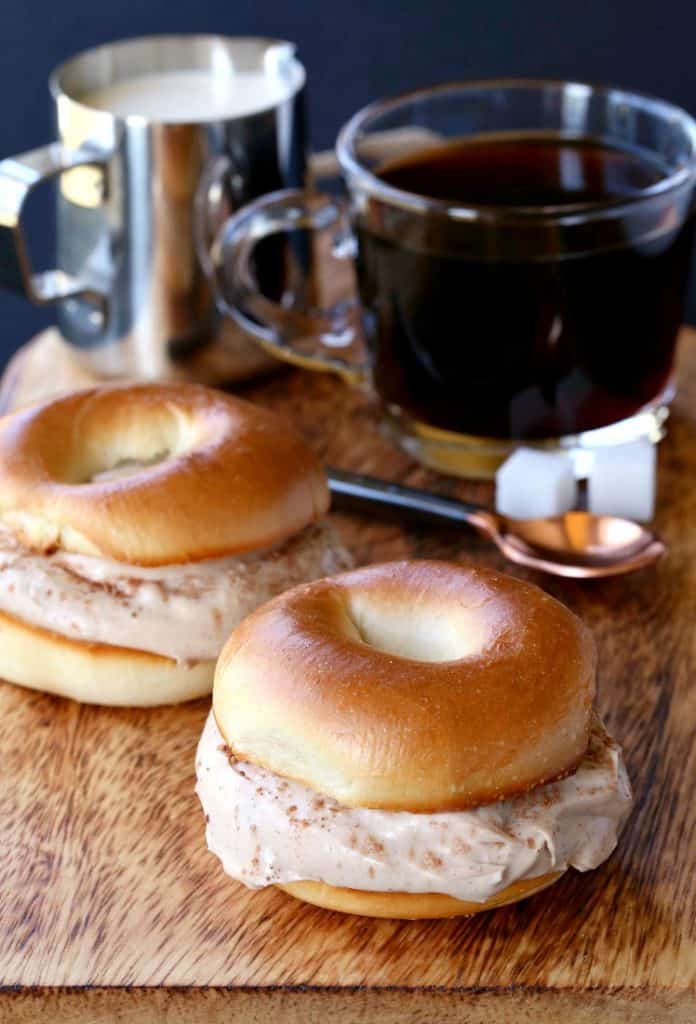 Print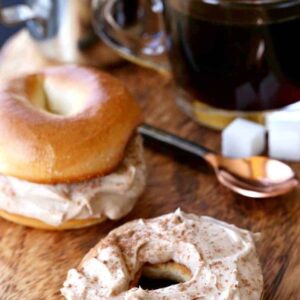 Tiramisu Cream Cheese Bagels
Author:

Yield:

2 1/2 cups

1

x
Scale
Ingredients
2

(8 ounce) blocks of cream cheese, softened

1/4 cup

Folgers Morning Cafe coffee, cooled (reserve the rest of the coffee)

1/2 cup

powdered sugar

2 tablespoons

chocolate sauce

1/4 teaspoon

cinnamon
cocoa powder for dusting

1

bag mini bagels
Instructions
Mix the cream cheese, coffee, sugar, chocolate sauce and cinnamon together in a bowl using a hand mixer. *If you want the ingredient more swirled together you can just use a spatula if you cream cheese is soft enough.
Cover and chill in the refrigerator for at least an hour or overnight.
Toast a mini bagel and let cool slightly.
Dip the bottom half of the bagel quickly into the remaining cooled coffee then spread with a generous amount of the cream cheese.
Dust with cocoa powder and top with the other bagel half.
Repeat with desired amount of bagels.
Serve immediately.