Make this Disco Fries Casserole as a side dish to any meal! These cheesy, gravy covered potatoes have all the flavors of disco fries baked into a casserole!
You can use our HOMEMADE BROWN GRAVY for this recipe if you don't have store bought gravy on hand!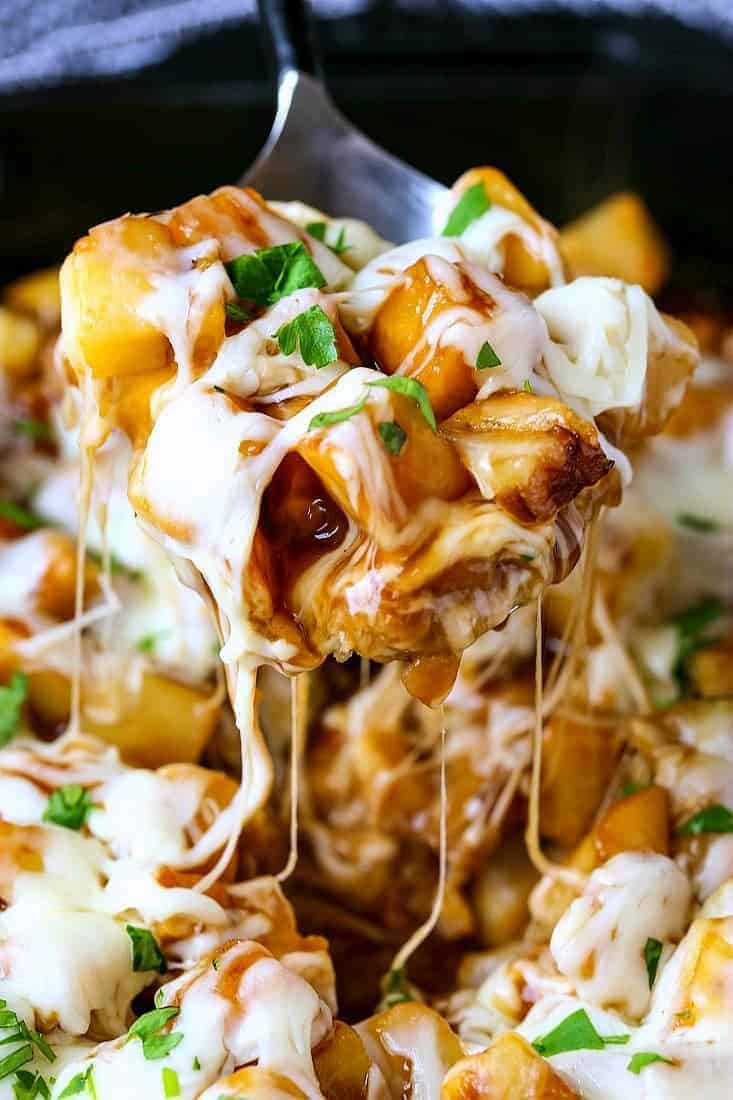 What Are Disco Fries???
I guess if you aren't from New Jersey or the East Coast, you might not know what disco fries actually are.
And I'm really sorry if you haven't, because disco fries are a staple diner food order for most of us, especially those late at night diner visits after maybe a bit of a night out.
Disco fries are basically french fries covered with brown gravy and melted mozzarella cheese and it's total perfection. Comforting, filling, crazy delicious and cheap. Disco fries have become a meal instead of a side dish to me on several occasions, and I'm not ashamed to say it.
So I've taken those same flavors and turned them into this Disco Fries Casserole that can be made as a side dish, a breakfast casserole or a crazy good late night snack on the weekends.
Just sayin'…
This potato casserole couldn't be easier, either. Just grab frozen, diced potatoes, jarred brown gravy and shredded mozzarella cheese at the store. Add them all to a baking dish and get it in the oven.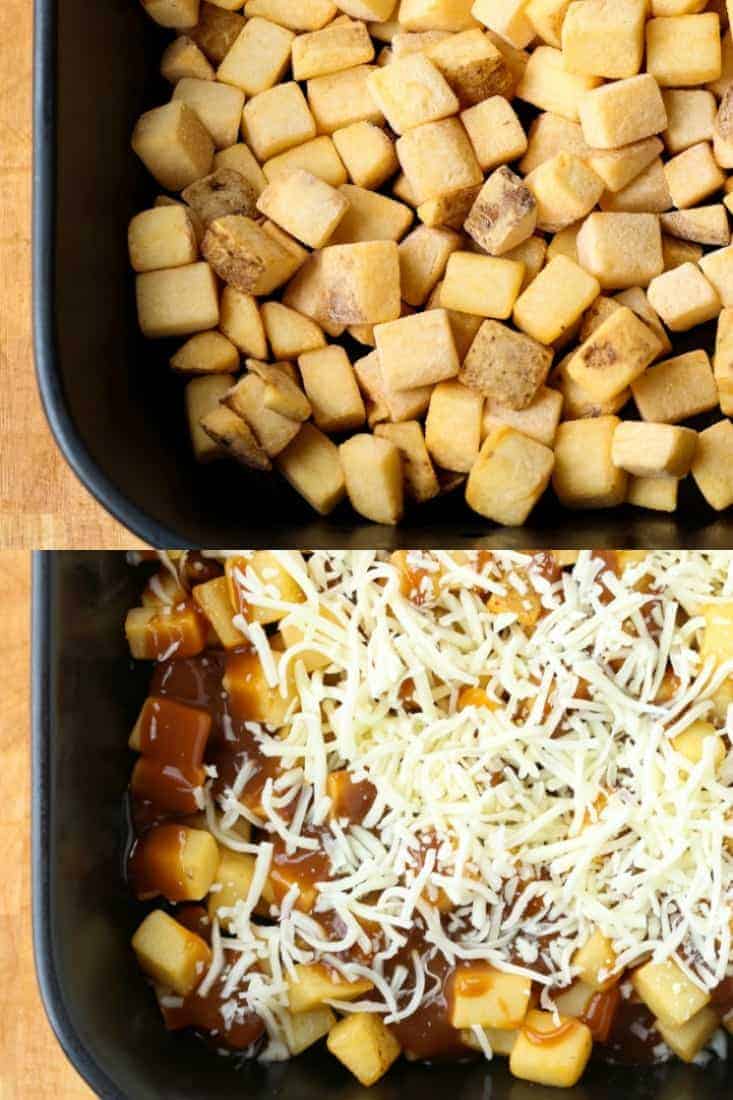 What comes out is a super cheesy, carb loaded potato casserole that is going to be the perfect side dish to almost any dinner! I'm really trying to think here what I wouldn't serve with this disco fries casserole…
Pasta. That's about it. Because chicken, steak, burgers, pork, even fish are going to work. Imagine serving this casserole with some crispy, fried fish – and this potato sided dish is the "chips" part.
Simply amazing.
Look at all that cheese and bubbling brown gravy covering the potatoes here…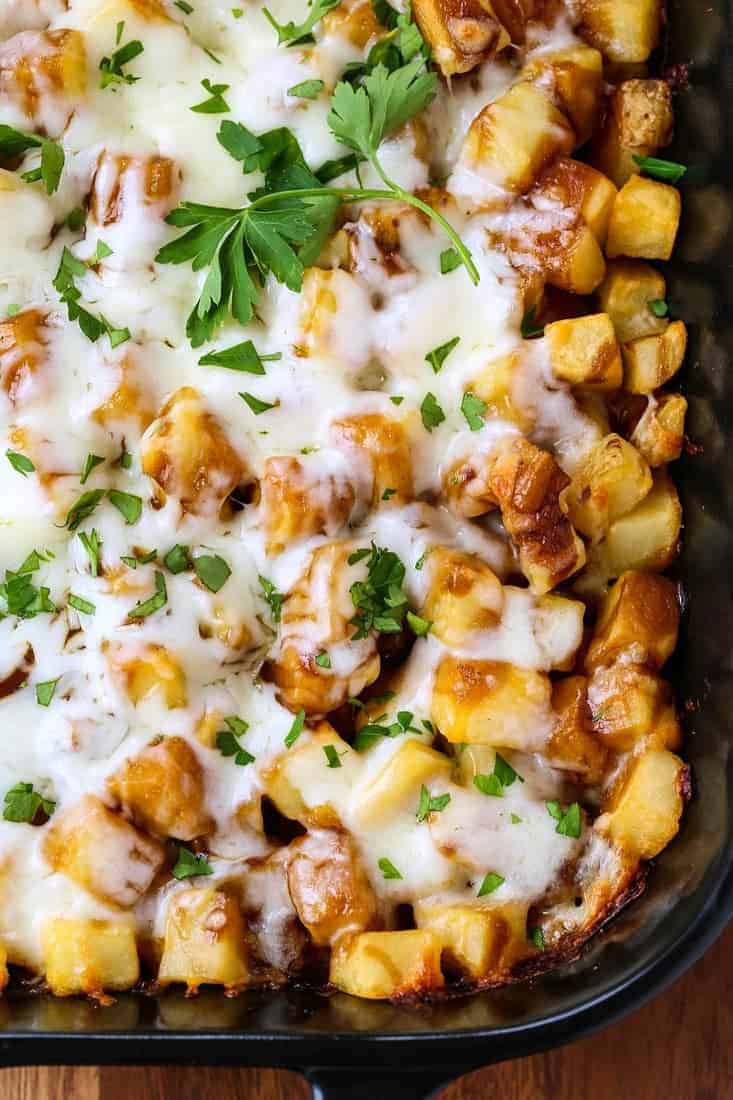 I'm telling you, I'm a meat and potatoes guy first and foremost and this potato casserole is SO up my alley.
Can You Make This Casserole Recipe Ahead Of Time?
You can, but it's so easy I don't see why you would need to. This is such an easy recipe to put together, all you need to do is make sure you have enough time to get it into the oven because it does take an hour to cook.
But if you have these potatoes already made and want to reheat them, the microwave will definitely do the trick. Leftovers of this disco fries casserole are literally the best thing to open the fridge up and see. Carbs covered with gravy and cheese just make me happy.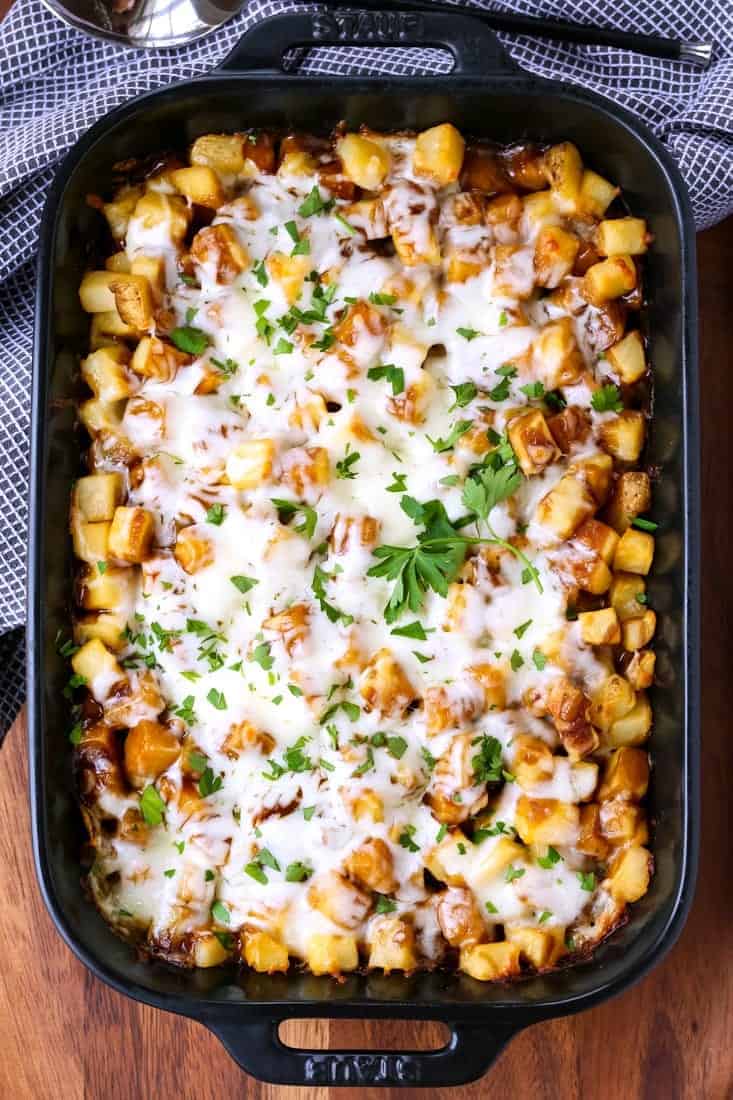 What Can I Serve With This Side Dish Recipe?
Pin It!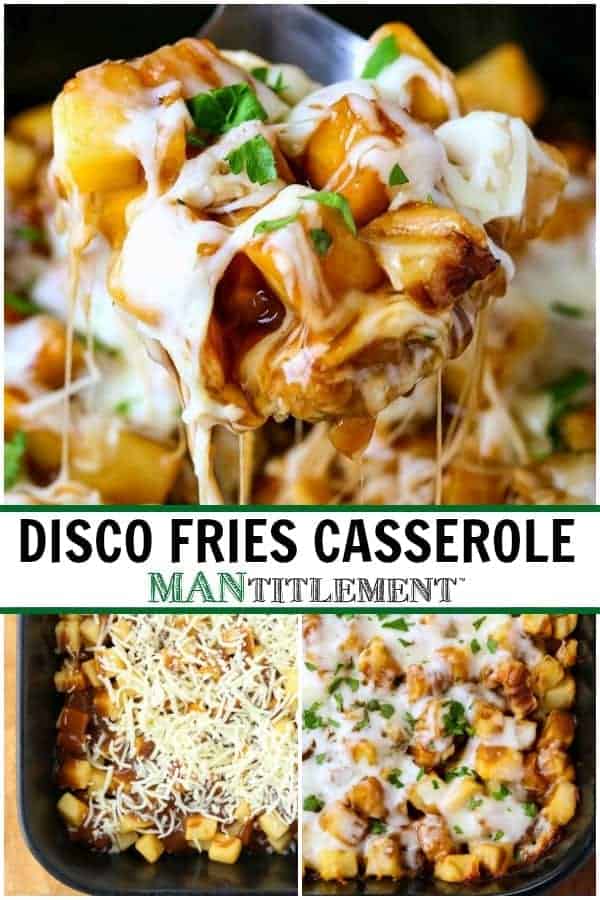 Print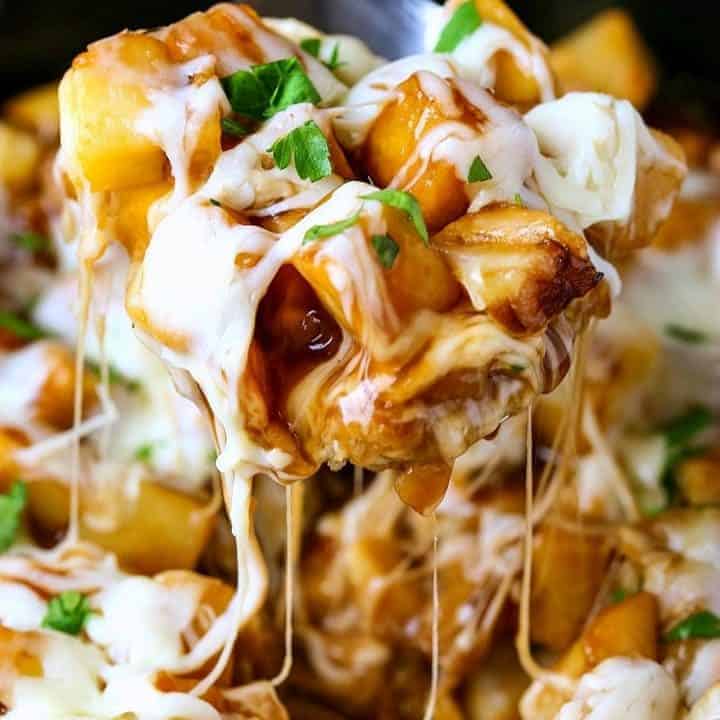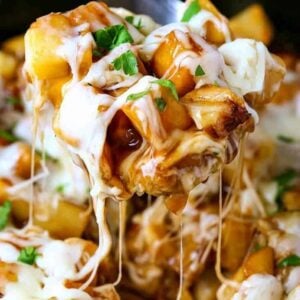 Disco Fries Casserole
Author:

Prep Time:

5 minutes

Cook Time:

45 minutes

Total Time:

50 minutes

Yield:

8 servings
Looking for a ridiculously easy side dish? This potato casserole is IT! You can serve this side dish recipe with just about any meal!
Ingredients
2 bags (28 – 32 ounce) diced frozen potatoes
1 jar brown gravy (18 ounces, about 2 cups) *SEE NOTE
4 cups shredded mozzarella cheese, divided
1/2 teaspoon kosher salt, divided
1 teaspoon seasoned salt, divided
1 teaspoon garlic powder, divided
Fresh chopped parsley for garnish, if desired
Instructions
Preheat the oven to 425 degrees.
Spray a 9″ x 13″ baking dish with cooking spray then add one bag of the diced potatoes to the dish.
Top the potatoes with 1 cup of the brown gravy, then one cup of the mozzarella cheese in an even layer.
Next add the second bag of diced potatoes and cover tightly with foil. Bake for 30 minutes, then remove from the oven.
Top the potatoes with the second cup of gravy and the remaining cup of mozzarella cheese. Place the casserole back in the oven for an additional 25-30 minutes.
Garnish with chopped parsley if desired and serve hot.
Category:

Side dish

Method:

oven

Cuisine:

American
Keywords: side dish recipe, casserole, casserole recipe, potato side dish, potato casserole, disco fries, brown gravy