Leftover Thanksgiving turkey is a great ingredient to cook with. Turkey goes with so many different fall and winter dishes, so it's fun and easy to use up all that bird in your fridge with some leftover recipes.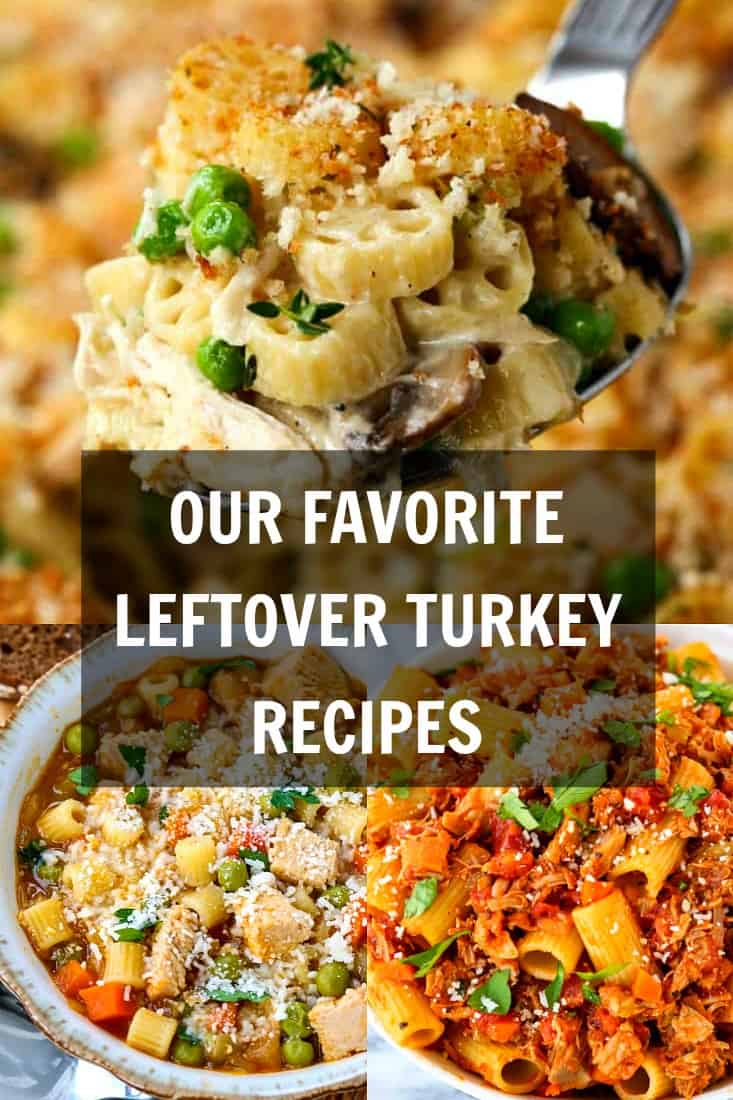 Take Your Thanksgiving Turkey Leftovers to the Next Level
Thanksgiving is the gift that keeps on giving. You start with an incredible meal full of juicy meat, rich gravy, and a million side dishes. And then the next day you find your fridge still full of all those things!
Sometimes the leftovers can be daunting, and that's especially true with the turkey. If you find yourself with a few pounds of turkey still in your fridge after Thanksgiving, then you'll be in search of some ways to use up the moist star of the holiday meal. Thankfully there's no shortage of exciting meals to make with leftover Thanksgiving turkey.
Cooking with leftover holiday turkey is one of my favorite traditions each year. I get a lot of satisfaction from cooking a whole bird, and then finding a bunch of different ways to use up the meat. It's pretty cool that a few hours of roasting a turkey can get you celebratory meal on Thursday night, a moist sandwich on Friday, and comforting soup on Saturday. How fun is that?
Now let's get to using up that leftover turkey.
Does It Matter How the Turkey Was Prepared?
We all know that deep fried turkeys have become the latest food trend. And everybody loves a good barbecued turkey. But does your method of cooking the Thanksgiving turkey matter when using leftovers?
For the most part, no. As long as the turkey is cooked, you can use it for any of these recipes. Roasted, fried, or barbecued, turkey is always delicious, and works in all of these dishes. That said, a barbecued turkey obviously has a more smoky flavor than other preparations, so take that into account when making any of these recipes.
Can You Use Chicken Instead of Turkey?
Yes! If you roasted a chicken instead of a turkey for Thanksgiving, or if you just have some leftover chicken in your fridge, you can absolutely use it. Chicken and turkey are interchangeable in all of these recipes (though don't go to Kentucky and tell anyone that you made a chicken hot brown!). I would not, however, use leftover goose meat for these recipes.
How to Store Leftover Turkey in the Fridge
You can store leftover Thanksgiving turkey in the fridge for up to 4 days. There are two different ways for storing leftover turkey. If you have the fridge space, you can simply cover the turkey in plastic wrap, and place it in the fridge like that. Just make sure you thoroughly cover the bird, so that no air can get in.
If you have less space in your fridge, you can break down the turkey, and get all the meat off the bones. Then store the meat in an airtight container or bag in the fridge.
How to Store Leftover Turkey in the Freezer
You can also store leftover Thanksgiving turkey in the freezer for up to 3 months, in an airtight plastic bag. Make sure you remove as much air as possible from the bag before sealing it, to prevent freezer burn. Thaw the turkey overnight in the fridge before using.
10 Recipes for Leftover Thanksgiving Turkey
We're all familiar with the feeling of waking up the day after Thanksgiving and realizing our fridge is full of leftover turkey. Here are 10 of my favorite recipes for using up that extra holiday meat!