This Thai Peanut Brussels Sprout Coleslaw is going to be a hit at your BBQ! Shaved brussels sprouts and cabbage tossed with a creamy peanut dressing!
Love cabbage recipes? Try our Oven Roasted Cabbage for a healthy side dish, or this PORK EGG ROLL SOUP!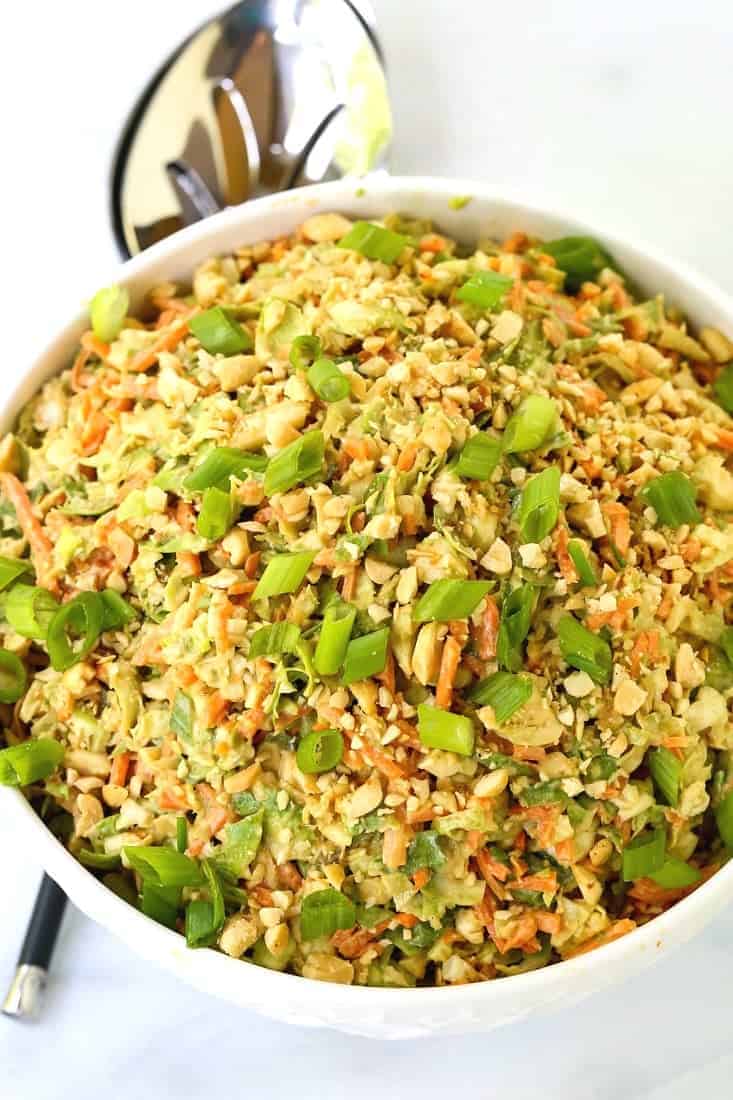 An Easy Brussel Sprouts Coleslaw Recipe
Coleslaw never used to be something that I would dive into at a BBQ. Cabbage recipes of any kind really just aren't something I can say I'm really into.
Until now, that is.
Once I started loading up this Thai Peanut Brussels Sprout Coleslaw onto my sandwiches like pulled pork or burgers….everything changed. For me, coleslaw is more of a condiment than something I like to just eat on the side. But this coleslaw recipe is different.
The creamy peanut butter dressing is so delicious you could eat it as it. Actually, we do. We make this same dressing recipe and use it as a dip for chicken or beef satay. It's really delicious on so many things!
How to Make Brussel Sprouts Coleslaw
Standard coleslaw recipes use a plain mayonnaise and vinegar dressing and typically just shredded cabbage. But we kicked this asian style coleslaw up with shredded brussel sprouts and chopped scallions.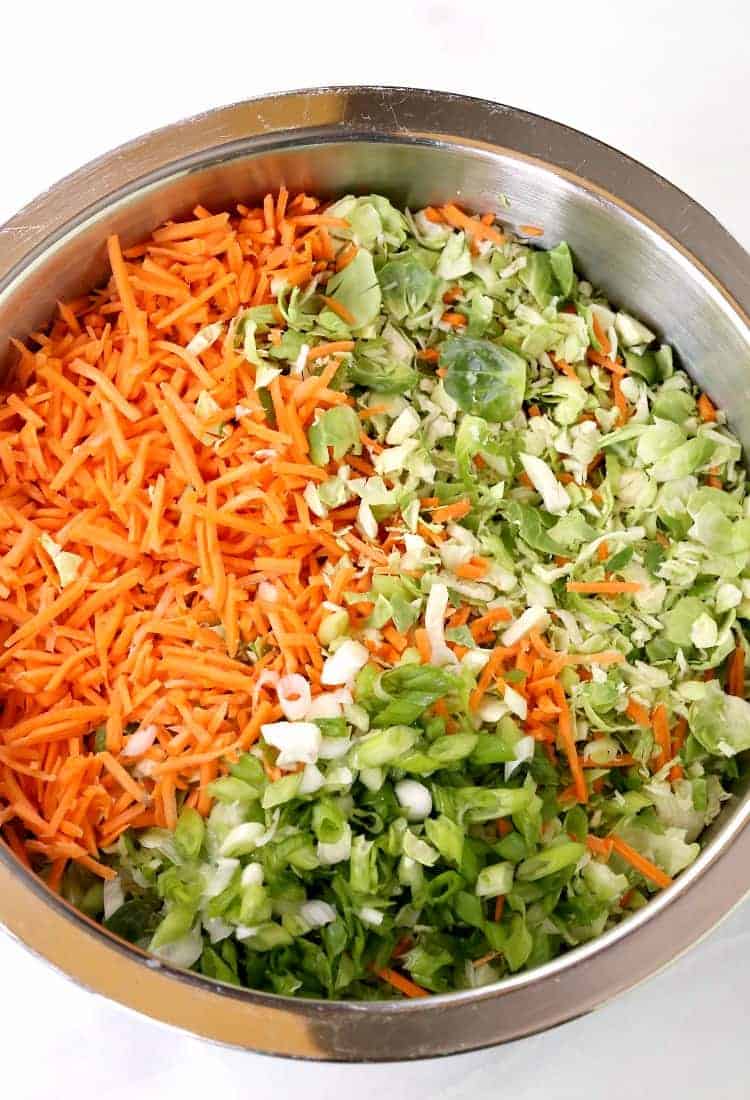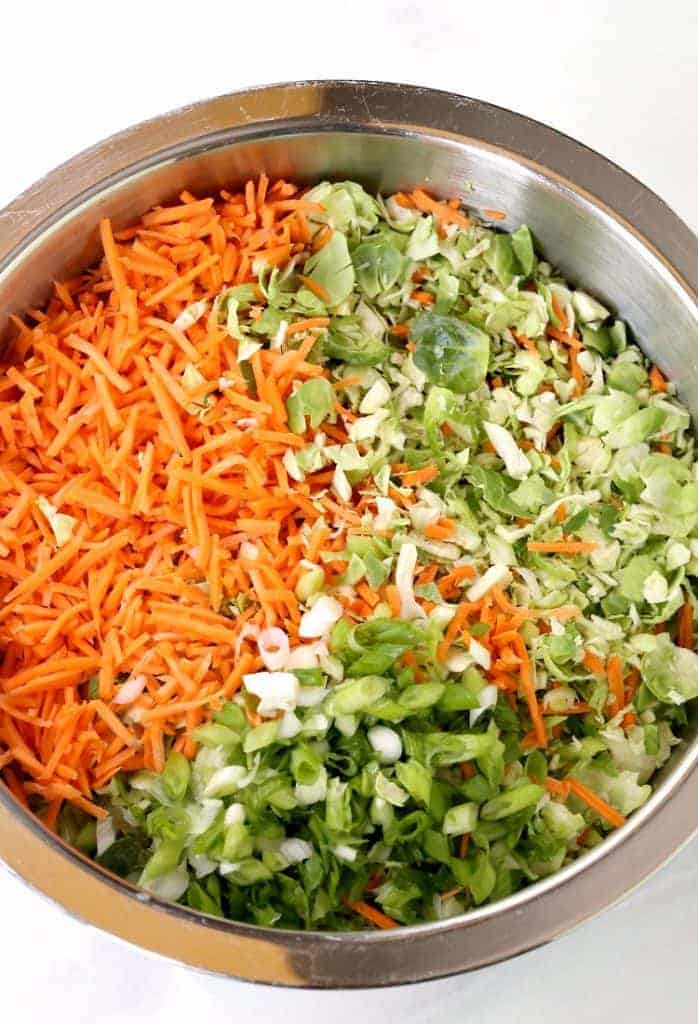 Now it's time to pour on that super creamy peanut dressing, this is my favorite part! Add the dressing a little at a time, you son't want too much in the coleslaw because as the cabbage wilts it will let off some moisture.
You can always add a little more right before serving if the coleslaw is too dry.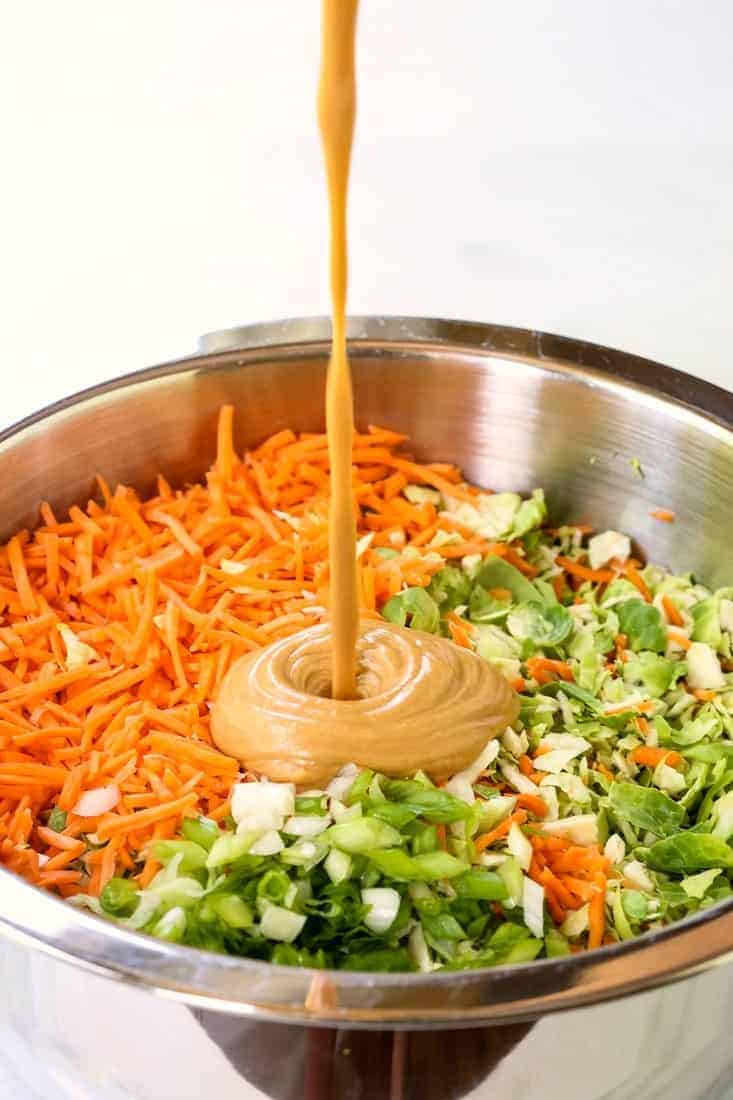 Can I Make This Cole Slaw Recipe Ahead Of Time?
You definitely can, but not too long in advance for the best flavor and texture. Like I mentioned before, the cabbage will release water as it sits so even though this cabbage recipe will be good for 2-3 days in your refrigerator, it's best eaten the day you make it.
So although I think an hour or two in the refrigerator is best before serving to allow the flavors to blend, serving the day you make it is going to give you the best result.
What you can do is prepare all the ingredients and dressing a day or two ahead of time and then toss a couple of hours before serving. This coleslaw recipe is so easy though, that's not going to take you long to do. Especially if you grab the brussels sprouts at your grocery store that are already shaved!
We love saving time when we can, especially when you're party planning.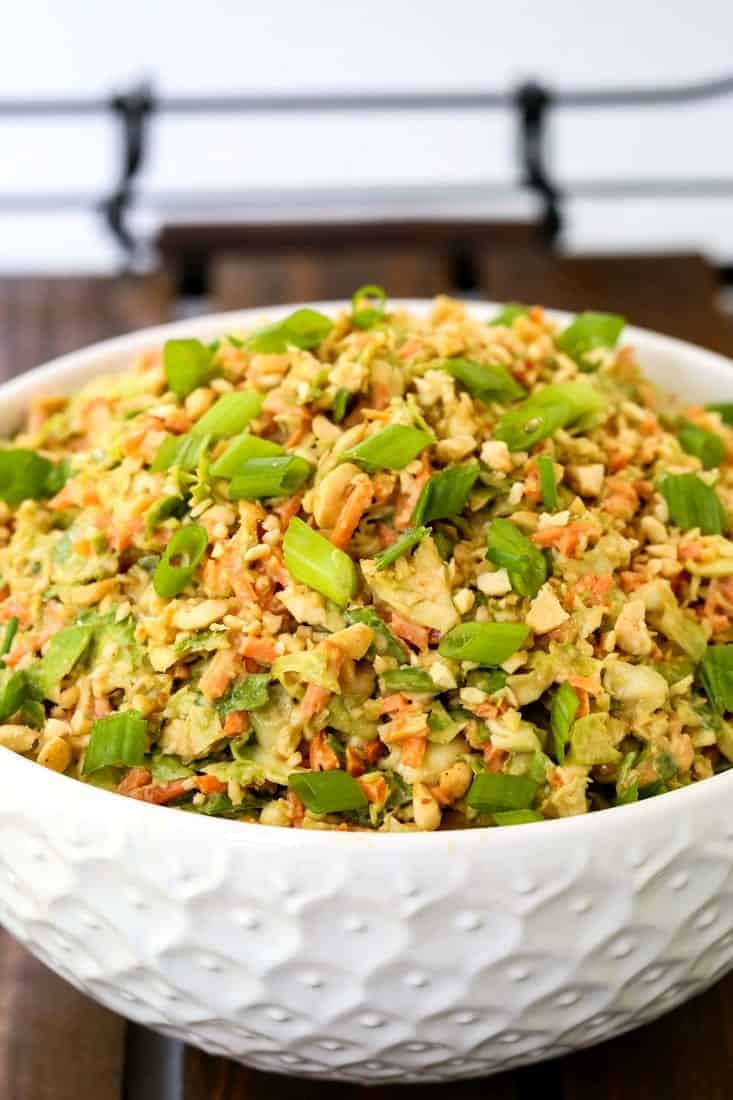 How Do You Keep Coleslaw From Getting Watery?
Cabbage recipes like coleslaw can tend to get watery after sitting for more than a few hours in the refrigerator, or for a day or two.
Cabbage is made up of mostly water and when cabbage combines with salt of any kind, that water is going to come out. This coleslaw recipe is have brussels sprouts so I really don't find too much of a problem with this, but if you want to go an extra step you can!
Place the shredded cabbage in a colander over a bowl and toss with a a of teaspoon of kosher salt. (One teaspoon per pound of cabbage) Let it sit for at least one hour or up to four hours and watch all the liquid drain from the cabbage!
Rinse the cabbage after it sits and dry very well, with paper towels is best. You don't want to add any liquid back that you were trying to get out!
Now prepare your coleslaw or cabbage recipe with whatever dressing or add ins you are using. No watery coleslaw at this party!
What Dinner Recipes Can I Serve With Coleslaw?
I'm going to tell you, a LOT. There's so many things that coleslaw or cabbage recipes go with it's too hard to list! But I'll tell you some of my favorites…
Pin It!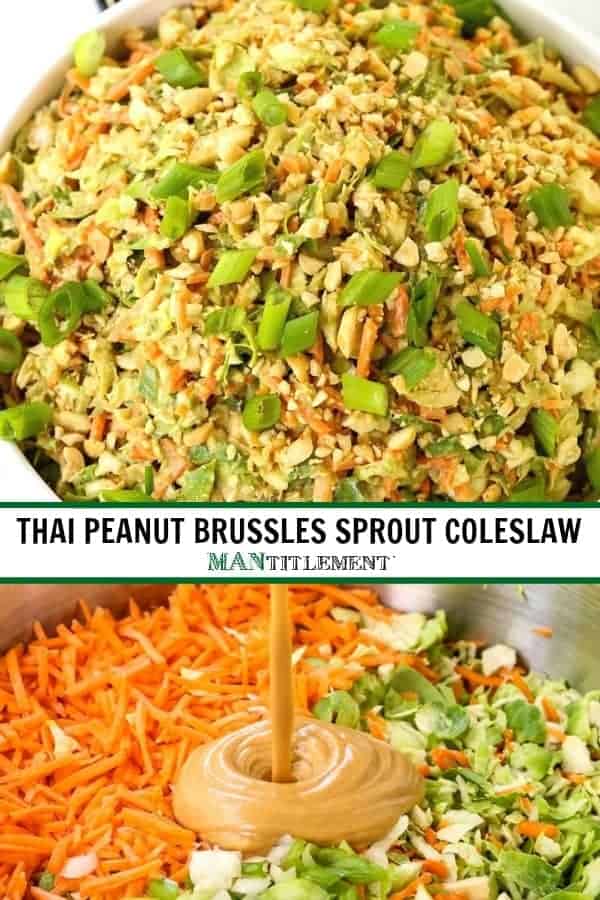 Print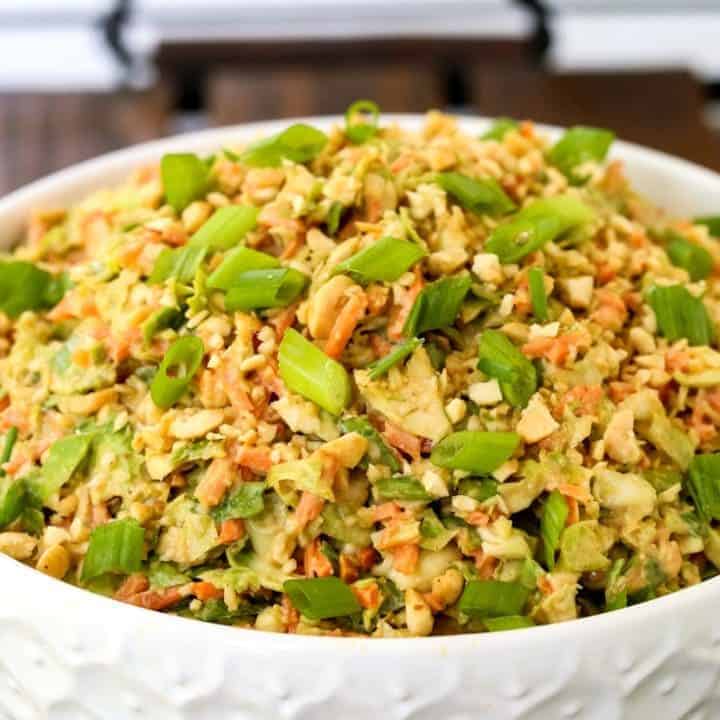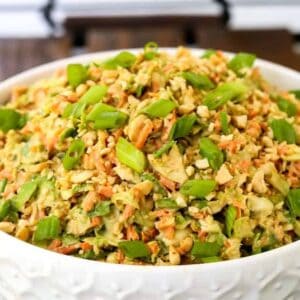 Thai Peanut Brussels Sprout Slaw
Author:

Prep Time:

15 minutes

Cook Time:

0 minutes

Total Time:

15 minutes

Yield:

8

servings

1

x
This twist on coleslaw will be a hit at your parties and BBQ's! Shaved brussels sprouts and cabbage are tossed with a creamy, peanut flavored dressing!
Scale
Ingredients
12 ounces

shredded brussels sprouts

14 ounce

bag coleslaw mix with carrots
Chopped peanuts and scallions for garnish
For The Dressing:

1/4 cup

creamy peanut butter

3/4 cup

mayonnaise

1 tablespoon

whole milk

2 tablespoons

soy sauce

1 teaspoon

garlic powder
Fresh black pepper and kosher salt to taste

1 1/2 teaspoons

ginger paste

2 teaspoons

brown sugar
Instructions
Add the brussels sprouts, cabbage and scallions to a large bowl.
Add the peanut butter to a microwavable bowl and heat for 30 seconds in the microwave so it will soften and stir easier.
Add the rest of the sauce ingredients to the peanut butter and whisk well to combine.
Pour the sauce over the brussels and cabbage and toss to combine.
Cover the coleslaw with plastic wrap and refrigerate for at least an hour before serving.
Toss before serving, then top with chopped peanuts and more scallions if desired.
Category:

Side Dish

Method:

No Cook

Cuisine:

American
Keywords: coleslaw recipes, cabbage recipe, brussels sprouts recipe, side dishes, low carb recipe, peanut sauce, bbq sides, salad recipe