This Peppermint Eggnog Cocktail is so good, you won't want to save it just for Christmas! A spiked eggnog recipe is what all your holiday parties need!
Love eggnog drinks? Try our easy Eggnog Cocktail with a caramel rim, too! Both of these Christmas drink recipes can be made with our Homemade Amaretto!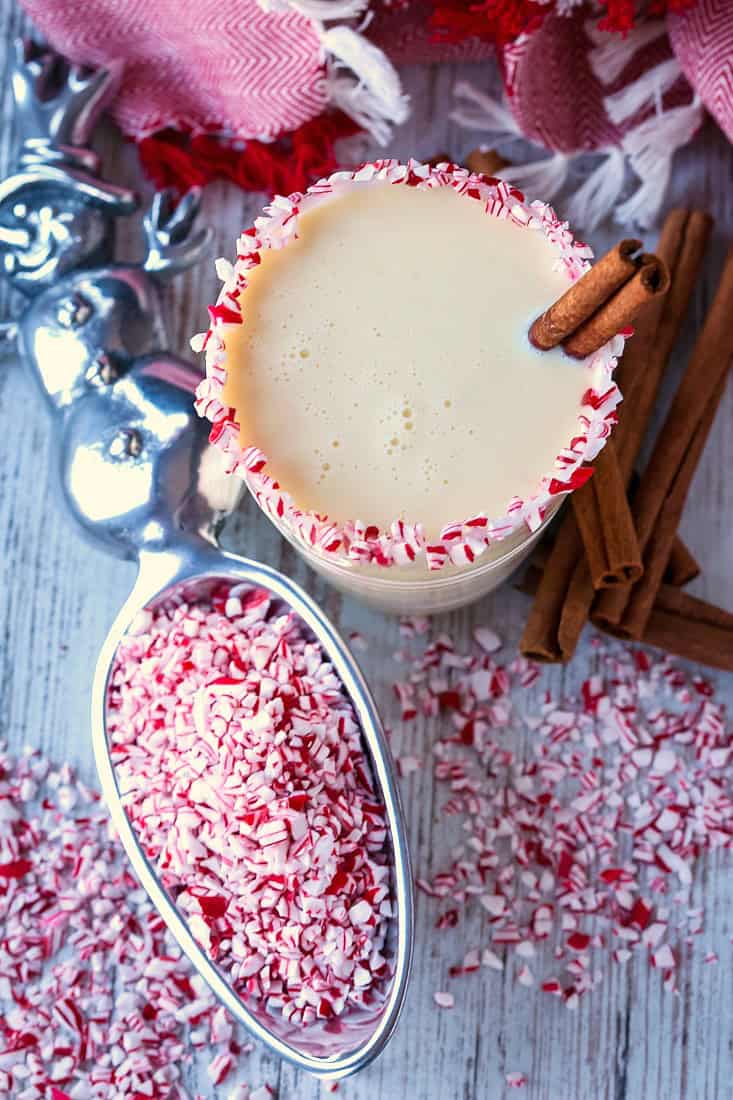 A Homemade Eggnog Recipe With A Boozy Kick!
While we love sipping on homemade eggnog, let's be honest and say that eggnog is even better with a splash of bourbon or vodka like in this Peppermint Eggnog Cocktail Recipe.
It's the holidays after all so everything is kicked up just a little, am I right?
Cocktail parties are held on Tuesdays, bourbon is added to sweet potatoes and champagne is literally everywhere. These are all the reasons why I love Christmas time, everything is just more festive and fun.
We added peppermint schnapps and peppermint vodka to this eggnog recipe. The schnapps is a little sweeter than the vodka but also adds more "peppermint" flavor than the vodka does. But it's the vodka in this homemade eggnog that packs the punch.
So make this eggnog cocktail for just a few of you at happy hour or at the end of the night by the fire, or make a whole lot of it and get out that punch bowl!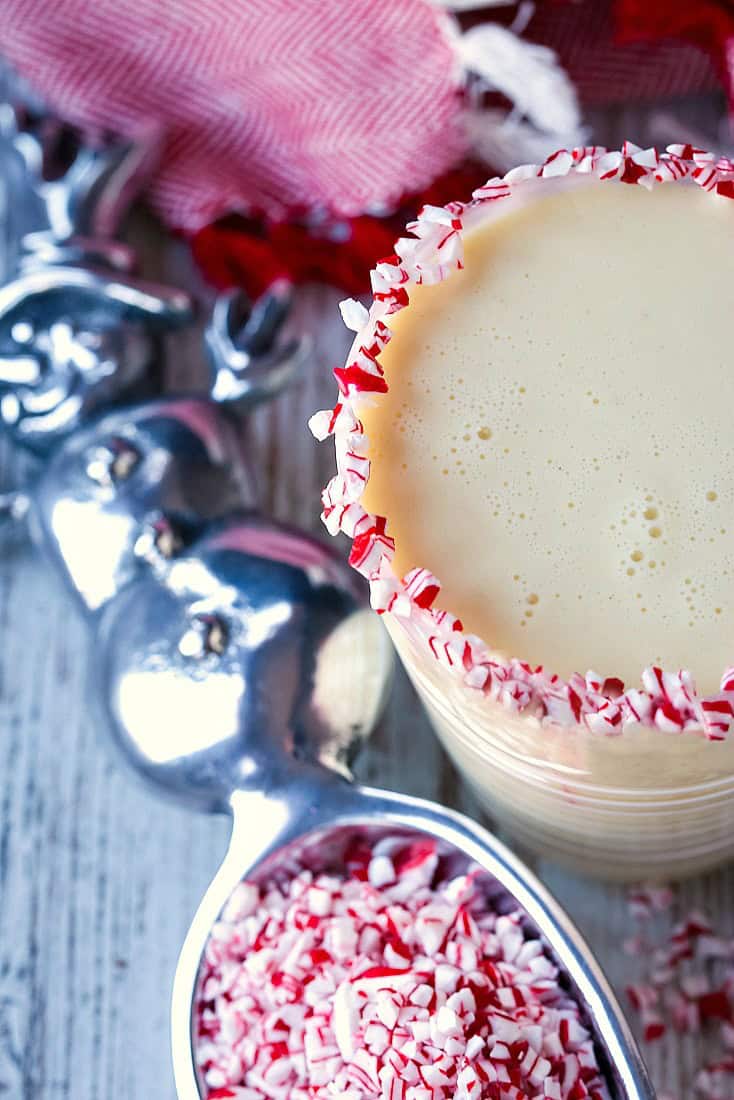 Can You Use Raw Eggs To Make Eggnog?
You can and you should. I mean, it is called Eggnog you guys, it's made from eggs. There have been many lab tests done on using raw eggs in recipes and most have determined that the risk for food borne illness from using raw eggs is very low.
What you do need to do is find the freshest eggs that you can, pasteurized eggs are even better!
Also, here's another great reason to add booze to your nog recipe…alcohol acts as a preservative AND it kills any bacteria that might be present in those raw eggs! Honestly, you can google that and find put for yourself but it's true.
So pour away, my friends and tell everyone that this Peppermint Eggnog Cocktail is actually better for you than the regular stuff.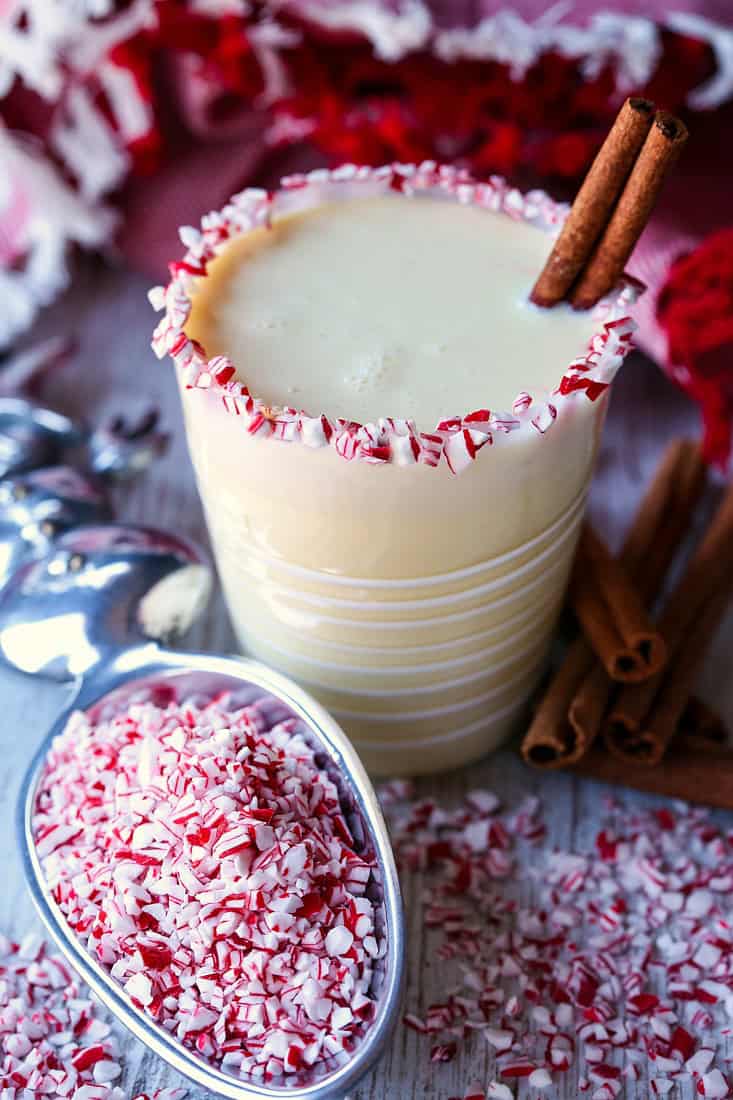 How Long Does Eggnog Last In The Refrigerator?
Another great reason to add the booze to your eggnog recipe is that it helps to make it last longer. Like a lot longer.
Homemade eggnog without alcohol only lasts about a day or two in the fridge. Once you add alcohol though…
If you have an eggnog recipe list this one that has a cup and a half of alcohol in it, you can keep your eggnog going in the refrigerator for several weeks! The alcohol will preserve the eggnog and "age" the eggnog too.
So like a fine wine, this peppermint eggnog with alcohol with just keep getting better and better the longer it hangs out in the refrigerator!
What Else Can I Add To This Eggnog Cocktail?
We love, love, love fun and festive holiday garnishes but we chose to keep this Christmas cocktail simple. That definitely doesn't mean that you have to though! Here are some awesome garnish and topping ideas…
Chocolate shavings
Mint leaves
Holiday sprinkles mixed in with the crushed peppermint
Coconut
Whipped Cream
Chocolate sauce
Pomegranate seeds
You can make the rims up on your glasses ahead of time and have them ready to go for your party. This Peppermint Eggnog Cocktail recipe can also be made in advance so all that's left to do when your guests arrive is pour and serve!
Looking For More Holiday Cocktail Recipes?
Holiday Pom Pom Champagne Cocktail
Print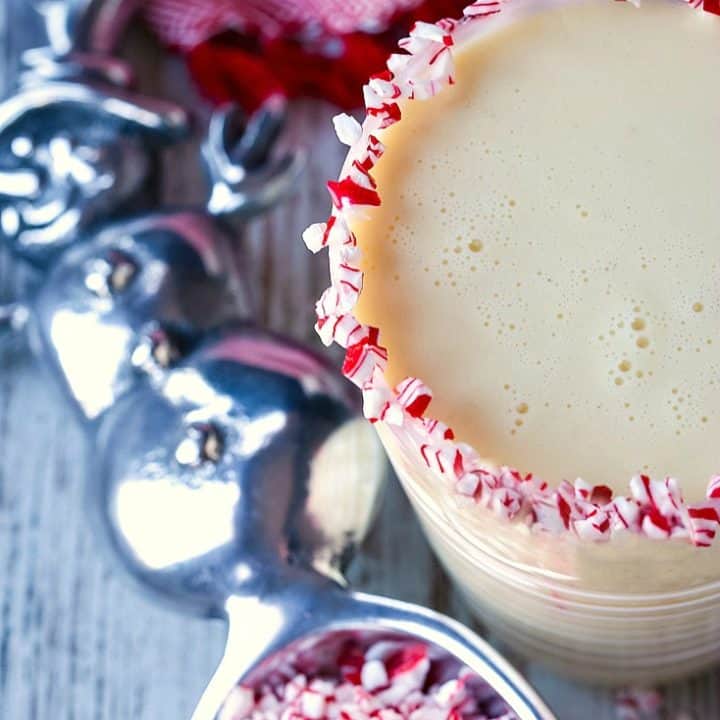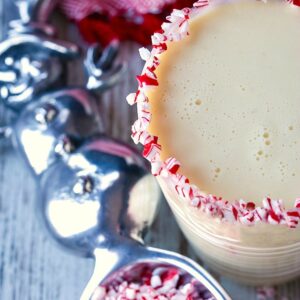 Peppermint Eggnog Cocktail
Author:

Prep Time:

5 minutes

Cook Time:

15 minutes

Total Time:

20 minutes

Yield:

6 cups

1

x
This festive, boozy eggnog recipe will be a hit at all of your holiday parties!
Scale
Ingredients
6 large pasteurized egg yolks
1 cup white sugar
2 cups whole milk
1 cup heavy cream
1 tablespoon vanilla extract
1/2 cup peppermint schnapps
1 cup peppermint vodka
Crushed peppermint candy and corn syrup for rimming the glasses
Instructions
Add the milk, cream and vanilla to a saucepan over medium heat. Bring to a simmer, do not boil.
Whisk the egg yolks together with the sugar until the mixture is smooth and has lightened in color. Pour in the milk and cream mixture, slowly while whisking until all the milk and cream are incorporated into the yolks and sugar.
Pour the eggnog back into the pot and cook over medium-low heat until thickened, about 8-10 minutes. Remove the pot from the heat and whisk in the schnapps and vodka.
Cover the bowl with plastic wrap and refrigerate for at least 1 hour before serving. Stir the eggnog again before serving.
Recipe Notes
This eggnog recipe will keep in your refrigerator for several weeks, covered or in a plastic container.
Category:

Cocktails

Method:

Stove top

Cuisine:

American
Keywords: eggnog, eggnog recipe, homemade eggnog, eggnog cocktail, christmas cocktail recipes, vodka cocktails, how to make eggnog, what is eggnog, spiked eggnog