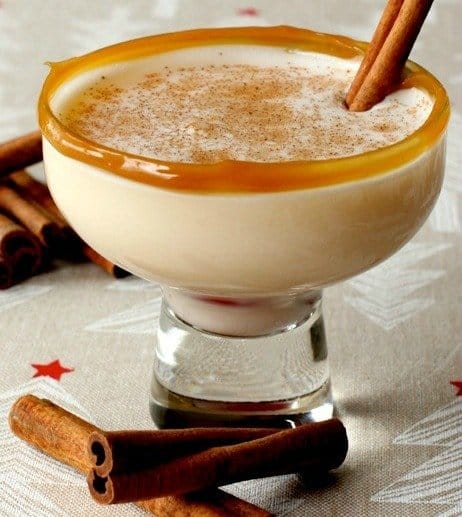 This Eggnog Cocktail is going to be a hit at your holiday party! You can serve this eggnog cocktail with dessert or as a dessert cocktail!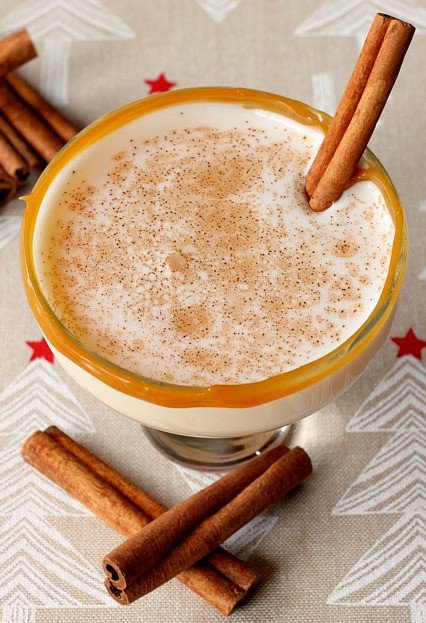 Eggnog Cocktail
Eggnog is pretty much the most classic holiday drink there is, don't you think? I mean you don't sit around a bonfire in the fall and sip on some eggnog, right? Or serve it up after a Fourth of July barbecue?
It's always cracked open during the holiday season. Which is kind of sad since it's a really versatile ingredient for making so many different cocktails.
There's so many different variations to create depending on which type of booze is your favorite. Booze being the key word – I'm not sure I understand why anyone drinks eggnog without adding the booze…
Eggnog can be a base for almost any liquor you like to drink. Bourbon (of course) whiskey, rum, Bailey's or Kahlua. All of these are excellent options, it just depends on what you like.
For this eggnog cocktail I chose was vodka and amaretto. I love the nutty flavor that amaretto adds to drinks, especially eggnog.
Can You Make This Eggnog Cocktail Ahead Of Time?
You can definitely make the base for these Eggnog Cocktails ahead of time and keep them in a pitcher in an ice bucket. I like to shake up each glass in a cocktail shaker before serving and then garnish with a cinnamon stick.
If you just want to serve them in a pitcher, you don't have to shake each one up individually. There just is something about those icy crystals that you get from a cocktail shaker that make a creamy martini taste the best.
Add different rimming options or toppings out if you really want to get festive for your holiday party! Different topping ideas for your eggnog cocktails can include fresh nutmeg, whipped cream, cherries or chocolate and caramel syrup…or all of it!
Guest can shake up their drink and then garnish as they choose. Instead of a champagne bar you can make an eggnog cocktail bar – what could be more festive for your holiday party than that???
So let's stop giving eggnog a bad rap, make one of these boozy, sweet eggnog martini recipes and it is sure to be the star of the party!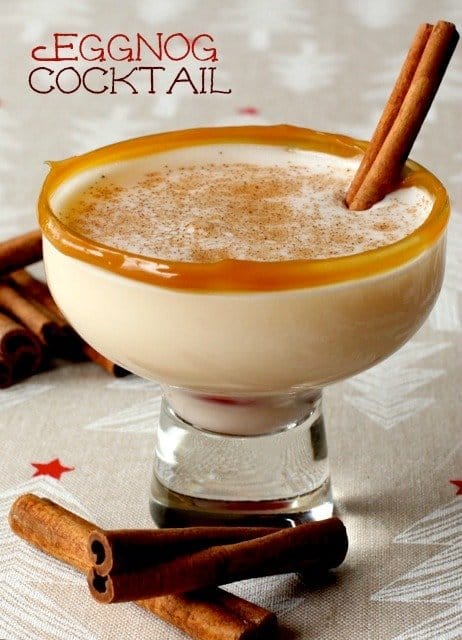 Eggnog to me tastes just like a boozy milkshake it it's made the right way. Here's a homemade eggnog recipe that I found that I think would make this holiday cocktail even better!
But if you don't have time in between all the other mad holiday preparations a good store bought eggnog will do just fine.
Looking For More Holiday Cocktails?
• Frosty Peppermint Tequila Shots
• Spiked Peppermint Hot Chocolate
Head on over to Food Fanatic and check out the full recipe and post, and all the other holiday recipes!