There's nothing more comforting than a piping hot bowl of Lentil Soup with Ham! A delicious way to use leftover ham from the holidays. A hearty soup recipe that's packed with vegetables and protein!
We love serving this lentil soup with crusty bread or a buttery Garlic Bread! A light tossed salad like this Escarole Bistro Salad will finish off the meal!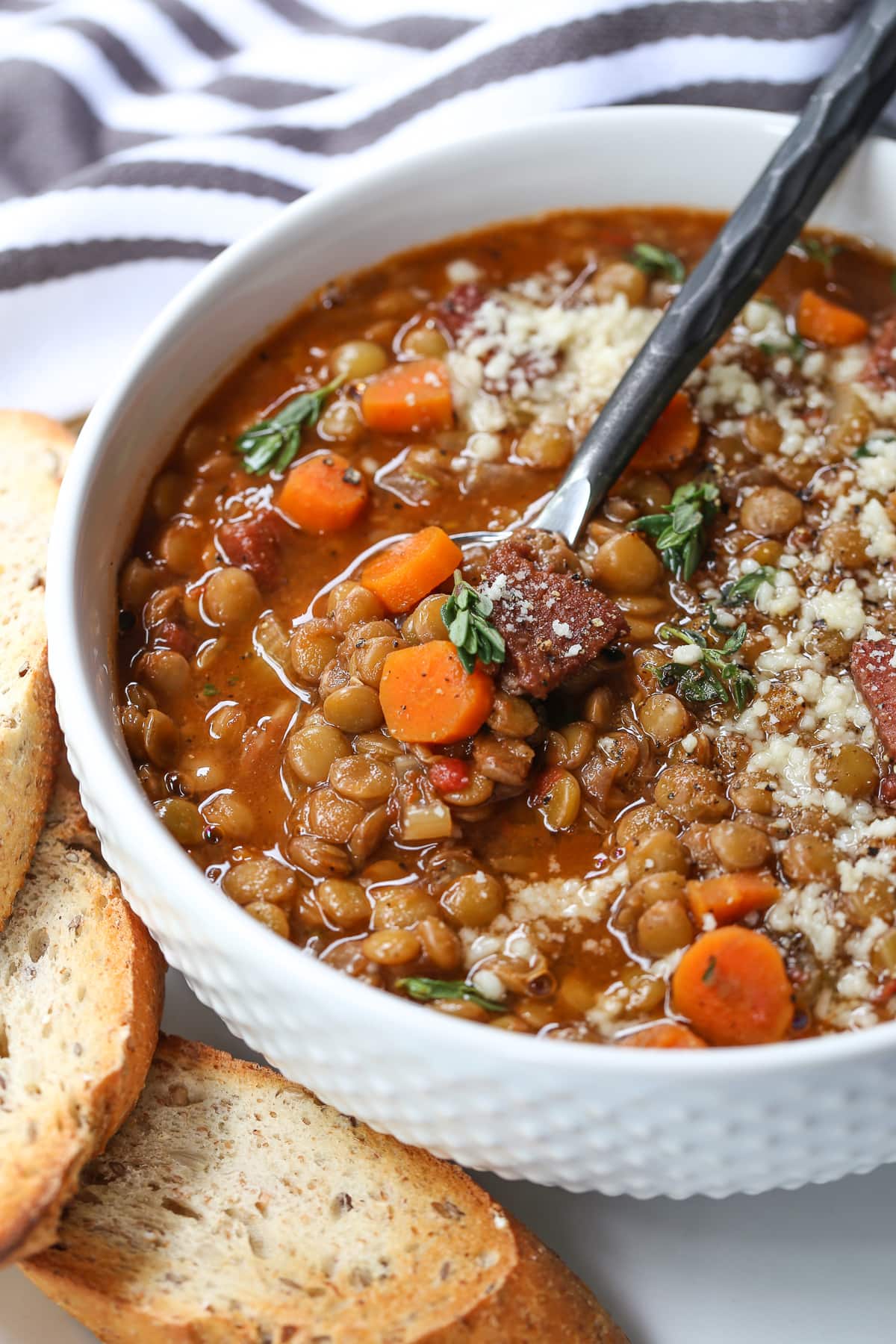 Why You'll Love This Lentil Soup With Ham Recipe
Of course we make this lentil soup with ham with our leftover ham from Thanksgiving or Christmas, but we love it so much we find ourselves grabbing ham at the deli counter just so we can make a pot.
Lentils are hearty and filling, and also very nutritious so this soup recipe is a home run in many ways! Our boys love grabbing crusty pieces of bread slathered with butter for eating this soup.
Great Use Of Leftovers: Instead of throwing away a leftover ham bone, use it to make soup recipes like this lentil soup, or a hearty split pea and ham soup.
One Pot Meal: Since you have your protein, vegetables and carbs all in one bowl, you don't need to serve anything else with this soup if you don't have time for sides.
Affordable Recipe: Lentils are very inexpensive, and since you're using a leftover ham bone, you're getting another entire meal for very little money.
Nutritious And Healthy: As we mentioned above, lentils are packed with protein and nutrients. Then add in lots of hearty vegetables and lean ham, you've got a really healthy meal.
Easy To Freeze: Lentil soup will keep very well in the refrigerator, as these legumes won't absorb liquid or change texture. Because of this, lentil soup is excellent for freezing for an easy meal at a later date.
Ingredients You'll Need
Scroll to the bottom of the post to the recipe card for a complete list of ingredients and instructions.
2 cups cooked, diced ham: If you don't have leftover ham, get a ham steak or thick slices of ham from the deli counter.
1/2 cup diced onion
1/2 cup diced carrots
1/2 cup diced celery
1 tablespoon chopped fresh thyme
1 tablespoon chopped garlic
1/2 cup dry red wine: A pinot noir, cabernet sauvignon, malbec or a red blend will work nicely
16 ounce bag dry lentils
1 cup crushed tomatoes
5 cups beef broth
2 cups water
1 teaspoon cumin
2 bay leaves
How To Make Lentil Soup with Ham
Aromatics, fresh herbs and dry red wine are the base of this soup recipe. Take some time to really cook down the vegetables and reduce the wine for the best flavor.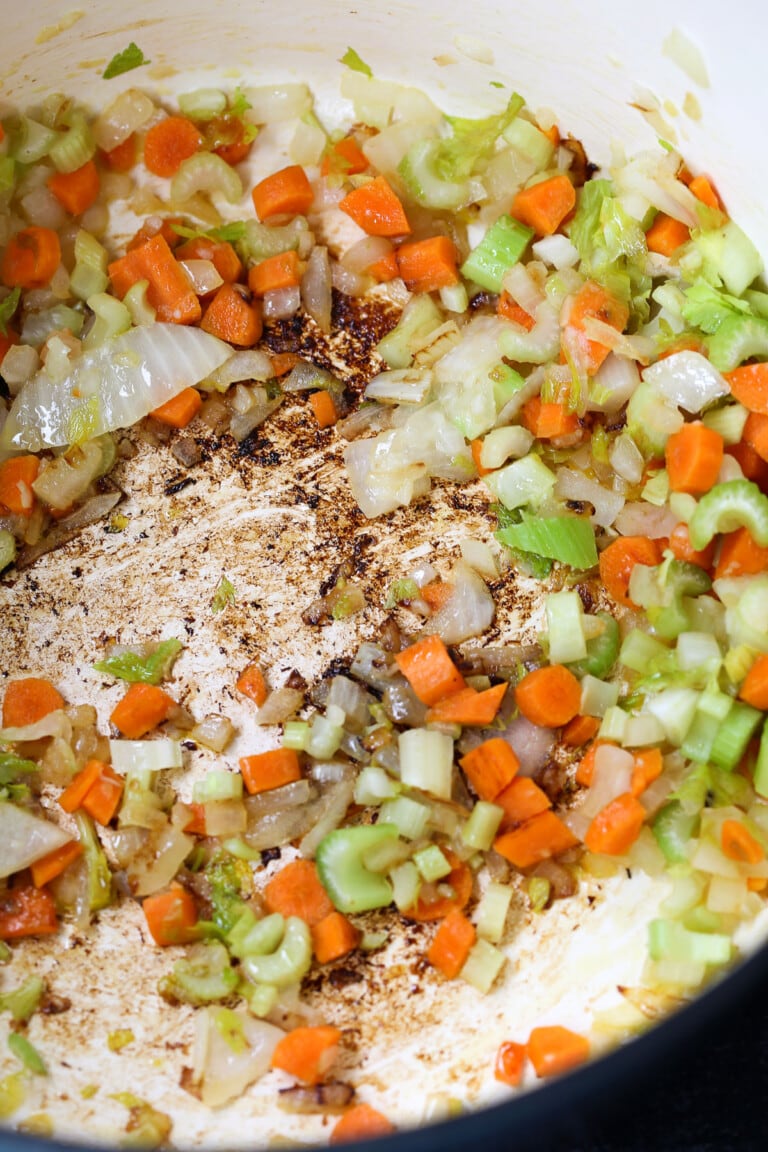 Start by cooking down your aromatics. Carrots, onion and celery for this lentil soup recipe, followed by a good amount of chopped garlic and fresh thyme.
Once the vegetables have softened, pour in your favorite dry red wine to deglaze the pot.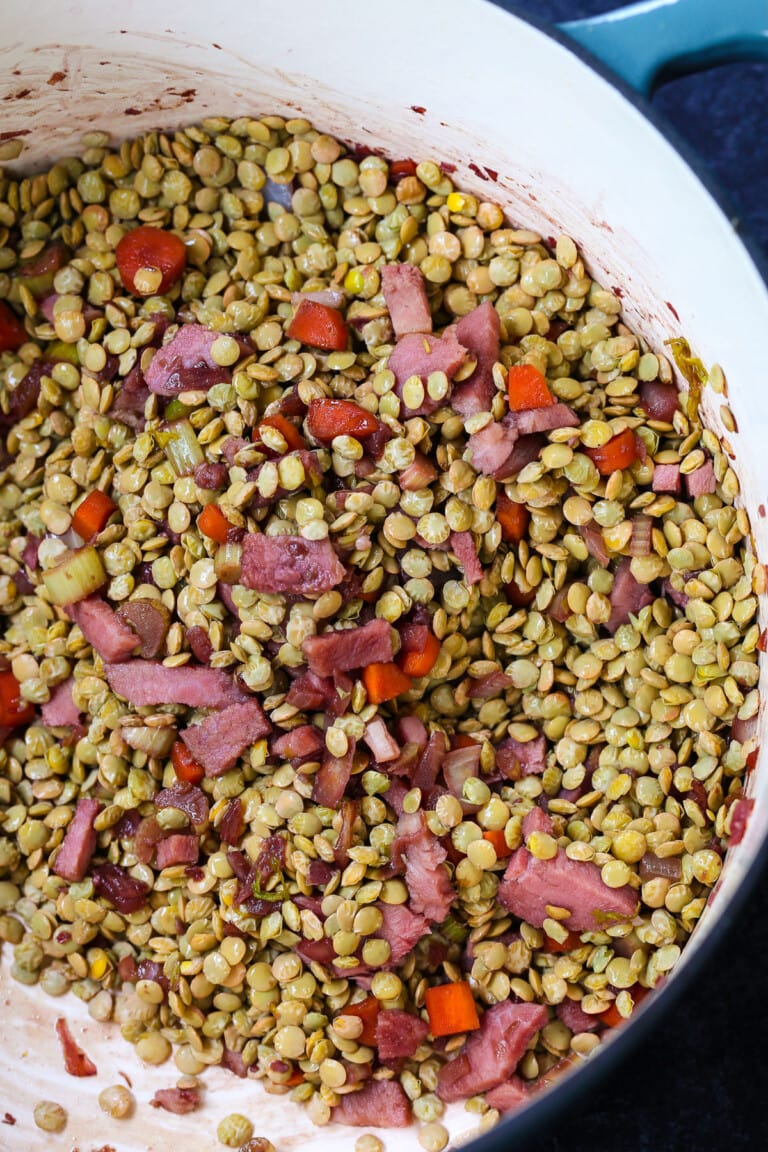 After you have deglazed the pot, stir in the dried lentils and leftover ham. I like adding the ham at this step because it adds flavor to the broth as it cooks. Some lentil soup recipes call for adding the ham at the end, but I feel like you're missing out on all that ham flavor!
Add beef broth and water to the pot, stir and bring to a simmer.
Simmer the soup for about 35-40 minutes until the lentils are nice and tender. Adjust the seasonings in the soup at this point if needed.
Remove about a cup of the lentils from the soup and mash them in a bowl. Add the mashed lentils back to the soup and stir to combine.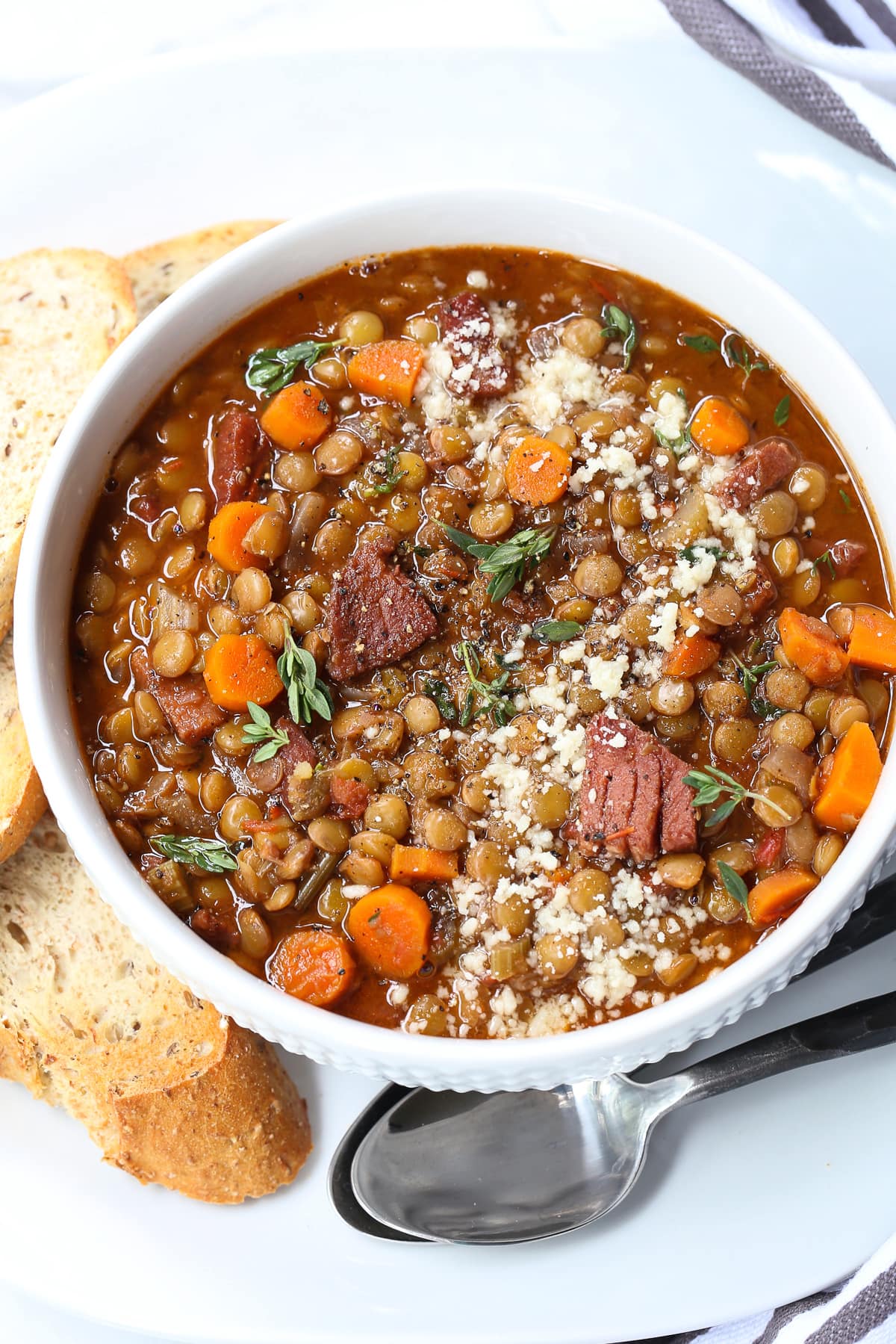 Why Do You Add Wine To A Soup Recipe?
When you add wine or any kind of alcohol to deglaze a pan, it not only works wonderfully but it adds a ton of flavor to whatever you're making. See how perfectly clean the bottom of the pot is after adding the wine?
All of those delicious brown bits add so much flavor to this lentil soup with ham recipe, so you really don't want to skip this step. If you really don't want to cook with wine or alcohol, you can always use beef broth or water instead.
If you're not a red wine drinker, you still can grab a decent, inexpensive bottle to cook with – as long as it's not cooking wine. Use the rest to make a delicious Beef Stew or many other recipes that use red wine as an ingredient.
Or if you really don't want to cook with wine or any alcohol, you can swap it out with more stock or water.
How Do You Serve Lentil Soup with Ham?
Like you see here in these pictures, we love serving this soup recipe with lots of good quality grated parmesan cheese and extra fresh thyme and black pepper. I'm not really sure if parmesan cheese is traditional for lentil soup or not…but I can tell you that it's absolutely delicious.
In addition to garnishing our soup, we like to slice and toast some good, crusty bread like a French baguette or ciabatta bread. Slather that bread with lots of salty butter and you've got edible utensils for eating this lentil soup with ham.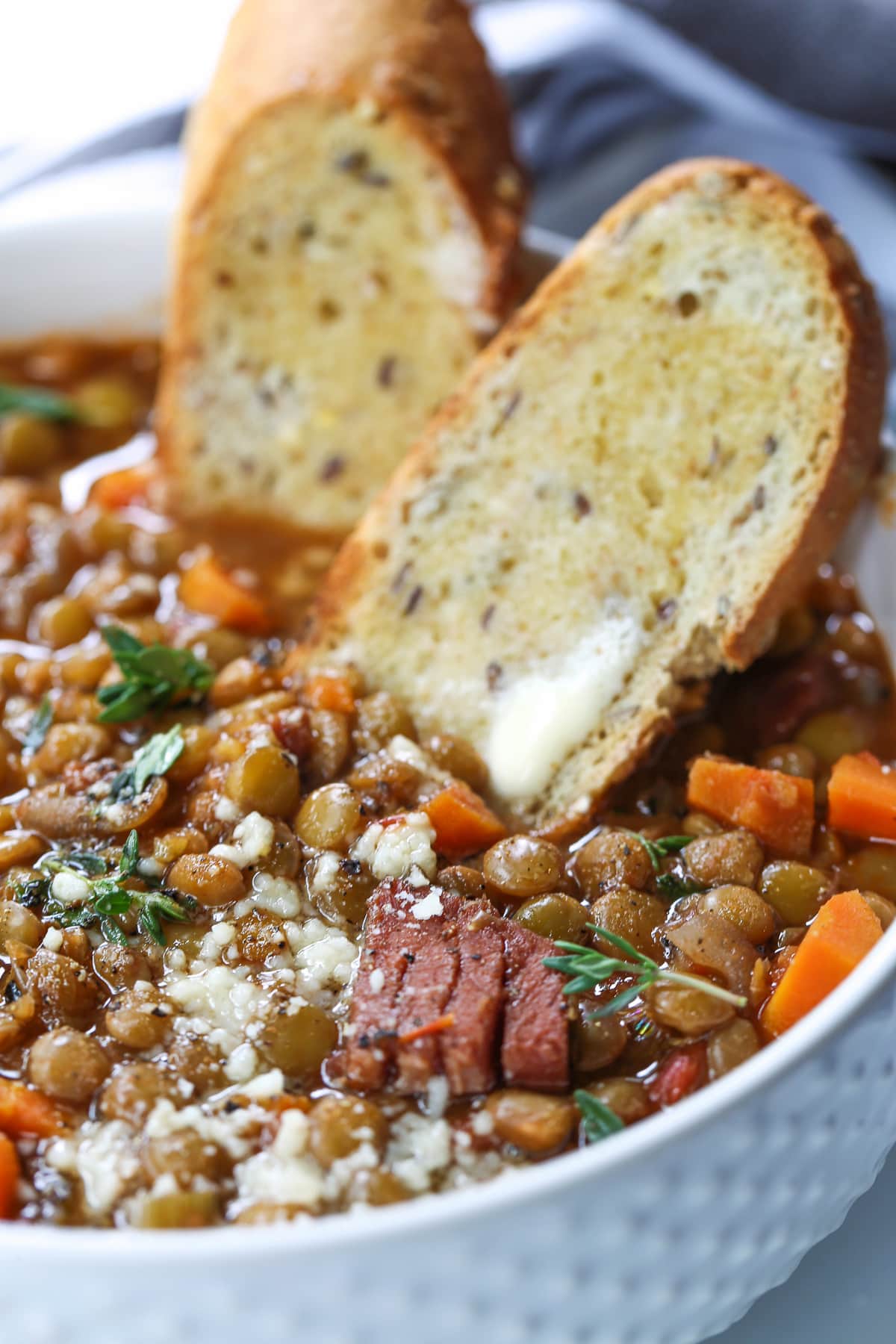 Variations
You can add different vegetables to this soup like spinach, chopped broccoli and even small bits of potato. Instead of wine you can use a the same amount of tomato sauce for flavor and color.
Instead of ham try shredded chicken or turkey, or browned Italian sausage. Soup recipe like this are a great way to "clean out the fridge" because you can pretty much add whatever you like.
Lastly, instead of lentils, try using split peas and swap out the beef broth for chicken broth. Not quite the same as out beloved split pea soup but definitely a delicious swap out if you don't have or like lentils.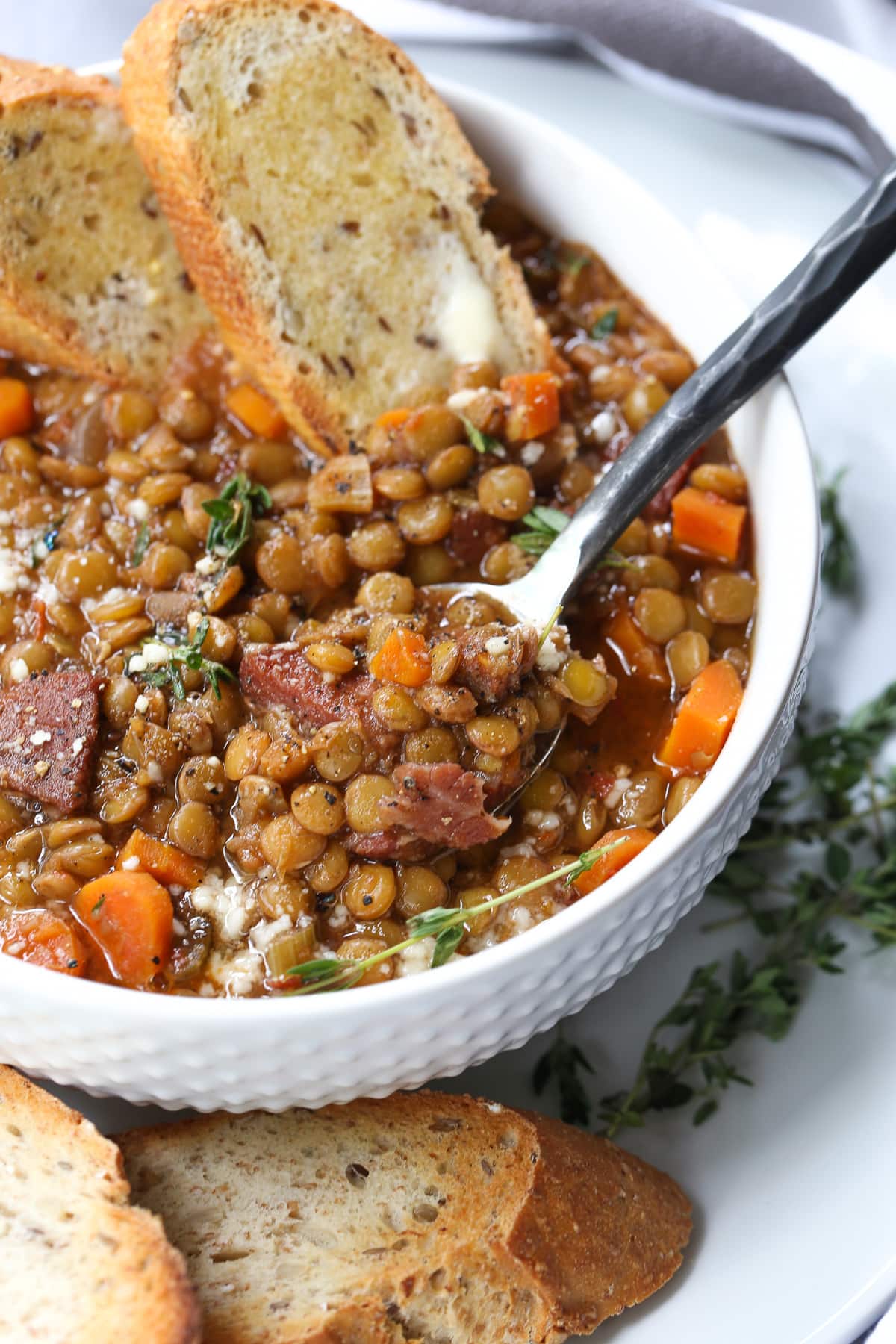 Can You Freeze Lentil Soup?
Yes! Lentil soup freezes perfectly! Especially since there's no pasta in this soup recipe, all you have are the lentils, ham and vegetables, all which are perfect for freezing. We often make a double batch of this soup, especially if we have a lot of leftover ham, then freeze it in small portions to pull out for an easy meal.
Looking For More Delicious Soup Recipes?
Print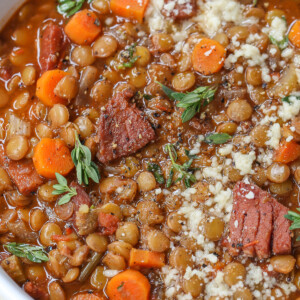 Lentil Soup with Ham
Author:

Prep Time:

10 minutes

Cook Time:

35 minutes

Total Time:

45 minutes

Yield:

6

servings

1

x
There's nothing more comforting than a piping hot bowl of Lentil Soup with Ham! A delicious way to use a leftover ham bone from the holidays. A hearty soup recipe that's packed with vegetables and protein!
Scale
Ingredients
2 tablespoons

olive oil

1/2 cup

diced onion

1/2 cup

diced carrots

1/2 cup

diced celery

1 teaspoon

kosher salt
Fresh black pepper to taste

1 tablespoon

chopped fresh thyme plus more for garnish

1 tablespoon

chopped garlic

1/2 cup

dry red wine

16 ounce

bag dry lentils, rinsed

2 cups

cooked, diced ham

1 cup

crushed tomatoes

5 cups

beef broth

2 cups

water

1

–

1 1/2

teaspoons cumin (start with

1

and then you can season with more at the end)

2

bay leaves
Grated parmesan cheese and fresh black pepper for garnish
Instructions
Add the oil to a dutch oven or soup pot over medium heat. Add the onion, carrots, celery, salt, pepper and thyme, and then cook for 5-7 minutes until the vegetables are soft. Stir in the garlic and cook for one minute more.
Pour in the wine to deglaze the pot, scraping up all the brown bits from the bottom of the pot. Let the wine reduce for a minute or two until it's just about evaporated, then add the lentils and ham to the pot, stirring to combine the ingredients.
Next add the crushed tomatoes, beef broth, water , cumin and bay leaves and bring the soup to a boil. Skim the foam off of the top of the soup and then stir so that the lentils don't stick to the bottom of the pot. Reduce the heat to a simmer and cook, covered for 35-40 minutes until the lentils are soft. Stir the soup occasionally while simmering.
Remove the bay leaves. Take about a cup of the lentils out of the soup and add to a bowl. Mash the lentils with a fork or a potato mashed and then stir back into the soup. Taste for seasonings and adjust if needed and then serve.
Garnish the soup with grated parmesan cheese, more black pepper and fresh thyme if desired.
Category:

Dinner

Method:

Stove Top

Cuisine:

American
Keywords: mantitlement, lentil soup recipe, lentil soup with ham, leftover ham recipe, leftover recipe, comfort food recipes