Make this Slow Cooker Ham Noodle Soup recipe with your leftover ham and ham bone! This hearty soup recipe will feed your family for days!
Whenever we make our addicting Glazed Ham Recipe, we always have enough leftovers to make this soup!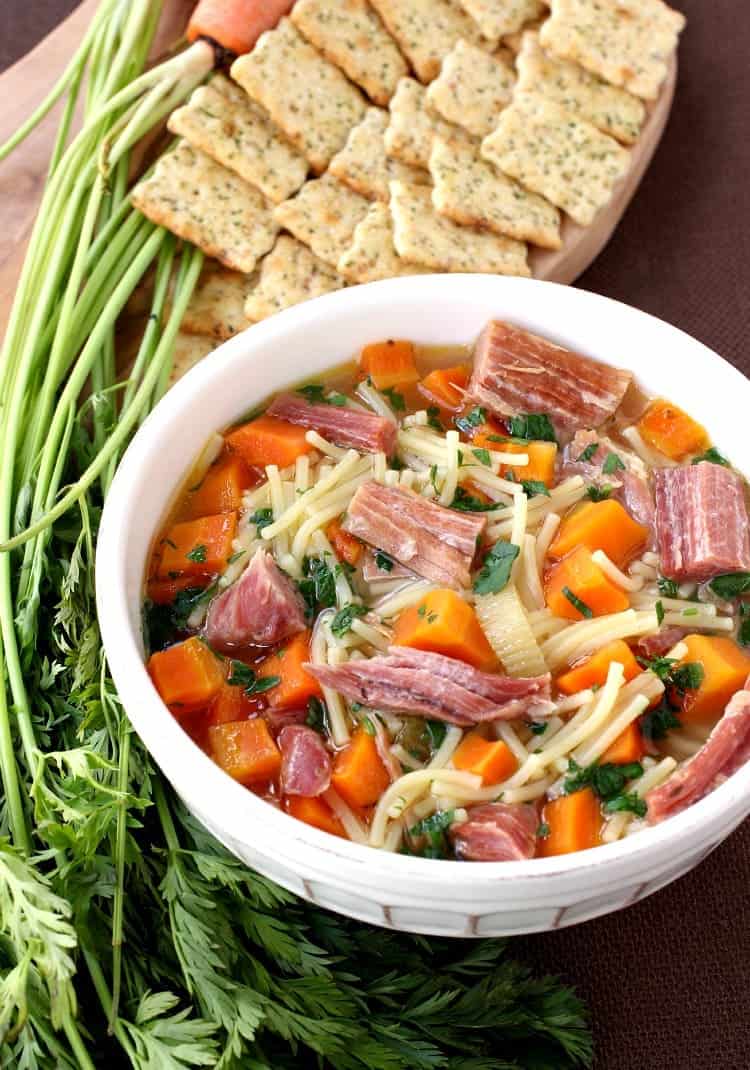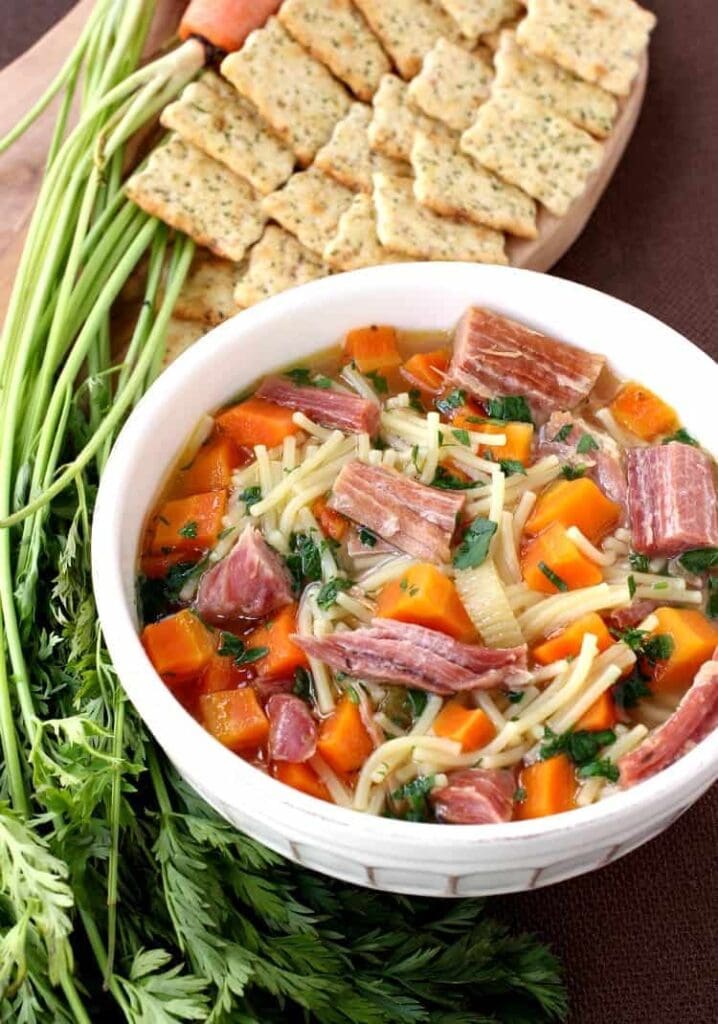 Not Chicken Noodle Soup, HAM Noodle Soup!
I mean, how much do we LOVE chicken noodle soup? Our family sure does. So much so that we make it all year long, it doesn't have to be cold outside to be soup weather in our house.
So when we were coming up with another leftover ham recipe, our youngest son asked why we can't use ham to make chicken noodle soup. Without the chicken, he said.
Pretty genius if I do say so myself, but I have to admit that I never thought of it. So now this Slow Cooker Ham & Noodle Soup is one of our most favorite leftover recipes! Gotta give the little guy credit for this one.
Do You Need A Ham Bone To Make This Soup Recipe?
You do, yes. The ham bone adds so much flavor to the broth in this soup recipe, you really can't replicate the flavor without the bone. Just like when we make Homemade Turkey Soup with the leftover turkey bones, you need that homemade flavor the turkey carcass adds.
Do we find ourselves making a ham just for the leftover ham and ham bone? Well, kind of. When we need to make a large dinner for a holiday or a family party, we often pick ham as one of our main courses. Everyone likes ham, it's super easy to make and we get all the leftovers!
How Do You Make This Slow Cooker Soup?
Start by cutting away most of the ham from the bone and save it to add in when the soup is close to being done. The ham bone is what really adds the rich, deep flavor to the broth in this soup so you can add the cut up ham in at the end. You will need about a pound of leftover ham for the soup, so if you find that you don't have enough you can always grab a ham steak from the grocery store.
Everything goes into the slow cooker, the bone, carrots, onions, celery a bay leaf and about 8 cups of water. To make the best most flavorful stock, you only want the water to just cover the ham bone so use that as a general rule.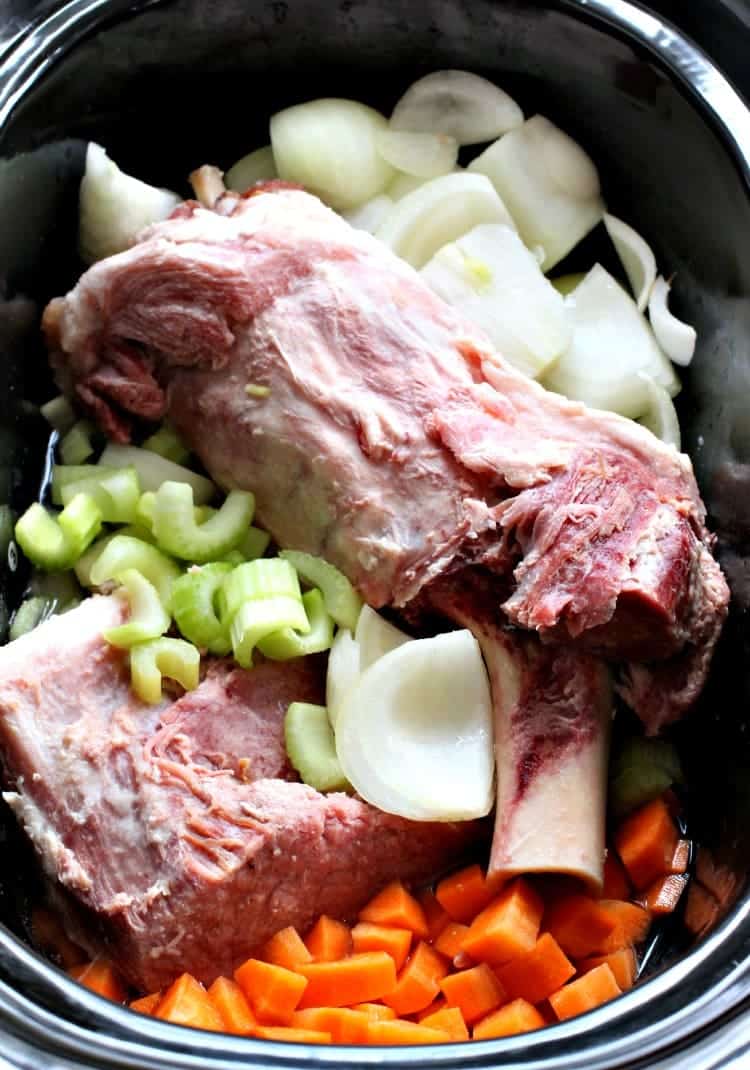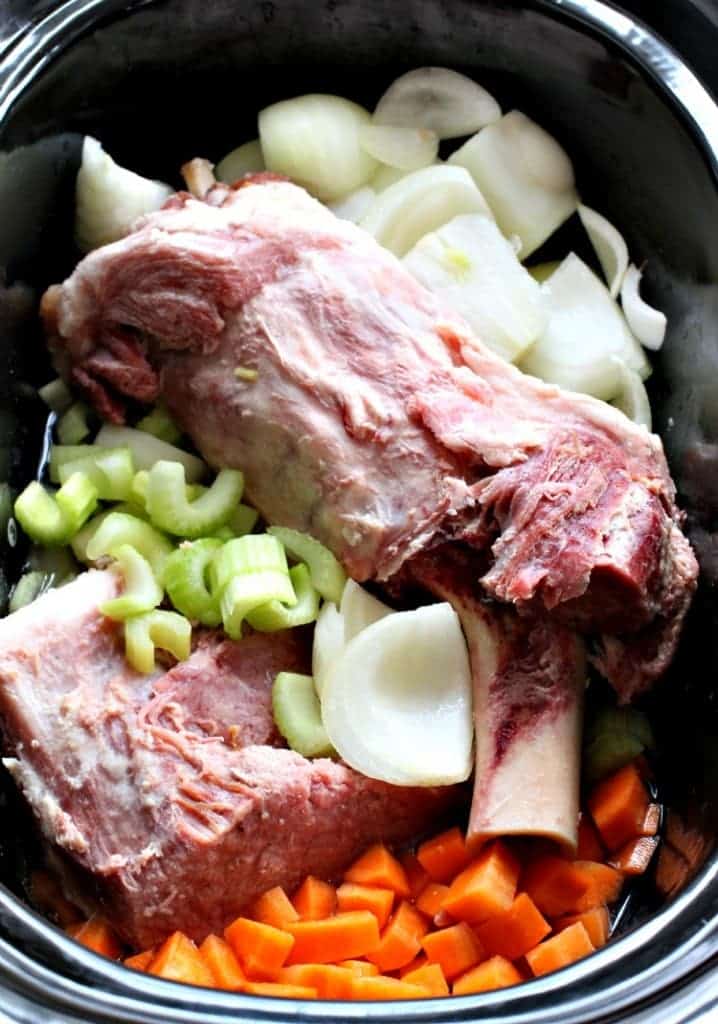 Cook for 8-10 hours on low and you'll end up with a rich, delicious, homemade ham stock. You can also do this on your stove top if you have time, just throw everything into a pot and let it cook down for about 3 hours.
But the slow cooker is always a good option for when you don't have time to sit and watch the pot boil! Plus this is a slow cooker recipe that you can actually start in the morning and it cooks ALL day while you're gone. Instead of some crock pot recipes that only need 4-6 hours, which wouldn't be good if you have to be gone for the whole day.
At this point you can taste your ham stock for seasonings and add in any salt and pepper you think it might need. The ham bone will add a lot of saltiness to the stock so make sure you test it out before adding any additional salt.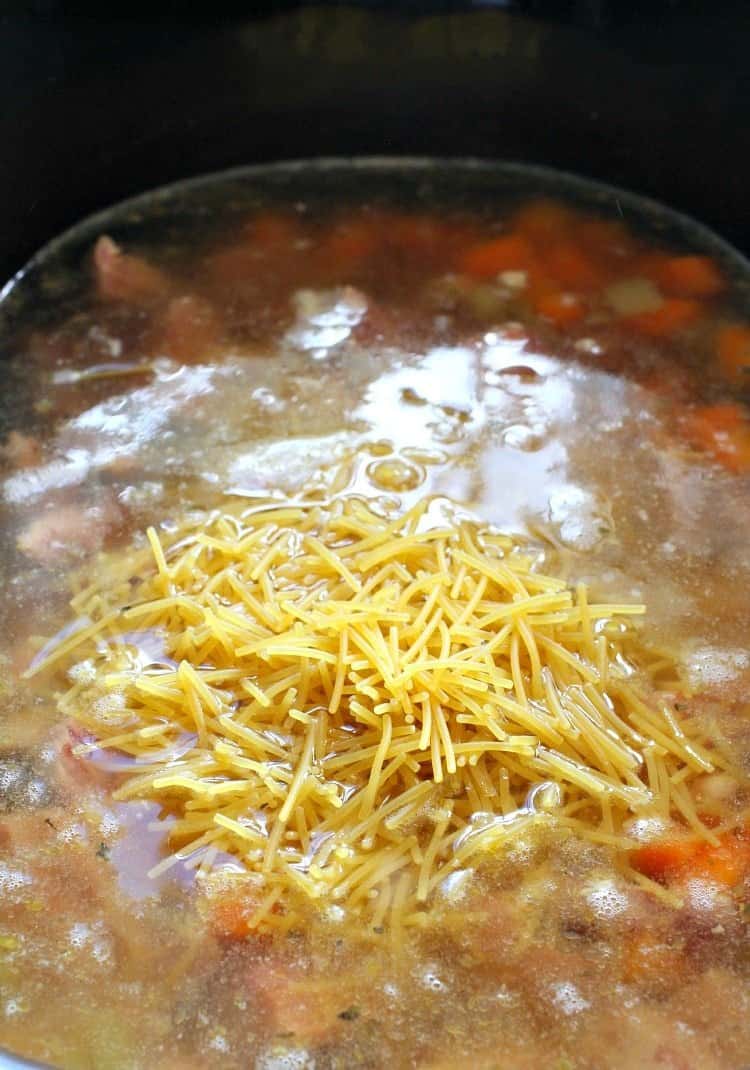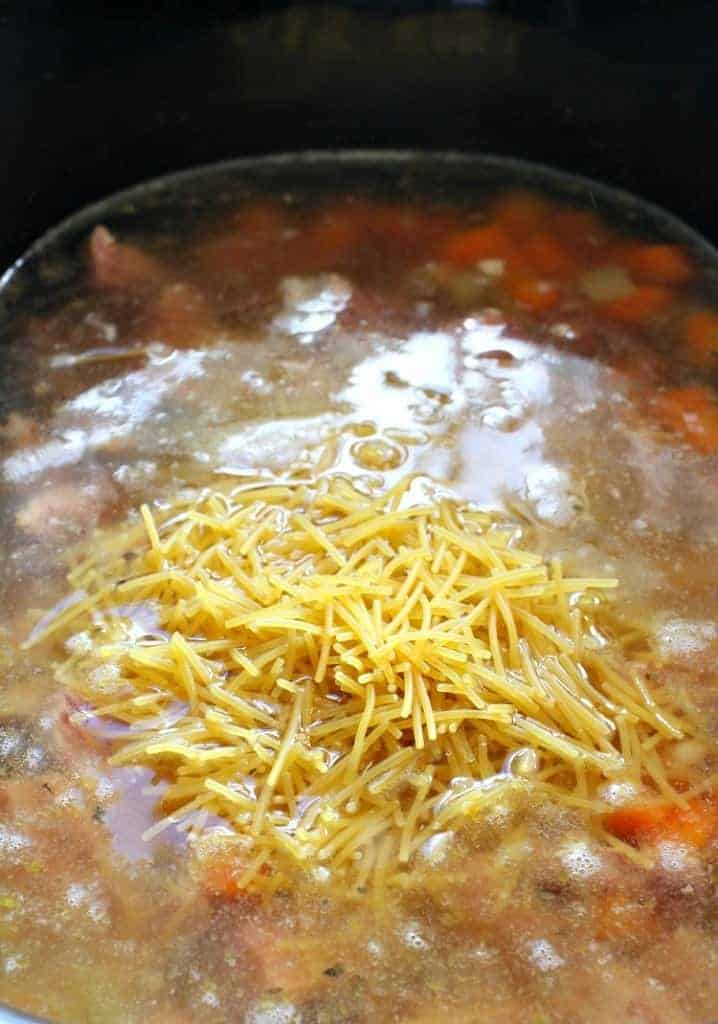 Get your ham that you saved from the bone and shred it into big pieces and add it to the stock. Next throw in a couple of cups of short tube pasta, short cut spaghetti or really any type of noodle that you like.
Stir in the pasta, cover and let it cook for another half an hour on high.
Use a ladle to skim any grease that rises to the top of this Slow Cooker Ham Noodle Soup when it's done cooking. When you cool the soup and put it away in the refrigerator this will be much easier to do.
But if you can't wait until the next day then do your best to skim it off the top before serving.
What Can I Serve With This Ham Soup?
This soup recipe is a meal in itself if you ask me. You don't need much else besides some crackers or a few pieces of bread to make it a complete meal. You've got your protein, vegetables and carbs all in one bowl! But you know we have some ideas here for you anyway…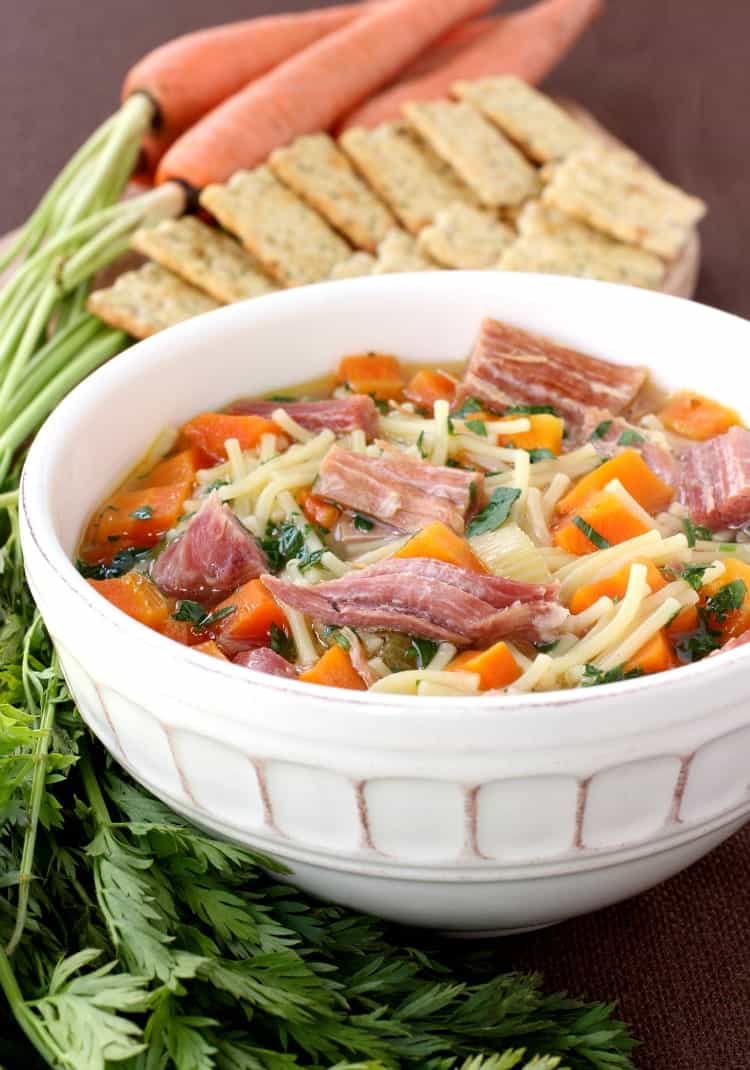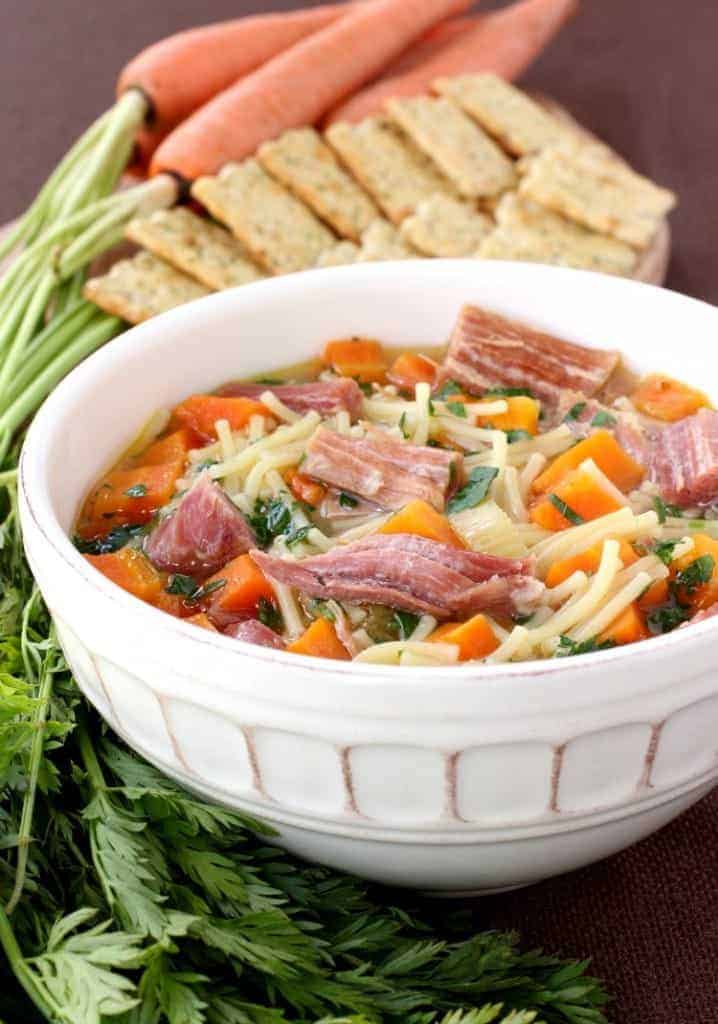 The best part about this soup recipe, like many soup recipes is that it just gets better the next day! Leftovers are always the best, because who wants to cook dinner every night?
Shop This Recipe!
PIN IT!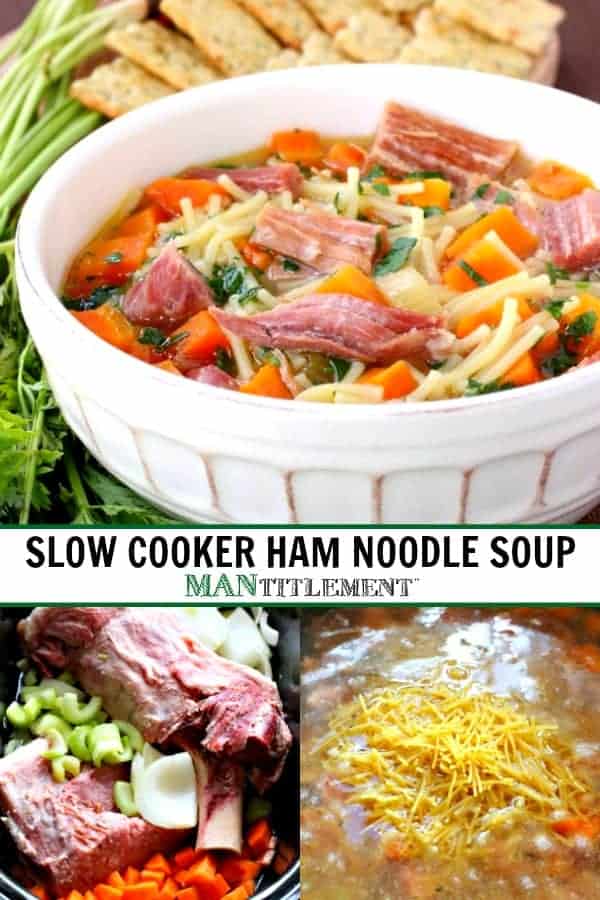 Looking For More Soup Recipes?
Print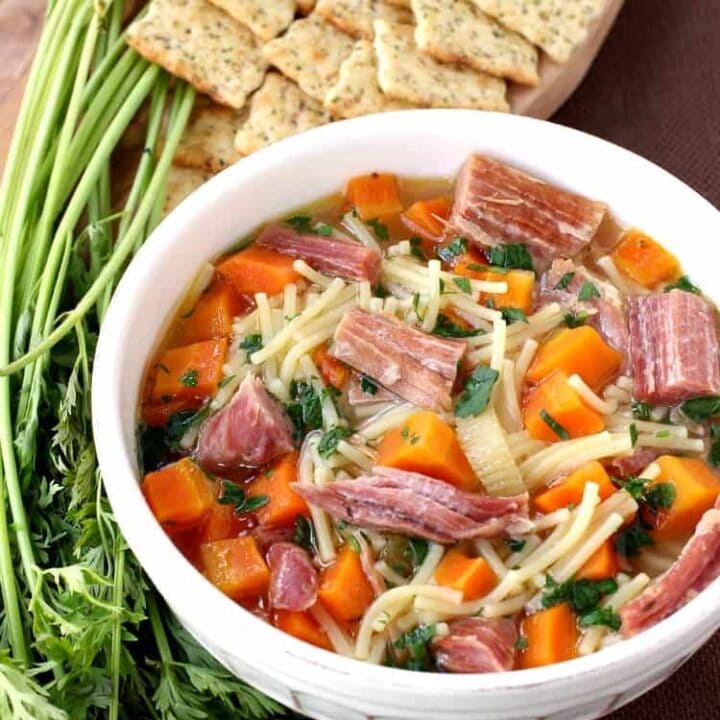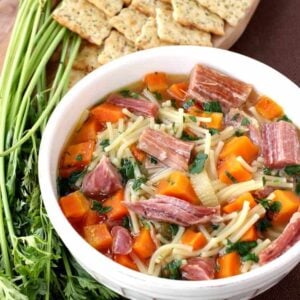 Slow Cooker Ham and Noodle Soup
Author:

Prep Time:

10 minutes

Cook Time:

6 hours 30 minutes

Total Time:

6 hours 40 minutes

Yield:

10

servings

1

x
This delicious and hearty soup recipe is the perfect way to use up your leftover ham!
Scale
Ingredients
1

ham bone from approximately a 20 lb. ham (give or take a few pounds isn't going to matter)

1

pound of ham, leftover or cut off from bone, shredded

3

onions, quartered

3 cups

diced carrots

1 1/2 cups

diced celery

1

bay leaf

1 tablespoon

salt

1 teaspoon

fresh ground black pepper

1 teaspoon

dried oregano

8 cups

water

2 cups

short tube pasta
chopped parsley for garnish
Instructions
Add all the ingredients except the pasta and the 1 pound of ham to a slow cooker.
Just add enough water to cover the ham bone, too much water will make a weaker stock. We used approximately 8 cups of water for this size ham bone. Set on high and cook for 6-8 hours
Remove and discard the ham bone and the onion quarters.
Taste the stock for seasonings, then add in the pound of reserved ham and pasta.
Stir, cover and cook on high for an additional 30 minutes.
Garnish with the chopped parsley if desired.
Recipe Notes
If you'd rather make this recipe on the stove top, just follow the same instructions in a dutch oven or soup pot and cook for about 3 hours, simmering. Taste for seasonings, remove the ham bone and add the pasta. Cook for another 10 minutes until the pasta is tender.
Category:

Soup

Method:

Slow Cooker

Cuisine:

American
Keywords: slow cooker recipes, crock pot recipes, leftover ham recipe, soup recipes, what to do with leftover ham bone