Make these Italian Pork Egg Rolls for your next party! This easy homemade egg roll recipe is filled ground pork, peppers and mozzarella cheese!
We loves twists on recipes like these egg rolls! We turned Cheeseburgers & Fries into a chowder and we took our favorite Chicken Marsala recipe and turned it into chicken wings!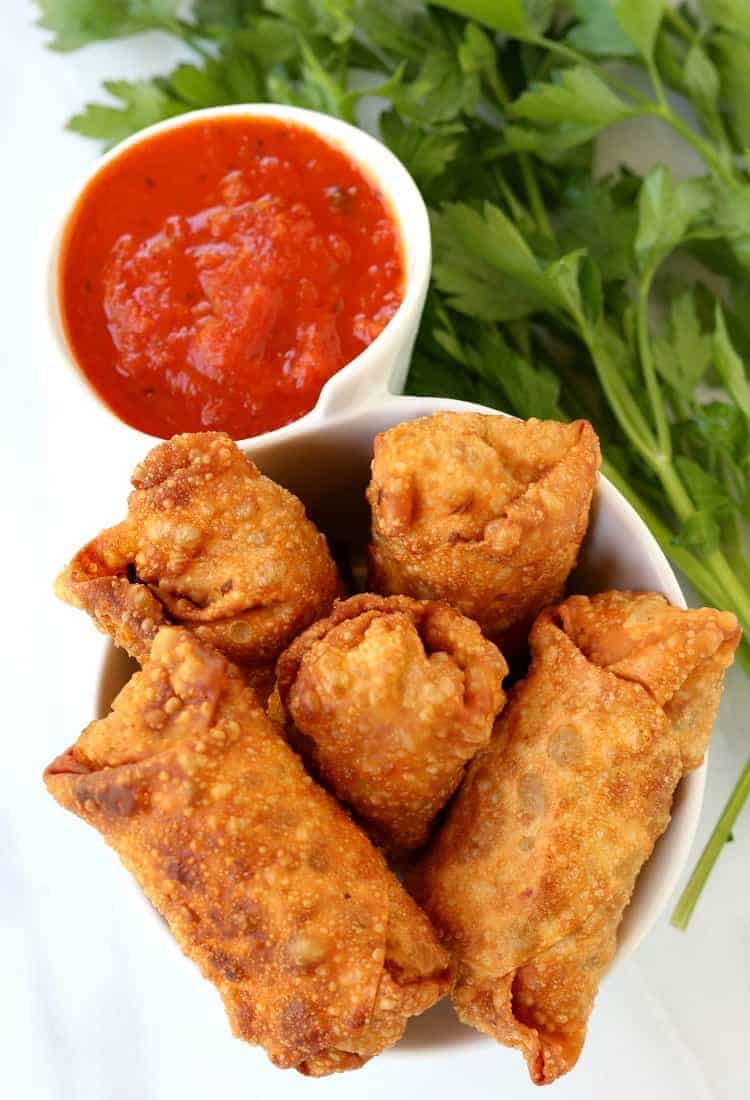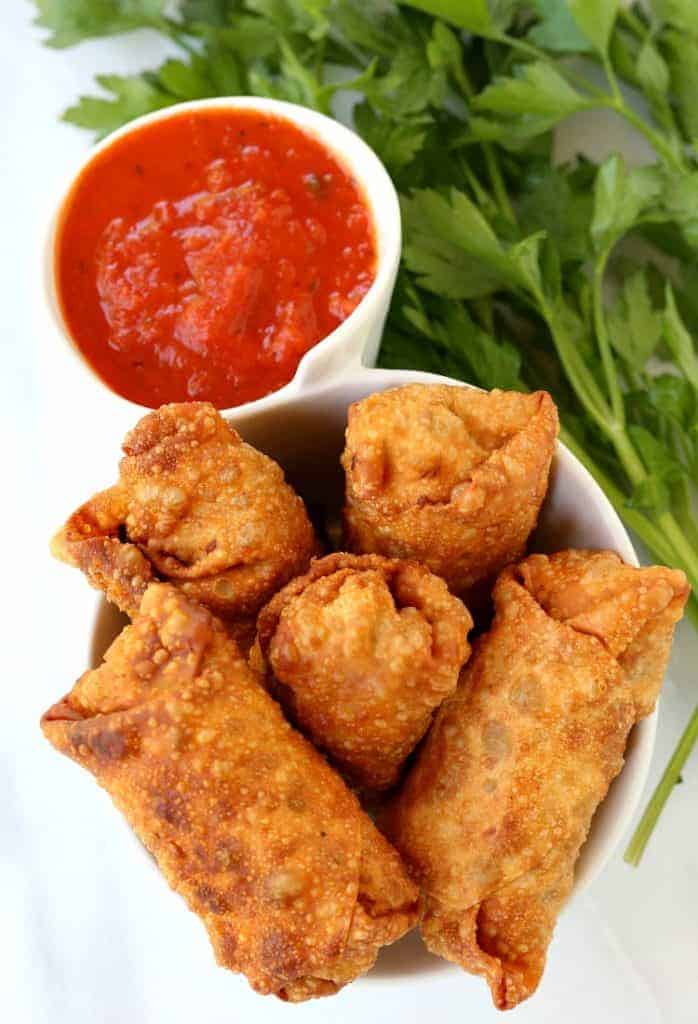 A Fun Appetizer Recipe For Parties
When you're having a party, or any type of family gathering, you need to bring out the fun stuff. Food and drinks (besides great company) really make a party stand out.
These Italian Pork Egg Rolls are going to do just that. This is the appetizer recipe that everyone is going to be talking about! Homemade egg rolls stuffed with ground pork, peppers, onions and mozzarella cheese! Dip these egg rolls in marinara sauce and you've got a party!
What Ingredients Do I Need To Make These Italian Egg Rolls?
Wonton Wrappers: You can find wonton wrappers in the produce department at the grocery store. There's a smaller size for dumplings but you want the larger size that says egg roll wrappers for this recipe.
Italian Sausage: Buy Italian sausage in bulk without the casings or buy regular links and just remove the sausage from the casings. Milk or sweet will work, depending on your tastes.
Bell Peppers: Red and green bell peppers add crunch and flavor to these egg rolls.
Mozzarella Cheese Sticks: String cheese works perfectly in the center of these egg rolls to make a cheesy, chewy center! You can also use shredded mozzarella cheese if you don't have cheese sticks.
Marinara Sauce For Dipping: Use your favorite jarred sauce or if you have your own homemade marinara sauce – even better!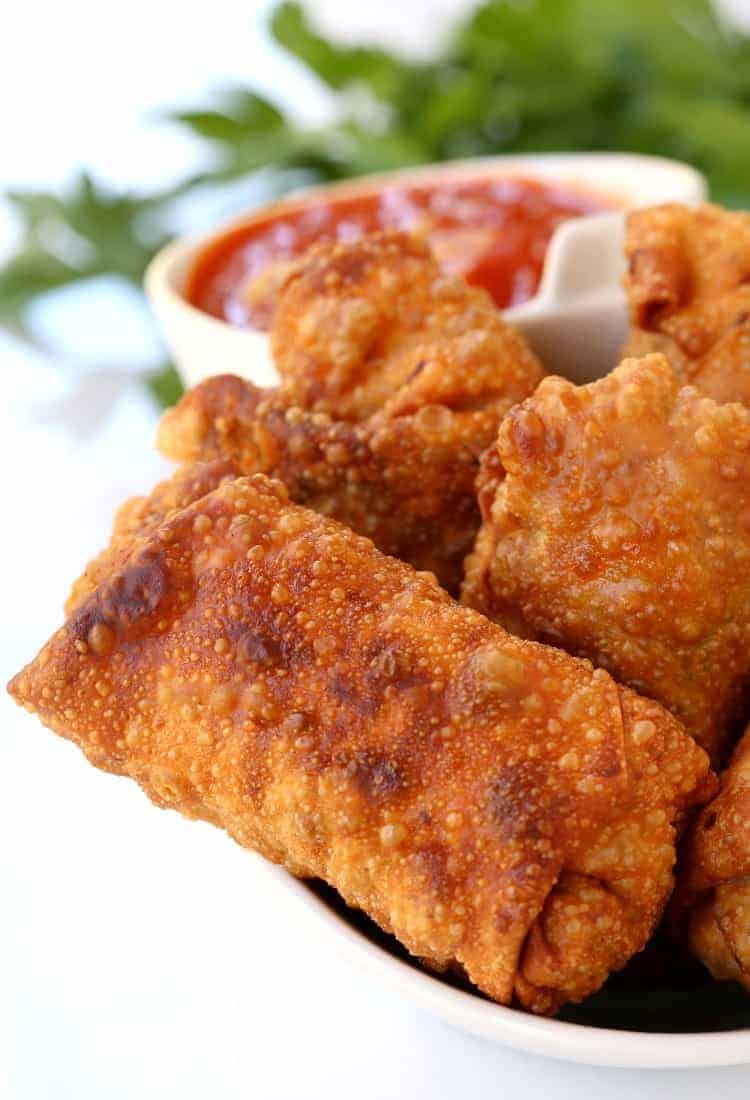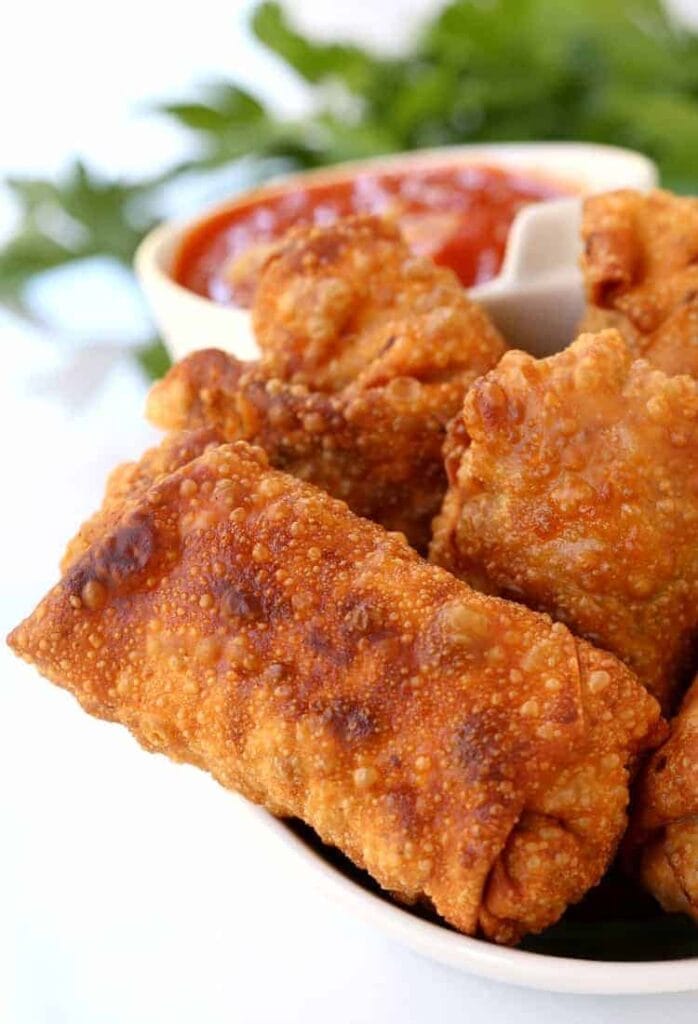 How Do I Make This Egg Roll Recipe?
Start by making the filling. Brown the sausage with onions and peppers in a large skillet. Add salt, pepper and garlic powder and then a little of the marinara sauce which will help to hold the filling together.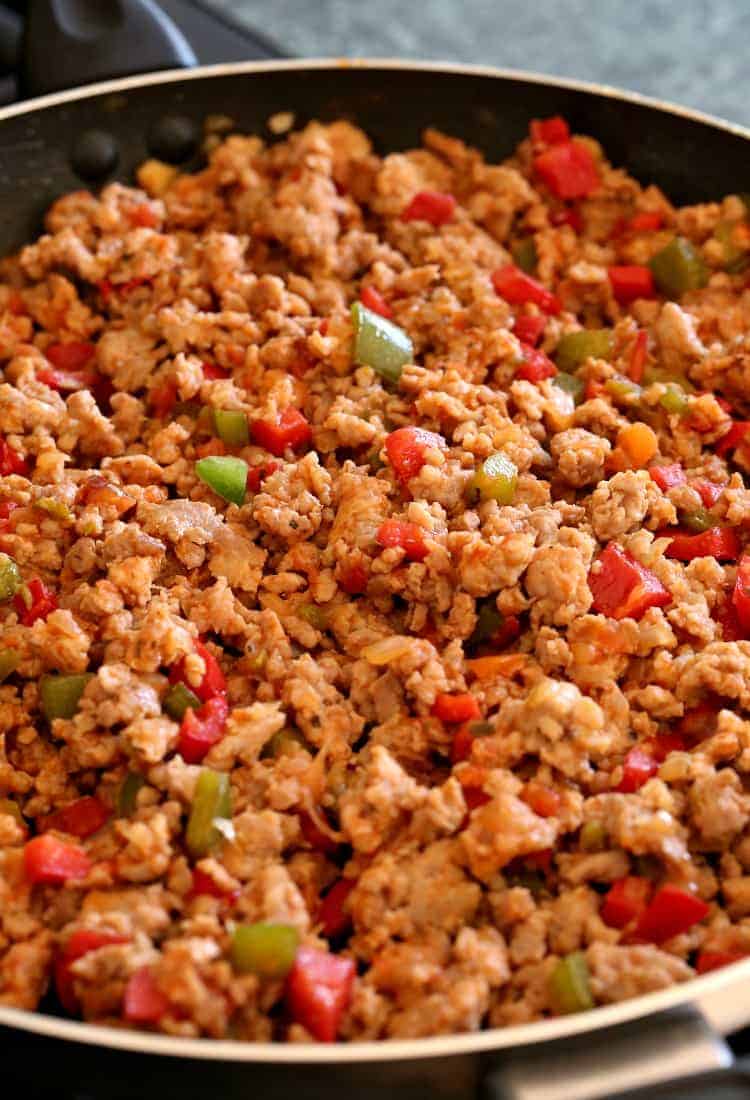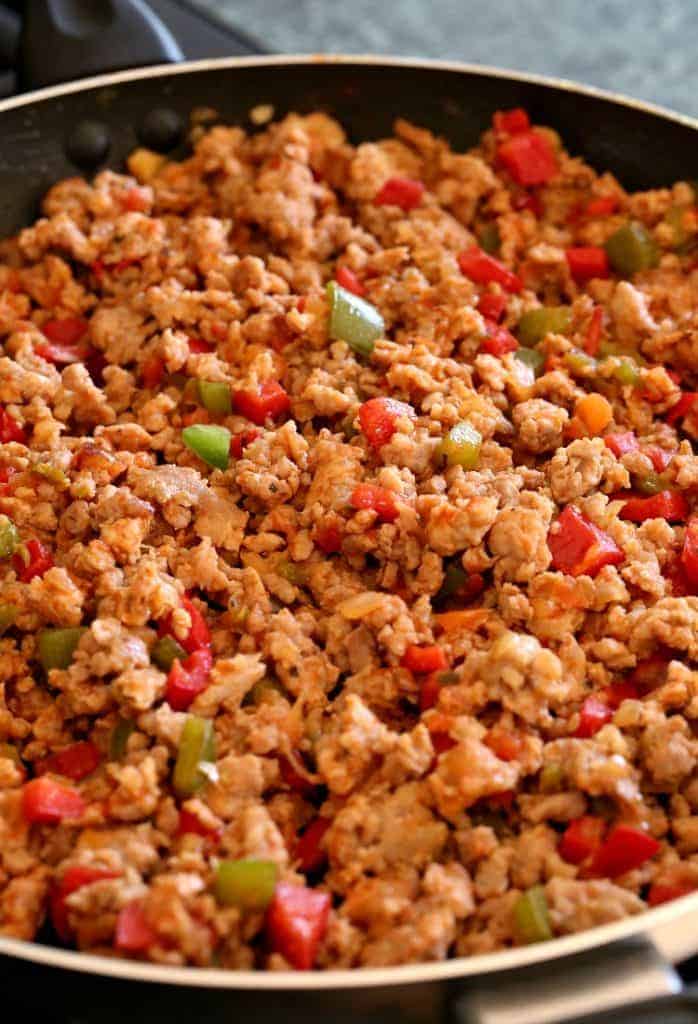 Set the wrappers on a board to start filling the egg rolls. Place some of the filling in the center of the egg roll wrapper and then set half of a piece of string cheese on top. Don't overfill the wrappers because it will leak out when you fry the egg rolls.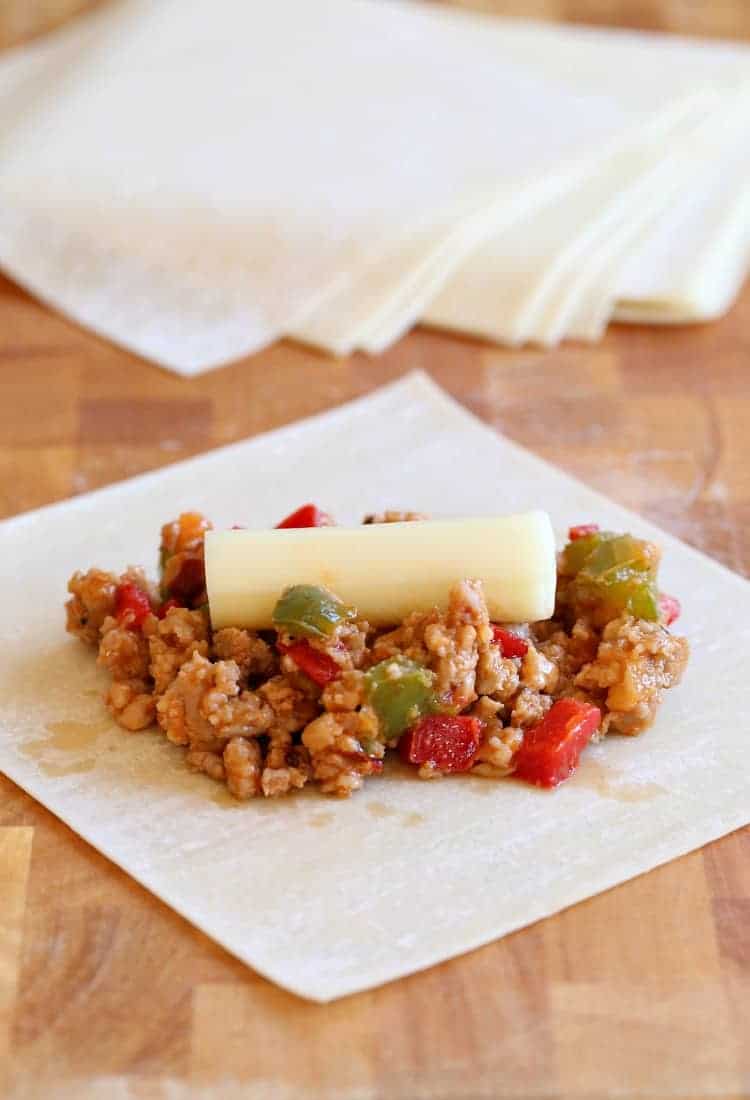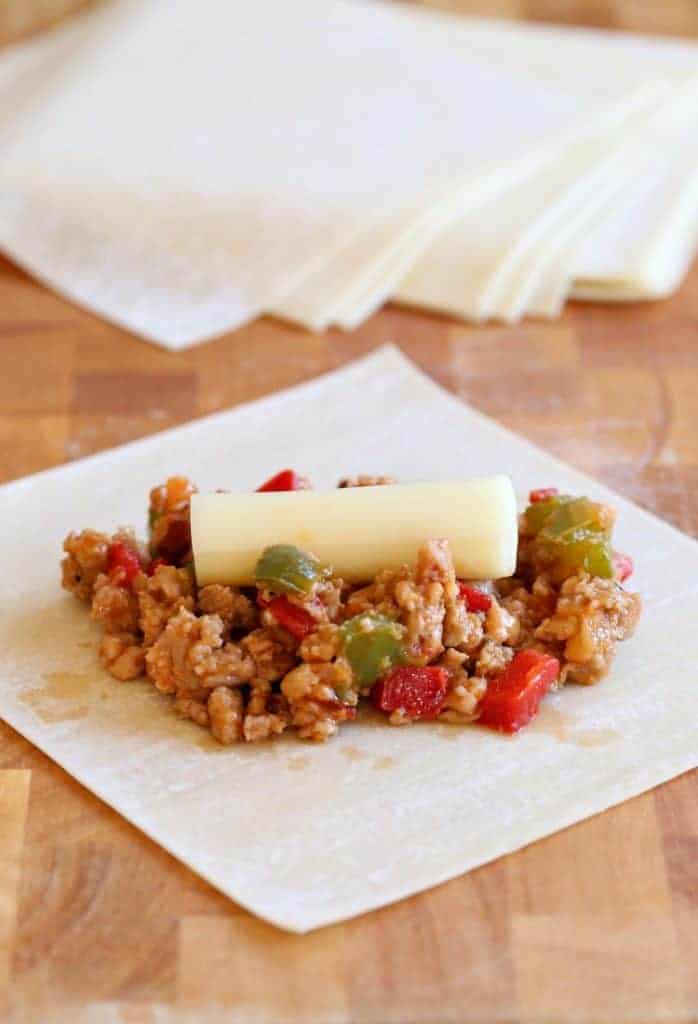 Try and get some of the filling on top of the cheese stick too so it's not just stuck to one side of the egg roll. Then start wrapping. If you've never rolled an egg roll up before it's just like rolling up a burrito. Fold the top over the filling, then fold in both sides and wrap tight to seal.
An egg wash is the glue that keeps the wrapper together, not just on the edges that you fold up but all over the egg roll when it's done.
Once you have filled all the egg rolls, start heating a pot of oil for frying. Fry the egg rolls for 5 minutes until golden brown, then remove from the oil and set on a paper towel lined plate or platter to drain.
You can fry a few of these Italian Egg Rolls at a time, it will depend on how big your pot is. You don't want to add to many at once!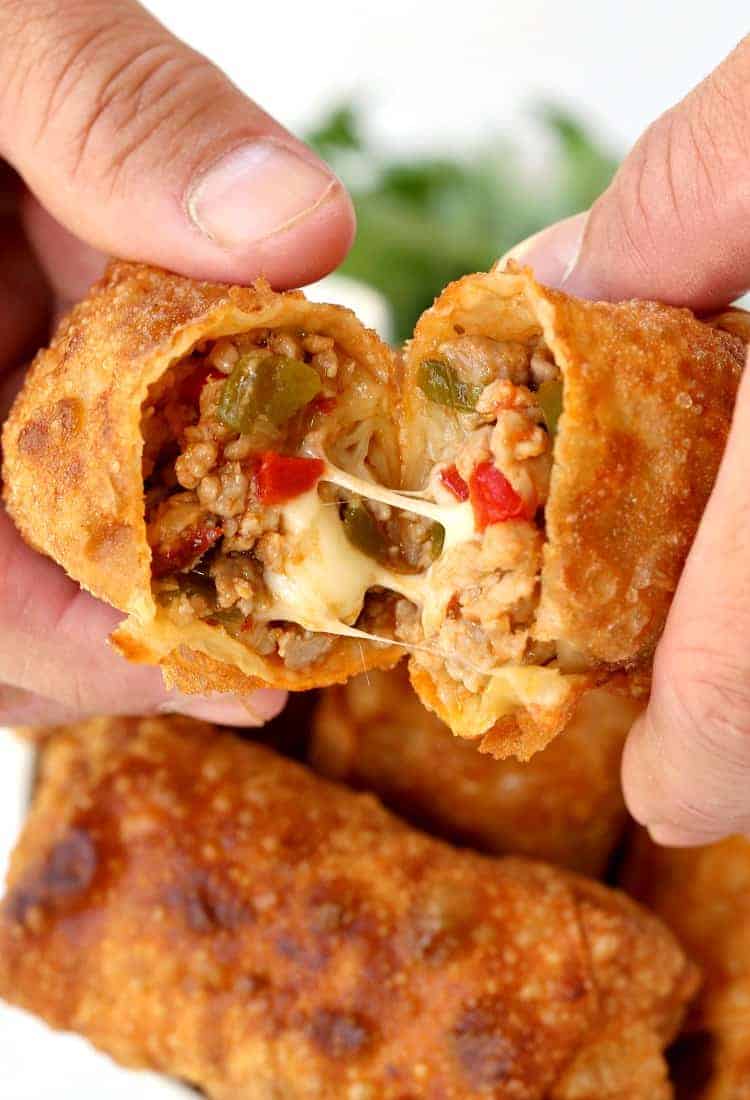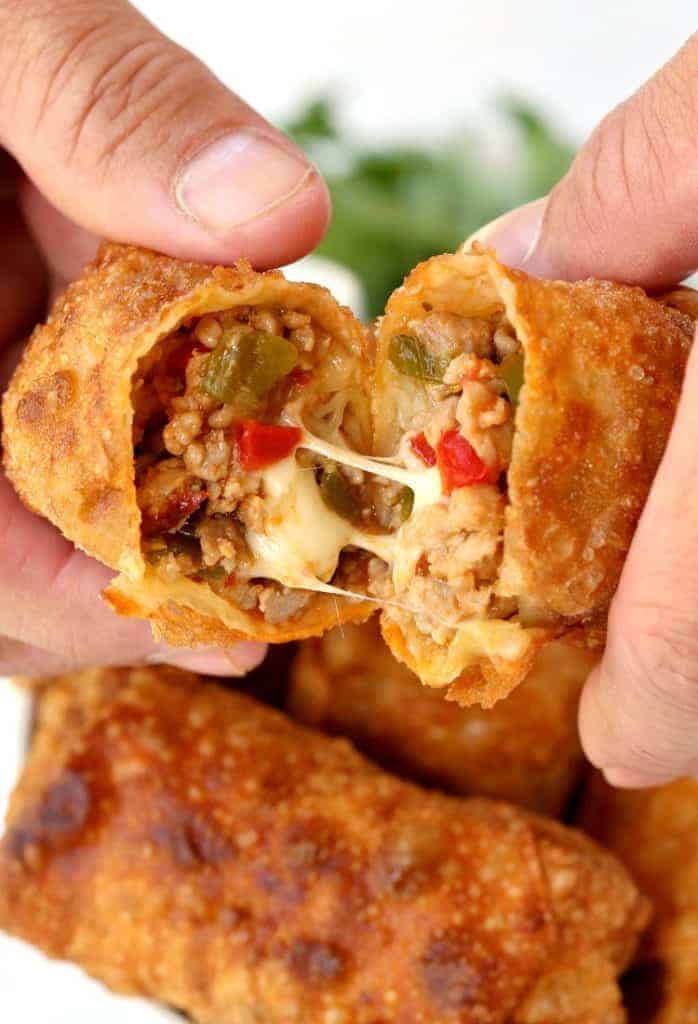 Can I Make This Egg Roll Recipe Ahead Of Time?
You can, but not too far ahead of time. Once the egg rolls are fried, keep them in a 300 degree oven to keep warm for up to an hour or an hour and a half. Keeping them in the oven longer then that will be fine, but the egg rolls wont' be as crispy.
You can also make these Italian Pork Egg Rolls ahead of time, cool the egg rolls and freeze them. All you need to do is reheat them from frozen and you've got some epic appetizers!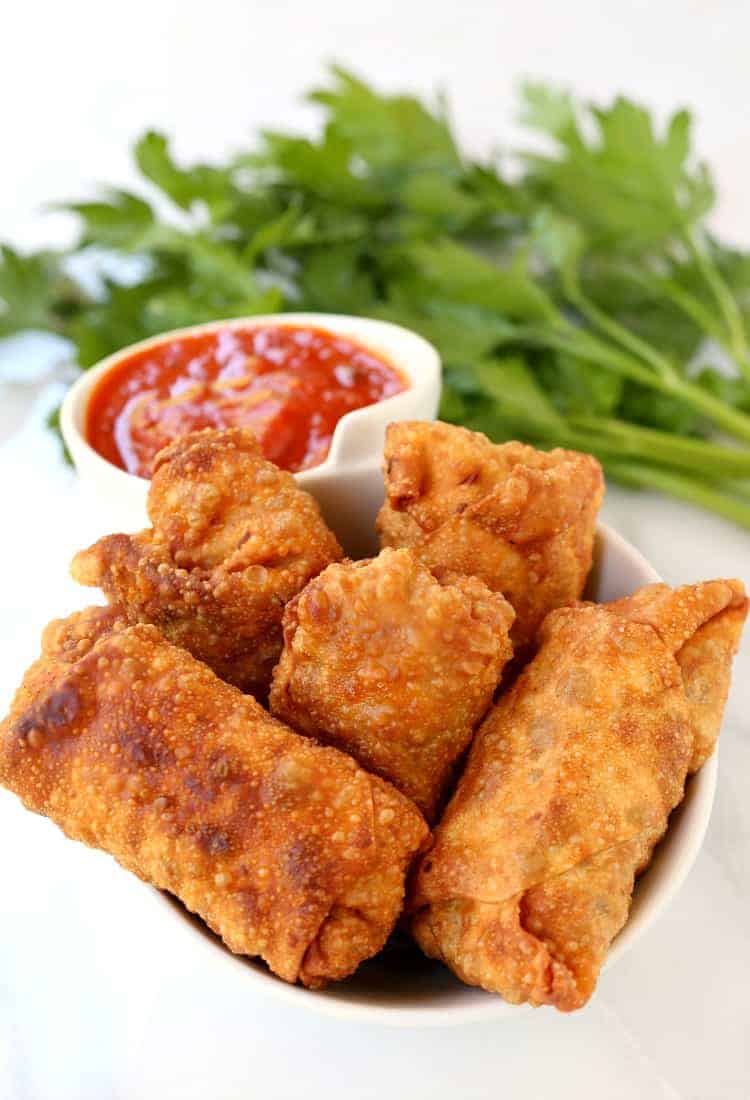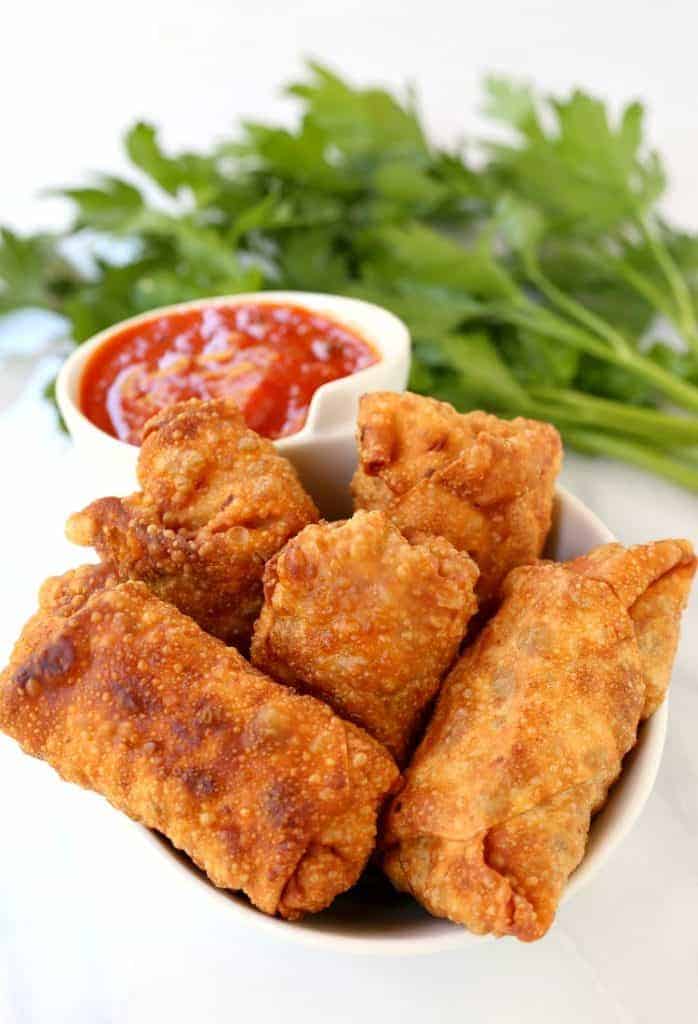 Looking For More Appetizer Recipes?
Print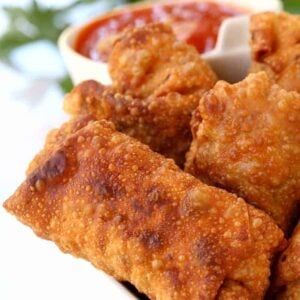 Italian Pork Egg Rolls
Author:

Prep Time:

10 minutes

Cook Time:

5 minutes

Total Time:

15 minutes

Yield:

1

6

1

x
This egg roll recipe has an Italian twist! Italian sausage, peppers and mozzarella cheese fill the egg rolls that are fried until crispy!
Scale
Ingredients
For the Filling
1 1/2

pounds Italian sausage, casings removed

2 tablespoons

olive oil

1 cup

diced red bell pepper

1 cup

diced green bell pepper

1 cup

diced onion

1 teaspoon

salt

1 teaspoon

garlic powder

1/2 cup

marinara sauce

1/2 cup

grated parmesan cheese

8

pieces of string cheese cut in half

1

package of egg roll wrappers (the larger wonton wrappers)

1

egg beaten with a teaspoon of water
vegetable or canola oil for frying
Extra marinara sauce for dipping
Instructions
Start a large, deep pot of oil over medium heat. Use a frying thermometer until the temperature reaches 350 degrees.
Meanwhile make the filling by adding the oil to a large skillet over medium heat.
Add the peppers and onions and cook for 7-8 minutes until softened. Next add in the sausage, breaking up with a spoon as it browns until there is no pink left in the meat. Drain any drippings from the skillet.
Season the filling with the salt and garlic powder, then stir in the marinara sauce. Remove from the heat to cool slightly.
Take and egg roll wrapper and place it on a work surface with the point side towards you so it's shaped like a diamond (look at the process photo in the post for reference)
Place 1/3 of a cup of the filling on the wrapper like shown in the photo with a half of a cheese stick on top. Try and place some of the meat filling on top of the cheese stick before rolling into shape.
Fold the tip of the triangle over the filling, roll once and then fold both sides in towards the center of the egg roll, then roll over until the top triangle tip seals the egg roll. Use egg wash before rolling up to make sure the edge stays.
Fry at 350 for 4-5 minutes until golden brown. Depending on the size of your pot will depend on how many egg rolls you can fry at a time, being careful not to crowd the pot.
Remove the egg rolls to a paper towel lined plate to drain while you fry the rest.
Serve with warmed marinara sauce for dipping.
Recipe Notes
You can keep the egg rolls warm in a 300 degree oven for up to an hour before serving. Or, freeze the egg rolls for a make ahead recipe and then cook them from frozen in a 400 degree oven for 20-25 minutes until the filling is warmed through.
Category:

Appetizers

Method:

Deep Fry

Cuisine:

American
Keywords: egg rolls, appetizer recipes, appetizers, recipes with sausage, fried food