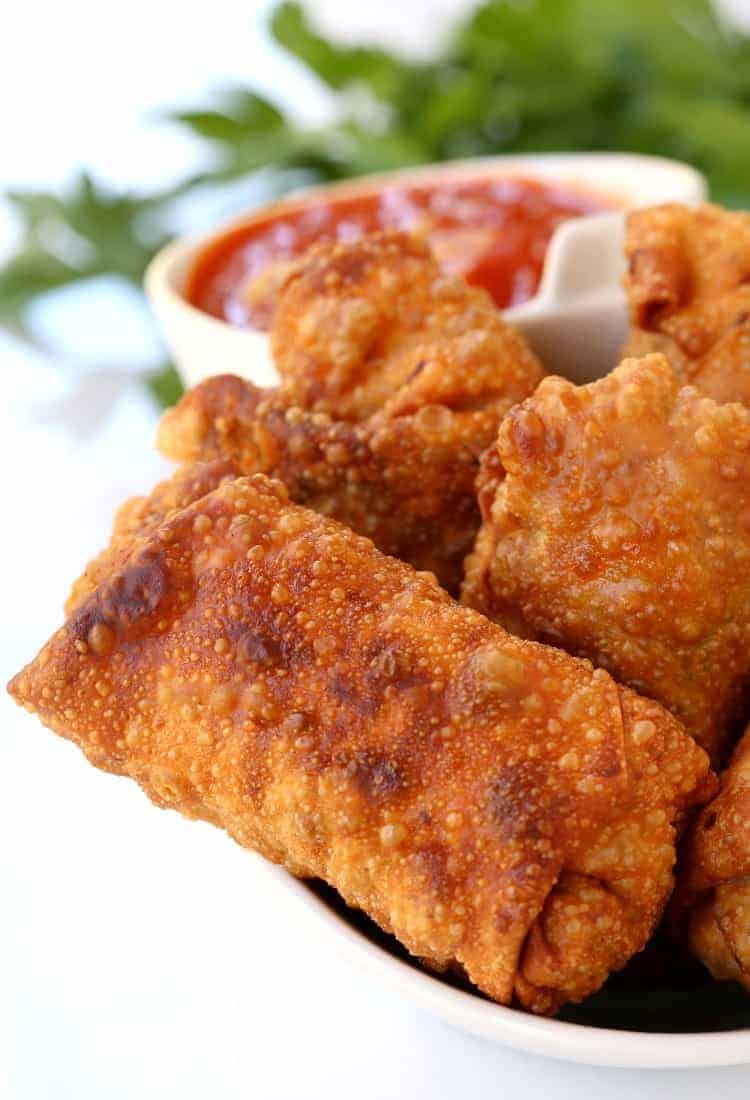 Try these Italian Egg Rolls at your next party! Italian sausage, peppers, onions and lots and lots of cheese…deep fried until crispy!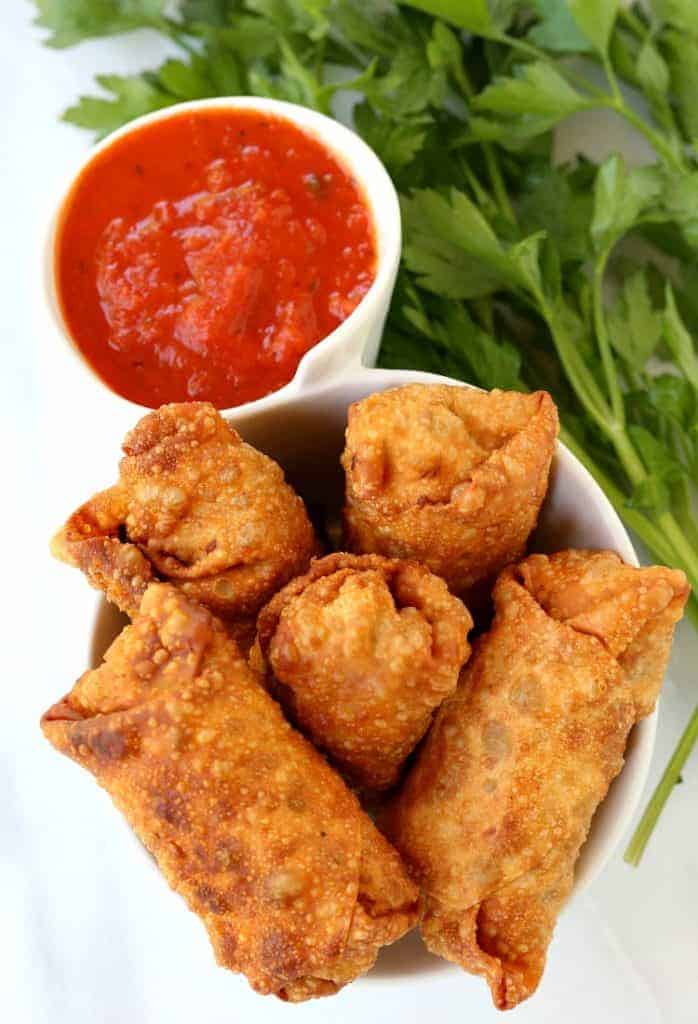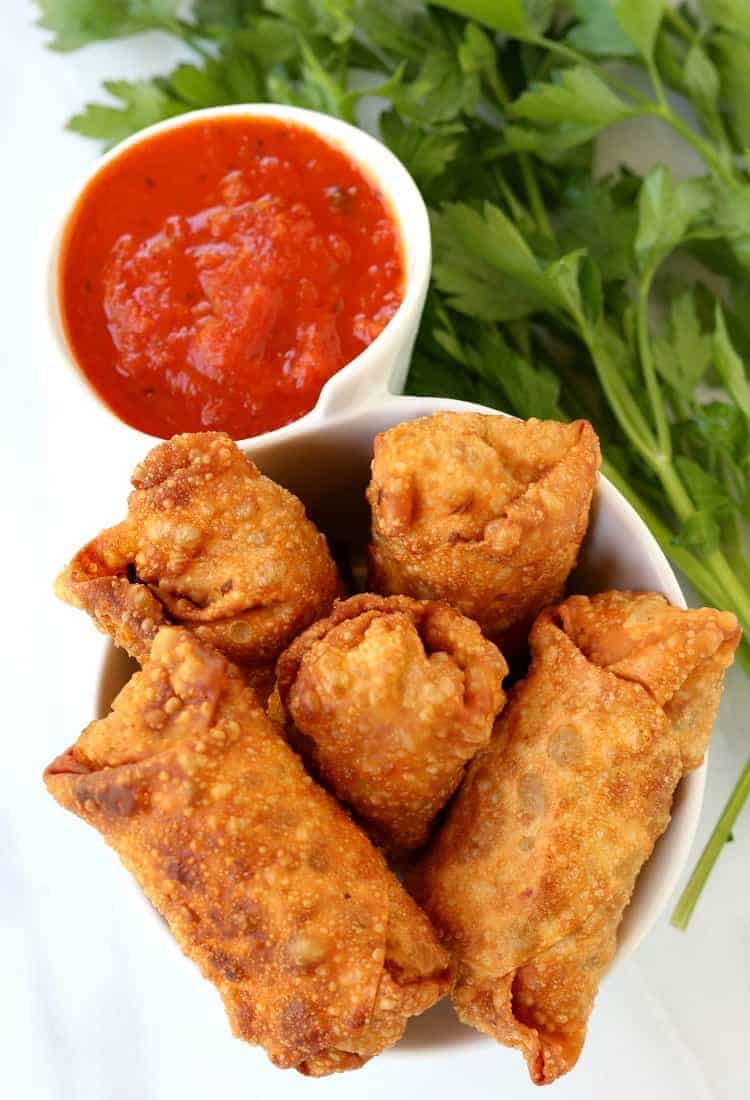 Don't be afraid of the deep fry, people.
I'm not here to tell you that you should be deep frying things at every meal or every week or even once a month. But sometimes, some foods just require a deep fry.
And these Italian Egg Rolls are one of them. We save frying for our favorite foods like these Fried Mashed Potatoes or these Whiskey Glazed Fried Dumplings. Because if I'm going to deep fry it's going to have to be worth it.
You can NOT get the same result from oven baking. You just can't. I know there are recipes out there that say you can but you can't.
Trust me.
These egg rolls come out super crispy, just the way you want an egg roll to be. Because I gotta tell you, even the egg rolls that come home in my take out Chinese food order aren't crispy enough for my taste.
So get ready with a deep pot and some oil…let's do this.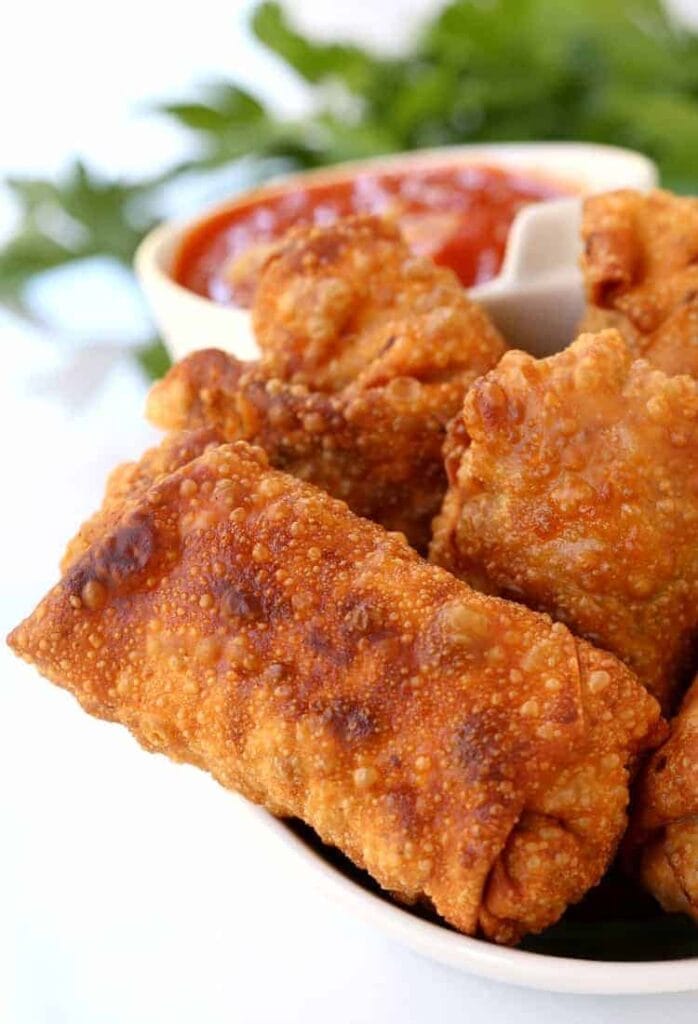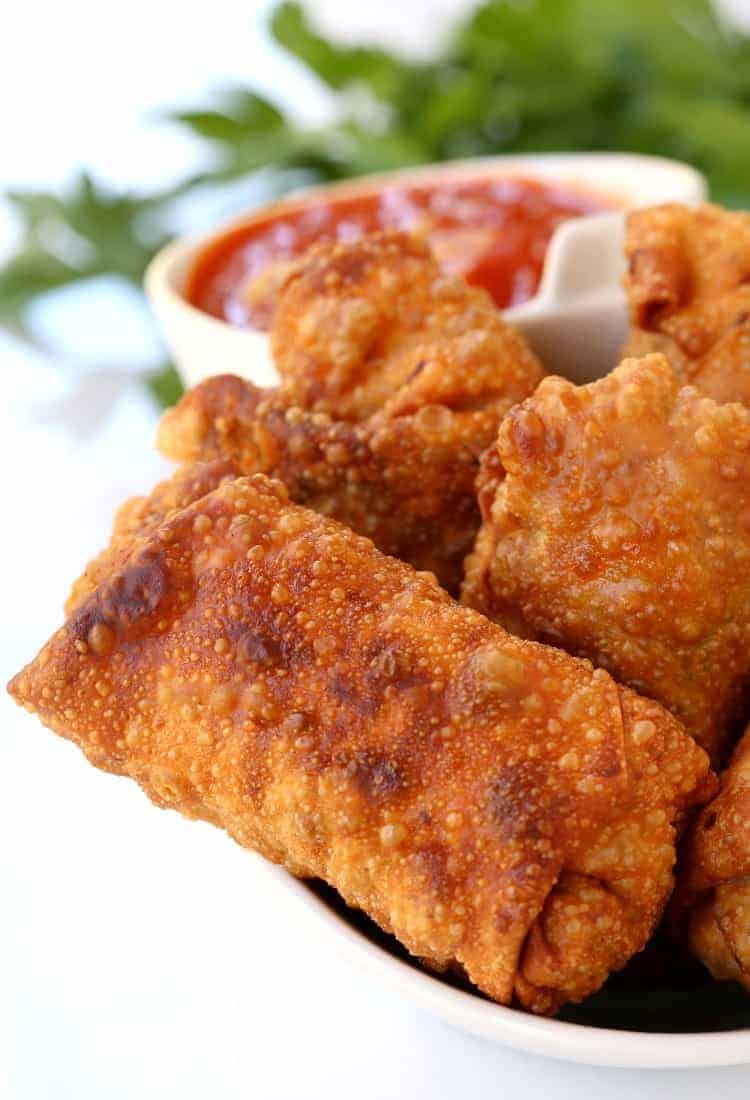 The filling isn't Chinese food like at all – these are Italian Egg Rolls after all. I mean, who says that egg roll wrappers have to only have one type of filling? I can tell you with came up with ALL different types of fillings for egg rolls when we were making this recipe….hopefully more to come soon.
This filling is loaded with Italian sausage, peppers, onions and cheese. Lots of cheese. We've got two kinds going on – parmesan and mozzarella.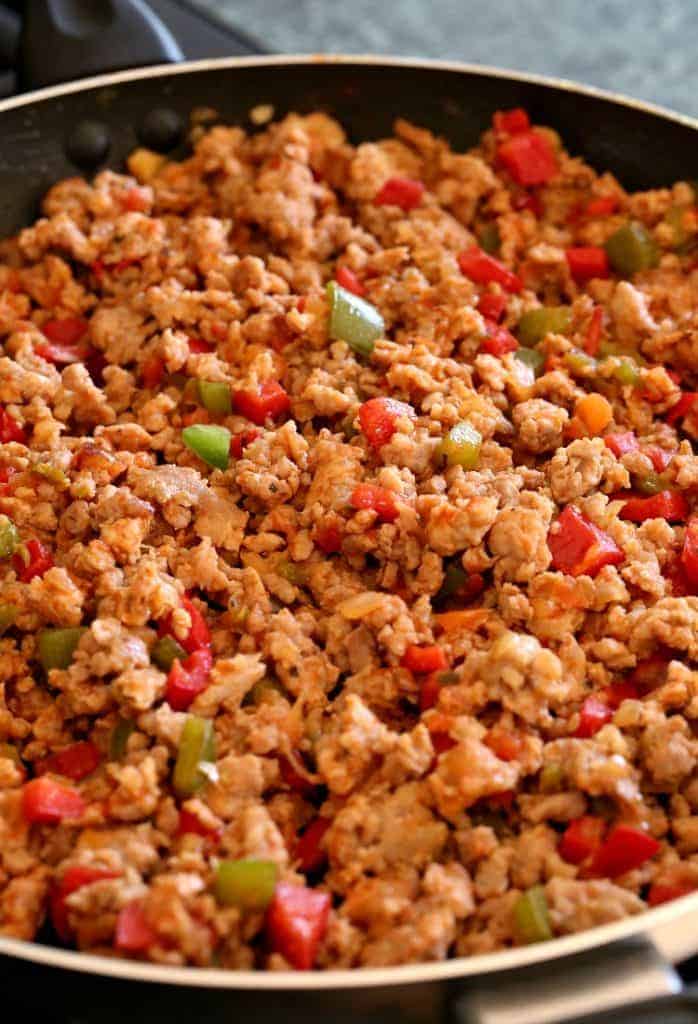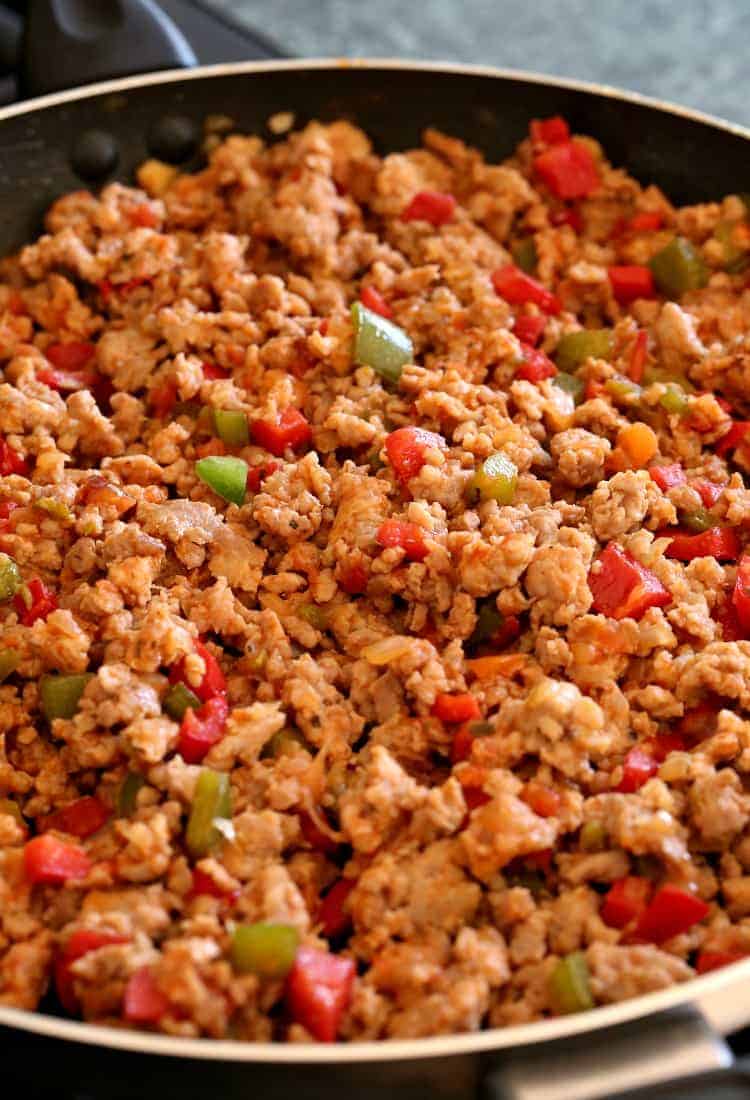 But to make sure we had a LOT of mozzarella cheese in these egg rolls we took a cheese stick and shoved it right in the middle of the filling.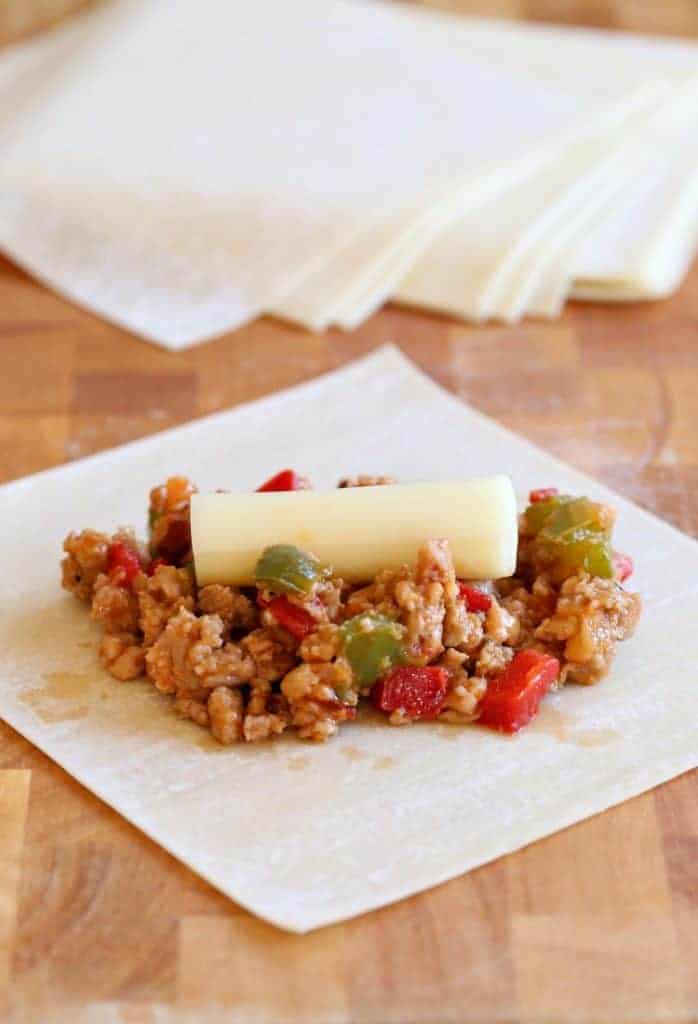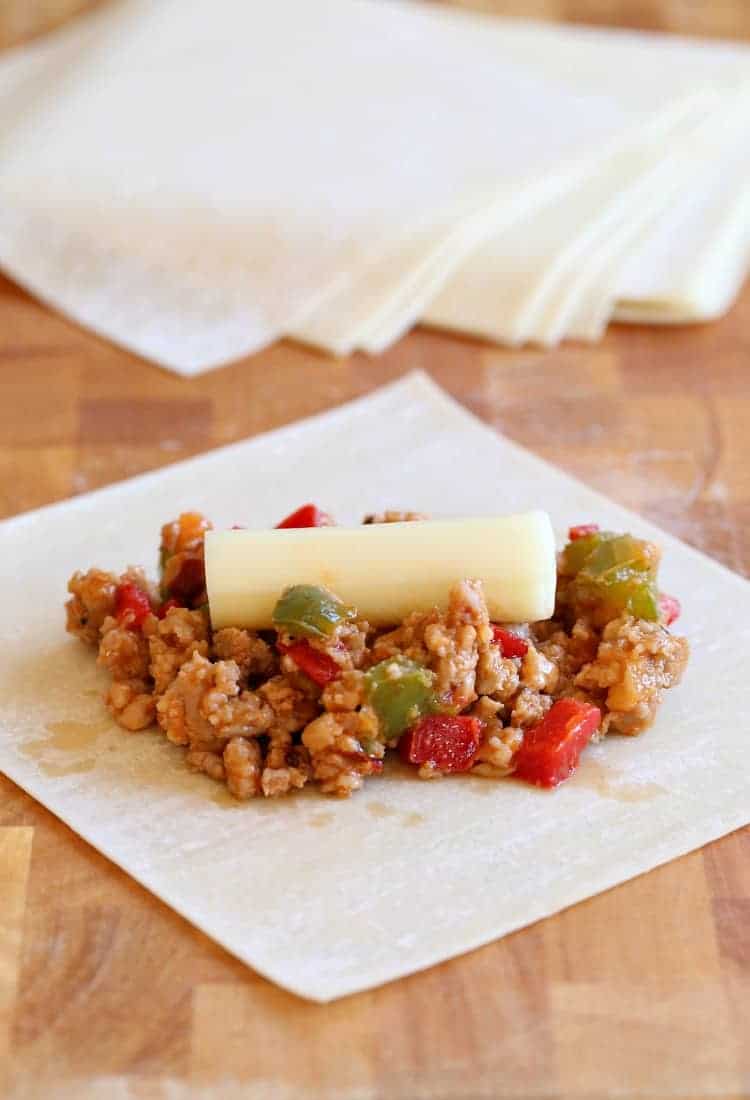 Try and get some of the filling on top of the cheese stick too so it's not just stuck to one side of the egg roll. Then start wrapping.
If you've never rolled an egg roll up before it's just like rolling up a burrito. Fold the top over the filling, then fold in both sides and wrap tight to seal.
An egg wash is the glue that keeps the wrapper together, not just on the edges that you fold up but all over the egg roll when it's done.
Heading in for the deep fry. It's actually exciting to me when it happens, since we don't do it al lot…so here we go. We're getting ready for this –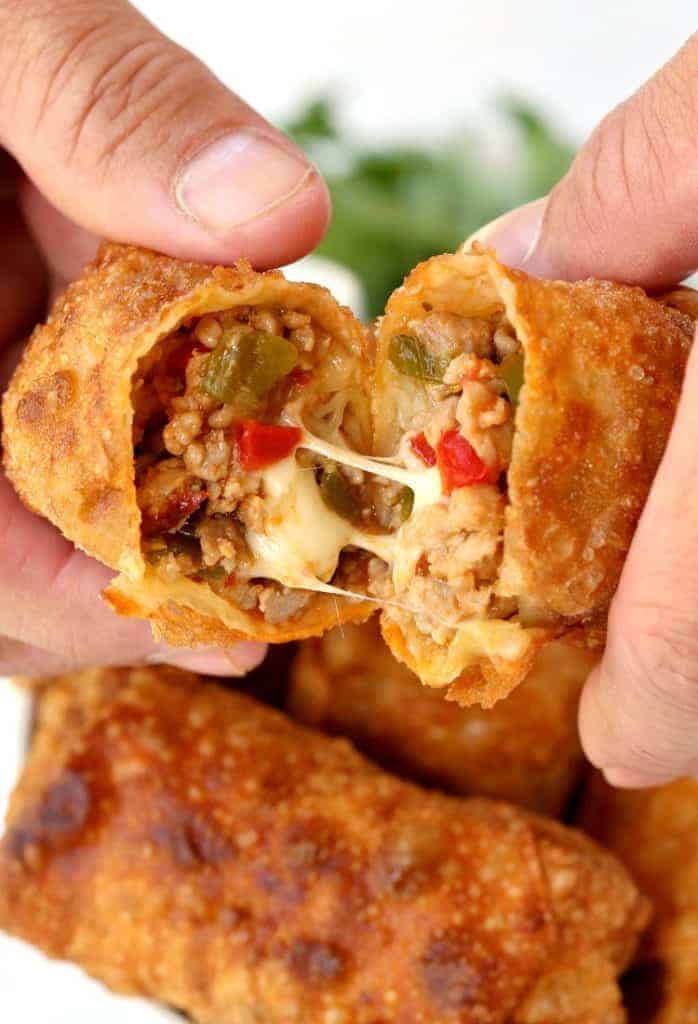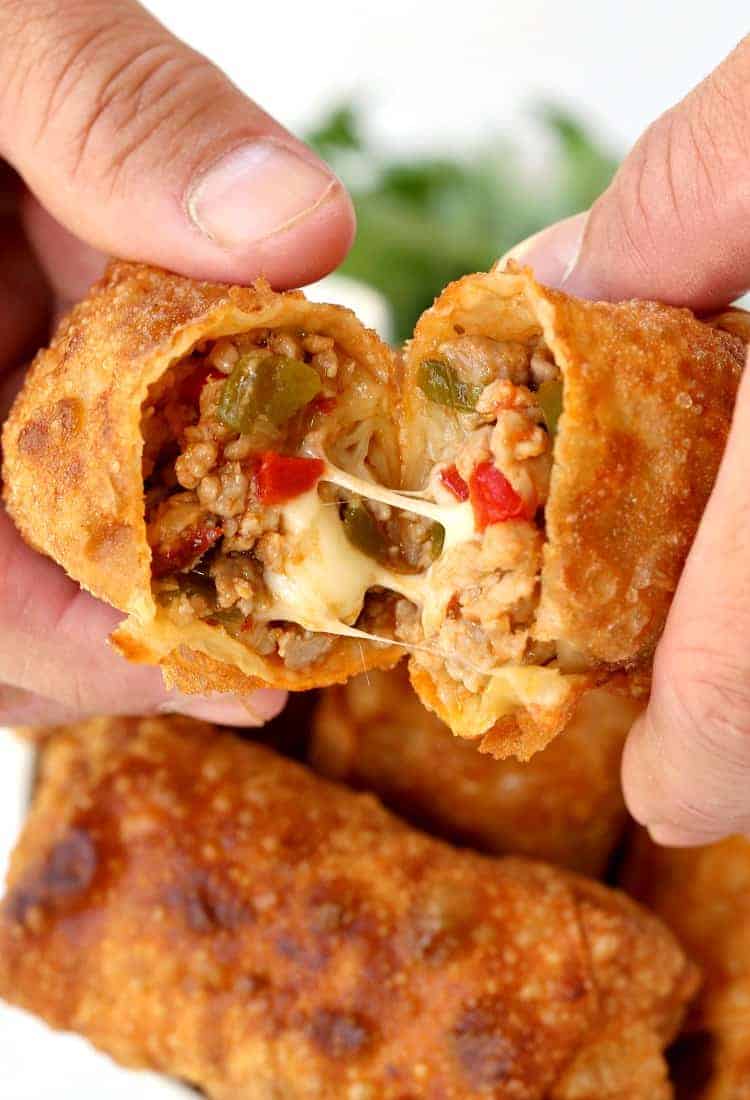 Lower a few egg rolls at a time into the oil carefully, don't overcrowd your pot or the oil will come down too much in temperature.
These Italian Egg Rolls only need 4-5 minute to fry so each batch won't take you that long.
When they come out place them on a paper towel lined plate to drain any excess oil off and start the next batch. You'll get about 15 full sized egg rolls total if you use 1/3 cup of the filling per wrapper.
And don't – I repeat don't – use more than the 1/3 of a cup in these wrappers. I know it's tempting to get a whole lot of filling in there but it will come out and mess up all your oil.
Serve these egg rolls with your favorite marinara sauce for dipping!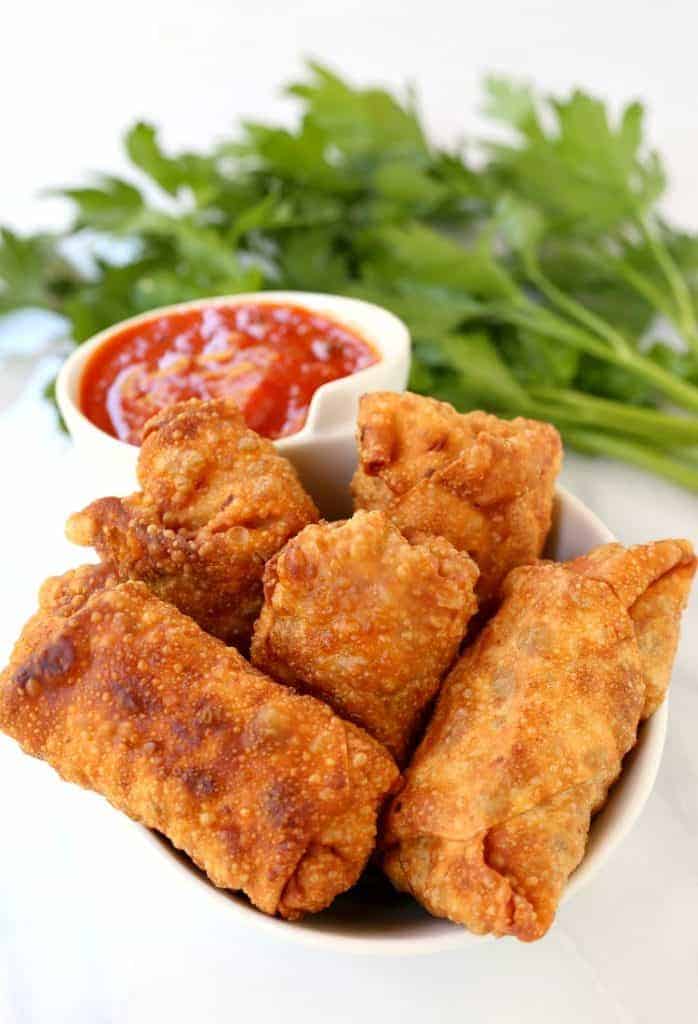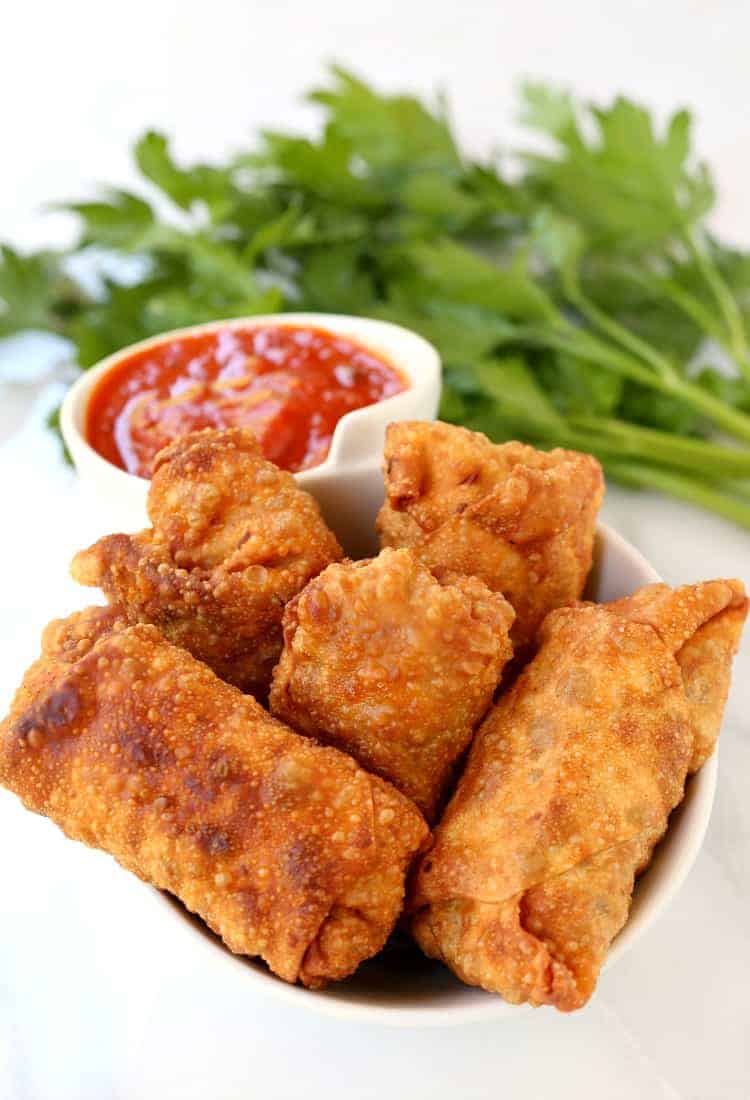 Print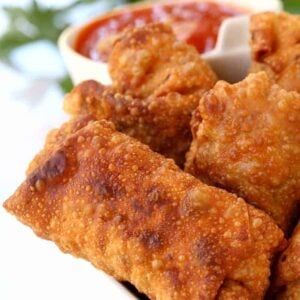 ---
Ingredients
For the Filling
1 1/2

lbs. ground sausage

2 tablespoon

s olive oil

1 cup

diced red bell pepper

1 cup

diced green bell pepper

1 cup

diced onion

1 teaspoon

salt

1 teaspoon

garlic powder

1/2 cup

marinara sauce

1 teaspoon

crushed red pepper flakes

1/2 cup

grated parmesan cheese

8

pieces of string cheese cut in half

1

package of egg roll wrappers

1

egg beaten with a teaspoon of water
vegetable or canola oil for frying
marinara sauce for dipping
---
Instructions
Start a large, deep pot of oil over medium heat. Use a frying thermometer until the temperature reaches 350 degrees.
Meanwhile make the filling by adding the oil to a large skillet over medium heat.
Add the peppers and onions and cook for 8-10 minutes until softened.
Next add in the sausage, breaking up with a spoon as it browns until there is no pink left in the meat.
Season the filling with the salt and garlic powder, then pour in the marinara sauce.
Stir to combine and remove from the heat.
Take and egg roll wrapper and place it on a work surface with the point side towards you so it's shaped like a diamond (look at the process photo in the post for reference)
Place 1/3 of a cup of the filling on the wrapper like shown in the photo with a half of a cheese stick on top. Try and place some of the meat filling on top of the cheese stick before rolling into shape.
Fold the tip of the triangle over the filling, roll once and then fold both sides in towards the center of the egg roll, then roll over until the top triangle tip seals the egg roll.
Use egg wash before rolling up to make sure the edge stays. Bruch the entire egg roll with egg wash and set aside on a plate while you make the rest of the egg rolls.
Fry at 350 for 4-5 minutes until golden brown. Depending on the size of your pot will depend on how many egg rolls you can fry at a time, being careful not to crowd the pot.
Remove the egg rolls to a paper towel lined plate to drain while you fry the rest.
Serve with warmed marinara sauce for dipping.
---
Notes
Makes approximately 15 full size egg rolls