These Hamburger Lettuce Wraps are a delicious, low carb way to get your hamburger fix! Instead of a bun, wrap these burgers up in soft Bibb lettuce!
We love low carb twists on dinner recipes like our NAKED SHEET PAN TACOS or these CHICKEN ZUCCHINI ENCHILADAS!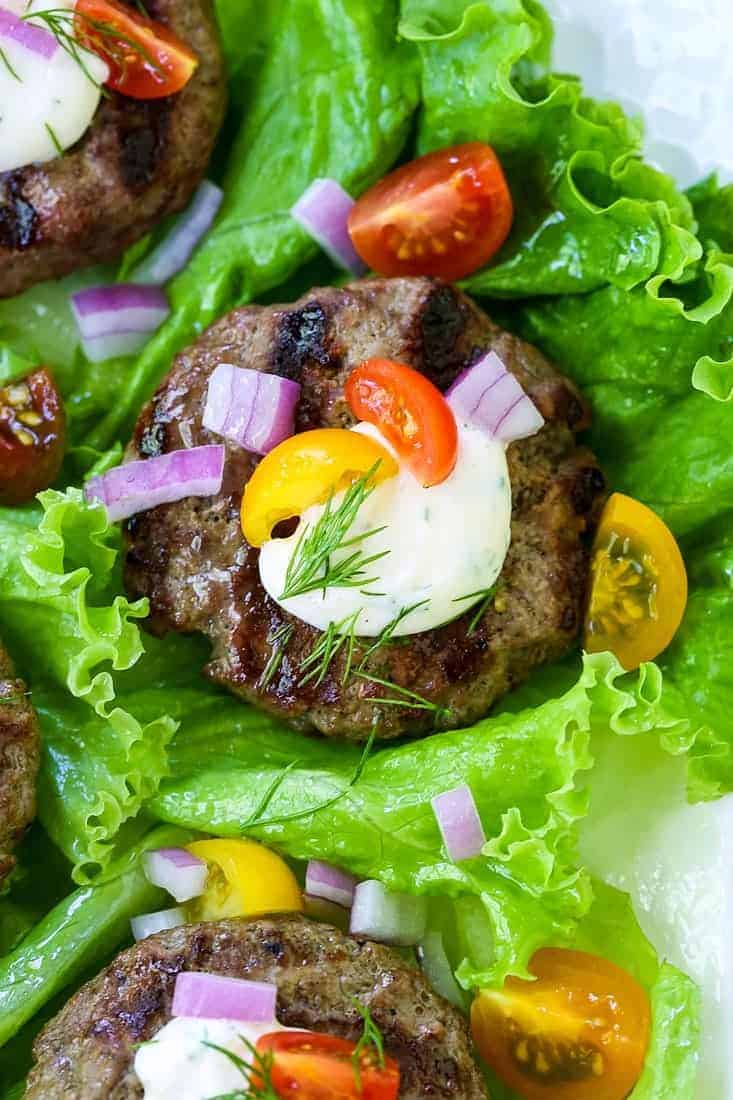 Low Carb Recipes For The Whole Family!
Just because we might want to skip the bun doesn't mean the whole family has to! Our kids certainly don't need to follow any type of low carb diet, or really any diet as long as we try and keep it fairly healthy.
We love making low carb recipes like the Hamburger Lettuce Wraps because they are versatile enough that everyone likes them. First of all, our kids actually love eating these hamburgers wrapped in lettuce, but if they didn't they can grab a slider bun and make their own burgers.
These hamburgers start out by adding some seasoning to ground beef and forming these mini hamburgers that are about 3-4 ounces each.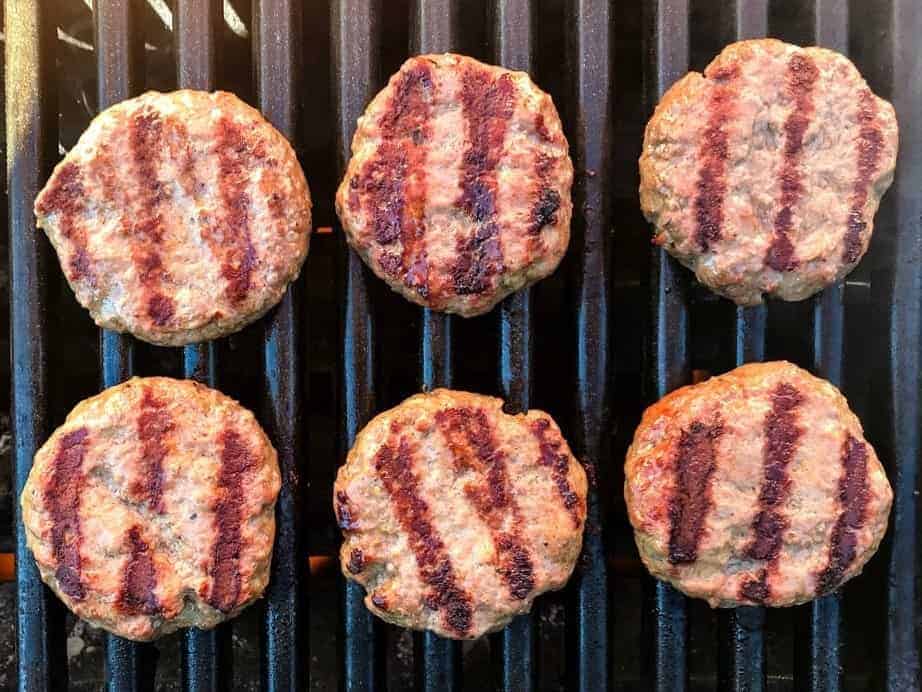 We love making flavored mayonnaise like this dill mayonnaise for topping burgers or sandwiches. Check out our GARLIC BASIL MAYONNAISE too – it's one of our favorites!
All you need is some fresh dill and lemon juice, salt and pepper. Mix together and chill for a few minutes to let the flavors to blend and you're good to go.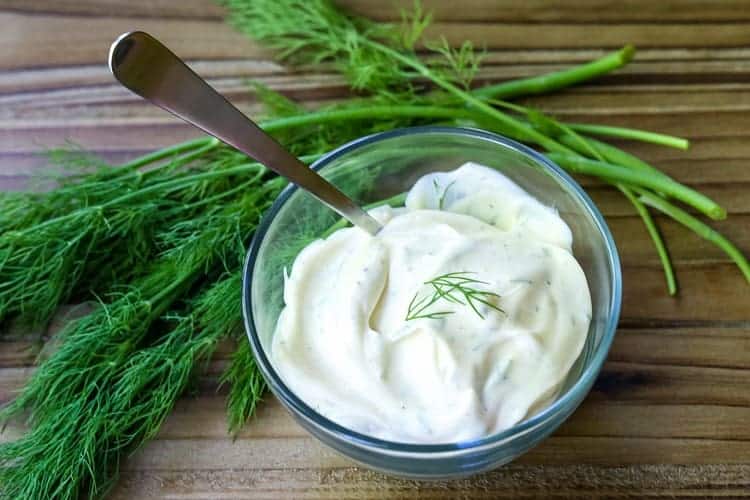 What Kind Of Lettuce Should I Use For This Recipe?
Bibb lettuce was our choice for these hamburger wraps because it's soft and flexible. There's also plenty of recipes that use romaine or iceberg lettuce, which add a delicious crunch that I love, but sometimes can break apart when you try and wrap up your food.
So really, it's up to you what type of lettuce you choose, find whatever looks good to you that day at the store or your local farm stand.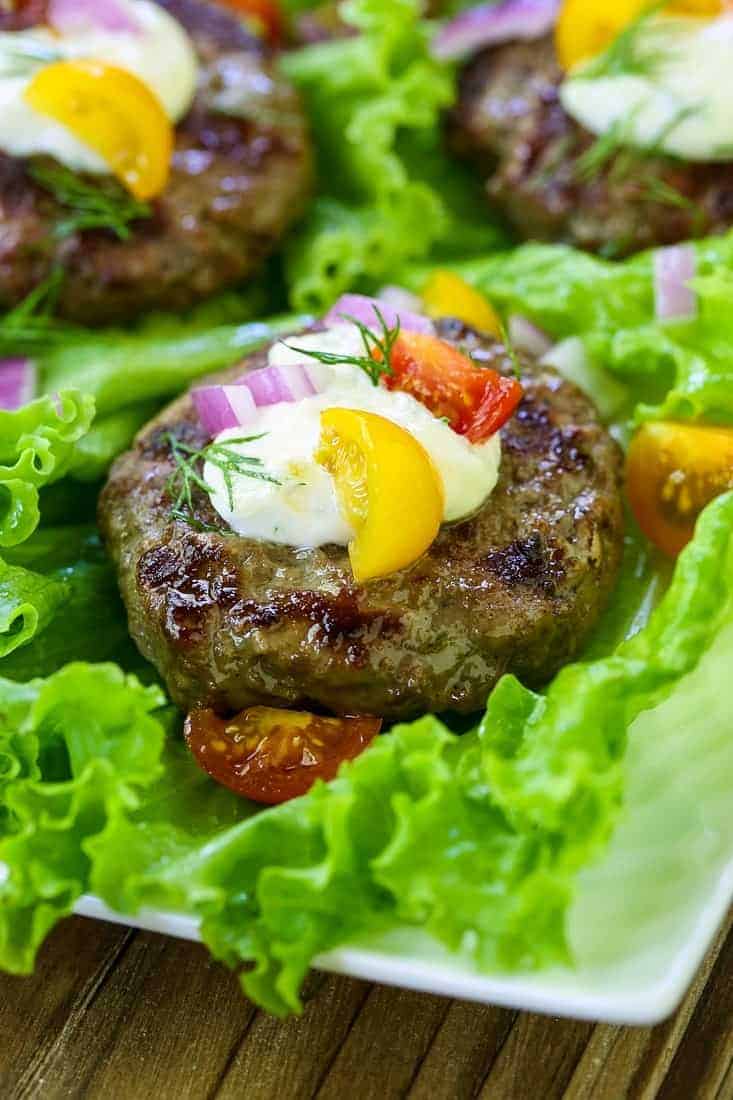 What Are Some Other Hamburger Toppings?
Onions, tomatoes and the dill mayonnaise were our choices for these low carb hamburgers, but there are SO many hamburger toppings you can add!
BACON
CARAMELIZED ONIONS
FRIED ONIONS
CHEESE – ALL THE CHEESE
MUSTARD
BBQ SAUCE
FRIED EGGS
AVOCADO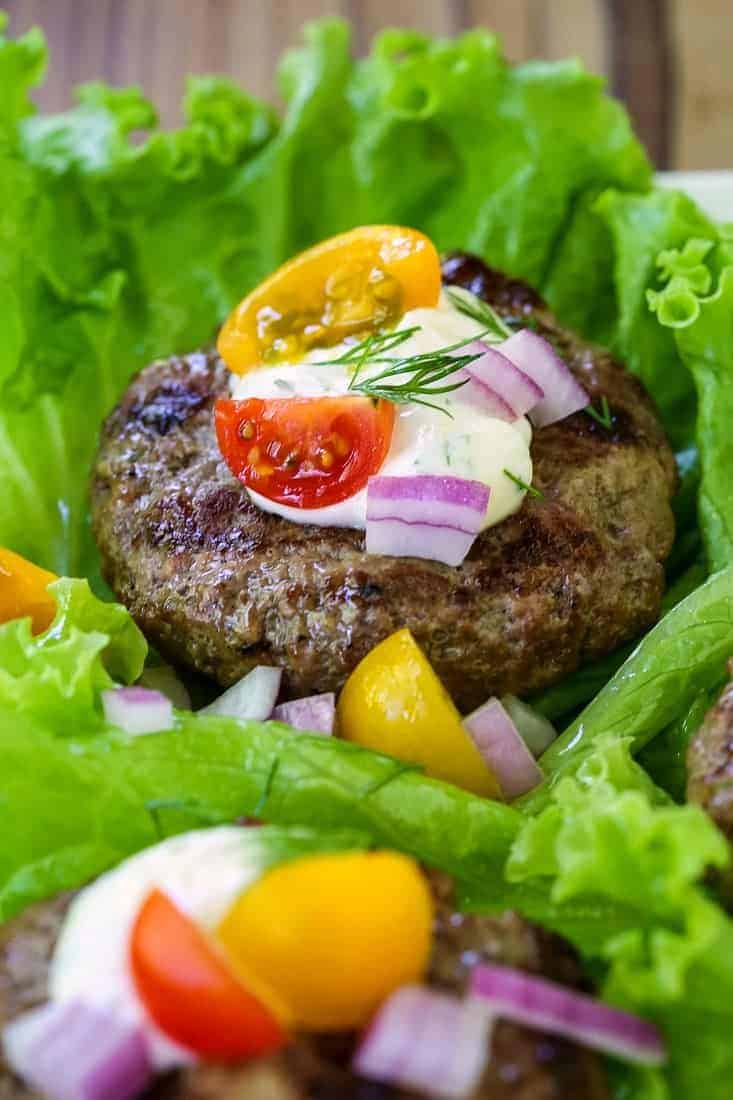 You can make this hamburger recipe for a party and have a whole toppings bar! Set out all the different kinds of topping, even buns, and let your friends make their own customized hamburgers.
This way you can please the people looking for a low carb meal and the also the people that aren't!
Looking For More Low Carb Recipes?
Pin It!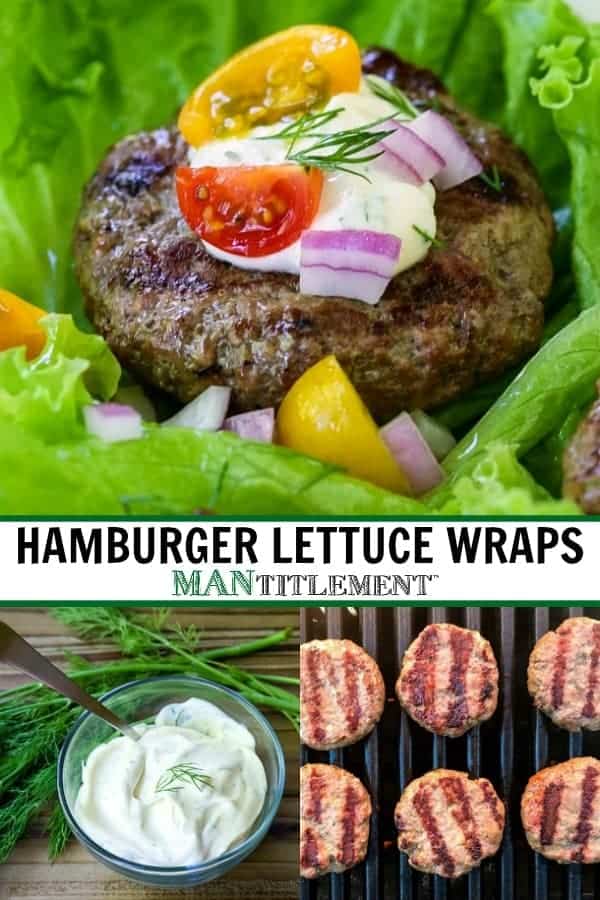 Print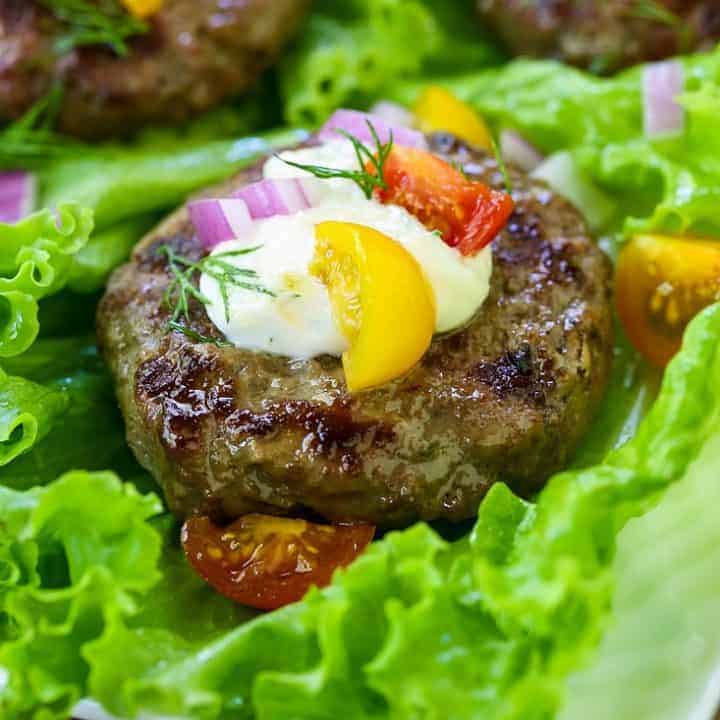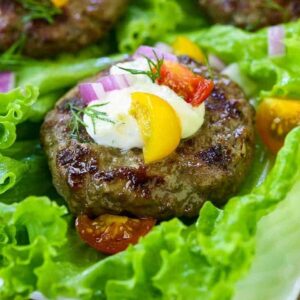 Hamburger Lettuce Wraps
Author:

Prep Time:

5 minutes

Cook Time:

8 minutes

Total Time:

13 minutes

Yield:

8 servings
This delicious, low carb hamburger recipe is perfect for lunch, dinner or even snacks!
Ingredients
1 1/2 pounds lean ground beef
1 1/2 teaspoons kosher salt
Fresh black pepper to taste
1 teaspoon garlic powder
1 teaspoon onion powder
1 cup mayonnaise
2 tablespoons fresh dill
2 teaspoon fresh lemon juice
Bibb or Romaine Lettuce
Chopped red onions
Grape tomatoes, cut in fourths
Instructions
Mix the mayonnaise, dill and lemon juice in a small bowl. Season with salt and pepper to taste and place in the refrigerator to chill.
Season the beef with the salt, pepper, garlic powder and onion powder.
Form the beef into 8, 3 ounce hamburger patties.
Grill the hamburger patties over medium heat (about 400 degrees) for 3-4 minutes on each side for a medium hamburger. Cook a minute or two longer if you like your burgers medium well, or well done.
Remove the hamburgers to a platter and cover with foil until ready.
Serve the hamburgers on a piece of lettuce with the dill mayonnaise, red onions and tomatoes.
Recipe Notes
These hamburgers are also great served on slider buns!
To prevent the hamburger patties from getting to round on the grill, make an indentation in the center of the meat with your thumb before grilling.
Category:

Dinner

Method:

Stove Top/Grill

Cuisine:

American
Keywords: hamburger recipe, low carb recipe, low carb dinners, beef recipes, lettuce wraps, healthy recipes