Round two of Dirty Week starts tonight with these Dirty Mary Shots! Just like a bloody mary but in shot form with a kick from tequila!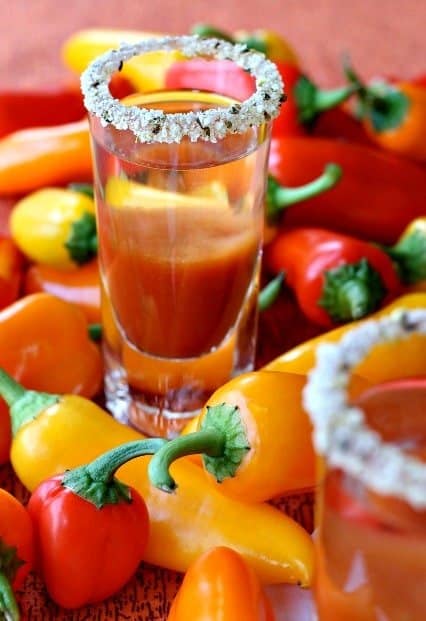 It's Fat Tuesday today, the big feast before the big fast. If you follow the history behind Fat Tuesday it got it's name from all the food and drink that's consumed before the fasting on Ash Wednesday which is the beginning of Lent.
Good thing I don't follow that because fasting would be a problem for me.
It's been a kind of crazy with all the cooking that's been happening. Chicken Fried Ribs with Whiskey Glaze, Sausage and Pepper Stuffed Bread, Chicken Enchilada Quesadillas…all the food is nuts sometimes.
The first question my boys ask when they get up in the morning is "What's for dinner tonight?"
I guess that's not totally true, it's actually the second question. The first question is "What's for breakfast?"
Food is definitely a big deal around here.
But the one thing we can make and (obviously) keep to ourselves are the cocktails…and today I'm making my version of a spicy bloody mary shooter – not with vodka, but with tequila!
It's Mardis Gras after all so I'm thinking tequila is a better fit.
For these Dirty Mary Shots I used Hornitos® Lime Shot tequila. If you haven't ever tried Hornitos Lime Shot you totally should, especially those of you who think you don't like tequila I bet you'll like the Lime Shot. This tequila with a hint of lime is perfect for mixing up in these drinks.
And instead of tomato juice for the base, I used V8's new Bloody Mary mix – I mean, seriously, how awesome is that? You get your vegetable fix right there with your cocktail. Win win.
All that was left was to dirty up the rim with a jalapeño lime salt just to amp up the spice a little more.
These Dirty Mary Shots are the perfect excuse to celebrate Mardi Gras tonight…if you're the type that needs an excuse.
Cheers!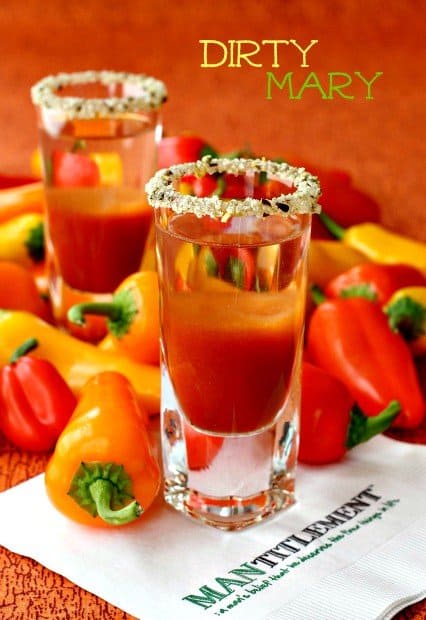 Print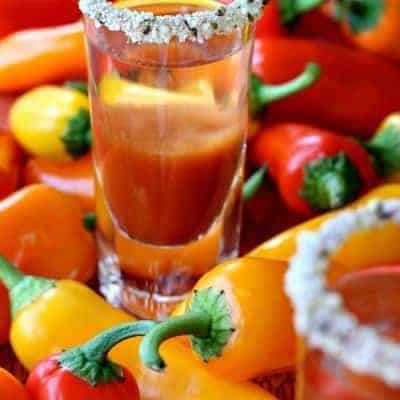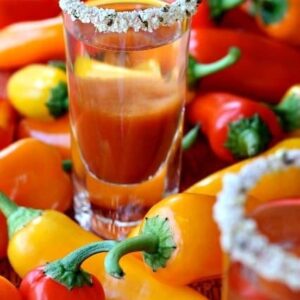 Dirty Mary Shots
Scale
Ingredients
1 oz

. V8 Bloody Mary mix

1 oz

. Hornitos® Lime Shot Tequila
Jalapeño salt for rimming the glasses (if you can't find jalapeño salt, use regular salt mixed with a pinch of cayenne pepper)
Lime wedges
Instructions
Take a lime wedge and run it around the rim of a 2 oz. shot glass.
Dip the rim in the jalapeño salt, turning until the whole rim is covered.
Pour the V8 Bloody Mary mix to the bottom of the shot glass.
Carefully pour the tequila over the back of the spoon to layer it on top of the V8 juice.
Recipe Notes
If you're not layering these shots, you can make a large batch up ahead of time and keep in a pitcher for serving.