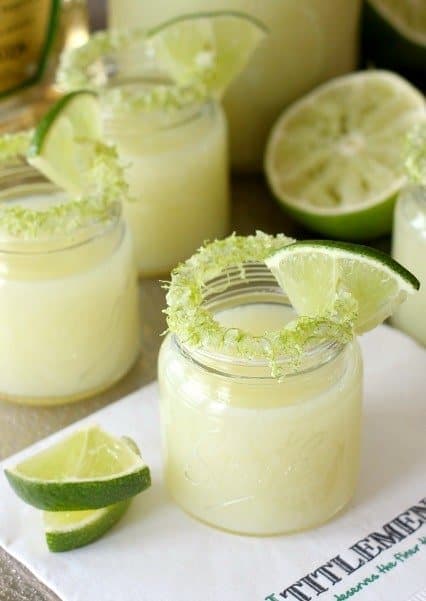 If you're looking for a drink that will blow away your guests, you have to try these Lime Drop Shots! These shots are made in a unique way that you have to see to believe!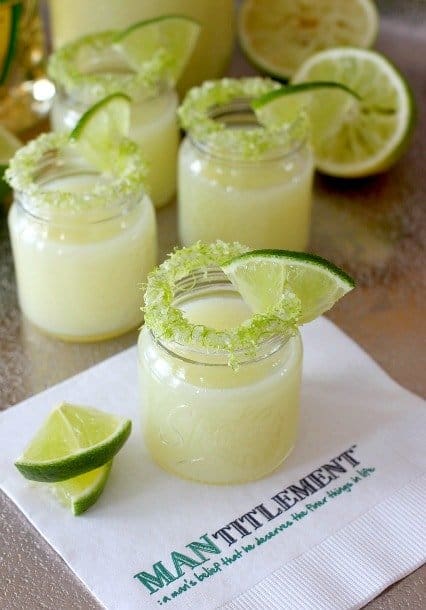 I got the idea for these shots when Christie and I were watching Triple D on the Food Network. This old guy was making his "famous" lemonade at his restaurant and finally giving away his secret recipe. What's the secret? He uses fresh lemons…and the whole lemon. I mean literally the whole thing, skin, seeds and all. Right into his crazy big blender. What comes out is a thick lemon juice – a very concentrated lemon juice – that will act as the base for the lemonade.
All there is to do is add your water and sugar and you've got the best lemonade ever.
Of course this made me start thinking about cocktails. Just adding some rum or vodka to that lemonade would have been good enough. But since Cinco de Mayo is here tomorrow, I thought we'd use some tequila instead.
And switch the lemons out for limes.
You do need a good blender to make the lime base. We use our Breville blender for this, not as expensive as some other top notch blenders but it does the job just as well!
If you don't have a good blender you can use a food processor and work in batches to grind up the limes.
Just start by adding some cut up limes to your blender and puree until it's smooth.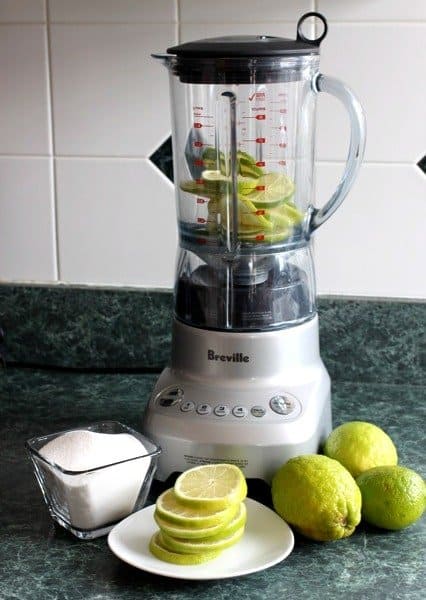 Pour the mixture into a fine strainer and strain over a bowl until all the juice is out and the pulp is left in the strainer.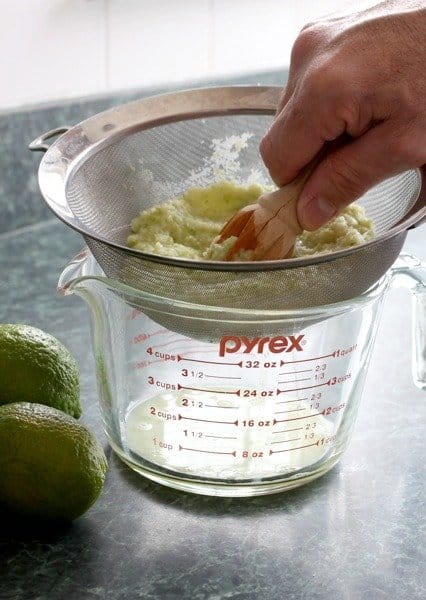 Add the lime juice to a pitcher with a cup of cold water, 3/4 cup of tequila, and 1/4 cup of sugar.
Stir, chill and serve in shot glasses, I got these Mason Jar Shot Glasses from Amazon, they're super cheap and definitely worth the money for these shots and many more…
Just like a lemon drop has a sugared rim, I rimmed my shot glasses with sugar and lime zest. It adds a great look to the drink and also great flavor. Believe me, these shots are full of fresh lime flavor – you'll want the sugared rim!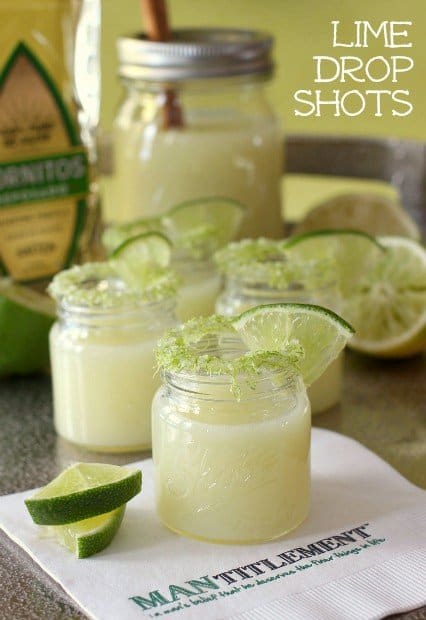 Print
---
Description
Makes about 10 shots.
---
Ingredients
4

large (or

6

small) limes, washed

1/4

c. sugar

3/4

c. tequila (I used Hornitos® Reposado)
Extra sugar for rimming the glasses
---
Instructions
Zest 2 of the limes and reserve zest in a bowl.
Cut the limes in quarters and place inside a blender or food processor.
Blend until smooth and strain through a fine strainer into a bowl.
Add the strained lime juice, a cup of cold water, the sugar and tequila into a pitcher and stir.
Dip each shot glass in a shallow dish of water. Then rim each glass with a 50/50 mixture of the zest and sugar.
Pour the lime drops into the rimmed glasses and serve.