Once you get over laughing about the name, you're going to love the taste of this Duck Fart Shot! It's fun to make and even more fun to drink!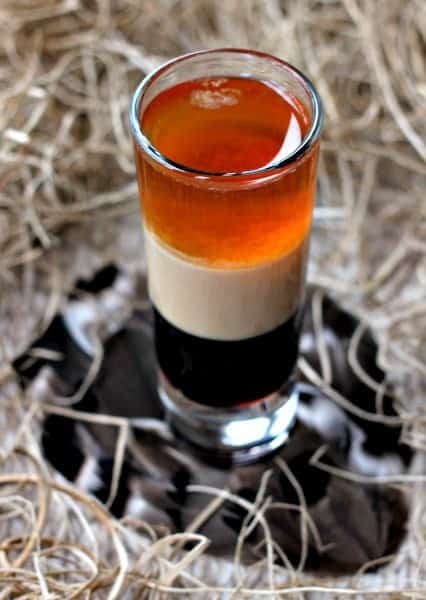 I had it for the first time over at a friends house, I had heard of them but hadn't actually drank one yet…
A Duck Fart is a layered shot with Kahlua, Bailey's Irish Cream and whiskey.
The Kahlua is the bottom layer, the Bailey's floats on top of the Kahlua for the middle layer and then a good amount of whiskey gets poured on top of the Bailey's.
Traditionally the whiskey in a Duck Fart Shot is Crown Royal, but grab whatever whiskey you have. As you can see from the video I had a bottle of Evan Williams on hand so that's what I used.
Make it with the kind of whiskey you like drinking, that's what is most important.
Why Is It Called a Duck Fart Shot?
Good question., one that I'll try and answer for you!
They say that the Duck Fart shot is to Alaska what the Mai Tai is to Hawaii, or the margarita is to Mexico.
Said to have originated in a bar in Alaska on a slow night when the bartender and an older woman were testing recipes. The woman drank a few here of these and then came up with the name "Duck Fart".
The rest of the story goes that the women had some, well, gassiness about her that she was quite noisy about. Sooooo you can visualize the rest.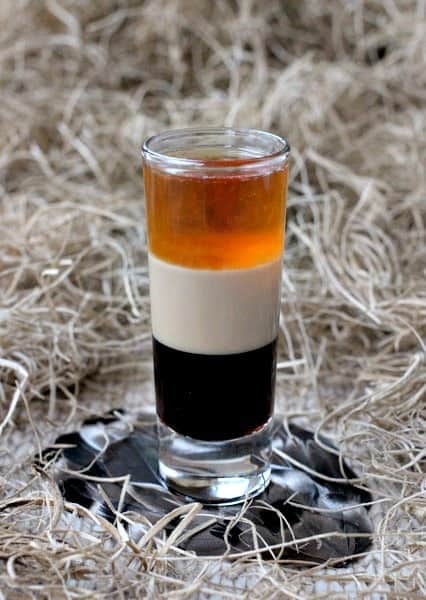 But I promise you, the Duck Fart Shot is way more tasty than that vision I just gave you, you'll be making this for all your friends and they'll all be asking for the recipe.
I love serving layered shots around Christmas time like these Layered Candy Cane Shots! The presentation here is key guys, especially around the holidays.
And then we can move on to the dessert cocktails – you know I love a good shot recipe even for dessert like these Black and White Cookie Shots, they're one of my favorites.
How Do You Make a Duck Fart Drink?
Here's how easy this is going to be. Start off by pouring Kahlua into the bottom of your shot glass.
Now slowly add in a layer of Bailey's, pouring it over the back of a spoon to make the middle layer.
Next comes the whiskey! Use the spoon method just like the last layer…you're almost there!
Watch the video in the beginning or the end of the post here to you can see how you can easily layer these shots like a boss!
And finally, there's no sipping this shot! You have to shoot it due to the fact that it's layered.
I know all of you shot sippers out there…don't do it. This shot really tastes better when you drink it all at once so all the flavors can mix together.
Some people tell me they don't like whiskey – like at ALL. But they buy it now just to make these Duck Fart Shots.
Whiskey companies should be paying me for this recipe, because all the sales I'm making for them…all the sales.
Believe me, these Duck Fart Shots taste so much better than the name sounds, try them tonight and you'll see!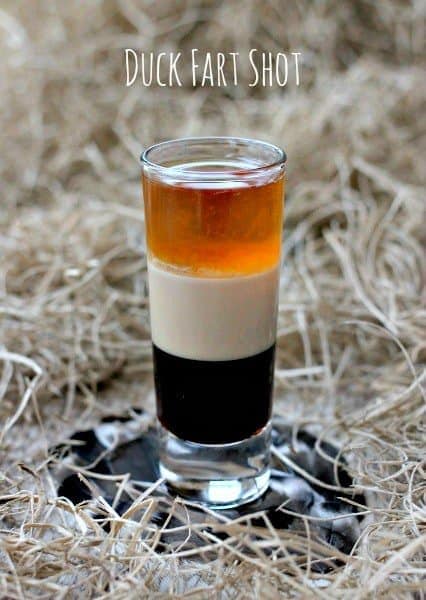 Check out my mad layering skills in our quick video…because you can do it too!
Looking For More Shot Recipes?
Print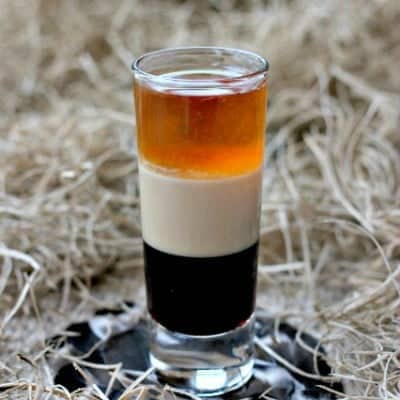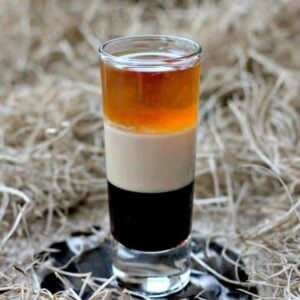 Duck Fart Shot
Author:

Prep Time:

5 minutes

Total Time:

5 minutes

Yield:

1

1

x
A fun and tasty layered drink that's perfect for parties!
Scale
Ingredients
1/2 oz

. Kahlua

1/2 oz

. Bailey's Irish Cream

1/2 oz

. Whiskey
Instructions
Start with the Kahlua for the bottom layer.
Slowly add in the Bailey's, pouring over the back of a spoon.
Add the whiskey for the top layer, carefully pouring over the back of a spoon.
Category:

cocktails

Cuisine:

drinks
Keywords: cocktails, drinks, shots, layered drinks, whiskey drinks, kahlua drinks, bailey's drinks, happy hour
Shop This Recipe!
Since we've posted this recipe way back in 2015 it's been pinned over a million times! Our readers really love testing out their layering skills with this drink!