This Beef Chow Fun recipe is an easy and authentic version of a popular Chinese takeout dish. It's full of bold flavors and tender, juicy strips of beef. A healthy dinner recipe that everyone is going to devour!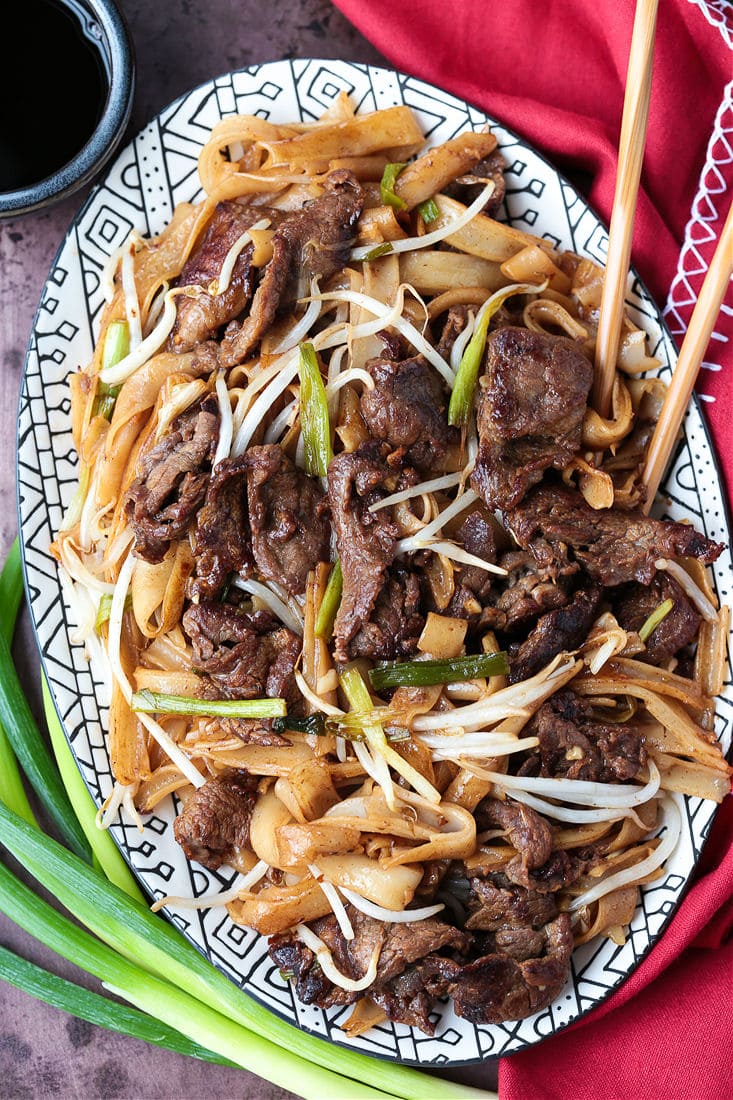 Juicy, Spicy Homemade Beef Chow Fun
I love Chinese takeout food, but sometimes it's nice to be able to make your favorite dishes at home. This beef chow fun is one of my go-to recipes when I want to make Chinese food in my own kitchen. It's easy and fun to make and, most importantly, tastes just as good as what you'd get at a restaurant.
The beef in this recipe is marinated, and the result is that it's incredibly tender, while also packed full of flavor. It's spicy, acidic, and salty, and also melts in your mouth. When added to the rice noodles and bean sprouts, you're left with a pretty perfect dish. It certainly satisfies my cravings when I'm in need of some good Chinese takeout.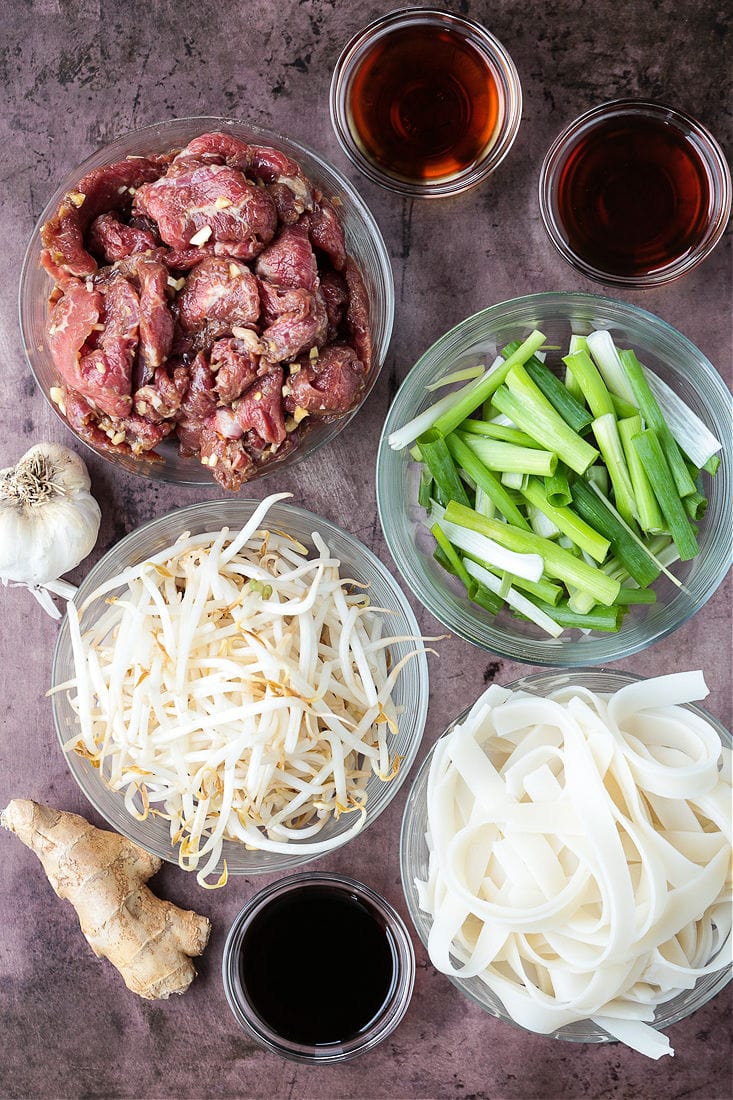 Recipe Ingredients
Here's everything you need to make this authentic Chinese dish at home. Make sure to scroll to the recipe card at the bottom of the article to see the exact quantities for each ingredient.
For the Beef:
Flank steak
Soy sauce
Oyster sauce – Make sure to use a high quality oyster sauce that hasn't been diluted.
Sugar
Sesame oil – You can use regular or toasted sesame oil for this recipe.
Garlic
Red pepper flakes
Cornstarch
For the Chow Fun:
Vegetable oil – Canola oil, or any other neutral oil works fine as well.
Scallions
Rice noodles – You want to use wide rice noodles for this recipe.
Soy sauce
Oyster sauce
Shaoxing wine – This is a Chinese rice wine that is commonly used in Chinese cooking.
Sesame oil
Ginger
Bean sprouts
Why Flank Steak?
Flank steak is the most commonly used cut of beef in Chinese stir fries. It's a very lean cut of beef, and also one of the most flavorful. It's able to hold a lot of flavor from marinades, and becomes very tender when stir fried. If you don't have flank steak, you can use skirt steak or sirloin steak for this recipe.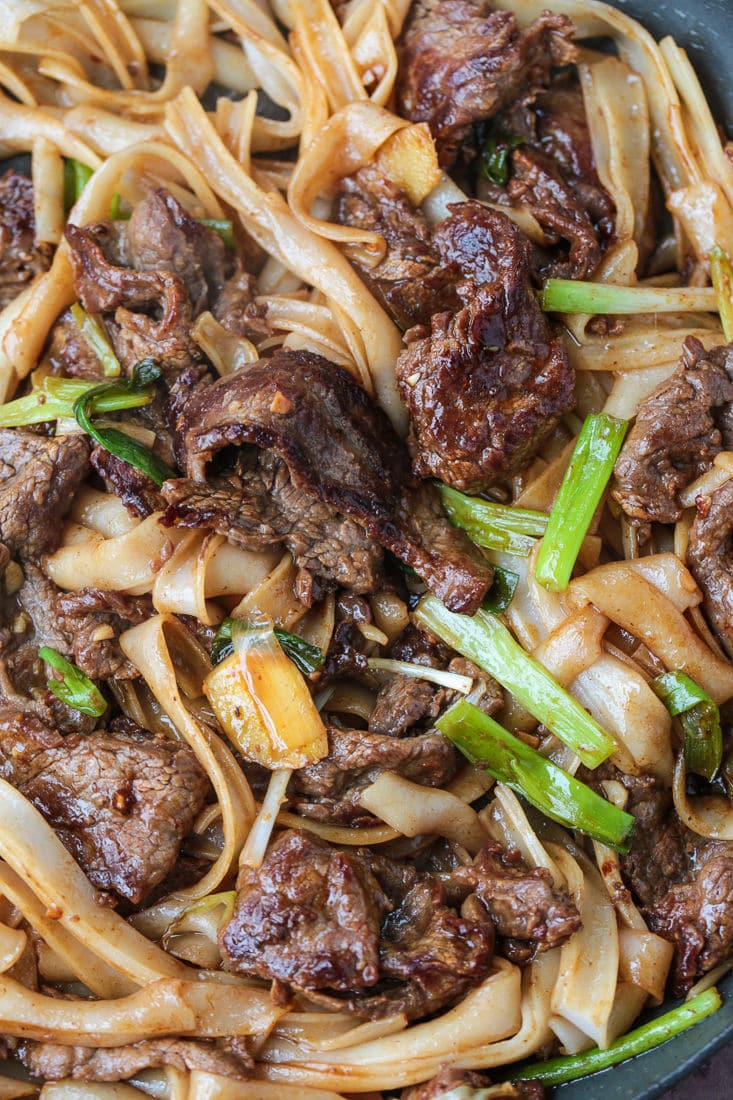 How to Make Beef Chow Fun
This is a straightforward recipe, and I think it's fun really fun to make!
Marinate the beef. Add soy sauce, oyster sauce, sesame oil, sugar, garlic, red pepper flakes, and cornstarch to a bowl, and whisk to combine. Place the strips of beef in a ziploc bag, then pour the marinade in the bag. Seal the bag, and massage the marinade into the beef through the bag. Put the bag in the fridge for an hour.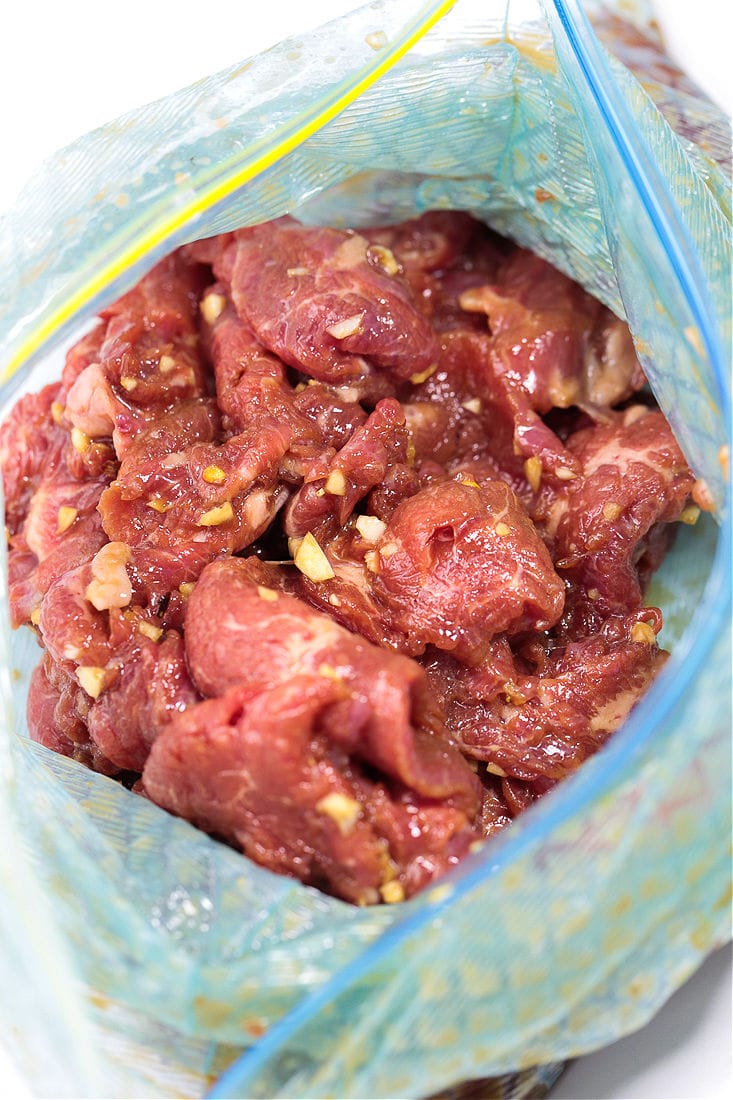 Prepare the noodles. Follow the instructions on the package of rice noodles to prepare them using the soaking method.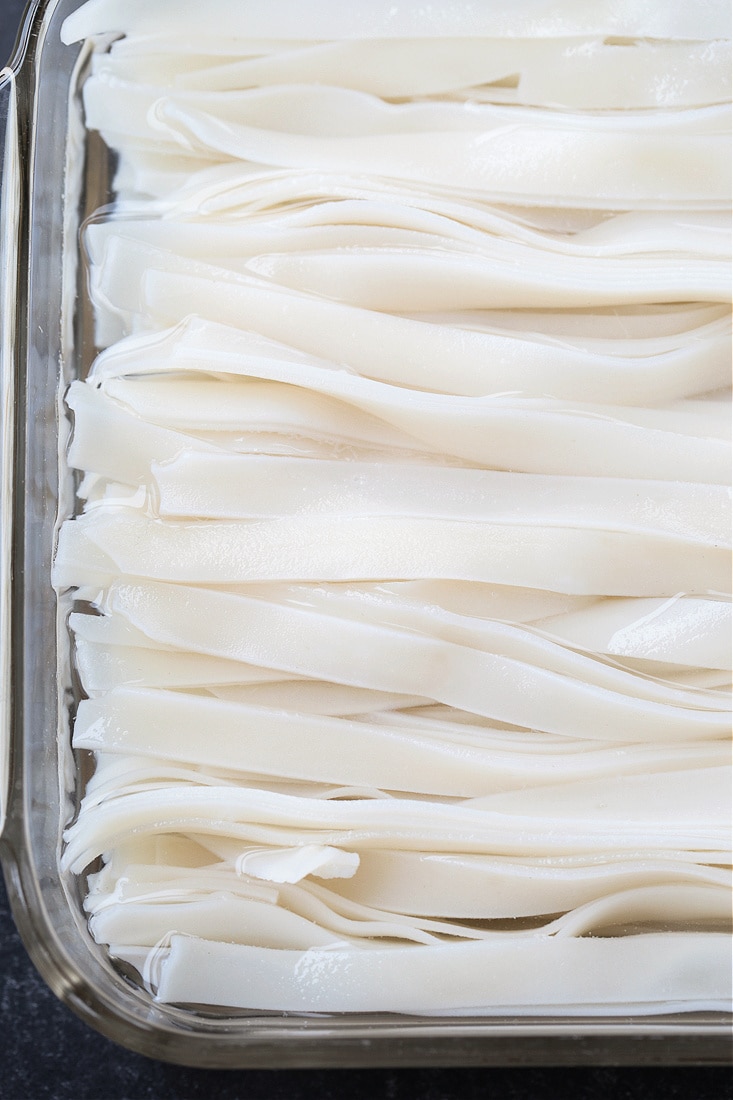 Dry the steak. After it has marinated for an hour, remove the steak from the bag, and dry the pieces with a paper towel.
Stir fry the beef and scallions. Heat a wok or non-stick pan over medium-high heat until very hot. Add oil and then the beef, and sear for 2 minutes. Flip the slices of beef over, and sear for 2 more minutes, then add the scallions and cook for 1 minute.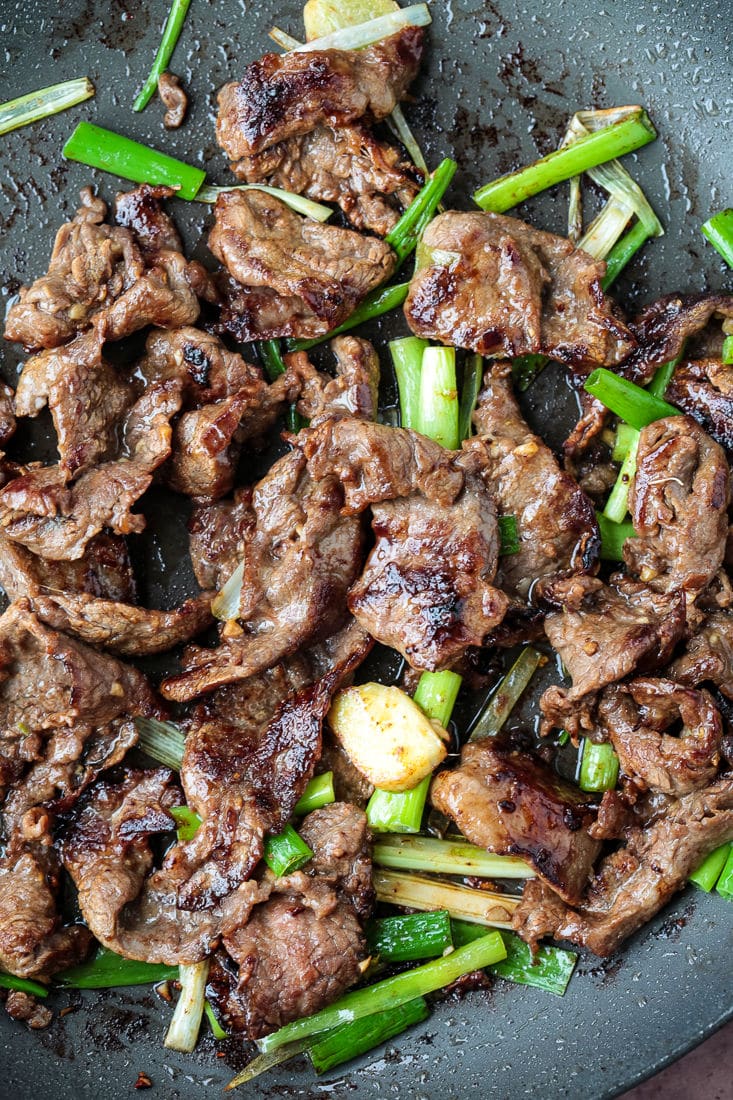 Stir fry the noodles. Add the noodles, Shaoxing wine, oyster sauce, soy sauce, sesame oil, and ginger. Toss or stir until the ingredients are combined, and cook for 3-4 minutes.
Add the bean sprouts. Add the bean sprouts to the pan, then toss or stir to combine. Cook for 30 seconds, then serve.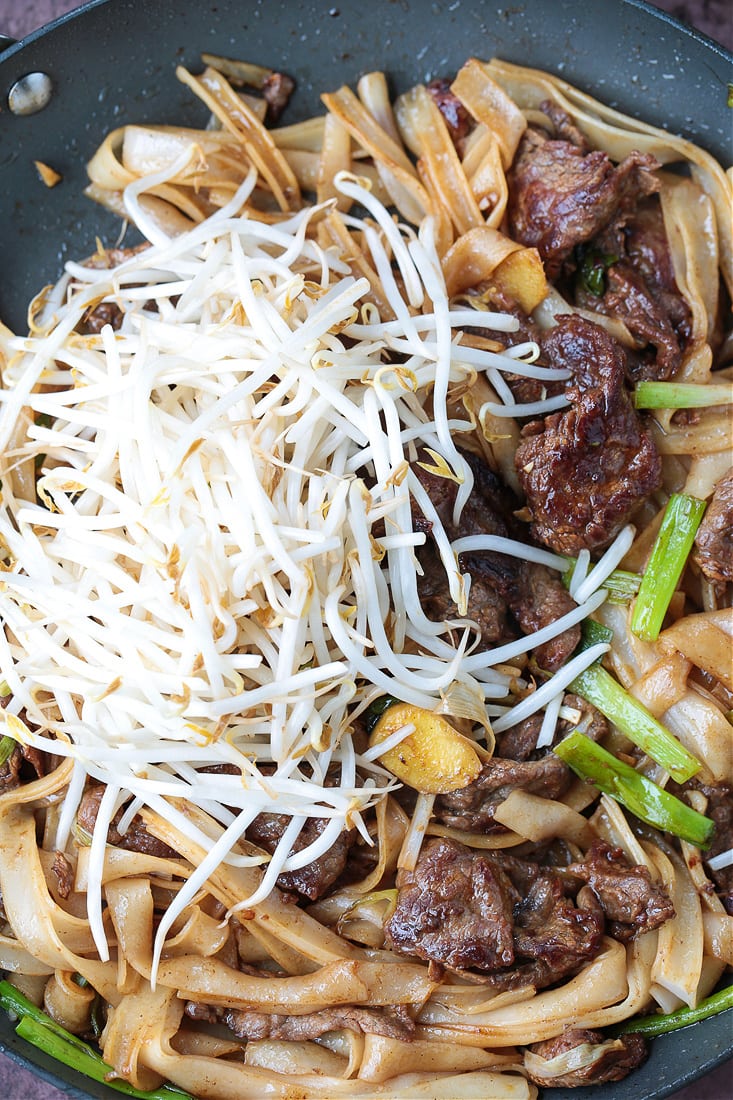 Tips for Success
Here are some tricks for making the best beef chow fun.
Briefly freeze the beef. You want to cut the flank steak very thinly for this recipe. Since beef is fairly soft, it can be hard to cut it into thin slices. To make it easier, freeze the steak for about 20 minutes before cutting it. That will firm up the steak enough that it will be easier to cut it into even, thin slices, but it won't be frozen when you cook it.
Use the water test. With stir frying, it's important to make sure that the wok or pan is very hot. That's how you get a good sear on the meat. To make sure that your pan is hot enough, put a drop or two of water in it. The water should dance and sizzle. If it doesn't, the pan isn't hot enough yet.
Cook the beef in a single layer. In order to get a good sear on the steak, you want to cook it in a single layer. Make sure that the beef is spread throughout, so that every piece is making contact with the pan. If your pan isn't big enough to accommodate all the steak, cook it in batches. When all the steak is cooked, return it all to the pan, and continue with the recipe.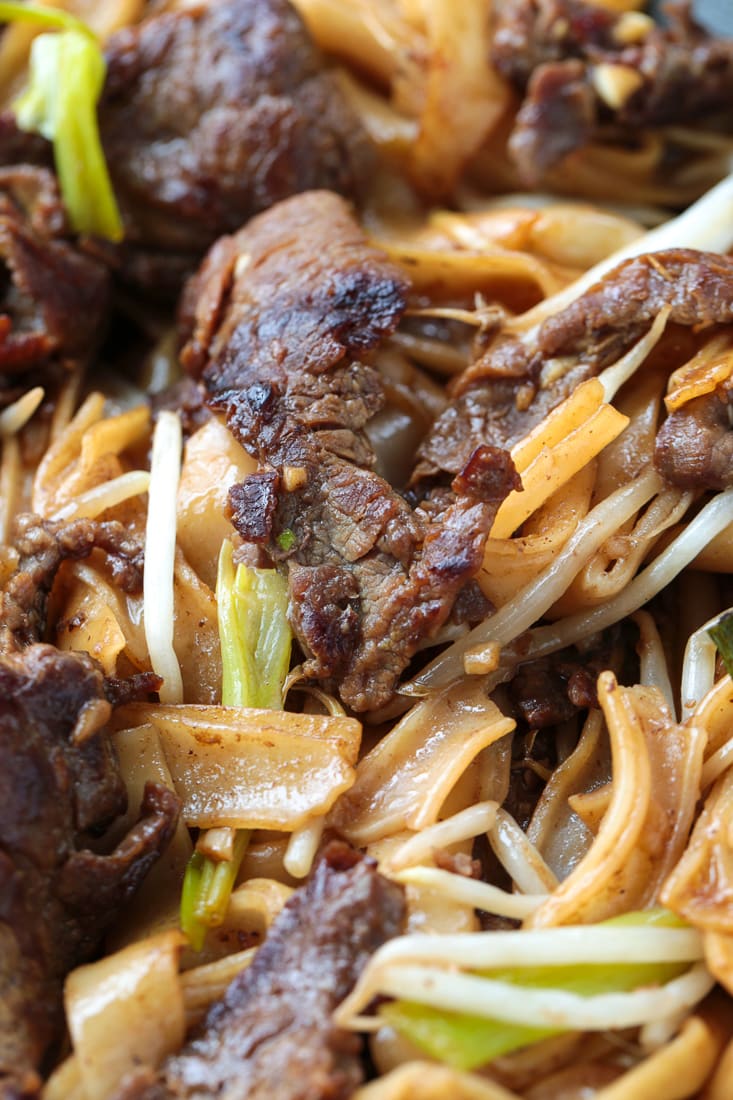 How to Store and Reheat Beef Chow Fun
This recipe will last in the fridge for up to 3 days in an airtight container. To reheat, add a splash of water to the chow fun to keep it from drying out. Cook on the stovetop over medium heat for 3-4 minutes. You can also reheat the dish in the microwave. Cook on full heat in 30-second increments until the steak is warm all the way through.
Can This Recipe Be Frozen?
You can keep beef chow fun in the freezer for an easy weekday meal. Just store it in an airtight container, and it will last for up to 3 months. Let the chow fun thaw in the fridge before reheating.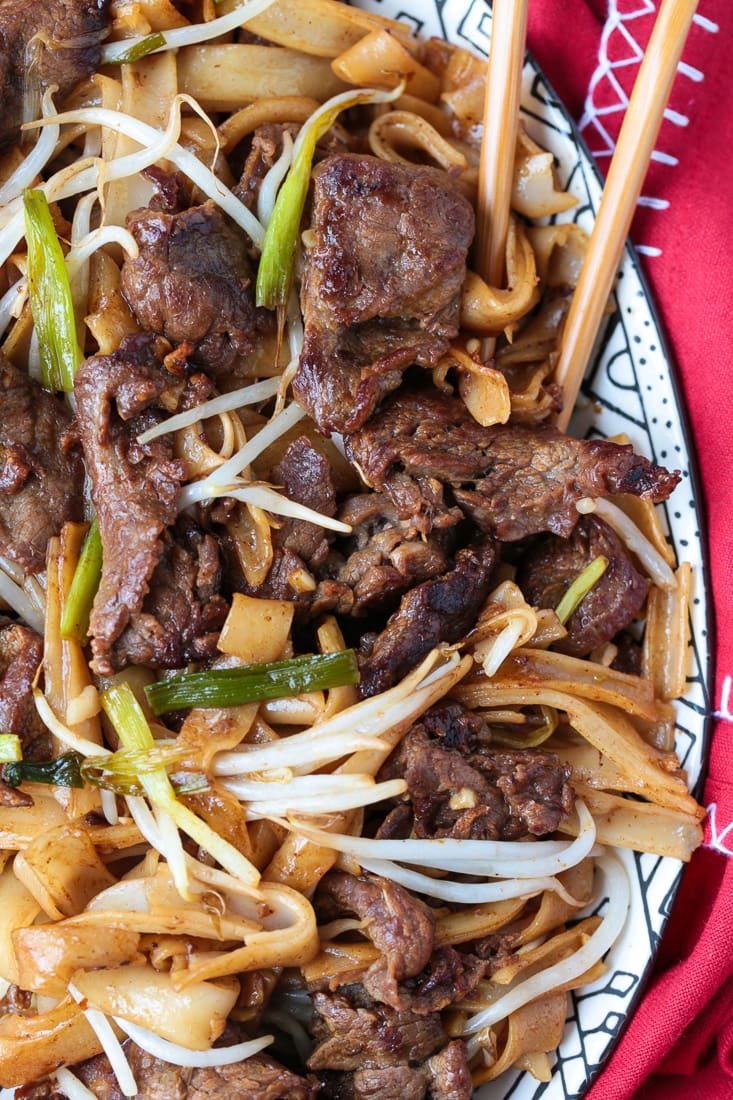 More Asian Recipes to Try
If you loved this tender and spicy beef chow fun, then make sure to check out some of my other favorite Asian recipes!
Print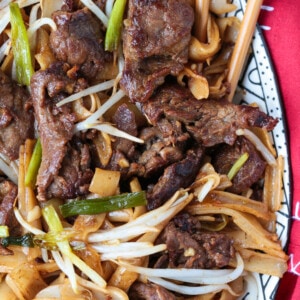 Beef Chow Fun
Author:

Prep Time:

1 hour, 10 minutes

Cook Time:

10 minutes

Total Time:

1 hour 20 minutes

Yield:

5

-6

1

x
Beef chow fun is a Chinese takeout staple. This recipe is an easy version that you can make at home, that's just as delicious as what you'll get in a restaurant.
Scale
Ingredients
To Marinate The Steak:
1

pound flank steak, sliced thin

2 tablespoons

soy sauce

1 tablespoon

oyster sauce

2 teaspoons

sugar

1 tablespoon

sesame oil

1 tablespoon

chopped garlic

2

pinches red pepper flakes

1 tablespoon

cornstarch
To Make The Beef Chow Fun:
2 tablespoons

vegetable or canola oil

6

scallions, sliced in half lengthwise and then into large sections

12 ounces

wide rice noodles

4 tablespoons

soy sauce

1 tablespoon

oyster sauce

2 tablespoons

Shaoxing wine

1 tablespoon

sesame oil

3

thin slices of peeled ginger

4 ounces

bean sprouts
Instructions
Place the sliced flank steak into a resealable bag. Add the ingredients for the marinade into a bowl and whisk together to combine breaking up any lumps from the cornstarch. Pour the marinade into the bag with the steak and seal. Use your hands to combine the steak with the marinade together in the bag and then refrigerate for 1 hour.
Follow the instructions on the package to soak the rice noodles before using. Typically, the rice noodles are soaked in cold water for 30 minutes then drained.
Remove the steak from the marinade, discarding the marinade, and dry the steak off with paper towels (this will help the steak to sear). Gather the rest of the ingredients together so you have them ready to go.
Heat a wok or a large, no stick skillet over medium-high heat. When the pan is hot, add the vegetable oil and then the sliced steak in a single layer if possible. Let the steak sear for 2 minutes before turning, then toss the steak and cook another 2 minutes to get a nice sear all around.
Add the scallions to the wok with the steak, toss and cook for 1 minute. Add the noodles to the wok along with the soy sauce, oyster sauce, Shaoxing wine, sesame oil and ginger. Toss to combine the ingredients and cook for 3-4 minutes.
Lastly, add the bean sprouts, toss for 30 seconds and then remove to a platter to serve.
Recipe Notes
Store the beef chow fun in an airtight container in the fridge for up to 3 days, or in the freezer for up to 3 months.
Category:

Dinner

Method:

Stove

Cuisine:

Chinese
Keywords: chow fun noodles, asian beef recipes, easy chinese recipes, flank steak recipes