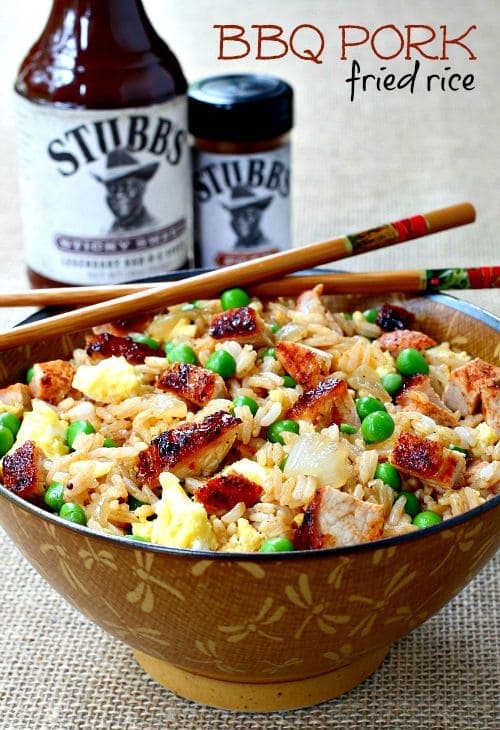 This just isn't your average pork fried rice recipe, it's BBQ Pork Fried Rice! If you have leftover pork from last night's dinner, this is going to be perfect!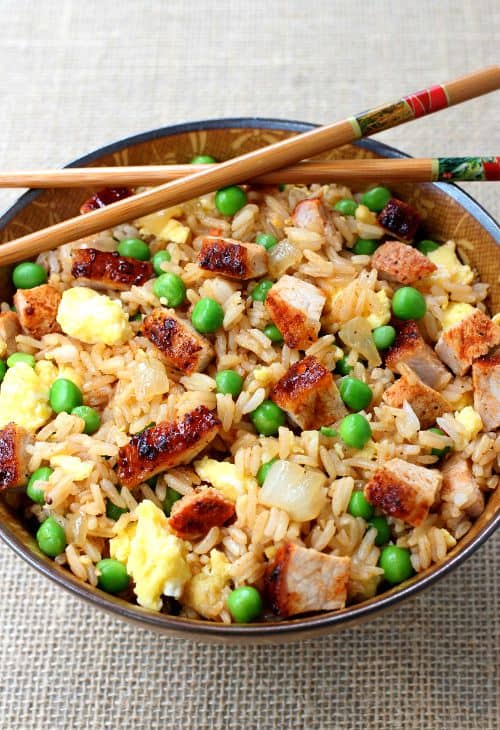 As you can see by a lot of our recipes, we do like fried rice around here. It's one of those dinners that everyone loves (thank god there's some) and you can pretty much whip together using whatever you have in the fridge.
Don't have frozen peas? Use some chopped broccoli or asparagus.
Don't have pork or beef? Use grilled chicken.
You get the idea…but what you do need is rice. And some basic seasonings that we always have on hand in the fridge.
The trick to getting awesome, restaurant quality fried rice is making the rice ahead of time. Try and cook a batch up in the morning or even the day before and let it cool and kind of harden up in the fridge. That way you don't end up with mushy fried rice. 'Cause no one at your dinner table is going to like that…
Start by getting a 1 lb. pork tenderloin and giving it a good coating of Stubb's Pork dry rub.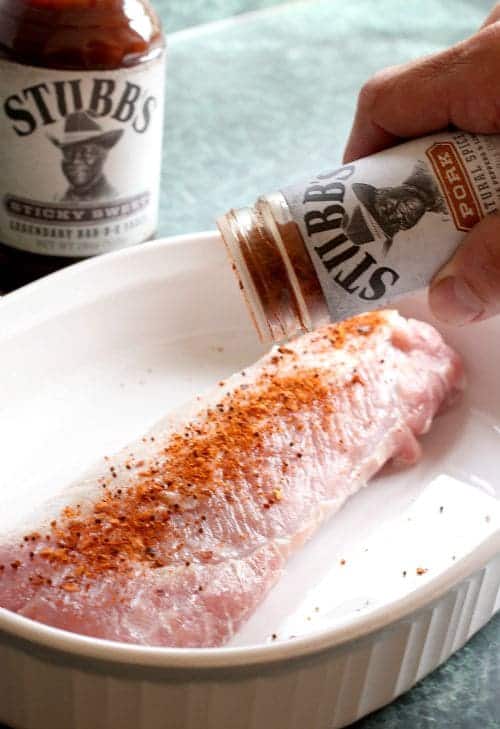 That will only need about 15 minutes in your oven, take it out and cover it with Stubb's Sticky Sweet BAR-B-Q sauce and throw it back in for another 7-8 minutes.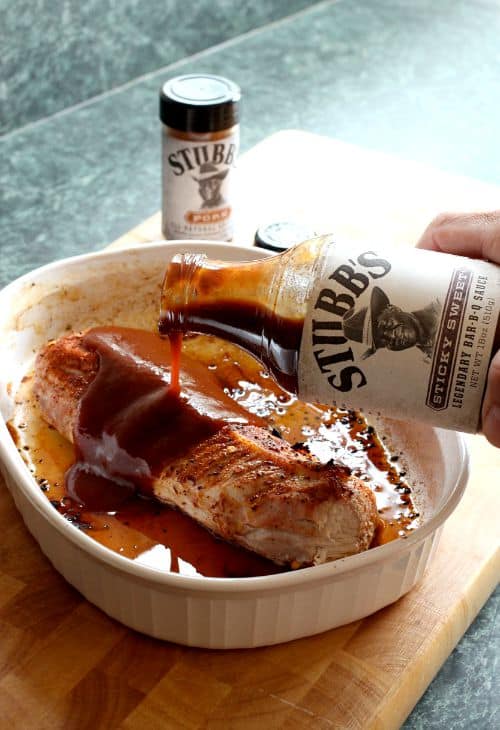 BBQ pork is done.
While the pork is resting you can start the rice. Add the onions and garlic first and let them start cooking for about five minutes, then you can start dumping everything in.
The rice, eggs, peas and seasonings – including a good heaping teaspoon of the Stubb's Pork dry rub and stir it all together.
Dice up your pork and toss that in at the last minute and you're in for a BBQ dinner like you've never had.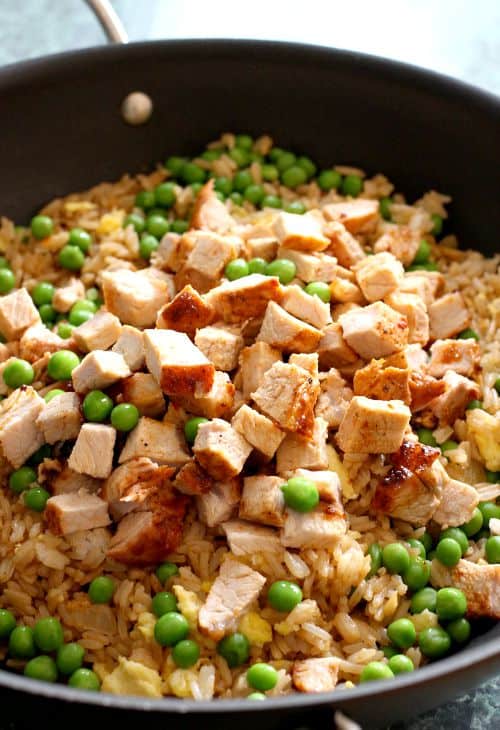 There's gonna be empty bowls all around with this BBQ Pork Fried Rice!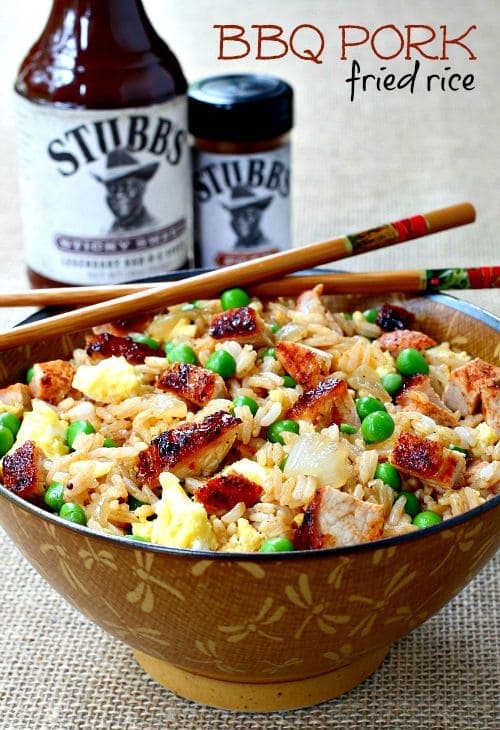 Print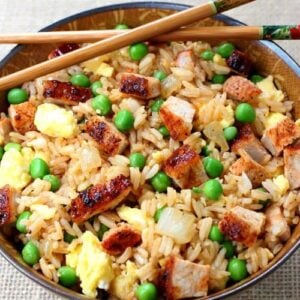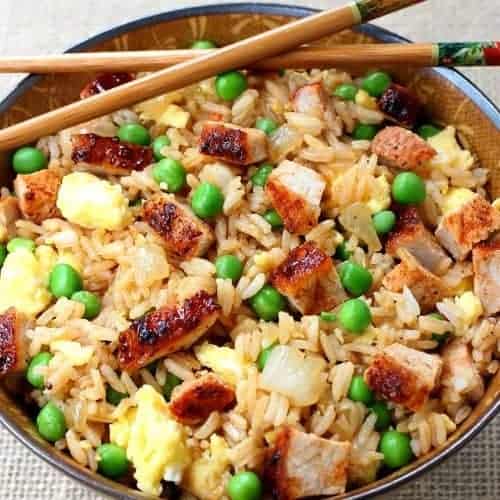 BBQ Pork Fried Rice
---
---
Ingredients
For the pork
1 lb. pork tenderloin
1/4 cup Stubb's Pork dry rub
1/2 cup Stubb's Sticky Sweet BBQ sauce
For the Rice
5 cups rice, cooked and cooled in the refrigerator for at least 2 hours or up to overnight
3 eggs, beaten
1 onion, chopped
2 cloves of garlic, chopped
2 tablespoons vegetable oil
1 tablespoon grated fresh ginger
2 teaspoons toasted sesame oil
1/4 cup soy sauce
1 1/2 cups frozen peas, defrosted
1 t. Stubb's Pork dry rub
---
Instructions
Preheat the oven to 375º.
Take the dry rub and cover the pork tenderloin on all sides. Put the pork on a baking sheet and cook for 15 minutes. After 15 minutes, pull the pork out of the oven and cover the top with the BBQ sauce. Place back in the oven and cook for another 7-8 minutes.
While the pork is cooking you can start the rice. Heat up one tablespoon of the vegetable oil over medium-high heat in a wok or a heavy bottomed non-stick pan.
Pour in the beaten eggs and scramble until cooked through. Remove the eggs to a plate.
Heat up the second tablespoon of oil in the same pan, add the onion and cook for 5 minutes.
Next add the garlic, stir and cook for a minute more.
Add the cooked rice to the pan, peas, eggs, soy sauce, sesame oil, grated ginger and the dry rub. Stir together to heat through and then turn the heat to low.
When the pork is done, slice it into 1/2′ thick slices and then cut into cubes.
Add the diced pork to the rice, stir to combine and serve.
---
Notes
This BBQ Pork fried rice was also really good with a drizzle of the sauce added to the top after cooking!
---
Nutrition
Calories:

2834

Sugar:

49g

Sodium:

5347mg

Fat:

71g

Saturated Fat:

14g

Unsaturated Fat:

51g

Carbohydrates:

358g

Fiber:

12g

Protein:

176g

Cholesterol:

889mg