This turkey meatloaf is oozing with flavor, with tender, juicy meat, a sticky, sweet glaze, and a bacon topping. It's a mouth-watering twist on a classic dinner favorite.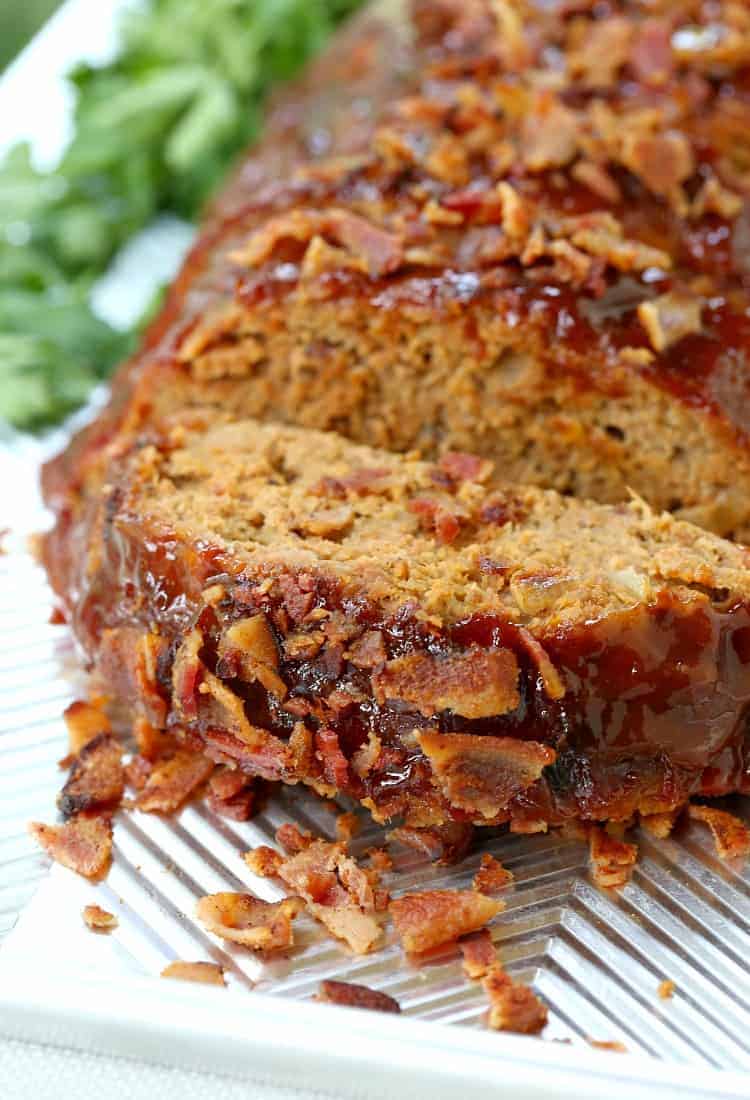 The Most Juicy and Flavorful Turkey Meatloaf
Turkey meatloaf gets a little bit of a bad rap. Some recipes are pretty dry, a little bland, and leave people craving a more traditional meatloaf.
This is not one of those recipes. Not in the slightest. This recipe is packed with flavor, as soy sauce and cheddar cheese add a meaty flavor to the turkey, and make the dish rich. Mayonnaise helps the meatloaf stay moist through the cooking process, and have you ever had a food that wasn't better with bacon on top? I didn't think so.
Yep, this meatloaf will satisfy all your cravings. The glaze is sweet, sticky, and tangy. The meat is juicy and bursting with flavor. And the bacon is … well … bacon! Be prepared to add this turkey meatloaf recipe to your dinner rotation, because it's really that good.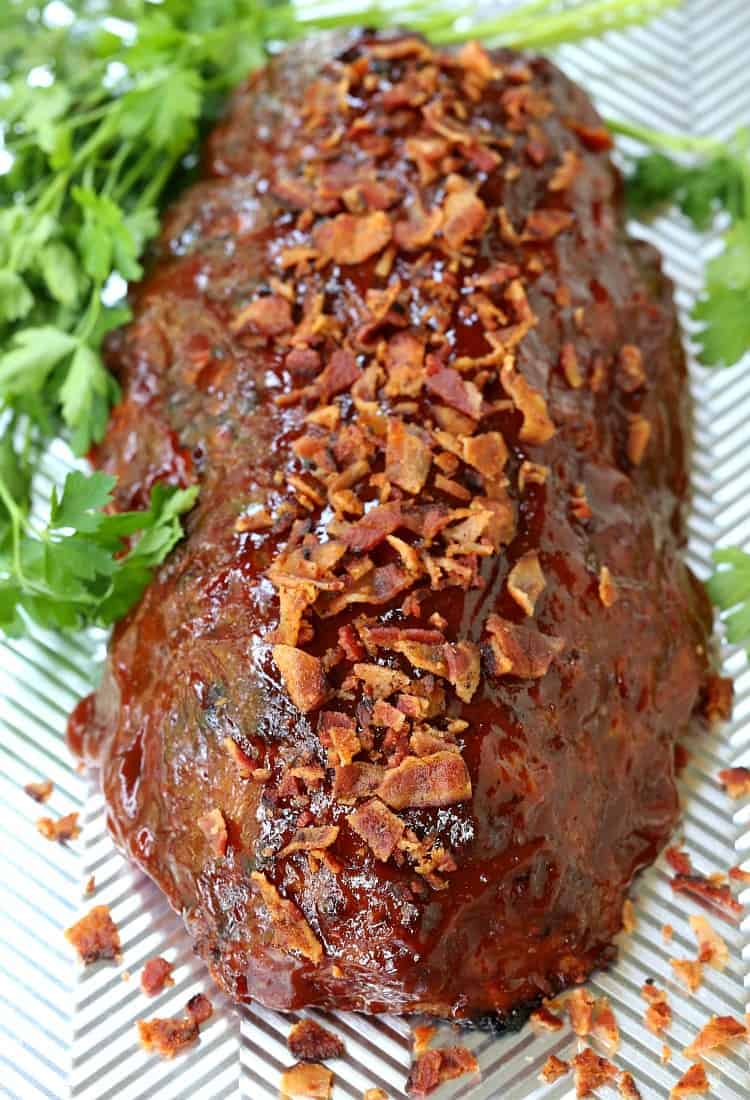 Ingredients For Turkey Meatloaf
This recipe uses a lot of different ingredients, but trust me when I say that it's worth it. Make sure you check out the recipe card at the bottom of the article to find the exact quantities for each ingredient.
For the Meatloaf:
Ground turkey – Make sure to use ground turkey that is not extra lean.
Bacon
Onions – Sweet or yellow onions are best for this recipe, but white or red onions also work.
Chicken broth
Soy sauce
Worcestershire sauce
Tomato paste
Shredded cheddar cheese
Bread crumbs
Egg
Mayonnaise
Kosher salt
Freshly ground black pepper
For the Glaze:
Ketchup
Barbecue sauce
Brown sugar
Dry mustard
Why Add Cheese?
Cheese is not a very traditional meatloaf ingredient, but it works brilliantly with this mouth-watering recipe. The savory flavor of cheese adds extra richness to the turkey, while the gooeyness keeps the meatloaf juicy. Shredded cheddar cheese really helps elevate the turkey into something special.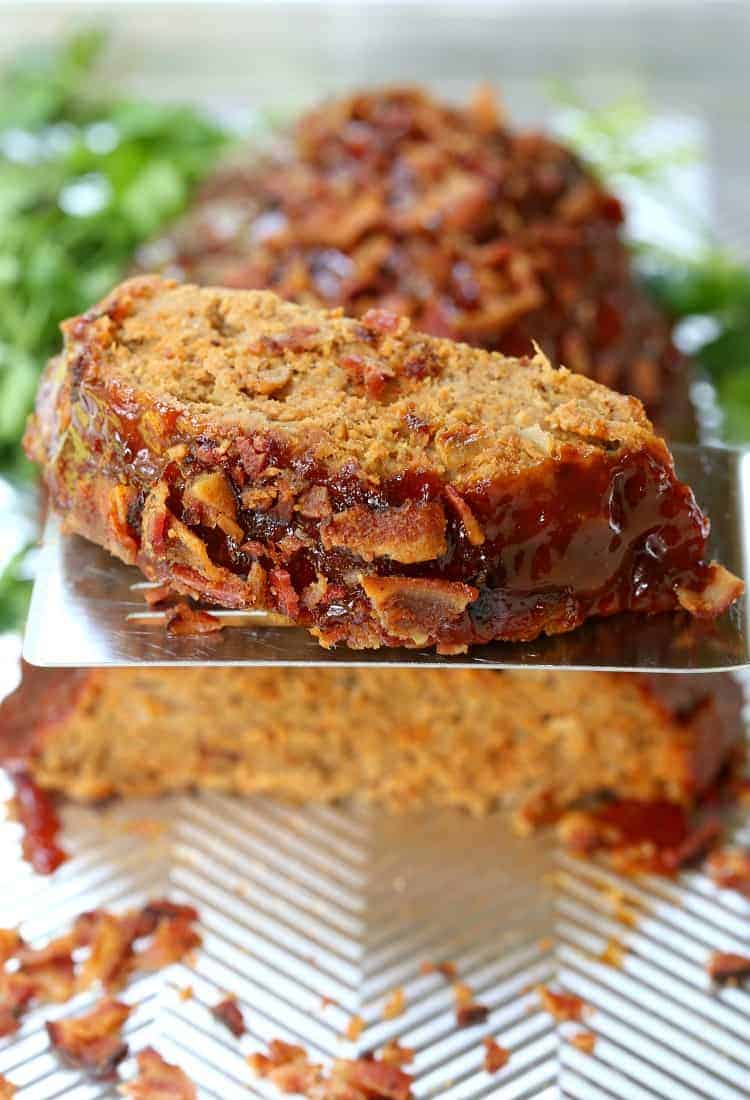 How to Make Turkey Meatloaf
This recipe might have a lot of ingredients, but it's pretty easy to make. Plus, your house will smell delicious as you're making it!
Prep. Preheat the oven to 375F.
Cook the bacon. Fry the bacon until crisp. Once the bacon has cooled, crumble it. Make sure to save the bacon grease after cooking, as you'll use it later in the recipe.
Cook the onions. Sauté the onions in bacon grease over medium heat until they're soft. This should take about 5-7 minutes.
Add the liquids. Add the chicken broth, soy sauce, and Worcestershire sauce to the pan with the onions, and cook for about 5 minutes. Then add the tomato paste and stir until combined, then remove the pan from the heat.
Make the meatloaf. In a large bowl, mix the turkey, bread crumbs, shredded cheese, egg, mayonnaise, salt, pepper, and about ¾ of the crumbled bacon. Add the onions and the sauce, and mix until everything is combined.
Shape and bake. Cover a baking sheet with parchment paper or aluminum foil. If you're using aluminum foil, make sure to spray it with cooking spray. Shape the meatloaf on the baking sheet. I make mine about 12 inches long, 5 inches wide, and 3 inches tall. Bake for 45-50 minutes.
Make the glaze. Stir together the barbecue sauce, ketchup, dry mustard, and brown sugar.
Baste and bake. After the meatloaf has cooked for 45-50 minutes, remove it from the oven and baste it with the glaze. Return the meatloaf to the oven and cook for 15 minutes.
Serve. After the meatloaf is done cooking, you can baste it in sauce again if you want, or you can serve the extra sauce on the side. Top with the rest of the crumbled bacon, and dive in.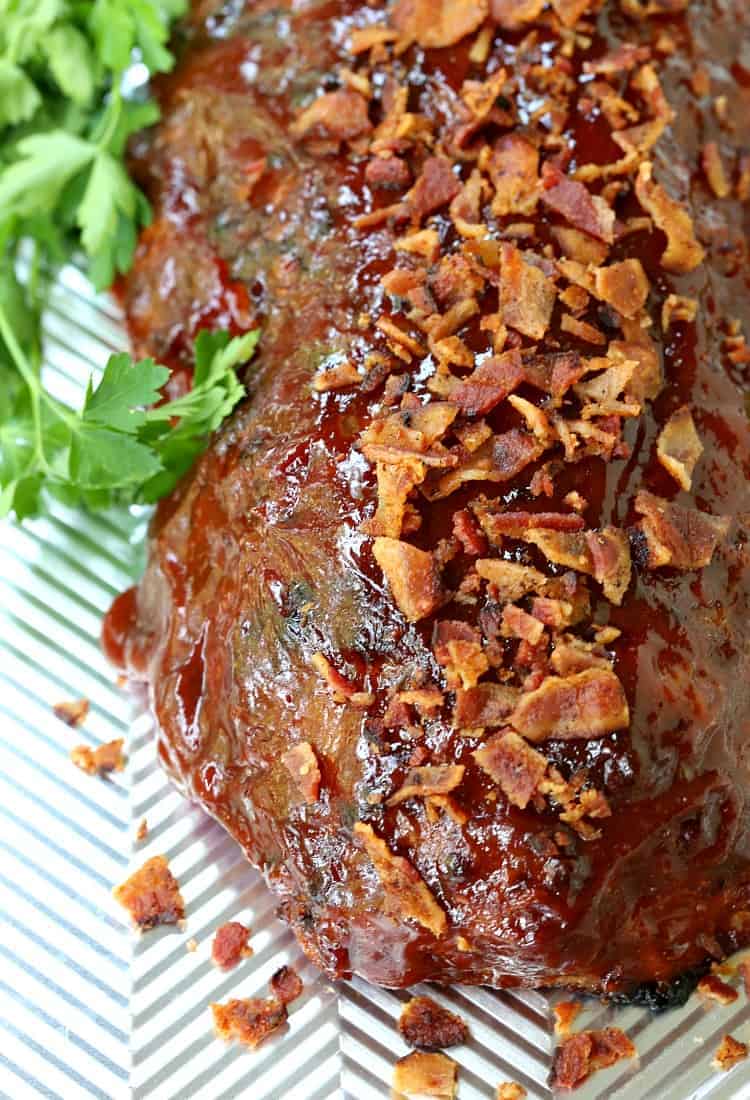 Tips for Success
Here are some tricks and tips to ensure that your turkey meatloaf is cooked to perfection every single time.
Tent if necessary. Bake the turkey meatloaf uncovered, but keep an eye on it. If you notice that the meatloaf is getting too dark or too dry, tent it with aluminum foil. This will keep it from burning, and help it retain its moisture so that it can be perfectly tender and juicy.
Use a nice barbecue sauce. The glaze in this recipe is only as good as the barbecue sauce that you use, so make sure that you use a nice quality sauce.
Don't crumble the bacon too much. I love a good chunk of bacon, and I'm guessing that you do, too. So don't crumble the bacon too fine. You want there to be some chunks both in the meatloaf and on top of it.
Can Turkey Meatloaf Be Made Ahead of Time?
It sure can! You can make this recipe ahead of time, and leave it in the fridge for up to 3 days. Just make sure it's an airtight container. To reheat, put the turkey meatloaf in the microwave or in the oven.
You can also freeze the meatloaf for up to 3 months. Slice it into individual pieces first, wrap them in plastic wrap, then place in an airtight container. For best results, let the meatloaf thaw in the fridge before reheating, but you can reheat straight from the freezer.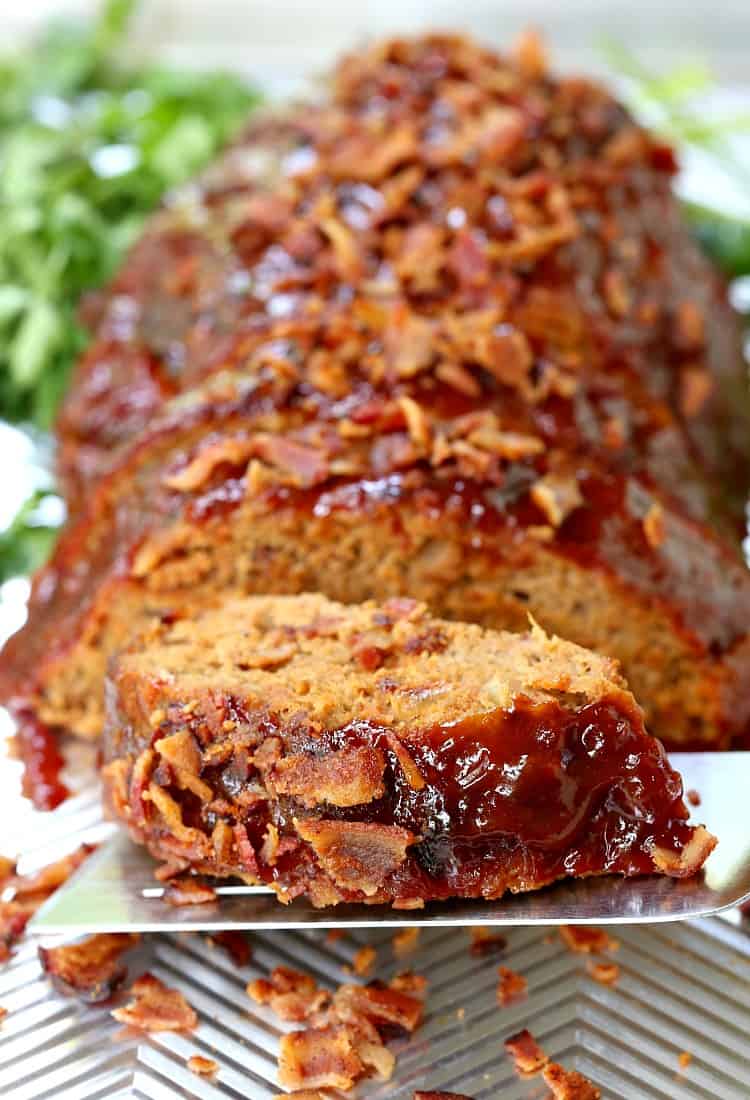 What Side Dishes Can I Serve With Turkey Meatloaf?
Meatloaf goes with so many different sides. Here are a few of my favorite things to serve alongside this recipe.
Looking For More Meatloaf Recipes?
If you liked this turkey meatloaf, check out a few of my other meatloaf recipes.
Print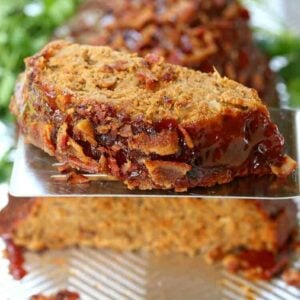 Turkey Meatloaf
Author:

Prep Time:

15 minutes

Cook Time:

60 minutes

Total Time:

1 hour 15 minutes

Yield:

8

servings

1

x
This mouth-watering turkey meatloaf is juicy, tender, and packed with flavor. Plus, it's covered in bacon!
Scale
Ingredients
3

lbs. ground turkey, not extra lean

1

pound bacon cooked and crumbled, reserving 2 tablespoons of bacon grease

1 1/2 cup

diced onions

1/4 cup

chicken broth

2 tablespoons

soy sauce

1 tablespoon

Worcestershire sauce

1/4 cup

tomato paste

2 cups

shredded cheddar cheese

3/4 cups

bread crumbs

1

egg, beaten

1/2 cup

mayonnaise

1 1/2 teaspoons

kosher salt

1 teaspoon

fresh ground black pepper
For The Glaze:
1/2 cup

ketchup

1/2 cup

barbecue sauce (your favorite kind)

3 tablespoons

brown sugar

1/4 teaspoon

dry mustard
Instructions
Preheat the oven to 375 degrees.
Cook the bacon in a large skillet until crisp, reserving 2 tablespoons of the bacon grease.
Add the onions to the same skillet with the bacon grease and cook over medium heat until the onions are soft, about 5-7 minutes.
Add the chicken broth, soy sauce and Worcestershire sauce and cook for 5 minutes until the liquid has reduced. Stir in the tomato paste then turn the pan off to cool.
In a large bowl add the turkey, 3/4 of the crumbled bacon (you'll need 1/4 of the bacon to top the meatloaf after cooking), bread crumbs, cheese, egg, mayonnaise, salt and pepper. Add the cooled onions and sauce from the skillet and mix well to combine.
Line a baking sheet with aluminum foil or parchment paper (if using foil you'll need to spray with cooking spray) then form the meatloaf in the center of the sheet. I made my meatloaf about 12 inches long, 5 inches cross and 3 inches high. Bake for 45-50 minutes, uncovered.
While the meatloaf is cooking, whisk together the sauce ingredients in a small bowl.
Remove the meatloaf from the oven and baste heavily with the sauce, then return to the oven and cook another 15 minutes.
You can baste the meatloaf once more with the sauce after it comes out of the oven, or serve any extra sauce on the side.
Top with the remaining crumbled bacon and serve.
Category:

Dinner

Method:

Oven

Cuisine:

American
Keywords: turkey meatloaf, turkey meatloaf recipe, ground turkey meatloaf, turkey loaf recipe, ground turkey meatloaf recipe
PIN IT HERE!