This Sausage Pesto Pizza is how we make pizza night at home even better! Skip delivery and make an authentic, Italian pizza right in your own kitchen!
Whether you're having a fun pizza night at home or just making an everyday family dinner, ShopRite has all the ingredients you need! ShopRite has done all the work for you by gathering food from all over Italy – including every region from Cinque Terre to Sicily – so you can make your family a truly delicious Italian meal right in your own kitchen!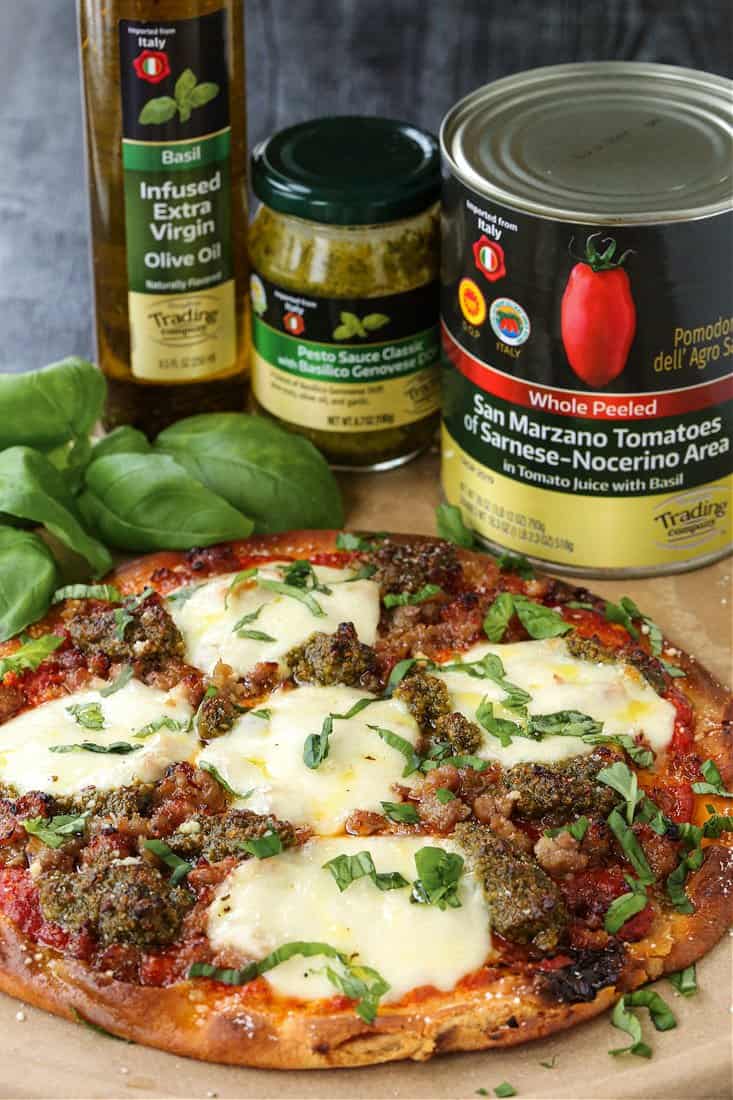 Homemade Sausage Pesto Pizza Recipe
ShopRite has made is so easy to make an authentic tasting Italian inspired meal right in your own kitchen by bringing all that Italy has to offer right to your local ShopRite store.
Not only did ShopRite buyers hit up all the giant food shows, they also took the time to meet with smaller groups of suppliers in the countryside to capture the real flavors of each region. One stroll down the aisles at your local ShopRite store and you'll have all of these specialty ingredients and products from every region in Italy.
How To Make The Best Homemade Pizza
Buying good, quality ingredients like these Imported from Italy products at ShopRite is the first step to making the best homemade pizza! When you're making a recipe at home that only has a few ingredients, you need to make sure that they are of the best quality that you can find.
We're using store bought pizza dough, fresh mozzarella and spicy Italian sausage along with some of these quality Imported from Italy products we found at ShopRite: jarred basil pesto sauce, these amazing San Marzano Tomatoes and a basil infused extra virgin olive oil to drizzle on top of our pizza.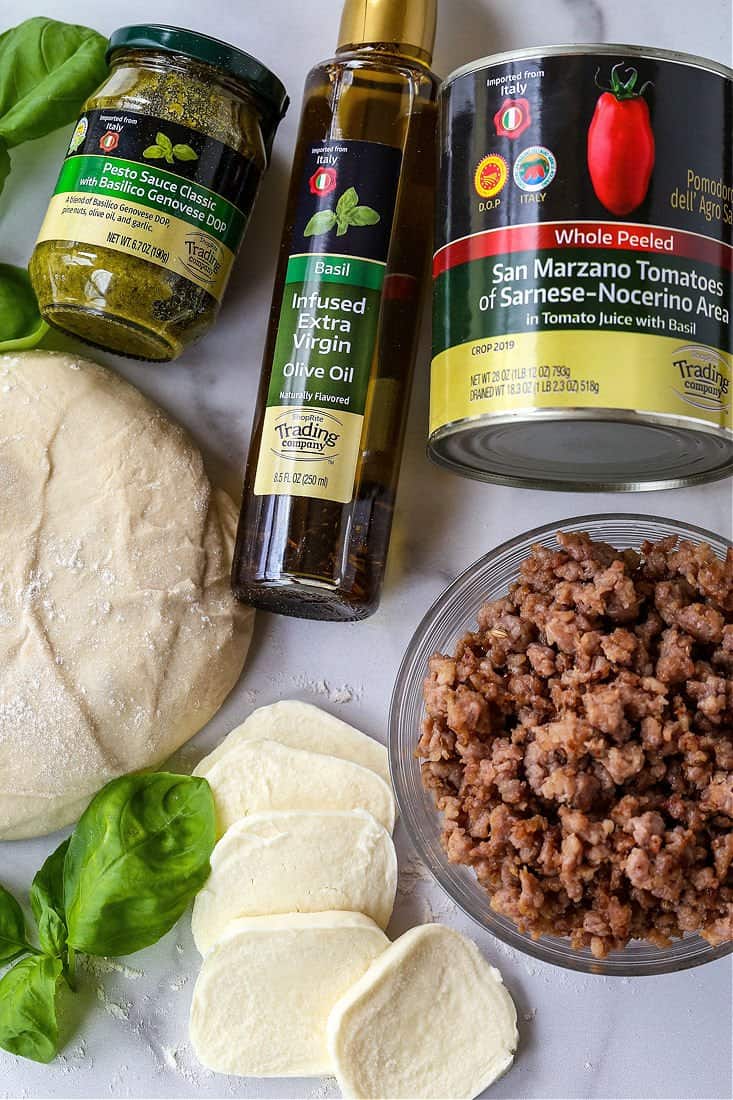 Make a quick, fresh or "raw" pizza sauce (that means that you don't cook the sauce beforehand, just mix up the ingredients and add it to your pizza) and then spread it onto your pizza crust.
You can pre-bake you crust like we did here to make it extra crispy or just add the toppings to your raw pizza dough. Now crack open that jar of basil pesto and spread it on top of the pizza sauce (just in a few areas here and there, not to cover all of the sauce).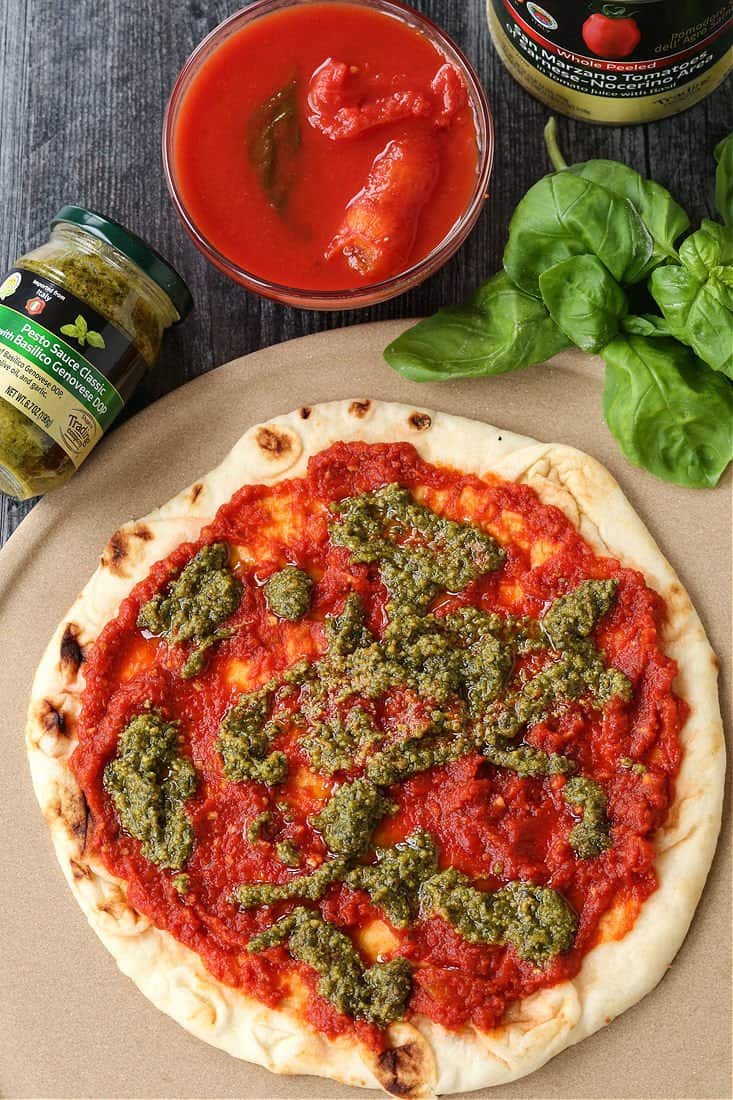 Top the sauce with crumbled Italian sausage, mild or spicy, and then add a few thick slices of fresh mozzarella cheese. The amount of cheese you add is up to you, we like to spread our cheese slices out a bit so that you can see the toppings through the cheese layer, but feel free to add on as much as you like.
Our boys, well they add more cheese than you can imagine. It's a full out cheese pull contest when their pizzas come out of the oven! That's also a really fun thing about making this homemade pizza recipe, everyone can create their own flavor combination and add all the toppings they like to their personal pizza.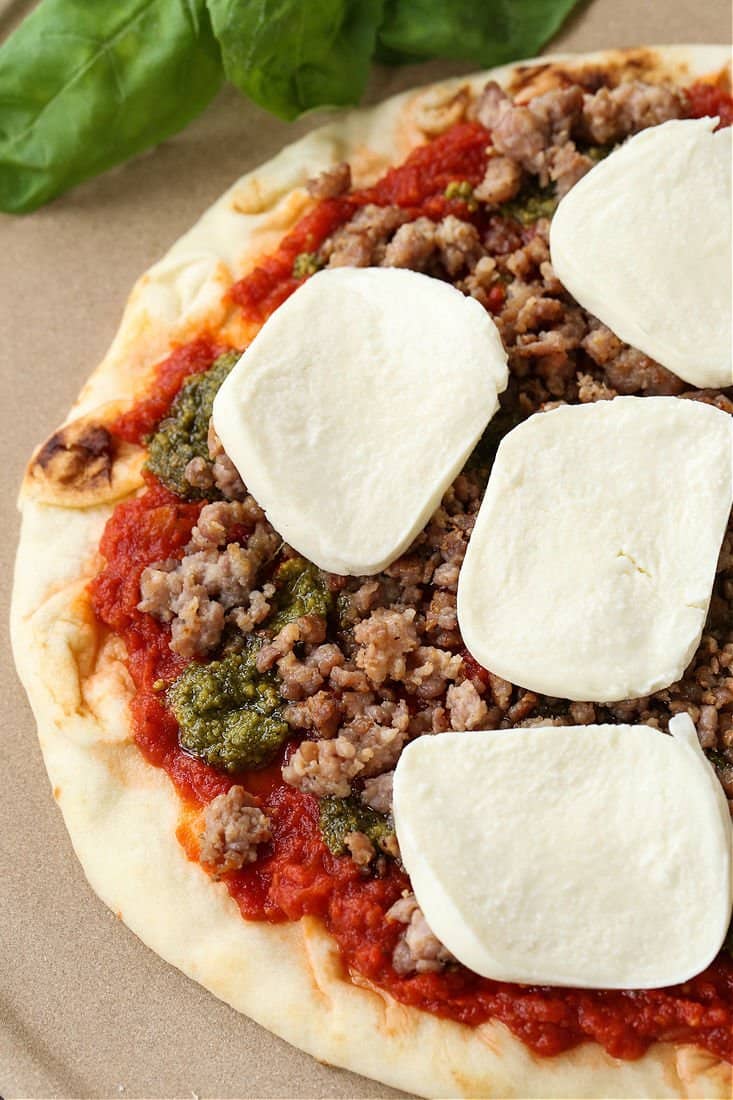 Bake your Sausage Pesto Pizza for about 12 minutes until the cheese is melted. Using a pizza stone will also make for an extra crispy crust but a baking sheet will also do the job.
Now, when the pizza is still piping hot, drizzle this Basil Infused Extra Virgin Olive Oil right on top. When the basil flavored olive oil hits the bubbling hot cheese you can actually smell the fresh basil coming off the pizza. Literally mouth-watering.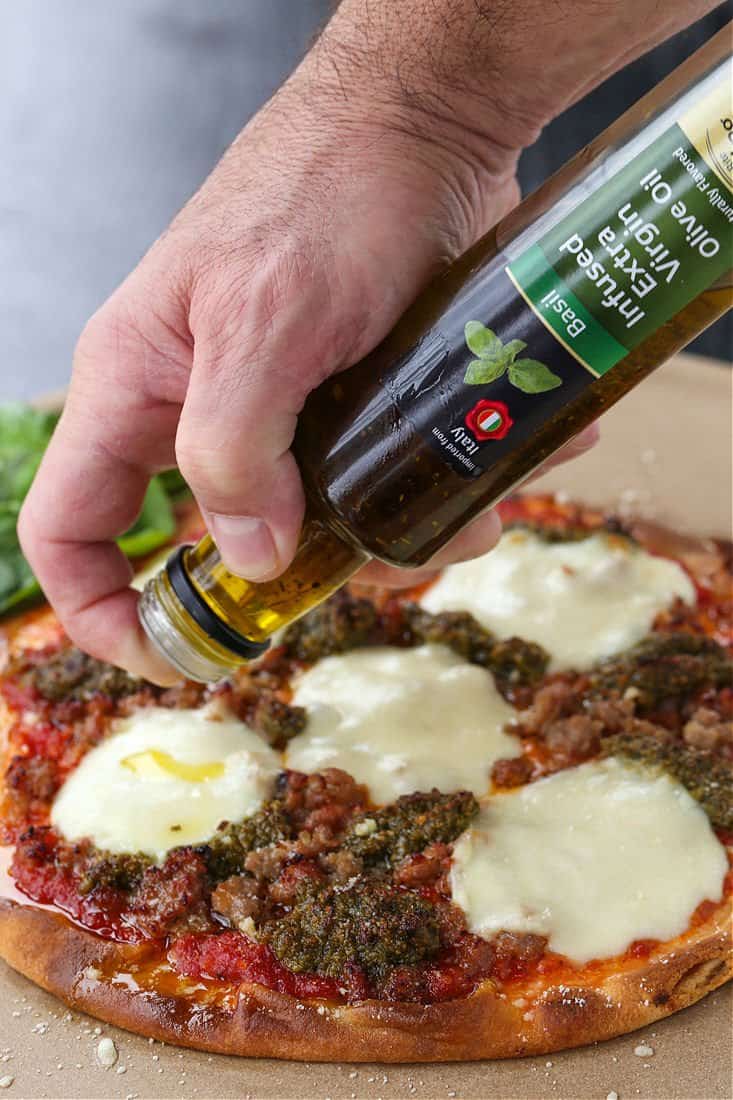 What Are Some Other Topping Ideas for This Pizza Recipe?
The list of pizza toppings could go on forever, but we have some great ideas for you that you can buy right at your local ShopRite!
Instead of Italian Sausage:
Spicy chicken sausage
Cooked, shredded chicken
Pepperoni or Salami
Thin slices of prosciutto
Leave off the meat for a vegetarian option
Instead of Fresh Mozzarella:
Shredded mozzarella cheese
Grated Parmesan cheese
Dollops of Ricotta cheese
Goat cheese
Shredded provolone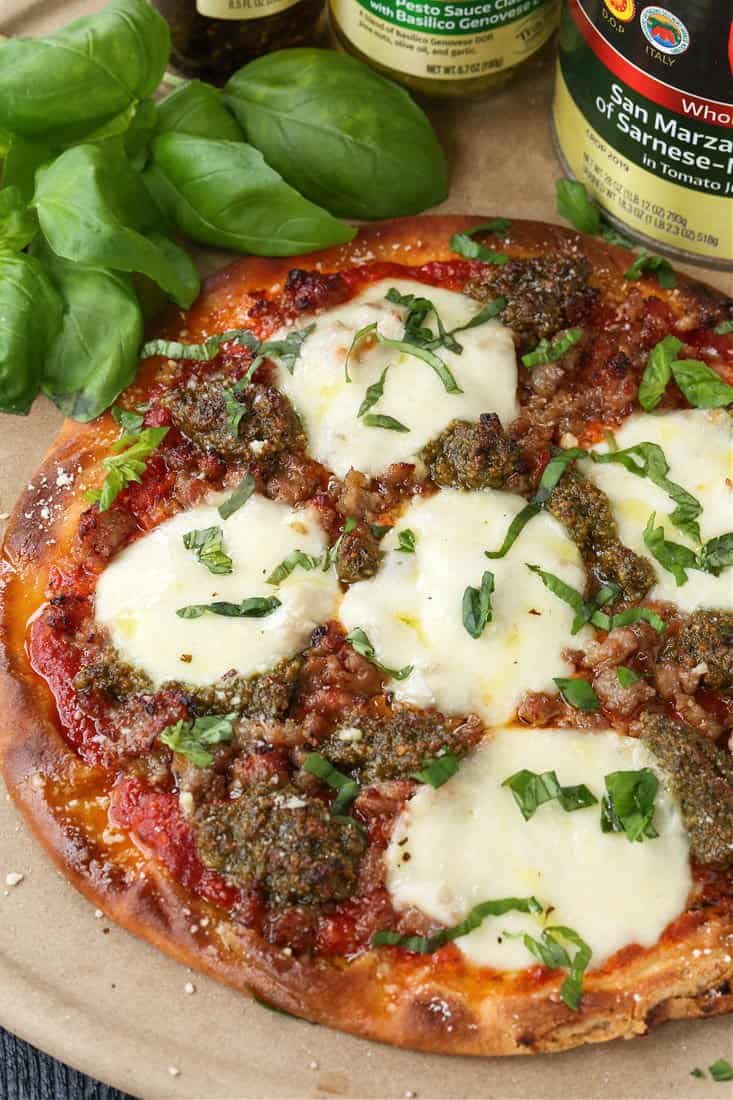 Or, you can use a combination of a few different kinds of the cheese to create your own flavor combination! A great way to have a fun pizza night is to set out all the different toppings and let everyone make their own pizza.
You can even buy pizza shells that are already pre-baked to make this easier that rolling out pizza dough for several different pizzas.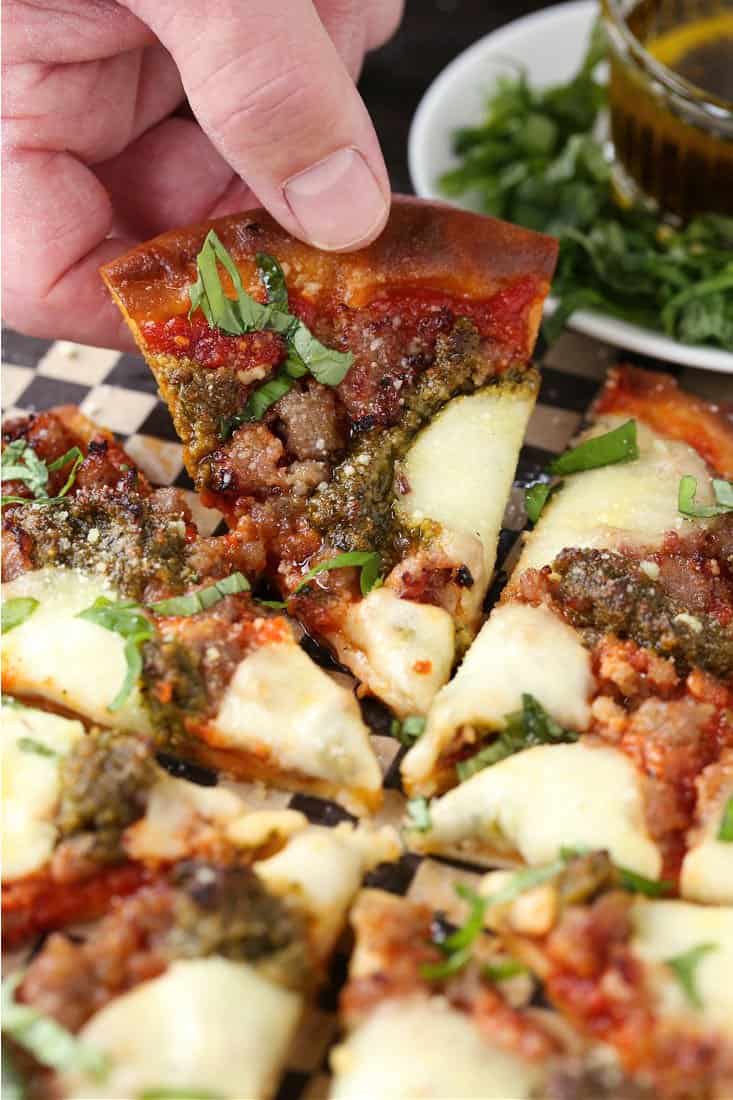 Full disclosure, I have to tell you that I've never had a pizza made with pesto before. I do see it on a lot of Italian restaurant menus, and I find it interesting, but have never tried it. Not until I found a jar of basil pesto right next to the tomatoes that I was grabbing to make my fresh pizza sauce.
Then I saw the basil infused olive oil and my mind started thinking about this Sausage Basil Pizza recipe and how I could make it taste just like it came from a little Italian village.
I think we nailed it.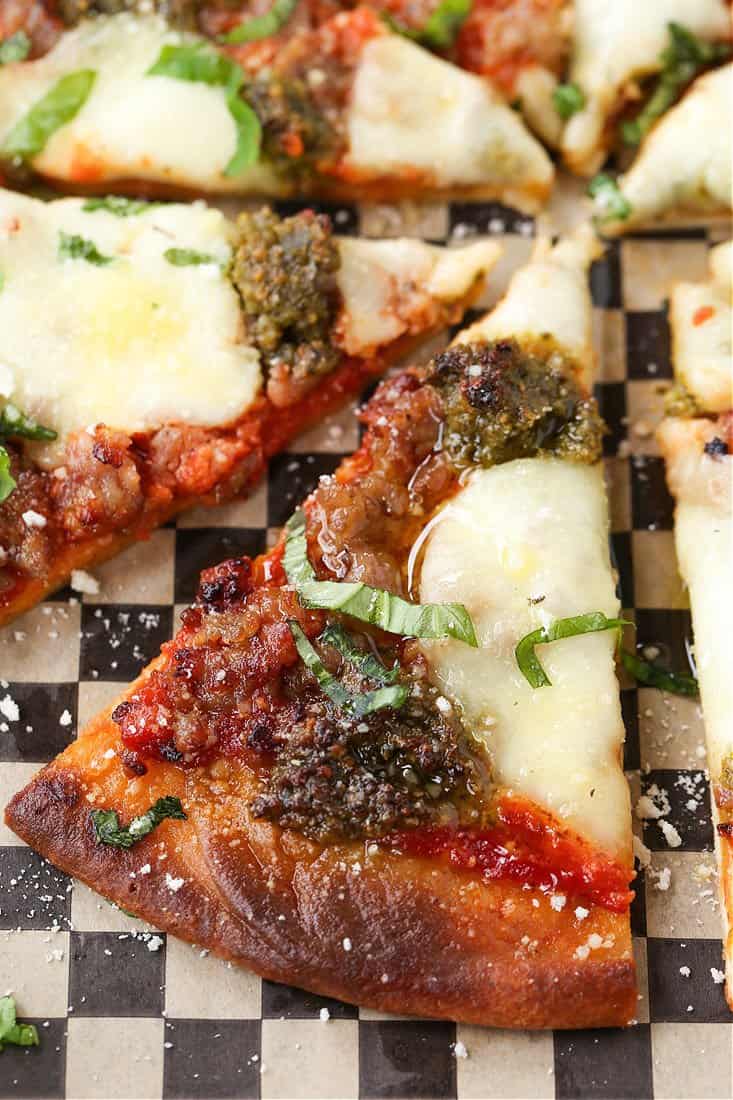 The flavor of the nutty basil pesto goes perfectly with the spicy Italian sausage. I'm telling you, it doesn't get more authentic tasting than this sausage pizza recipe. Grab yourself a glass of wine and you'll feel like you're sitting in a small restaurant in a quiet Italian town.
Looking For More Pizza Recipes?
Print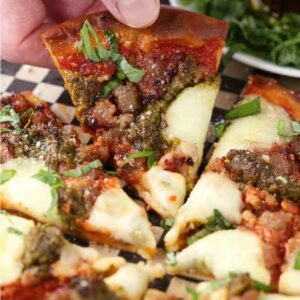 Sausage Pesto Pizza
Author:

Prep Time:

15 minutes

Cook Time:

15 minutes

Total Time:

30 minutes

Yield:

6

servings

1

x
This homemade sausage and basil pesto pizza is so much better than take out! Make delicious, authentic tasting pizza right in your own kitchen!
Scale
Ingredients
1/2

pound Italian sausage, spicy or mild, cooked and crumbled
Store bought pizza dough or a pre-baked pizza crust

28 ounce

can whole peeled San Marzano Tomatoes

1

clove garlic, finely grated
Kosher salt to taste

1/2 teaspoon

crushed red pepper flakes (optional)

1/4 cup

basil pesto

1/2 cup

grated parmesan cheese

1

pound fresh mozzarella cheese
Basil infused olive oil
Fresh basil for garnish
Instructions
Preheat the oven to 450 degrees.
If using a pre-baked pizza crust, follow the instructions on the package for a pre-baked crust. If using a store bought pizza dough, roll the dough out into a 10 inch round. Place the dough onto a pizza stone and prick a few times around with a fork. Brush a light layer of olive oil on the dough and bake for 5 minutes.
Remove the pizza from the oven and top with a layer of sauce. Don't add too much sauce because your pizza will be soggy after it bakes, we're looking for a nice, crispy crust. Add the sausage crumbles to the pizza, followed by several dollops of the basil pesto. Place the fresh mozzarella on the pizza, scattered so that it's no overlapping.
Bake the pizza for 12-14 minutes until the cheese is melted and the crust is nice and brown. remove the pizza from the oven and drizzle with the basil infused oil, then top with parmesan cheese and fresh strips of basil.
Cut into slices and serve immediately.
Recipe Notes
If you don't have a pizza stone, a baking sheet sprayed with non-stick cooking spray will work too. You can make 2 smaller pizza rounds to fit on the baking sheet.
Category:

Dinner

Method:

Oven

Cuisine:

American
Keywords: pizza recipe, homemade pizza, easy dinner recipes, take out at home, dinner ideas, recipes with italian sausage
This post is sponsored by ShopRite. All opinions and text are mine.