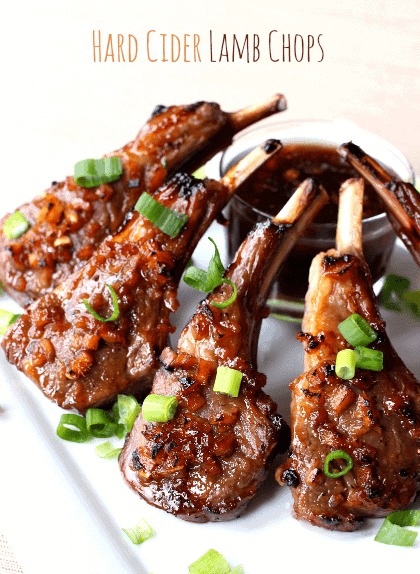 These Hard Cider Lamb Chops are so good, and do easy to make! Get them on the grill for a few minutes and dinner is served!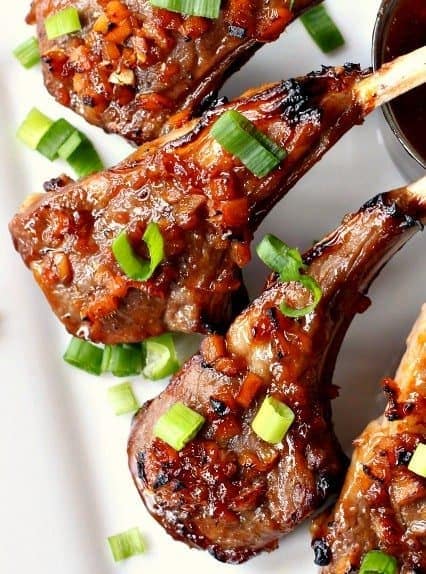 This week is all about cooking with booze, like the Spicy Drunken Shrimp from Monday, simmered away in beer…now these Hard Cider Lamb Chops.
So to be perfectly honest here, I don't really like lamb unless it's these baby lamb chops. Then I love it. The baby chops seem more mild tasting than the bigger cuts of meat – and I just think they're more fun to eat this way!
I think people shy away from buying these because they're expensive – and they are. But once in a while I think good food is worth the splurge. This recipe that fed my family of four (including my 11 year old who honestly eats more than I do at this point) for just about 25 bucks. It's not too bad – and way cheaper than ordering them out!
We sat down to eat these chops for dinner and my boys looked up and saw me pick one with my hands and start eating. Then they looked at the wife. Then they looked back at me. They couldn't have been happier to drop those forks and knives and use their hands. It was pretty funny – kind of like putting food on a stick to get your kids to eat!
The glaze only takes about 5 minutes to throw together, then you let it reduce and get your lamb ready.
And the chops only cook for a few minutes each side under your broiler – a few minutes – because you're going to want to eat them medium-rare, right?
Yes?
Well, if you don't, then add a few minutes to each side when they go under the broiler. But I can't get behind a cooked through lamb chop, you're on your own there.
So open the liquor cabinet up this week and make some of my boozy recipes for dinner – and don't worry about the kids – the booze cooks off!
This is a great meal for entertaining, too. You're guests will be impressed, I promise. And it's so easy to make you won't be in the kitchen all night cooking!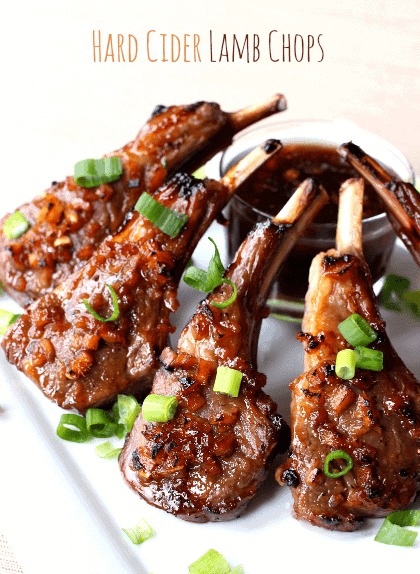 I know I usually say to grab yourself a beer? These are actually much better with a glass of red. But beer or hard cider will work too!
Print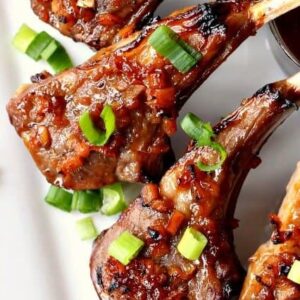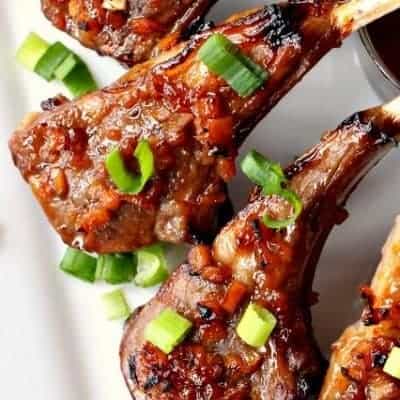 Hard Cider Lamb Chops
Yield:

3

1

x
---
Ingredients
12

baby lamb chops
salt and pepper for seasoning

1

bottle of hard apple cider

3

T. fresh ginger, minced

3

T. fresh garlic, minced

3

T. soy sauce

3

T. unseasoned rice wine vinegar

1 1/2

T. honey

2

scallions
---
Instructions
Preheat the broiler
Add the cider, garlic, ginger, soy sauce and vinegar to a sauce pan and boil until reduced by half and thickened. The glaze will thicken more as it cools down too.
Season the lamb chop with salt and pepper on both sides.
Brush the lamb chops with the glaze and place under the broiler for 4 minutes.
Take the lamb chops out of the oven and flip them over to the other side.
Brush the second side with more glaze and broil for another 3-4 minuets until they are medium rare.
If you like your lamb cooked more than medium-rare, leave them in for another minute or two on each side.
Generously glaze the lamb chops after they come out of the oven, sprinkle with the scallions and serve with any remainder glaze on the side.
---