Chicken and Broccoli Meatballs are a kid favorite dinner! These juicy, flavorful chicken meatballs can be enjoyed as is or served over rice! A healthy, easy to make dinner recipe that the whole family is going to love.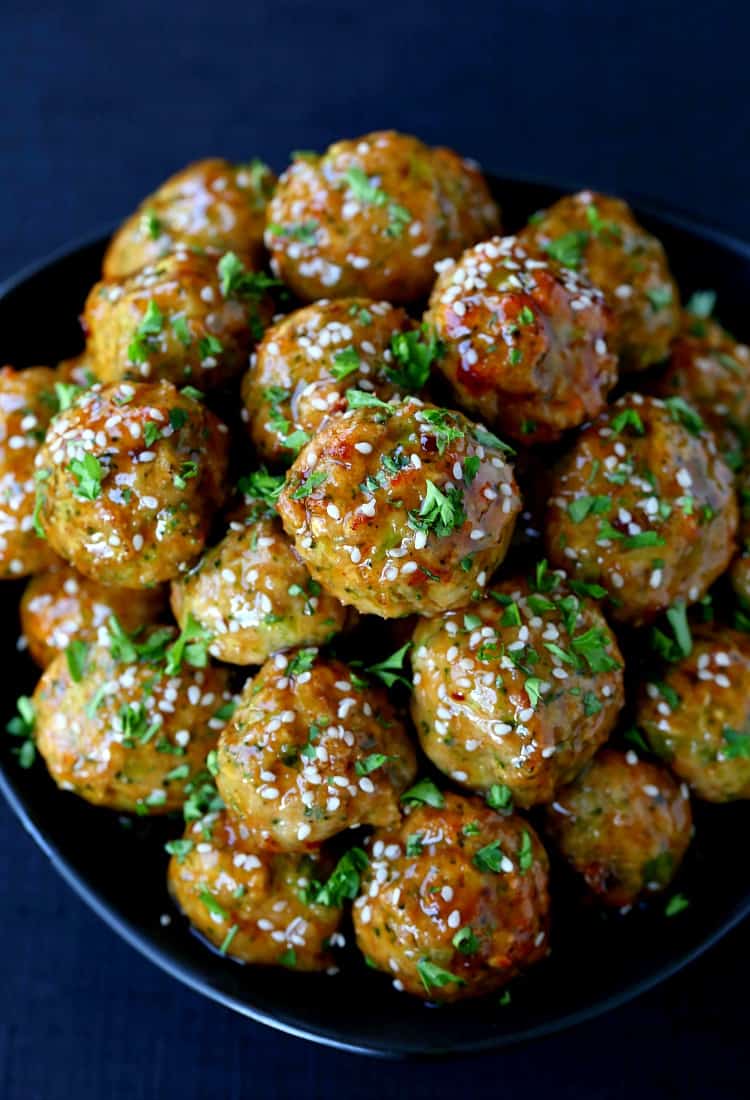 Easy Chicken and Broccoli Meatballs
These Chicken and Broccoli Meatballs only take 10 minutes to prepare and 15 minutes to bake in the oven. So we're talking about a 30 minute, healthy dinner recipe that everyone is going to love.
Any type of recipe like these chicken meatballs that can sneak extra veggies into our dinner is a win. Especially when you're dealing with picky husbands (you know who you are) and of course, kids.
We serve this easy chicken meatball recipe over rice but you could use ramen noodles, too. Or if you're on a low carb diet then just dig in to a big bowl of these chicken meatballs with some more vegetables on the side.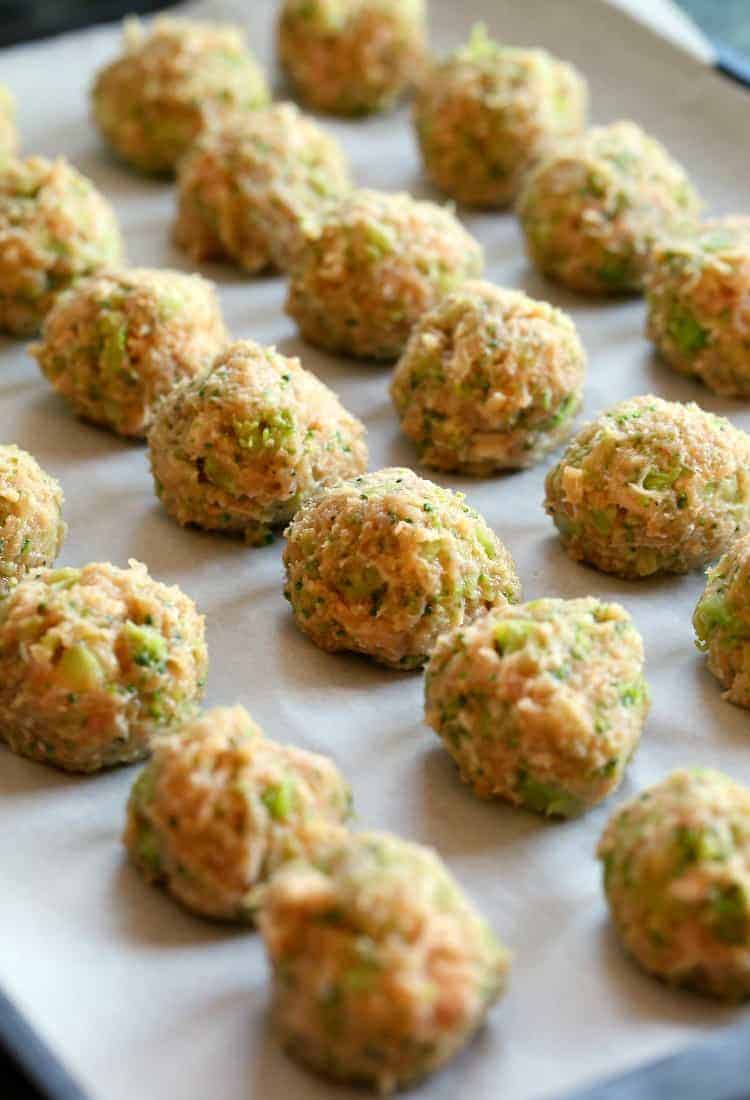 Let me tell you, there is a LOT of chopped broccoli going on in this chicken meatball recipe. Like almost a 50/50 ratio! We've stuffed in as much veggie goodness as these meatballs can take without falling apart.
I used fresh broccoli, steamed it and then chopped it up. But you can also grab frozen chopped broccoli to save yourself a step. The key to this meatball recipe is to chop the broccoli up very fine so you don't hav big pieces of broccoli sticking out of the meatballs.
We do this for texture and also for sneakiness. If you've got picky eaters a smooth texture to these chicken meatballs is key. They won't even know what hit them.
Can These Meatballs Be Frozen?
You can! We tested this meatball recipe a couple of times to see how much broccoli we could actually jam in there…so we do have a bunch frozen. These Easy Chicken and Broccoli Meatballs can be baked right from frozen or defrosted and then baked.
So go ahead and make a double batch, freeze them and grab them when you need a quick and healthy meal!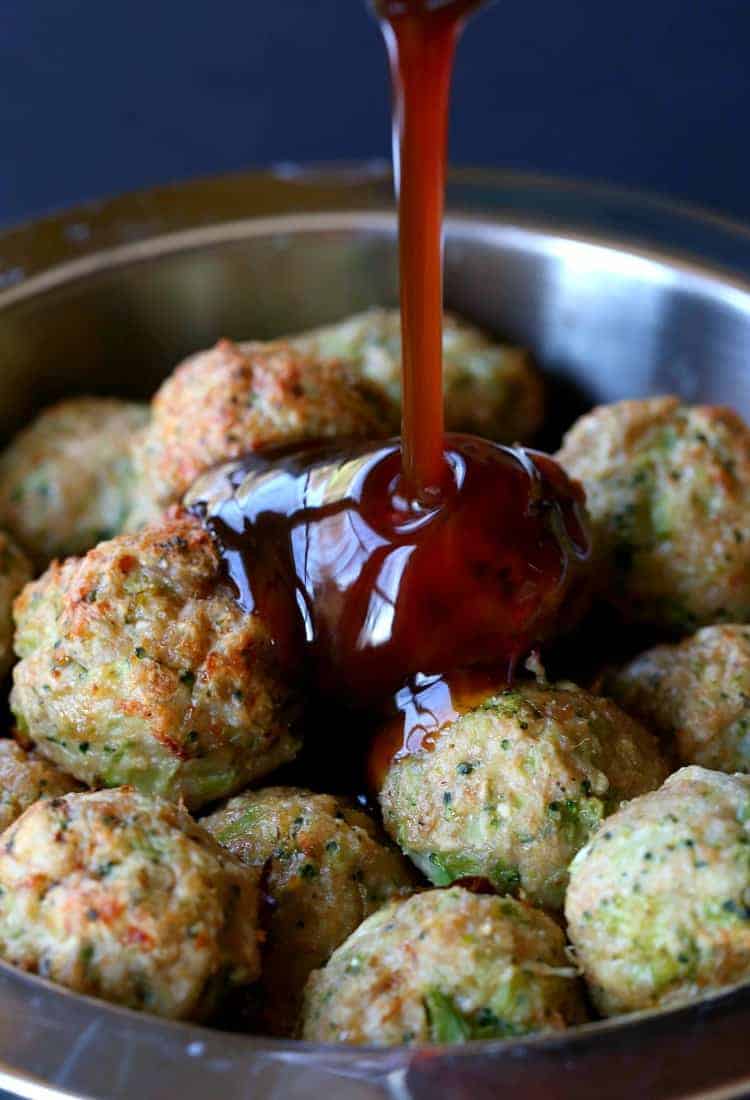 Can I Use Store Bought Stir Fry Sauce?
Yep, of course. We love our homemade stir fry sauce and since it literally takes 5 minutes to make we usually just use that on these meatballs. But if you have a bottle of stir fry sauce hanging around go ahead and use that to make this recipe even easier!
Try and taste a few different brands of stir fry sauce if you're going to go this route, like everything store bought, some are definitely better than others!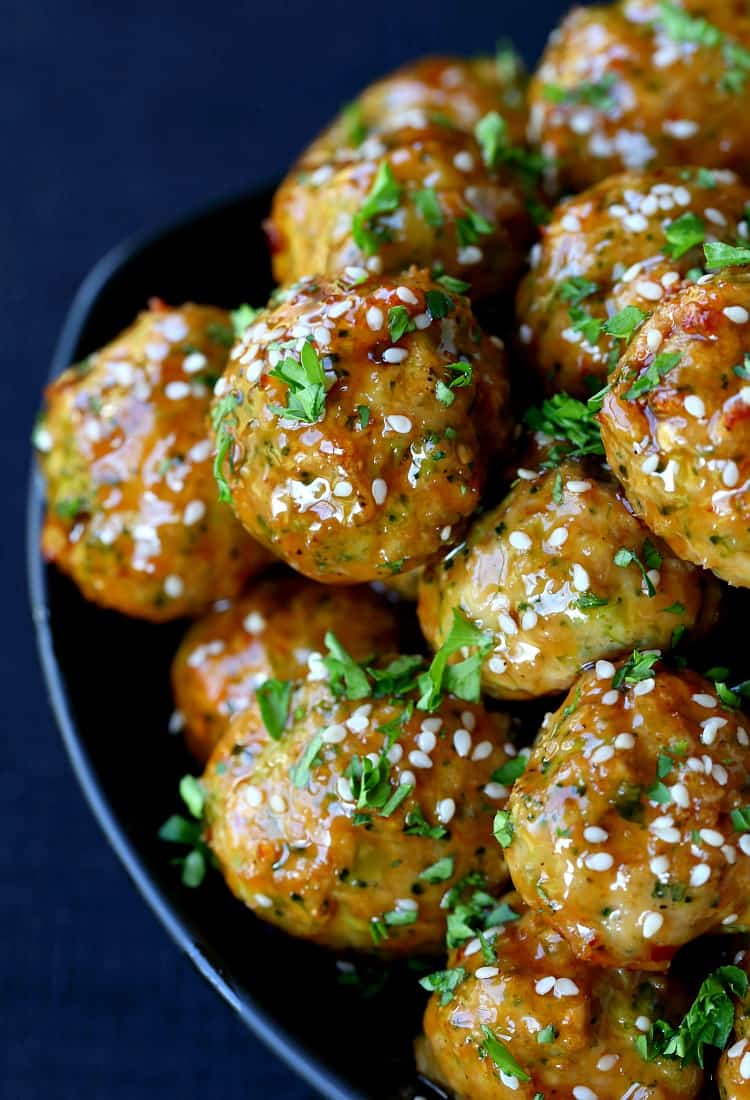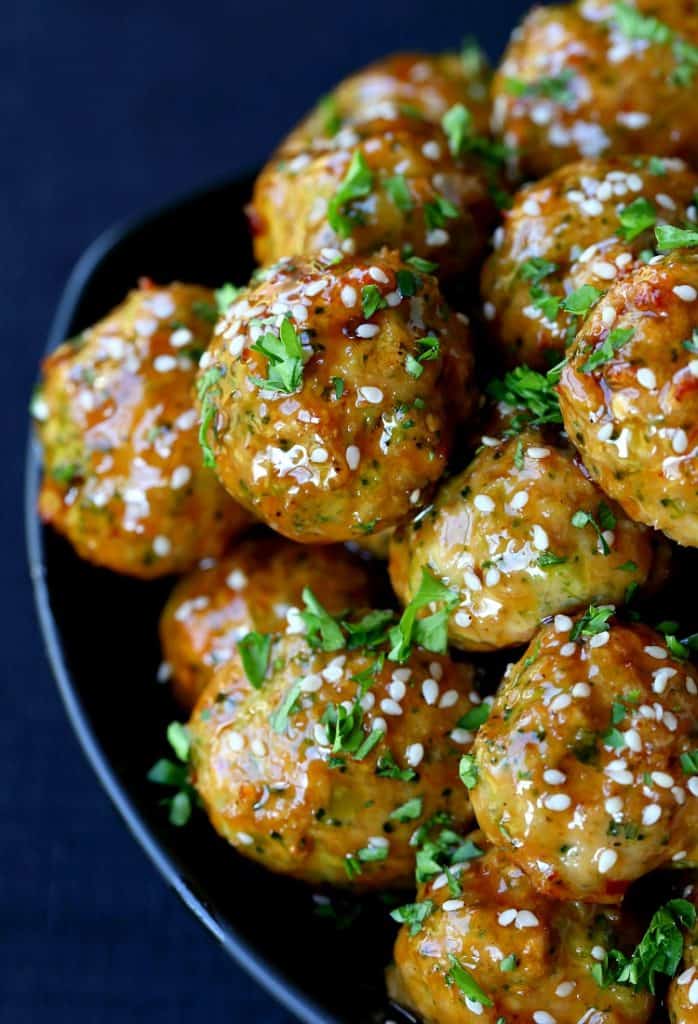 Like I mentioned, we also serve these chicken and broccoli meatballs for appetizers! You can make these meatballs ahead of time for a party and then warm them up and toss them in the stir fry sauce right before serving!
I can promise you, these meatballs will be devoured in no time, so make sure you make enough to go around. Serve these with toothpicks for easy grabbing and some extra stir fry sauce on the side for dipping!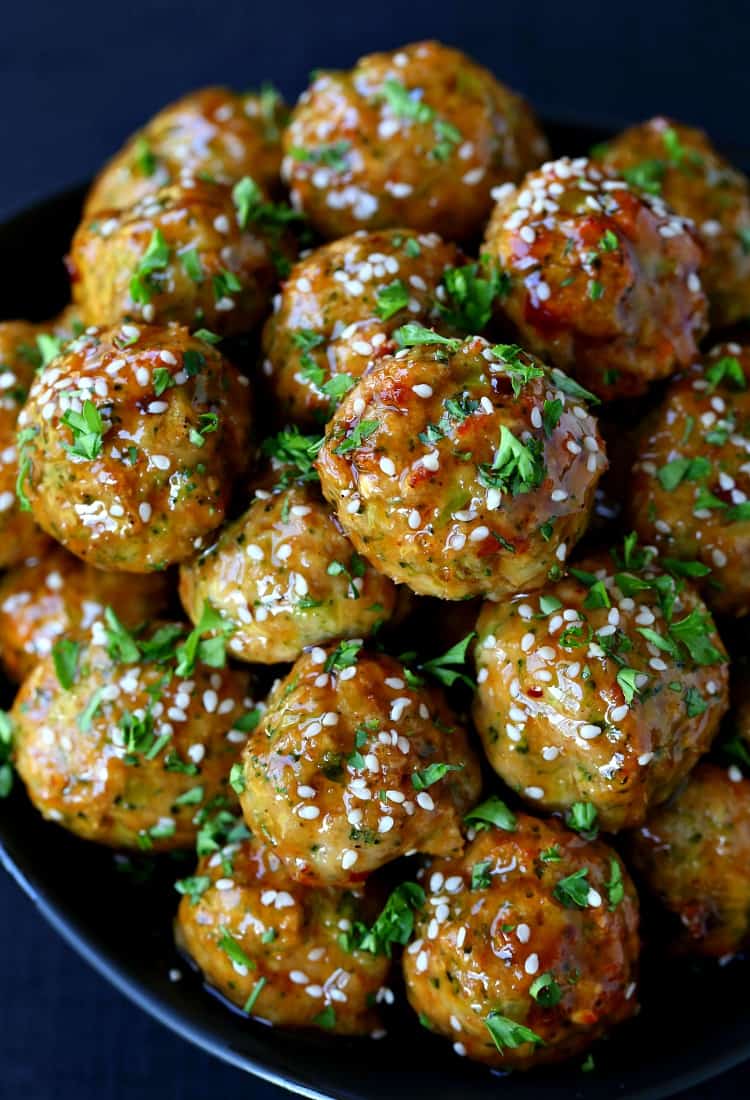 What Other Ingredients Can I Substitute In This Meatball Recipe?
Let's talk about the protein first. Beef can be swapped out for the chicken as well as pork and ground turkey too! As far as the broccoli goes, you can use frozen chopped spinach in addition to the broccoli or instead of the broccoli. The key to this recipe is the consistency or the texture, especially if you're trying to sneak in the vegetables!
So whatever you're swapping out, just make sure that it blends in well with the meatballs. Grated zucchini, even finely shredded carrots are both good options!
Looking For More Meatball Recipes?
Print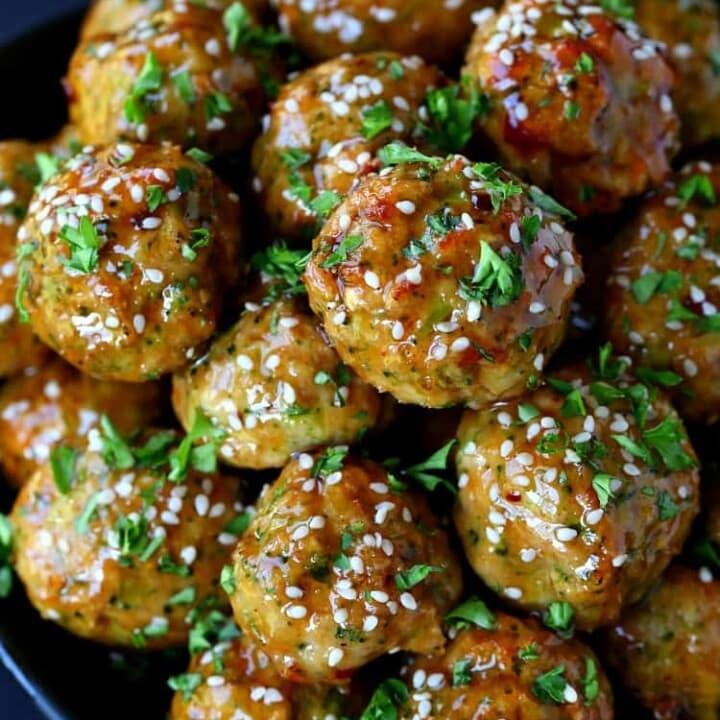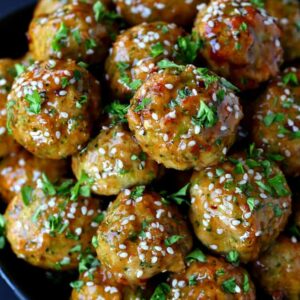 Chicken and Broccoli Meatballs
Author:

Prep Time:

5 minutes

Cook Time:

20 minutes

Total Time:

25 minutes

Yield:

6

Servings

1

x
Chicken and Broccoli Meatballs are a kid favorite dinner! These juicy, flavorful chicken meatballs can be enjoyed as is or served over rice!
Scale
Ingredients
2

pounds ground chicken

2 cups

cooked broccoli, finely chopped (can use fresh fresh or frozen, defrosted broccoli)

1/2 cup

breadcrumbs

2 tablespoons

soy sauce

2 teaspoons

ginger paste, or fresh grated ginger

1 1/2 teaspoons

kosher salt

1 1/2 teaspoons

garlic powder

1/2 teaspoon

black pepper

1

egg, beaten
Stir Fry Sauce (Or use a store bought stir fry or teriyaki baste & glaze)
Sesame seeds and fresh parsley for garnish
Instructions
Preheat the oven to 400 degrees.
In a large bowl, add the chicken, broccoli, bread crumbs, soy sauce, ginger, salt, garlic powder, pepper and the egg. Mix with well to combine well then form into 2 inch meatballs. (we use a medium, 2″ scoop)
Place the meatballs on a parchment lined baking sheet and bake for 18-20 minutes.
While the meatballs are in the oven, make the stir fry sauce following our 5 Minute Stir Fry Sauce Recipe, or buy a bottle of your favorite store bought stir fry sauce or teriyaki baste & glaze.
Add the baked meatballs to a large bowl. Pour just enough of the stir fry sauce to coat the meatballs and toss gently. You'll have extra stir fry sauce left, which you can serve on the side or keep in the refrigerator for other uses.
Garnish with sesame seeds and fresh parsley if desired then serve as is or over rice.
Recipe Notes
This recipe makes about 24 meatballs, so there are 4 meatballs in a serving.
Store: Store leftover meatballs in a container in the refrigerator for up to 3 days.
Reheat: Reheat leftover meatballs in the microwave until warmed through.
Category:

Dinner

Method:

Oven

Cuisine:

American
Keywords: chicken meatballs, meatball recipes, healthy recipes, low carb recipes, ground chicken recipes