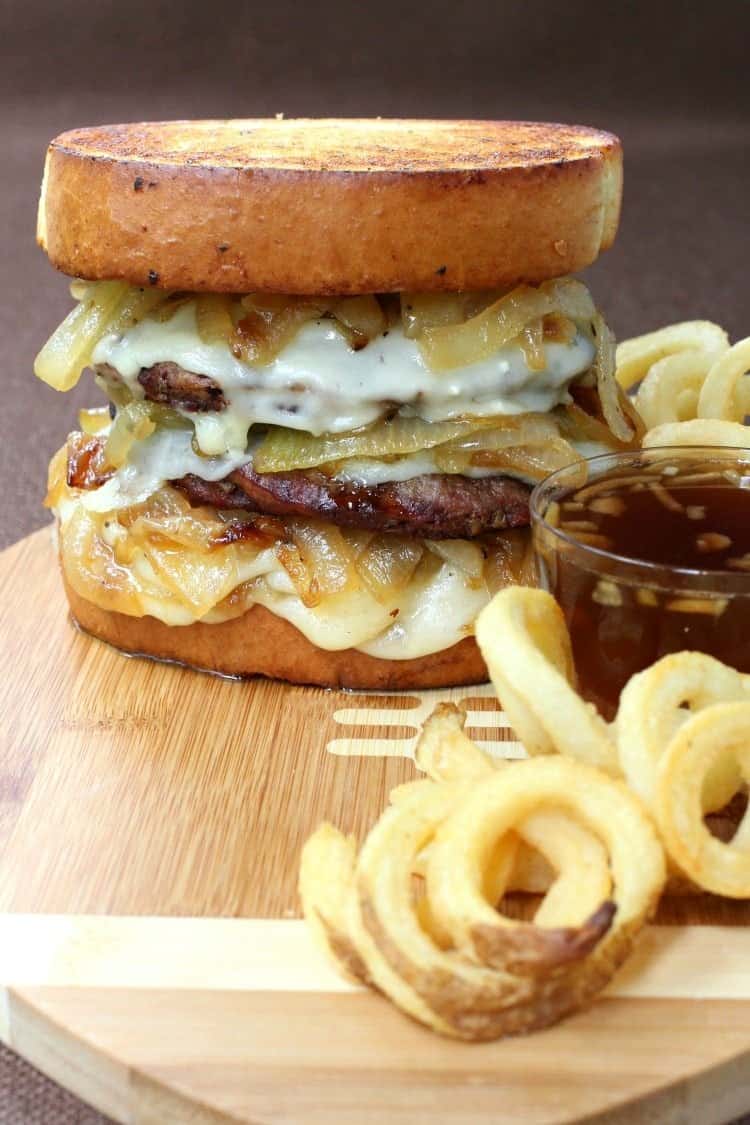 French Onion Field Goal Burger
Calling all tailgaters – I've got an epic burger here for the football tailgating win – a French Onion Field Goal Burger, dripping with three layers of cheese and caramelized onions, tucked in between a triple decker burger!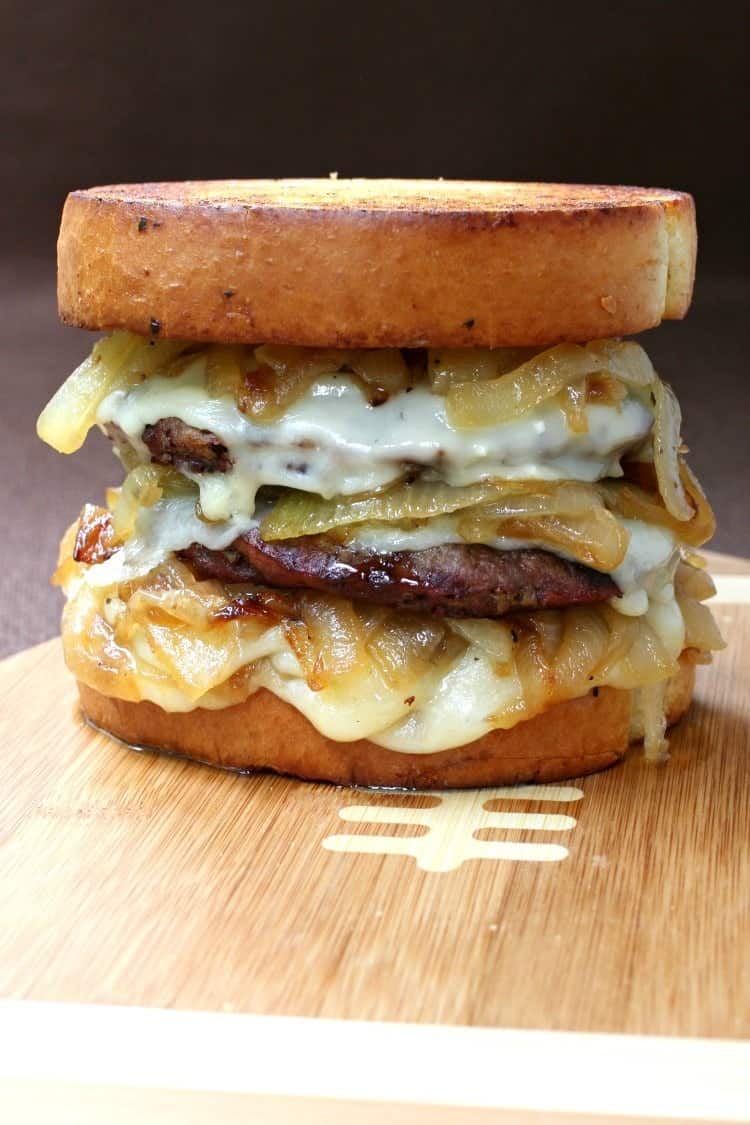 You whip up this burger for your friends at your next tailgating party and let me tell you, by the end of the day you're going to have a LOT of friends.
Here's the key to my tailgating parties – everything has to be pretty epic, not just a hot dog and a bun, I'm talking knock your socks off food that people go crazy over – and it has to be easy to make while you're in the middle of a parking lot.
So what's the secret? Everything has to be done ahead of time. With the exception of grilling the actual burgers, which you'll be doing in that parking lot, all the toppings and sides get done at home.
Because you can't just throw a burger on a bun for this tailgate party, we need a football burger here, one that makes you know you're at the game today.
And this French Onion Field Goal Burger does just that. It's a three layers of burger, for a 3 point field goal. Smothered with three different types of cheese and topped with caramelized onions. Just like all the flavors in a French Onion soup, right here on a burger. And we all know the best part about French onion soup is all that cheese…
It's the same with this burger, it's the three different types of cheese that make this burger unbelievably tasty, so you definitely don't want to skimp on the cheese.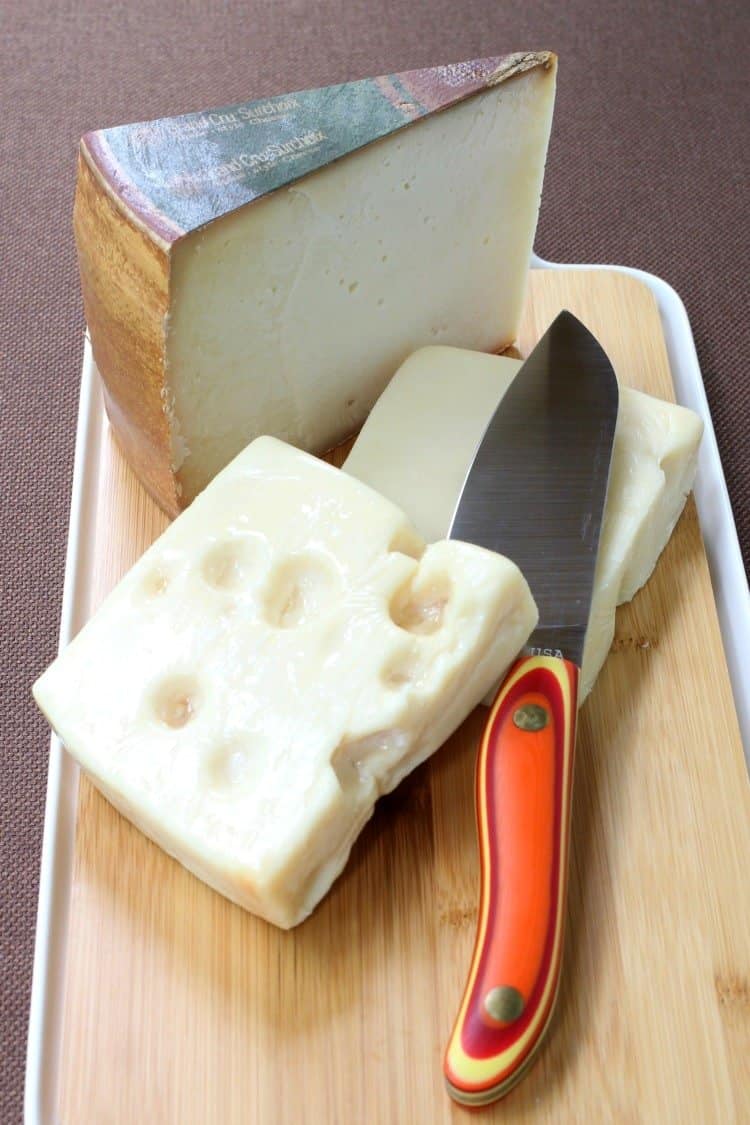 I used three different kinds of cheese for this burger, a baby swiss, a three year aged swiss and a nutty Alpine style cheese. The three different cheeses totally bring out the flavor you're looking to copy in that french onion soup – the thick layer of gooey cheese floating at the top of the soup – we all know that's why we order the soup in the first place, right?
Now let's talk for a minute about the bread – we're not using a plain old hamburger bun, we've got to go big or go home. So just like the crouton underneath all that cheese in your French onion soup, the bun here is two buttery, thick slices of Texas Toast.
And then we have the onions…loads and loads of sweet caramelized onions cooked in butter with a splash of marsala wine at the end. We can't have a French Onion Field Goal Burger without the onions!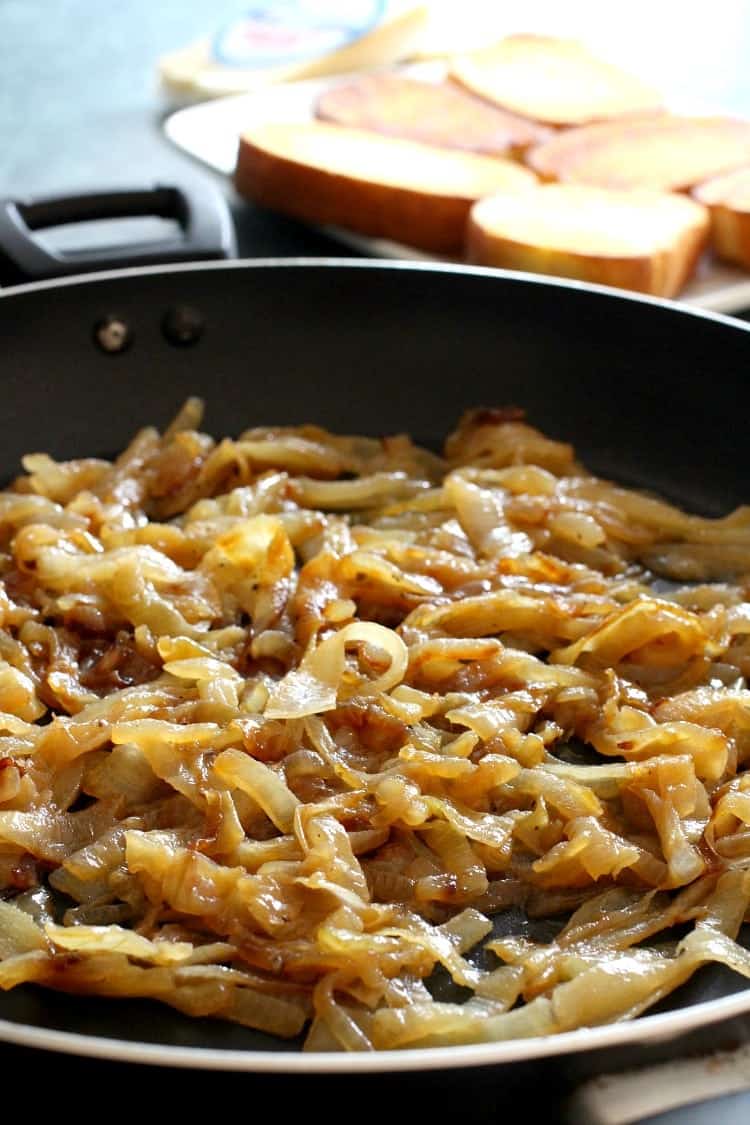 Now that you've got the onions cooked and your ingredients ready to go we can light up the grill.
These are thin burger patties so they aren't going to need to cook for more than a few minutes on each side, perfect for tailgating since no one is going to want to wait long to get their hands on these.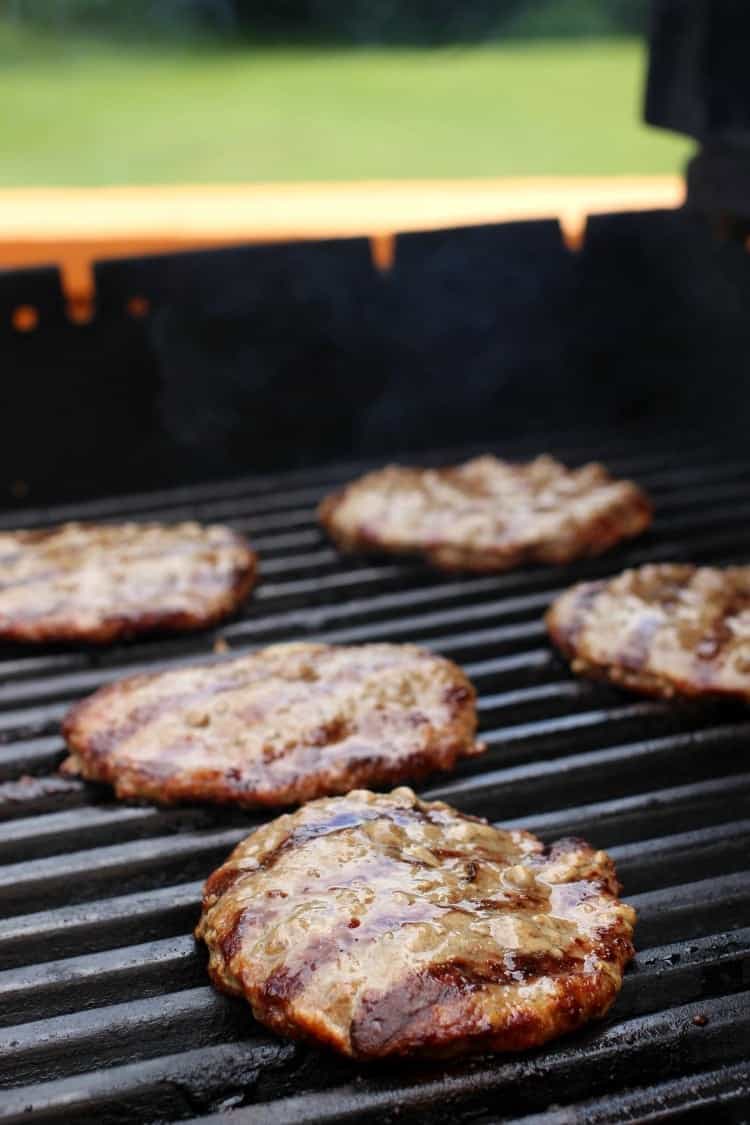 Layer one type of cheese on each burger patty and close up the grill for a minute so it melts…
Then start the assembly.
One burger patty on the bottom, covered with onions and then another cheesy burger patty on top. Repeat with one more layer and press that last piece of texas toast down on top.
And get ready to be swarmed by your tailgating football friends. I only hope you planned ahead and made enough to go around.
If you did want to go all the way and bring along a container of au jus (just like the broth) to dip this burger into – it's time to head in for the dip…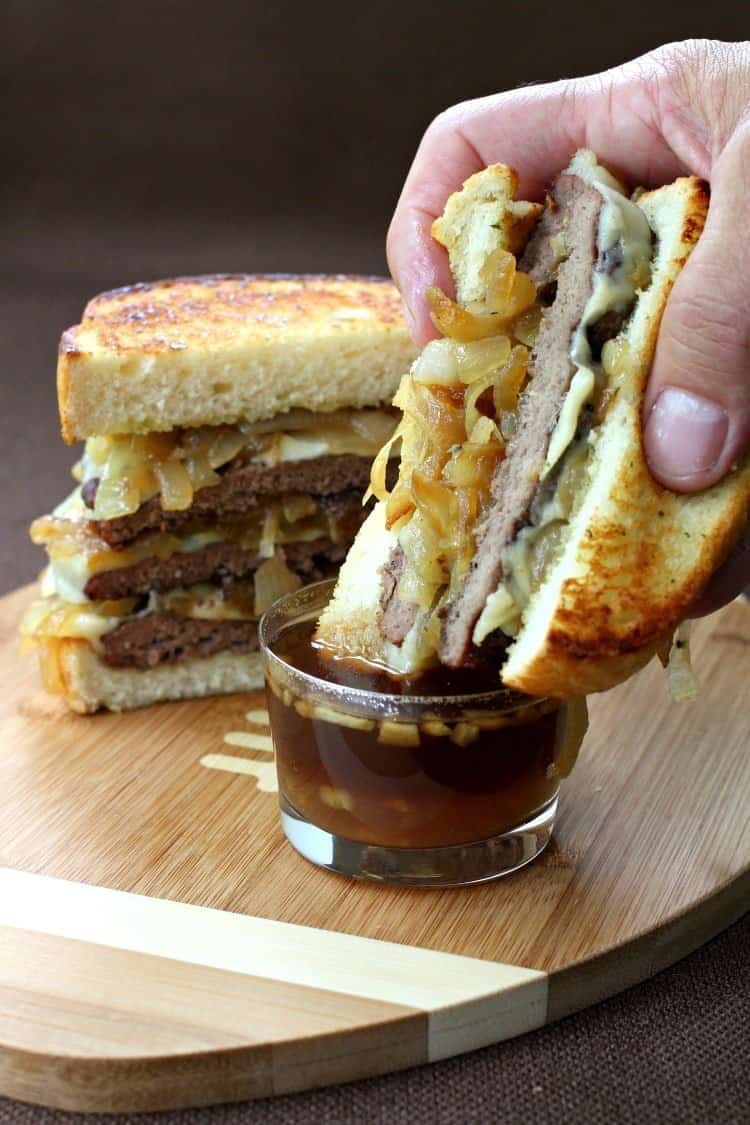 There's not a better burger alive than this French Onion Field Goal Burger. Make it at home, make it at your next tailgating party, make it all for yourself and share with no one.
Totally up to you.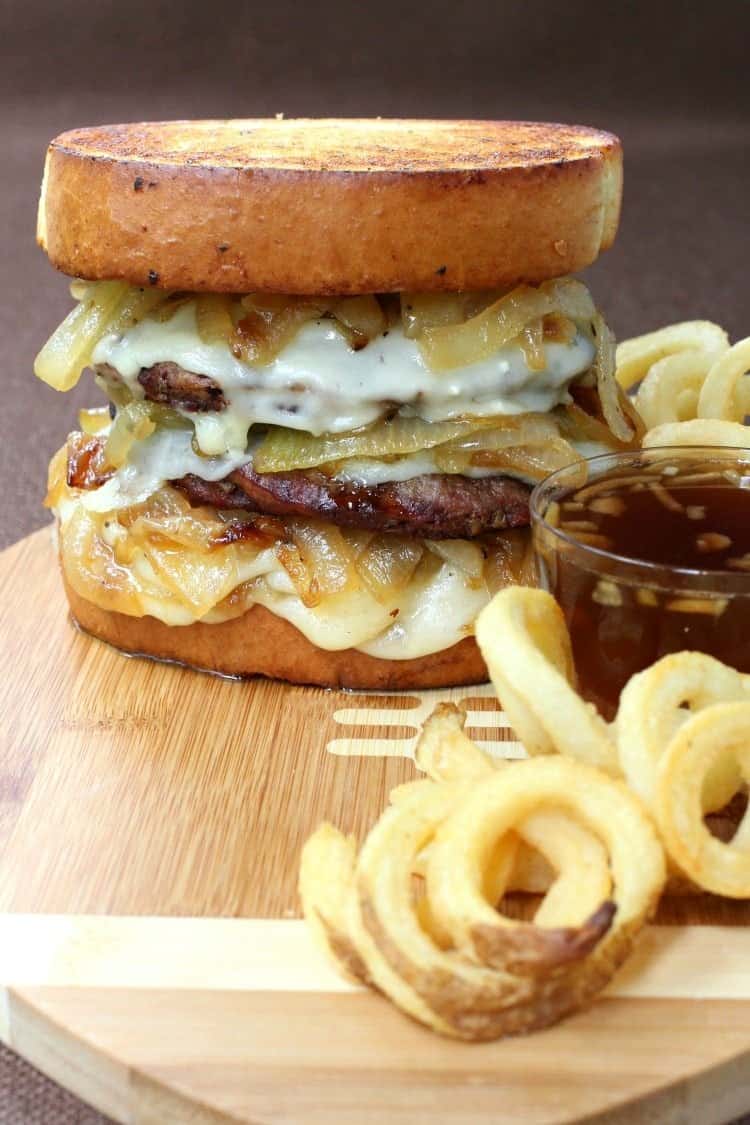 Make sure to head over to the Cheese & Burger Society web site to enter to win an all expense paid trip to see the Green Bay Packers home game!
This post has been brought to you by Wisconsin Cheese. All opinions here are mine, alone. Thank you for your help in supporting the brands that support this site!
Print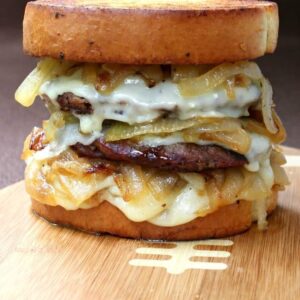 French Onion Field Goal Burger
Author:

Yield:

1

burgers

1

x
---
Ingredients
3 ¼

lb. hamburger patties

2

thick slices baby swiss cheese

2

thick slices aged swiss cheese

2

thick slices Alpine-style cheese

2

slices store bought texas toast
For the caramelized onions:
5

large onions, thinly sliced

2 tablespoon

s butter

2 tablespoon

s olive oil

1 teaspoon

salt

½ teaspoon

ground pepper

2 tablespoon

s marsala wine

1

package store bought au jus (optional, for dipping)
---
Instructions
Start the caramelized onions by melting the butter and olive oil together in a large skillet over medium-low heat.
Add the sliced onions, salt and pepper to the skillet and toss to coat in the butter and olive oil.
Cook, stirring often, for 20-30 minutes until softened and browned.
Stir in the marsala wine and cook for 2 minutes more, then remove from the heat.
Add the onions to a thermos to keep warm.
Cook the texas toast in the oven according to the package directions and let cool.
While the texas toast is in the oven, make the au jus according to the package directions and pour into a thermos to keep warm.
Once it's cooled, put the texas toast into a storage bag or container.
Pack up your burgers and cheese in the cooler until ready to grill.
When you're ready to make the burgers, take out the hamburger patties and place on your grill. Grill for 2 minutes per side, then top each burger with 2 slices of each different type of cheese to let melt.
When you place the cheese on the hamburgers, you can warm up the texas toast on the grill for just a minute, then get ready to assemble your burgers.
Place a burger on a piece of texas toast, then top with a large spoonful or the caramelized onions.
Repeat with the other two layers, ending with the onions on top and then the top piece of texas toast.
---
Notes
If you're not taking this recipe to a tailgate, the onions can still be made ahead of time and refrigerated to save time, then just grill your burgers and warm up the texas toast when ready!