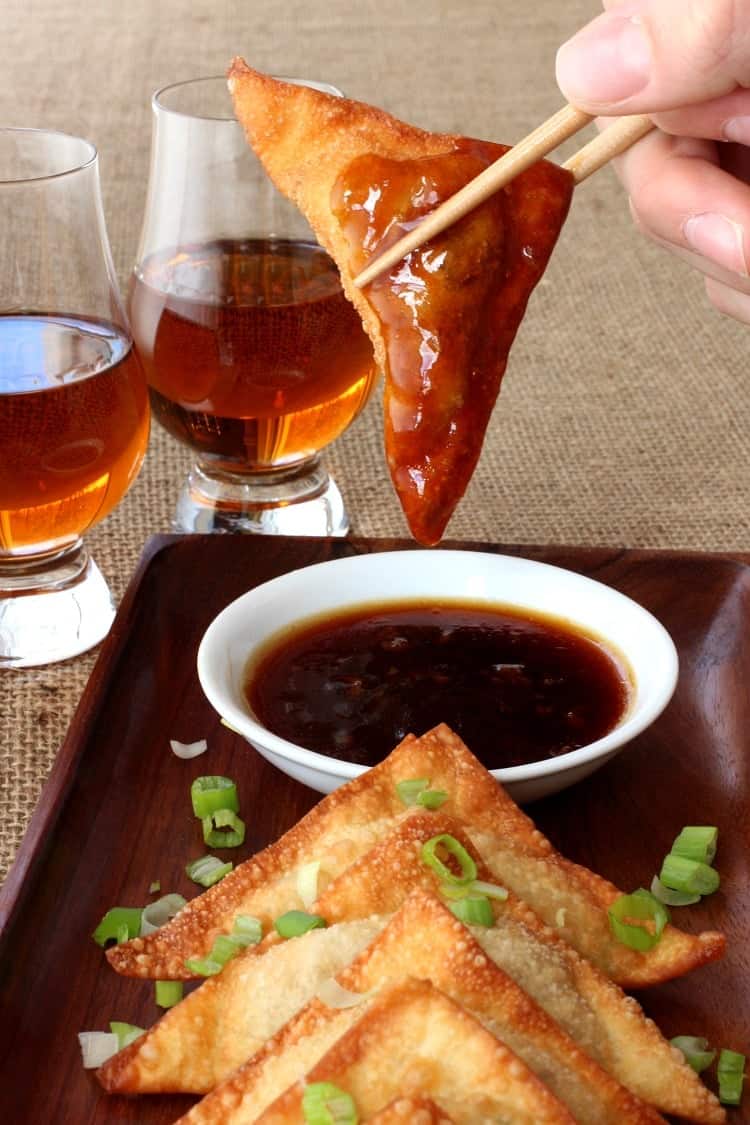 Whiskey Glazed Fried Dumplings
Whiskey Glazed Fried Dumplings are a crispy, fried wonton filled with ground turkey, bacon and cream cheese then dipped in a delicious whiskey glaze!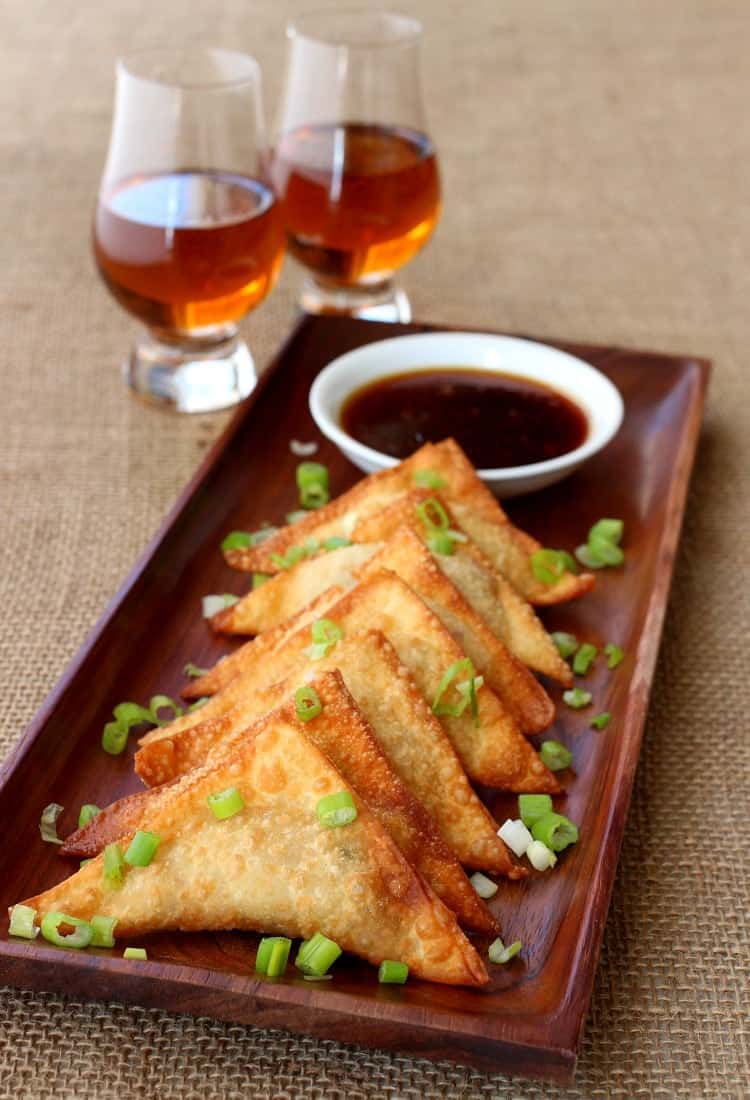 If you're looking for an appetizer to be the showstopper, the hit of the party…
This is the one. The fried wonton with the turkey maple bacon filling is good enough. But then you go ahead and dip it in a whiskey glaze dipping sauce.
And then it's over the top good.
I know I use my whiskey glaze for a lot of recipes, like these turkey meatballs or my favorite – these whiskey wings. But as I've said before, you could put this sauce on a flip flop and it would make it taste amazing. There's countless ways to use it so make up a big batch and keep whatever you don't use in the fridge for pouring over grilled chicken or steak for the rest of the week.
But if you're ready for party food…here we go.
The filling is made up of ground turkey, bacon, cream cheese and scallions with some maple syrup to tie it all together. You could eat the filling straight out of the pan it's so good…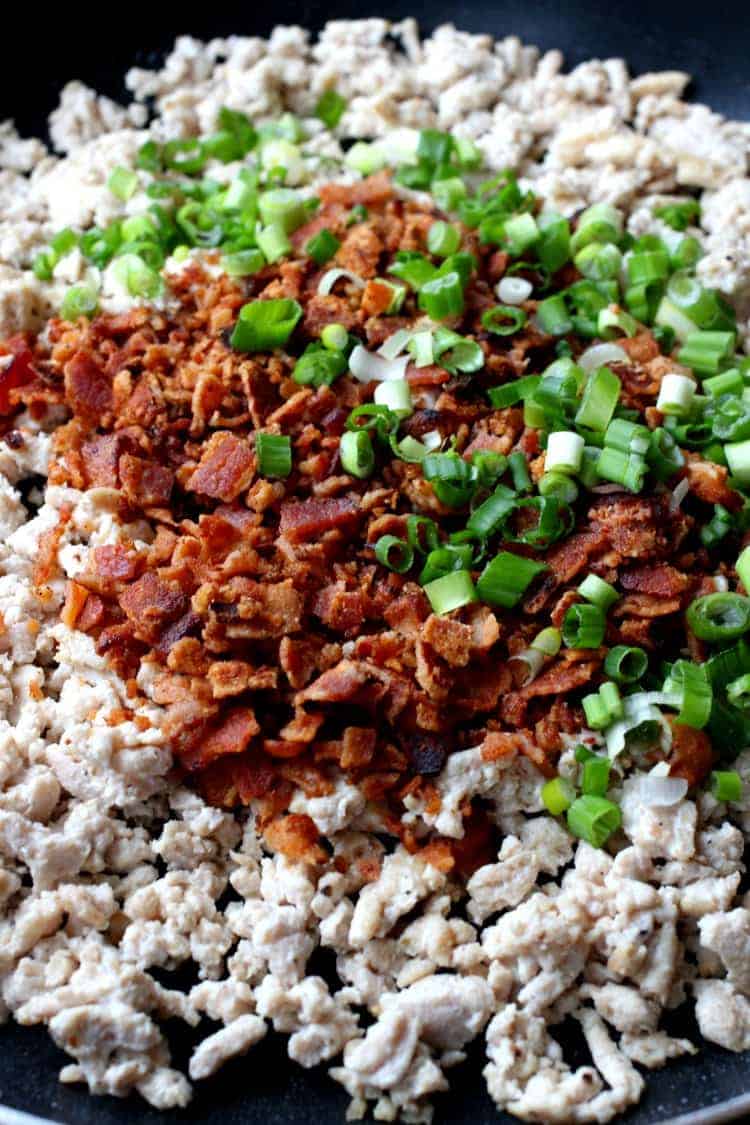 Get your wonton wrappers and start filling them up. This part is going to take you a little while, but grab a beer, throw on some music and just dive in.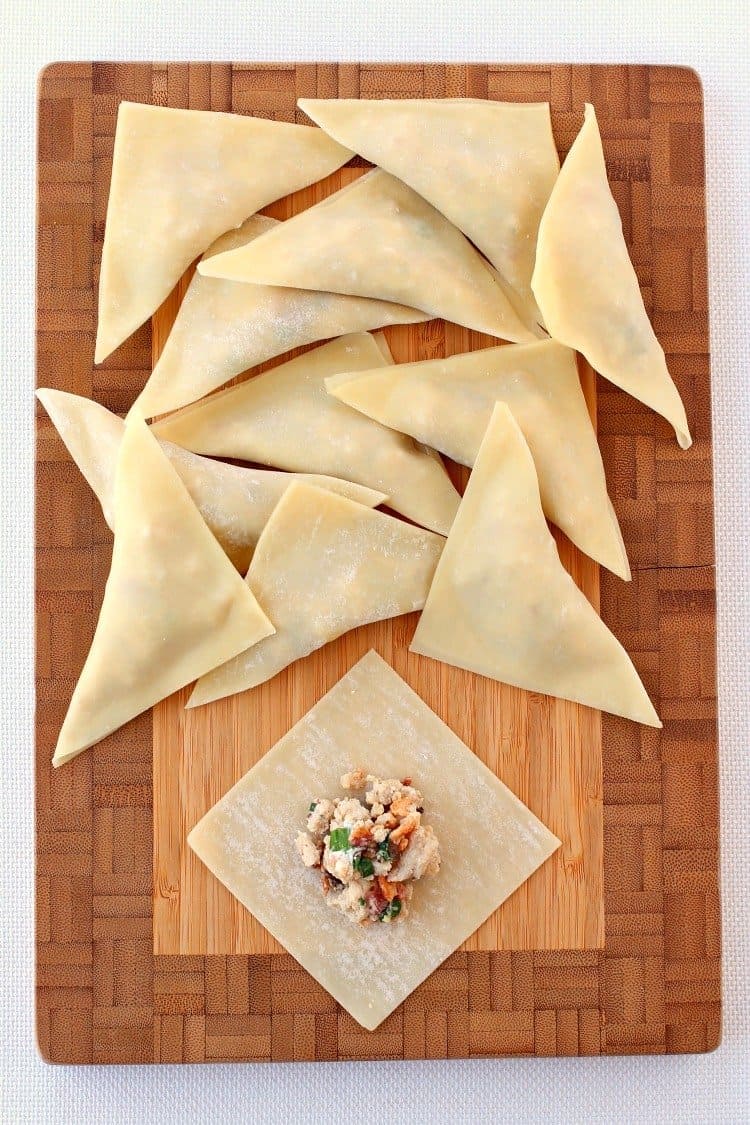 Now comes the deep fry! Don't worry if you don't have a fryer, just a deep pot with oil and you're good to go. These Whiskey Glazed Fried Dumplings will only take about 2 minutes to crisp up in the oil so the frying doesn't take too long at all.
You can keep these in a warm oven until you're ready to serve or get them in the fridge and warm them up later.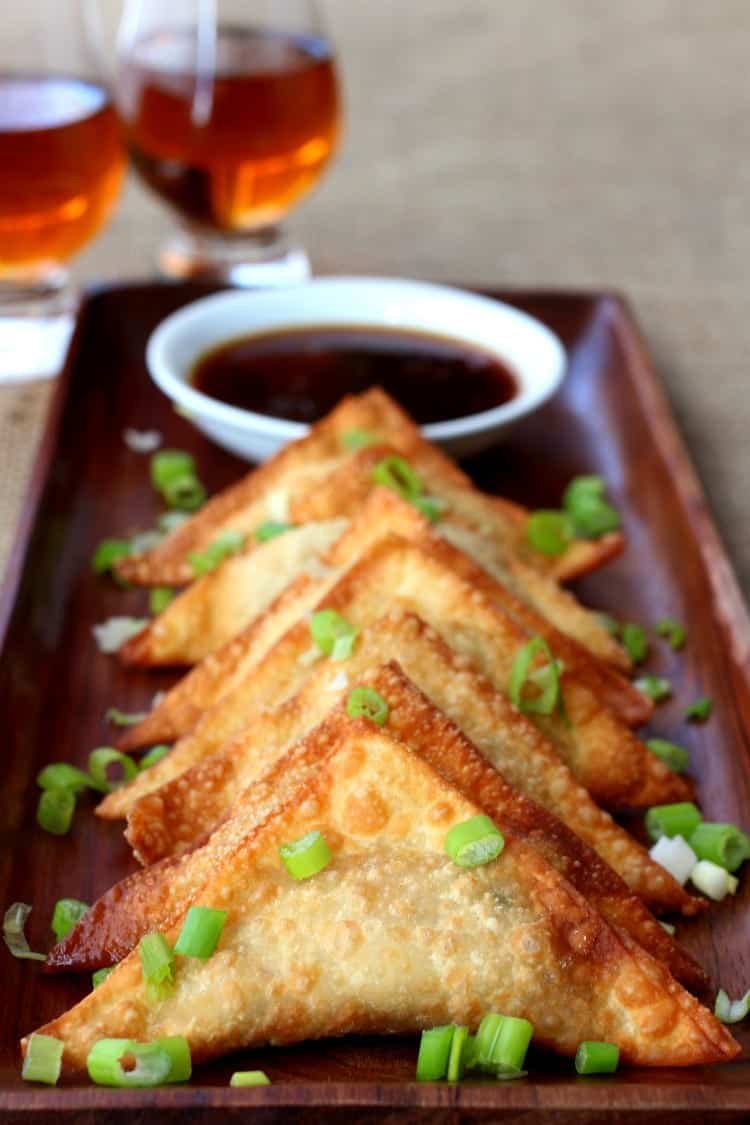 Get that whiskey glaze and start dipping!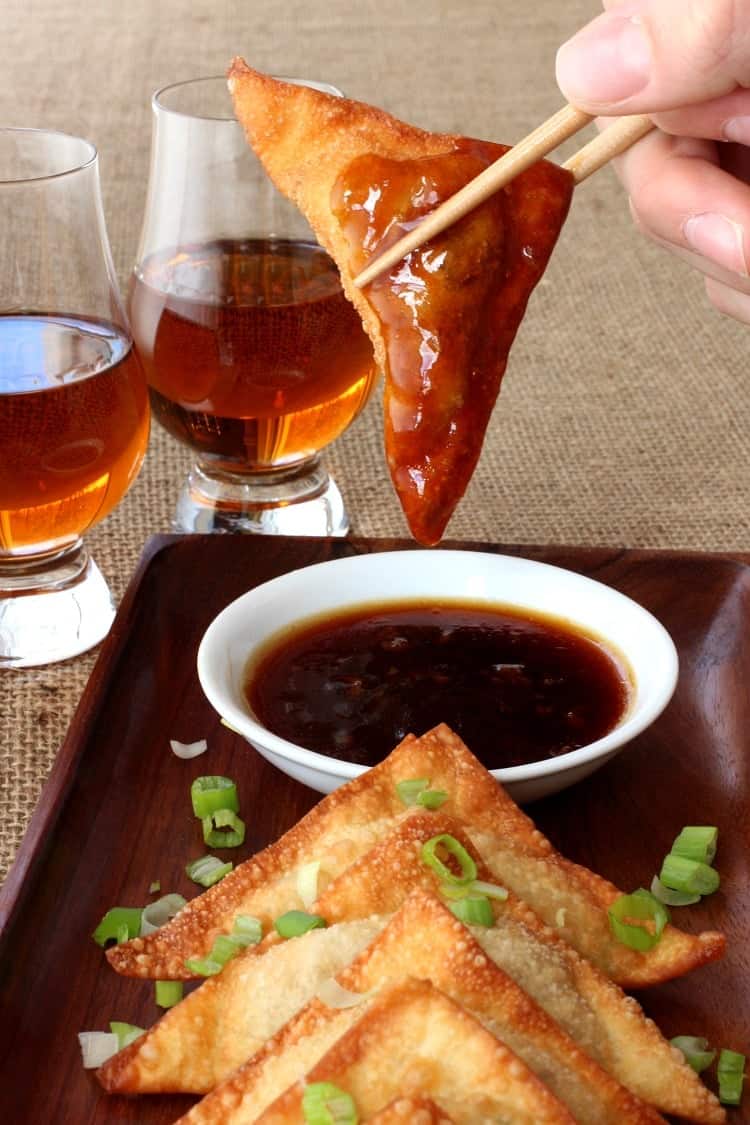 Glasses of whiskey for drinking on the side are totally optional.
But a good choice.
Print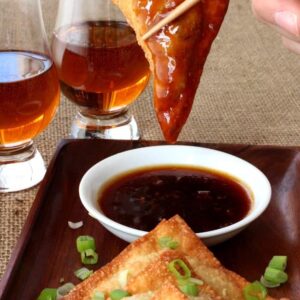 Whiskey Glazed Fried Dumplings
---
Description
Makes approximately 50 dumplings
---
Ingredients
1 12 oz. package square wonton wrappers
1 tablespoon olive oil
1 lb. ground turkey
1/2 cup cream cheese
1/2 teaspoon salt
1/2 teaspoon garlic powder
1/4 teaspoon black pepper
6 strips bacon, cooked, cooled and chopped into small pieces (you can substitute 1 cup of bacon bits)
2 tablespoons real maple syrup
1/4 cup scallions, chopped
1 egg beaten with 2 teaspoons of water (egg wash)
canola or vegetable oil for frying
For the Whiskey Glaze
6 cloves of garlic, minced or pushed through a garlic press
1 T. canola oil
1/2 c. water
3/4 c. pineapple juice
3/4 c. brown sugar
1/2 c. teriyaki sauce
1/2 c. Crown Royal Whiskey
1/2 – 1 t. cayenne pepper (depending on how spicy you like the glaze)
1 1/2 T. cornstarch mixed with 1 1/2 T. of water
---
Instructions
Add the oil to a large skillet over medium heat.
Add the turkey and brown, breaking up with a spoon into small pieces.
Season the turkey with the salt, pepper and garlic powder, then add the bacon, maple syrup, cream cheese and chopped scallions. Stir to combine and melt the cream cheese then remove from the heat.
Place a heaping teaspoon of the filling in the center of a wonton wrapper.
Brush the edges with egg wash and fold in half to form a triangle. Make sure the edges are sealed very well so that no filling leaks out when you fry them.
Repeat with the remaining wontons.
Heat a deep pot of oil (halfway filled) to 350 degrees, and preheat your oven to 250 degrees.
Add a few dumplings at a time to the oil, depending on the size of your pot, and fry for two minutes until golden brown. Remove to a paper towel lined baking sheet to drain while you fry the rest of the dumplings.
Remove the paper towel and place the dumplings in the warm oven while you make the whiskey glaze.
Add the oil to a pot along with the minced garlic.
Cook over medium heat for 30 seconds while stirring, then add the rest of the ingredients to the pot (except the cornstarch)
Bring to a boil, then reduce the heat to a simmer for 10 minutes.
Pour the cornstarch mixture into the glaze and whisk to combine.
Bring the glaze back to a boil to thicken then remove from the heat.
Serve the dumplings warm with the whisky glaze on the side.
---
Notes
You'll easily get 50 dumplings from this recipe with some filling leftover too!