Pan Con Tomate – Or Spanish Tomato Bead – highlights the flavor of perfectly ripe, juicy tomatoes! Perfect for serving for tapas or a happy hour snack, a simple appetizer recipe that only takes about 10 minutes to make!
Similar to a bruschetta recipe, but with a fresh tomato puree instead of diced tomatoes. Get creative with the toppings, from grated parmesan cheese and fresh basil to a balsamic glaze drizzle!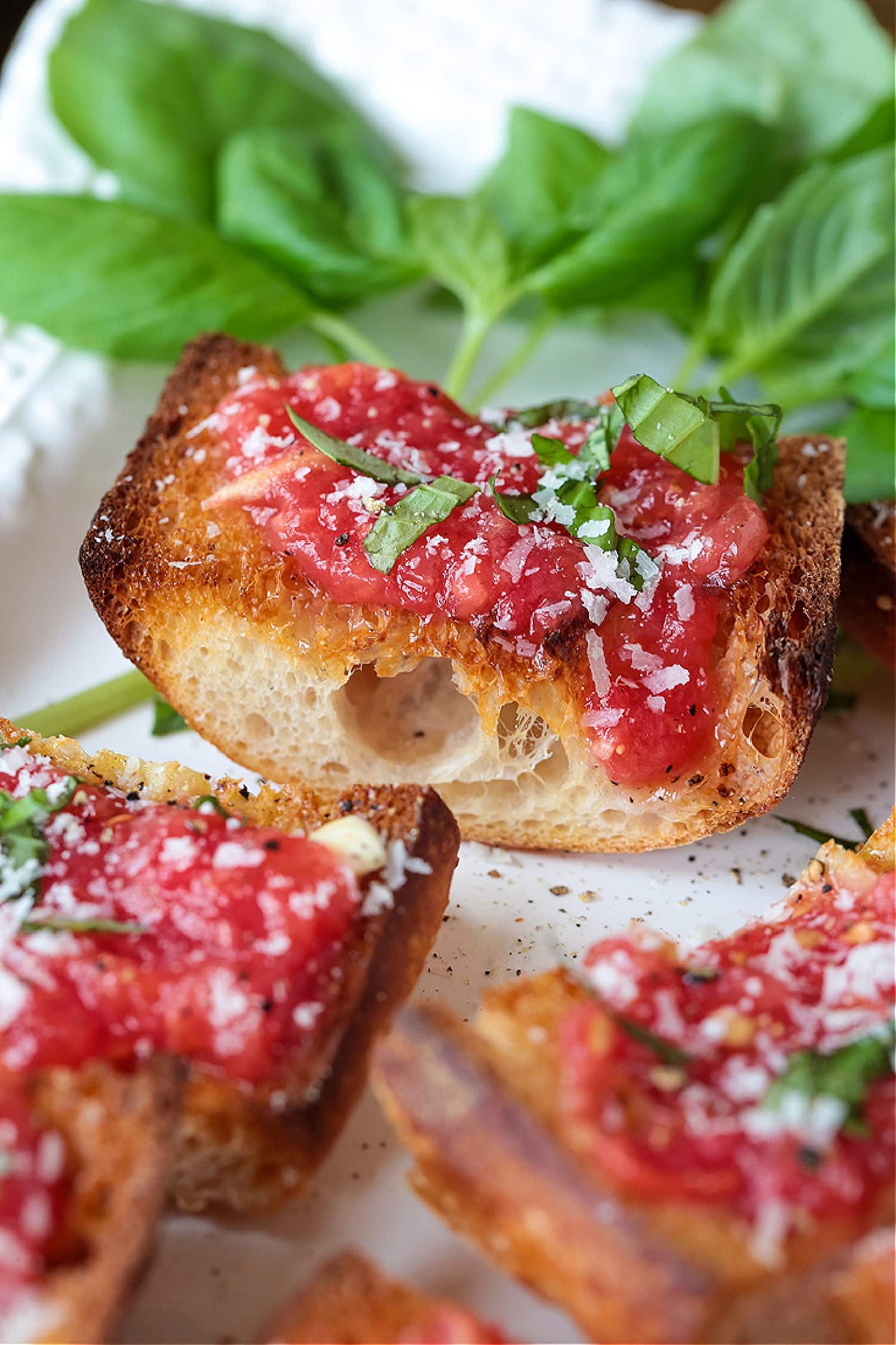 Pan Con Tomate – AKA, Spanish Tomato Bread
I'm not going to get too deep into the origins of this appetizer recipe, because truth be told, I haven't done a ton of research on it. All I needed to find out when I first saw this recipe was how it was going to taste, and I was pretty sure that it was going to taste amazing. And it did.
So this Pan Con Tomate recipe tastes similar to bruschetta, which many of us are more familiar with, but it uses a grated, fresh tomato puree instead of diced tomatoes.
Honestly, I can report that the flavor of fresh, summer tomatoes in this raw, tomato flavor can't be beat.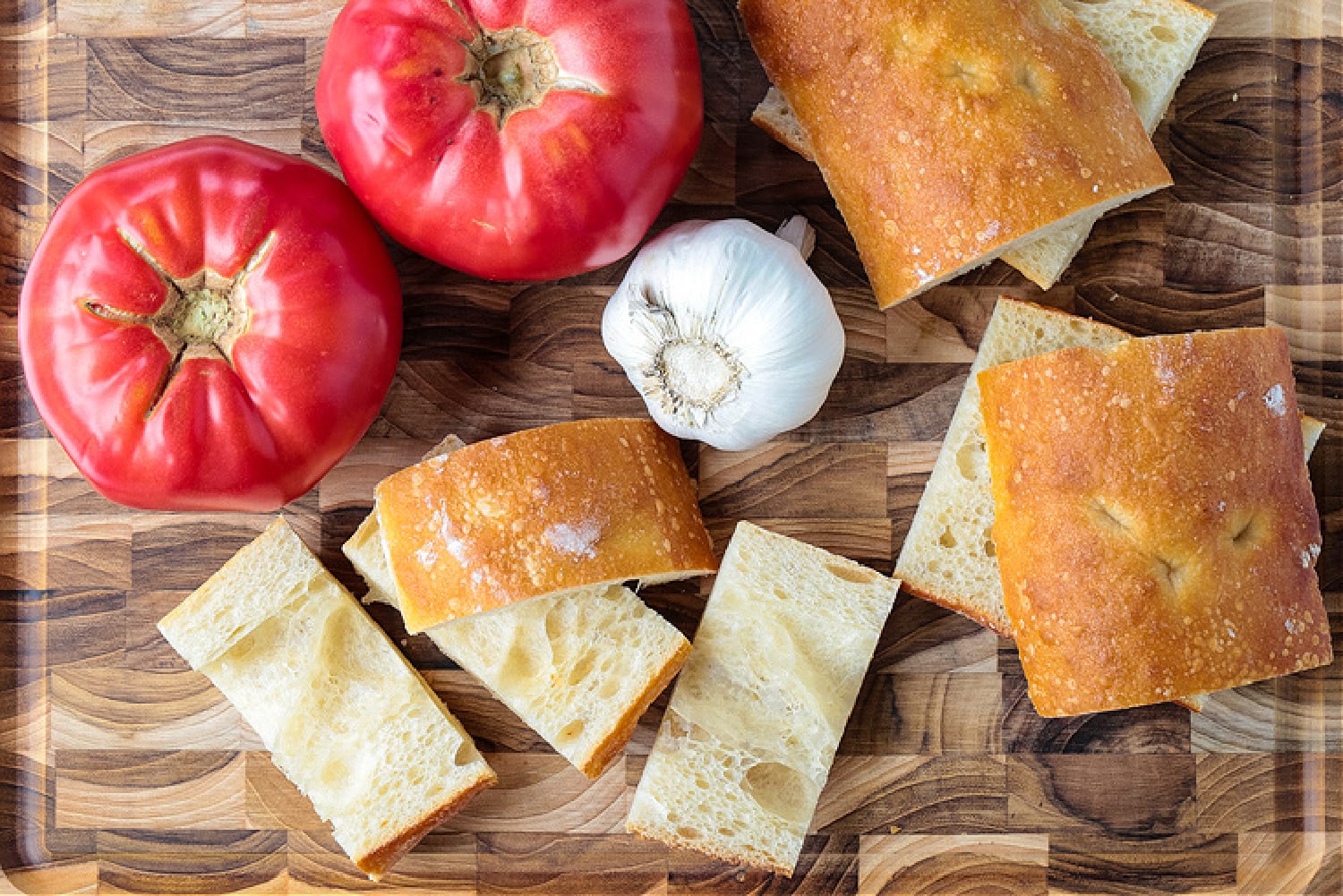 Ingredients For Making Spanish Tomato Bread
The basic ingredients for making this Spanish Tomato Bread couldn't be more simple. Of course we'll get into some additional topping and garnish ideas later down in the post, too!
For a complete list of ingredients and measurements, refer to the recipe card at the bottom of the post.
Ripe Tomatoes: Choosing a tomato for this recipe really only has one qualification. It needs to be ripe and preferably in season. That can mean different things in different parts of the world, for sure. If you're lucky enough to live in an area that tomatoes are in season all ear long, then you'll be making this tomato bread all the time.
Ciabatta Bread: Any crusty loaf will do, but ciabatta is a favorite for it's chewy texture combined with a crispy crust. Also, ciabatta is more flat in shape that say an Italian loaf or a French baguette so the tomato puree lays nicely on top.
Fresh Garlic: You do need to use fresh garlic here. The method is to rub the garlic clove on the hot bread after it's been toasted in the oven, so only fresh will do for this recipe.
Extra Virgin Olive Oil: Use a really nice extra virgin olive oil here for a delicious, fruity, buttery and sometimes herbal flavor. We love using Ina Garten's favorite brand that you can grab on Amazon.
Salt: Our go to is kosher salt, but sea salt or Himalayan salt works well too.
Parmesan Cheese: A really nice, nutty parmesan cheese to go on top of the tomato bread as a garnish. Not traditional, but we like it.
How Do You Make Pan Con Tomate?
This appetizer recipe couldn't be easier to make. You can grate the tomatoes ahead of time, if need be, and toast the ciabatta and assemble right before serving.
Grate The Tomatoes: Seems kind of strange, I know, but trust me, the process works. Slice the top end of a tomato off and grate the flesh side of the tomato on the large holes of a grater until all that's left id the skin. Discard the skin and your left with fresh, delicious tomato puree. Season the grated tomato with salt and fresh black pepper to taste.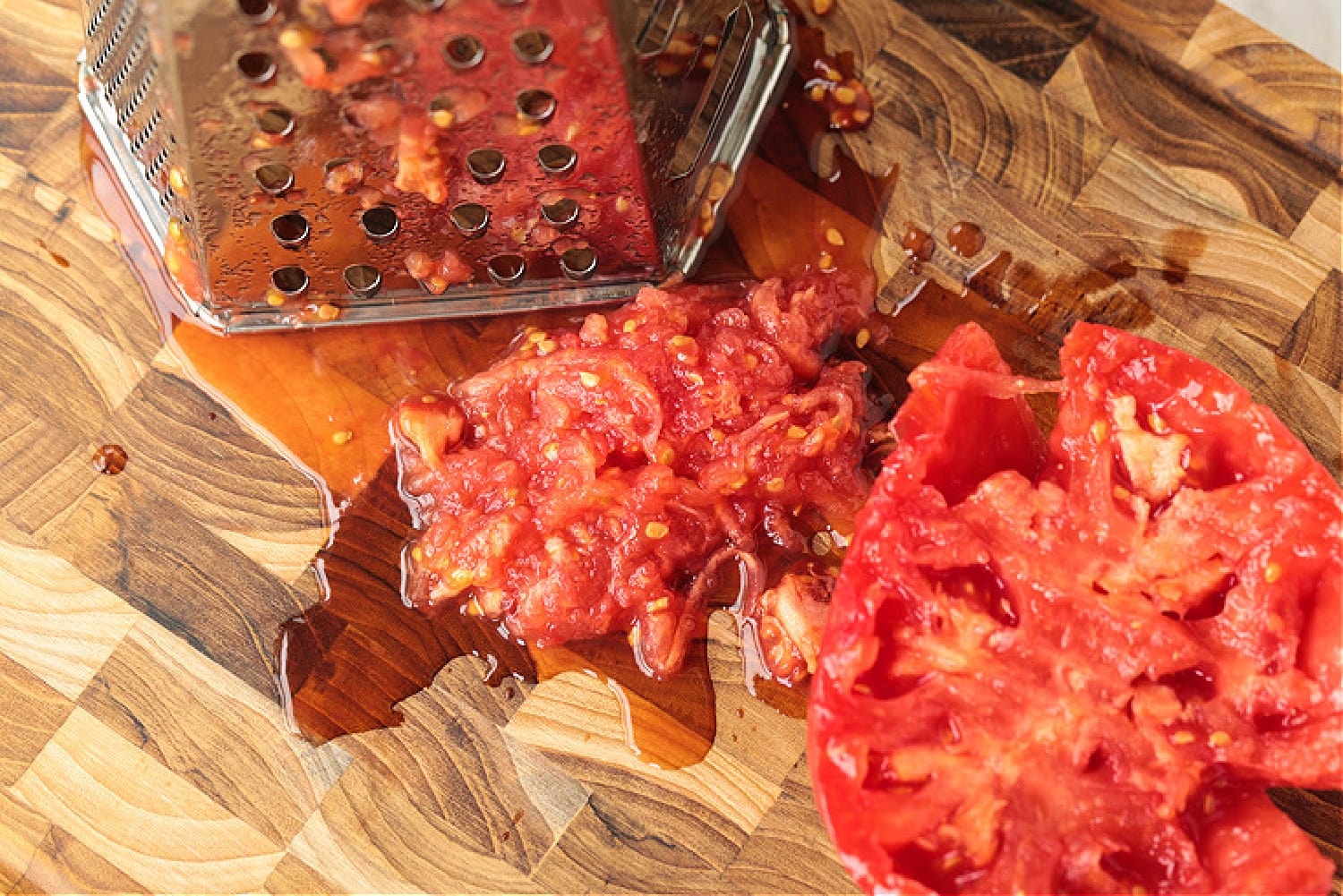 Toast The Bread: Brush sliced ciabatta bread with olive oil and season with salt and peppers. Bake in a 400 degree oven for 5 minutes until the edges are crispy and brown.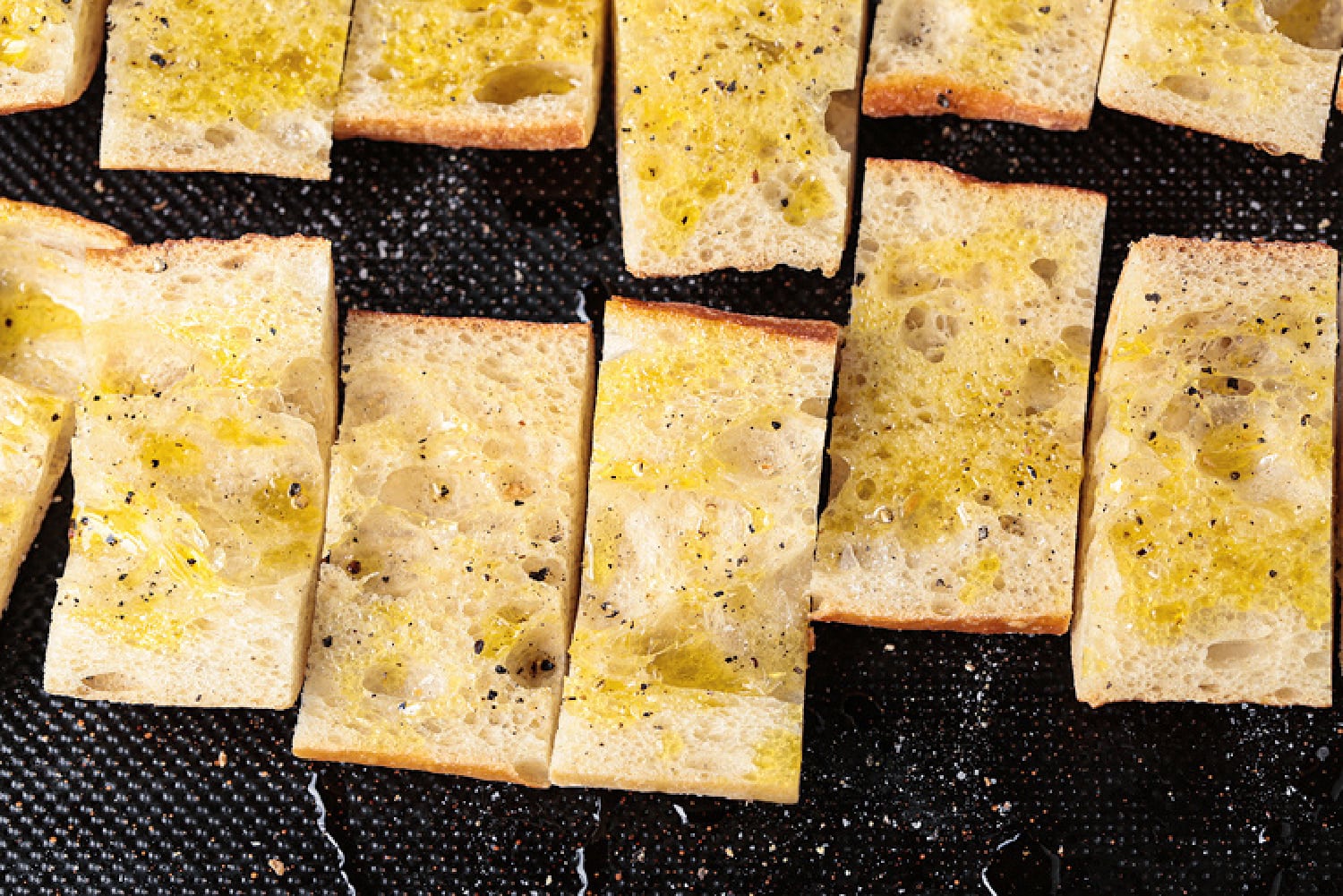 Rub The Bread With Garlic: Grab a garlic clove and rub the toasted slices of bread after they come out of the oven. You'll want to do this while the bread is still warm so that the garlic infuses into the toasted bread.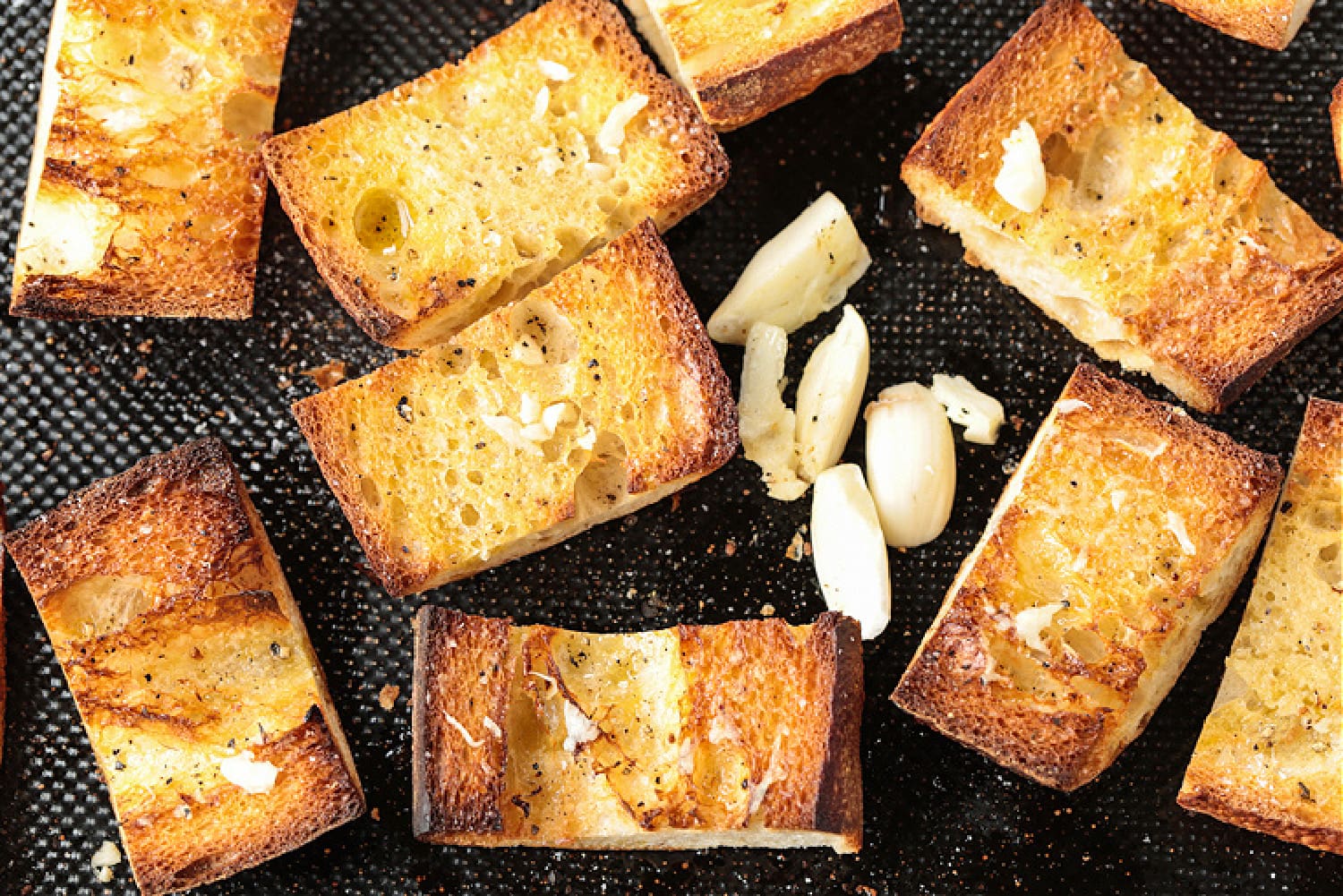 Top With The Fresh Grated Tomato: Spoon the grated tomato on top of each slice of bread and serve with grated parmesan cheese on top. Optional and not traditional, but we love the flavor that a good, nutty parmesan cheese adds to this appetizer.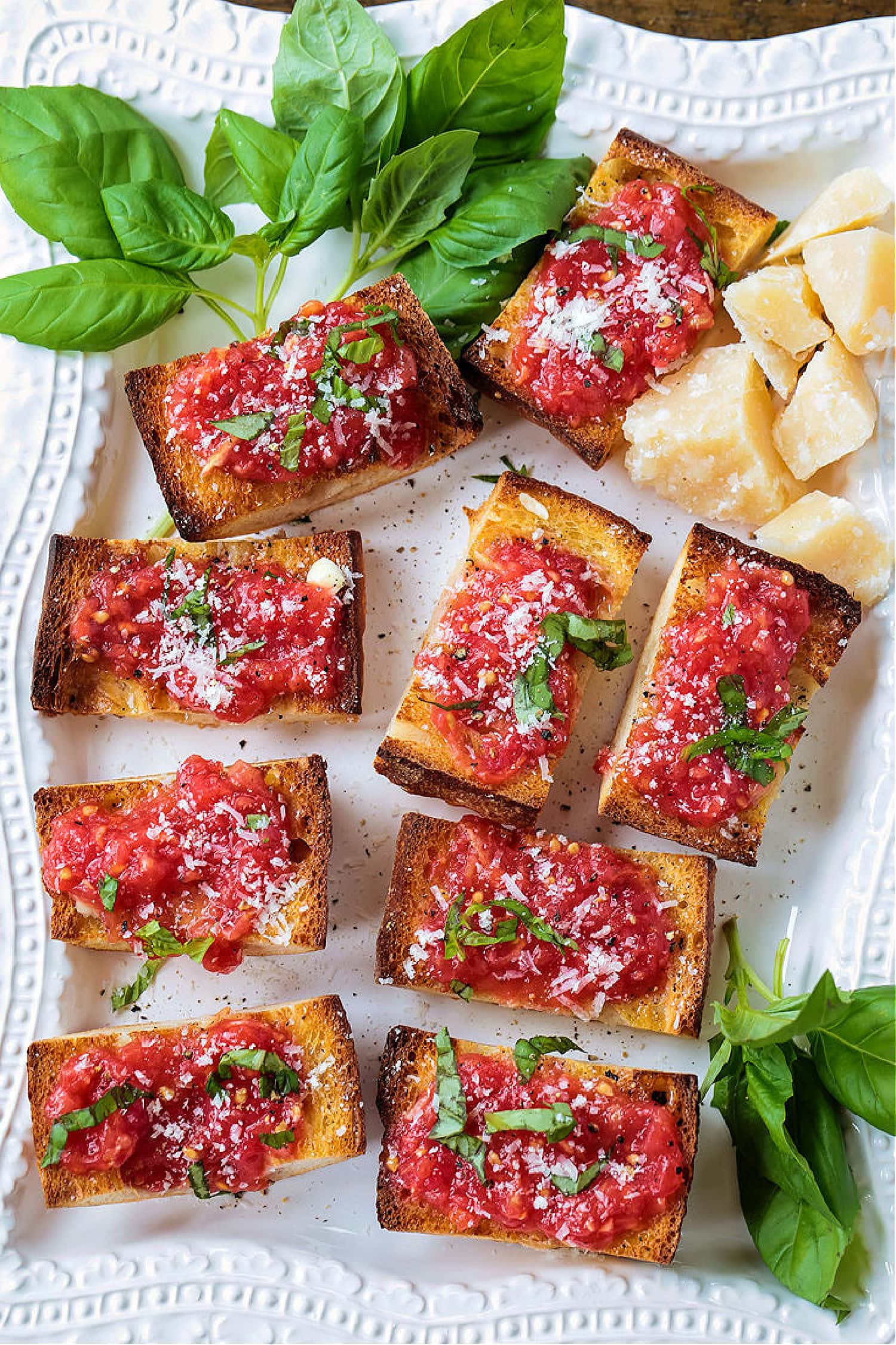 What Are Some Other Ways To Garnish Tomato Bread?
Traditionally, Pan Con Tomate is just finished with salt and fresh cracked black pepper and maybe a drizzle of good olive oil. But we do love out garnishes, so we topped ours with grated parmesan cheese and fresh basil.
Balsamic Glaze: You can buy balsamic glaze at the grocery store or reduce your favorite balsamic vinegar in a pan until thick and syrupy.
Fresh Herbs: We used basil here, but other fresh herbs like thyme, oregano and rosemary will also be delicious!
Toasted Nuts: Toast pignoli (or pine nuts) in a dry skillet until lightly browned, then add them to the top of this tomato bread. Most nuts will work for this appetizer recipe, choose your favorite.
Cheese: Parmesan cheese is a go to, but other cheeses like feta, ricotta salata or pieces of fresh mozzarella are also good choices.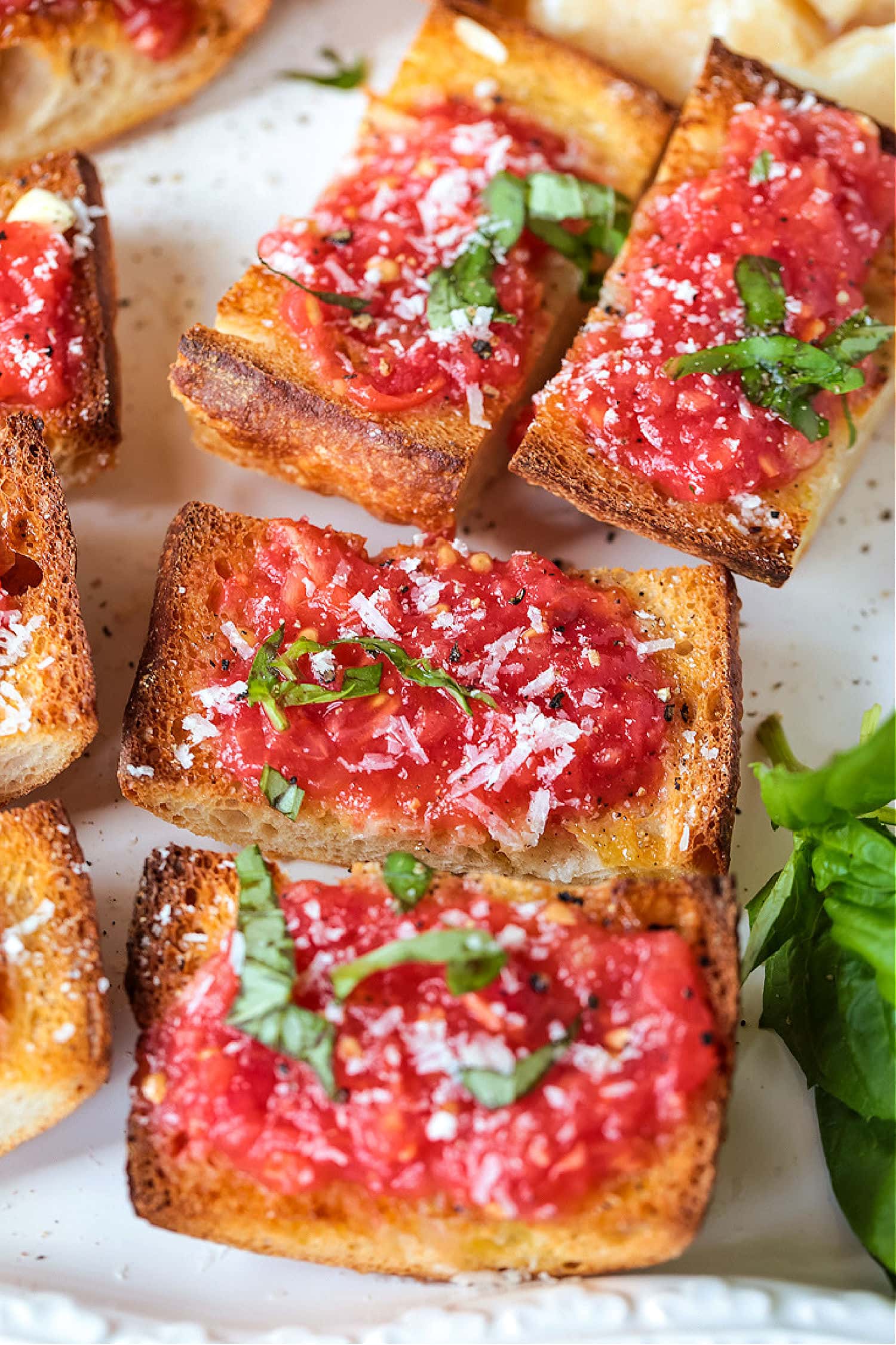 Tips For Success!
Make Right Before Serving: This appetizer only takes about 5 minutes, minus the time for preheating the oven. Make it right before serving for the best flavor. Part of what makes this simple recipe so delicious is the contrast of the cool tomato puree on top of the warm, toasted bread.
Use The Best Ingredients: When a recipe only calls for a few ingredients, use the best that you can find. We've already talked about the tomatoes and the bread, but it goes down to every ingredient, including the olive oil. Extra virgin olive oil is best for this recipe. Grab a delicious, fruity Spanish or Italian olive oil!
Season Appropriately: Depending on how your tomato tastes, you may have to use a little more salt or pepper. If you're lucky enough to have that perfect tomato flavor, then you won't need much seasoning at all.
But when a tomato isn't at its peak, you may have to hit it with a little more seasoning. Even a pinch of sugar if your tomato isn't sweet!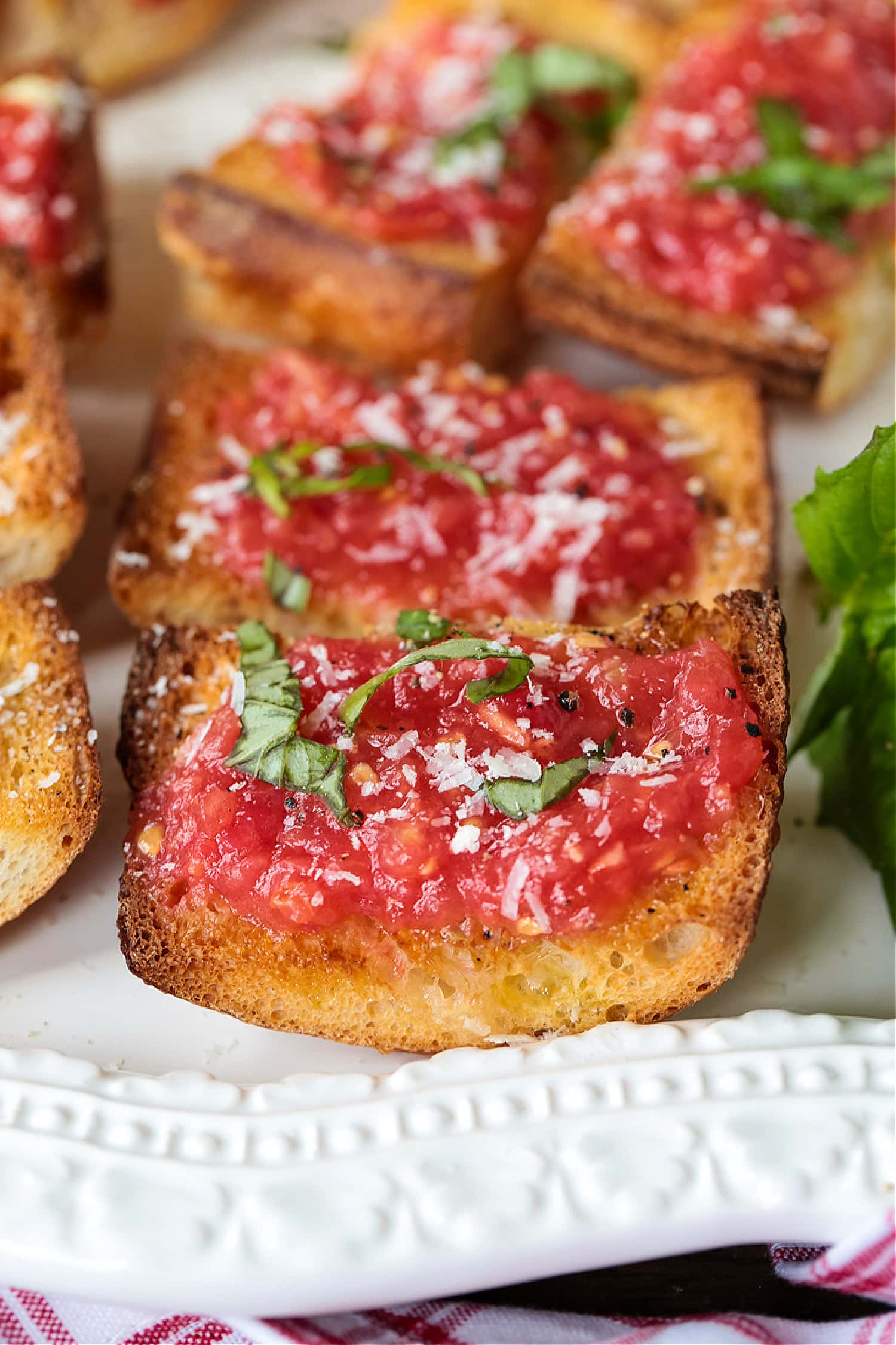 What Drinks Would Go Well With Tomato Bread?
Oh yes, the cocktails. A delicious bottle of white wine would go perfectly with Pan Con Tomate, a nice Sauvignon Blanc or a crisp Pinot Grigio. Even a light fruity red like a Pinot Noir or a Malbec would be lovely.
And of course, your favorite bottle of champagne is always a win with appetizers like this tomato bread, our go to for sure.
Looking For More Easy Appetizer Recipes?
Print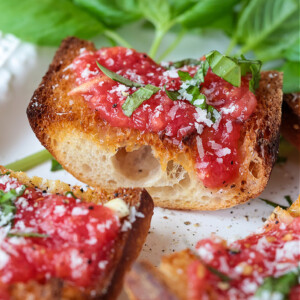 Pan Con Tomate
Author:

Prep Time:

5 minutes

Cook Time:

5 minutes

Total Time:

10 minutes

Yield:

6

Servings

1

x
Pan Con Tomate (AKA Spanish Tomato Bead) highlights the flavor of perfectly ripe, juicy tomatoes! Serve for tapas or a happy hour snack!
Scale
Ingredients
2

large beefsteak or heirloom tomatoes (any tomato will work, the ripest tomato that you can find, if the tomatoes are smaller just grab

one

or

two

more)

1

loaf ciabatta bread

2

–

3

whole garlic cloves, peeled
Extra virgin olive oil
Kosher salt
Fresh black pepper
Fresh basil and grated parmesan cheese for topping (optional
Instructions
Preheat the oven to 400 degrees.
Cut the top side off of the tomatoes and discard. Grate the flesh side of the tomatoes on the largest holes of a box grater over a bowl. The tomato will grate into pulp and juice and leave the skin behind. Discard the tomato skin. Season the tomato puree with salt and pepper to taste.
Slice the ciabatta loaf in half lengthwise and then into 2 inch pieces, as shown in the photos in the post. Brush the cut side of the bread with olive oil and then season with salt and pepper and place on a baking sheet.
Bake for 4-5 minutes until the bread is nicely browned and slightly charred on the edges.
Remove the bread from the oven and immediately rub the bread with the garlic cloves. (You might need a minute or two to let the bread cool slightly so that you can handle it)
Spoon the tomato pulp over the warm bread and serve. Optional garnishes include fresh basil and grated parmesan cheese. (*See the post for more garnish ideas)
Category:

Appetizers

Method:

Oven

Cuisine:

Spanish
Keywords: mantitlement, tomato bread, pan con tomate, spanish tomato bread, easy recipes, happy hour recipes, healthy recipes