These Low Carb Hamburger Cheese Crisps are a low carb way to get all your favorite cheeseburger flavor! You can add all the toppings that you like!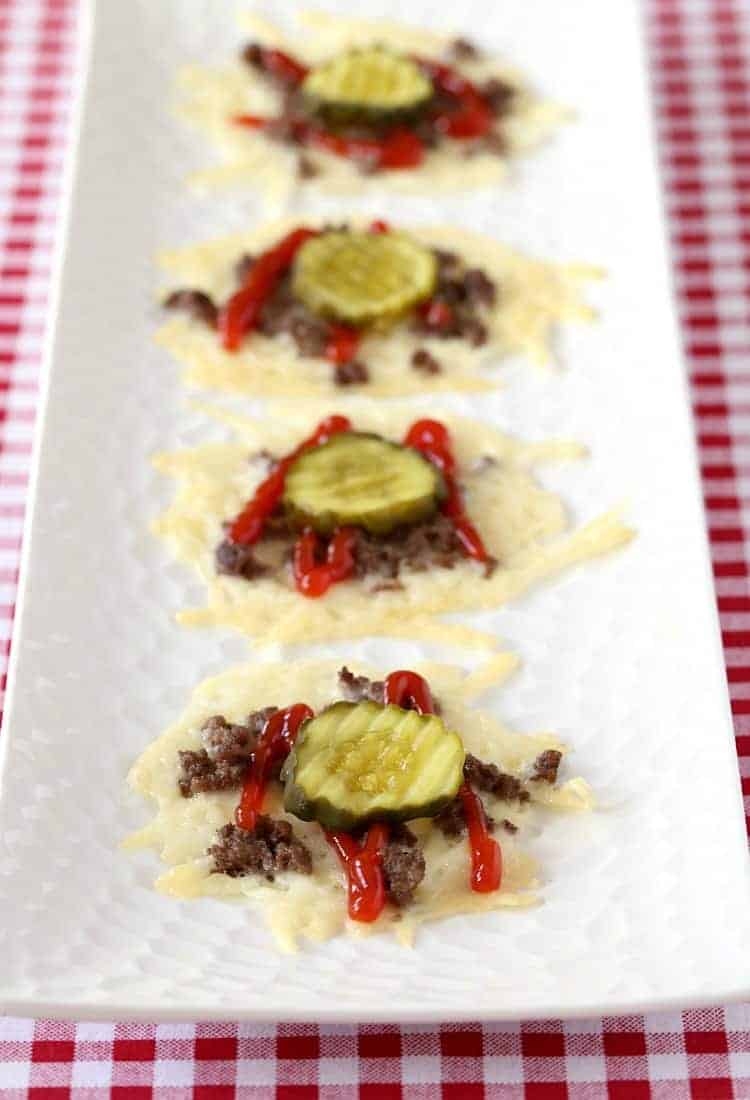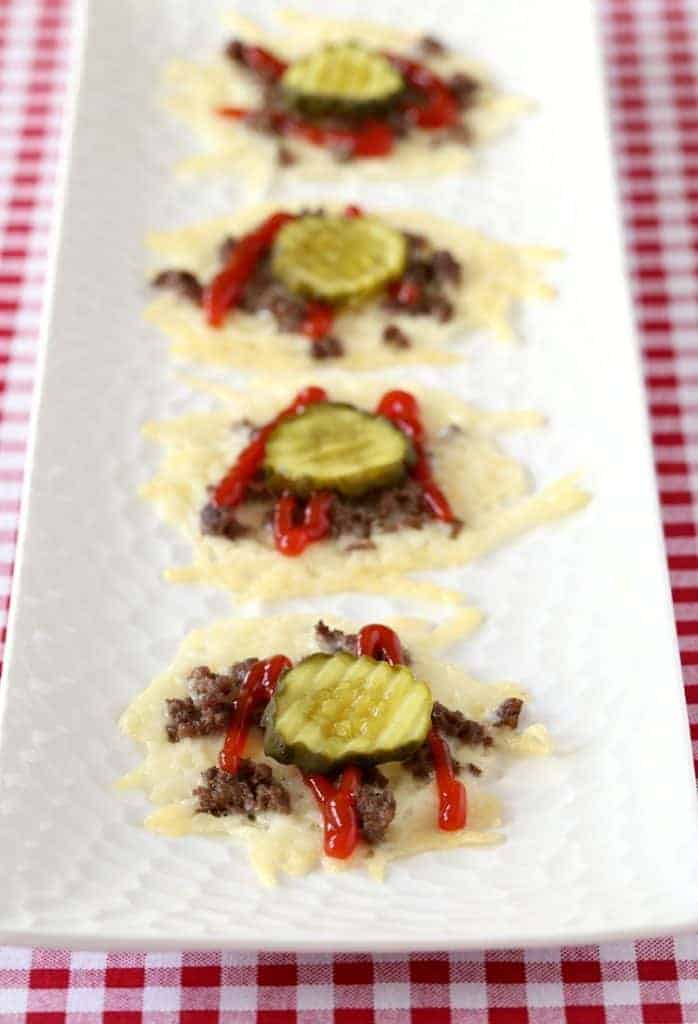 It's my favorite time of the year.
Appetizer season.
That's what the holidays bring…all the food and appetizers.
Yeah, yeah I know there's all the family stuff too, Believe me, I get just as excited as my boys do Christmas morning. Presents are cool.
But food – well the food is beyond cool this time of year.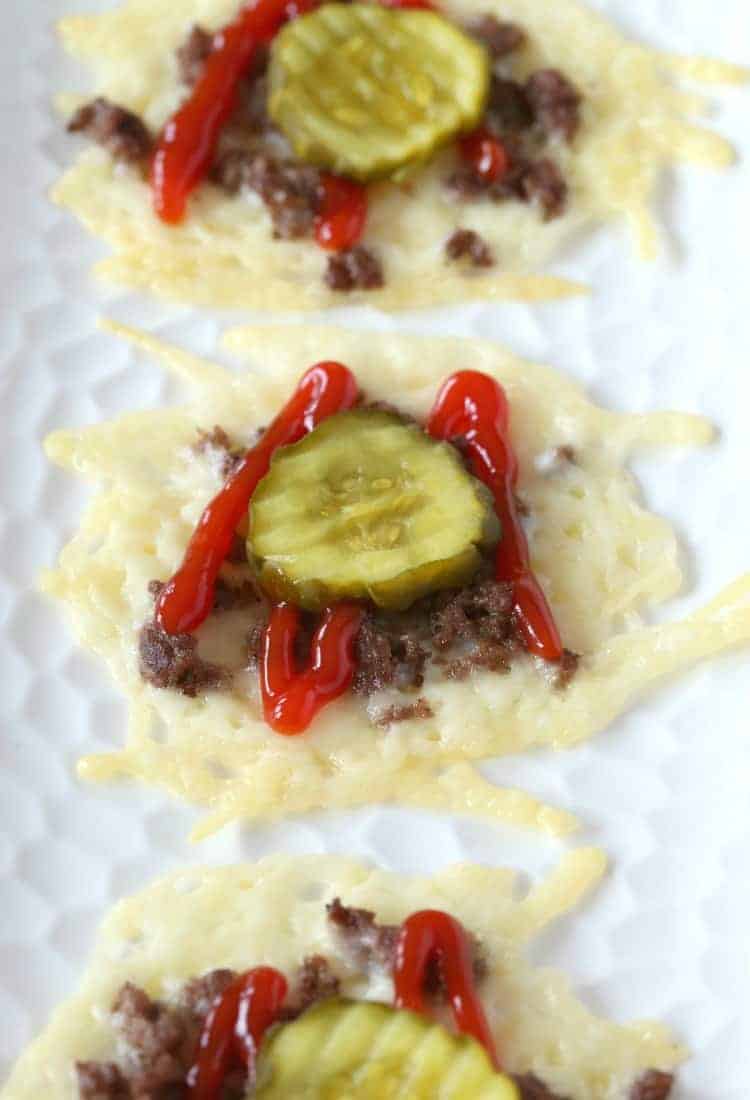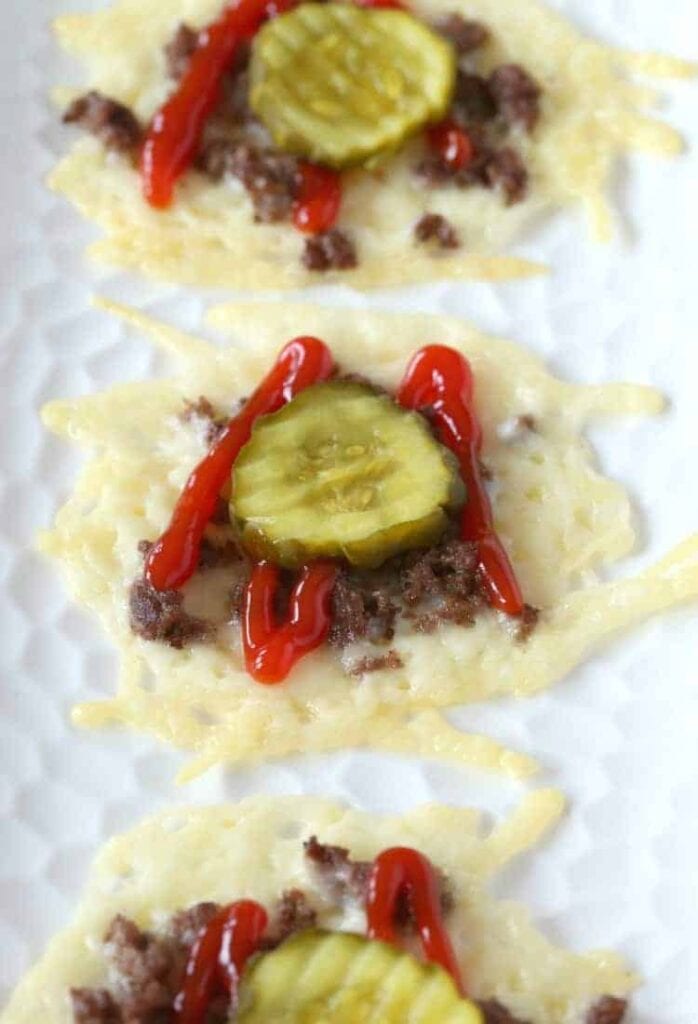 We're not just making pigs in a blanket for Christmas or New Year's Eve. We're making epic snacks like these Sticky Hoisin Chicken Wings or these Cherrywood Smoked BLT Bites.
Food that makes people remember why they love the holidays.
I found the idea for this over on Delish and wanted to put my own spin on it. Not that we're strangers to the cheese crisp – we've made these Cheese Crisp Meatball Shooters and these Low Carb Cheese Crisp Nachos.
But I'm thinking I'm missing hamburgers on the grill from the summertime, because that's all that's on my mind these days…
Burgers.
So Low Carb Hamburger Cheese Crisps it is.
Why low carb? Well for this recipe it just happily turns out to be low carb. But if you're following low carb these are going to fit in perfectly. The only item that has any carbs is the ketchup, so you can add as much or as little as you want of that.
Here's how you make them…
Add grated asiago cheese to a parchment lined baking sheet, about 2 tablespoons per pile.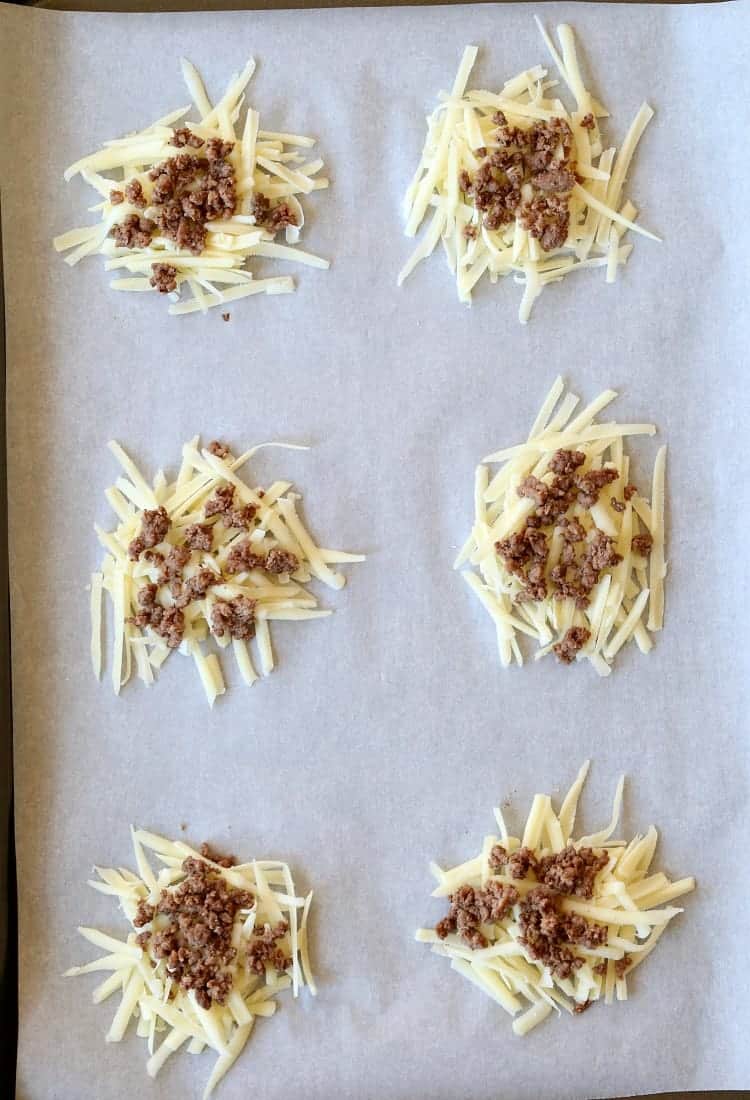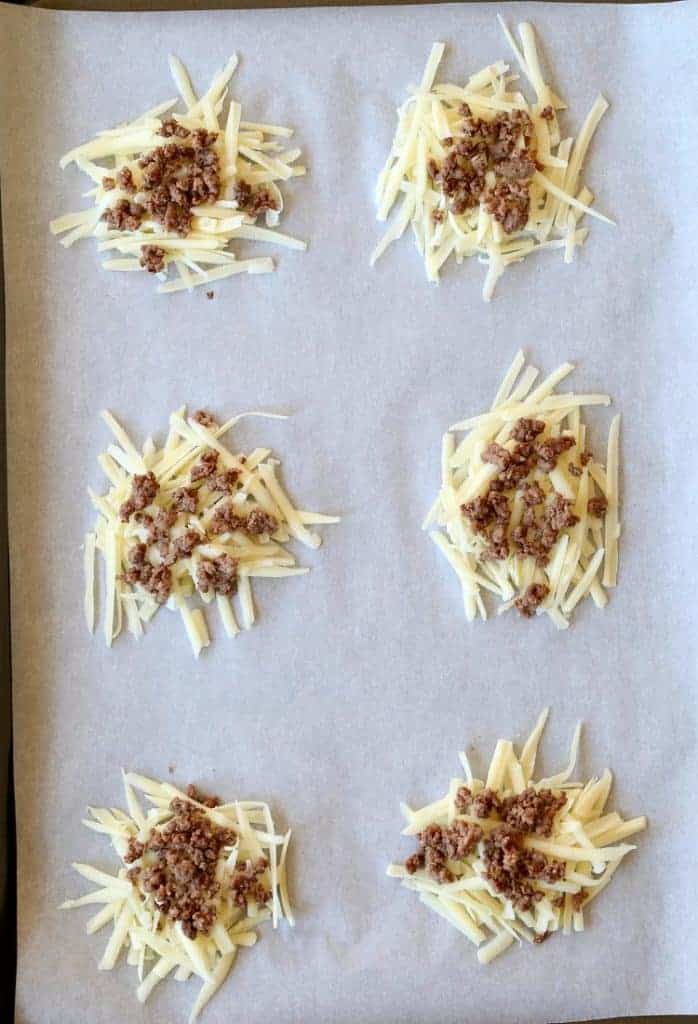 Now add some cooked, seasoned ground beef to the top of cheese and get it in the oven to bake.
The cheese will look completely melted and bubbly – don't worry though – once it comes out of the oven it will set back up again.
Once they set up, go ahead and add the ketchup and pickle to the top, just like this.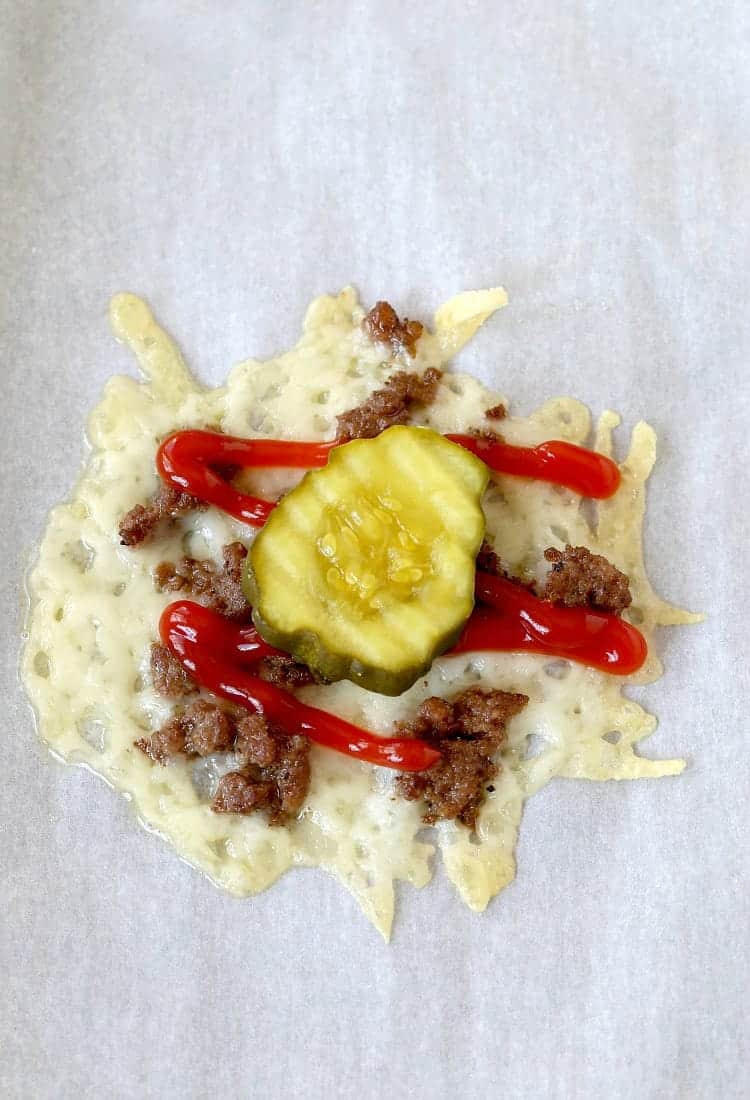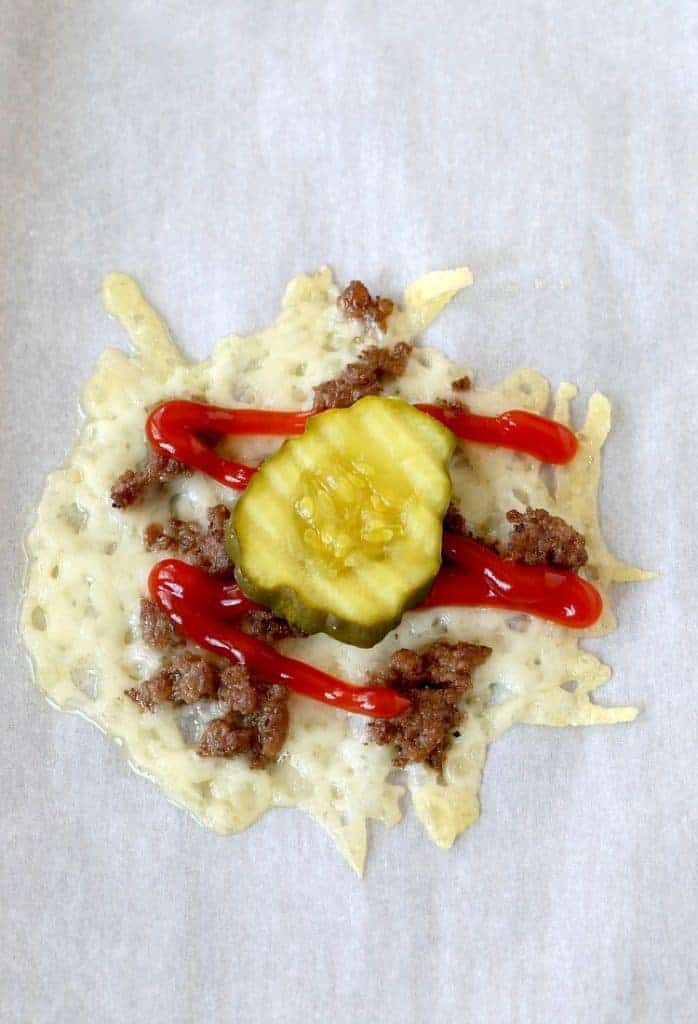 You can totally add whatever you like too – onions, bacon, mustard… even shredded lettuce!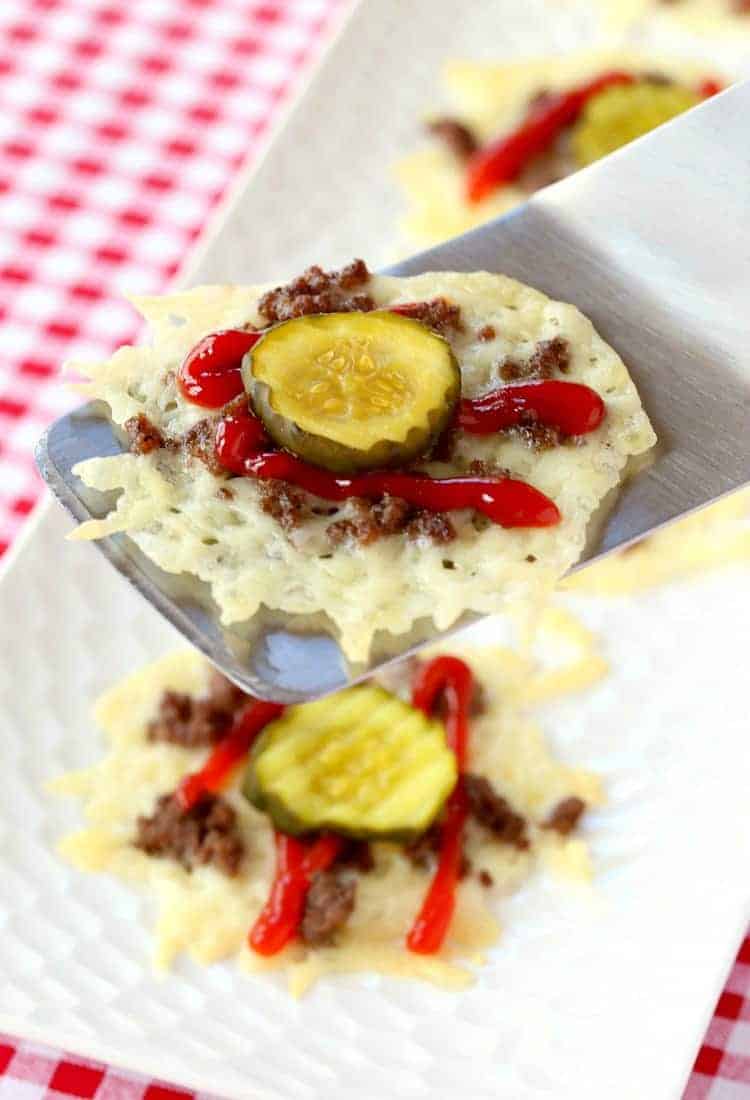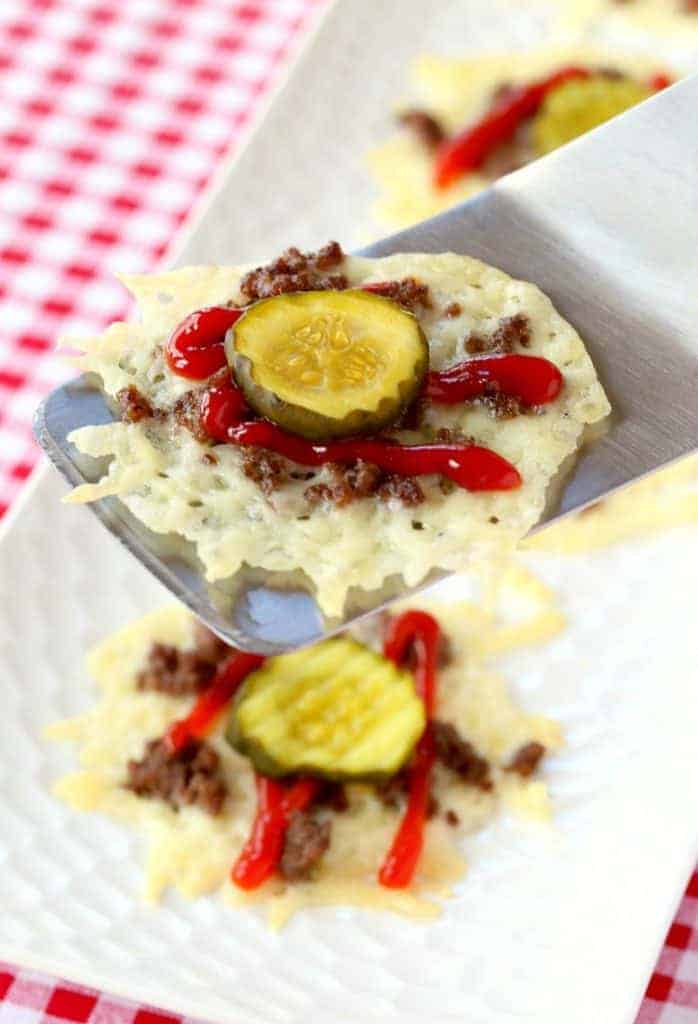 Totally up to you. Just make them, get them out on the table and watch what happens.
This is where the crowd goes wild. Or the crowd bum rushes the appetizer table to get their hands on one of these Low Carb Hamburger Cheese Crisps.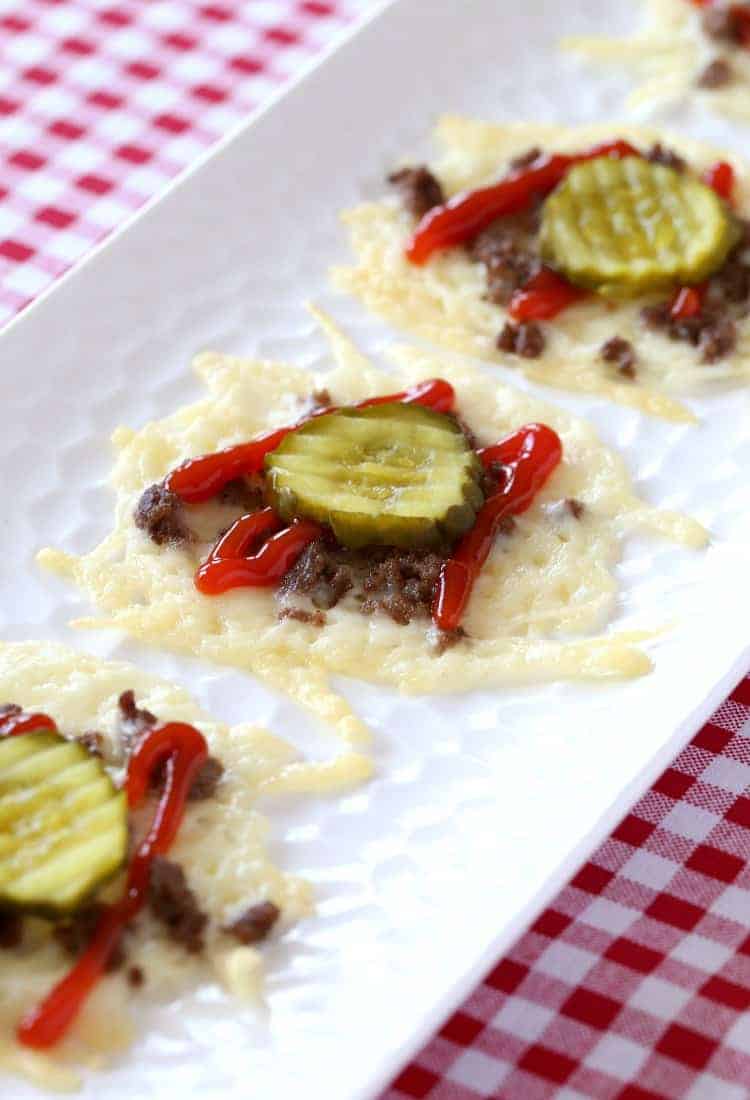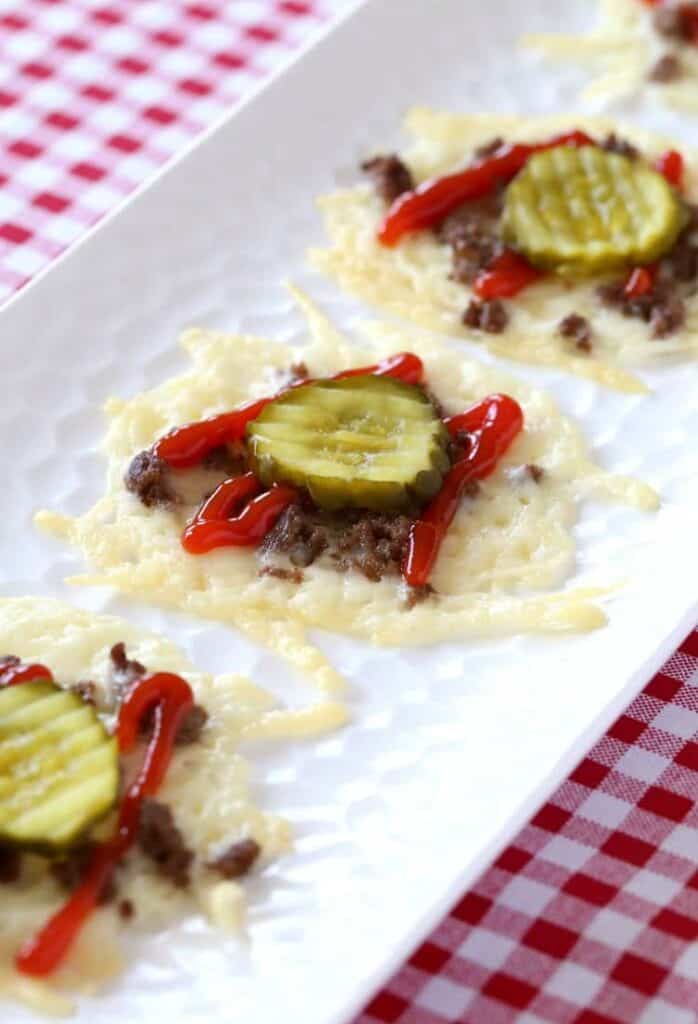 So make sure you have enough to go around the room – a couple of times.
Print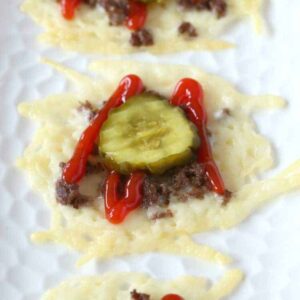 Low Carb Hamburger Cheese Crisps
Scale
Ingredients
1/2

lb. ground beef

1 teaspoon

canola oil or cooking spray

1/2 teaspoon

kosher salt

1/4 teaspoon

garlic powder

1/4 teaspoon

ground black pepper

9 ounces

grated asiago cheese

18

pickle slices

1/2 cup

ketchup
Instructions
Preheat the oven to 400 degrees.
Heat the oil in a skillet over medium heat.
Add the beef, salt, pepper and garlic powder to the skillet and cook until browned through.
Drain the beef if there is any grease and place into a bowl to cool.
Make six piles of cheese to a parchment lined baking sheet, about two tablespoons each.
Add 1 tablespoon of the beef to the top of each cheese pile.
Bake for 4-5 minutes in the oven until the cheese is completely melted and bubbling.
Remove from the oven an let cool until set.
Repeat with remaining cheese and beef until you have 18 crisps.
Top each cheese crisp with a drizzle of ketchup and a pickle.