Make this Love Potion Number 9 drink for your Valentine's Day party! It's a sweet, frothy, boozy cocktail perfect for celebrating!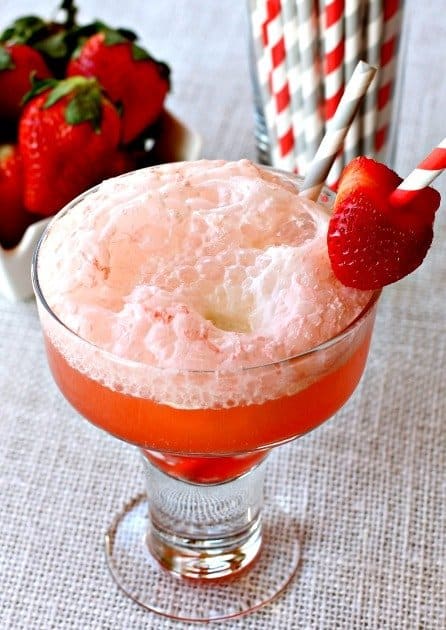 This drink could actually be served for either a cocktail or a dessert. A dessert cocktail – I'm a big fan of those. Maybe you're making dinner for Valentine's Day at home this year? Maybe you're not much of a baker?
Then you definitely need to make this drink.
There are hundreds of recipes to choose from, we're having this Crab Cake Chowder, and you don't need to be an expert chef to make them. Believe me, I'm not and I can get a pretty impressive dinner on the table in under thirty minutes.
This is Love Potion Number Nine can also be made as a "mocktail" for the kids if you're like me and planning a Valentine's Day dinner at home with my family. Just put a scoop of ice cream in a glass, add a little grenadine from your cherry jar on top and then pour in ginger ale or 7-up.
Garnish with strawberries or cherries. Lots of garnish for the kids – it's definitely the 'wow" factor for them.
I'll always remember ordering shirley temples at a restaurant when I was little. And man, if the waiter brought you extra cherries…it made your whole night.
But this Love Potion Number Nine that I made is the boozy version, bubbling over with champagne. Because the "wow" factor for my wife is the champagne.
All you need to do to make this drink is add the vanilla vodka and strawberry liquor into a glass and then drop in a big scoop of vanilla ice cream.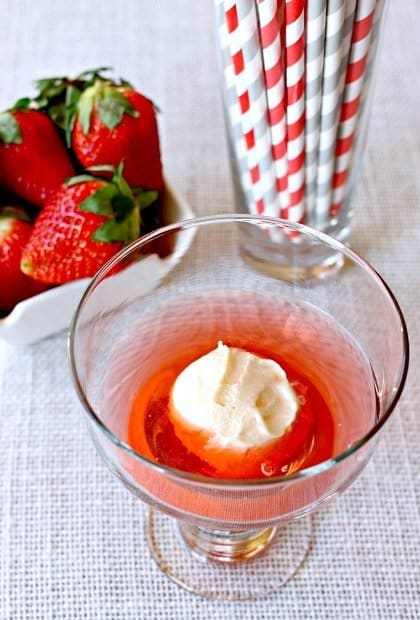 Then, right before serving, fill the glass with champagne, stick a straw (and maybe a spoon) in there and serve it up.
You'll be sure to impress anyone you're cooking for this Valentine's Day with this Love Potion Number Nine cocktail. Let's hope what your making for dinner is just as good!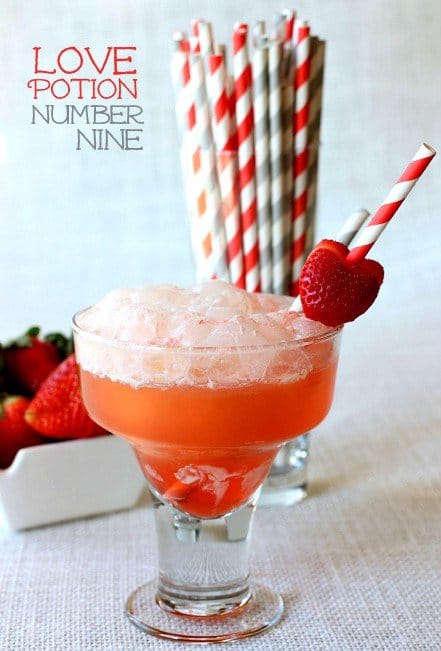 Make sure to click over for this recipe and other amazing cocktail recipes at Love Potion Number 9 Drink Recipe