We'll show you How to Make Homemade Mayonnaise in just 5 minutes! Not only is it super easy to make, but the flavor can't be beat. Use this creamy sauce on sandwiches, homemade dressings or in pasta salads!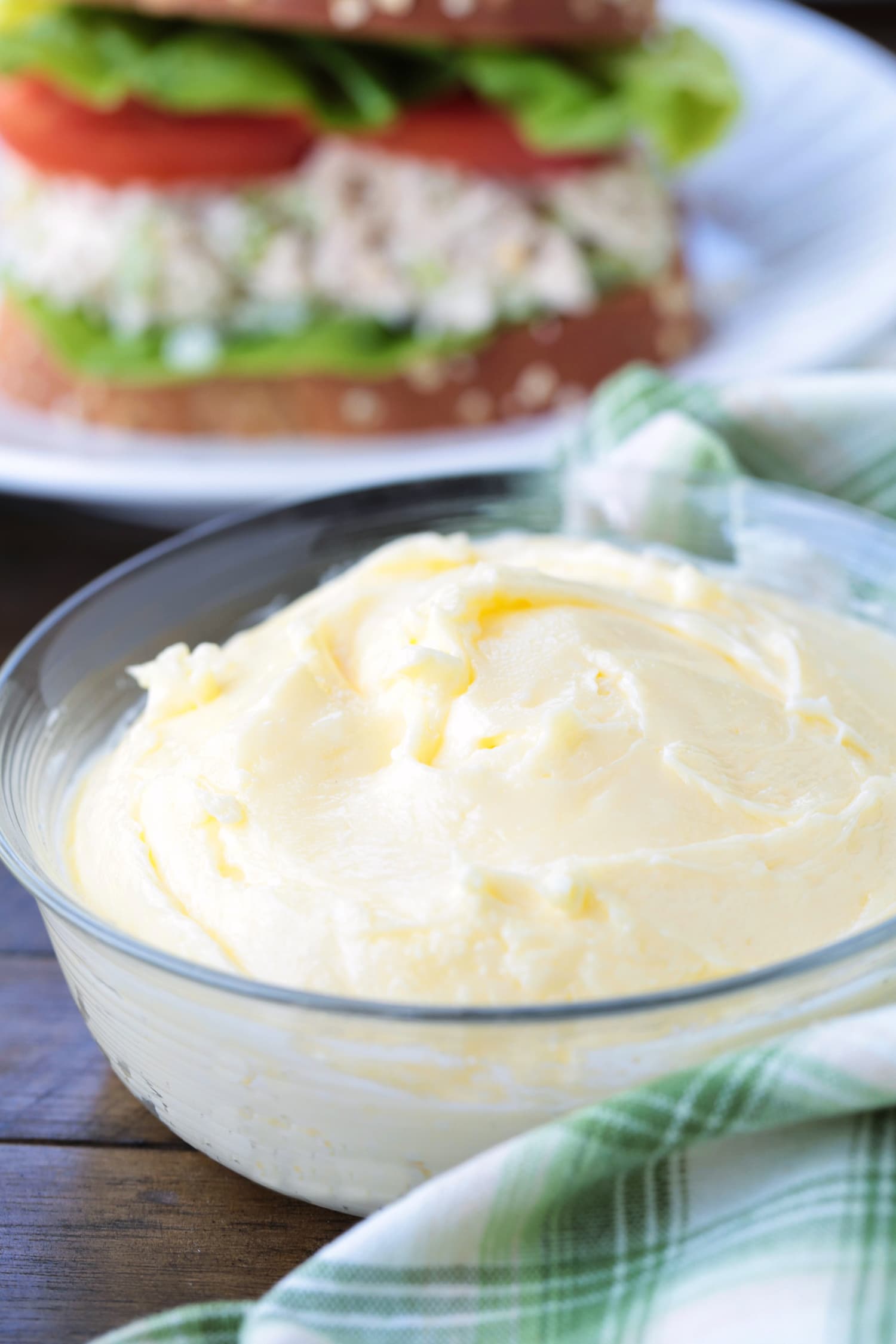 Easy, Homemade Mayonnaise Recipe
Some of you might be asking…is homemade mayonnaise a thing? I know for a fact that making this creamy sauce from scratch hasn't ever occured to a lot of people.
So we're going to show you how to make homemade mayonnaise in just 5 minutes. Use it on sandwiches, in pasta or potato salads or anywhere you'd use regular, store bought mayo!
Ingredients For Making Homemade Mayonnaise
All you need is four ingredients to make the most delicious mayo that you've ever tasted. Of course, there can be several flavor variations for mayonnaise as well, but we'll get to that a little later.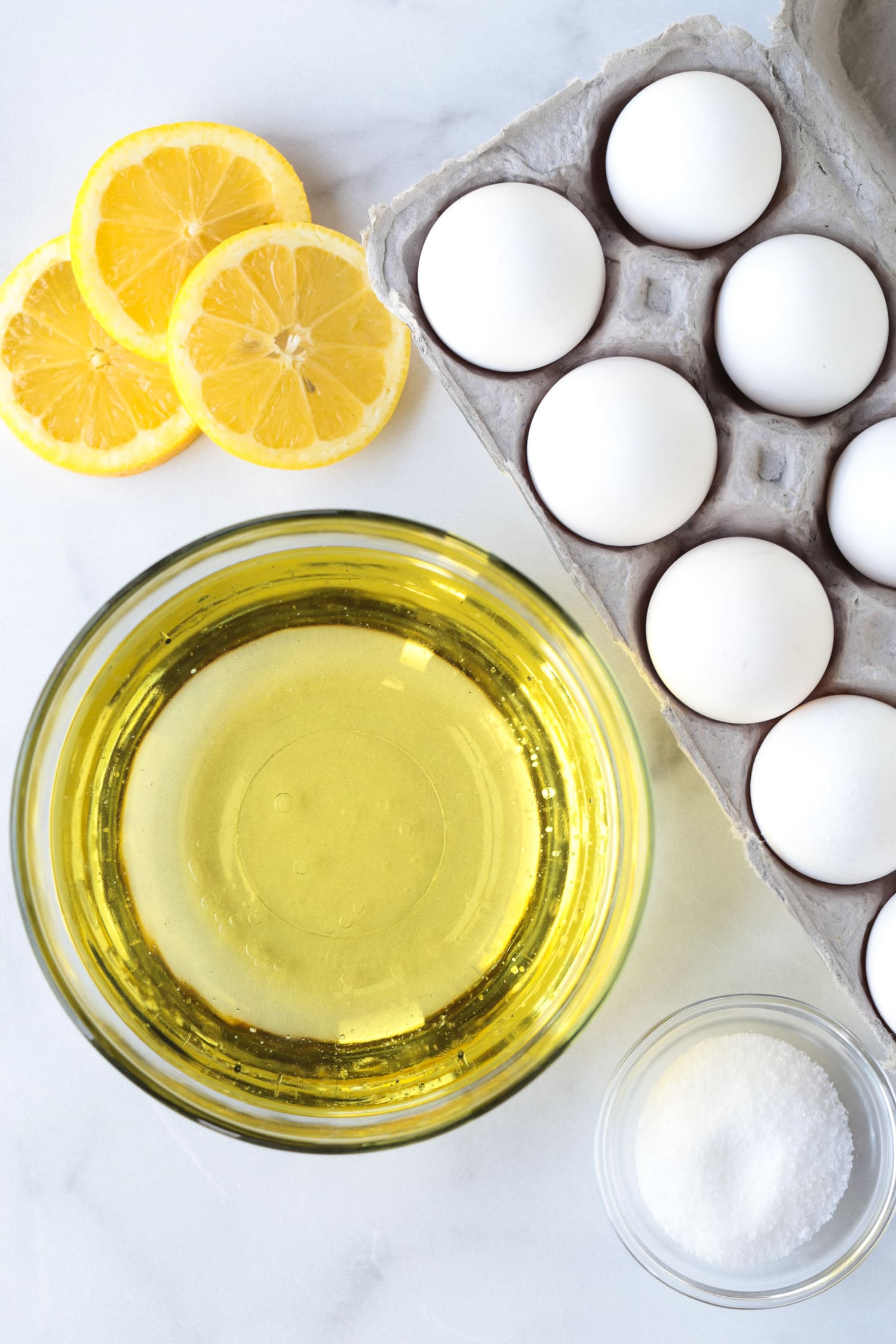 How To Make Homemade Mayonnaise
Add a egg yolk and lemon juice to a food processor. You can also use a whisk and make this by hand but we find that a food processor is a lot easier. Blend until frothy, about 1 minute.
While the food processor is running, add the salt and then slowly drizzle in the oil until fully incorporated. Blend for 30 seconds and the mayo is done!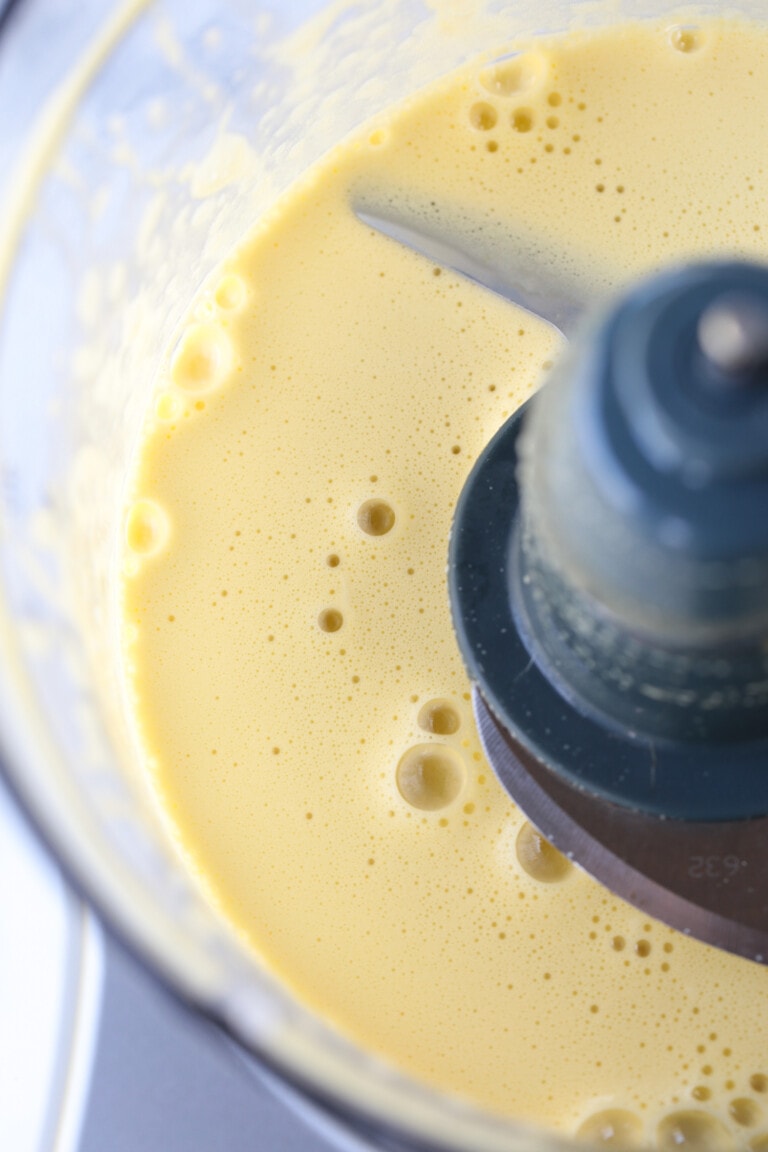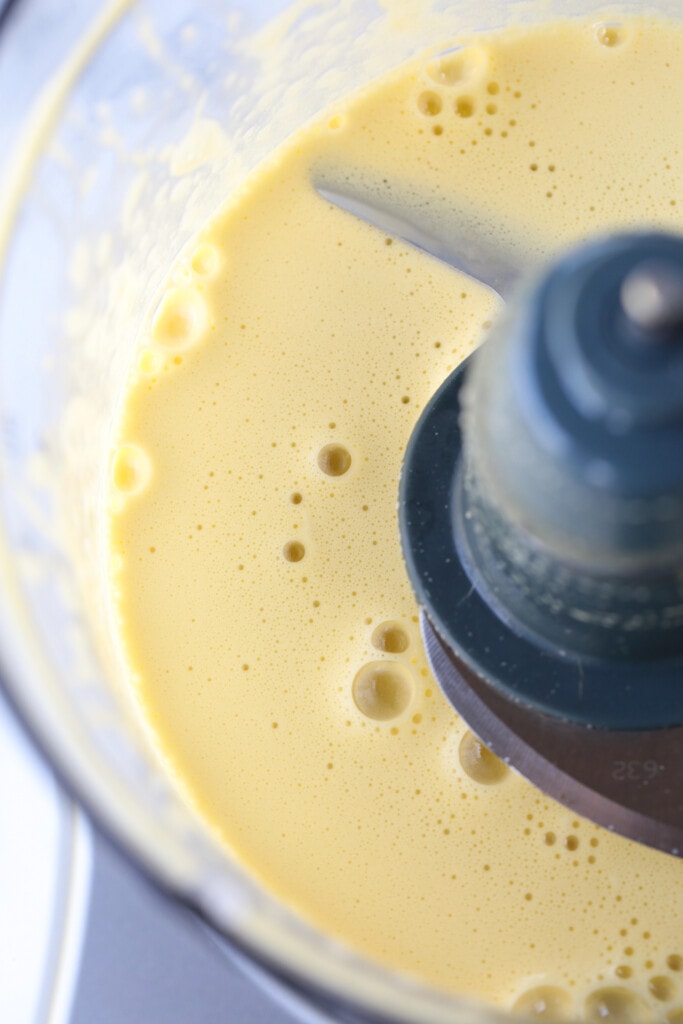 How Long Does Homemade Mayonnaise Last In The Fridge?
Homemade mayonnaise will last at least a week in the refrigerator if stored properly. Make sure to store the mayo in an air tight container or a mason jar with a lid.
If the mayonnaise separates slightly after sitting, just whisk it up again before using. This homemade mayo shouldn't have any smell or odor to it, so if you notice an acidic or off smell after a week, it's time to ditch it.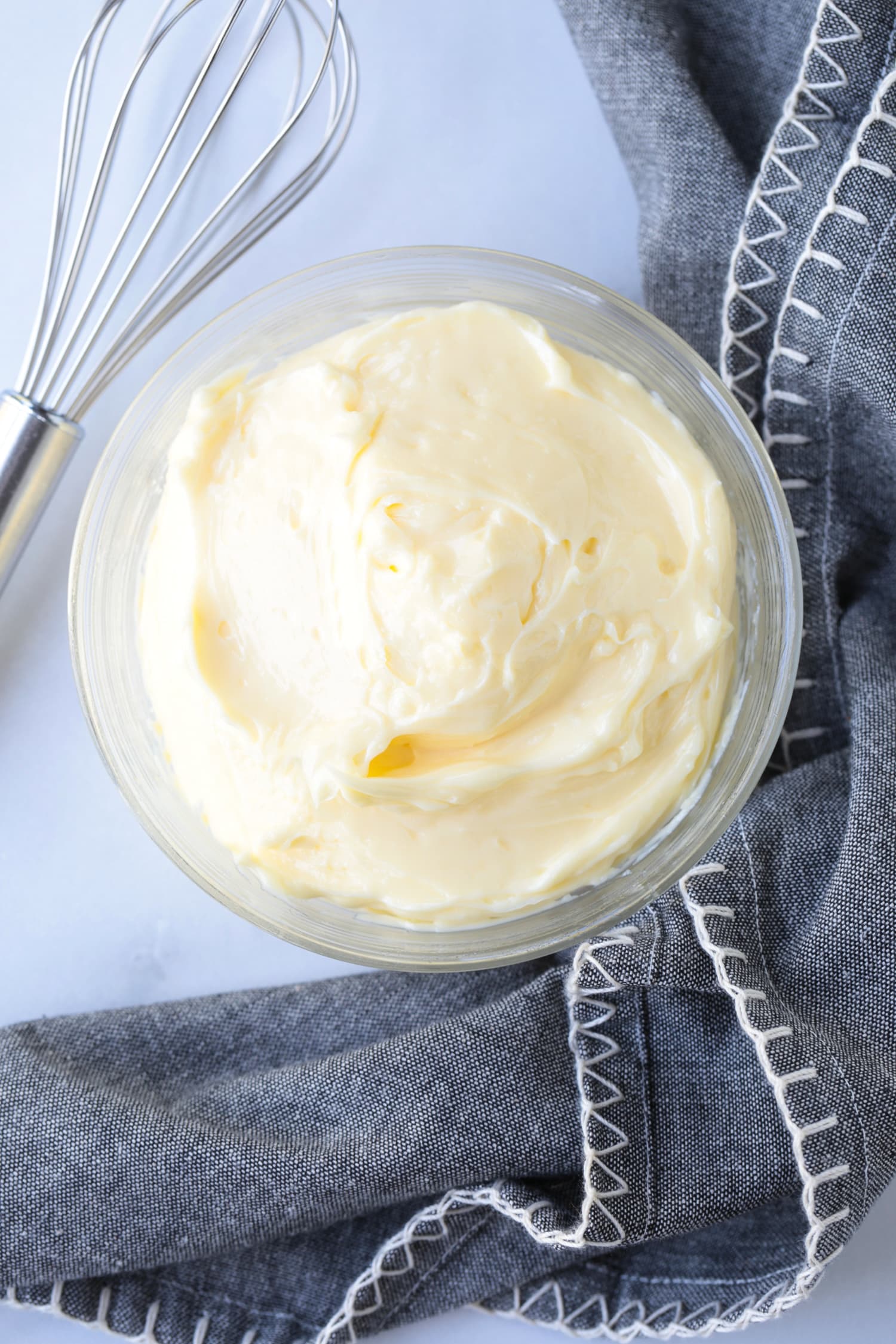 What Other Flavors Can I Add To Mayonnaise?
Not only are we showing you how to make homemade mayonnaise, but we'll going to show you how to make several variations.
Mayo on it's own is one of my most favorite condiments, but adding herbs and other flavor agents to it can create a delicious sauce that's a bit elevated from plain mayonnaise.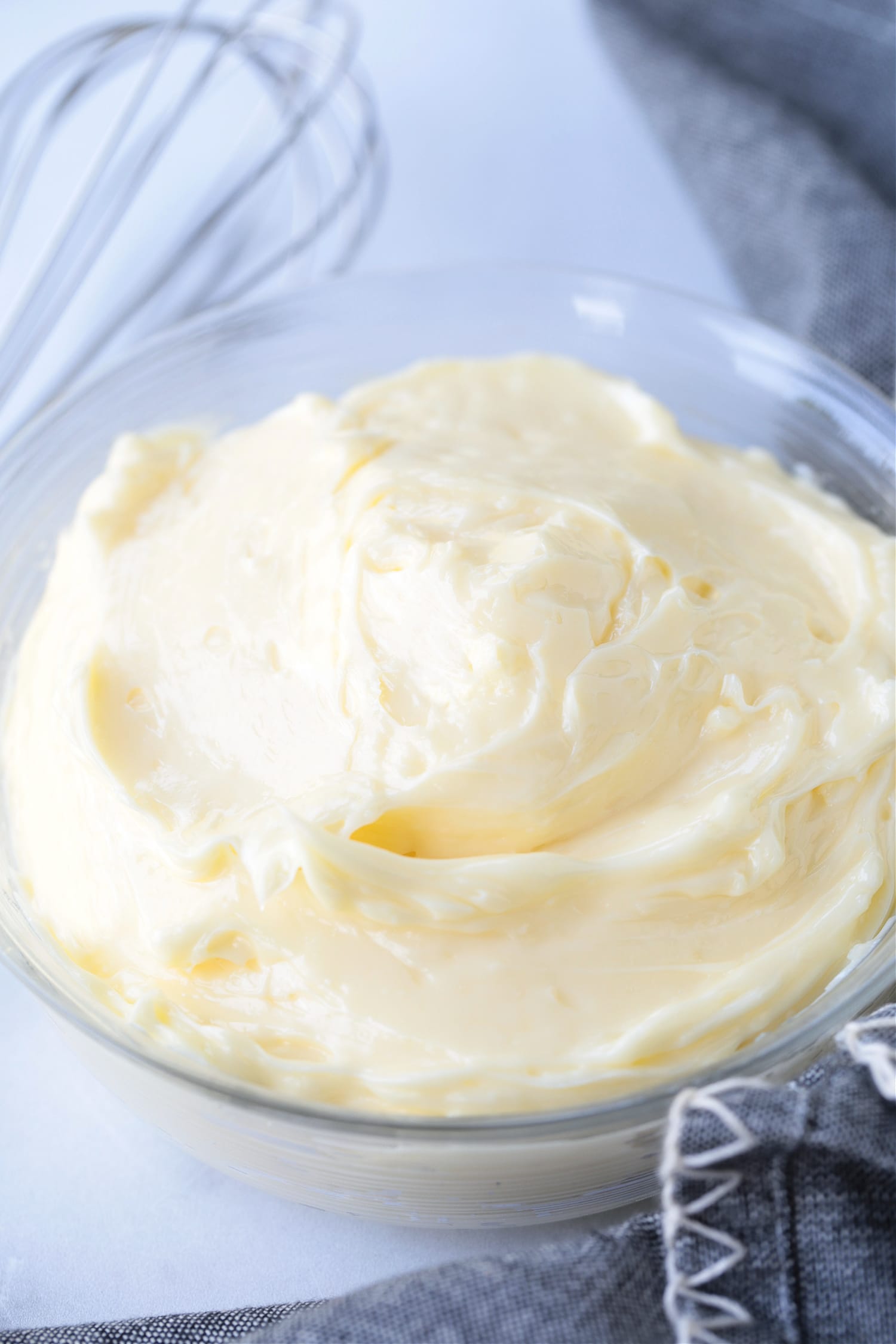 What Can I Use Homemade Mayonnaise For?
Homemade mayonnaise is going to take all of your mayo-based recipes and just make them better. Creamier, saucier, and simply better tasting.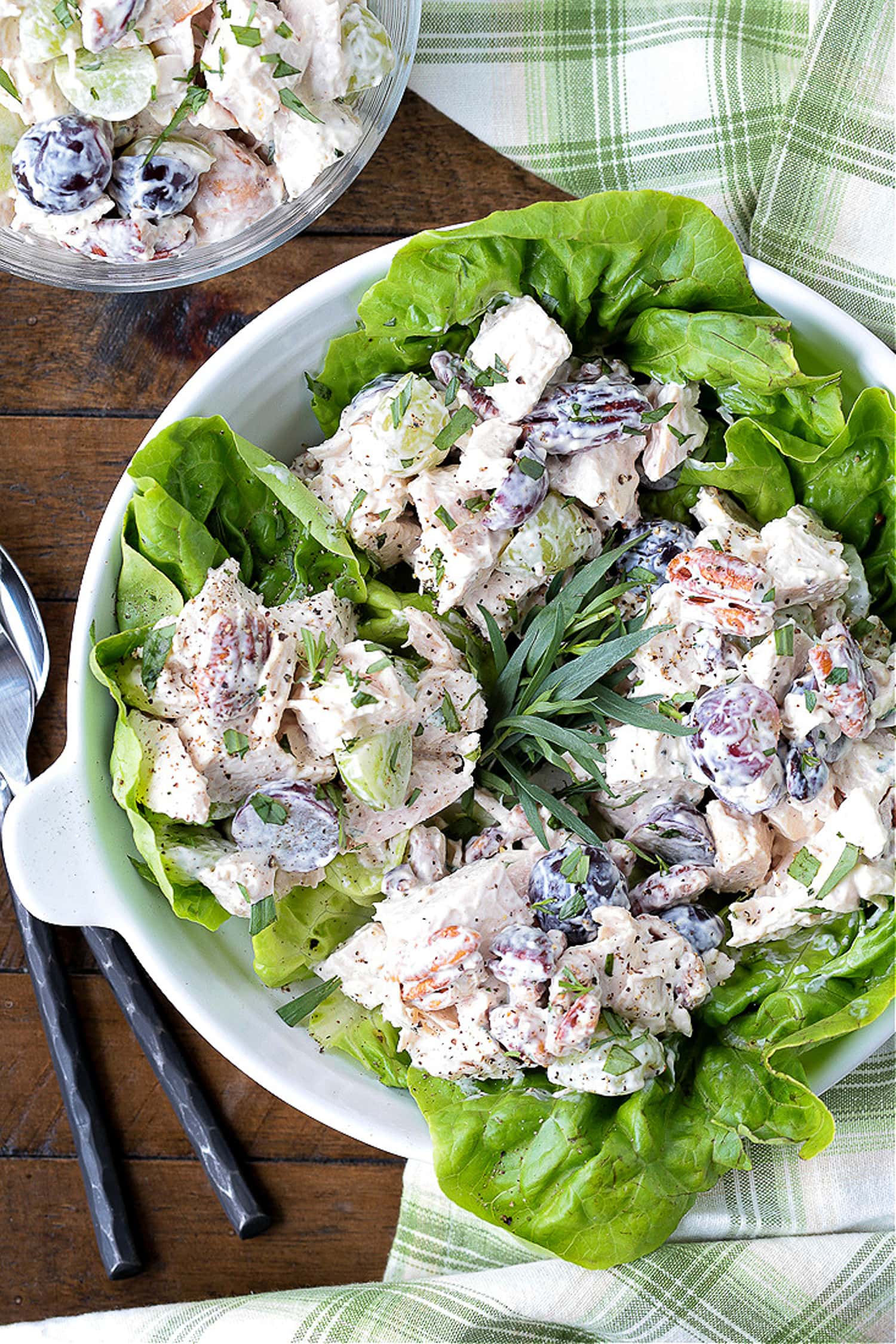 Is Homemade Mayonnaise Better For You?
While we don't consider any mayonnaise healthy, making homemade mayonnaise is going to be a bit better for you.
When you make this sauce from scratch, you won't be adding any preservatives like you'll find in the store bought version. Also most store bought mayo uses soybean oil, which isn't a preferred oil as far as your health is concerned.
So when they say homemade is best, it usually is!
Tips For Success!
Use room temperature eggs. Using eggs at room temperature will help the mayonnaise emulsify better than a cold egg from the fridge. Buy pasteurized eggs if you have any concerns about using a raw egg yolk.
Whip the egg yolks. Taking a minute to whip the egg yolks with lemon juice until light and frothy will help make the mayonnaise thicker when finished.
Drizzle the oil slowly. Make sure to drizzle the oil slowly into the food processor. Adding too much oil at once will cause the sauce to break.
How About Some More Recipes That Use Mayonnaise?
Print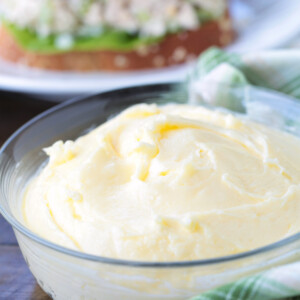 How To Make Homemade Mayonnaise
Author:

Prep Time:

5 minutes

Cook Time:

0 minutes

Total Time:

5 minutes

Yield:

1 cup

1

x
We'll show you how to make the most delicious homemade mayonnaise in just 5 minutes! Use homemade mayo on sandwiches, in salad dressings or in potato and pasta salads!
Scale
Ingredients
1

large egg yolk at room temperature

1 tablespoon

lemon juice

1/2 teaspoon

kosher salt

1 cup

neutral flavored oil, canola or vegetable or avocado oil
Instructions
Add the egg yolk and lemon juice to the bowl of a food processor. Blend for 1 minute until the egg yolk is light in color and frothy.
Add the salt and then with the food processor running, slowly drizzle in the oil. After all the oil is combined, blend for 30 seconds until the mayonnaise is thick. Don't blend the mayonnaise to much or the sauce may break and not have a smooth consistency.
Recipe Notes
You can also make this recipe by hand! Grab a whisk and follow these same instructions.
Store: Store homemade mayonnaise in an air tight container or a mason jar for up to a week.
Category:

Side Dish

Method:

Food Processor

Cuisine:

American
Keywords: mantitlement, homemade mayonnaise, mayo recipe, mayonnaise recipe, sauce recipe