I finally got around to making these Fried Shiitake Mushrooms, my favorite thing to eat when we go to Eataly. These and a few cold beers at the roof top bar, it's heaven!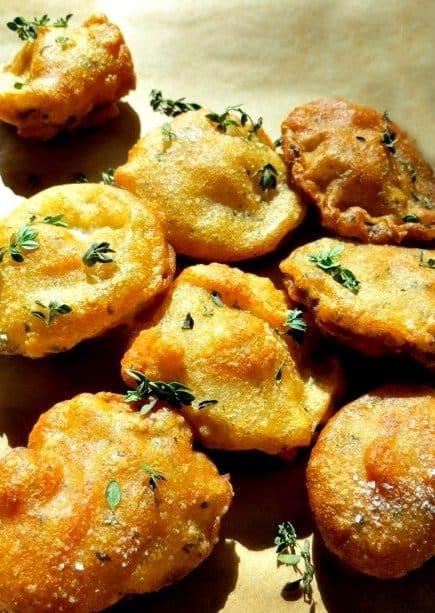 I guess I must have been craving some and with all the running around we do this time of year a trip into the city didn't seem like it was going to happen anytime soon. So I figured I'd just make them myself and I have to say, they are pretty damn close the ones at Eataly.
Out of all the snacks, appetizers and meals you can choose from when you go to Eataly, it's hard to really narrow anything down that really stands out. Even after eating and drinking, and eating and drinking some more, I can still throw down a plate of these mushrooms.
Like I said before in my post about Eataly, I know they don't sound like anything to go nuts about – but I promise it's worth going there just for these. And of course some of the house brewed beer that they serve alongside.
The Shiitake's at Eataly are served with fresh thyme on top, which is maybe why I liked the Thyme Pale Ale I was drinking while eating them, but I decided to make this recipe a little bit more my own and actually put fresh chopped thyme inside the beer batter.
Start with a couple of containers of shiitake mushrooms and a bunch of fresh thyme.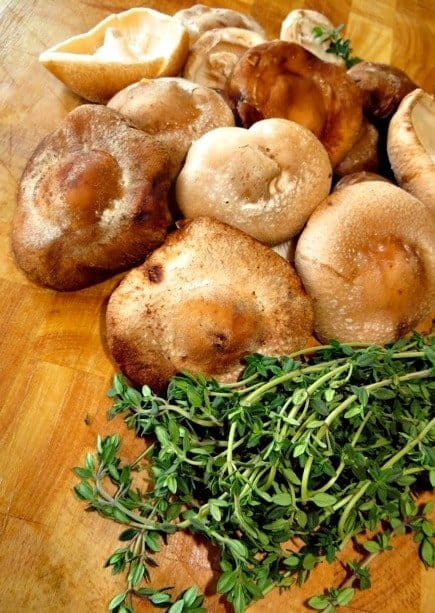 Make up a quick beer batter, dip the 'shrooms in and start frying. They only take about 5 minutes once you get them in the oil.
Set them aside on a paper towel to drain, then season immediately with coarse salt and fresh thyme.
I told you, these Fried Shiitake Mushrooms are really easy and really quick. And did I mention…really, really good.
It's almost as good as being roof-top at the Birreria at Eataly.
Almost.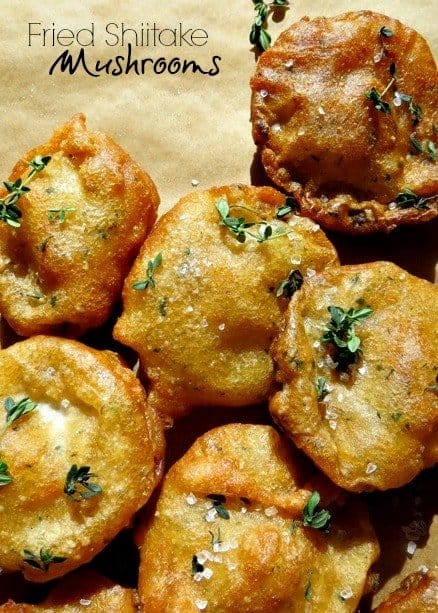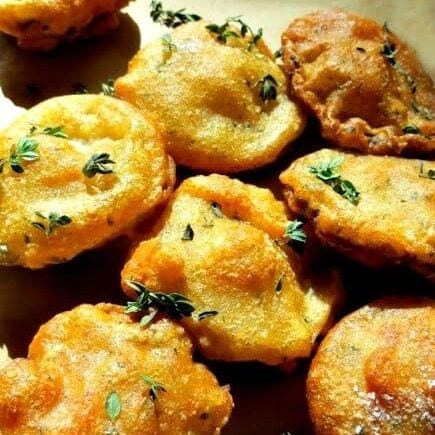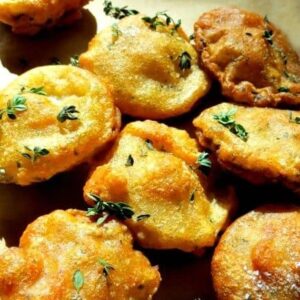 Fried Shiitake Mushrooms
Scale
Ingredients
2

(3.5 oz) boxes of fresh shiitake mushrooms

2

c. flour

1

egg, beaten

2

t. garlic powder

1

t. paprika

1

t. salt

1

c. beer (plus more if needed to thin the batter)

3

T. fresh chopped thyme, divided
kosher or sea salt for seasoning
canola or peanut oil for frying
Instructions
Make the beer batter
Add the flour, garlic powder, paprika and salt to a medium bowl and whisk to combine. Add in the beer combined with the beaten egg a little at a time and stir until it looks like a thick pancake batter. You might not use the whole cup, so add it in slowly. Next add in 2 T. of the chopped thyme, stir. Set the batter aside for 20 minutes. As the batter sits it will get thicker so you may need to add a little more to get it to the right consistency.
Fill a deep heavy bottomed pot halfway to the top with the canola or peanut oil. Heat until the temperature reaches 375 degrees.
Remove the stems from the mushrooms and brush of any dirt with a damp paper towel. Dip the mushrooms in the beer batter, letting the excess drip off a bit and the carefully put into the oil to fry. You can use 2 forks to do this so you don't take a chance on burning your fingers.
Let the mushrooms fry for 5 minutes, turning, until they are golden brown. Remove to a paper towel lined plate and season immediately with coarse salt and the extra chopped thyme.
Cook in 2 batches so the oil temperature doesn't lower too much.
Serve immediately.
Recipe Notes
The peanut oil will give the mushrooms a little more flavor than the canola oil, but whatever you have on hand is fine. Also, if you want to do more mushrooms, you'll have enough beer batter to do 3 boxes.